Pattern & Print Mixing – How to Wear Polka Dots & Florals Together
Another round of pattern and print mixing here on Have Clothes, Will Travel featuring my favorite floral midi skirt! This time I'm sharing how to mix polka dots and florals.
This is an outfit I put together for a date night with my husband at a restaurant we literally live on top of, haha. It's always busy and rather pricey. So, we've only eaten here a few times…and have never gotten a table on their patio.
However, a lot of roads near our apartment were shut down last Saturday, due to some citywide protests in Moscow. So, this restaurant (Grape), actually had open tables outside! It was funny to finally eat on this patio I literally walk past every single day!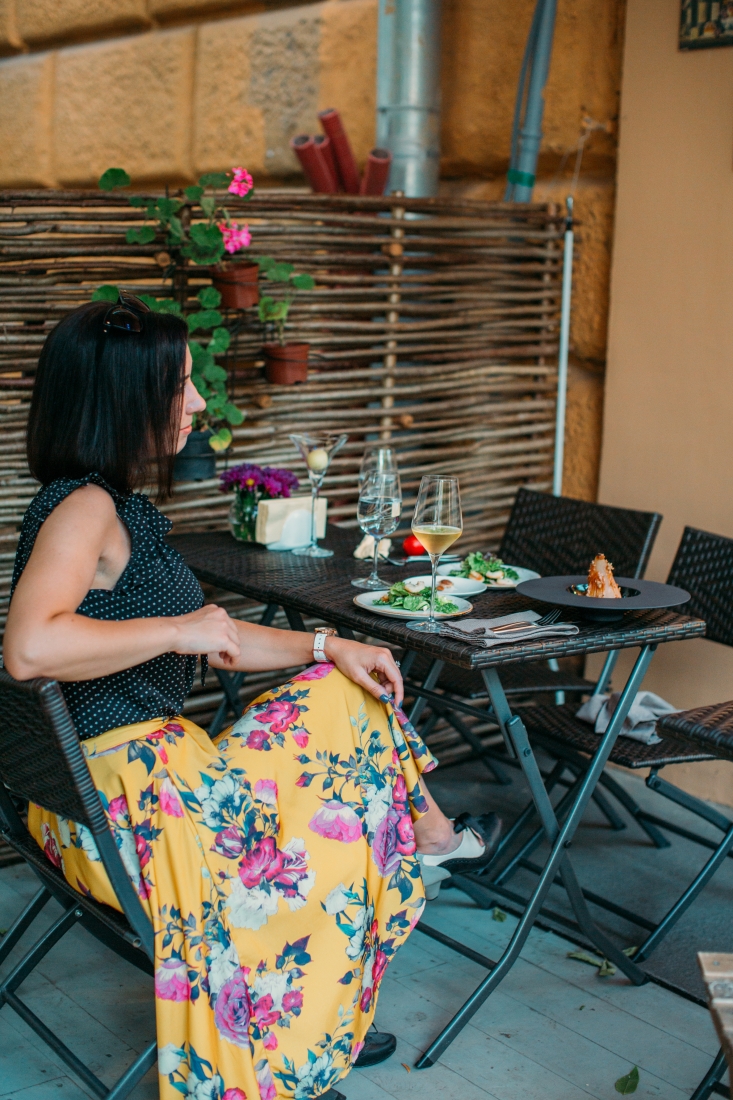 How to Pull Off Polka Dots & Florals Together
I've gotten several requests to put together more outfit posts featuring this skirt – as it seems a lot of friends also have this skirt and really enjoyed my post featuring it with a striped top. I followed the same formula I used for that outfit with this one…
The key, in my opinion to mixing florals and polka dots, is to balance them. For example, here I'm wearing a floral skirt that has a large floral print on it…so, I should keep my polka dots smaller. And vice versa, if I was wearing something with big polka dots, I should keep the floral print smaller. This way they complement each other instead of looking too loud together.
The Outfit
The Skirt
Fortunately, most of you already seem to have purchased this skirt – wahoo! And if you haven't yet…I'm sorry to say, but it looks like this color of the skirt JUST sold out (over the weekend from what I can tell). This skirt is no longer in stock, but I've linked to some similar floral skirts in mustard yellow at the end of the post.
Also, my next outfit post is going to feature all the different ways I've styled this skirt since I've had it, plus I'll link to a couple readers' posts on how they've styled theirs!
The Top
I have been promising to feature this polka dot top on the blog for nearly a year now – sorry! It is one that I had scored in Unique Vintage's Catch of the Day sale. I really lucked out with this top! It goes with so many different items in my closet. (I also enjoy mixing it with my striped midi skirt.) I can wear it with almost all of my midi skirt and pants…plus, it doesn't wrinkle!
I had also gotten a dress in that same sale. The Catch of the Day sale is similar to ModCloth's Stylish Suprise sale (which, I'm not sure if they'll be doing that anymore now that they have Mod Outlet?). You can click here to read more about that sale – which should be coming up in a couple weeks!
And speaking of sales, in cause you haven't heard…Nordstrom's Anniversary Sale is still going on. I ended up not ordering anything from it last year, but this year I did order a Tory Burch handbag that I'm really excited about! I won't get to see it until I fly home this weekend, though. (Oh, the suspense!) And if you're wondering why the Nordstrom Anniversary is such a big deal… check out my post on it here.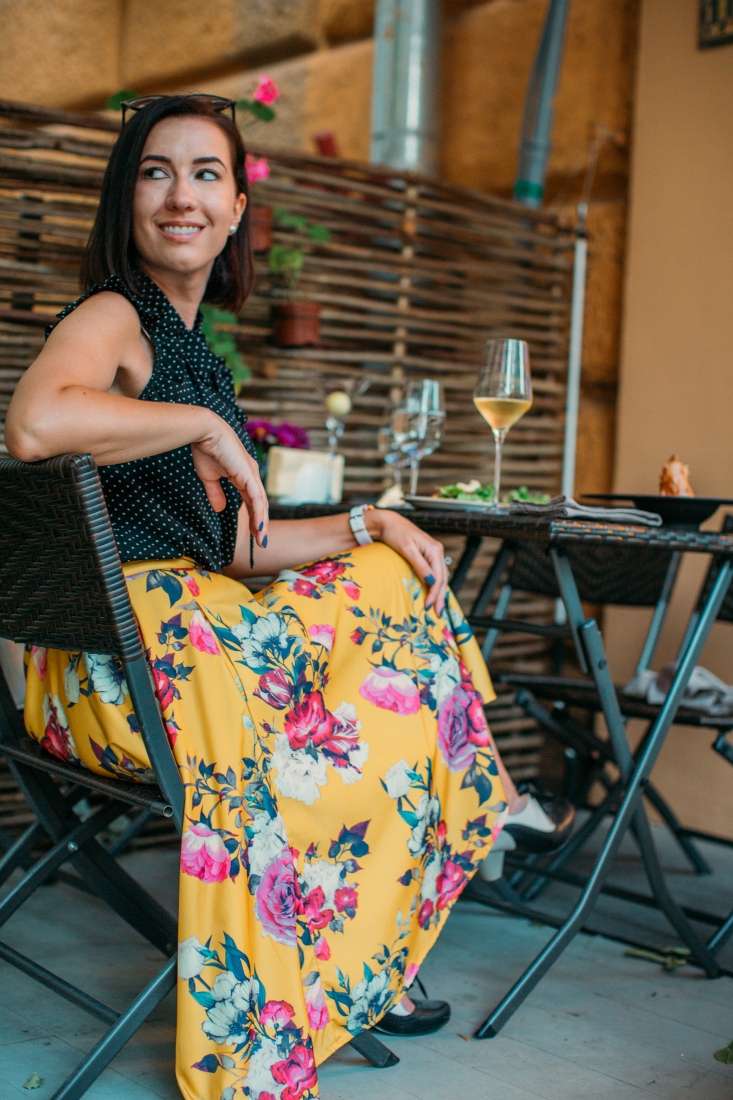 I'm also curious, do you mix polka dots and florals? And if so, what kinds of outfits do you like to wear with them? Let me know in the comments!
*Check out my blog post featuring "How to Style a Midi Skirt" for more ideas on how to style this floral skirt!
Where to find it:
Skirt: ModCloth (Sold out. Similar here, here, here & here.)
Blouse: Catch of the Day by Unique Vintage (Similar here, here, here & here.)
Heels: Chelsea Crew
Sunglasses: Old (Similar here)
Bag: Kate Spade
Watch: c/o* Timex
Earrings: Amazon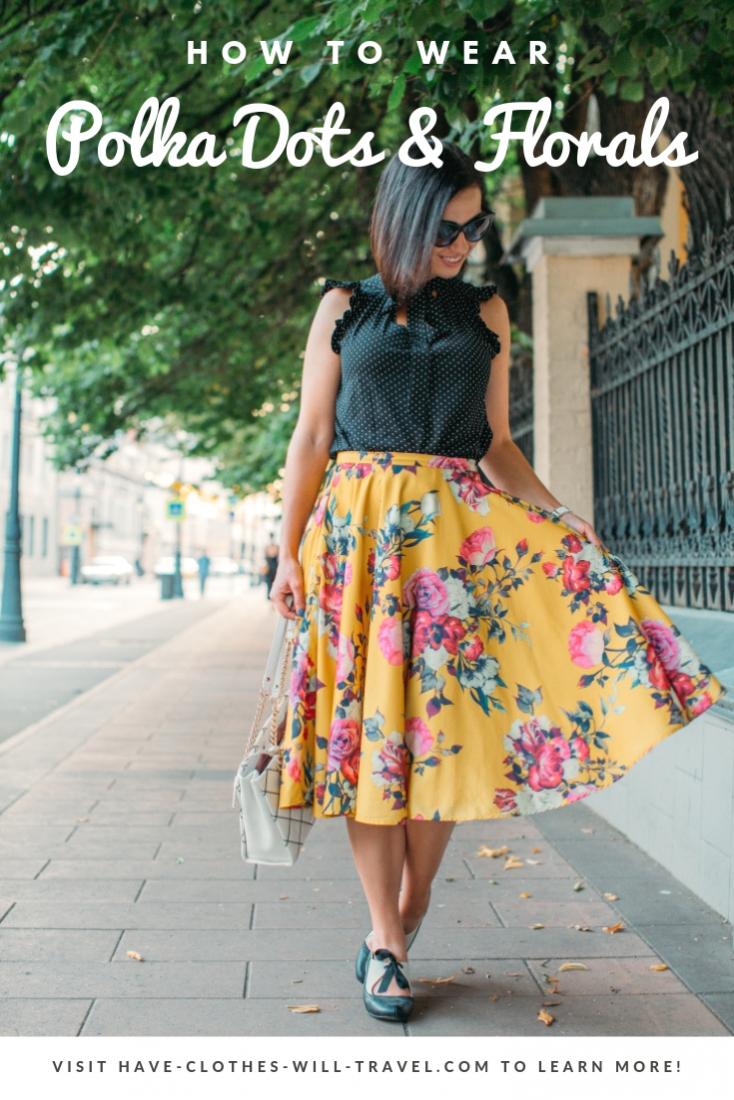 *Disclosure: some of these links are affiliate links. Meaning, if you click a link and make a purchase, Have Clothes, Will Travel gets a very small commission at no extra cost to you. Thank you for supporting the brands that make this blog possible! I am also a participant in the Amazon Services LLC Associates Program, an affiliate advertising program designed to provide a means for us to earn fees by linking to Amazon.com and affiliated sites.
*c/o = courtesy of, meaning the company gave me the product to be used on my blog, and I did not pay for it. All opinions are my own, and I am not being compensated for a positive review.