Pattern & Print Mixing – How to Wear Stripes & Florals Together
Skirt (Similar here) | Top (Similar here) | Sneakers | Bag | Sunglasses (Similar) | Watch
It took me long enough, but I'm finally embracing pattern & print mixing. I actually bought this striped top and floral skirt so I could wear them together! I did this last fall, and I've been patiently waiting all winter to break this outfit out.
Then, the most miraculous thing happened…it stopped snowing in Moscow, and warmed up to nearly 80 degrees Fahrenheit all in just under 2 weeks! I think we've skipped spring and gone straight to summer. The plants just started blooming a couple days ago, and I was thrilled to find a tree that matched my skirt…even if it was locked behind a fence.
How to Pull Off Stripes & Florals Together
The key, in my opinion to mixing florals and stripes, is to balance them. For example, here I'm wearing a floral skirt that has a large floral print on it…so, I should keep my stripes skinnier. And vice versa, if I was wearing something with wide stripes, I should keep the floral print smaller. This way they complement each other instead of looking too loud together.
The Outfit
The Skirt
I've had this skirt for a year now, and it has turned out to be one of the best clothing investments I've made (along with my green, fan skirt). This is because I'm convinced I can wear it with EVERYTHING and for almost any event. I've worn this skirt to buy a car and our first house. I wore this skirt for brunch, lunch, dinner, bridal showers, weddings…and I've even worn it traveling multiple times! I actually wore this exact outfit for a day of touring when I was in Israel. (But as you'll recall, that was a bit of a disaster. So, I don't have any photos of the outfit from that day.) Oh, and it has pockets!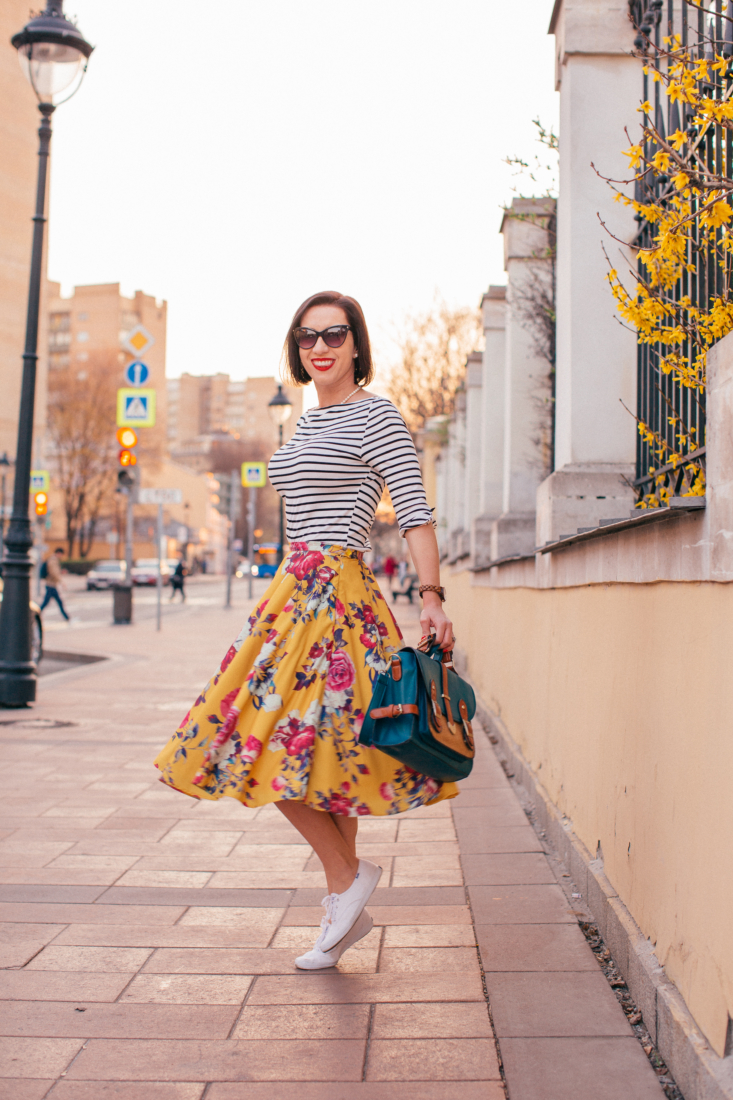 This skirt is simply fantastic, and I love that I can put it in the washing machine after a day of wearing it. (I despise paying for dry cleaning!) It's also fantastic for twirling! I think this might be the first post I've featured it with some twirls.
However, please note…this skirt runs large! I actually sized down an entire size in this skirt.
The Top
I have been finding myself gravitating toward Unique Vintage for my tops these last couple years. I love how well-made they are, and the fun, vintage vibes they have. I had a weirdly hard time finding a fitted striped top to go with my ever growing skirt collection. However, Unique Vintage has TONS of adorable striped tops to choose from that are perfect for tucking into skirts. (Sorry, the exact one that I'm wearing doesn't have many sizes left.)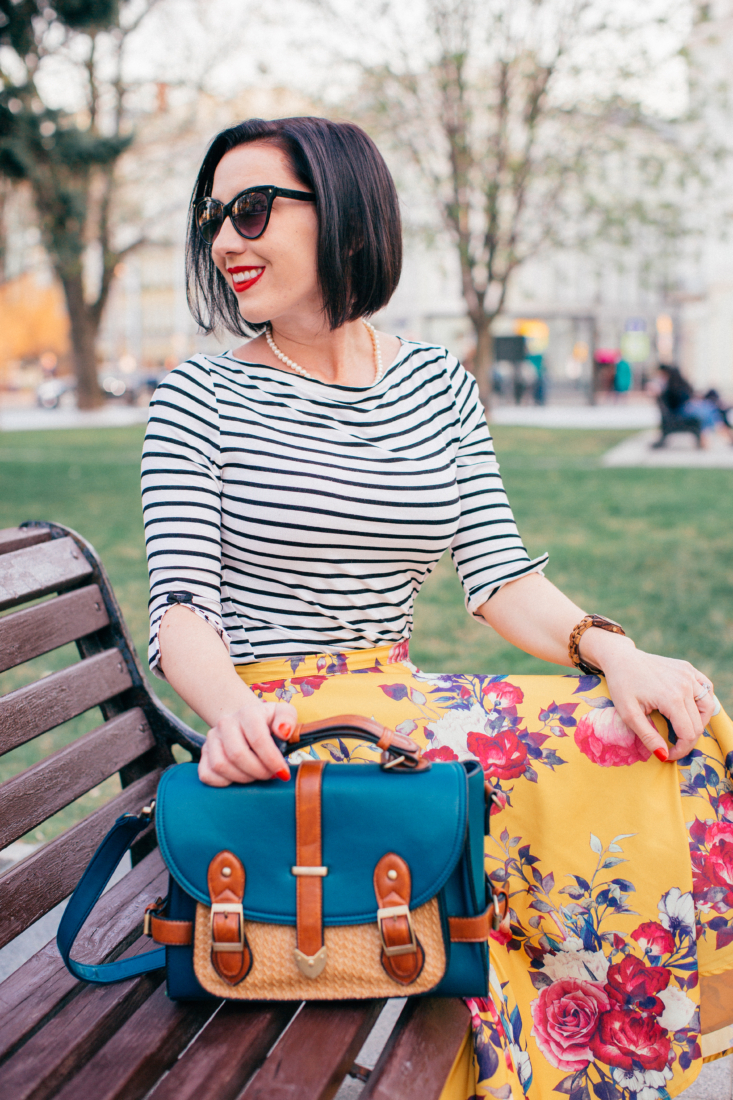 The Bag
I've also had this bag for over a year now, and I can say that this has also been a great investment! I use this bag for a ton of different activities…from everyday errand running to traveling. It works beautifully. It's held up really well too considering all the abuse it has received over this last year (especially after getting stuffed into my luggage while traveling)! It has no visible signs of wear yet.
Which, unfortunately, I also have this bag in a mustard color and it has not been holding up as well. It's weird because they are the exact same bag. However, the mustard bag seems to have a shinier color to it that is rubbing off and fading the more I use it. It's still in decent shape, however, the teal version of this bag has held up SO much better…and I even use it more.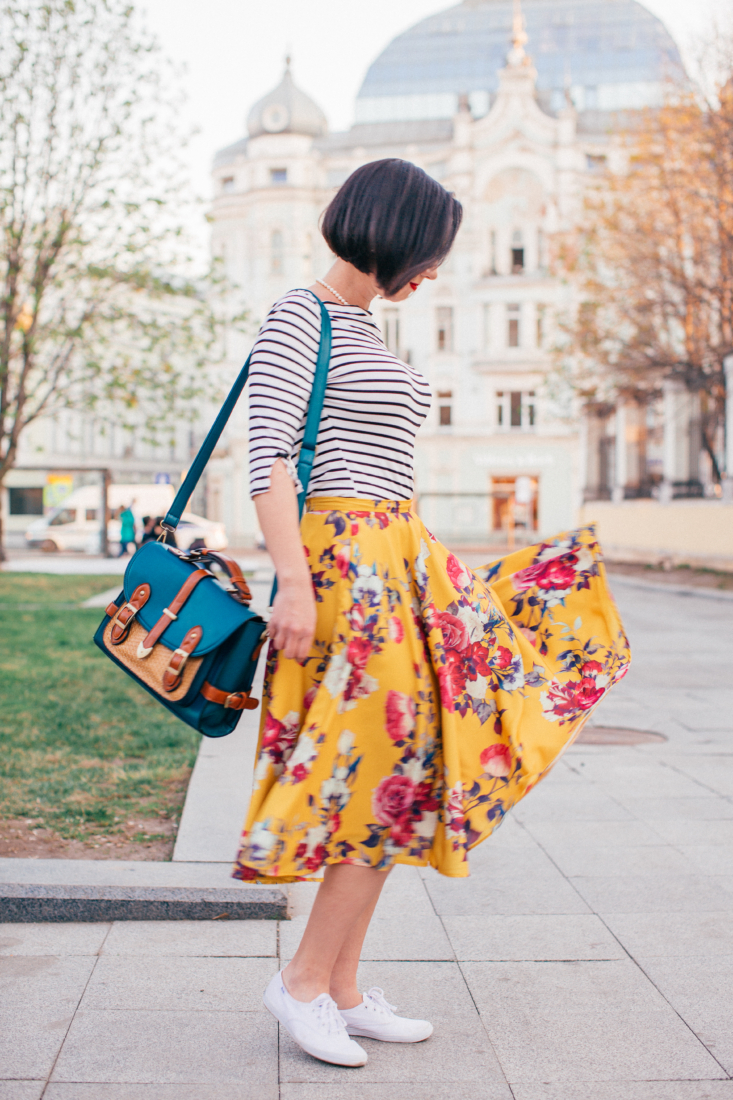 The Shoes
Sorry, I didn't take a close up of my Keds because they're getting pretty dirty after a year of use. Gosh, they are just so comfortable, though. I wish I would've bought them sooner! I'm also convinced I can wear them with any dress or skirt in my closet. And now that I'm a city dweller again, I have to wear shoes that I can walk super long distances in and still be comfortable. These are perfect for the occasion!
However, if anyone has tips for how to wash these canvas sneakers…I'm all ears! I think I'm just going to put them in the washing machine on gentle cycle…but I'd be curious to hear your experiences with this in the comments!
I'm also curious, do you mix stripes and florals? And if so, what kinds of outfits do you like to wear with them? Let me know in the comments!
*Check out my blog post featuring "How to Style a Midi Skirt" for more ideas on how to style this floral skirt!
Where to find it:
Skirt: ModCloth (Runs large. I sized down an entire size.)
Sneakers: Keds
Top: Unique Vintage (Similar options here with more sizes.)
Bag: ModCloth
Sunglasses: Old (Similar here)
Watch: c/o* JORD Wood Watches
Lipstick: Stila Stay All Day in Beso

*Disclosure: some of these links are affiliate links. Meaning, if you click a link and make a purchase, Have Clothes, Will Travel gets a very small commission at no extra cost to you. Thank you for supporting the brands that make this blog possible! I am also a participant in the Amazon Services LLC Associates Program, an affiliate advertising program designed to provide a means for us to earn fees by linking to Amazon.com and affiliated sites.