Outfit – Florals Galore & More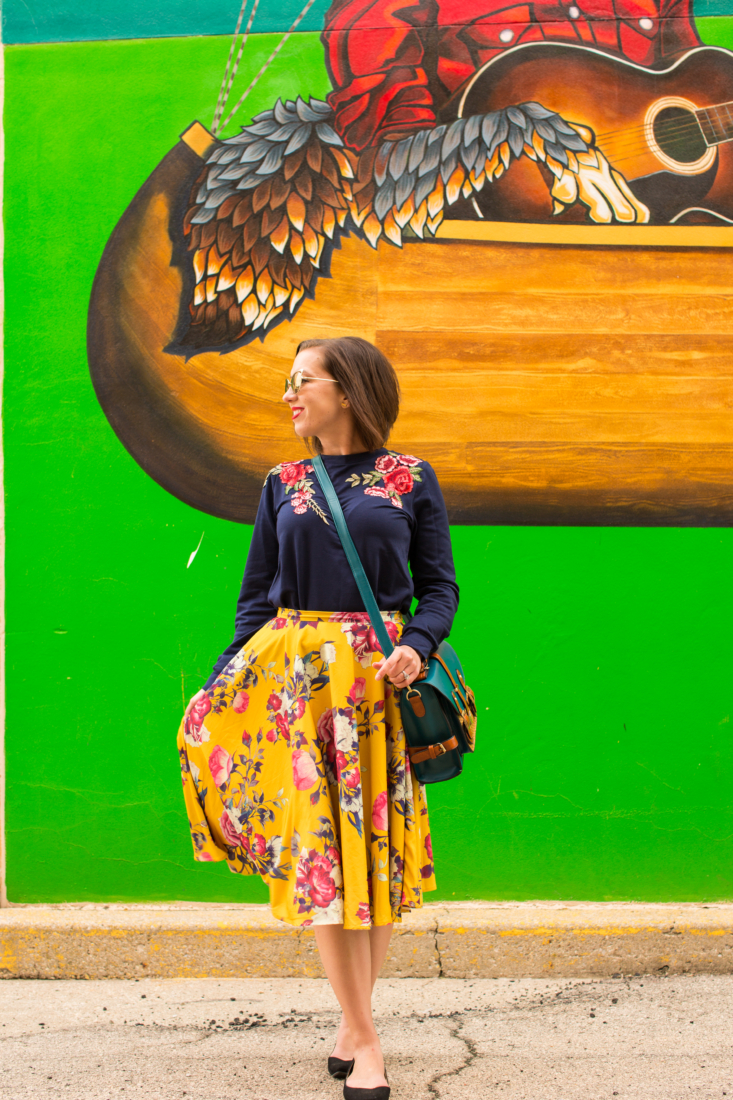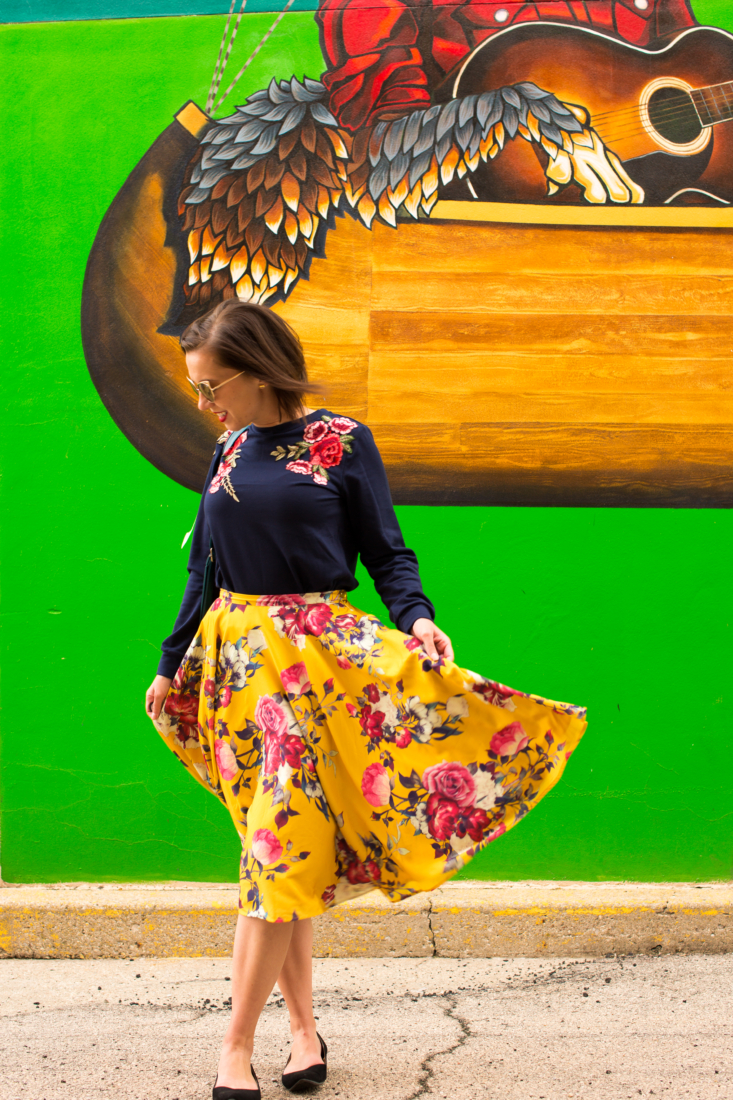 Skirt | Pullover c/o* | Flats | Bag (different color) | Sunglasses (similar)
Bring on the florals! Haha. I wear florals all year long, but this time of year is just such an opportune time to take this print to the max. I've been coveting this floral skirt for YEARS. However, it wasn't until now that I finally took the plunge.
I had talked myself out of it repeatedly because I really didn't NEED another skirt. However, I've been mentally planning so many outfits with this skirt, that I knew it would be a good piece to invest in. And I'm here to tell you, it's definitely going to be joining the ranks of my trusty fan skirt! This floral skirt is SO versatile!
SIZING – Skirt
However, it took me a couple tries to get the sizing right on this skirt. I'm typically a medium but ended up sizing all the way down to a small with this skirt. It was just too baggy through the waist otherwise for my preference. I'll admit it's a smidge too tight at times when I pair it with this pullover, but when I pair it with t-shirts and tops that are more fitted, I have no problems.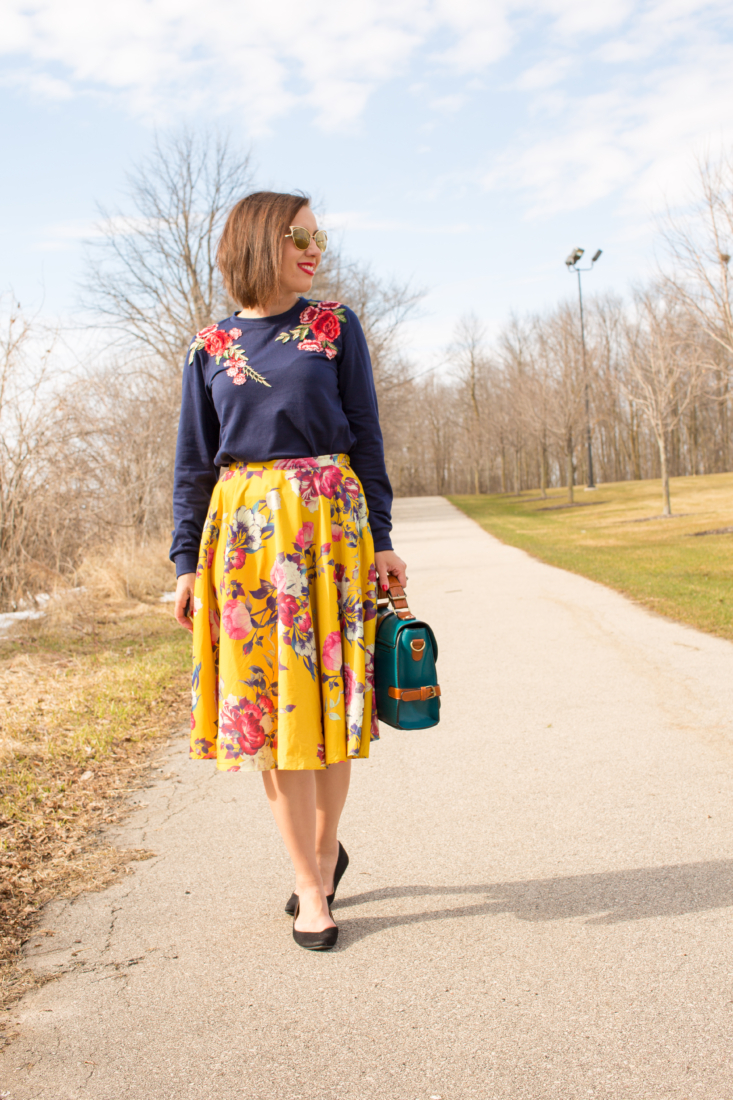 SIZING – Pullover
Again, for this pullover, I sized down an entire size, and it fits me just right. I personally wanted this pullover a little more fitted, though, as I planned to tuck it into skirts. But I like the way it looks untucked with pants as well. I'm super impressed with the quality too, as this pullover is only $11!
Twirl-ability
The twirl-ability of this skirt is fabulous! It's a bit hard to capture on camera when it's windy, though. But don't worry! I have about a dozen other outfits planned with this skirt to feature on the blog, haha. I've been wearing it nonstop since it arrived and have been mixing and matching all my tops with it.
Life Update
Last weekend, I paired it with a more fitted black top (above) for when we purchased our new(ish) Mazda CX-5! My husband and I are going to be in the United States for a while now. So, it was time to invest in a vehicle. This is actually the first vehicle we've ever bought together. And while it is technically a used vehicle, it had less than 4,000 miles on it…so, it feels quite new to us! It's been so fun to drive!
We're in the process now of finding a garage for it, haha. We've decided to set up our home base in Wisconsin for now (not Iowa). This doesn't necessarily mean we'll never move abroad again, it just means we won't be true "nomads" any more. But that's if we ever find a place…because holy smokes! We've been looking at apartments, condos and houses…and goodness gracious it's a competitive market right now! Every time we think we've found "the" place, it's gone in a blink of an eye! But I'm sure we'll find something soon. 🙂
Is anyone else in the process of some big life changes? And has anyone else been taking florals to the max this spring? Let me know in the comments!
*Check out my blog post featuring "How to Style a Midi Skirt" for more ideas on how to style this floral skirt!
Where to find it:
Skirt: ModCloth
Pullover: Shein c/o*
Flats: Chinese Laundry
Bag: ModCloth
Sunglasses: Quay (similar here)

Links à la Mode, Sept 13th, 2018
*Disclosure: some of these links are affiliate links. Meaning, if you click a link and make a purchase, Have Clothes, Will Travel gets a very small commission at no extra cost to you. Thank you for supporting the brands that make this blog possible! I am also a participant in the Amazon Services LLC Associates Program, an affiliate advertising program designed to provide a means for us to earn fees by linking to Amazon.com and affiliated sites.
*c/o = courtesy of, meaning the company gave me the product to be used on my blog, and I did not pay for it. All opinions are my own, and I am not being compensated for a positive review.