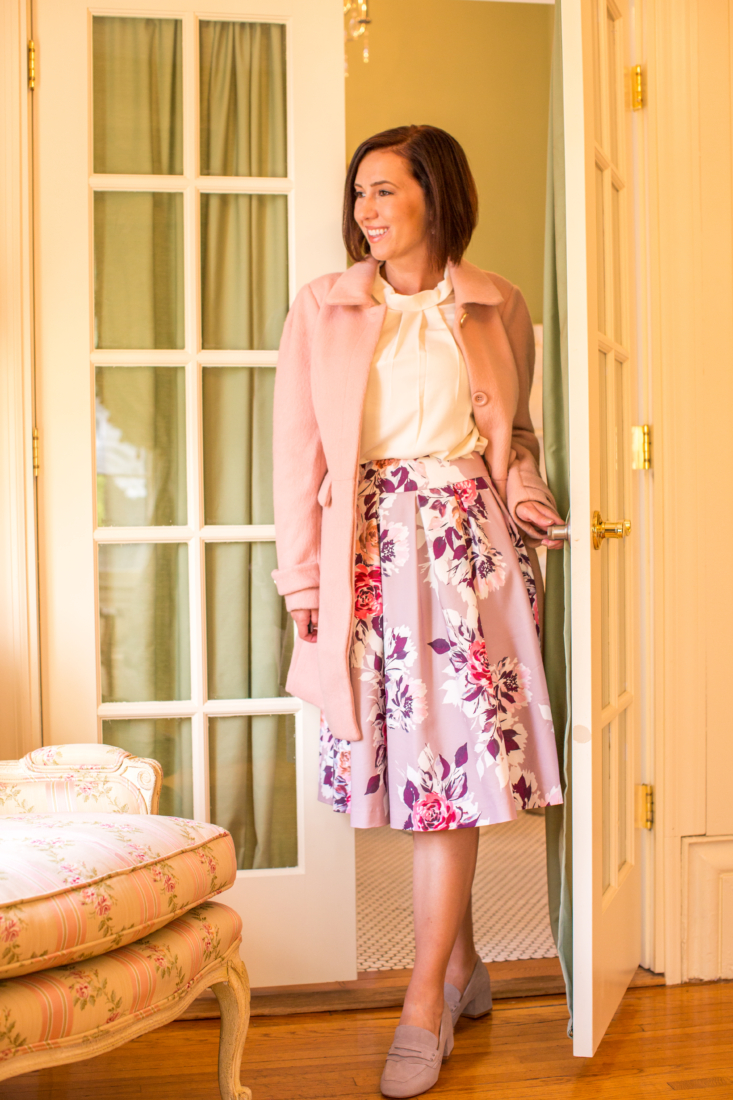 Coat c/o* | Loafers c/o* | Top c/o* | Skirt (Similar here & here)
Rules are meant to be broken. You won't find me telling you to pack away your pinks and pastels just because the temps are changing. Inspired by ModCloth's Say It Louder Campaign, I'm featuring an outfit that is very "me" and not the least bit "seasonally trendy." Your clothing choices should embody who you are and what makes you feel beautiful.
While I certainly love fall and the colors and patterns associated with it, florals and pinks just make me so darn happy when I wear them. I feel like my girly self in this kind of an outfit. And while this is an outfit that certainly screams spring by all conventional standards, I wasn't about to wait until then to wear it! Style is meant to be fun, and not restricted by "rules" and "what's trending."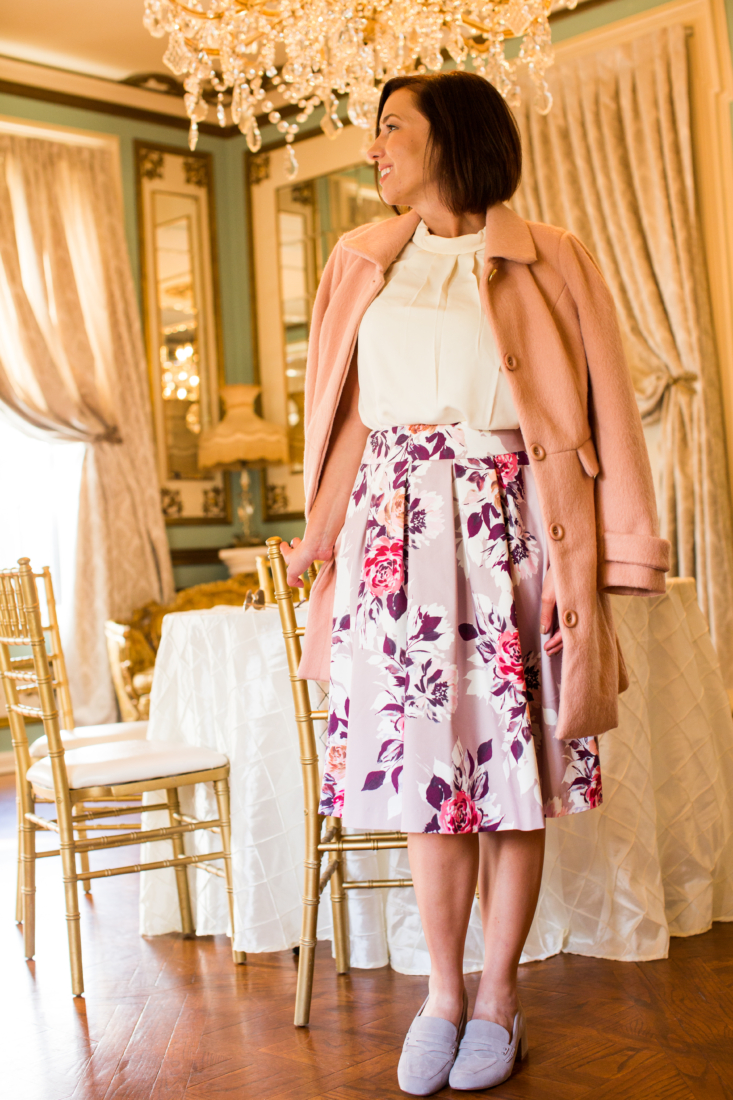 Where I Took These Photos
It was also a happy coincidence that this outfit matched the "hotel" I was staying at so well! So, I went ahead and broke another rule by wearing my coat indoors, haha. These photos were taken at the Maxwell Mansion in Lake Geneva, Wisconsin. One of my best friends was married there last weekend. (That's why I was back in the United States.) This is where we stayed and where the wedding was held. I wore this outfit for the rehearsal and dinner, as they were both outdoors. (But the inside of this place needed to be photographed!)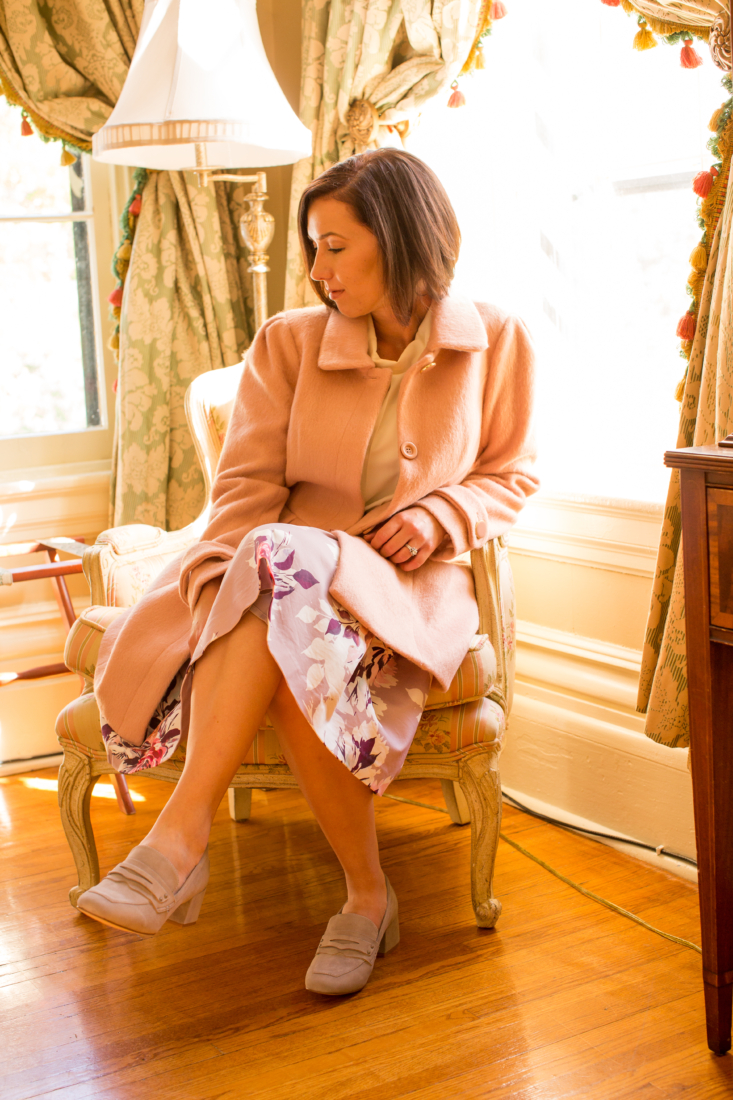 The Coat
I was so excited that I finally had the chance to wear a coat too! The wind was just brisk enough that one was necessary. (Thankfully, in Moscow it is COLD. And I've been wearing this coat nonstop the past few days!) I've never been so pleasantly surprised by a coat! This one is not only beautiful, but it's warm and comfortable. This coat will last me from fall to winter and right into spring! (Get ready, there's going to be a "wearing pink in winter" post too.) I really didn't think this coat would be as warm and heavy as it is, so I was really pleased with that.
It's also true to size. I ordered my normal size medium and will have enough room for a bulky sweater and scarf, once the temps get really frigid…which, by the looks of it will be next week here in Moscow!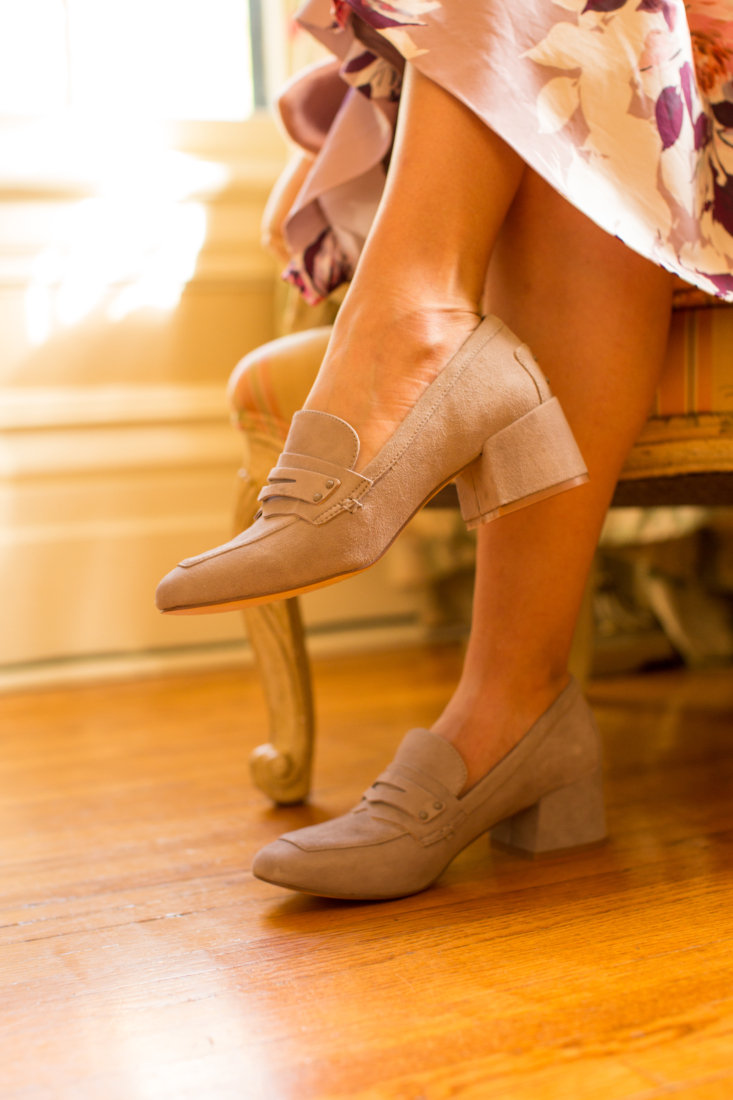 The Shoes
I am also very excited about these loafers! They're SO comfortable. I wore them right out of the box and had no issues standing and walking during the rehearsal, walking several blocks to a nearby park and back, and wearing them for (perhaps far too long) in the Maxwell Mansion's speakeasy that night! They do run small, though, in my opinion. I sized up a half size to an 8 1/2 and was glad I did. I have pretty wide feet, and I don't think I would've been able to squeeze into my normal size 8. There's also just enough room now so I can wear a pair of stockings with them.
I'm curious, what kind of an outfit do you feel most like "you" wearing? Let me know in the comments!
Where to find it:
Coat: c/o* ModCloth
Loafers: c/o* ModCloth (I suggest sizing up a half size.)
Top: c/o* ModCloth (It's cream! The product photo makes it look white, but I promise it's a cream color.)
Skirt: Old (Similar here & here)

Links à la Mode, November 15th, 2018
*Disclosure: some of these links are affiliate links. Meaning, if you click a link and make a purchase, Have Clothes, Will Travel gets a very small commission at no extra cost to you. Thank you for supporting the brands that make this blog possible! I am also a participant in the Amazon Services LLC Associates Program, an affiliate advertising program designed to provide a means for us to earn fees by linking to Amazon.com and affiliated sites.

*c/o = courtesy of, meaning the company gave me the product to be used on my blog, and I did not pay for it. All opinions are my own, and I am not being compensated for a positive review.