Madaba & Mount Nebo – Are They Worth Adding to Your Jordan Itinerary?
Madaba and Mount Nebo are two historically significant spots to visit in Jordan. Now, neither of these places are going to rank as high as say Petra or the Dead Sea on peoples' itineraries. However, does that mean they aren't worth adding to your Jordan itinerary? In this post, I'll explain what each location has to offer, and my opinion of whether or not they're worth visiting, plus a bonus stop along the way.
Madaba – The Madaba Map in the early Byzantine church of Saint George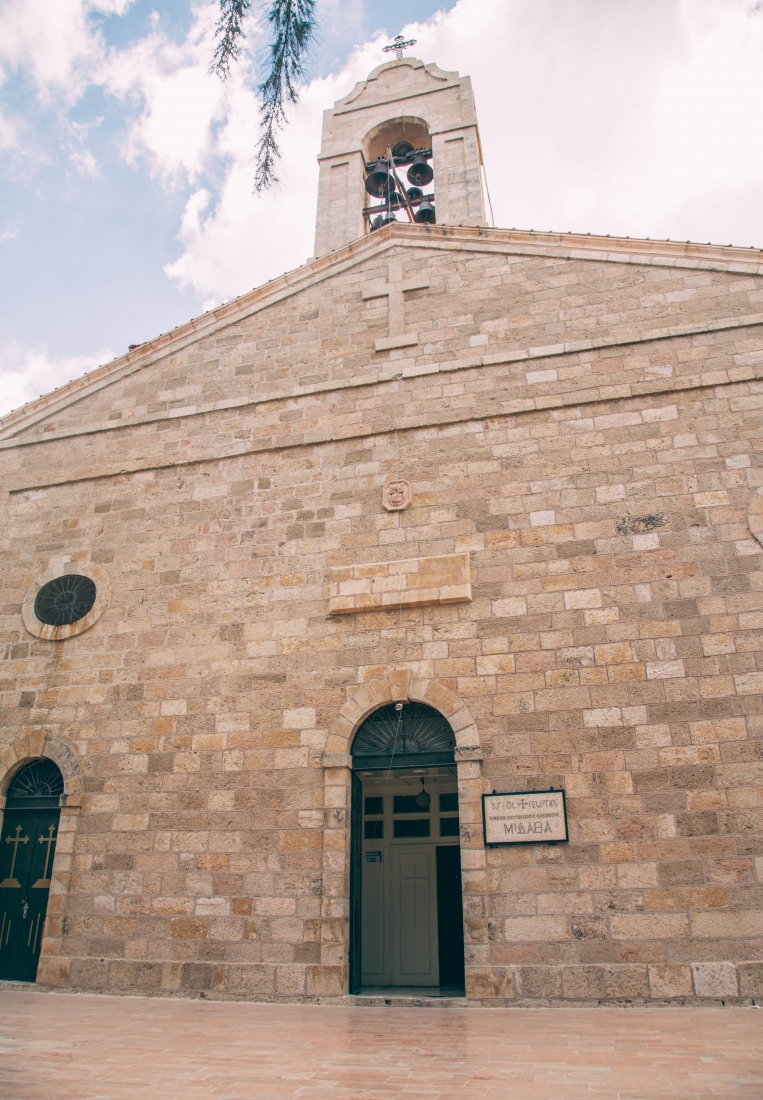 Madaba is an ancient town in Jordan, southwest of Amman. (It's a little less than an hour drive from Amman.) Madaba is best known for its 6th-century mosaic map in the Greek Orthodox Church of St. George.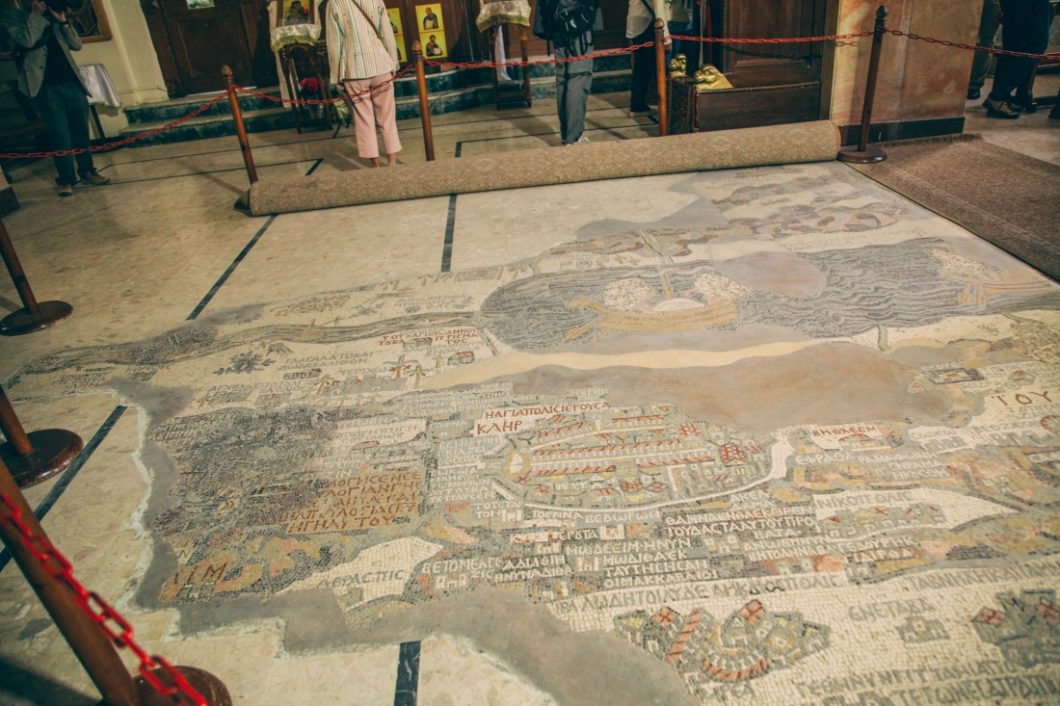 The Madaba Map, also known as the Madaba Mosaic Map, is part of a floor mosaic. The Madaba Map is of the Middle East, and part of it contains the oldest surviving original cartographic depiction of the Holy Land – especially Jerusalem.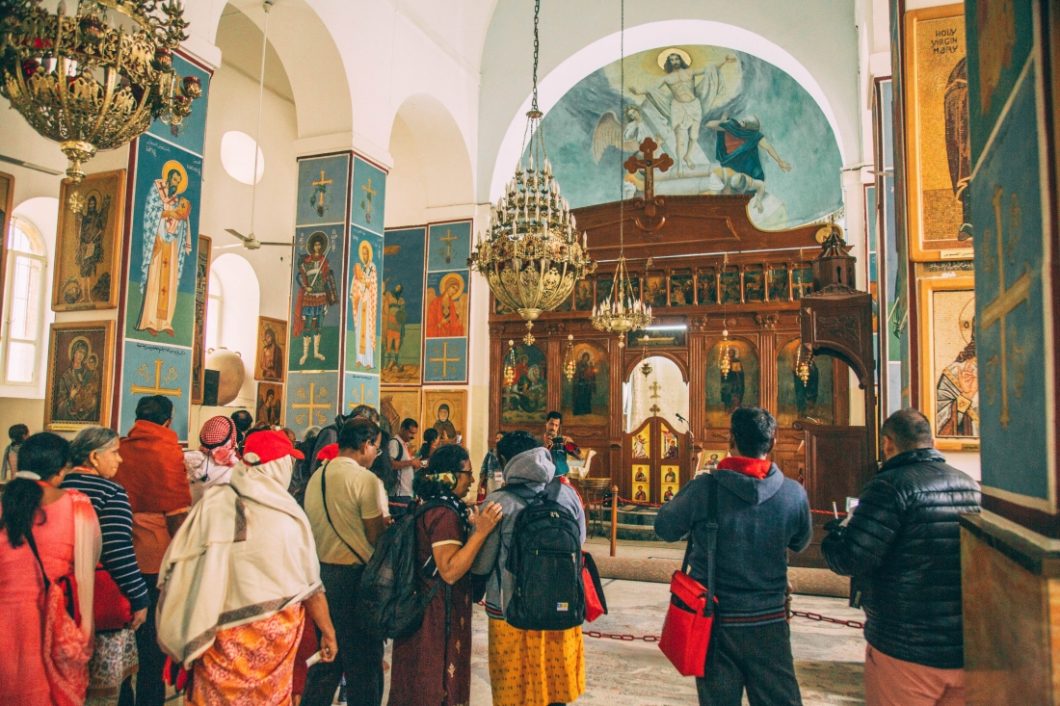 We had arrived just as the church opened that morning, and there were quite a few tour groups waiting for it to open as well. So, when we did get inside it was a bit overwhelming. However, after most of the tour groups left after 15 minutes, and we were able get a few moments admiring the mosaic without tons of people vying to take a photo of it.
The church itself is also beautiful with many mosaics decorating the walls.
Did I enjoy visiting Madaba?
It was certainly interesting to see the Madaba Map! We also made a stop at some family-owned mosaic shops where they showed us how they make mosaics, and we had the opportunity to look at some souvenirs. (There was nothing we were quite interested in that was also in our price range – mosaics are quite expensive due to all the work that goes into making them!) This was also fun to watch and the shop owners were all very kind and not pushy (unlike in Egypt).
Bonus stop at La Storia Tourism Complex on the way to Mount Nebo
We had really only spent 30-45 minutes inside the church of St. George (my husband and I have visited a lot of historic churches this last year)! So, our driver, Wesam, who is the kindest and most attentive person we have ever met (and the best driver ever)…asked if we wanted to stop at this little museum just outside of Madaba on our way to Mount Nebo. (Wesam works with Desert Adventures – a company I have a full review on, here.)
We said yes, and Wesam paid our fee to go inside and introduced us to some of the ladies who worked here. They were excited and curious to welcome two Americans to the museum.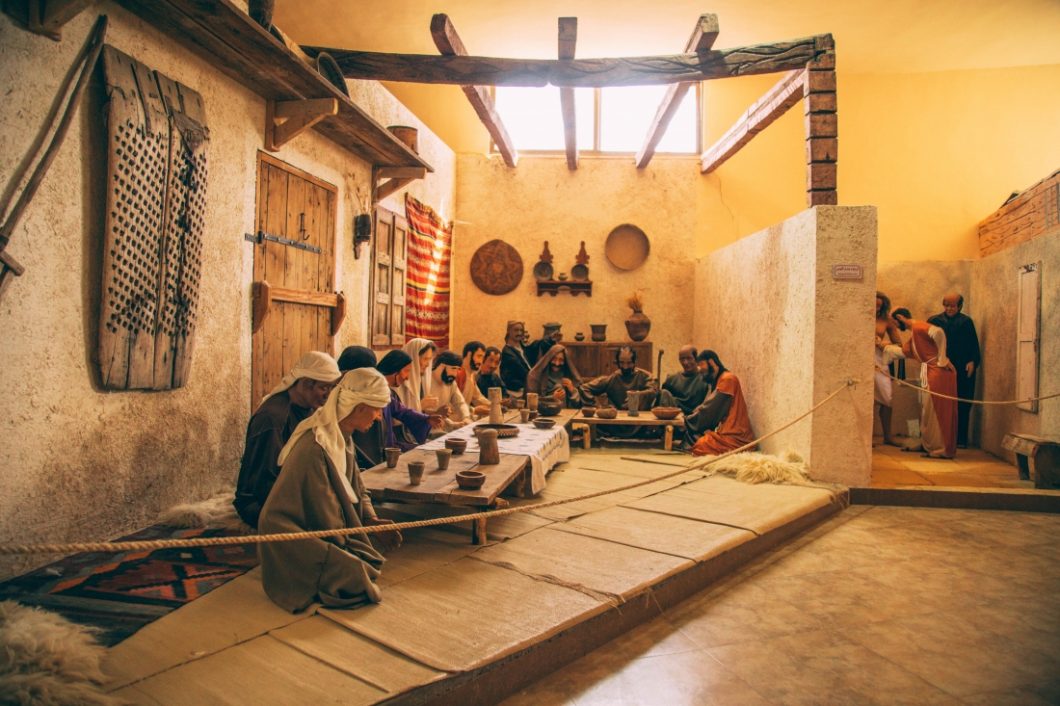 The museum is filled with dioramas that depict various historical and biblical scenes throughout Jordan and its surrounding region. There was a lot of thought put into each display and some of them moved! (Which freaked me out, haha.)
I particularly enjoyed how enthusiastic the young ladies who worked here were. They carefully explained each scene and were delighted when I stopped to take photos of the ones that I found interesting – such as the traditional dress of Jordanian women and the surrounding countries (pictured above).
For us, it was also interesting to see historical depictions of Syria (pictured above). Being from the US, we only ever tend to think of Syria, now, as a terrifying warzone – not a country filled with a rich and beautiful past. It was interesting to learn a little bit about it in a different light.
Did I enjoy visiting La Storia Tourism Complex?
We really did enjoy visiting La Storia Tourism Complex – this was entirely because of the ladies who were working there along with our driver, Wesam, being so enthusiastic about teaching us their country's history. This was honestly one of my favorite parts of the entire day. It was really delightful to chat with them all! The dioramas are a bit dusty and worn at this point, but it really didn't matter, as they were only there to illustrate the stories of the folks who were working at the complex.
La Storia Tourism Complex also has a nice, authentic Jordanian restaurant. We didn't end up eating here, but it has some very nice reviews! Click here for more information.
La Storia Tourism Complex photo gallery
Mount Nebo
The Bible says Mount Nebo is where Moses lived out his final days and saw the Promised Land. It also says that Moses' body is possibly buried here – however, there is no current proof of this.
Mount Nebo is about 710 meters above sea level with sweeping panoramic views of the valley of the River Jordan and also the city of Jericho…and if the day is clear enough, you can also see Jerusalem.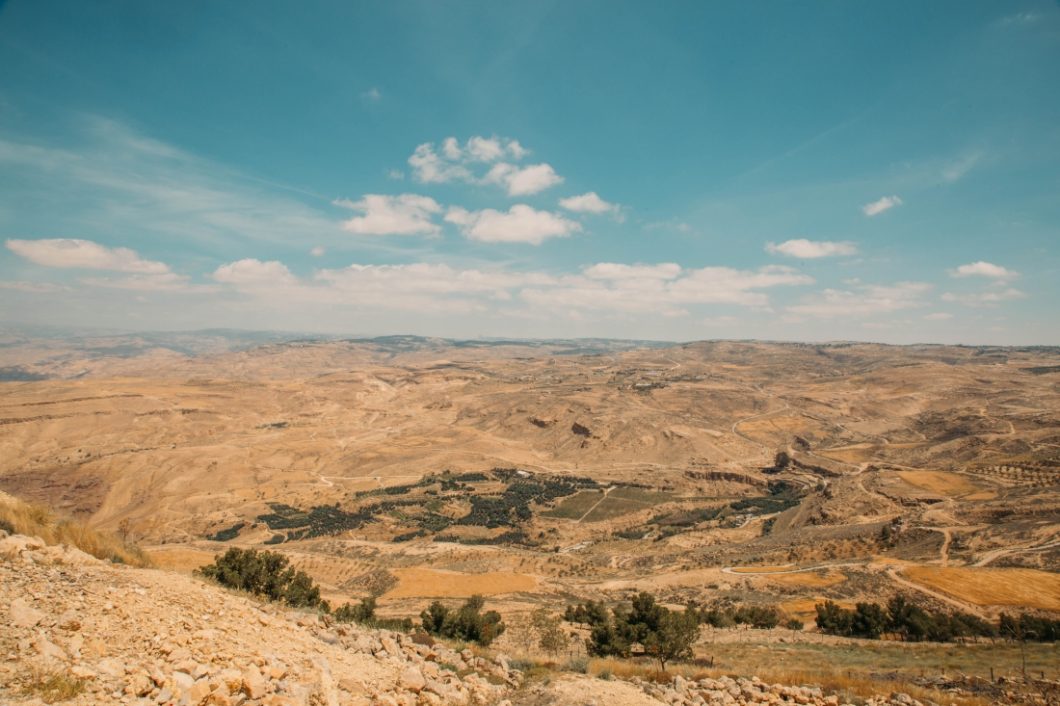 There is also a serpentine cross sculpture on Mount Nebo that was created by Italian artist Giovanni Fantoni to depict the bronze serpent created by Moses in the wilderness and the cross that Jesus was crucified.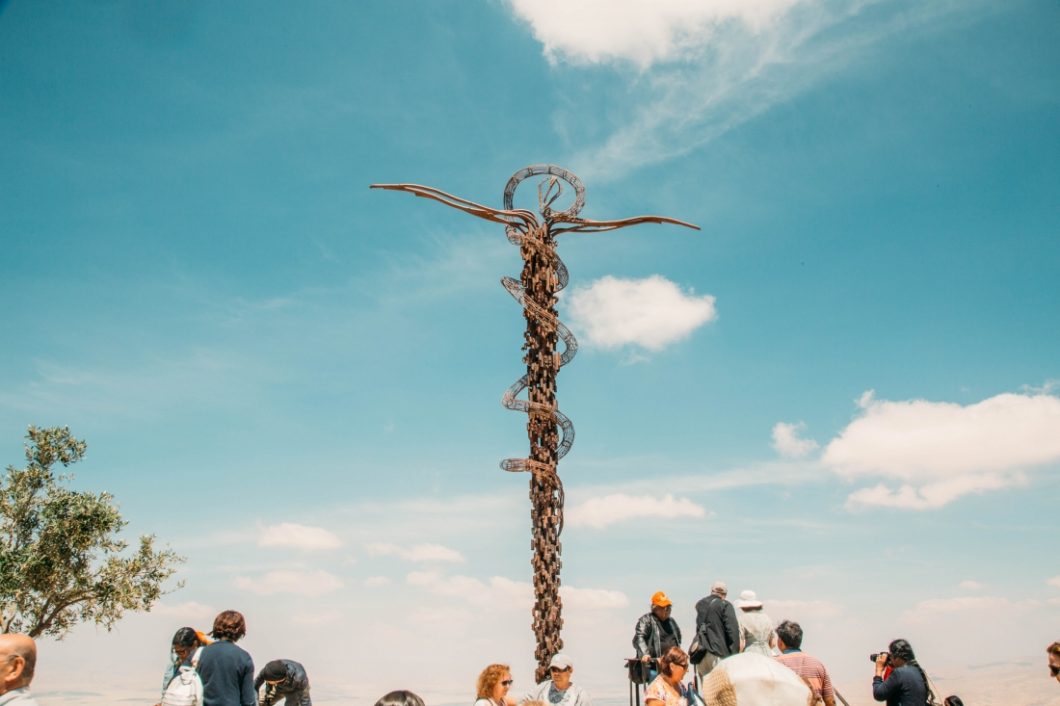 Pope John Paul II had also visited Mount Nebo in 2000. And during his visit, he planted an olive tree here as a symbol of peace.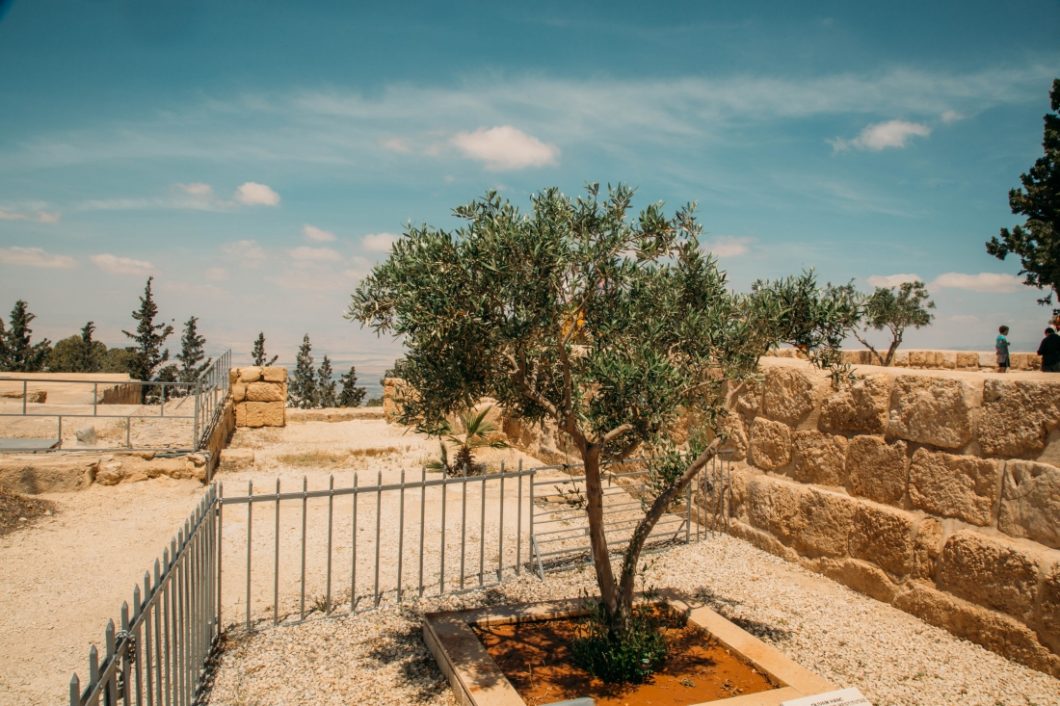 There is also a recently renovated church atop the mountain that was discovered in 1933. The church was first constructed in the second half of the 4th century to commemorate the place of Moses' death. There are still mosaics from the various periods of this church's construction throughout the inside!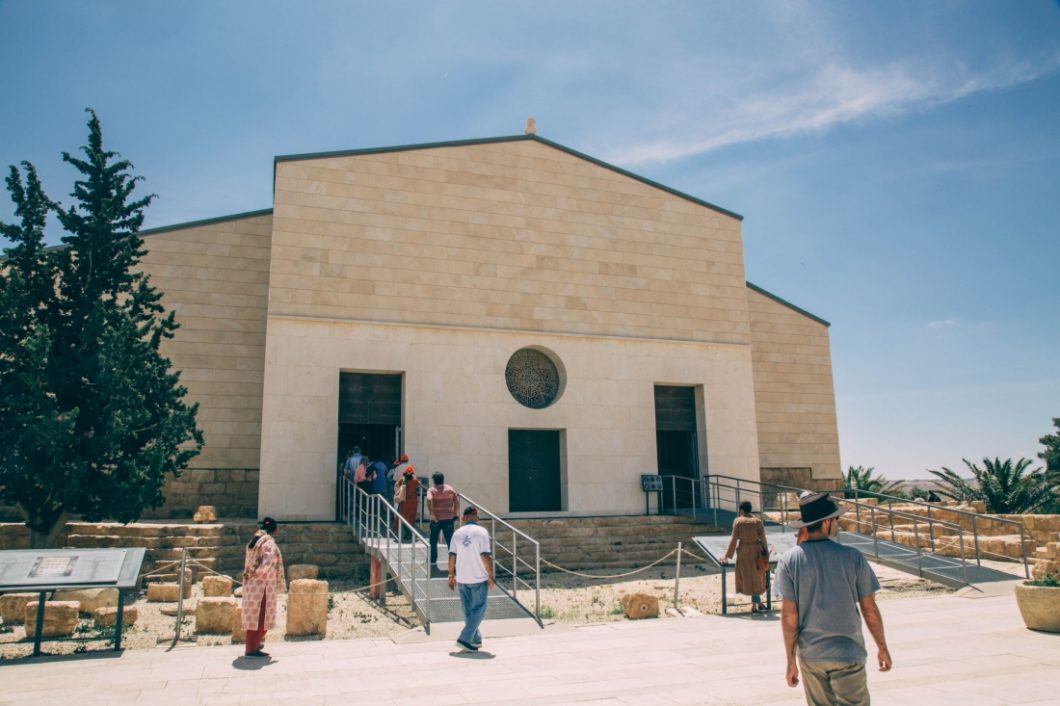 Did I enjoy visiting Mount Nebo?
It's hard to deny not being a little awestruck of the same view that Moses may have had of the Promised Land. Whether you're religious or not, Moses is still an important historical figure. So, visiting Mount Nebo was pretty exciting for us.
And all of its history aside, Mount Nebo certainly has some beautiful views of the area as well!
Mount Nebo photo gallery
Bottom Line: Is it worth visiting Madaba & Mt. Nebo?
If you are religious or interested in the historical aspect of these places – this can be a great way to spend half of a day. Most tour companies suggest visiting Madaba and Mount Nebo in the morning (from Amman) and then driving a half-hour from Mount Nebo to the Dead Sea.
This is what we did. We spent a half-day exploring Madaba and Mount Nebo and then spent a couple of hours getting lunch and floating in the Dead Sea. This a great way to get a little history in before you venture to the Dead Sea – and the Dead Sea is an absolute MUST-DO if you have never visited it before.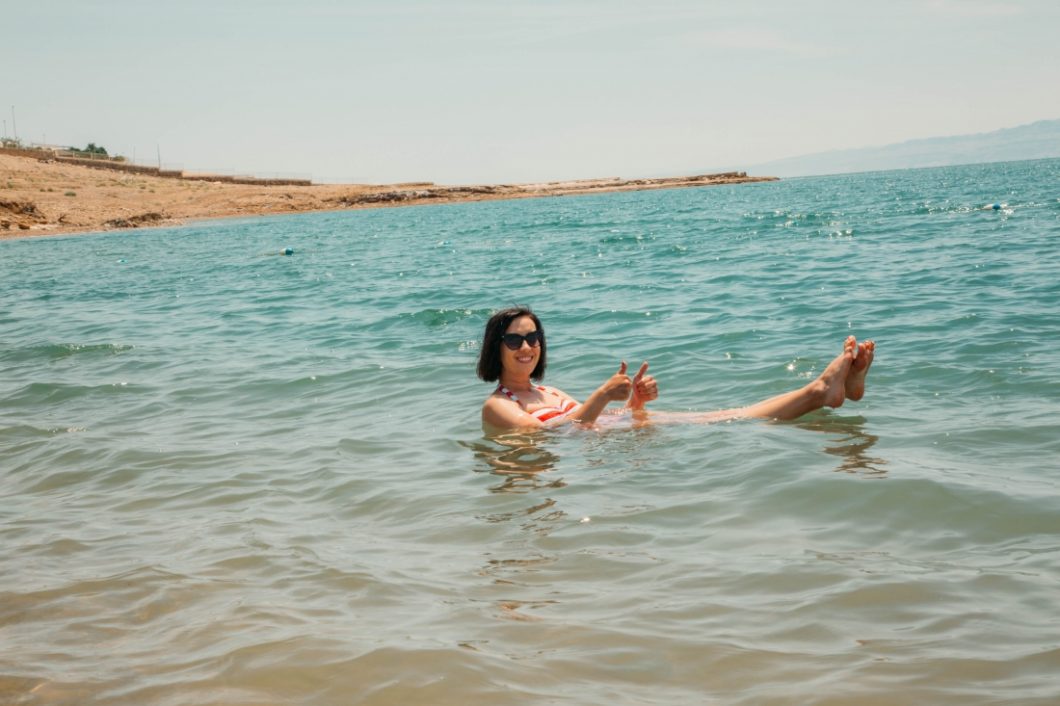 I did like each of the places we visited in their own rights. However, we had a rather limited amount of time in Jordan (only 3 days). If I were to do this itinerary again I would honestly skip Madaba and Mount Nebo and dedicate this day either entirely to Petra or Wadi Rum. (We crammed Petra and Wadi Rum into one day, and I think they should have been split into two.) We had also visited the Dead Sea when we were in Israel, so I really didn't need to go back. (I just thought it would be a relaxing way to spend an afternoon.)
We also ended up going back to Amman that night after Madaba, Mount Nebo and the Dead Sea. If you have the time and are interested in these places, I would spend the night at one of the Dead Sea resorts and then head to Petra in the morning. Driving back to Amman that night was just silly of us. If we would have spent the night at the resort, we could have properly relaxed at the Dead Sea and then actually have been closer to Petra the next morning.
*Click here to see all the resorts available at the Dead Sea.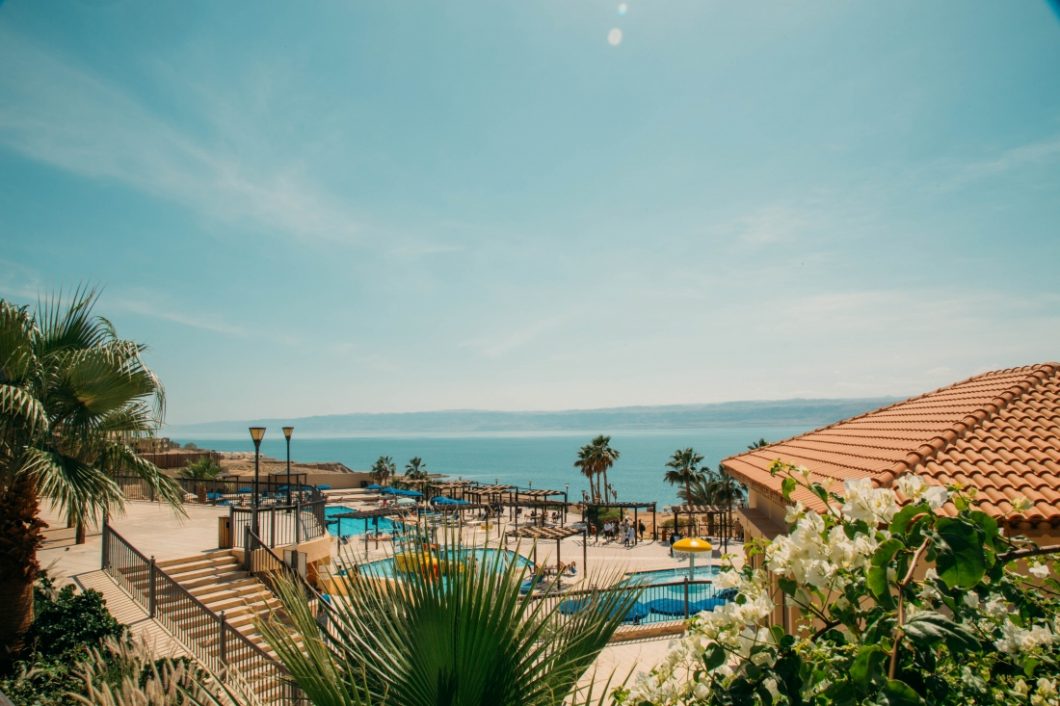 How do you to get to Madaba & Mt. Nebo?
You have a few different options…
Take a tour from Amman – tours are easy and a cost-effective way to get to all of the places mentioned in this post. This particular tour, here, has very high ratings as well.
Hire a private driver from Amman – this is what we did. We booked a driver for our entire time in Jordan who took us from Amman and to all of the places we wanted to see. This is a little pricier than a group tour, but it was great to go everywhere at our own pace and not worry about driving.
Rent a car and drive yourself from Amman – Driving in Jordan is much more organized than I had expected. If you're comfortable driving in foreign countries, you would be just fine driving in Jordan. Amman has some traffic, like any other major city, but overall driving in Jordan is not chaotic at all. (If you're from the US, you're in luck, because you also drive on the righthand side of the road in Jordan.) Check out car rental rates, here.
I am happy to answer any questions you may have about visiting Madaba, Mount Nebo and the Dead Sea in the comments section at the end of this post.
*Click here to see all of my posts about Jordan.
Travel Insurance
It's a good idea, no matter where your adventure takes you, to have travel insurance. You never know what might happen! Whether you get sick before your trip and can't go, or you become sick or injured while on your adventure – being covered with travel insurance is a must. Some credit card companies do provide this service (check with yours), or you can get a quote from companies such as Squaremouth to find the best plan for you and your adventure. (This is the company I, personally, use. They are even recommended by Forbes!) To get a free quote, click here.
Visa Requirements
To check if your country requires a Visa for traveling to Jordan, click here.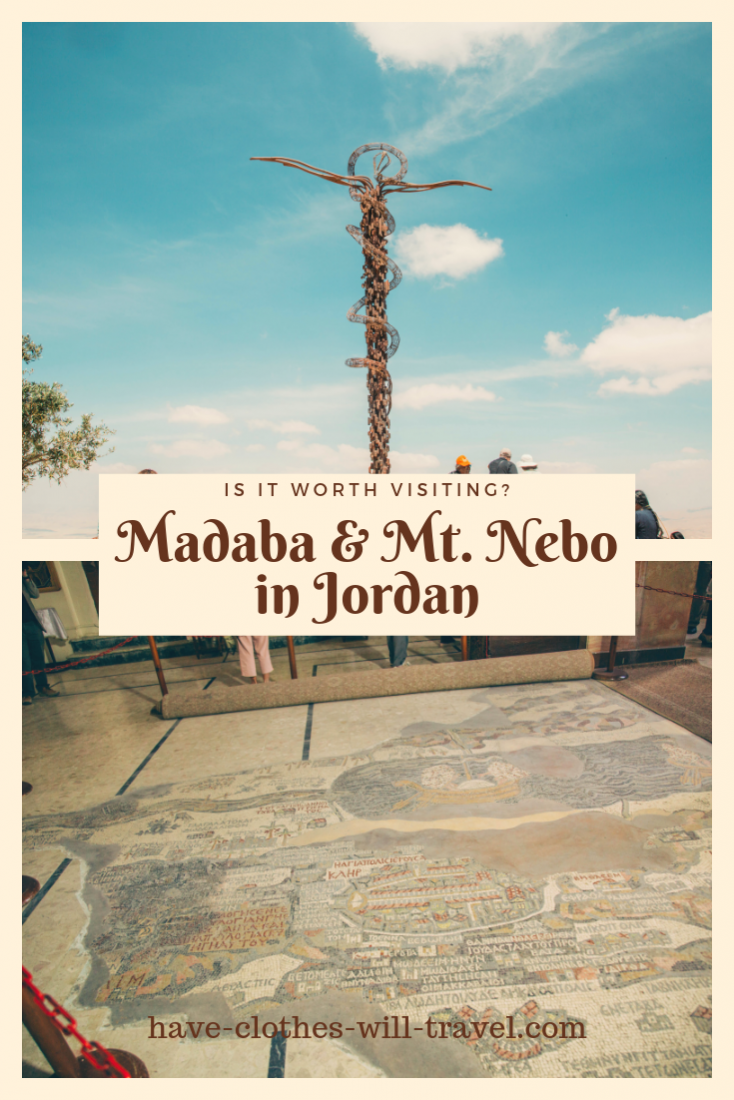 *Disclosure: some of these links are affiliate links. Meaning, if you click a link and make a purchase, Have Clothes, Will Travel gets a very small commission at no extra cost to you. Thank you for supporting the brands that make this blog possible! I am also a participant in the Amazon Services LLC Associates Program, an affiliate advertising program designed to provide a means for us to earn fees by linking to Amazon.com and affiliated sites.