What to Wear for a Day of Exploring Near the Dead Sea in Jordan
Wondering what to wear for a day of exploring near the Dead Sea in Jordan? This post is here to help!
Deciding what to wear for this day of exploring was a bit tricky, as I still wanted to be comfortable and dressed conservatively (more info on how to dress appropriately in Jordan as a woman here), but I wanted something that could also double as a coverup at the beach after we were done floating in the Dead Sea.
This outfit actually worked out perfectly! And funny enough, it's made up of items I never thought I would get any use out of until I saw them hanging next to each other in my closet.
However, please note, at the Dead Sea… You can wear your swimsuit!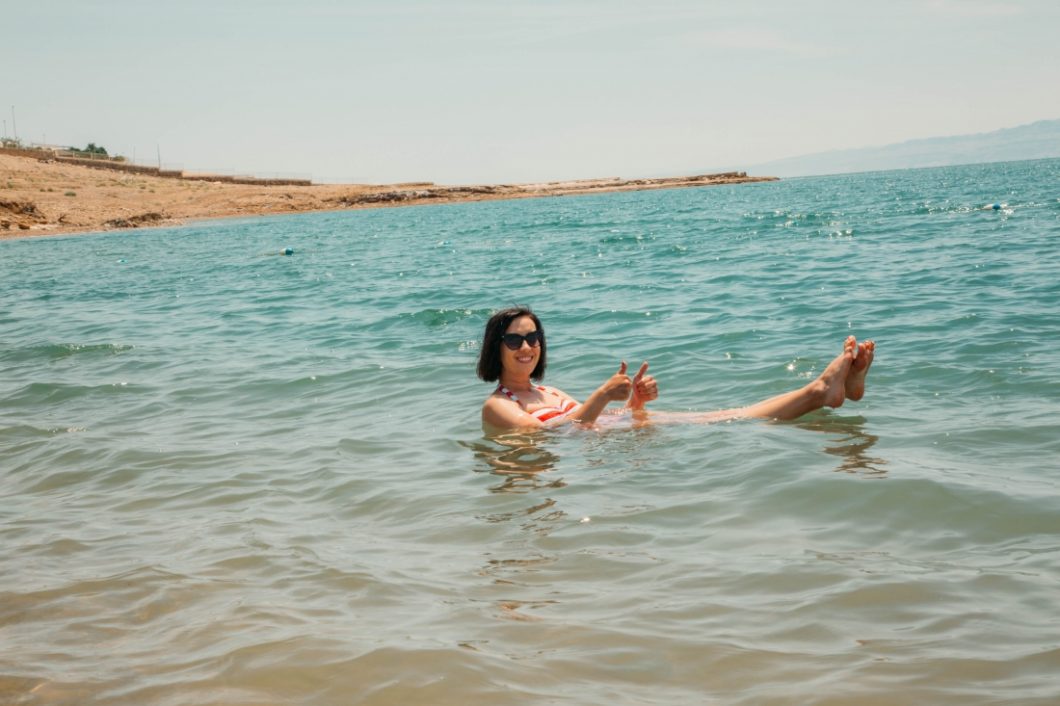 Now, swimsuits are totally fine for swimming at a Dead Sea resort! (Click here for my post on what I wore in the Dead Sea.) I know I've talked about how it's considered respectful to dress conservatively while in Jordan, but when it comes to hanging out around your Dead Sea resort…that's a different story.
This post is about what to wear for exploring in the areas around the Dead Sea. You shouldn't be running around in your swimsuit once you are off the resort! You will also likely need to wear something over your swimsuit when you are inside your resort's lobby or restaurant as they don't want wet swimsuits on their furniture. (Or at least our's was quite the stickler about it. And we were at the Dead Sea Spa Resort, which was nice, but not overly fancy or anything.)
That's where this outfit comes in! It works perfectly fine for a day of walking around and exploring, but can also double as a swimsuit coverup at the Dead Sea.
Maxi Dress
Maxi dresses were my best friend on this trip to Jordan and Egypt! This particular one I had worn a couple of times with a cardigan when I was in Argentina for a winter, but I never really "loved it." That is until I wore it for a hot day of walking around and realized how airy and breathable it is! I also never loved the length of this dress, it's not quite a maxi but too long as a midi? However, this length was so much easier to wear for walking long distances. (Plus, paired with this duster, you don't notice the weird length that much anyways.)
It's also fast-drying, which was great for of day of sweating…and then perfect to slip into after swimming in the Dead Sea. I love that it's looser fitting but also has a bit of shape to it too, so it's comfortable and modest, but not a complete sack of potatoes either!
*The moral of the story – wear dresses that are made of breathable fabrics and are nice and loose!)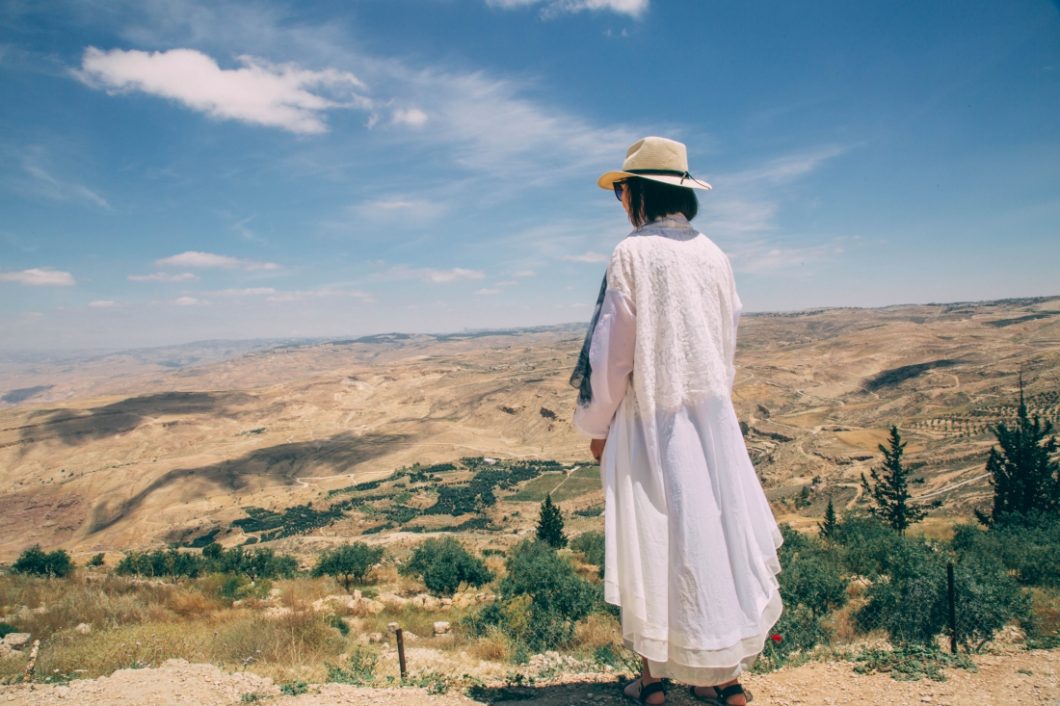 Duster…or is it a Kimono?
I always call this a duster, but when I was trying to find something similar to it online, I realized it might be more of a kimono? (Is it considered a duster if it's more cardigan-like and a kimono if it's a lightweight material? I'm all ears in the comments section, haha.) Anyways, I had originally ordered this thinking I would wear it as a swimsuit coverup, and it did work really well as one for in-between jumping into the Dead Sea and the pool!
However, I also liked the way it looked with this sleeveless dress, to make it a little more modest and to protect me from the sun a bit more while we were out exploring Mt. Nebo and Madaba. I also just happened to hang it next to this dress in my closet to get that outfit idea or I never would have thought to pair them together!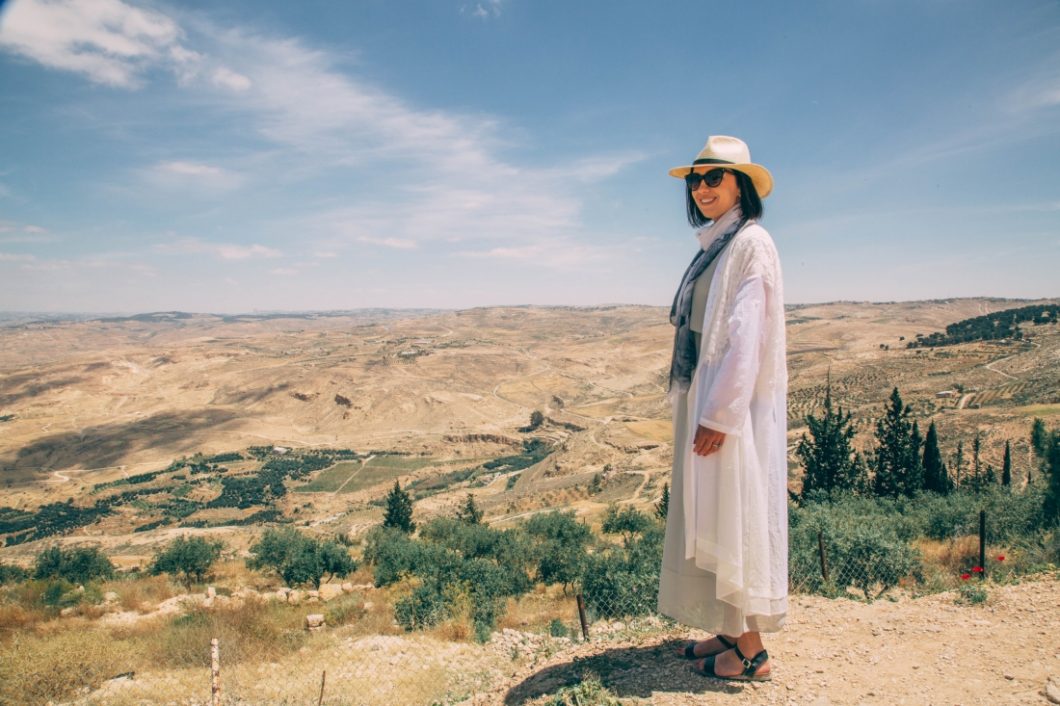 Accessories
If you've been following me for the last couple months, you're likely sick of seeing these accessories! It's surprising they didn't disintegrate after how much use they've gotten the last couple months.
For this outfit, a scarf wasn't really necessary (this dress isn't low cut or anything), I just liked the way it looked all together. And my hat came in handy, once again, for preventing sunburn. One of the most important things you can pack for a trip to Jordan and Egypt is a comfortable hat – I would have been burnt to a crisp without one. (I do wear sunscreen, but I realized for the level of sun exposure on this trip, I do not reapply it often enough!)
The next most important thing you can invest in for this trip is a comfortable pair of sandals or sneakers to wear. You're going to put on a lot of miles! I wore these sandals nearly daily thanks to how comfortable and versatile they are.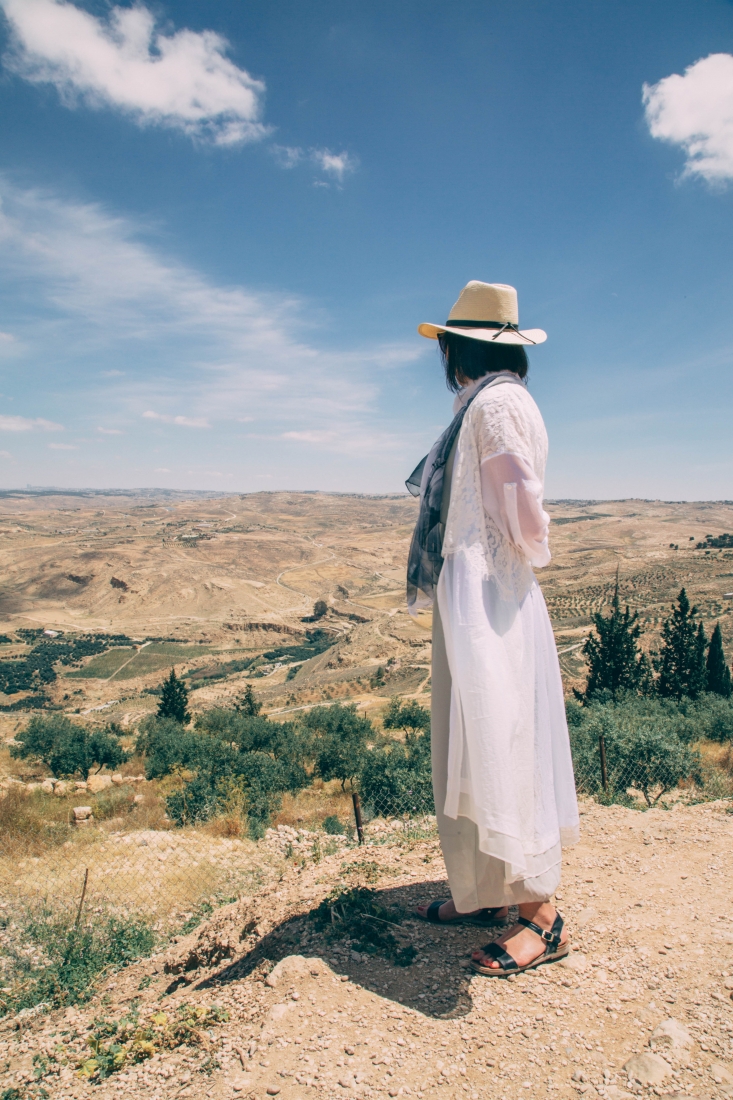 Also, these photos were all taken on Mount Nebo. This is where the Bible says Moses lived out his final days and saw the Promised Land. You can read more about this day of exploring by clicking here.
What type of outfit would you wear for a day of exploring and also swimming? Let me know in the comments! And can anyone explain to me what the difference between a duster and a kimono is? (Google was surprisingly not helpful for that question.) Haha.
*Click here to see all of my posts from Jordan.
Where to find it:
Duster: c/o* Eva Trends (Sold Out. Similar here.)
Maxi Dress: Old (Similar here, here and here.)
Scarf: Amazon
Sandals:Steve Madden (Size up a half size!)
Hat: Nordstrom (Similar here & here)
Sunglasses: Similar here
Watch: Similar here
Bracelet: WesterRiverLeatherCo.
Travel Insurance
It's a good idea, no matter where your adventure takes you, to have travel insurance. You never know what might happen! Whether you get sick before your trip and can't go, or you become sick or injured while on your adventure – being covered with travel insurance is a must. Some credit card companies do provide this service (check with yours), or you can get a quote from companies such as Squaremouth to find the best plan for you and your adventure. (This is the company I, personally, use. They are even recommended by Forbes!) To get a free quote, click here.
Visa Requirements
To check if your country requires a Visa for traveling to Jordan, click here.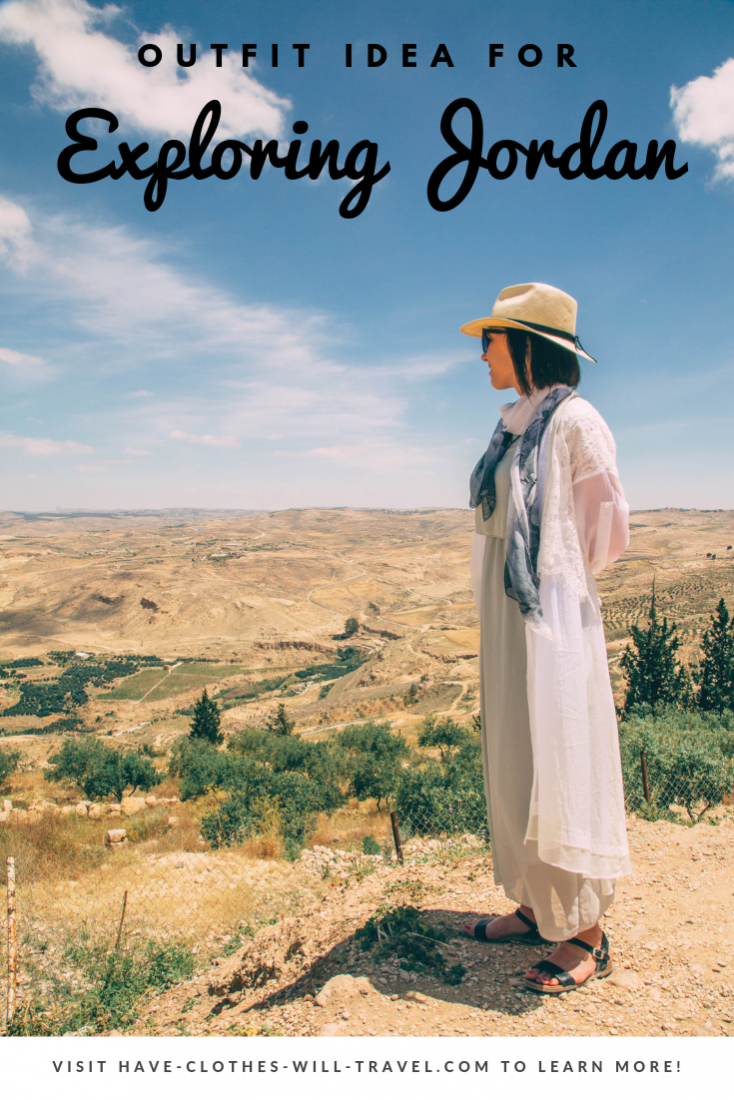 *Disclosure: some of these links are affiliate links. Meaning, if you click a link and make a purchase, Have Clothes, Will Travel gets a very small commission at no extra cost to you. Thank you for supporting the brands that make this blog possible! I am also a participant in the Amazon Services LLC Associates Program, an affiliate advertising program designed to provide a means for us to earn fees by linking to Amazon.com and affiliated sites.
*c/o = courtesy of, meaning the company gave me the product to be used on my blog, and I did not pay for it. All opinions are my own, and I am not being compensated for a positive review.