Inside Petra – 17 Things to Know Before Visiting the "Lost City"
Wondering what it's like to go inside Petra? This post is sharing photos + tips for visiting this ancient part of the world.
Ah, Petra. The main reason folks come to Jordan! Going inside Petra was one of the last things we did on our journey through Egypt and Jordan – and it did not disappoint (like the pyramids had).
Petra was every bit as splendid as I hoped it would be. However, there were certainly ways I could have improved our trip here…and there were a couple of things I did correctly that I think others will find useful. For this post, I'll be sharing my tips for going inside Petra plus a few bits of fun info before you head to the "Lost City" for yourself!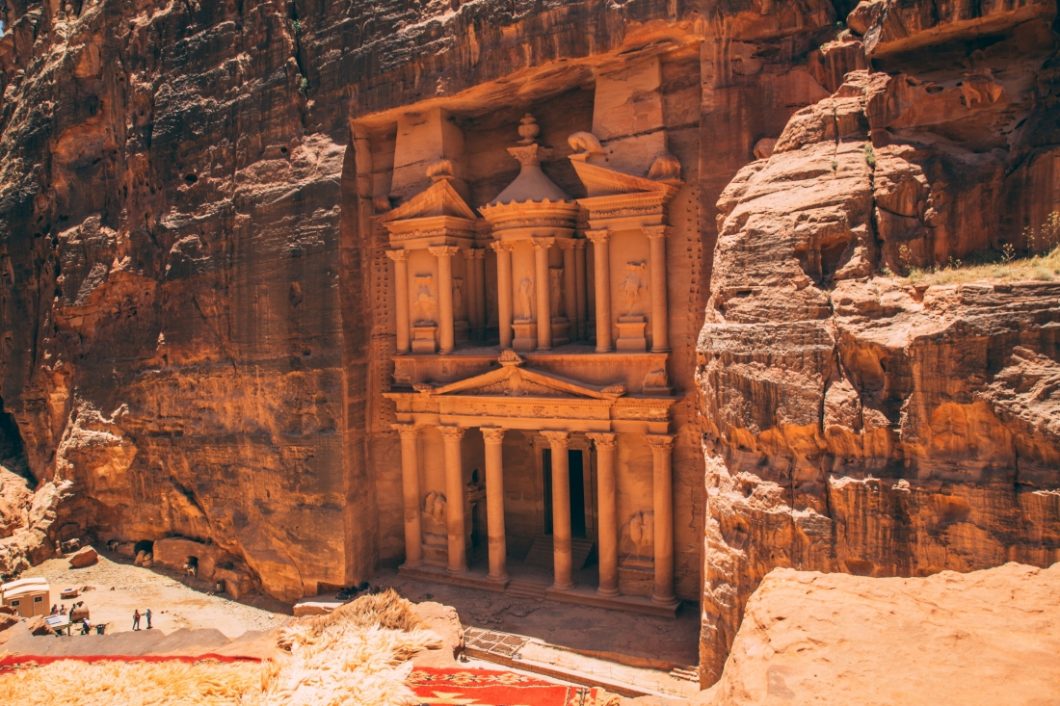 17 Things to Know Before Going Inside Petra
1.) Petra is HUGE. Usually, you only see the photo above of the Treasury (which is at least a 30-minute walk to get to itself). However, there is so much more to Petra than just the Treasury. Petra is well over 100 square miles in size. Now, tourists aren't covering all 100 of those – but you will be doing a significant amount of walking before you get to the main attractions! For example, the Monastery (below) takes about 2 hours to get to, walking from the visitors center. (Click here to see all of the different trails you can hike at Petra, and plan your trip accordingly.)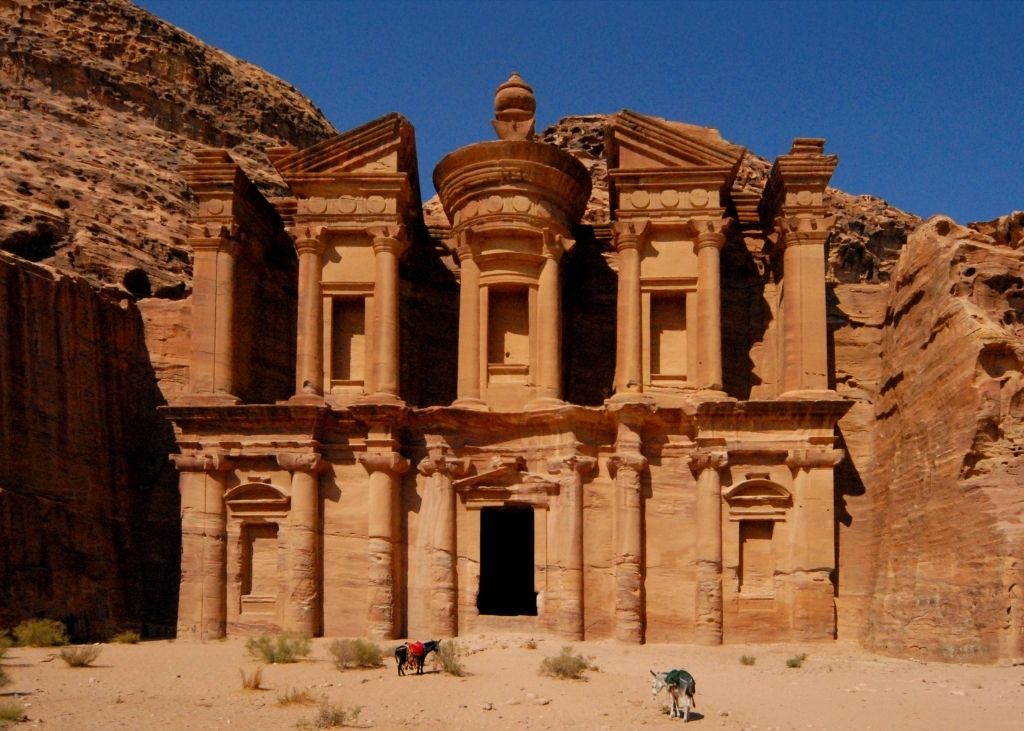 2.) Spend at least 1 full day at Petra and spend the night here. Given its enormous size, only doing a day trip from Amman to here (like I did) is NOT enough time. Spend the night inside Petra. (There are tons of hotels to pick from for every taste and budget – heck, you can even stay in a bubble with a private hot tub overlooking Petra!)
This is my biggest regret about our time at Petra (as it always is). We didn't spend nearly enough time here to do it justice. I honestly hope I get the chance to return one day and do it properly!
3.) Get there early. The early bird does catch the worm! This is easy to do, too, obviously, if you're staying overnight in Petra. The doors to the visitor center open at 6 am (all year long). However, most of the large tours won't show up until well after 9 am. (When we were there, most weren't even showing up until after 12 pm!) So, getting there at 6 am means, you won't be fighting with hardly any crowds to enjoy the scenery!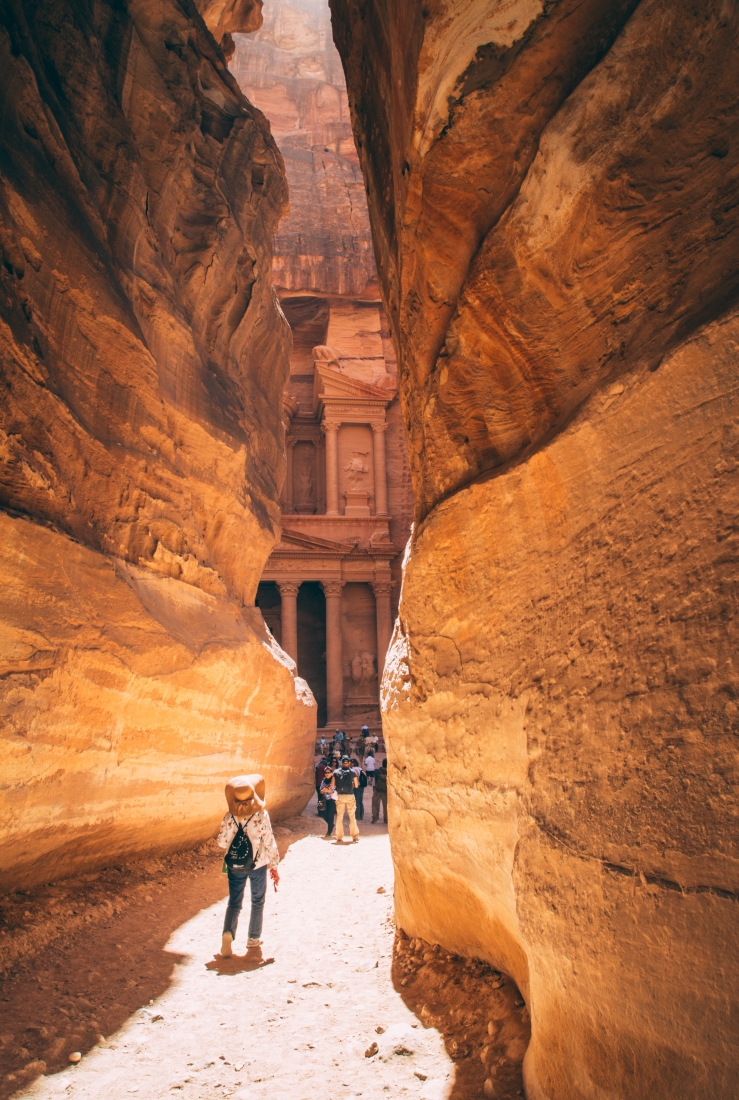 4.) Bring your passport! Don't leave your passport locked in your hotel room. You will need it to purchase your entrance ticket at Petra's visitor center. (Click here for current ticket prices.)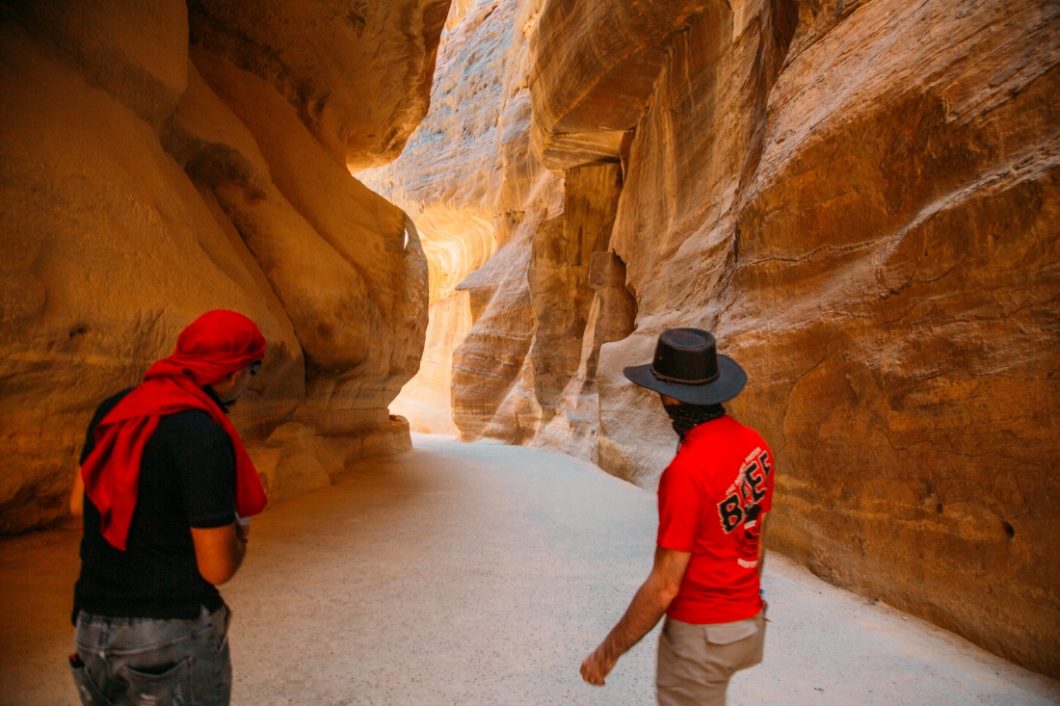 5.) Hire a guide. It's well worth hiring a local guide to show you many of the things you may have not noticed at Petra otherwise. They're very knowledgeable, and will keep you moving at a decent pace if you don't have a lot of time! No need to book ahead, you can pay for your guide at the visitor center. (Click here for current guide prices.)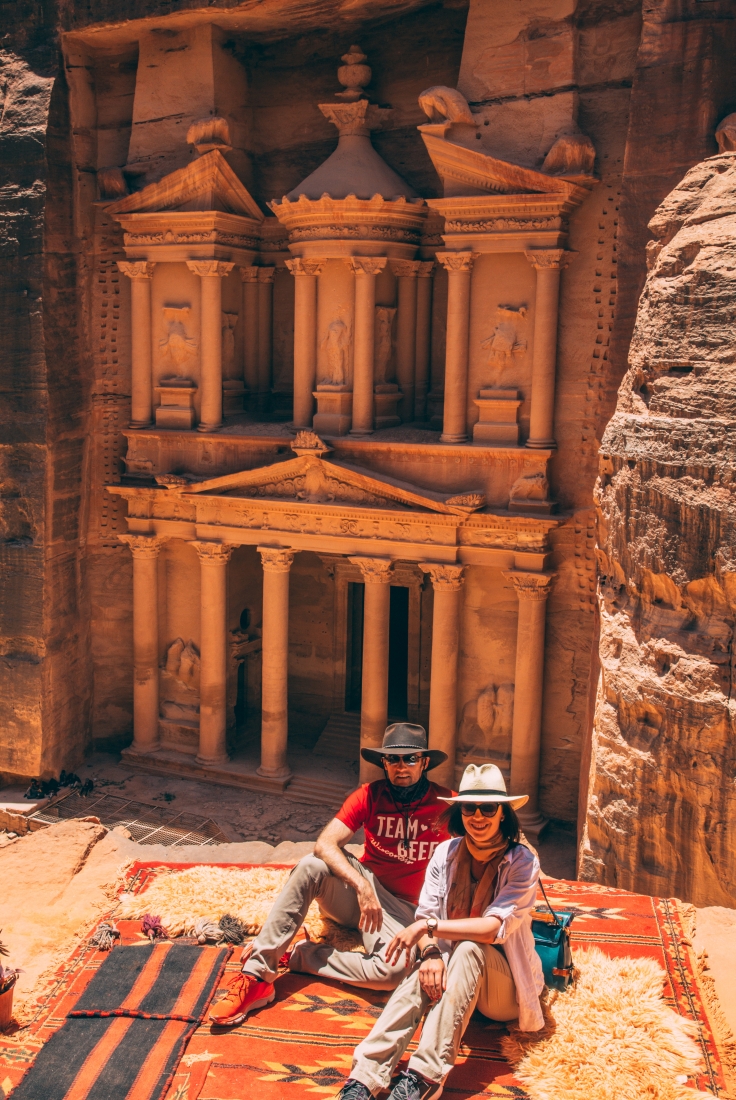 6.) To get the view overlooking Petra requires a lot of walking…or taking illegal trails. So, to see that incredible view overlooking the Treasury requires you to hike to "the High Place of Sacrifice." Which, that is exactly as it sounds – a high place where animal sacrifices happened. The hike there and back can take a few hours – which we, unfortunately, did not have the time for.
So, our guide was kind enough to show us to the view above. This took about 15 minutes to get to (if you're facing the Treasury it was to the right of it). However, we were literally crawling on our hands and knees at times to get there. It also isn't an "official" trail and is being illegally used. (Our guide said it's better to take the official trail and to give yourself more time!)
7.) Wear comfortable clothing + bring plenty of water. I have a more extensive post about how to dress for Petra and what to pack here. But suffice to say, if you're going to be spending an entire day hiking (and possibly crawling up cliffs on your hands and knees) it's a good idea to wear clothing you are comfortable in.
Leave your dresses and flip-flops at home! Hiking boots would be ideal, but if you don't own any (or didn't pack them, like us) – don't worry a comfortable pair of sneakers will more than suffice. (Also don't worry if you run out of water – there are vendors selling it and there are restaurants inside – but it takes about an hour of walking to get to them from the visitor center.)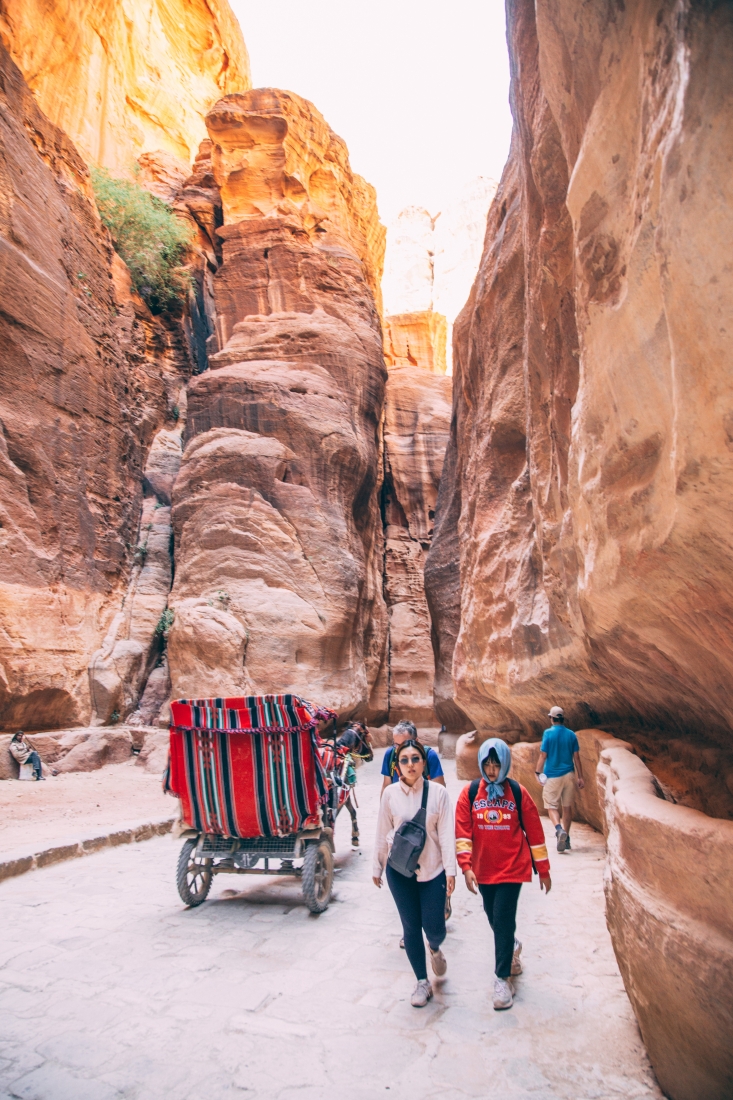 8.) Watch out for horse carts! If you hear a horse cart coming down the path – don't assume it'll stop for you! These carts are MOVING. Be aware of your surroundings, and get out of the way! (This can get rather annoying – but if you get there when it opens, then these carts won't be going as frequently, or at all.)
9.) Watch out for scams… Unfortunately, there are quite a few different scams happening inside Petra (just like at the Pyramids). For example, anyone trying to tell you that you need to pay extra to hike certain trails is scamming you. You paid your entrance ticket – you are good to go!
There are also unofficial guides posing everywhere. Again, if you didn't pay for the guide at the visitor center, the guide inside Petra is not an official Petra guide. (They'll likely be trying to sell you various and rather dangerous ways to get to different viewpoints.)
Another thing to be aware of is, unfortunately, there will be children begging for money. Our guide explained adults will put these kids up to this and keep them from going to school because they make such good money begging from the tourists (but they don't get a formal education then). The children we saw were also not being well-taken care of…the kids had no water and were eating dirt. So, his advice is to give the children a bottle of water or a snack – but don't give them money as it's encouraging their "caretakers."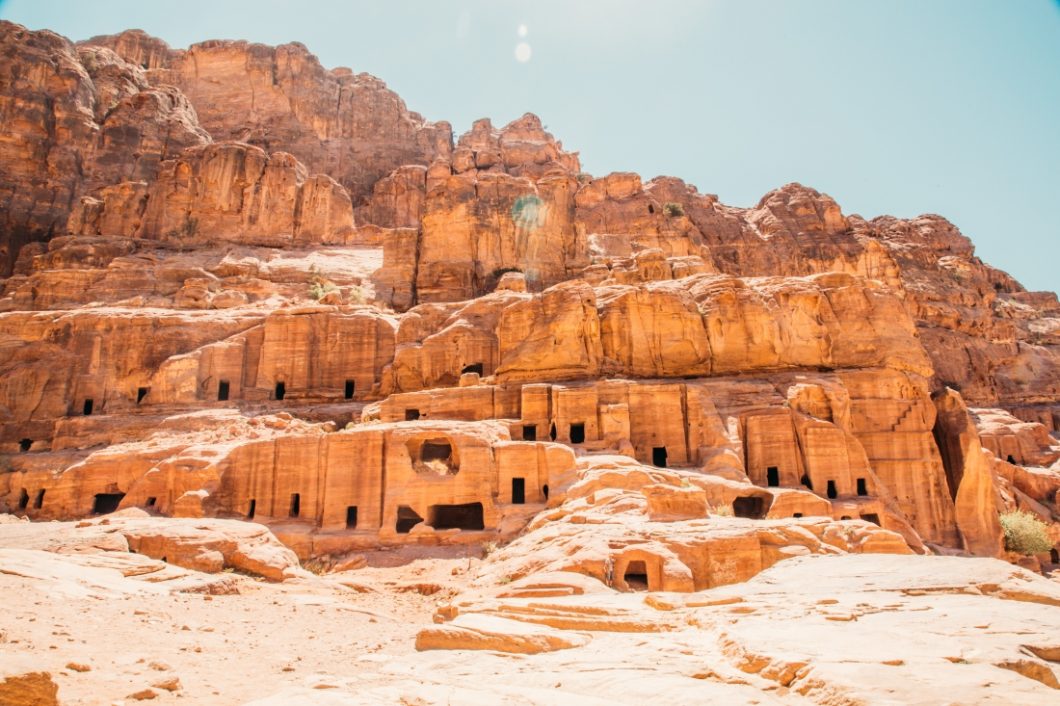 10.) Petra by night happens 3 times a week. Monday, Wednesday and Thursday night. You can see Petra illuminated by candlelight at night for 2 hours if it lines up with your schedule. We did not do this, as we weren't there on those nights. But if you have the time and it works out – it looks amazing! (The photo below is a stock photo I paid for and not mine.) Click here for more info on the Petra by night tickets.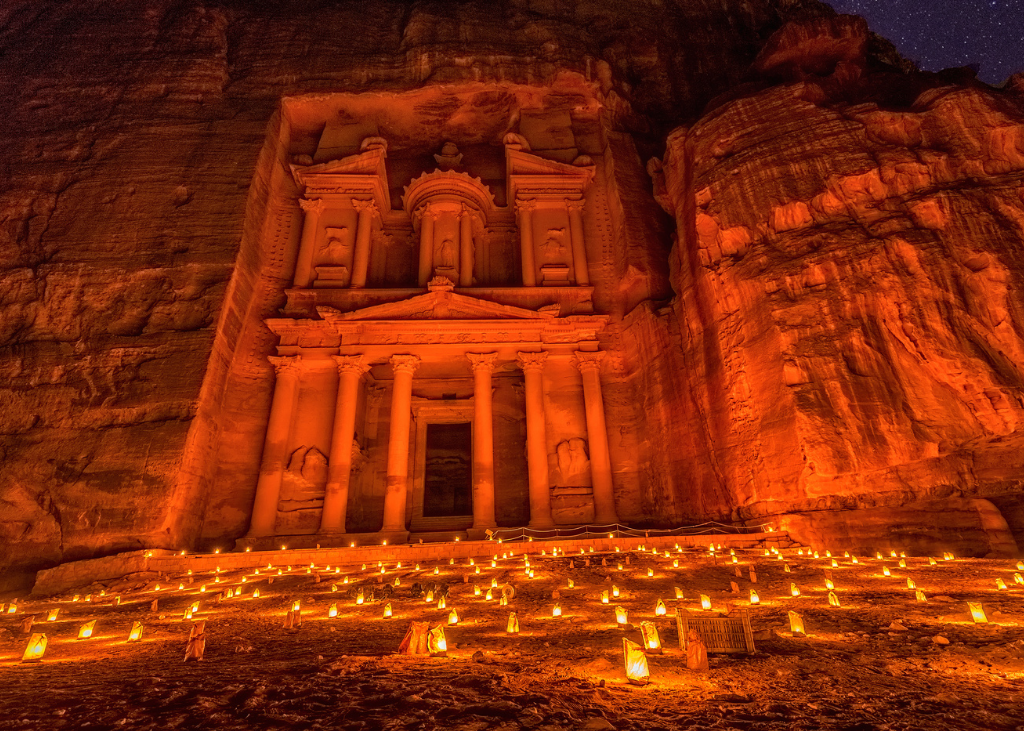 Few Fun Facts about Petra:
11.) Petra is called the Lost City because, after the 8th century A.D., Petra was largely abandoned. Then, in 1812, the ruins of Petra were rediscovered by Swiss explorer Johann Ludwig Burckhardt. So, it was essentially "lost" for centuries.
12.) Petra is ALSO called the Rose City because its caves, temples, and tombs are carved from a pinkish sandstone. So, "Rose City" has to do with the color of Petra.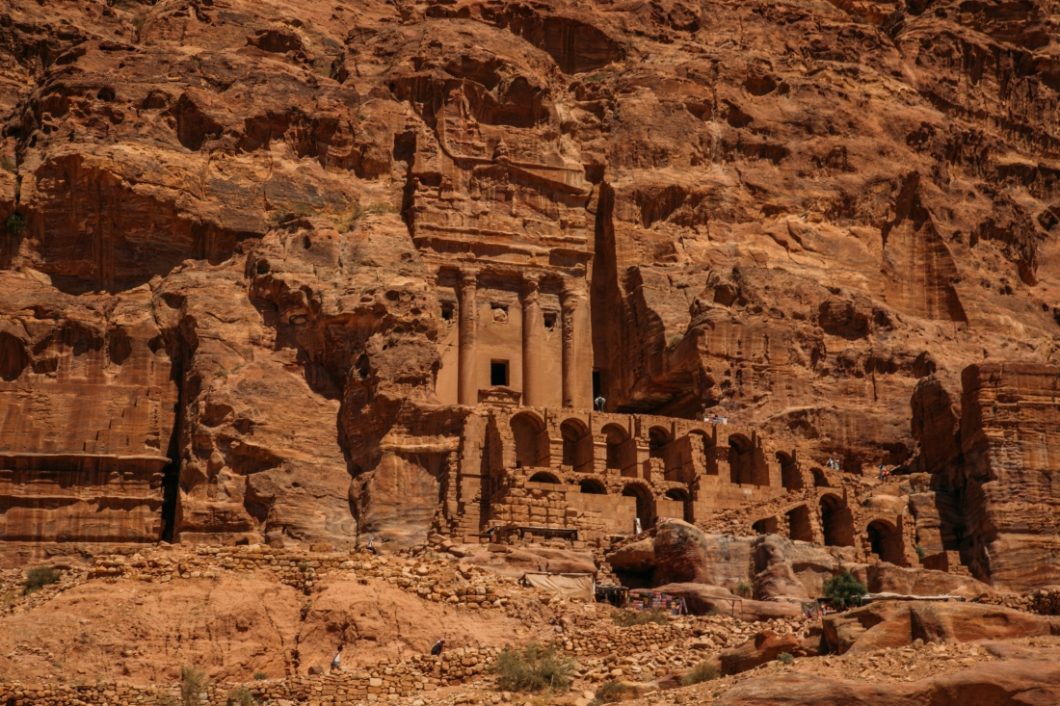 13.) Petra was originally inhabited by the Nabateans – nomadic desert people who lived here during the 3rd century BC. (More than 2,000 years ago!)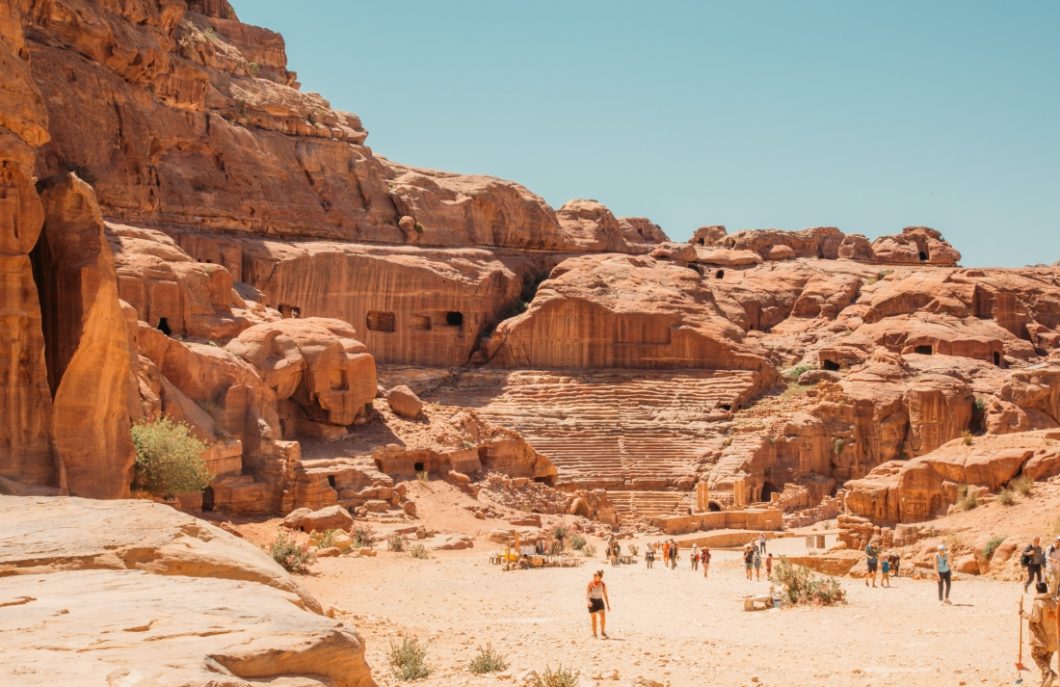 14.) The Romans came to Petra in 63 B.C. They added their own constructions to Petra – like the theater pictured above that sat more than 6,000 spectators.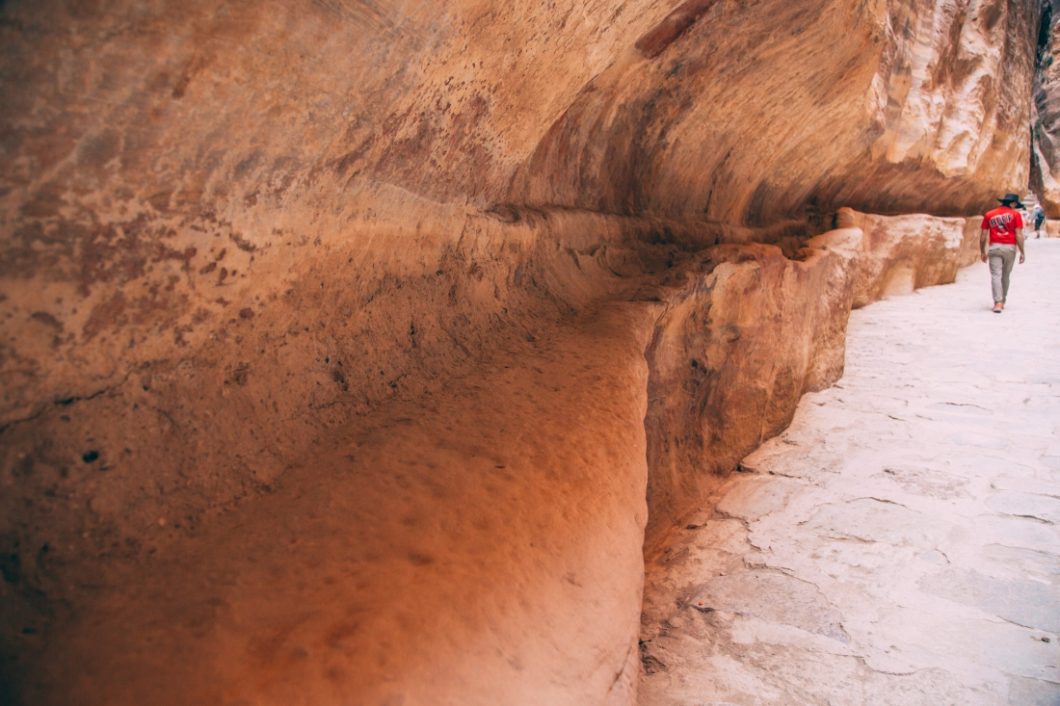 15.) Petra had a sophisticated water system that supported around 30,000 inhabitants. You can see it carved into the Siq (pictured above).
16.) The Treasury was likely a tomb. The Treasury is the most iconic aspect of Petra…some archaeologists think it's a temple, some people thought it had hidden treasure…but most signs point to it was likely an ancient tomb.
17.) Yes, "Indiana Jones and the Last Crusade" was filmed here! As someone who grew up watching Indiana Jones movies on repeat with her little brother…it was very exciting to see the temple of the Holy Grail in person! Haha.
If anyone has any questions about visiting Petra – don't hesitate to reach out in the comments section below!
Feel to click on any of the photos in the gallery of Petra, below, to make them full-sized.
Petra from above