What to Wear to Explore Petra, Jordan (for the Ladies)
When planning for our trip to Petra, I spent quite a lot of time trying to figure out what to wear for this day of exploring in Jordan. I was seeing a lot of extremes when I was Googling around for blog posts on the subject – sometimes the post would feature the lovely lady in a gorgeous dress or skirt with sneakers or sandals and other posts were telling me to wear my best hiking gear!
So, this post is here to clear up the confusion on that…because in all honesty, both of those posts are right. And my post is going to be somewhere in the middle.
Can You Wear a Dress or Skirt to Visit Petra?
Yes, you could absolutely wear a dress or a skirt to visit Petra and get that photo you've always dreamed of in front of the Treasury. However, here's the thing…you're likely only going to be comfortable wearing something like that on the path to the Treasury and back. Any exploring beyond that requires less fancy attire (in my opinion).
The path to the Treasury is flat and relatively smooth, so you wouldn't need to wear your hiking boots if that's all the further you are planning to go. (See photo of the path, below.)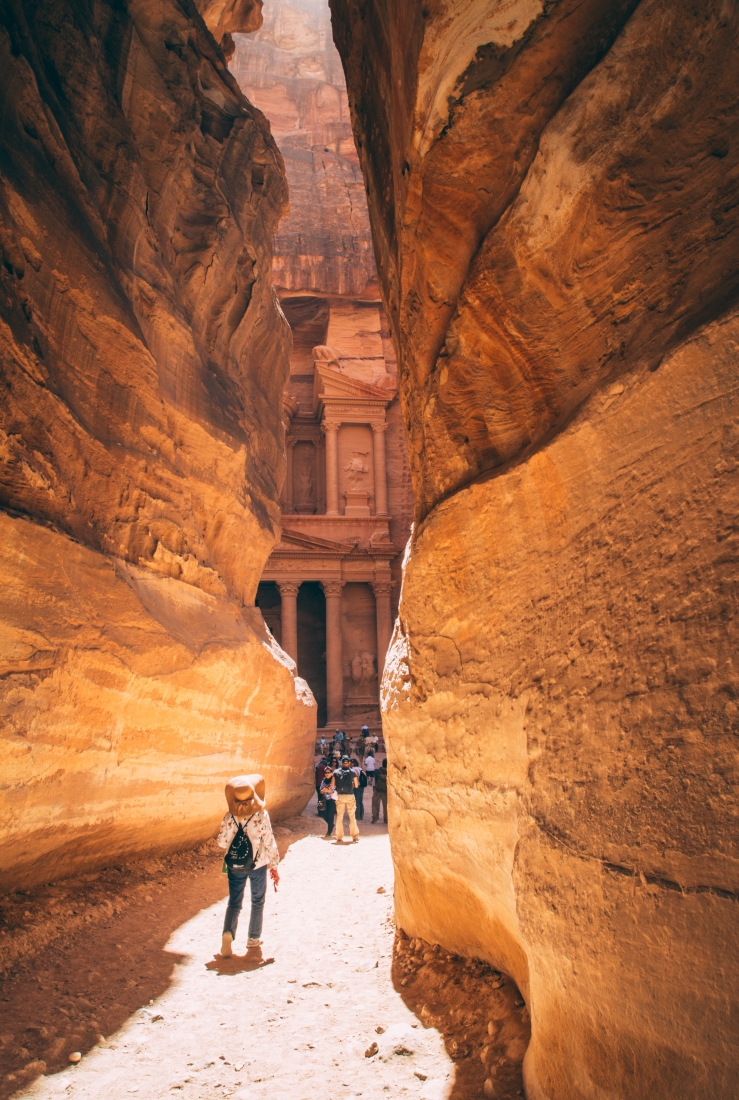 However, if you want a view overlooking the Treasury – that requires A LOT of walking up a steep incline or quite literally crawling on your hands and knees on rocks to get to the spot where I am, pictured below. (You can check out my Petra travel tips post for more on that climb.)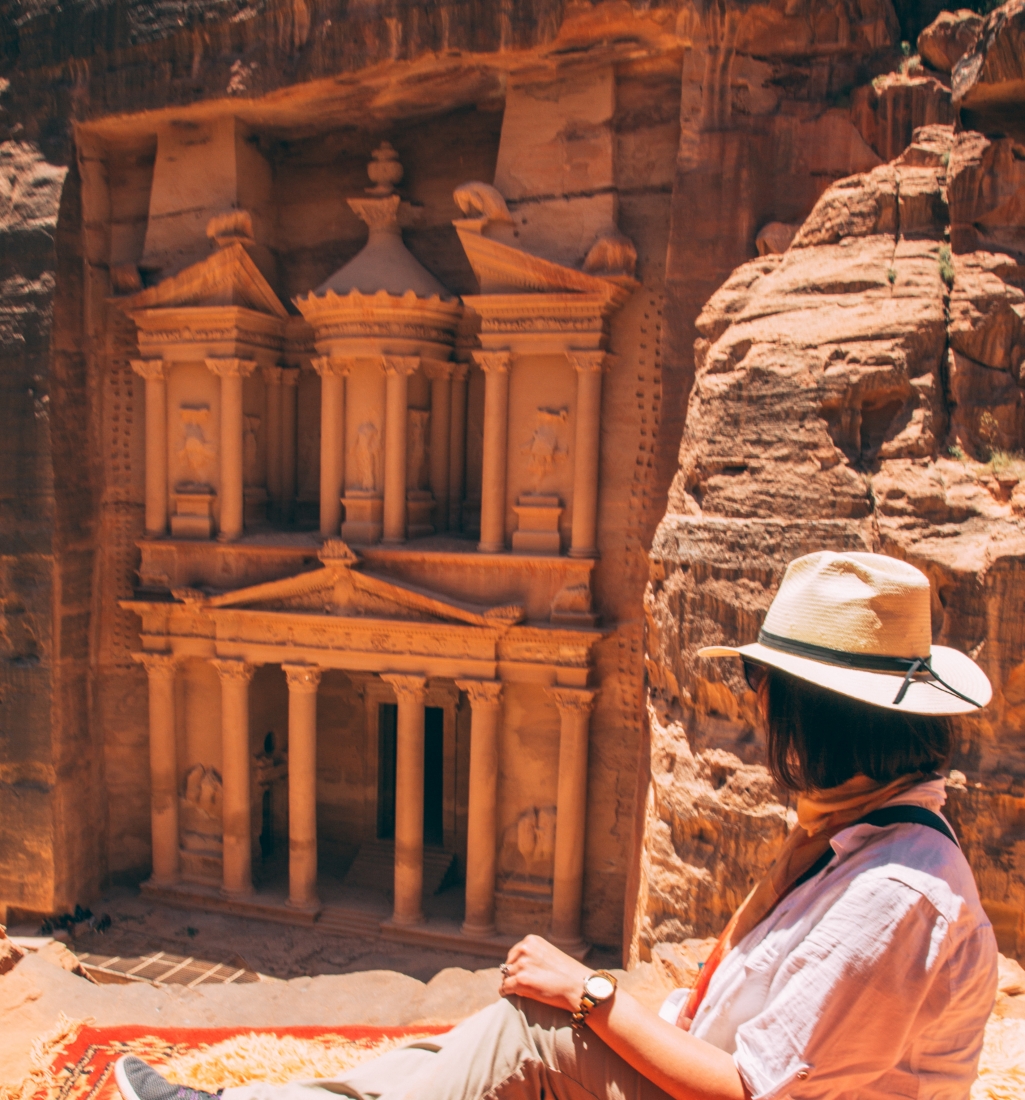 Now, if you're someone who is comfortable hiking in a dress for hours or crawling up rocks in a dress – then you'll be fine. I am all for exploring whilst wearing a dress (check out my Egypt packing list for more on that), but I opted to not wear one for this adventure because I have a hard enough time crawling up rocks on my hands and knees, thanks to a fear of heights and being blessed with no coordination whatsoever. So, I wasn't about to make it any harder on myself by wearing something I couldn't easily climb around in.
Do You Need to Wear Full Hiking Gear for Petra?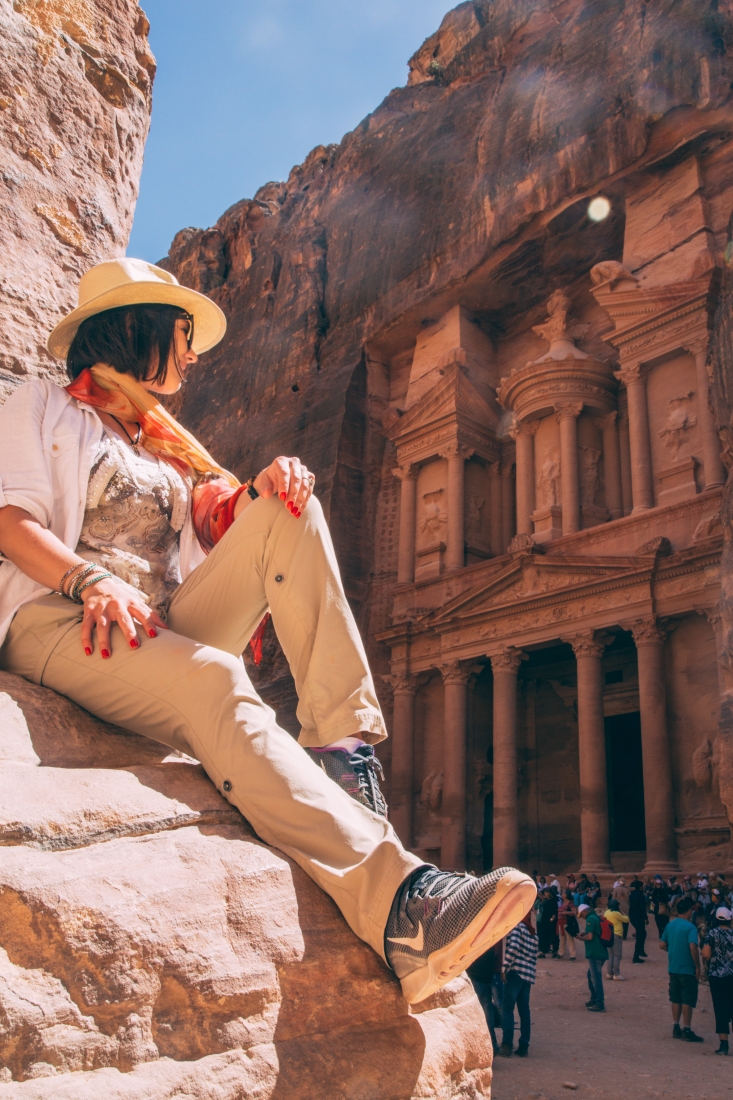 Again, this depends on what you want to do and see while at Petra. If you're just making a beeline for the Treasury and then heading back – I would just say to wear comfortable shoes. However, if you want some of those amazing views from above or you want to hike to, say the Monastery, then, I would say you should wear your hiking gear. You certainly won't regret wearing it here as there is A LOT of walking involved in this adventure, plus it's dusty and after the Treasury, you won't have quite as nice of a walking path anymore.
What I Wore to Petra + Outfit Tips
After deciding I wasn't about to attempt this trip to Petra in a dress, I instead wore comfortable hiking pants and my most comfortable sneakers. This outfit is basically the same one I had worn to Karnak and Luxor Temples when I was in Egypt for my "Mummy Outfit" – it's very comfortable! However, I won't be winning any style awards for this ensemble.
Shoes
I hadn't packed my hiking boots as I wasn't sure if I was going to need them. My sneakers were more than fine, but I would have been better off wearing my hiking boots, there's no doubt about it. If you own a pair of hiking boots, you won't regret wearing them here.
I saw a lot of people wearing sandals, though, too. If you are comfortable in sandals and can climb around on them, then go for it. But, again, I knew I needed something with more traction than my sandals could provide. (Photo example below of the girl who was ahead of me wearing her sandals and cute outfit. She looked phenomenal – but she was more coordinated and comfortable climbing around in sandals than I am!)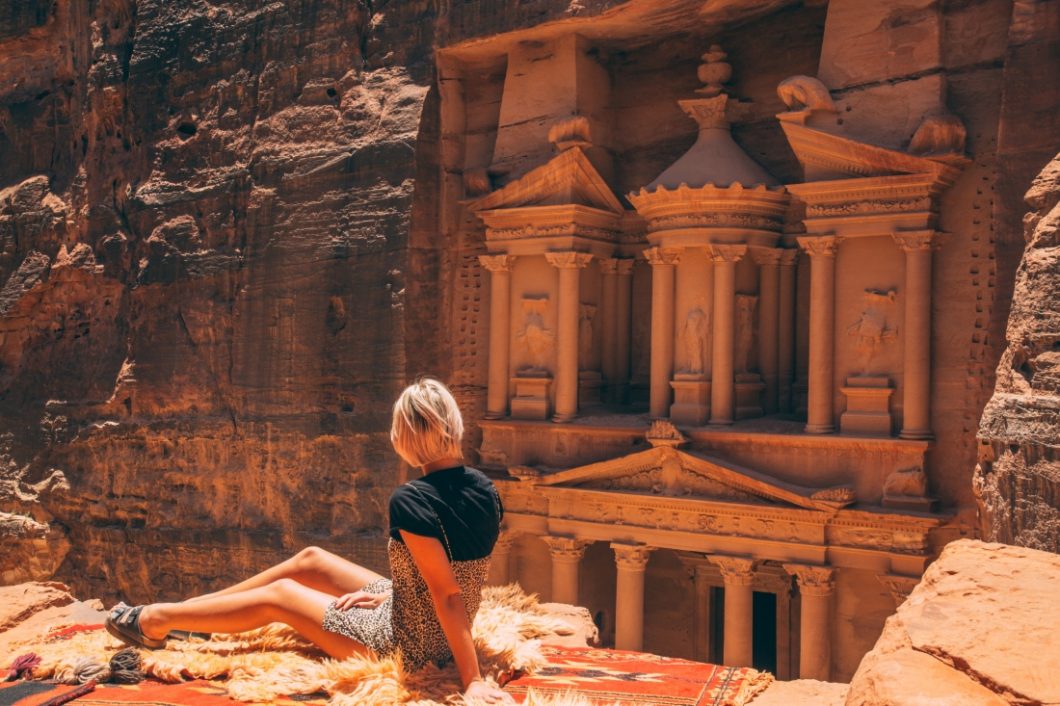 Hiking Pants
These are my favorite pants for exploring – I wore them for our adventures in Peru and also in Egypt, and these pants are fantastic because they are super breathable and fast drying. I seriously own 4 pairs of them now, all in different colors, because they've come in so handy over the years. (Heck, I'm even wearing them as I write this post – and I haven't left my desk today.)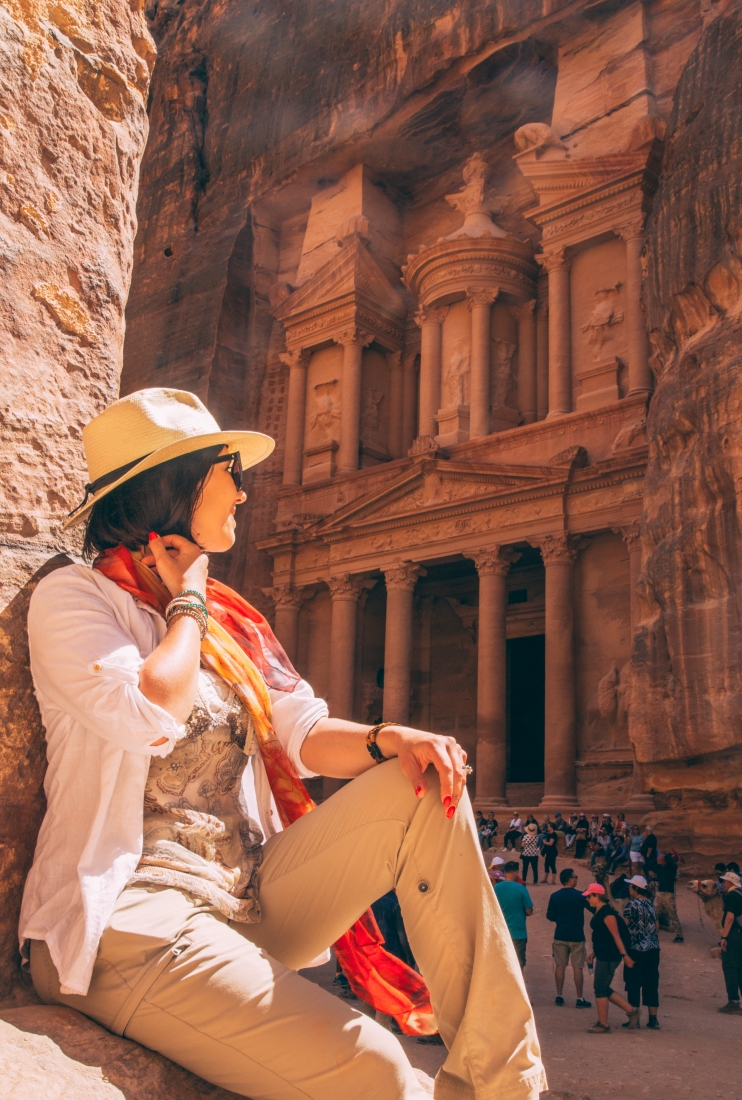 Hat + Scarf
A hat is also important, in my opinion, because you will be getting quite a lot of sun exposure for a day of hiking. Now, I wouldn't say my hat was an ideal choice – I liked the way it looked, but I would have been better off wearing one with a strap. I nearly lost this one to a few wind gusts! (Good thing my husband has quick reflexes and always caught it be for it blew away!)
I also wore this scarf as I had gotten in the habit of trying to dress more modestly while in Jordan. (Not, that many people were dressed all that modestly at Petra – it's much more lax here with so many tourists.) Wearing a scarf did keep my chest protected from the sun, though, as I am terrible about reapplying my sunscreen.
Shirt(s)
My white linen button-down shirt was the best thing I had packed for this adventure. I wore this shirt multiple days while in Egypt and Jordan because it was so comfortable… and it took to the end of day 3 (this day) before it got smelly. The only bad thing about this shirt for traveling is it wrinkles really easily. (The downside of linen.)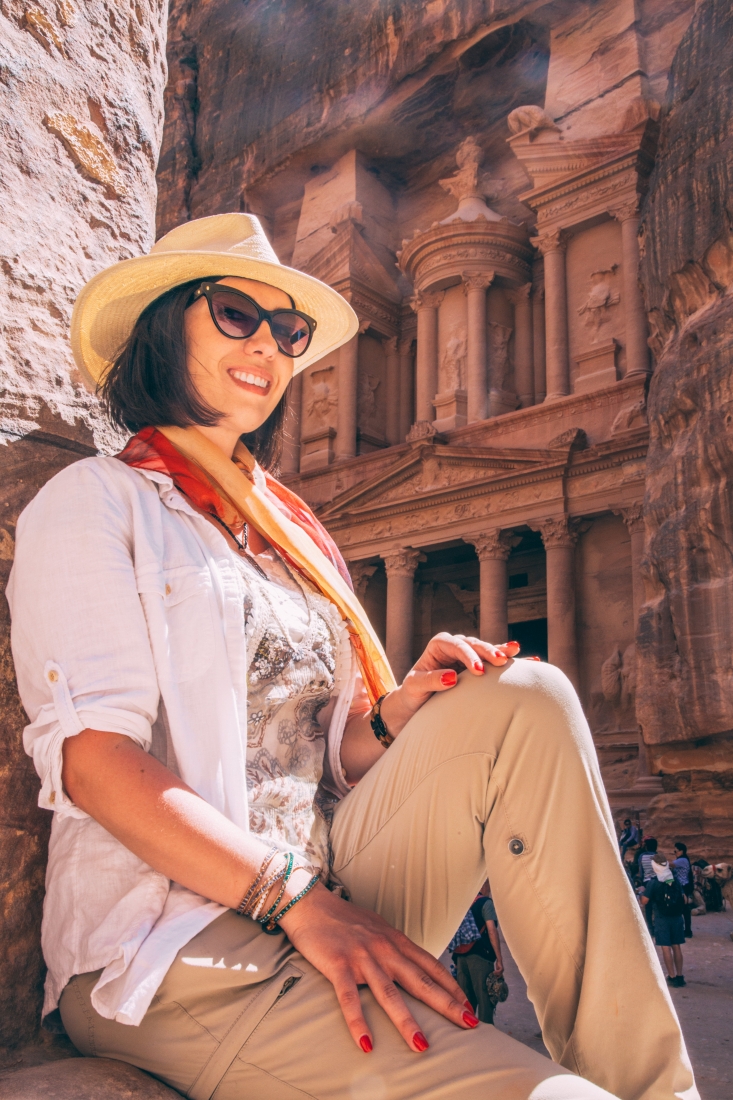 My blouse I'm wearing under it is a lightweight, pretty one that I bring with on most of my adventures. It's a sentimental item, as it belonged to my late Aunt Pam. Her love of travel and adventure had always been so inspiring to me when I was growing up. It turned out to be one of my biggest motivators to embark on this crazy life of travel.
We lost her to cancer almost 6 years ago, now. Wearing this blouse always makes me feel like I'm bringing a little piece of her with me when we're on our adventures around the world.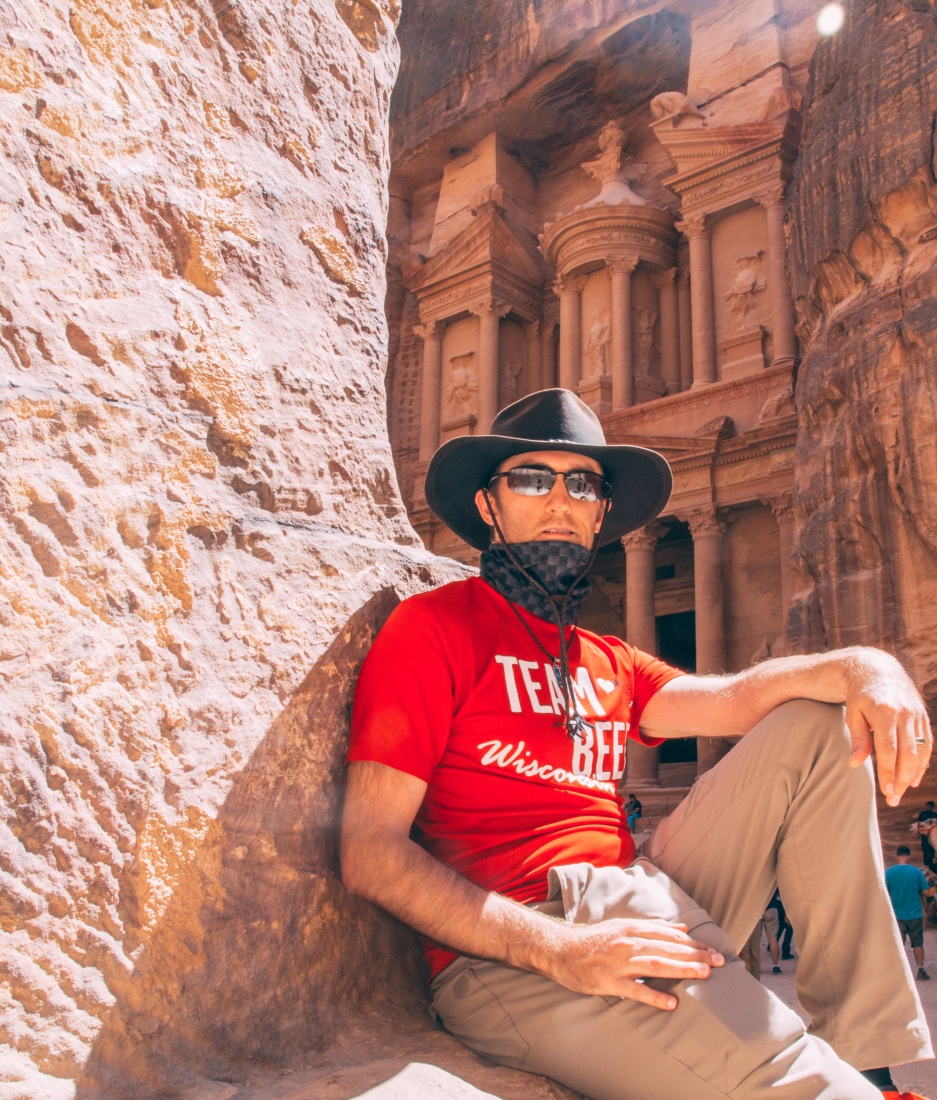 My Husband's Outfit
Oofta, who's cutting onions here? But on a lighter note, can we talk about how appropriately dressed my husband is in his hat? Haha.
My husband had followed a similar formula for this day and had worn a comfortable athletic shirt with his hiking pants. He also wore his sneakers and his Indiana Jones hat for this entire trip. He LOVES this hat. He also wore a neck gaiter to protect his neck from the sun (we're both bad about reapplying sunscreen)!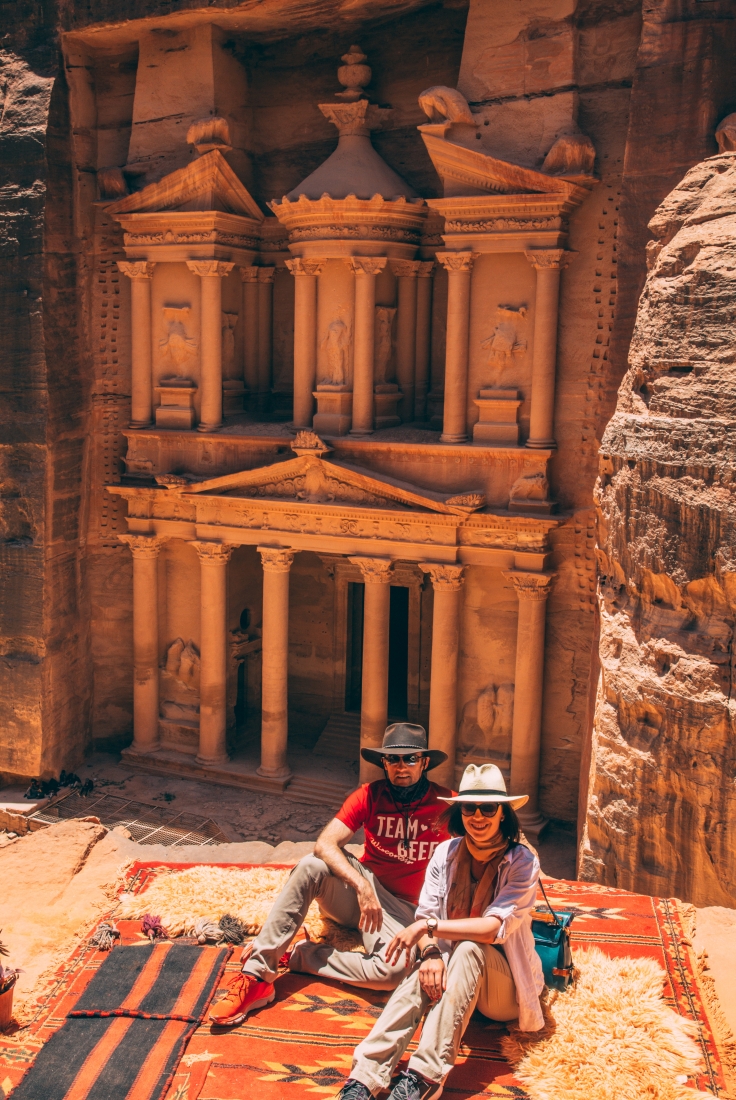 *Click here to read all of my tips for visiting Petra.
*Click here to read all of my posts from Jordan.
So, what would you wear for a day of exploring Petra? Or if you've visited what did you wear for the adventure? Let me know in the comments!
Where to find it:
White button-down: Similar here
Blouse: Aunt Pam's 🙂 Similar here
Scarf: Amazon
Sneakers: Nike
Hiking Pants: these pants
Sunnies: Old (Similar here)
Watch: Similar here
Bracelet: WestRiverLeatherCo.
Bag: ModCloth
Hat: Nordstrom (Similar here & here)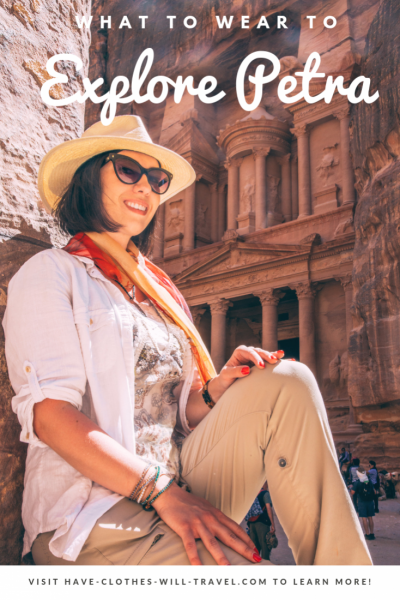 *Disclosure: some of these links are affiliate links. Meaning, if you click a link and make a purchase, Have Clothes, Will Travel gets a very small commission at no extra cost to you. Thank you for supporting the brands that make this blog possible! I am also a participant in the Amazon Services LLC Associates Program, an affiliate advertising program designed to provide a means for us to earn fees by linking to Amazon.com and affiliated sites.
*c/o = courtesy of, meaning the company gave me the product to be used on my blog, and I did not pay for it. All opinions are my own, and I am not being compensated for a positive review.