What to Pack for a Trip to Jordan as a Woman (to be Stylish, Comfortable & Modest)
Wondering what to pack for a trip to Jordan as a stylish woman? This post is breaking down how to dress in this fascinating country from the Dead Sea to Petra & more. I'm also sharing some of my packing tips for this trip & outfits!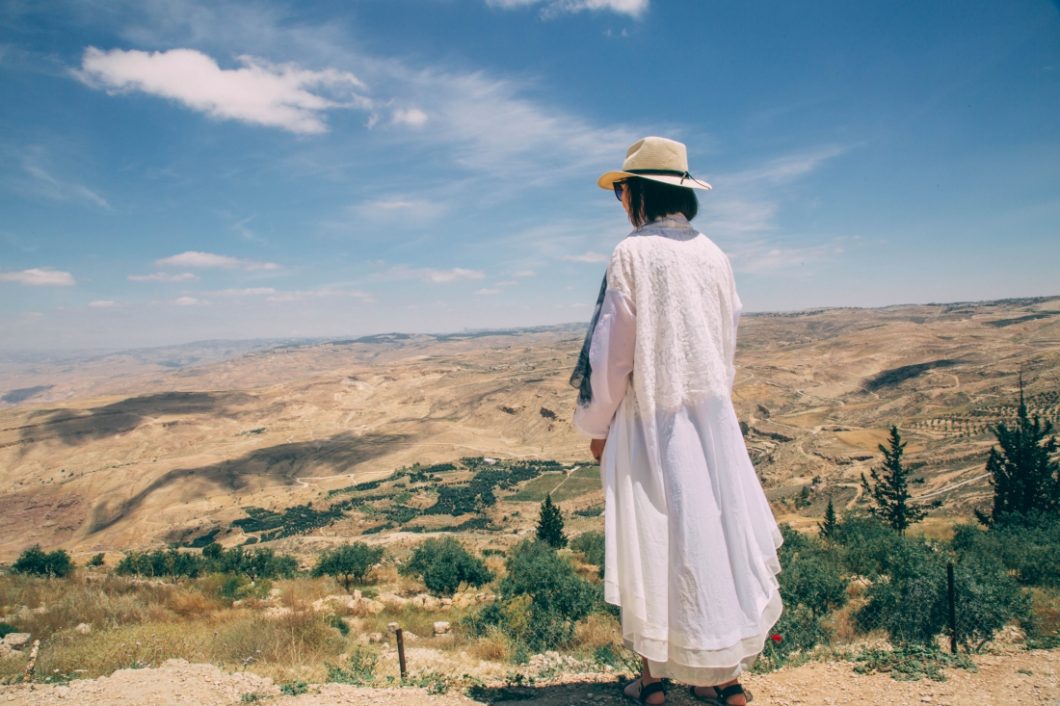 Packing for a trip to Jordan can seem to be a bit daunting if you're a woman, especially if you're a woman who likes to look stylish whilst traveling. This post is here to help! I'm all for wearing my comfy hiking clothes while traveling…but sometimes, I do like to be a bit dressier! I'll offer my packing tips for Jordan from Petra to the Dead Sea and more + a rundown of everything I wore/brought along on this trip. (I was in Jordan for 3 days on this adventure.)
How to Dress as a Woman in Jordan
When packing for a trip to Jordan as a woman it's important to remember that Jordan is a predominantly Muslim country. Therefore, try to err on the side of conservative when you pack your suitcase for this trip. It's considered respectful to dress more modestly – which means your shoulders, cleavage, and knees should be covered, and avoiding tight, clingy clothing is also a nice gesture.
Now, it's not the end of the world if don't follow these guidelines to a T…it's just not considered respectful to many of the people in this lovely country. It also might get you some unwanted attention (especially if you're traveling solo) if you aren't dressed modestly. You'll notice in many of the highly touristic areas (Petra, Dead Sea, etc.), though, that many people are not following these guidelines.
It is not necessary to wear a hijab in Jordan. You'll see some of the local women will be wearing them, but it is not expected for women who are touring to wear them. (Unless you want to, of course!)
Dress in Layers
We had visited in early May, and Jordan was usually quite cool in the morning and evening and then quite hot during the day. The temps will vary, of course, depending on the time of year you visit. However, I think many people are under the impression that it is ALWAYS hot in Jordan – and this is most definitely not true. Jordan can get rather chilly! Especially if you're spending any time in the desert (it can get COLD at night). Packing layers that you can easily stuff into your bag as it heats up throughout the day, is a good idea.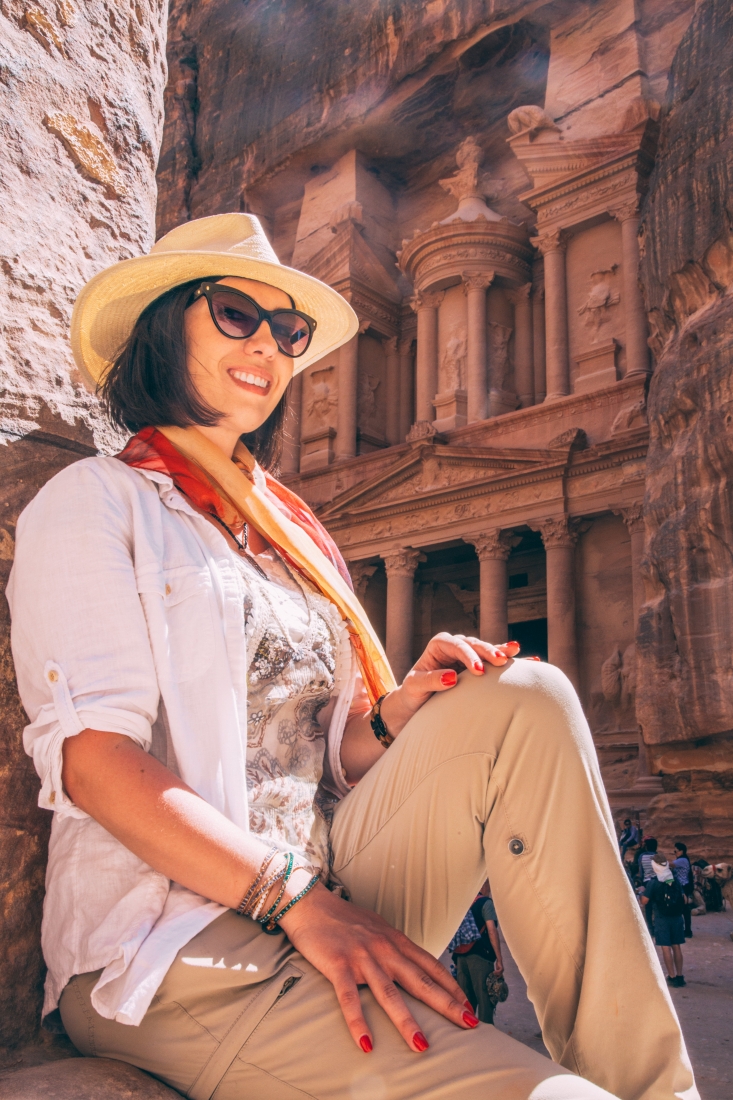 What I Packed for 3 Days in Jordan
*A good rule of thumb: Pack one change of clothing per day, and also have 1 or 2 additional outfits along that you can change into at night, after you've showered.
I had 3 full days in Jordan. I'm also a dress person and a style blogger! So, this packing list will consist of a couple of outfits that may seem a bit excessive to some.
And, if you're only packing a carry-on bag, this packing list might be a tight squeeze for you. Sorry. Only packing a carry-on rarely happens around here. (I also was traveling in Egypt prior to this, and did re-wear some of these outfits!)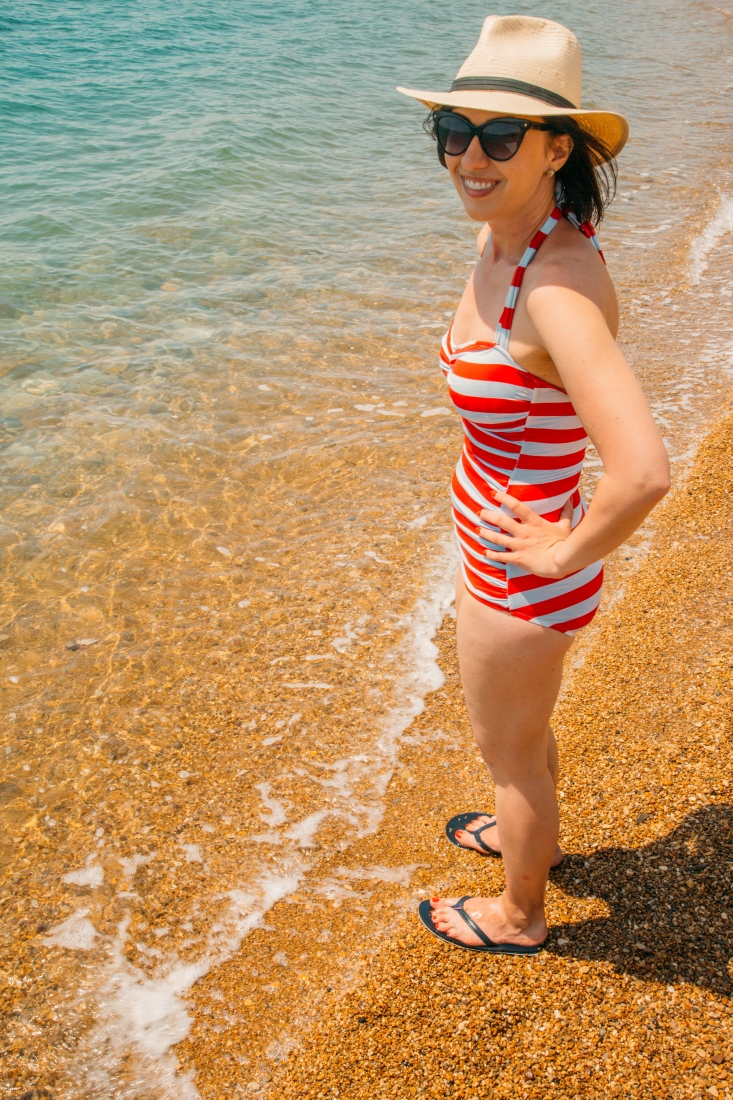 Here is exactly what I packed for clothing, and I'll share each outfit with its corresponding post below.
Another Packing Essential – Use a VPN When Traveling to Jordan
VPN is short for "virtual private network." A VPN (like IPVanish) sets up a private connection between your device and whatever network you are connected to – so, no one can see your browsing data. It is important to use a VPN anytime you are connected to public Wifi (such as at a restaurant, resort, hotel, cafe, airport, etc.). This is because when you connect to a public network no matter where you are, you run the risk of a hacker grabbing your unencrypted data. Trust me, speaking from experience here…this can put a real damper on your trip if your banking, phone or email get hacked while you're traveling in Jordan!
VPNs can also help you save on flights within Jordan, help you watch Netflix shows not available in certain countries and more! You can read more about using a VPN in my post "Why I Use a VPN When Traveling and at Home (And You Should Too)."
So, yeah, I packed quite a bit! I did, however, wear all of this while in Jordan and also wore quite a bit of it while in Egypt too. I'll list each outfit from Jordan, below.
Not pictured is the outfit I wore for the plane, which consisted of my hiking pants + one clean button-down shirt and my sneakers.
Toiletries I Packed (and a Few Other Things)…
My makeup (liquid foundation, eyeliner, mascara, powder, etc.)
Shampoo & conditioner (I'm picky about this due to my thin hair)
Moroccan oil (for my hair)
Deodorant (Good grief did I need this! Haha)
Sunscreen!!! (So important)
Aloe (Needed this after the Dead Sea!)
Zit cream (my acne is the worst when traveling)
Contact solution
Bandaids + Neosporin
Medicines, such as Advil, Pepto, Immodium, Tylenol PM, Benadryl, etc. (ended up needing ALL of it at one point or another on this trip.)
Straightener (Dual Voltage)
Outlet Adaptors (Jordan is Type C – like most of Europe)
I always go overboard on toiletries! This is also why I check a bag – there isn't any way that's all coming in a carryon bag with me. (There's no changing me at this point!)
The majority of women would be able to pack half of this stuff and be OK – but, I'm being honest with what I all packed and used for this trip to Jordan. If you have any questions at all, fire away in the comments below!

*Click here to see all of my posts from Jordan.
*Disclosure: some of these links are affiliate links. Meaning, if you click a link and make a purchase, Have Clothes, Will Travel gets a very small commission at no extra cost to you. Thank you for supporting the brands that make this blog possible! I am also a participant in the Amazon Services LLC Associates Program, an affiliate advertising program designed to provide a means for us to earn fees by linking to Amazon.com and affiliated sites.
*c/o = courtesy of, meaning the company gave me the product to be used on my blog, and I did not pay for it. All opinions are my own, and I am not being compensated for a positive review.