25 Amazing Things to Do in Cappadocia, Turkey
Turkey is one of the few countries that Americans can travel to at the moment. There are no test or quarantine requirements at this time. (Please read the US Embassy & Consulates in Turkey's website before planning your trip.)
I loved exploring Cappadocia (although, I was there prior to COVID)! It's a region in central Turkey that is so beautiful, it's hard to believe it's even real. The landscape is adorned with interesting geological works of art called "fairy chimneys" and nearly 100 magical hot air balloons take to the skies every sunrise (weather permitting). It's also home to many amazing cave dwellings, hiking trails, restaurants and more.
This post is sharing some of the top things to do in Cappadocia, Turkey. I am also sharing at the end of the post the best ways to get to Cappadocia, where to stay and more. I'm happy to answer any questions anyone has about traveling to Cappadocia in the comments at the end of the post. Enjoy!
From hiking to hot air balloon rides to exploring underground cities | 25 Amazing Things to Do in Cappadocia, Turkey
1.) Take a Hot Air Balloon Ride
Ah, the reason for Cappadocia's current fame is most certainly those magical hot air balloon rides made famous by Instagram! Be sure to schedule your hot air balloon ride the first morning you are in the area. This is because if there is bad weather, you'll be able to go up the next day then. (Most companies offer this "rain day" option.) This is an absolute must-do if you're in Cappadocia! (Click here for more info on what to expect when taking a hot air balloon ride in Cappadocia.)
2.) Explore Derinkuyu Underground City
Derinkuyu Underground City is indeed an underground City! It is approximately 60 meters deep and it is large enough to have sheltered as many as 20,000 people together with their livestock and food stores. It is the largest excavated underground city in Turkey. The city at Derinkuyu was fully formed in the Byzantine era. (780-1180) It was also used by Christians for hiding in the 14th century.
Visiting this underground city is included in the popular "Green Tour" in Cappadocia. Click here to read more about the Green Tour and Derinkuyu Underground City.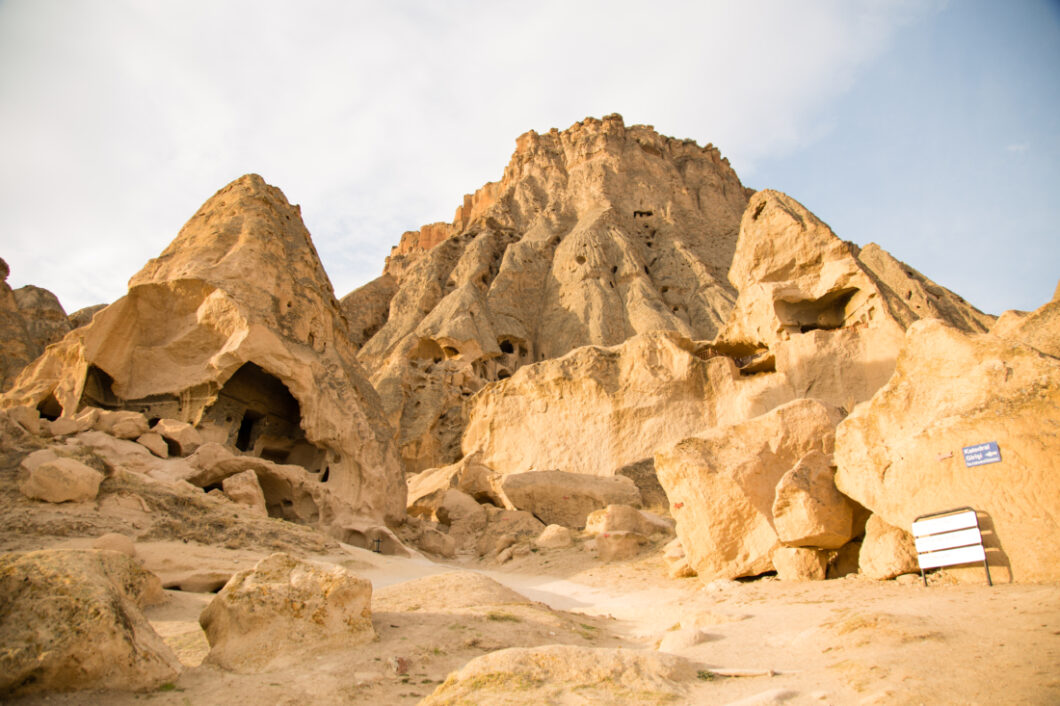 3.) Climb to Selime Monastery
Selime Monastery is one of my favorite travel memories from Cappadocia. Selime Monastery is the biggest, rock-cut monastery in Cappadocia with a cathedral-sized church. It was carved by monks in the 13th century.
It is a bit difficult to get to, however. You're hiking in some rather tricky spots. It is absolutely worth the workout, though! This is also offered as part of the "Green Tour" in Cappadocia. Click here to read more about the Green Tour and Selime Monastery.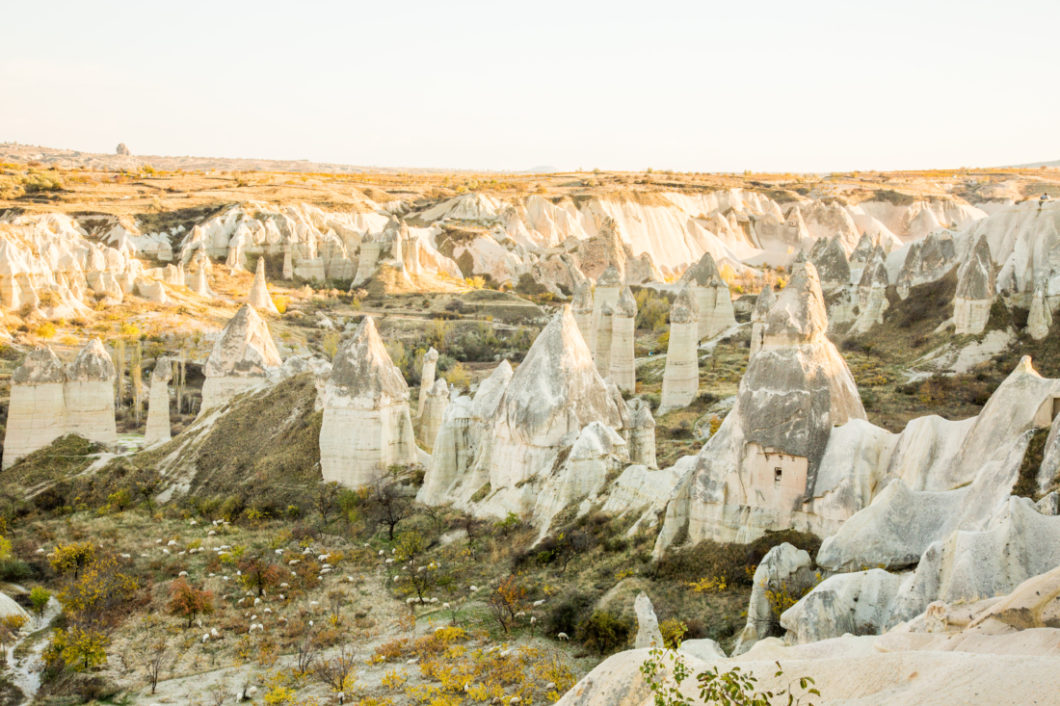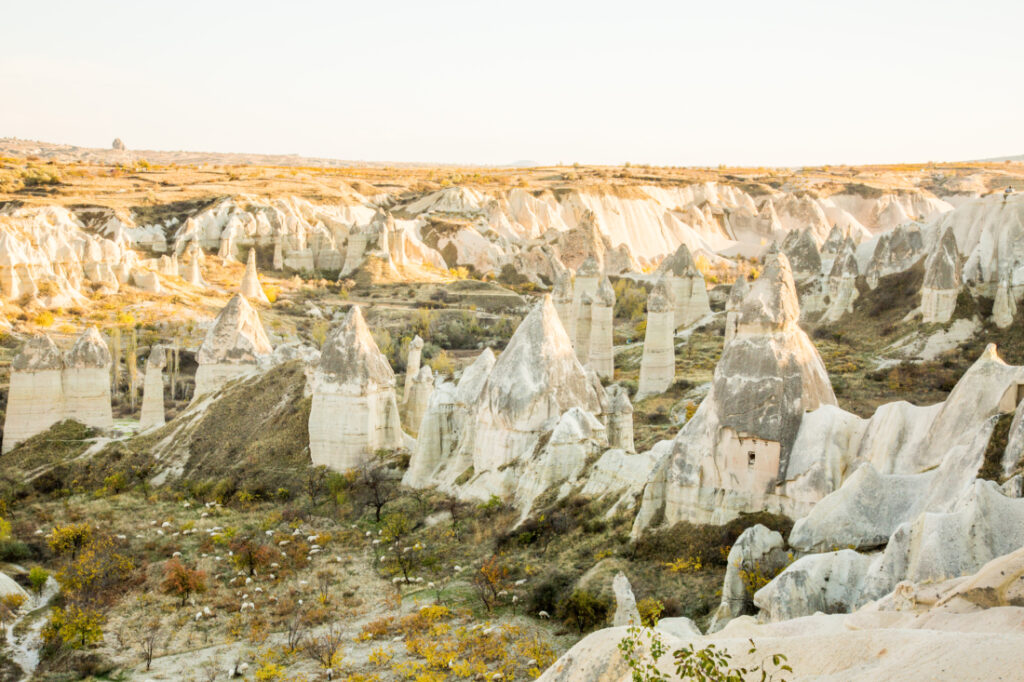 4.) See "Love Valley"
There are a few different ways to experience and see, Love Valley. One way is to hike it. You can also take a quad tour through it… or you can simply admire it from a large viewing area.
Love Valley got its name thanks to the "erect" volcanic ash that has eroded over the years…There are also a lot of photos op spots along the viewing area that play into the "love" theme.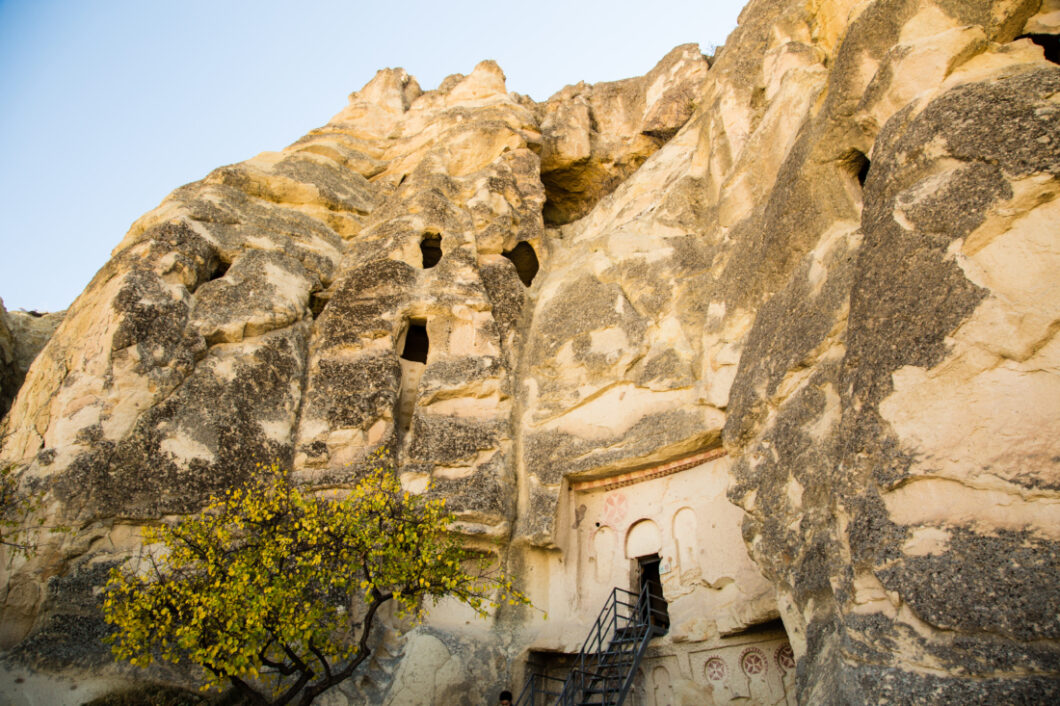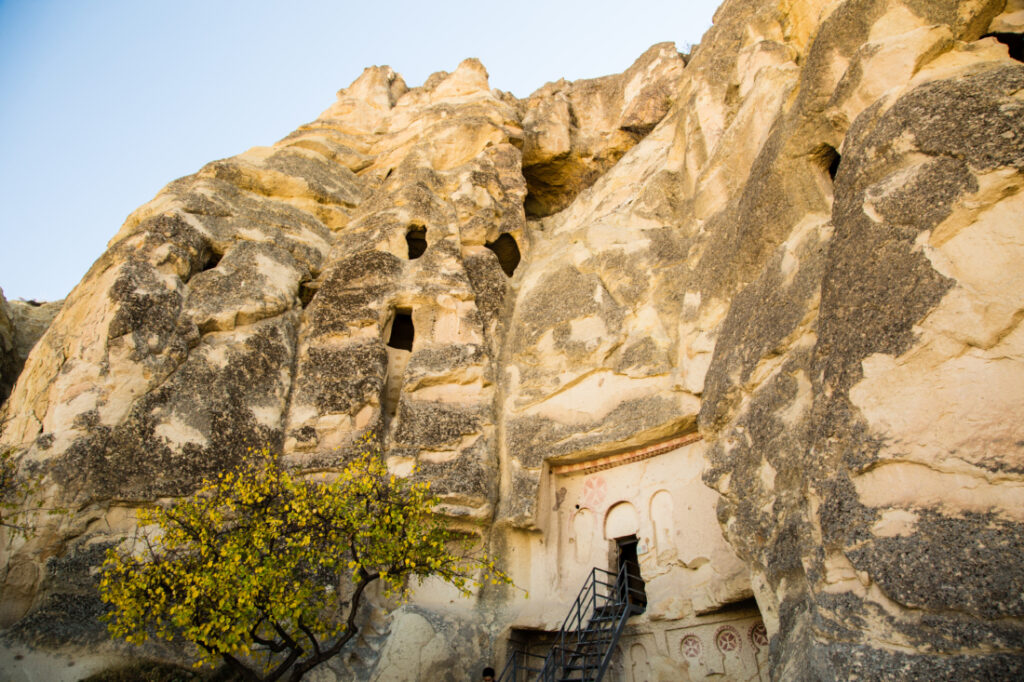 5.) Visit the Goreme Open Air Museum
Goreme Open Air Museum is a must-do in Cappadocia. It was once a Byzantine monastic settlement that housed some 20 monks. It consists of rock-cut churches, chapels and monasteries. Most of the churches in Goreme Open Air Museum belong to the 10th, 11th and 12th centuries.
But note, the museum's highlight – the "Dark Church" – has an additional ₺10 entrance fee. It's called the dark church because it originally had very few windows. The frescoes inside this church are amazing, though! And I highly recommend going to see it. (No photos are allowed inside.)
You can experience Goreme Open Air Museum on your own (it's within walking distance of most hotels in Goreme) or you can take a tour of it on Cappadocia's "Red Tour." Click here for more info on that.
6.) Explore Sword Valley
On the road that leads up to Goreme Open Air Museum, there are tracks that will lead to Swords Valley. This is one of the smallest valleys in Cappadocia but there is a 300 m tunnel, many interesting fairy chimneys and ruins. You can explore the abandoned caves that used to serve as homes a long time ago. Hiking the entire valley can be done in about 1-2 hours.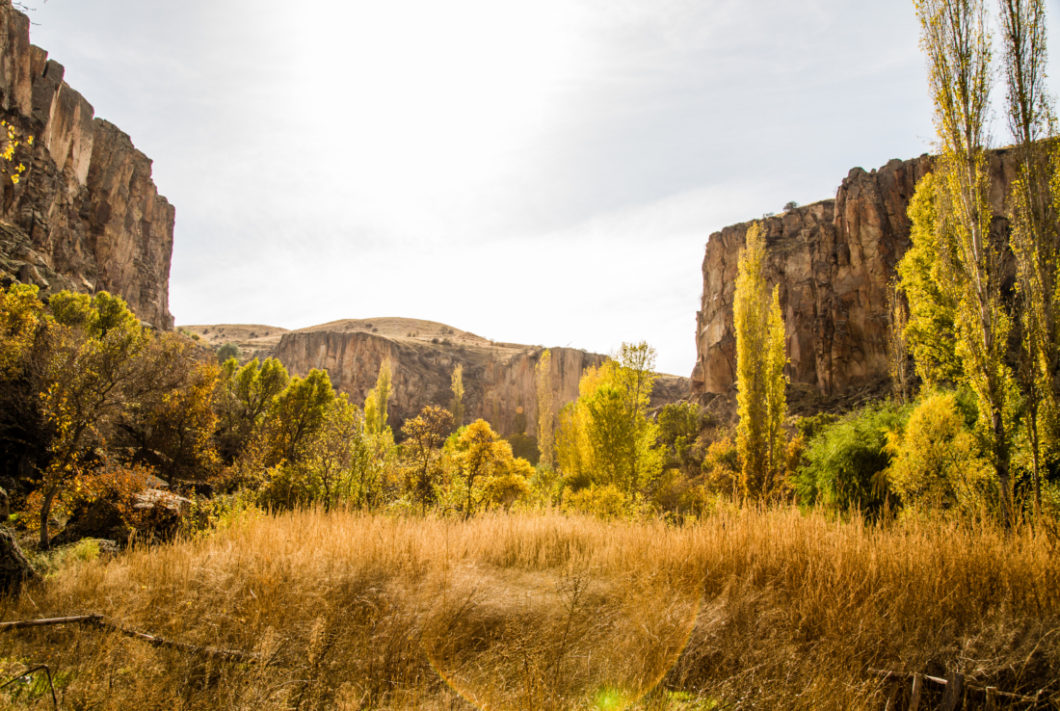 7.) Hike Ihlara Valley
The Ihlara Valley is GORGEOUS! It's interesting, too, because as you're walking along, the whole canyon is honeycombed with rock-cut underground dwellings and churches from the Byzantine period. It was one of the first places Christians, escaping from the Roman soldiers, had settled.
This is also offered as part of the "Green Tour" in Cappadocia. Click here to read more about The Ihlara Valley.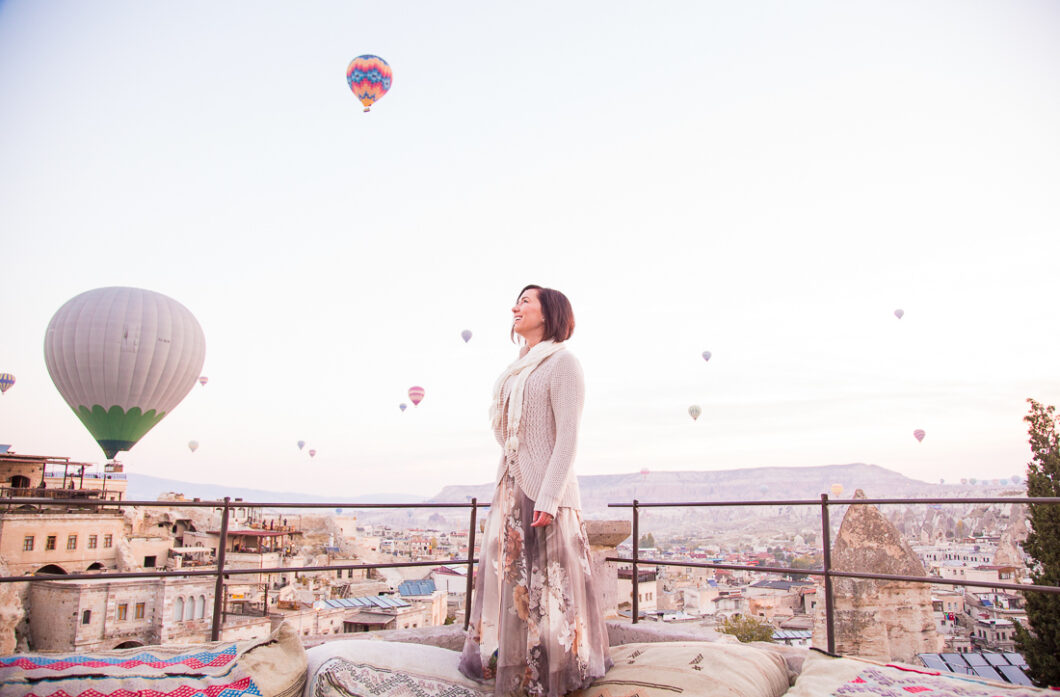 8.) Watch the Sunrise + Hot Air Balloons (Goreme)
It is absolutely worth getting up before dawn to watch the sunrise and dozens of hot air balloons ascend into the sky. It's unreal! There are lookouts where you can watch, such as Sunset Point, however, another great option is to watch them right from your hotel! Some hotels in Goreme have terraces where you can watch the hot air balloons, without having to travel far from your room! The photo above is taken on the Sultan Cave Suites Terrace. The views are amazing, but if you want to read the behind the scenes madness of this photo, click here!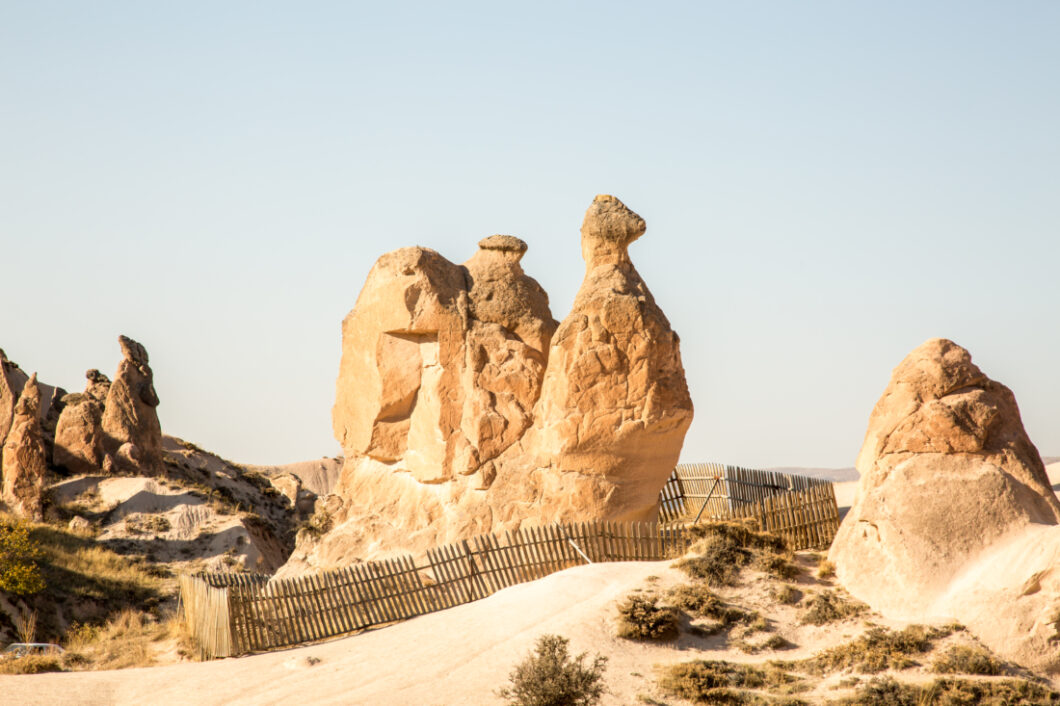 9.) Explore Deverent Valley aka Imaginary Valley
Devrent Valley is also called Imaginary Valley because you can let your imagination run wild with all the various natural rock formations you'll see here! The most famous rock formations are "the camel" (above) and "the hand."
You can experience Devrent Valley on Cappadocia's "Red Tour." Click here for more info on that.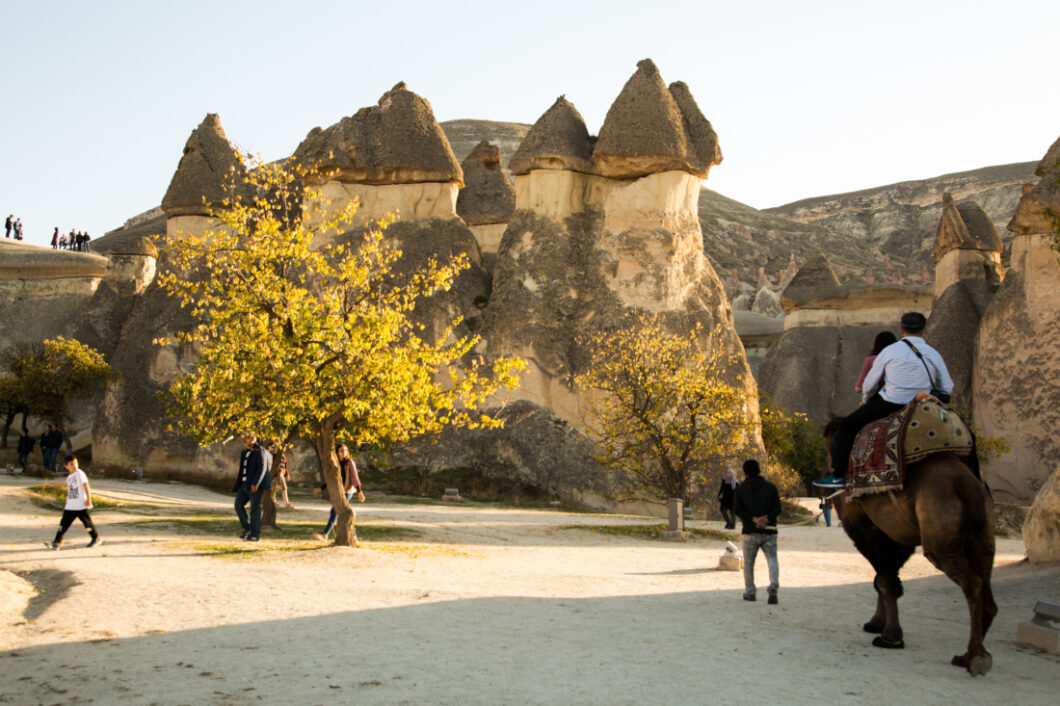 10.) Hike Pasabag Valley
Pasabag has some of the most striking fairy chimneys in Cappadocia with twin and even triple rock caps. This style is unique even for Cappadocia and these fairy chimneys are named mushroom-shaped fairy chimneys. There are many trails you can walk and explore the fairy chimneys and different viewing points. There are also vendors selling camel rides and food here.
You can experience Pasabag Valley on Cappadocia's "Red Tour." Click here for more info on that.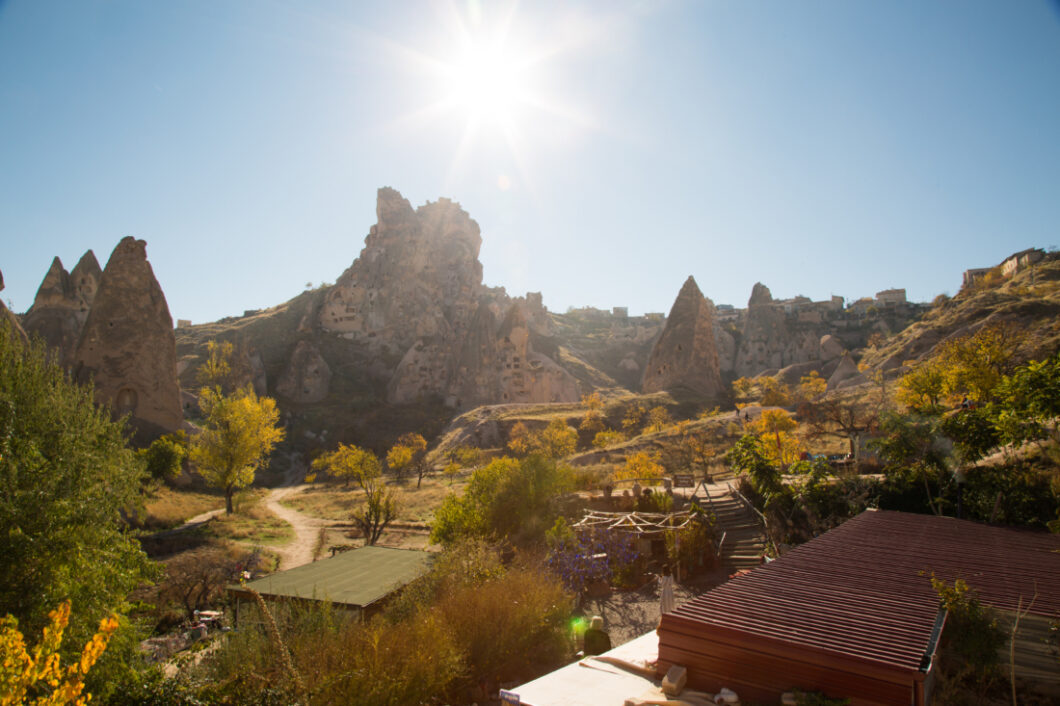 11.) Take in the View from Uchisar Castle
Uchisar is the highest point in Cappadocia. The top of the Uchisar Castle provides a magnificent panorama of the surrounding area with Mount Erciyes in the distance. Many rooms hollowed out into the rock are connected to each other with stairs, tunnels and passages.
You can experience Uchisar Castle on Cappadocia's "Red Tour." Click here for more info on that.
12.) Visit Sultan Carpet Shop
If you're on Instagram, it's almost guaranteed you have seen at least one photo of Sultan Carpets! This carpet shop not only sells incredible rugs with fantastic and friendly customer service – it's on many folk's radars because of the photoshoots that happen here. The shop's owner does charge a small fee if you want to take photos inside – or you can also hire a local photographer with a drone to get a photo here! (Personally, I just window-shopped here and talked to the owners – which was a great experience. I didn't do the photoshoot experience.)
13.) Take a Cooking Class
You can learn how to make Turkish treats like 'borek' pastries, stuffed eggplant and sweet baklava with a unique cooking class in a local family home. Enjoy an authentic taste of Cappadocian life as you shop for fresh ingredients at the local market and feast on a homemade 3-course lunch or dinner, accompanied by traditional Turkish coffee!
Check out more about this cooking class here.
14.) Try a Pottery Kebab
Keeping with the food theme, you can't come to Cappadocia and not try a Pottery Kebab! A Pottery Kebab is cooked in a sealed clay pot or a jug for a minimum of 4 hours to let the dish simmer in its own juices. When fully cooked, the waiter brings out the clay pot and cracks it with a hammer in front of you before serving the meal. (Most restaurants will prepare their kebabs in advance – so, you're only waiting 20-30 minutes for your food.) Dibek is one of the most recommended restaurants for Pottery Kebabs. However, we tried ours at Old Cappadocia and really enjoyed the food and atmosphere here too!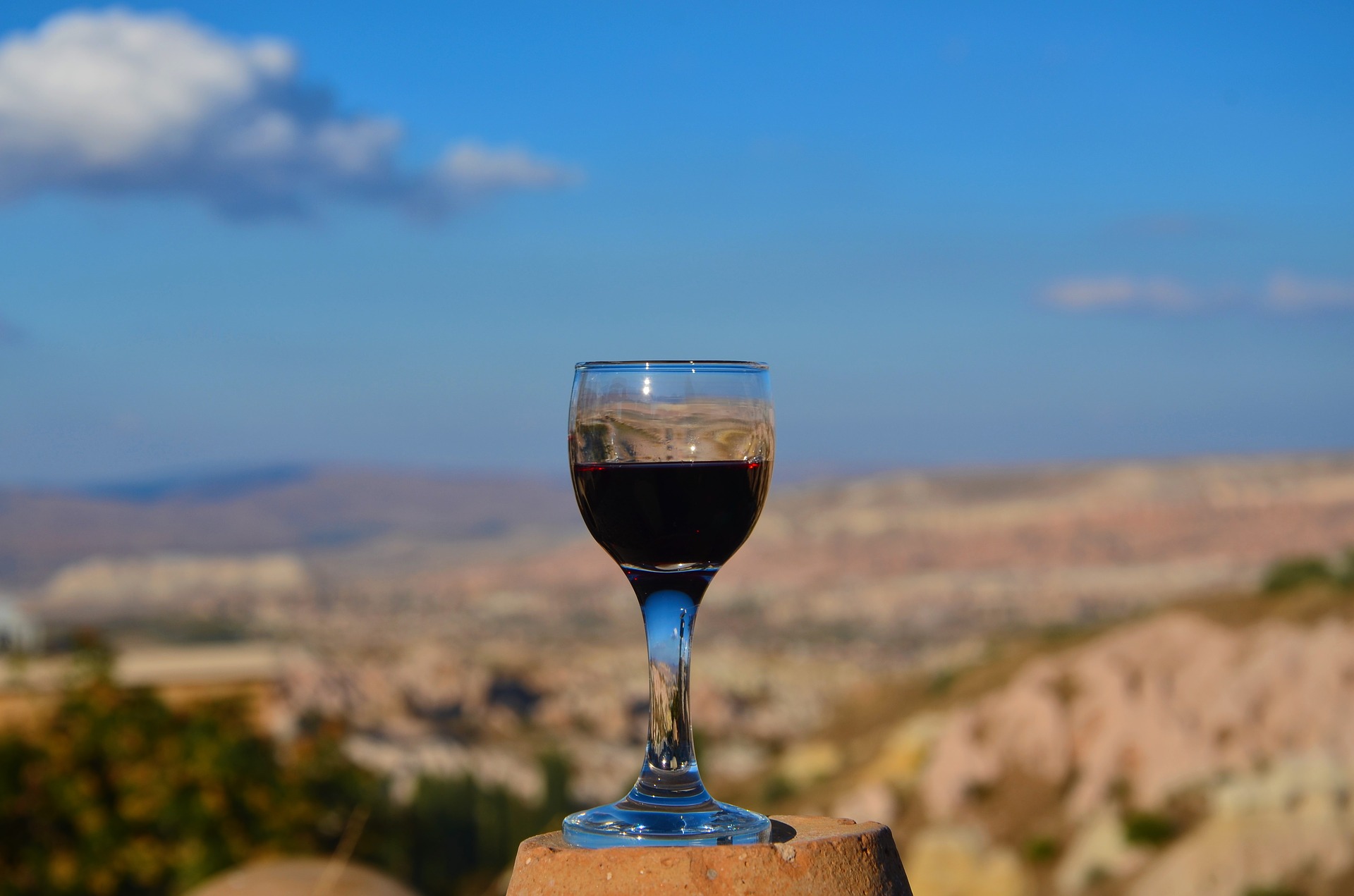 15.) Sip Your Way Through a Wine Tour
Take a half-day to explore the historic vineyards of Cappadocia! Learn more about the grape varieties growing here, and even get the chance to pick your own grapes… and of course, take the chance to taste the region's delectable wines.
Check out more about this wine tour, here.
16.) Visit Zelve Open-Air Museum
The Zelve Open-Air Museum, once housed one of the largest communities in the region is an amazing cave town, honeycombed with dwellings and religious chambers. Zelve is situated about 10 km out from Goreme.
17.) Take a Horseback Ride at Sunset
Now, depending on how adventurous you are, you can spend one afternoon/evening taking an exciting horseback ride through the fairy chimneys! Horseback riding is VERY popular in Cappadocia. I did not personally do this while here, but it comes highly recommended. These rides typically last 2 hours. So, it's great to sneak in at the end of your day. (Click here for more info.)
18.) … or Take a Quad Tour
If you're the adventurous sort, but not a fan of horseback riding, another very popular option is to take a quad tour through Sword, Love and Rose Valleys! These tours typically last 1-2 hours and are also highly recommended. (Click here for more info.)
19.) Relax at a Turkish Bath
Looking to spend some time relaxing while in Cappadocia? Head to a local bathhouse for a massage! Now, of course, Turkish bathhouses are not the same experience as what we are used to in the US. At a bathhouse, you won't have much for privacy… but it's all part of the experience! (Just be prepared for this before you go in!)
20.) See a Swirling Dervishes Show
I really regret not taking the time to see a Swirling Dervishes Show when we were in Cappadocia. (I will have to do this next time!)
The Sema (whirling dervishes) ceremony represents the mystical journey of man's spiritual ascent through love and his search for truth and perfection. It is believed that once a man has returned from his spiritual journey, he can love and be of service to all creatures surrounding him. You can experience an authentic Cappadocian ceremony and witness this ancient Turkish ritual. Click here for more info.
21.) Go to a Pottery Demonstration or Class
The Cappadocia area is also famous for its pottery making. The town of Avanos specifically has many pottery workshops. We visited Sultans Seramik in Avanos and were able to watch a demonstration as well as try out the process ourselves! The folks who work here are incredibly kind and hospitable and won't push you to purchase anything (unless you want to purchase something – their work is beautiful).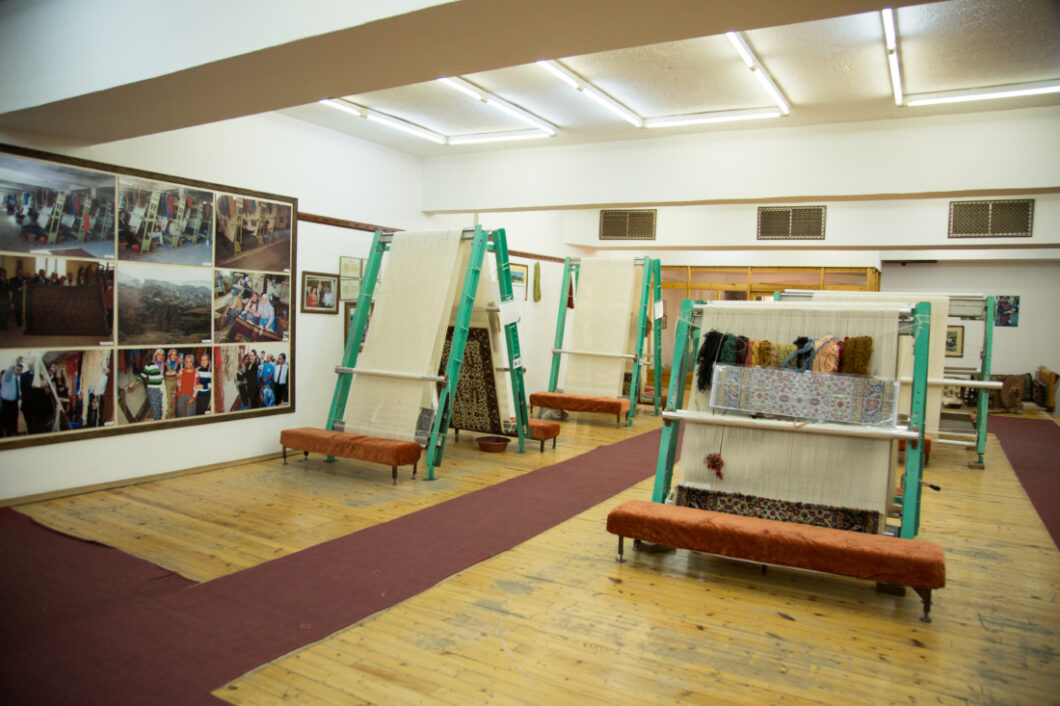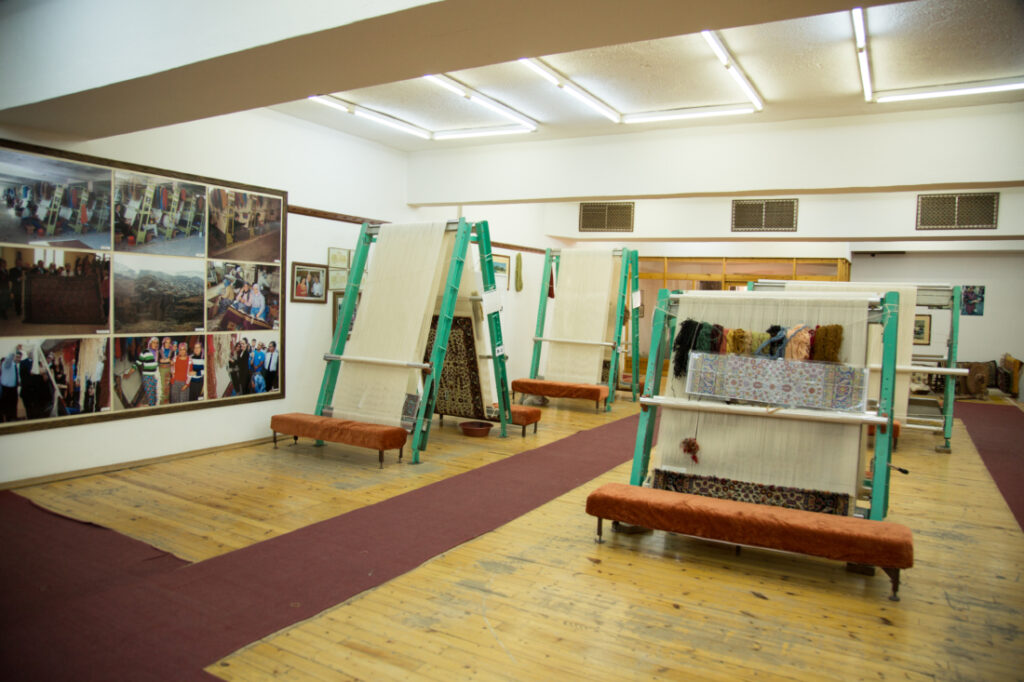 22.) Take an Art tour
If you are especially interested in the art techniques in Cappadocia, you may enjoy taking an art tour! You can watch the local ladies at work patiently and skillfully creating Turkish carpets. Then, see a skillful pottery master turning mud into a unique piece of art… and attempt to replicate it yourself. Lastly, discover the Ottoman art of ebru (water marbling), an artistic way of reflecting the fluency and smoothness of water with exquisite colors and shapes on to a paper or a silk material. This demonstration will look like a magic trick! Click here to book a tour. (You can also organize this yourself, and visit each shop on your own – a tour is not required by any means.)
23.) Hike Pigeon Valley
Pigeon valley is located between Goreme and Uçhisar and is ideal for walking, as it's a relatively easy hike. The name comes from the thousands of pigeon houses that have been carved into the soft tuff since ancient times. Although they can be found throughout Cappadocia, they are especially numerous in this valley. There is also a viewing platform you can admire Pigeon Valley from if you would rather not do the hike.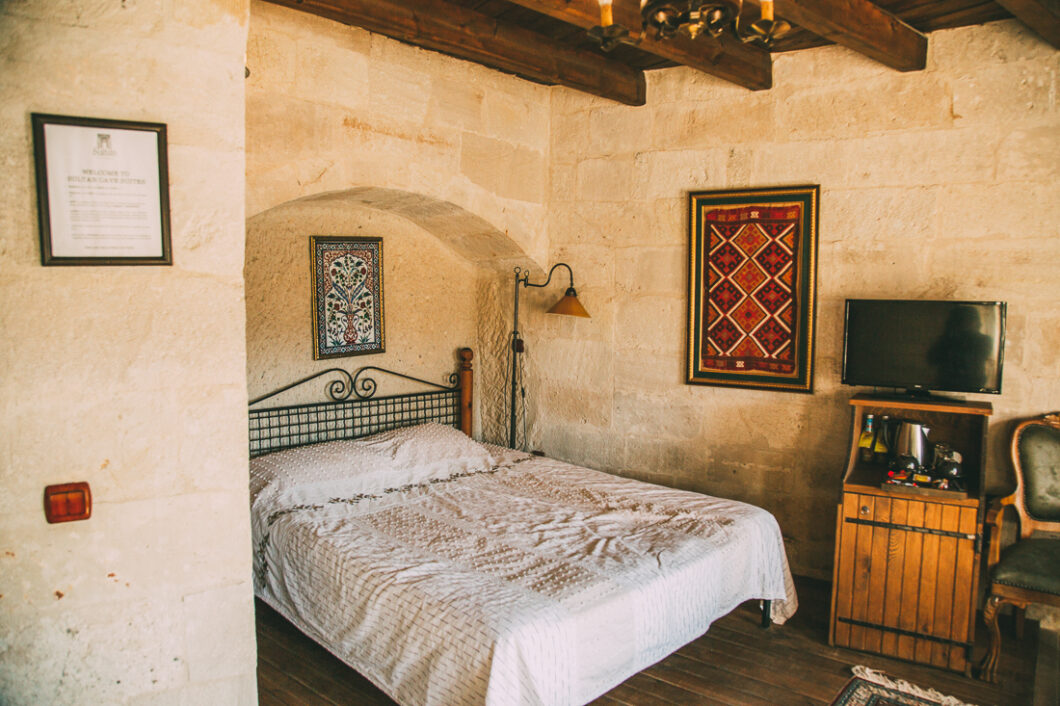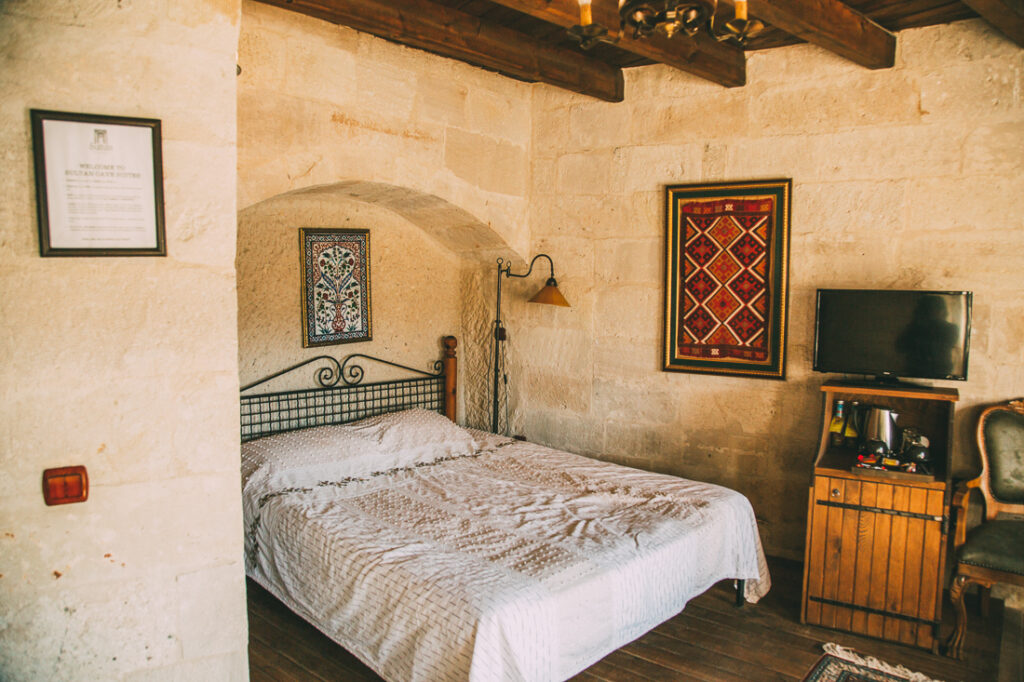 24.) Stay in a Cave Hotel
Cave Hotels are exactly as they sound – they are hotels that were carved into Cappadocia's stone. It's a unique experience! We personally stayed at the Sultan Cave Suites in Goreme, as their famous terrace offers spectacular views of the sunrise and balloons in the morning. There are many cave hotels in this area, though, that range from budget-friendly to ungodly luxurious.
25.) Visit the Pink Salt Lake
This actually is not in Cappadocia but is a popular day trip from here. I am adding it, though, because it is highly recommended and looks SO darn cool. I wish I would have had enough time to visit this as well. You can check out photos and book a tour, here.
Honorable mention – Vintage Car Photo Shoot
These photoshoots are gaining popularity in Cappadocia as well! Have your photo taken with gorgeous vintage cars set against the beautiful Cappadocia landscape… while the hot air balloons rise around you. I didn't personally do this, but I love all the photos I see from it! Click here for more info.
How to Get to Cappadocia
The town of Goreme is the main place people stay, though Nevşehir, Avanos, and Urgup are also options. These towns can be reached via bus from Kayseri airport. Long-distance buses also run from Istanbul and Ankara to the Cappadocia region.
We had booked a private transfer from Kayseri airport to our hotel in Goreme.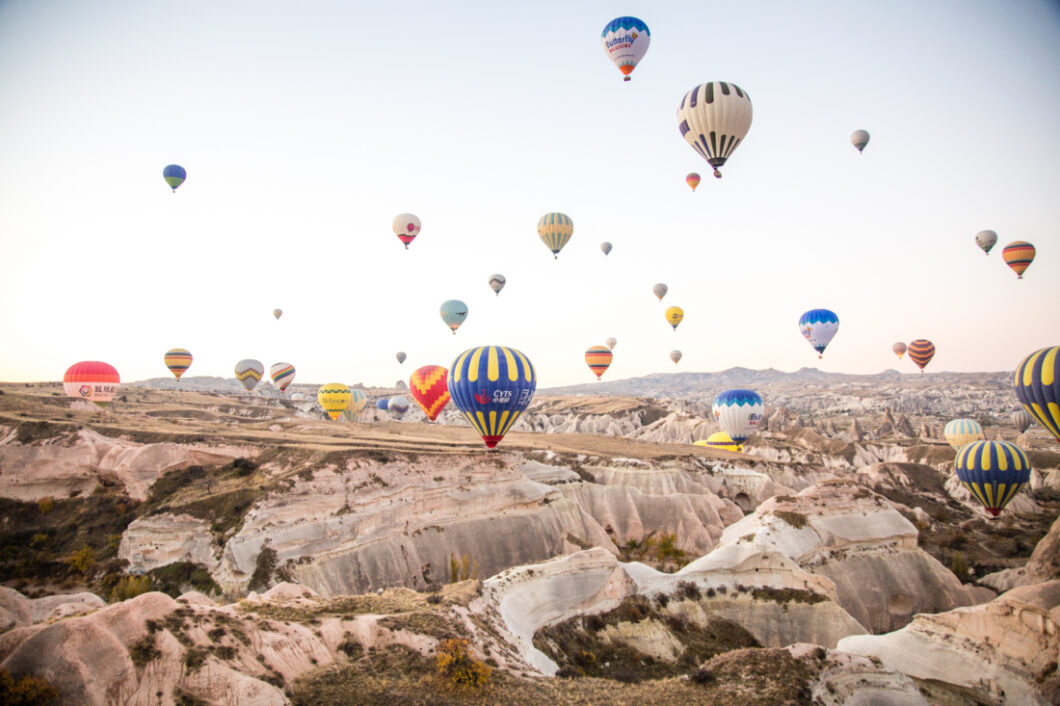 How to Get Around
There are plenty of tours to show you the highlights of the Cappadocia region. (This is what we, personally, did.) You can also easily rent a car, bike or scooter to get around. Traffic isn't too crazy in this region, and I do think most experienced drivers would be fine driving here.
You can see just about everything in Cappadocia, though, by booking the Red Tour, Green Tour and Blue Tour.
Where We Stayed
We stayed at the Sultan Cave Suites – which has an incredible terrace view of the hot air balloons rising (pictured below) + authentic cave rooms. They also have a wonderful restaurant on-site and a breakfast buffet to die for. (Click here for my full review.) Next door is also Mithra Cave Hotel, which boasts a similar view of the hot air balloons each morning!
*Cappadadocia also has tons of budget-friendly room options with some well-rated hotels starting at $28 USD a night. Click here to check them out.
*If you're looking for luxury accommodation while staying in Cappadocia, I recommend checking out Kayakapi Premium Caves – some of these cave rooms have their own private underground pools or Kapadokya Hill Hotel & Spa!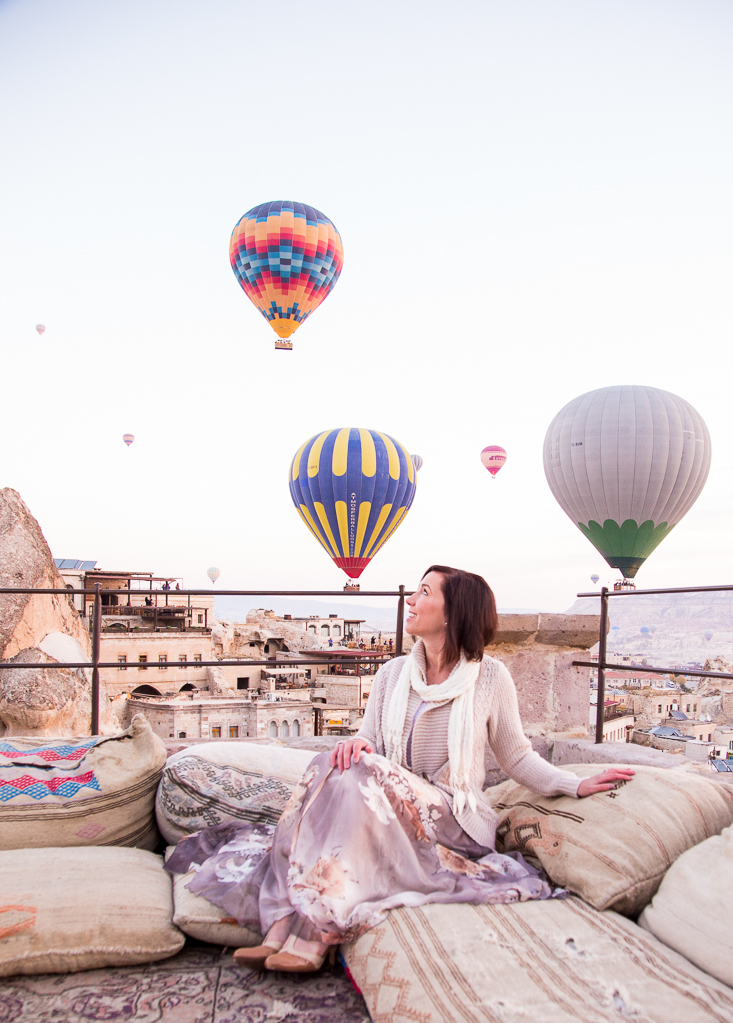 Visa Requirements
To check if your country requires a Visa for traveling to Turkey, click here.
Travel Insurance
As of 2021, many destinations require having travel medical insurance that covers COVID-19. Squaremouth is the only site that currently lets you filter travel insurance policies for COVID-19 coverage. I, personally, use Squaremouth for finding the best insurance policies for my travels, and I have already used them for trips planned in 2021. They're also recommended by Forbes! You can click here to get your free travel insurance quote or enter your information via the widget below.
*Disclosure: some of these links are affiliate links. Meaning, if you click a link and make a purchase, Have Clothes, Will Travel gets a very small commission at no extra cost to you. Thank you for supporting the brands that make this blog possible! I am also a participant in the Amazon Services LLC Associates Program, an affiliate advertising program designed to provide a means for us to earn fees by linking to Amazon.com and affiliated sites.