Where to Stay in Goreme, Turkey – Sultan Cave Suites Review
Sultan Cave Suites in Goreme, Turkey is best known for its breakfast terrace. From here, you are treated to a breathtaking view of hot air balloons rising above Goreme every morning (weather permitting). This hotel is quickly gaining popularity, thanks to shots of its terrace going viral on Instagram.
But before you book your stay here, you're probably wondering… is the hotel itself that nice? What are the rooms like? Do you get to eat that awesome looking breakfast splattered all over Instagram? This post will explain!
Sultan Cave Suites Review
Pros:
*Breakfast
Ok, first up, let me clarify…you do not get to eat that breakfast pictured above. That is set up every morning by the Sultan Cave Suite's staff strictly for photo purposes! I'm not going to lie, I went into this thinking I would be eating a breakfast that looks exactly like that every morning. Darn you, Instagram! But nevertheless, the breakfast buffet at Sultan Cave Suites is really good! They have an incredible variety of food from home-baked goods, cheeses, olives, fresh fruits, jams, and even local honeycomb for your toast, as well as eggs made to order…and a wide variety of beverages. I honestly can't think of anything I would've added to their breakfast spread.
*The Staff
Everyone I encountered who worked for Sultan Cave Suites was beyond helpful and kind. I was blown away by the hospitality of this place!
*They Have a Partnership with Butterfly Balloons
Just down the street from Sultan Cave Suites is Butterfly Balloons. It is really easy to organize a balloon flight with Butterfly Balloons right through Sultan Cave Suites. (And payment and booking can all be done at Sultan Cave Suites.) The synergy of these two companies is really well organized. (You can click here for my full review of Butterfly Balloons.)
*The Rooms are Really Nice!
You have the option to stay in honest-to-goodness cave rooms! The suite we chose, though, was not an actual cave room. We decided on this one because we wanted a view of the Fairy Chimneys instead. We stayed in room #326. It is furnished in Turkish antiques and even has a real fireplace inside (kindling and wood are in the closet)! The shower and bathroom were also up to my high bathroom standards. The homemade soaps were a wonderful touch as well. The stone room was also surprisingly warm and cozy – we never felt the need to light the fire because of this! The room was also very clean. I made a short little video of our balcony and the room below. (You can also click here to see my recent blog post from our room's balcony.)
Cons:
*Street Noises
At least from our room, we were able to hear dogs barking and fighting at night. Which was a little irritating. We turned the fan unit on our next night, though, and that drowned out most of the noises from the outside world.
*Steep Incline to Get to It
If you're walking back from Goreme, it's a really steep incline to get to the Sultan Cave Suites! Not dangerous steep, just the kind that gets tough after a long day of exploring.
*This Place is Really Popular…
With views like this…you can't blame everyone for wanting to stay here! But if you're hoping to capture that perfect shot of balloons rising over Goreme…you're going to need to have some patience. This is because the crowds can get pretty crazy here – even in the offseason. You DO need to have a room key in order to be up on the terrace in the morning. However, there will still be a ton of people up there. I put some behind the scene photos together in this post from our first morning there (it was bonkers), and I honestly thought I was going to get attacked by a girl…
**Because it's so popular, I advise booking as far in advance as possible, because the rooms do sell out in the summer months especially. Click here to see current rates on Booking.com. (Fear not – if it's sold out, Mithra Cave Suites is right next door with a very similar view too.)
Worth Noting for Hot Air Balloon Pics…
If you have your heart set on getting a magical photo of hot air balloons rising up over Goreme…I would suggest booking more than 1 night at the Sultan Cave Suites. This is because 1.) The balloons go up *weather permitting.* So, if it's too windy one day, the flights may be canceled. 2.) Even if the weather is fine – somedays the balloons are really close to the terrace and other days they're really far away. (See the difference 1 day makes in the photos below – this all has to do with the wind patterns for that day.) 3.) You could have a really unfortunate crowd, like we did on our first morning there, and not get hardly any decent photos! Having a backup day can make a big difference.
So…Is it Worth It? Would I Stay Here Again?
Absolutely! The price of this hotel, in my opinion, is very reasonable for everything you get with it. I also really enjoyed how well they worked with Butterfly Balloons. If I were to stay here again, I'd really like to try out one of their cave suites next time.
Travel Insurance
It's a good idea, no matter where your adventure takes you, to have travel insurance. You never know what might happen! Whether you get sick before your trip and can't go, or you become sick or injured while on your adventure – being covered with travel insurance is a must. Some credit card companies do provide this service (check with yours), or you can get a quote from companies such as Squaremouth to find the best plan for you and your adventure. (This is the company I, personally, use. They are even recommended by Forbes!) To get a free quote, click here.
Visa Requirements
To check if your country requires a Visa for traveling to Turkey, click here.
Does anyone else have Goreme on their bucket list? And would you be interested in staying here? Let me know in the comments!
Click here to see all of my blog posts from Cappadocia, Turkey! And click here for my ultimate 3-day itinerary for Cappadocia!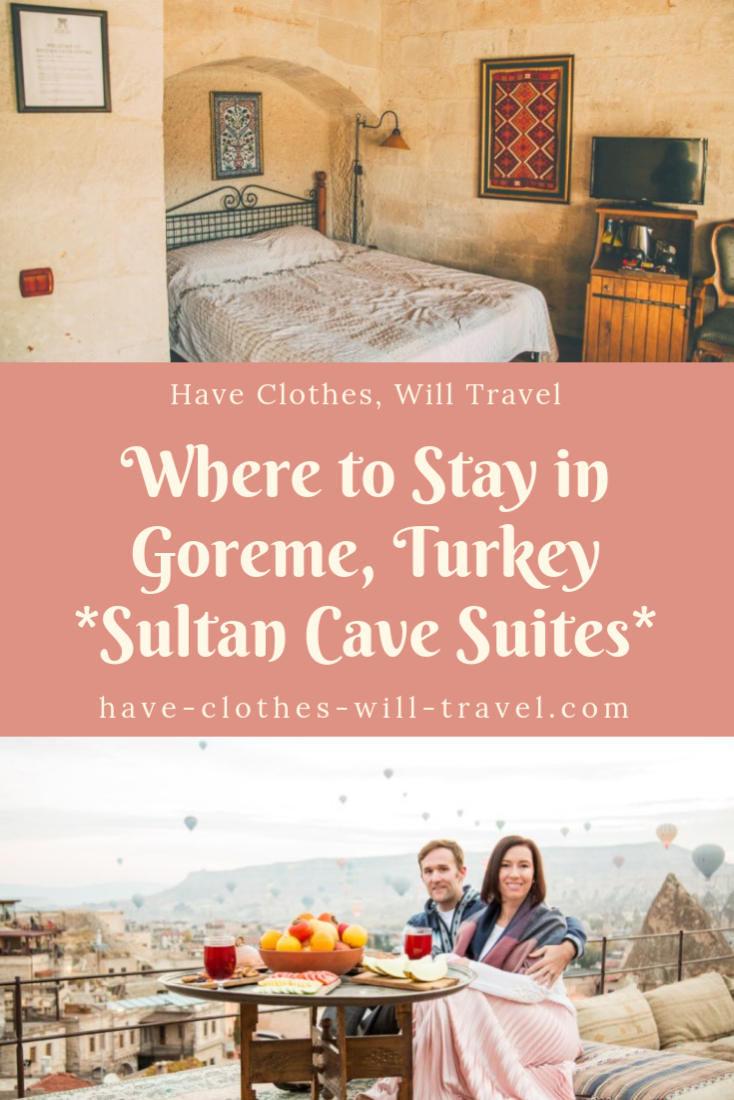 *Disclosure: some of these links are affiliate links. Meaning, if you click a link and make a purchase, Have Clothes, Will Travel gets a very small commission at no extra cost to you. Thank you for supporting the brands that make this blog possible! I am also a participant in the Amazon Services LLC Associates Program, an affiliate advertising program designed to provide a means for us to earn fees by linking to Amazon.com and affiliated sites.