Tips for Traveling to Tropical Destinations
Guest writer Mariel Santos from the Philippines offers some useful dress and health tips for first-time travelers to the tropics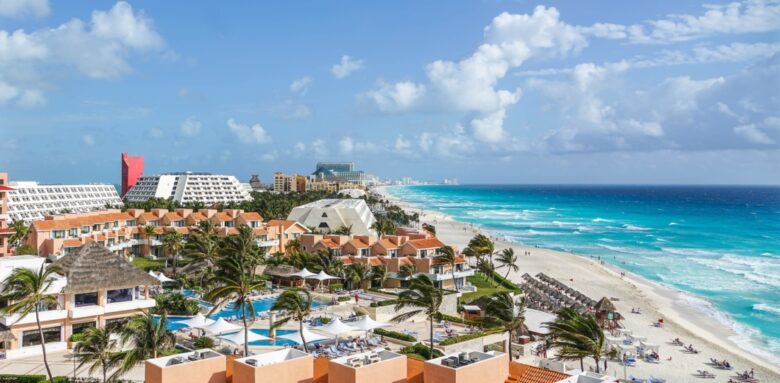 It's at this time of the year that us folks living in cold climates start dreaming of a tropical vacation. The Caribbean, Costa Rica, the Maldives, Southeast Asia or Tahiti – there are dozens of tropical destinations within easy reach by direct flights from almost anywhere in the world.
Relaxing on a white sandy beach under a swaying coconut palm, sipping piña coladas as the sun sets over the warm ocean, sure beats home…especially if it's wet, windy or cold where you are living.
But if you haven't spent much time in the tropics before, there are a few things that you should be prepared for as you embark on your journey to warmer temps.
What you wear and what you pack will make all the difference in getting the most out of a vacation in the tropics.
What to Wear + How to Pack

For starters, if you've been traveling with dreary old black or brown travel bags, get yourself something more colorful and stylish that suits the mood of the tropics. Brightly colored suitcases are easier to identify on the baggage carousel at your destination, so will help to ensure that your luggage doesn't go astray.
Luggage designers like Delsey have some great bags for female travelers that are both stylish and practical. Their latest offerings have a chic Parisian feel. You can check out what's available without leaving home on websites like this one.
Your wardrobe is the next item to which you should be turning your attention. Most tropical destinations have warm nights in addition to hot days, so you won't need much more than light clothing, However a warm jacket will still be necessary to get to the airport and to wear on the plane.
When you reach your destination, the first thing that will hit you as you leave the airport arrivals area will be the humidity. This gives a clue to the type of clothing that you should bring – loose cotton dresses and blouses made of natural fibers.
Leave anything made of synthetic materials at home because in the tropics they will make you perspire. If you don't have a lot of cotton clothes, don't worry – just head to the local markets on your first or second day and you'll be able to quickly stock up on suitable summer clothing – probably at prices much cheaper than back home.
Be Careful in the Sun!
Whilst you may be desperate to get a suntan to dispel the winter woes (and maybe show off when back home!) don't make the mistake of spending too much time in the sun the first few days. There's nothing like a red lobster tan that makes a tourist look like a tourist.
Wear light long dresses during the day until your legs are used to the sun. Cheap dresses and sarongs made of cotton fabrics are readily available in most tropical markets and are easy to wash and wear. They may not be the easiest to iron, but at beach destinations in the tropics, nobody worries about a few wrinkles in the clothes.
Linen dresses can look a bit more stylish because the fabric is stiffer and won't stick to the skin so readily when the wearer is perspiring. It's also difficult to iron, but many like the wrinkled look of linen — it adds to the tropical 'feel'.

You may need to shower and change two or three times a day when vacationing in the tropics, but cotton clothes can be easily washed and dried wherever you are staying.
If you are staying in a classy resort, they may not like you drying clothes on the balcony, but if you are in a budget resort or Airbnb, there are usually plenty of places to dry clothes. An hour in the tropical sun is usually all it needs.
Whilst you may be spending most of your days on the beach and in the water, you should pack one or two ensembles for wearing in the evening and for when you want to eat out. Whilst beach bars and cafes are happy to have customers wearing shorts and sarongs during the day, at night they may have stricter dress standards.
Pack a lightweight raincoat too because afternoon thunderstorms are common in most tropical regions, and can occur even at times of the year that may not be designated as the rainy season. Alternatively, you can buy a cheap plastic poncho at the first sign of thunderstorms, and throw it away before you leave.
A hat to protect your face from the sun is essential in the tropics because the sun is much fiercer than at home. Most visitors to the tropics wait until they get there to buy a hat because local markets have a much bigger range than what is available back home.
If you have a favorite sunblock, then it's best to bring it with you rather than hoping that brand will be available at your destination (it probably won't!). In some countries only cheaper brands are available which may feel greasy on your skin.
Be Ready with Bug Spray
Likewise with insect repellents — you'll definitely need to bring those if you prefer to use DEET-free types. But if your destination is known to have a mosquito problem, you may have to use a DEET-based repellent at least around dusk when mosquitoes are at their worst. These are readily available in most tropical resort areas, so there is no need to pack those.
Most experienced travelers to tropical countries say that it is not necessary to take mosquito prophylactics (they are expensive and may have nasty side-effects) because it is rare to contract malaria in a resort area. Prophylactic drugs are generally only recommended for travelers who will spend nights in rural areas.
However, dengue fever is a risk in many tropical resort areas, and vaccinations against dengue have not yet been fully developed. Therefore it's important to ensure that you apply insect repellent around dusk (and around dawn too if you are an early riser and like to head out for an early-morning jog on the beach).
Whilst preventing mosquito bites is important, don't let the fear of contracting a mosquito-borne disease discourage you from enjoying a vacation in the tropics. Millions of people do every year, and only a very small number of tourists ever return home with malaria or dengue fever.
Most of those who contract these diseases are locals who do not have the money to buy insect repellents or who have been careless when checking their mosquito bed nets at night.
For tourists staying in air-conditioned hotels, it is easy to check for the presence of mosquitoes before sleeping at night. It's wise to also buy a can of aerosol spray from a local store on arrival to keep in your room (if the hotel doesn't supply one) in case a mosquito escapes your pre-lights-out check and you hear one buzzing in the dark after turning in.
If staying in cheaper places without air-conditioning, ensure that a bed net is supplied before booking, and make sure there are no holes in the net before retiring.
Sleeping under a mosquito net can actually be a lot of fun – just remember it is there if you have to get up in the middle of the night to use the bathroom!
Make reservations on restaurants and hotel accommodation
As expected, tropical countries will feel hotter for those who are living in cold climates. Booking ahead of time will lessen the hassle for your trip. You may immediately be able to take a rest after a long flight when you make reservations on your hotel accommodation. If you're planning to visit the Philippines, you may even get discounts on Cebu restaurants and enjoy their special cuisine. Just be careful about consuming spicy foods as this will increase your body temperature. Quench your thirst with their special refreshments as well.
I hope these tips will help you prepare for your first tropical vacation! Thank you for reading!
*Needs some travel inspiration for your next tropical trip? Check out the best Asia destinations!

Author bio:
Mariel Santos is a travel blogger who lives just minutes from the ocean in the Philippines. She has lived in the tropics all her life. She enjoys walking her dogs on the beach every morning and watching the sun set whilst swimming in the afternoon.