Sustainable Brand Alternatives to ModCloth With Darling Designs You'll Love!
It's old news at this point that ModCloth was bought out by Jet.com (the owner of Walmart). However, since this news broke, a lot of people have been looking for different options to shop for their vintage-style and indie clothing. (UPDATE: ModCloth is now owned by Go Global Retail.)
I am trying to make an effort to explore more sustainable fashion options myself, and I also have a blog post titled "15 Online Stores Similar to ModCloth" that gets a lot of people landing on it because they are specifically looking for sustainable alternatives to ModCloth (probably due to that buyout).
And, that post does not really provide a list of the best *sustainable* brand alternatives to ModCloth. So, I thought it would be helpful to put together a list for all those folks looking for some more ethical alternatives to the ModCloth style. I know the stores listed below aren't all an *exact match* to ModCloth, but they do have some great designs that I think those who love ModCloth's style will appreciate. Let me know if I missed any brands in the comments section, too! Enjoy!
*Disclosure: some of these links are affiliate links. Meaning, if you click a link and make a purchase, Have Clothes, Will Travel gets a very small commission at no extra cost to you. Thank you for supporting the brands that make this blog possible!
Sustainable Brand Alternatives to ModCloth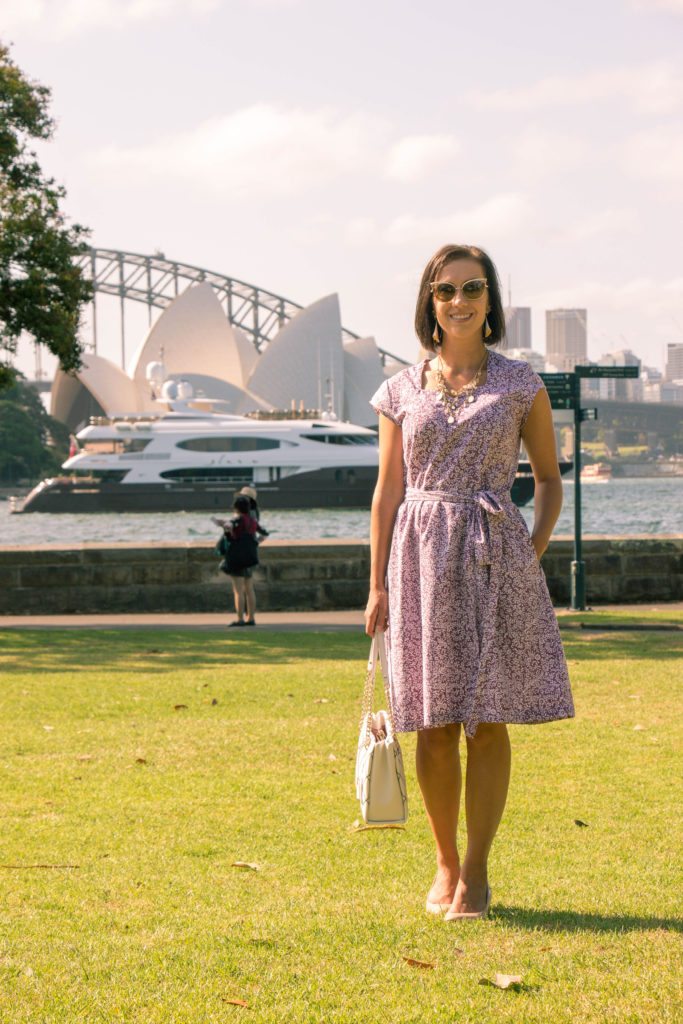 Passion Lillie
Passion Lilie is a fair trade and eco-friendly apparel brand with a mission to empower artisans across the world by creating dignified employment opportunities.
Passion Lilie was my first introduction to sustainable fashion. That dress from Passion Lilie, above, has been a favorite of mine for a few years now – and it still looks like new, despite being worn and washed at least a hundred times! (You can see my blog post featuring it in Sydney, here.) They have a great selection of dresses, with a timeless, vintage flair to them. They also carry some absolutely darling midi skirts.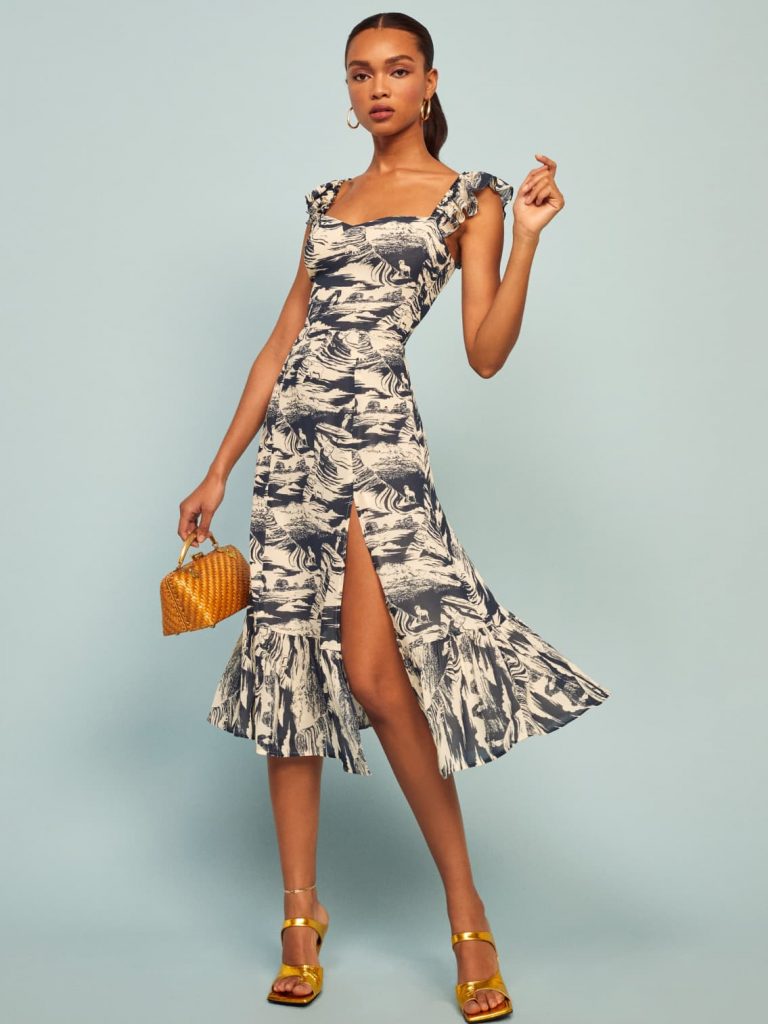 Reformation
Being naked is the #1 most sustainable option. Reformation is #2. We make sustainable women's clothing and accessories.
Reformation is probably the most recognizable brand on this list. They've been a mover and a shaker in the fashion industry, and they've even been dubbed, "the cool girl's" clothing company by Business Insider. They carry a wide range of fashionable and feminine, sustainable clothing… and they even make sustainable wedding dresses and bridesmaid dresses! I love that they also include sustainability stats for each garment under its description.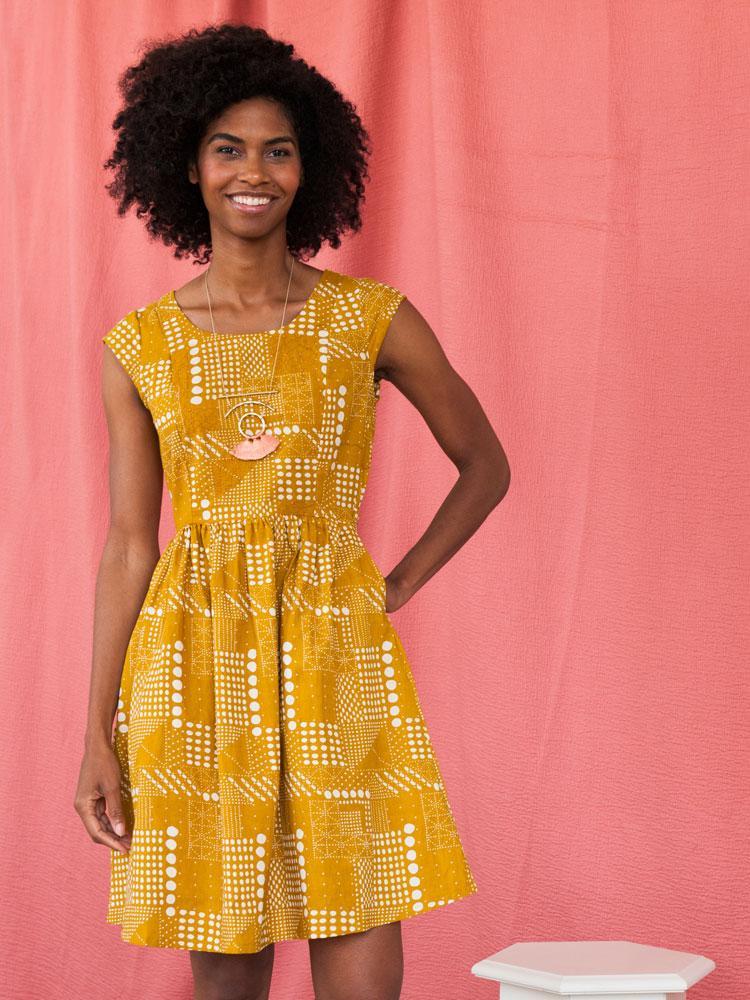 Mata Traders
The Mata Traders mission is to 'fashion a better world' by creating designs that celebrate a woman's originality and empower her to use her dollar for change. We merge uncommonly vibrant style with fair trade practices to make an impact on global poverty – bringing fair wages to artisans in India and Nepal.
Mata Traders creates fabulous vintage-inspired dresses in a fun array of prints. I am especially a fan of their fit and flare dresses! And best of all, many of these dresses have pockets. Who doesn't love a cute, versatile dress with pockets?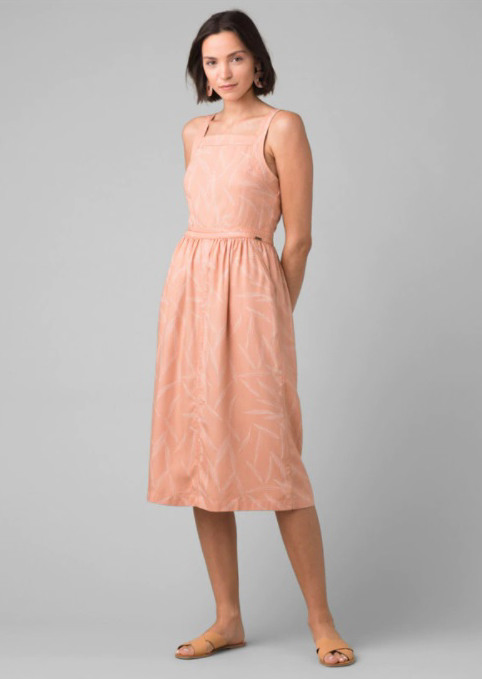 prAna
We believe positive change comes from progress, not the pursuit of perfection. From the farm to the factory to our closets, we all have an opportunity to create positive change through clothing. Start asking questions about your clothes in the same way you ask about the food you eat, and you can help fundamentally change the way clothing is made.
prAna makes a wonderful range of sustainable clothing – from comfy hemp dresses to cozy loungewear and sweaters. They also make great accessories! (I especially love my hemp beanie from prAna).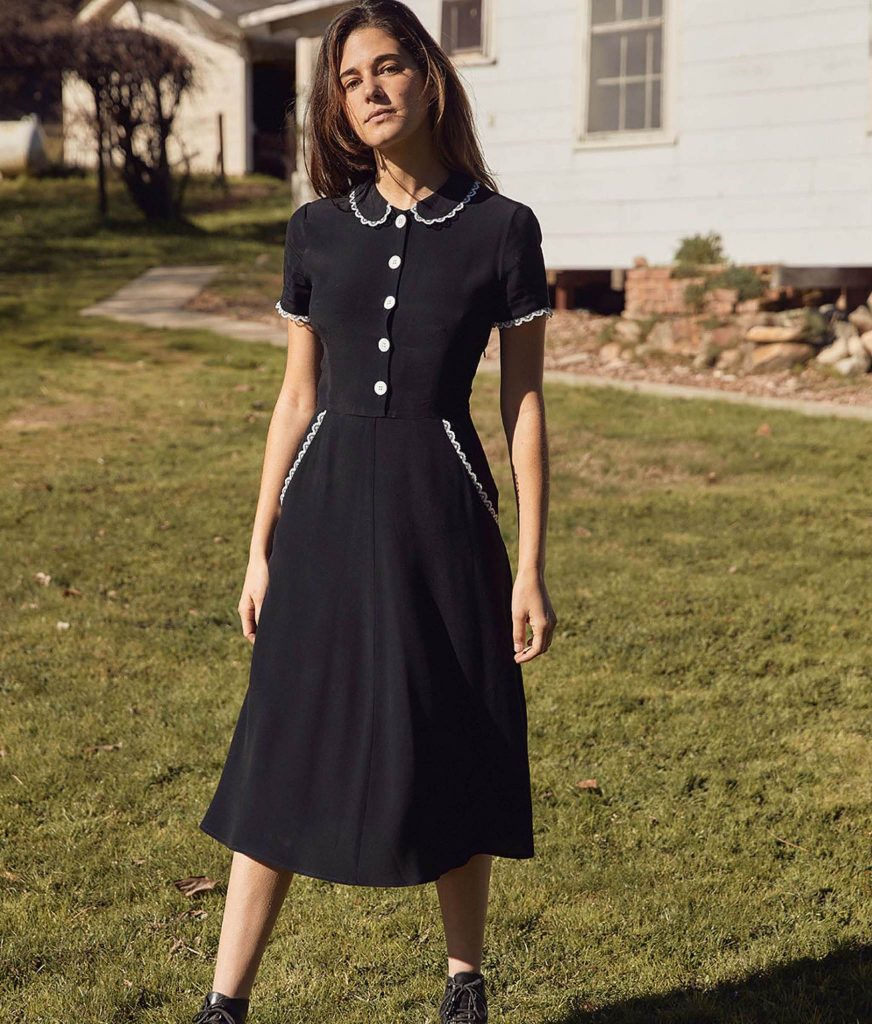 Christy Dawn
We seek to make dresses you want to live in – timeless, versatile pieces that you'll reach for day after day. Each dress is made using upcycled fabric, and sewn in Los Angeles by our team of dressmakers.
Christy Dawn creates timeless, vintage-style clothing that you'll love! Their dresses are very similar to the ModCloth look, while maintaining an ethical and sustainable approach to their designs. They make their dresses from leftover "deadstock" fabrics.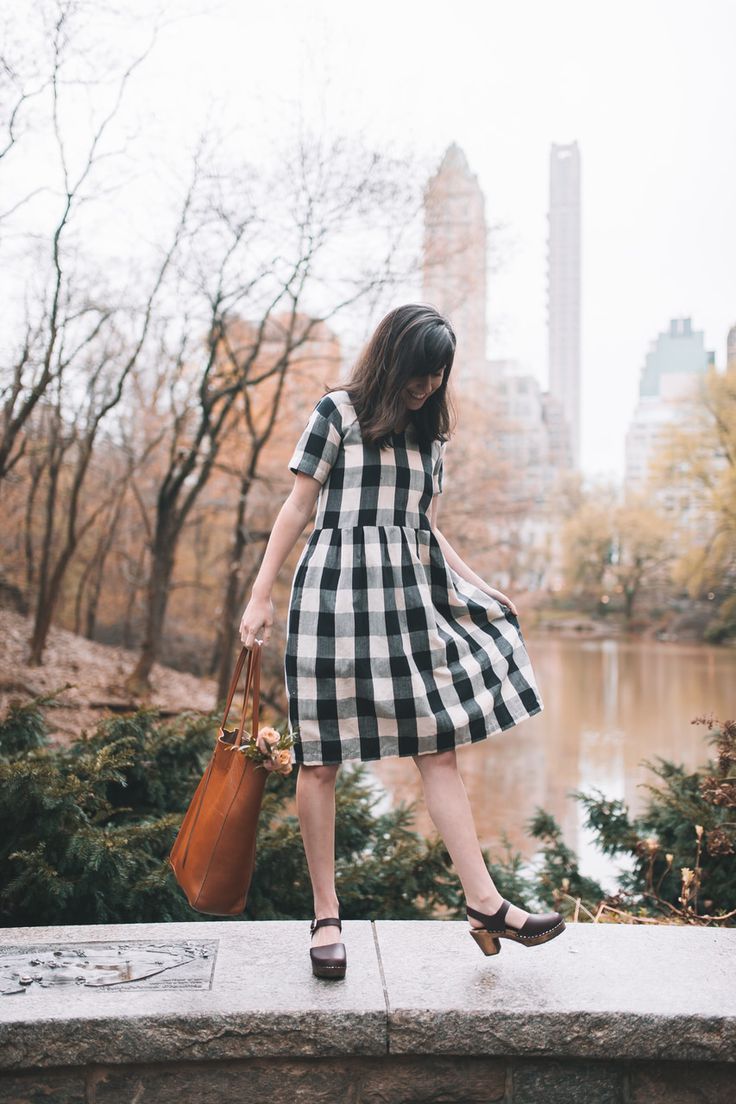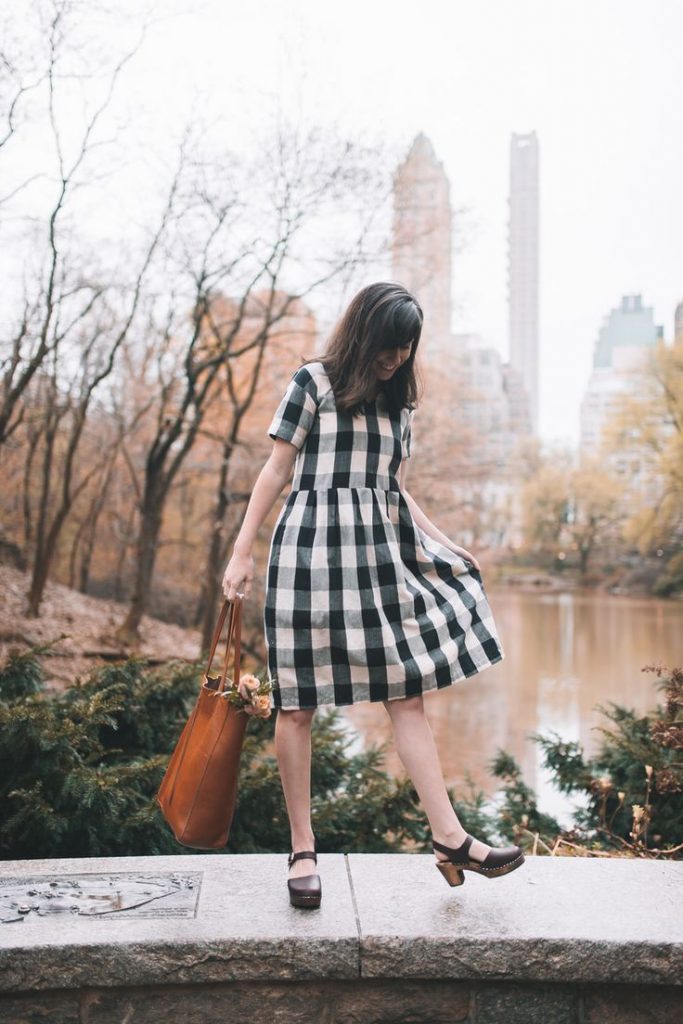 Liz Alig
Transforming the clothing production story to one of hope. We believe the clothes we choose to wear impact the world around us.
Liz Alig not only creates lovely, sustainable clothing for you to purchase. They also offer sustainable (and affordable!) fit boxes! How it works is, you'll send your measurements and style preferences and they will send you 6 fair trade and sustainable styles that are under $50. Any of the garments you choose to keep are 15% off the listed retail price (even if they are already on sale) + you get FREE shipping to you and back! (The $48 you pay is just a deposit, and they will give you a complete refund if you choose to send everything back.) You get two weeks to decide which items you would like to keep. How cool is that?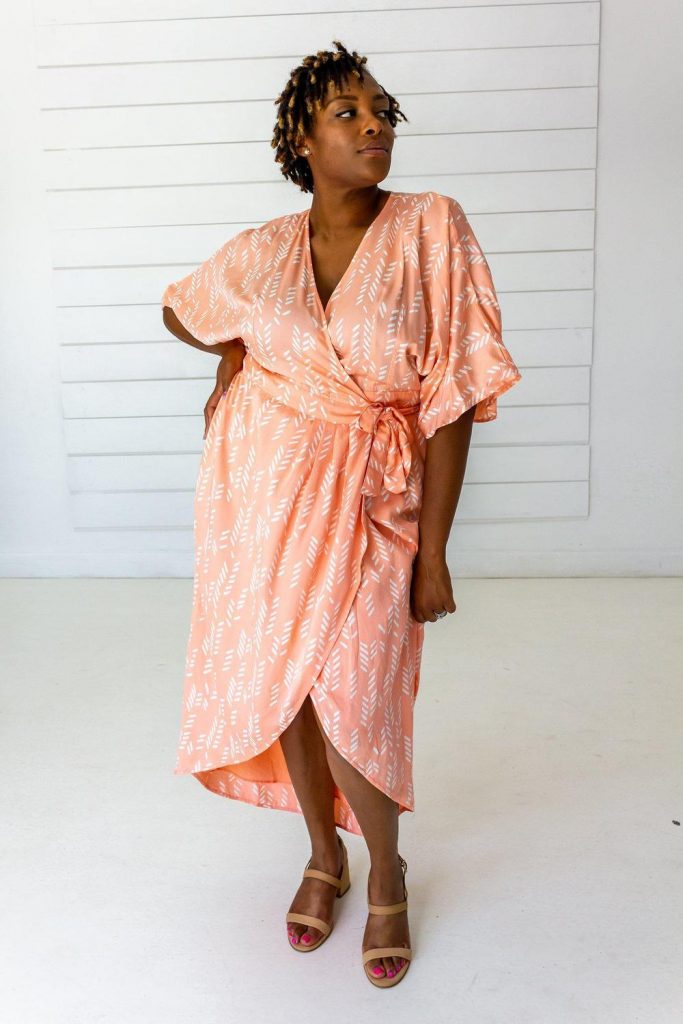 Symbology
Symbology was born with the goal of making fair trade sexy —to redefine the fashion industry so that ethical fashion would no longer be the exception, but the norm. Each purchase is an investment in a one-of-a-kind item that empowers women worldwide.
Symbology makes the most gorgeous wrap and shirtdresses. They also make cute maternity clothing and wedding apparel. Symbology has even been featured on the likes of Elle and Harper's Bazaar.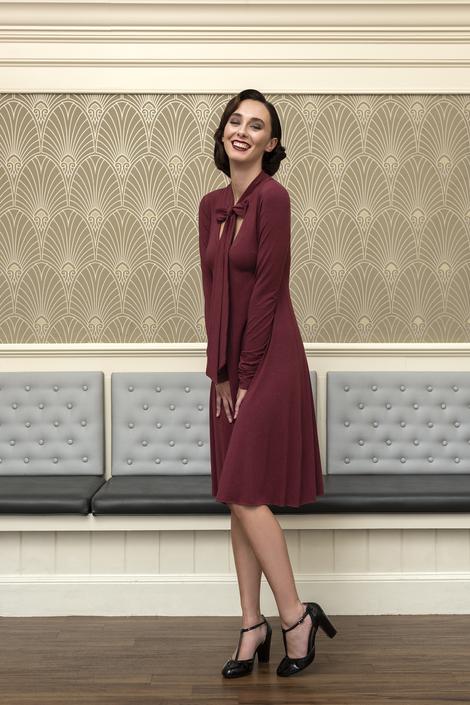 DEVINTO
DEVINTO is an eco and ethically conscious label with a darker vintage feel. It is designed and produced locally on Cape Cod using natural and eco friendly fabrics without compromising style.
DEVINTO is based in Hyannis, Massachusetts, and while they don't have a ton of designs… the ones they do carry are pretty close to the ModCloth aesthetic. I think ModCloth-lovers will really enjoy DEVINTO!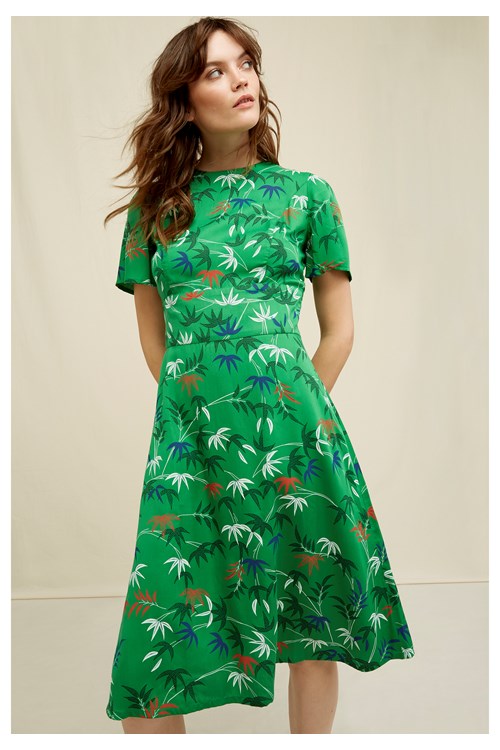 People Tree
Every product is made to the highest ethical and environmental standards from start to finish. Contemporary, versatile designs and playful, exclusive prints inspired by the V&A archives create stylish, innovative and affordable fashion while respecting people and the planet.
I love how versatile People Tree's dresses are. They are truly the perfect "desk to dinner" type of garments. I also love some of their quirkier prints.
Monsoon
Our aim is to ensure that every element of the Monsoon story reflects our values, from sourcing the finest materials to ensuring each supplier meets high ethical standards. In keeping with our bohemian roots, we support ethical design and traditional handicrafts while encouraging recycling in everything we do.
If you're a fan of ModCloth's more bohemian designs (flowy, floral dresses and such) – then you'll love Monsoon. I think it's awesome that some of their dresses are made from recycled polyester… which is made from PET plastic bottles that are formed into strings of yarn, before being dyed and knitted together to create a soft-touch texture. How awesome is that?
Amour Vert
Our sustainable practices address all aspects of our business operations and the full lifecycle of a garment— the fibers and production processes used, how workers are treated, how it gets to the consumer and finally, whether it can be recycled or is forced into landfill.
Amour Vert has the best selection of pants and blouses and outerwear, in my opinion. They also plant a tree for every T-shirt that you buy!
Boden
We love clothes that last. We want you to wear the stuff you buy from us for a really long time. We'd like our designs to live on in your wardrobe and stay out of the landfill. And we're committed to creating a healthy working environment for everyone involved in their making. Click here for our full sustainability story.
I mention Boden all of the time on my blog because I love their timeless style of clothing. But did you know they are also committed to making sustainable clothing? They also make fantastic clothing for the whole family, not just the ladies!

Hearts and Found
Our mission is to support our talented local tailors and textile shops by offering fair wages and long term partnerships. Currently we are supporting an independent tailor in Vietnam named Co Thanh (Auntie Thanh). The textiles used in our clothing are sourced from the local markets, supporting local families and communities in Vietnam.
Hearts and Found is a fantastic stores that creates 40s and 50s style dresses. Each dress is made to measure too! Hearts and Found understands that the whole world cannot fit in a handful of sizes. So, they offer custom sizing and a wide variety of quality cotton fabrics to choose from.
PALAVA
At Palava, we design and manufacture our dresses in the UK using organic cotton and Tencel. We don't follow fashions and we don't do flimsy. Our stitches are strong, our shapes are classic and our prints are unique. A Palava dress will be distinctive and eye-catching whether you wear it today or in 20 years time. And we hope you'll do both.
Palava makes beautiful, timeless pieces that are very similar to ModCloth's vintage vibes. They are committed to zero waste and find a use for every bit of fabric, and they use plastic-free packaging! Their prints are absolutely darling, too!
*Bonus Accessories: Carry Courage
Carry Courage is a small US-based company that creates sustainable clutches & travel bags made from vegan materials, such as cork fabric and linen. All of their products are hand-sewn in their Portland, Oregon studio too – so you know you aren't receiving a mass-produced item when you order from them. They pair really well with ModCloth-style clothing! (I wrote a full review of their products, here.)
Honorable Mentions
What are some of your favorite sustainable brands? Let me know in the comments!