It's Beginning to Look A Lot Like Christmas
I'm so excited! We finally have snow here in Moscow! It's really starting to feel like Christmas now. It doesn't hurt either that every store, restaurant and home seems to be decked out in Christmas decorations and twinkly lights now. However, the most Christmasy part of Moscow is certainly The Red Square (this is where St. Basil's Cathedral and The Kremlin are located).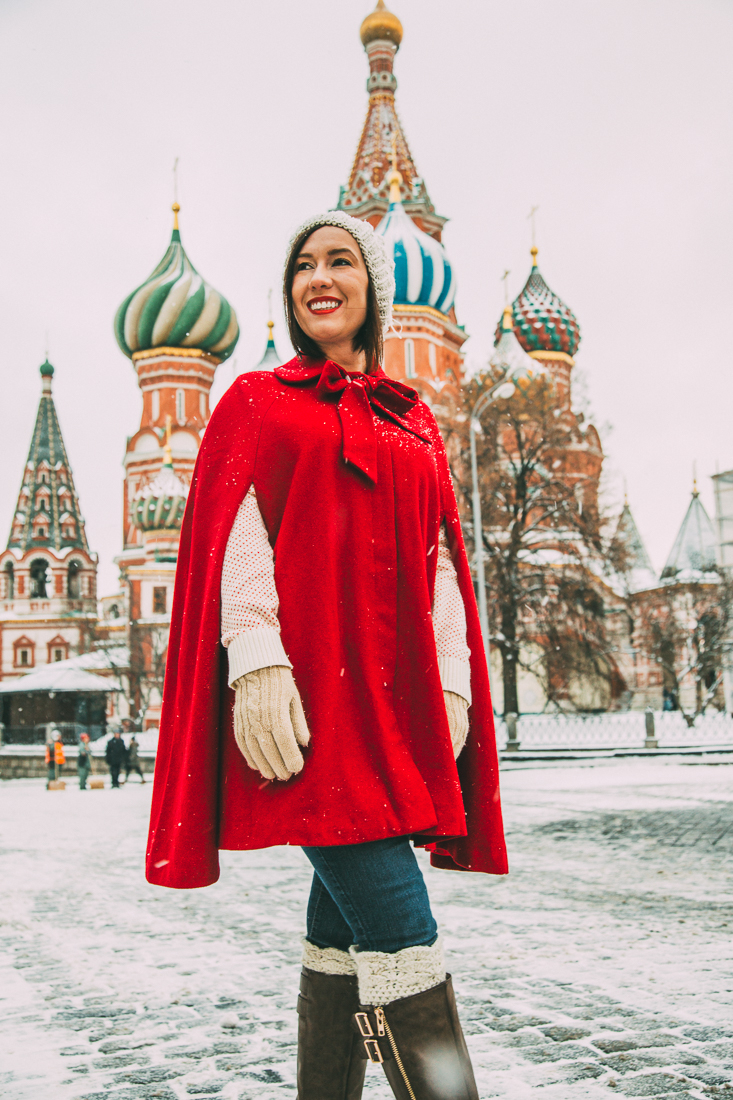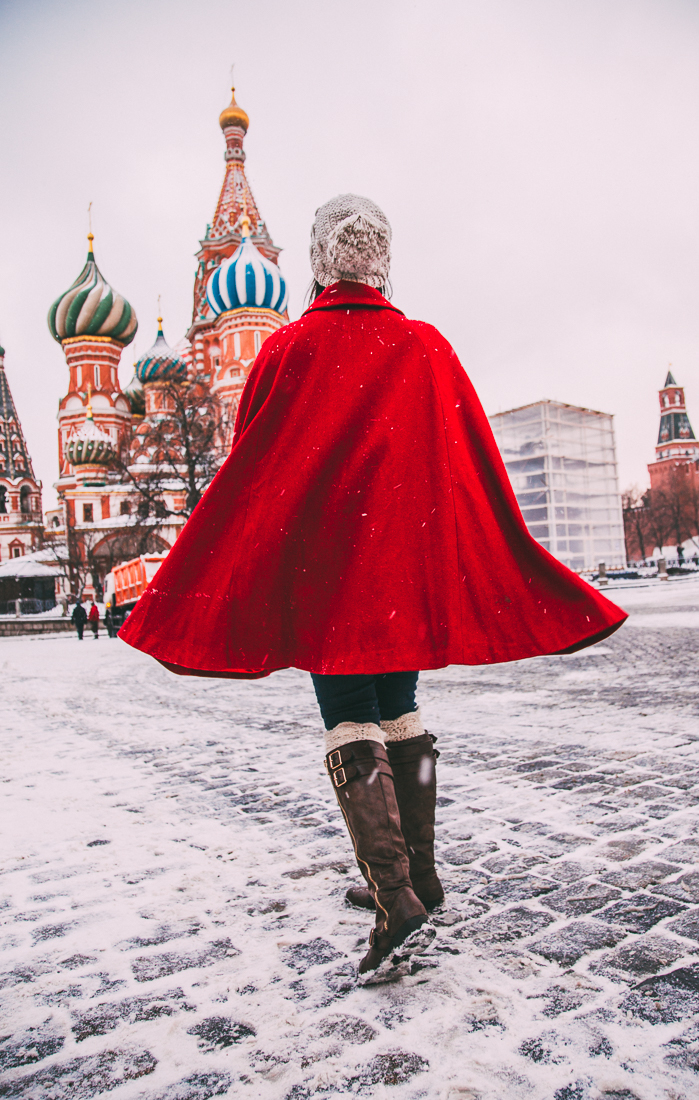 When I woke up and saw that we were in for a doozy of a snowstorm this last Sunday, I quickly donned my most festive and warm attire and made a beeline for the Red Square. (I wore a red cape to the Red Square – gosh, I'm clever!)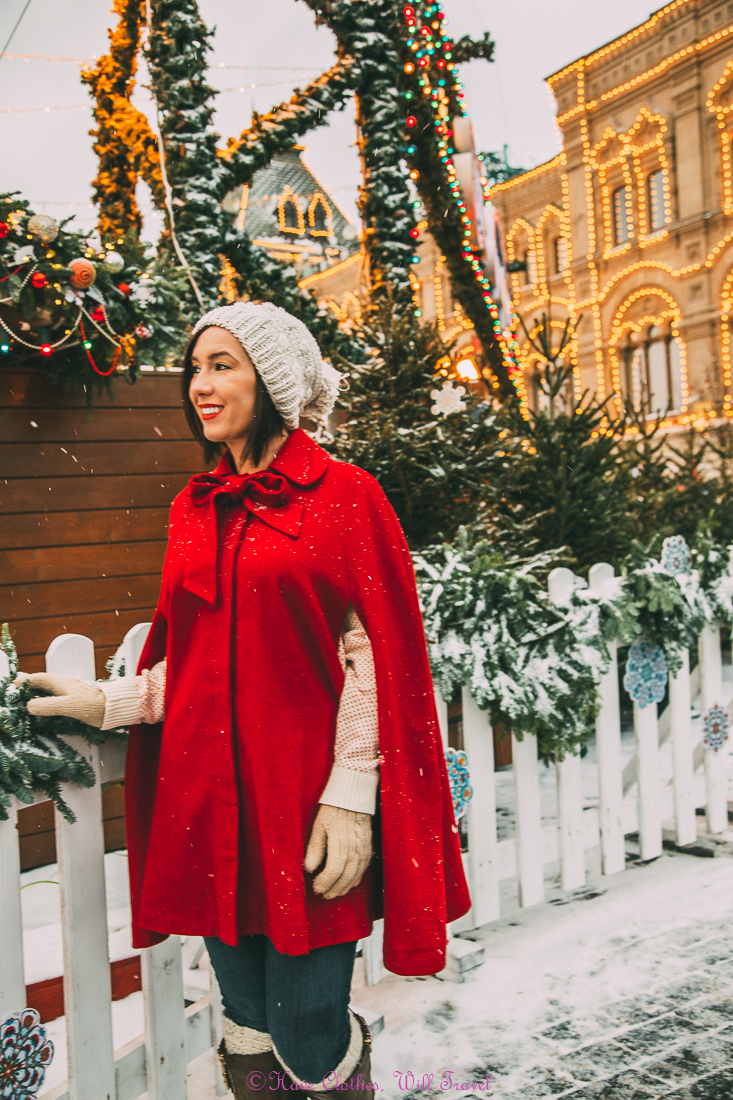 I've been wanting to photograph this red cape against a snowy background since it arrived in the mail, and I finally had my chance! After the last time I wore it, though, I knew I needed some thick layers under it to stay warm.
It's not the warmest piece of outerwear in the world, but paired with layers, thick mittens and a hat, I was good to go and experience some Christmas market fun! (This cape is almost sold out on ModCloth's website. however, it's available on Collectif's + it comes in blue too!)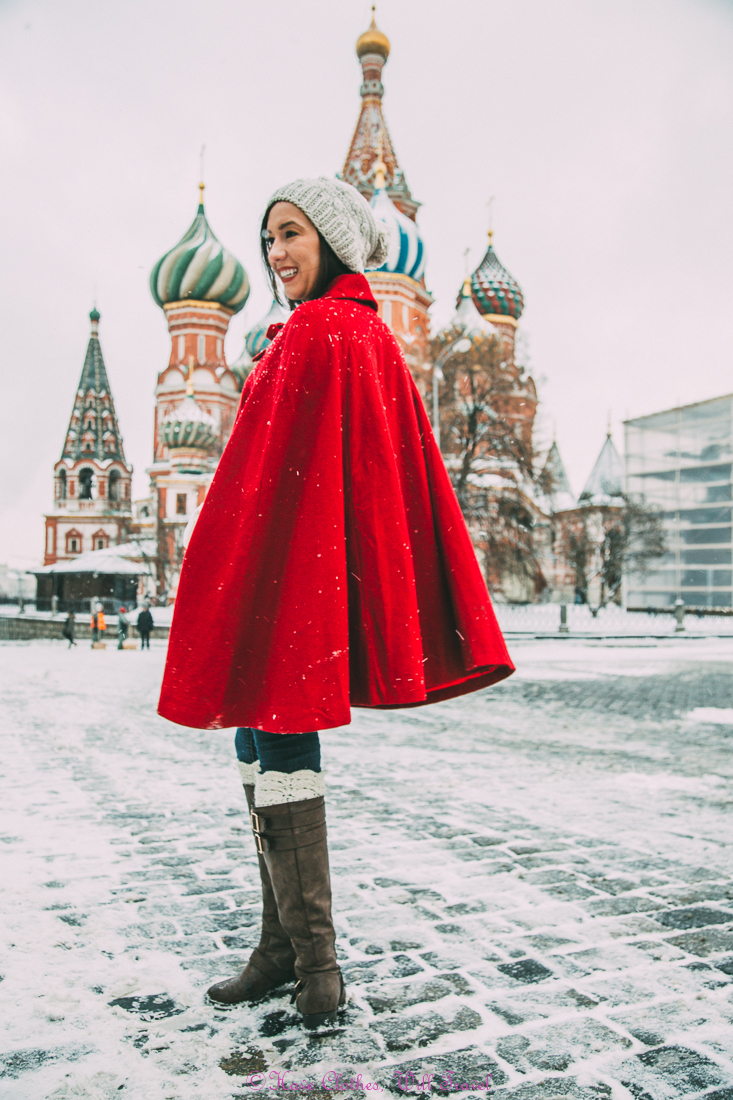 The real MVP of this outfit turned out to be my new hat from Prana, though! It did a great job of keeping my noggin warm and my hair dry. This was some heavy, wet snow that was coming down and this hat stood up to it.
This is another piece from Prana's hemp line. (Yes, you can make clothing out of hemp! Who knew?) If you're interested in learning more about this hemp line, see my last post explaining it here.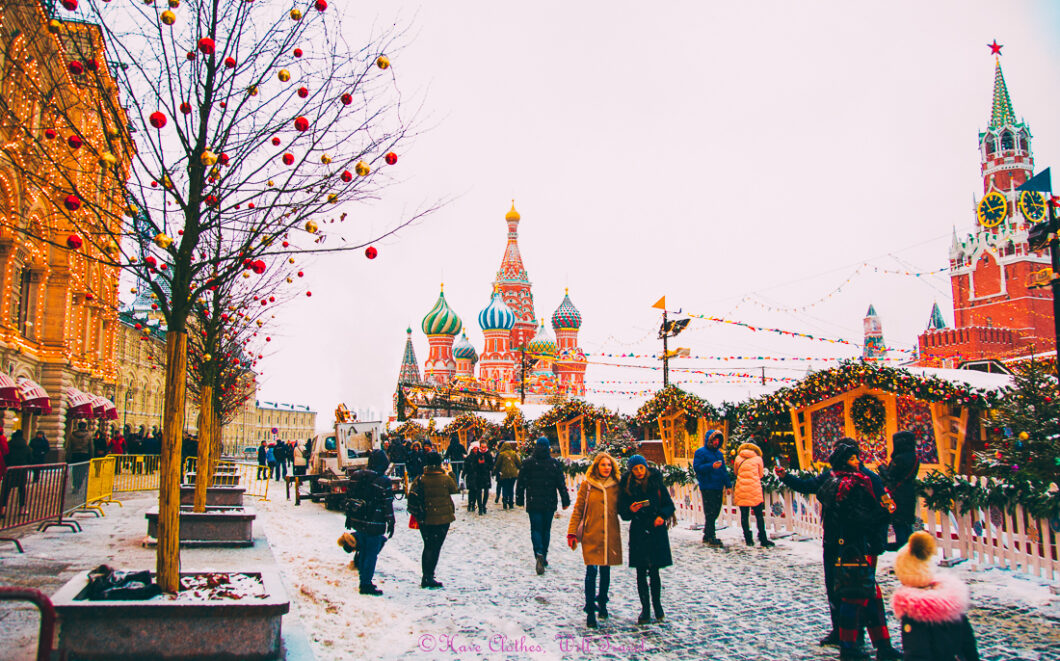 Needless to say, I felt like a little kid, again! The market was so magical. They have Christmas gifts you can buy, food that's easy to walk around with…and of course, hot chocolate. I took a bunch of photos while I was there as well.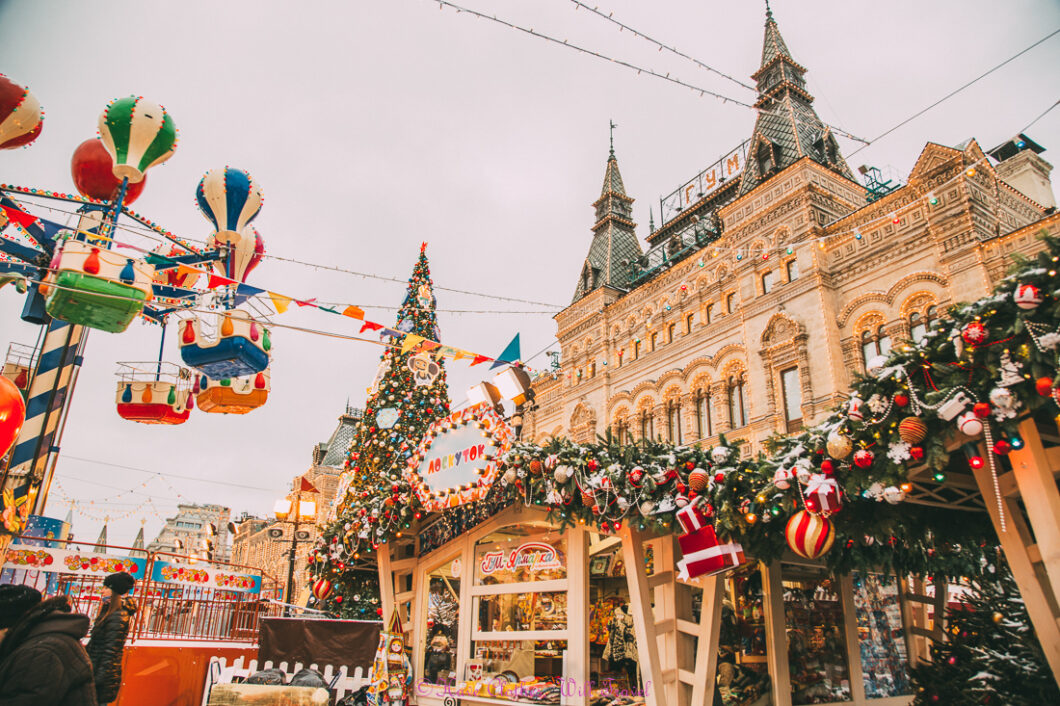 After I came back home to make a warm cup of coffee, I realized I had forgotten to take a photo of my magnificent Christmas sweater I was wearing underneath my cape! What can be better than a dinosaur, Christmas sweater? Nothing! And for once, it seems the rest of the internet has agreed with me…because this dinosaur sweater, unfortunately, sold out faster than I could blink! However, I linked to some fun, similar options below. (Like this Dino cardigan!)
Have you started wearing any festive attire yet? Let me know in the comments!
Where to find it:
Cape: c/o* ModCloth (Also available here)
Hat: c/o* Prana
Sweater: c/o* ModCloth
Jeans: Old (Similar here)
Boots: Old (Similar here)
Boot Cuffs: Etsy
Mittens: Old (Similar here)
*Disclosure: some of these links are affiliate links. Meaning, if you click a link and make a purchase, Have Clothes, Will Travel gets a very small commission at no extra cost to you. Thank you for supporting the brands that make this blog possible! I am also a participant in the Amazon Services LLC Associates Program, an affiliate advertising program designed to provide a means for us to earn fees by linking to Amazon.com and affiliated sites.
*c/o = courtesy of, meaning the company gave me the product to be used on my blog, and I did not pay for it. All opinions are my own, and I am not being compensated for a positive review.