Is Te Puia in Rotorua, New Zealand Worth a Visit?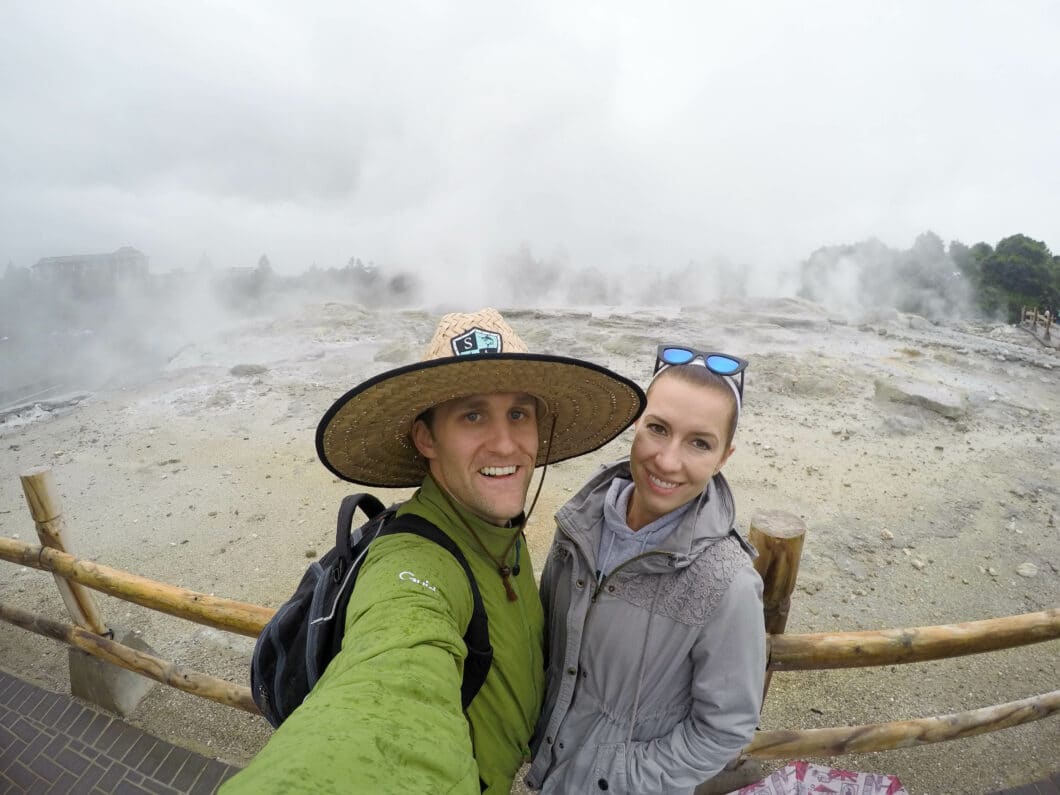 The second half of our New Zealand trip (in the North Island) did not exactly go according to plan. Our first day in Rotorua had torrential rainfall and flooding, which resulted in our full day tour of all the coolest geothermal thermal activity in the area getting canceled. But, thankfully, our hotel was within walking distance of Te Puia! So, we decided to make the most of the yucky weather and went to check it out!
Te Puia is home to the Māori* Arts and Crafts Insitute and the world famous Pohutu geyser, as well as a bunch of other cool geothermal activity and they even have a kiwi** exhibit!
*Māori are the indigenous Polynesian people of New Zealand.
**Kiwi are the native flightless birds to New Zealand (not the fruit, haha).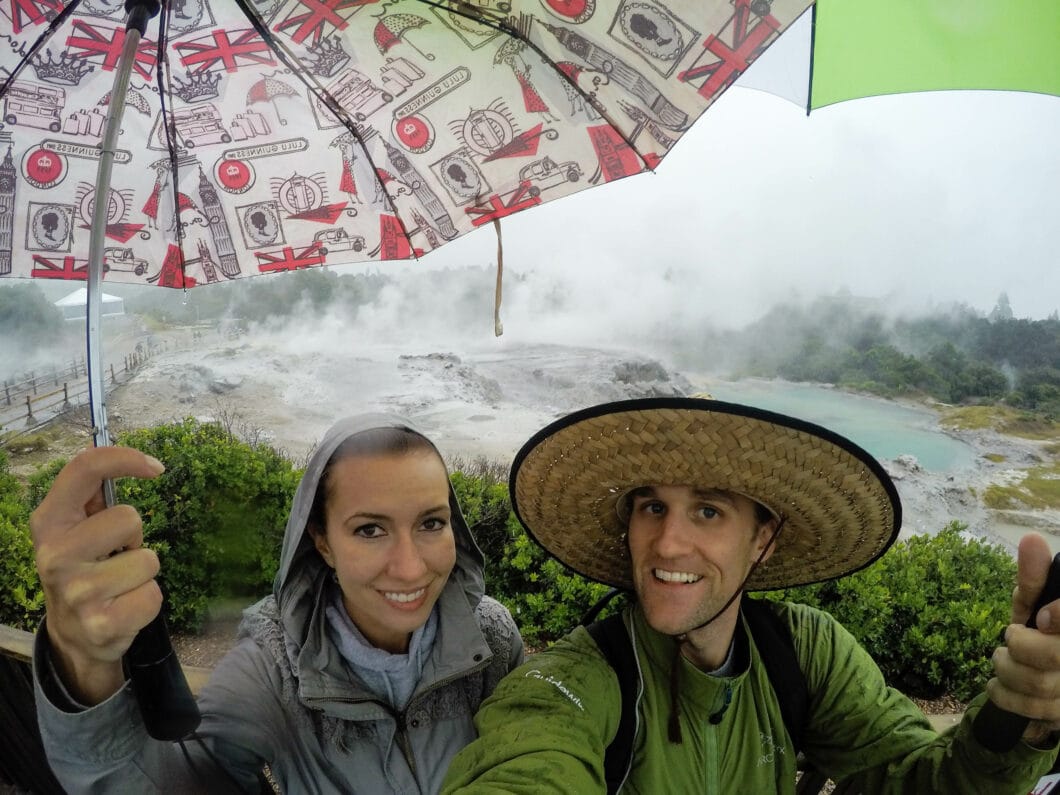 Is Te Puia in Rotorua, New Zealand Worth a Visit?
Most of the other families we talked to in New Zealand asked us that question when they found out we had stopped at Te Puia. So, I'll briefly break down what we saw and whether I thought it was worth spending your day walking through.
Māori Village & Learning the Haka!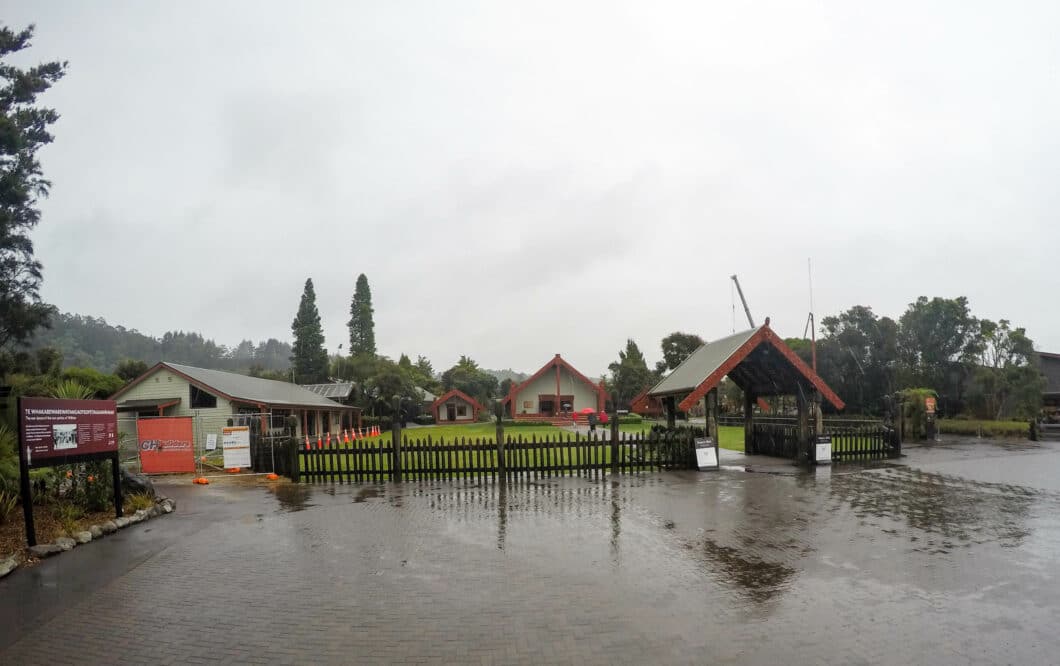 My husband's one request for our trip to New Zealand was to see the Haka performed. The Haka is a type of ancient Māori war dance traditionally used on the battlefield. And my husband really lucked out at Te Puia, because not only did he get to see the Haka performed, he also was able to get up on stage and learn it himself!
Check out the video of him doing the Haka below! (He's the guy in the green jacket if you're wondering, too.) And if you just want to see the full performance, and not watch him learn it, scroll to about the last 20 seconds of the video.
He's a natural! Haha.
There was also a game that the women were able to participate in (the Haka is just for men), however, it was centered around strengthening hand-eye coordination (something I don't have), so I decided to sit that one out. Haha. Overall, though, learning about the Māori culture, watching the performance and even getting to participate in some things, was really cool!
Geothermal Natural Wonders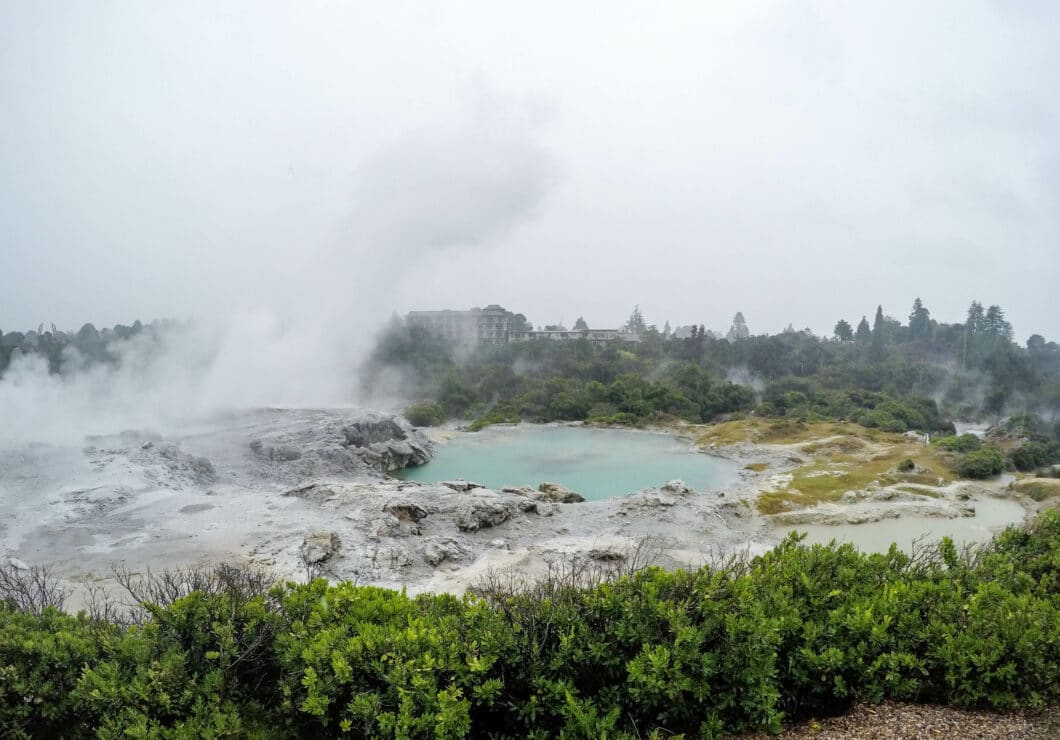 I had personally never seen any type of geothermal activity up until this point in my life, so I thought this was pretty darn cool too! The Pōhutu Geyser is the largest active geyser in the Southern Hemisphere and erupts once or twice every hour.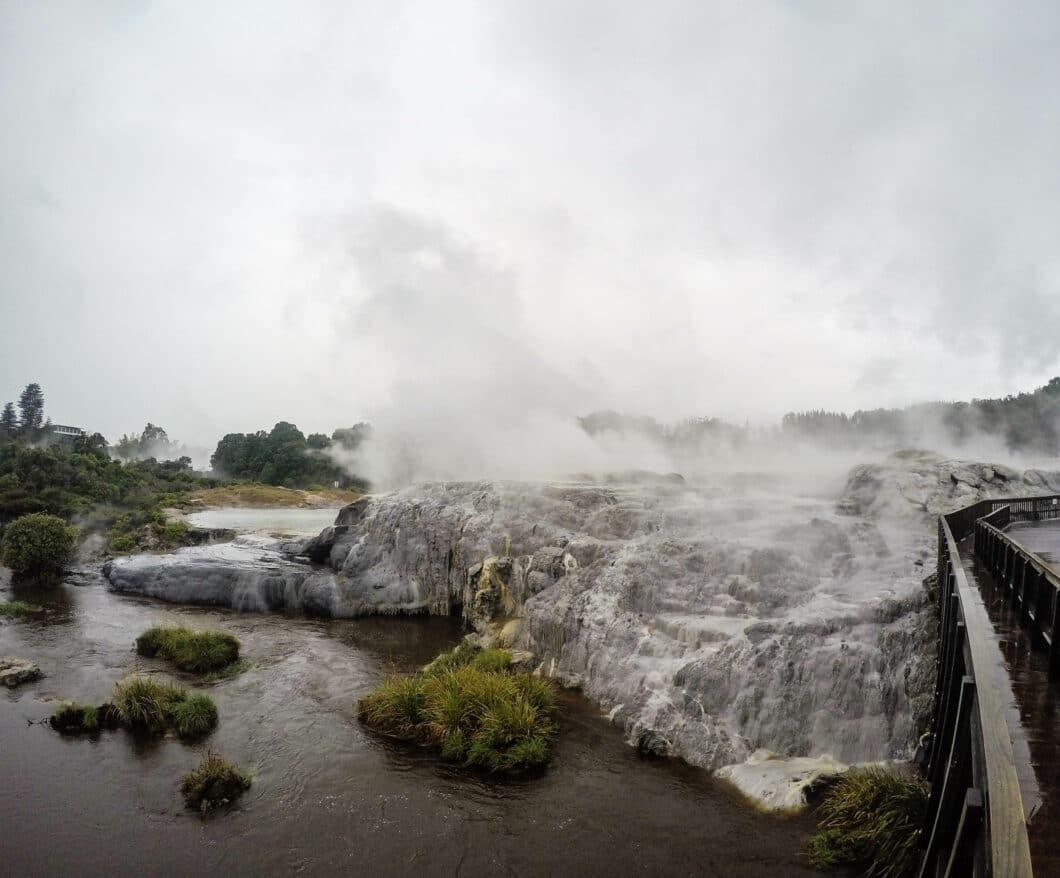 There are also hot pools and mud pools you are able to see. It's so bizarre to see steaming water and bubbling mud while you're walking along!
Kiwi House
Unfortunately, you are not able to take photos of the kiwis. Not that the photos would turn out anyways. This is because kiwis are actually nocturnal. So, to see them running around you enter a completely dark exhibit that has a few red lamps that offer a glimpse of these flightless birds. Chances are you won't see one in the wild. And this was a good way to actually see a kiwi while in New Zealand.
Māori Art & Crafts
Te Puia also has the New Zealand Māori Arts and Crafts Institute, which fosters all aspects of Māori culture. The national schools of carving and weaving are in Te Puia.
The carvings and weavings were really cool to see. You were able to watch as people worked on these carvings as well.
The Bottom Line? Was it Worth it?
I really enjoyed my time at Te Puia! It was a great way to spend a really yucky, rainy day in Rotorua (as many other activites were cancelled). This was our first adventure in the Northern Island, though. So, in the days after this, we did see more Māori cultural performances and geothermal activity (some of which was actually cooler).
However, I would say yes, Te Puia was cool to experience and you won't regret visiting. If you're on a super-tight schedule it would be a good way to experience the Māori culture as well as the geothermal activity all in one stop. (*Click here for entrance fee & tour options.)
With that being said, though, I personally enjoyed Wai-O-Tapu for geothermal activity the best, and we did an evening tour of the Tamaki Māori Village and had a traditional Māori feast that night (it was actually cooked by burying it in the ground because the earth is so warm here!). These were slightly better experiences, in my opinion. I have no regrets of doing all of these, though, while I was in Rotorua. (Click here for a blog post on Wai-O-Tapu, and click here for Tamaki Māori Village posts! Stay tuned!)
What are your thoughts on Te Puia? And what did you think of the Haka? (I personally hadn't heard of it until recently, so I'm still blown away!) Let me know in the comments!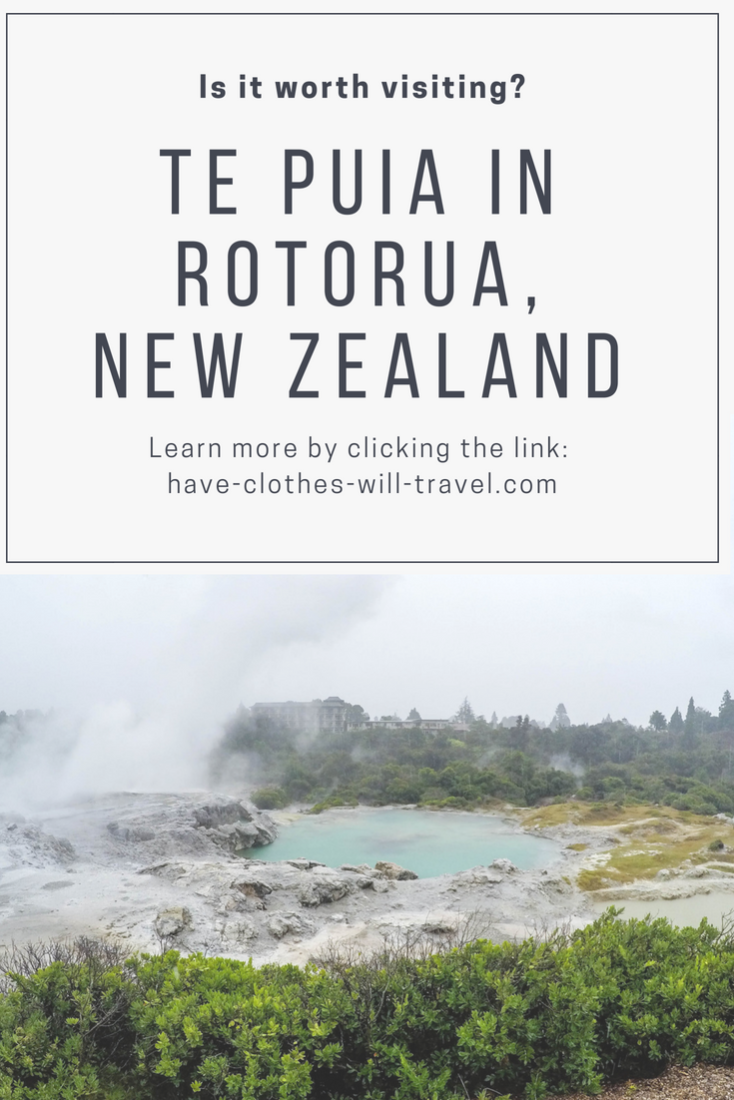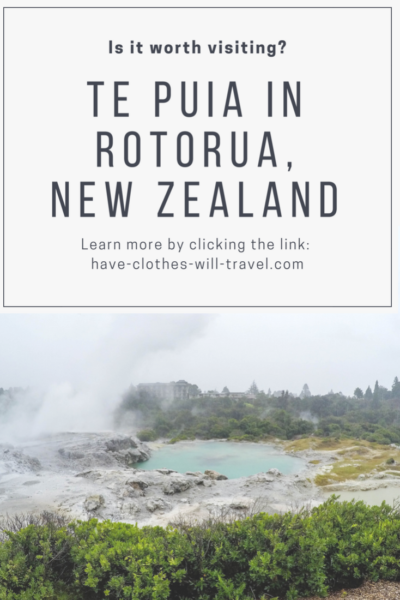 Disclosure: some of the links in this post are affiliate links. Meaning, if you click a link and make a purchase, Have Clothes, Will Travel gets a very small commission. Thank you for supporting the brands that make this blog possible!