What To Know Before Going Inside The Kremlin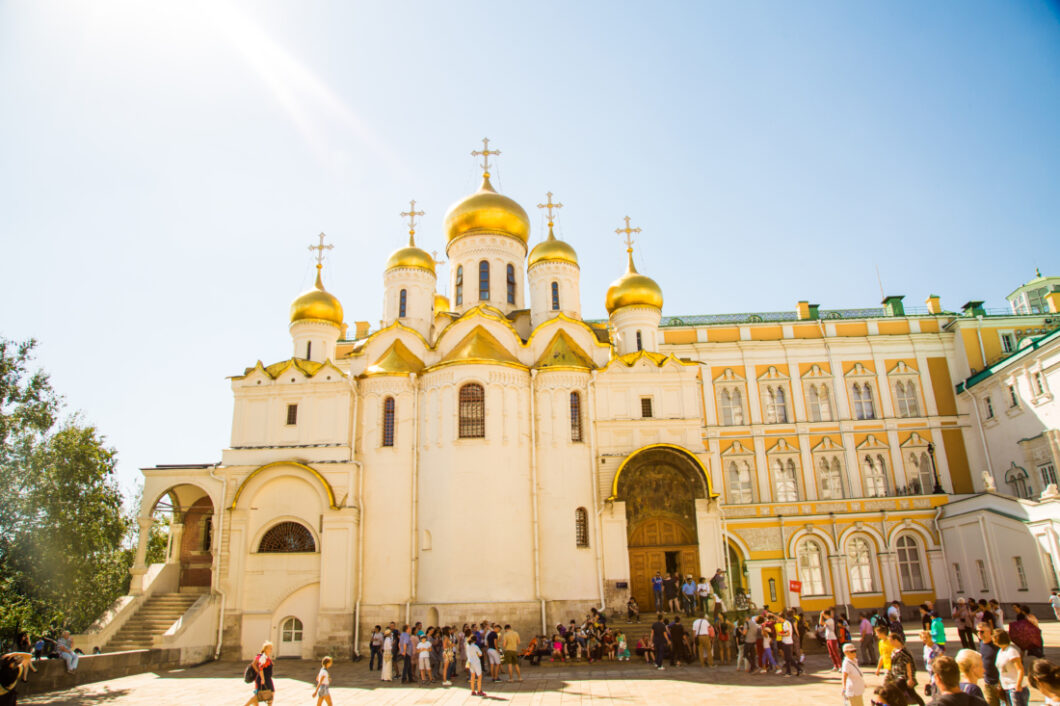 What To Know Before Going Inside The Kremlin
No trip to Moscow, Russia would be complete without going inside the Kremlin. However, getting inside is not an entirely easy process. And what exactly is the Kremlin, anyways? This post will explain!
What is The Kremlin?
The Kremlin is a fortified complex in the heart of Moscow. Inside there are five palaces, four cathedrals, and an enclosing wall. The Grand Kremlin Palace is also located inside, which is the official residence of Russia's president…like The White House. (However, he doesn't actually live there.)
What You Can Actually See Inside The Kremlin
You can visit these places (with a ticket… more on that in a moment):
*Kremlin Museums/Cathedrals (including The Armoury) & Grand Kremlin Palace Complex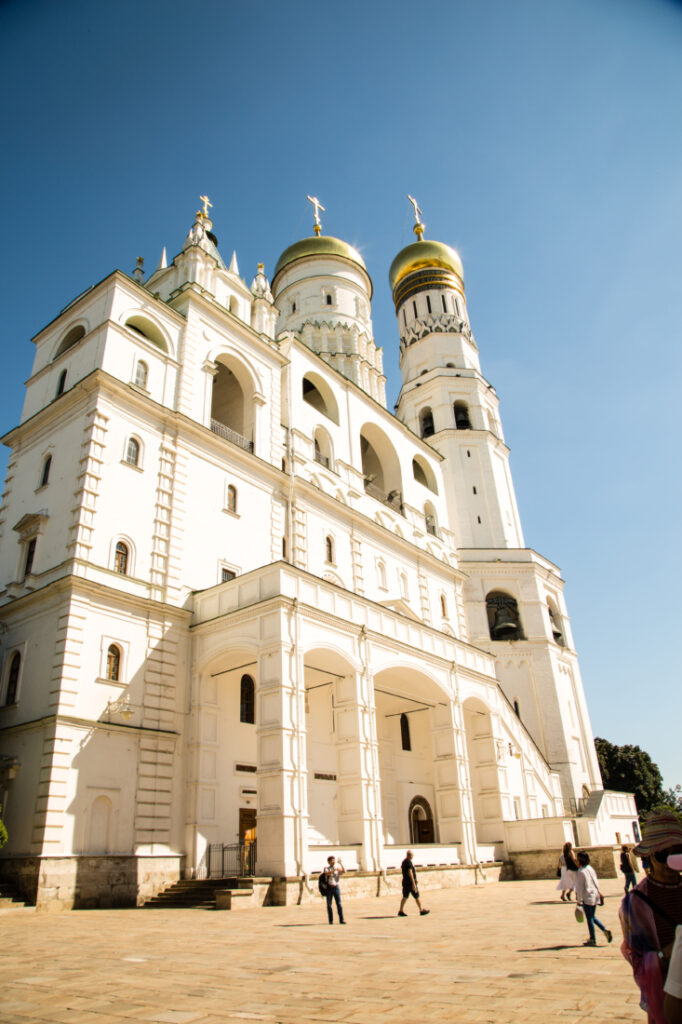 *State Kremlin Palace (Concert Hall)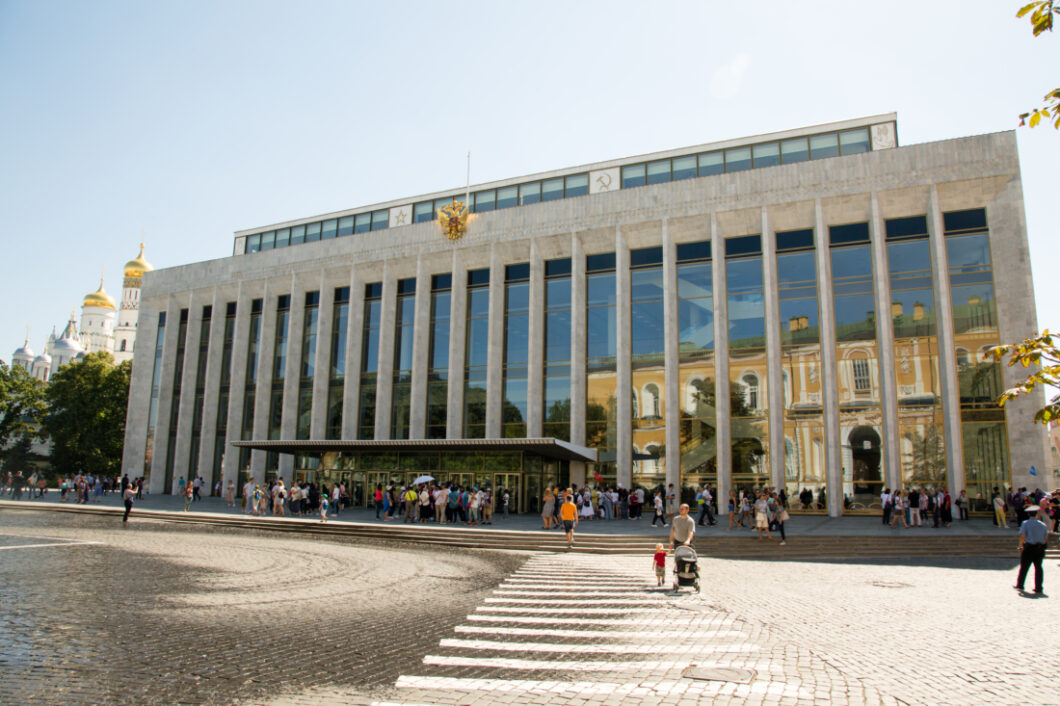 **You CANNOT visit the Presidential & Administrative Buildings, though.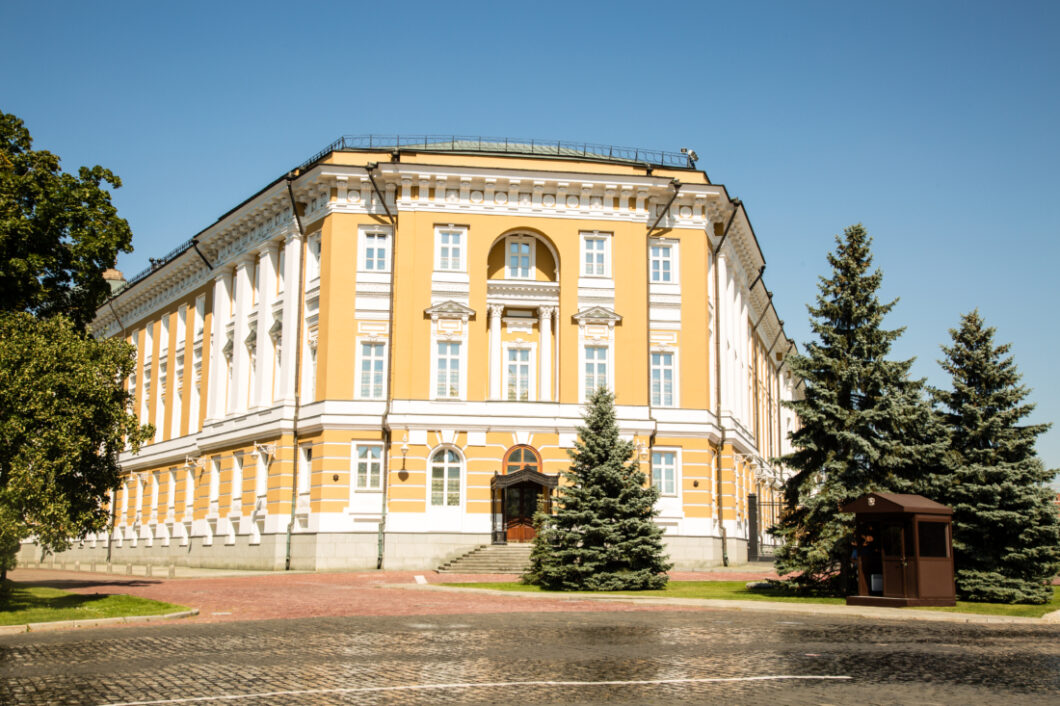 The Best Places to Visit Inside the Kremlin
Assumption Cathedral: This is where all of Russia's tsars were crowned. It's the oldest and most important church in the Kremlin. It also acted as the headquarters of the Russian Orthodox Church from 1326.
Archangel Cathedral: The Cathedral of the Archangel contains the tombs of all the rulers of Muscovy and Russia from the 14th Century until Peter the Great moved the capital to St Petersburg. (It's very beautiful inside! No photos allowed inside, though.)
Annunciation Cathedral: This beautiful cathedral had been the private chapel of the Moscow great princes and tsars for centuries. *Side note, you can also visit displays in its basement! Not many people realize this, and we were the only ones inside the basement on a very busy Saturday. (If you are facing the entrance to this cathedral, the door to the basement is to the right – there is a small sign for it as well.)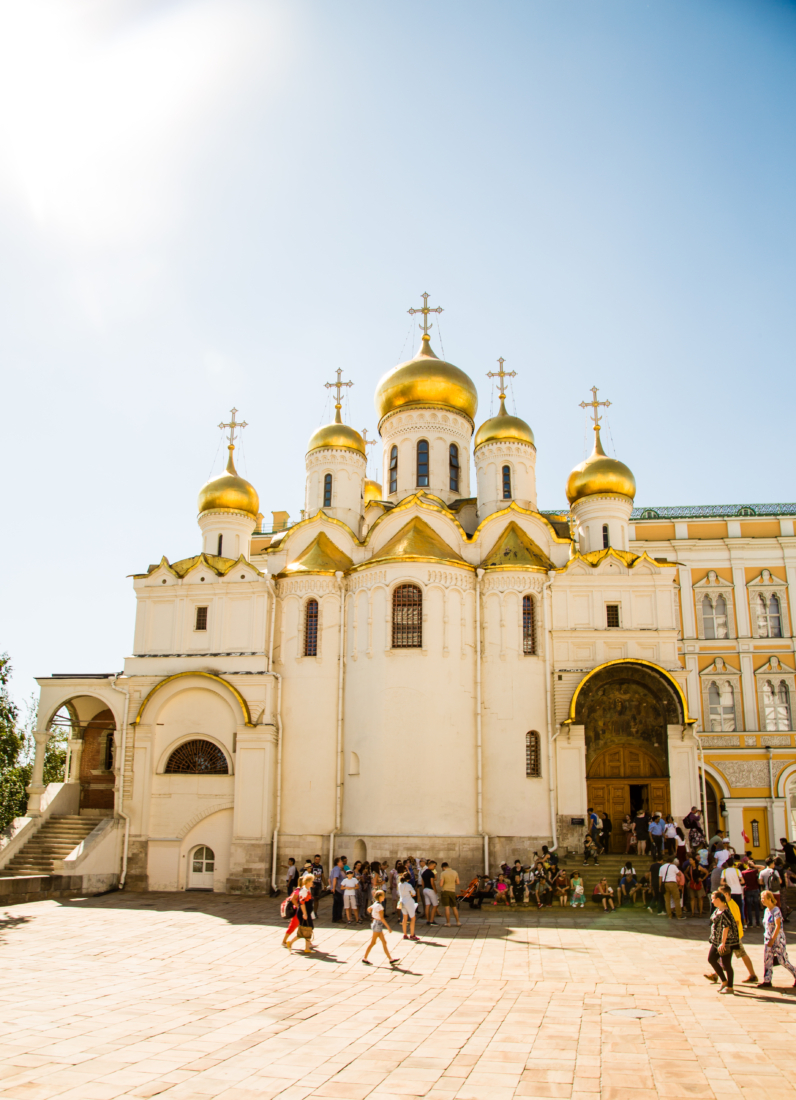 Tsar Cannon: Is the world's biggest cannon, built in 1586 in Moscow. It was never used in war, though. But there is evidence that it was fired at least once.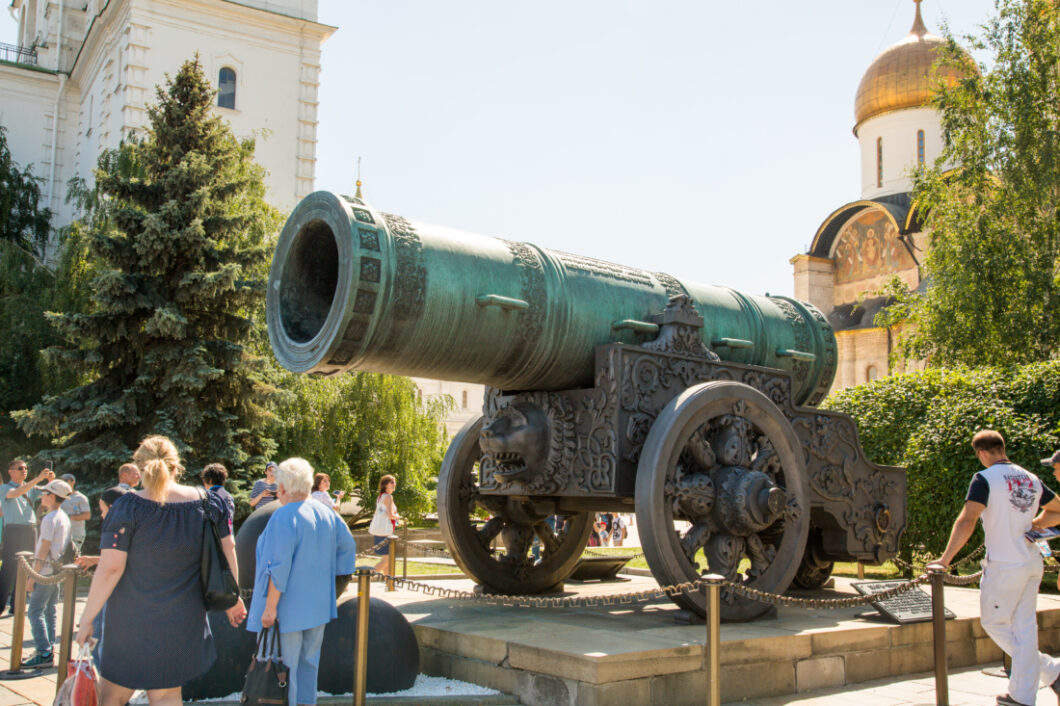 Tsar Bell: is the biggest bell in the world. The bell was commissioned by Empress Anna Ivanovna, niece of Peter the Great. It has never actually been used, though.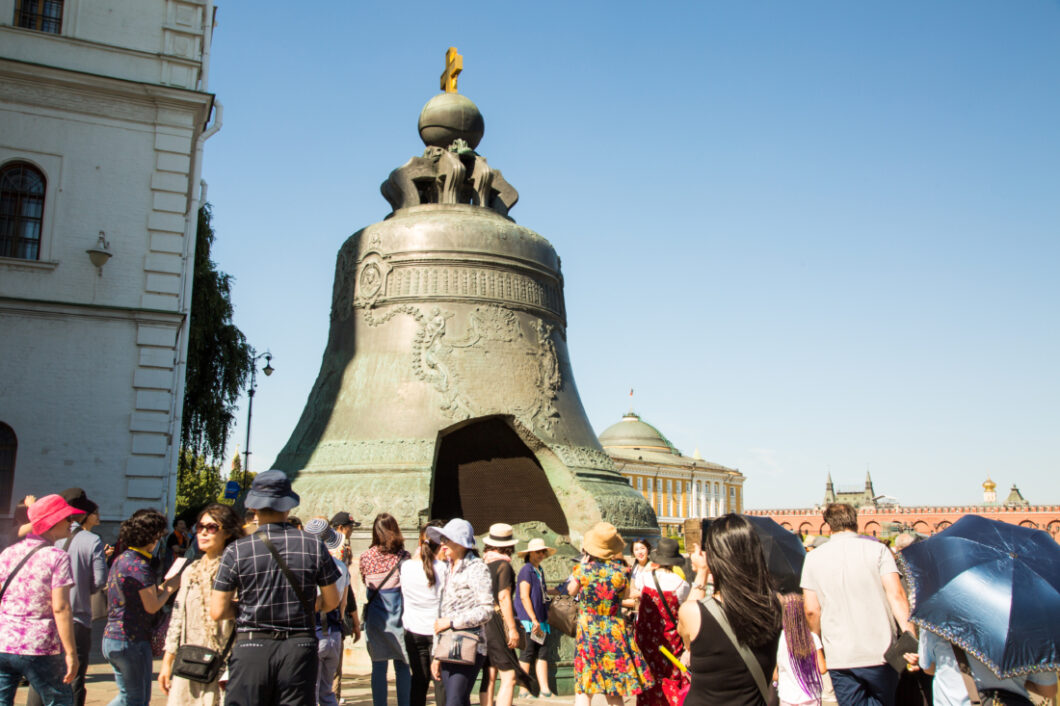 The Ivan the Great Bell Tower: It is the tallest tower and structure in the Kremlin. Today, it contains 22 bells.
The Kremlin Armoury: In my opinion, is the most impressive part of the Kremlin. The name suggests it would be filled with weapons and such. While that does make up some of the displays, the rest consists of incredible jewels and ornate gifts, and of course, the incredible Faberge eggs collection. There are even dresses displayed, which Catherine the Great wore, and the carriages she had used. (Seriously, there's a whole room dedicated to carriages inside the Armoury – it's incredible.) You can also see thrones used by tsars throughout the centuries. No photos are allowed but take my word, this is a must-see in your Russian trip!
The Kremlin Clock & Cannons Left Behind By Napoleon!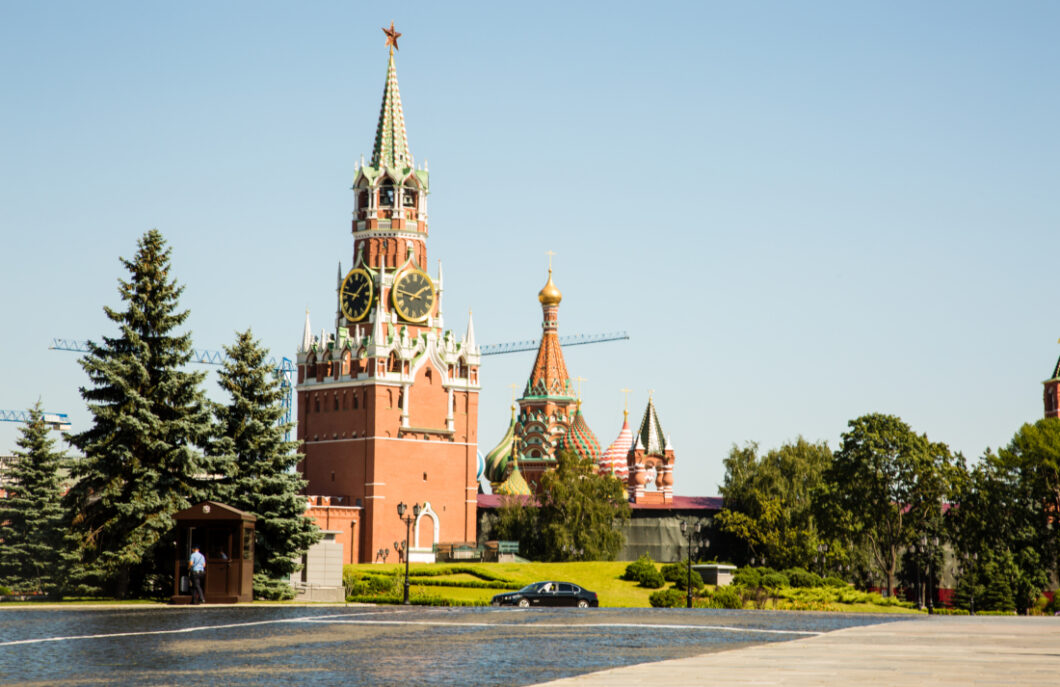 How To Get Tickets to Visit Inside the Kremlin
This is rather complicated. Depending on what parts of the Kremlin you want to see, there are separate tickets to purchase. There is 1 ticket to purchase for The Armoury and another for Cathedral Square. And the Diamond Fund (located in the Armoury) has a separate ticket too. The Diamond Fund can be purchased at the door the day of your visit, though. (I believe you can only enter the Grand Kremlin Palace with a guided tour. I'll provide more info on that next.)
Buy Online Tickets
1.) I recommend purchasing your tickets online at least 2 weeks in advance. Waiting in line the day of is a risky business! You'll likely wait for a couple hours, and there's no guarantee you'll actually get a ticket (especially to The Armoury) because these tickets can "sell out."
2.) HOWEVER, just because you were prepared and purchased your tickets online ahead of time does not mean you don't get the pleasure of waiting in line. Unfortunately, you will have to take your printed voucher and wait in the ticket line to get your actual ticket inside either the Armoury or Cathedral Square. (You can find ticketing rules on their website.) I recommend going early because this line is LONG and also double checking the ticket office hours, as they do change. Visit the Museum website here.
**I highly recommend visiting both Cathedral Square and The Armoury during your visit and getting an audio guide (the audio guides are free and only require a deposit to make sure you return them). They are both equally impressive. I would advise visiting the Armoury first thing in the morning, and then going to Cathedral Square. This is because many tour groups begin at opening hours, but they start with Cathedral Square first. If you go to the Armoury first, you will likely avoid the large tour groups and the long line to go through security to Cathedral Square (there are two separate security lines for Cathedral Square and the Armoury).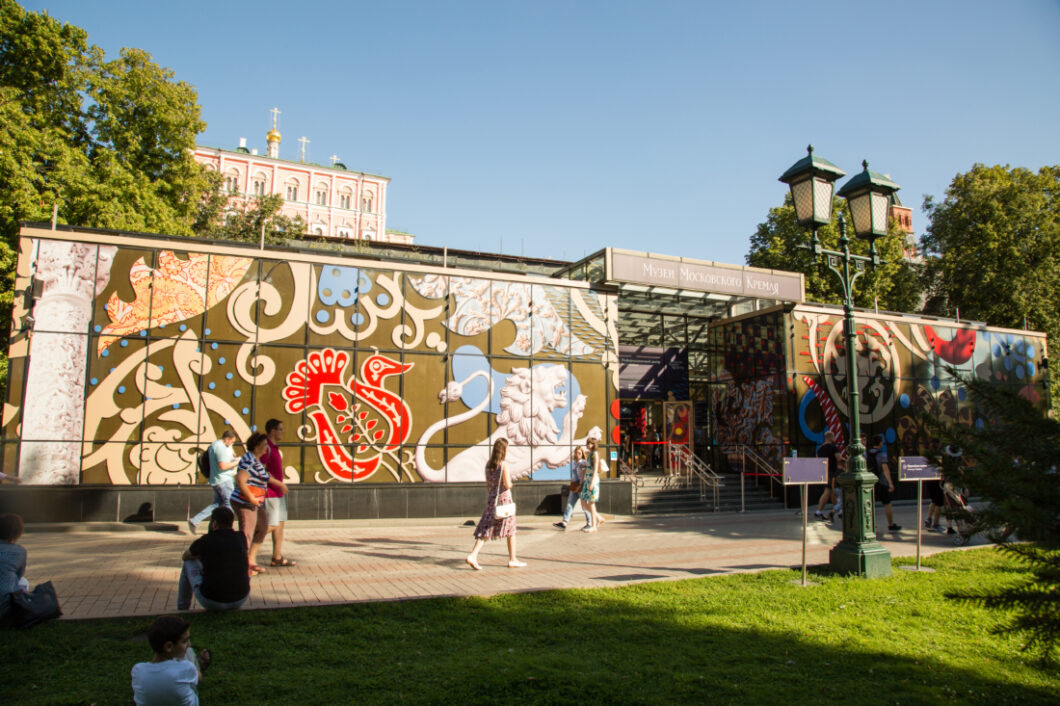 Get a Tour
And if this all sounds tedious and stressful, another option is to do a tour. The tour companies via the Kremlin are only in Russian. However, there are plenty of English tour companies that can have your tickets waiting in hand for you and make sure you see all the highlights in a reasonable amount of time.
I personally used Pradiz tour company when we visited the Kremlin Armoury and Cathedral Square for the first time. It was awesome that we were able to see both Cathedral Square & The Armoury Chamber on this tour! They were very professional, funny, and informative and they were able to book us in for a next-day tour. (We were really excited to see inside the Kremlin!) No waiting in lines, no stress! It was a great experience and I plan to use them again if any family or friends decide to come visit us. (Hint, hint to our families! Haha.) You will get charged in Rubles, though. If that is an issue, you can also check out these Kremlin tours, which are in USD (or whichever currency you prefer).
**Pradiz also offers a tour inside The Grand Kremlin Palace. The times available are very limited, and it's pretty pricey, though.
If anyone has any questions at all, please feel free to ask away in the comments section! And I'm curious, what would you be most excited to see in the Kremlin? Let me know in the comments!
Don't forget to check out all of my posts on Russia here!
Travel Insurance
It's a good idea, no matter where your adventure takes you, to have travel insurance. You never know what might happen! Whether you get sick before your trip and can't go, or you become sick or injured while on your adventure – being covered with travel insurance is a must. Some credit card companies do provide this service (check with yours), or you can get a quote from companies such as Squaremouth to find the best plan for you and your adventure. (This is the company I, personally, use. They are even recommended by Forbes!) To get a free quote, click here.
Visa Requirements
To check if your country requires a Visa for traveling to Russia, click here.
This article is now available as a mobile app. Go to GPSmyCity to download the app for GPS-assisted travel directions to the attractions featured in this article.
*Disclosure: some of these links are affiliate links. Meaning, if you click a link and make a purchase, Have Clothes, Will Travel gets a very small commission at no extra cost to you. Thank you for supporting the brands that make this blog possible! I am also a participant in the Amazon Services LLC Associates Program, an affiliate advertising program designed to provide a means for us to earn fees by linking to Amazon.com and affiliated sites.