The Top 5 Cathedrals Worth Seeing in St. Petersburg, Russia
St. Petersburg, Russia has an impressive amount of beautiful buildings to visit! We've already covered some of the awe-inspiring palaces. Now, this list will be for its jaw-dropping cathedrals. If you have the time, I hope you visit all the cathedrals in St. Petersburg! However, if you're on a time crunch in St. Petersburg, like we were, this list will help you determine the highlights – plus, it is possible to visit them in two days or less.
The Top 5 Cathedrals Worth Seeing in St. Petersburg, Russia
G Adventures is hosting a last-minute sale where group tour packages are up to $1,000 off!
1.) The Church of the Savior on Spilled Blood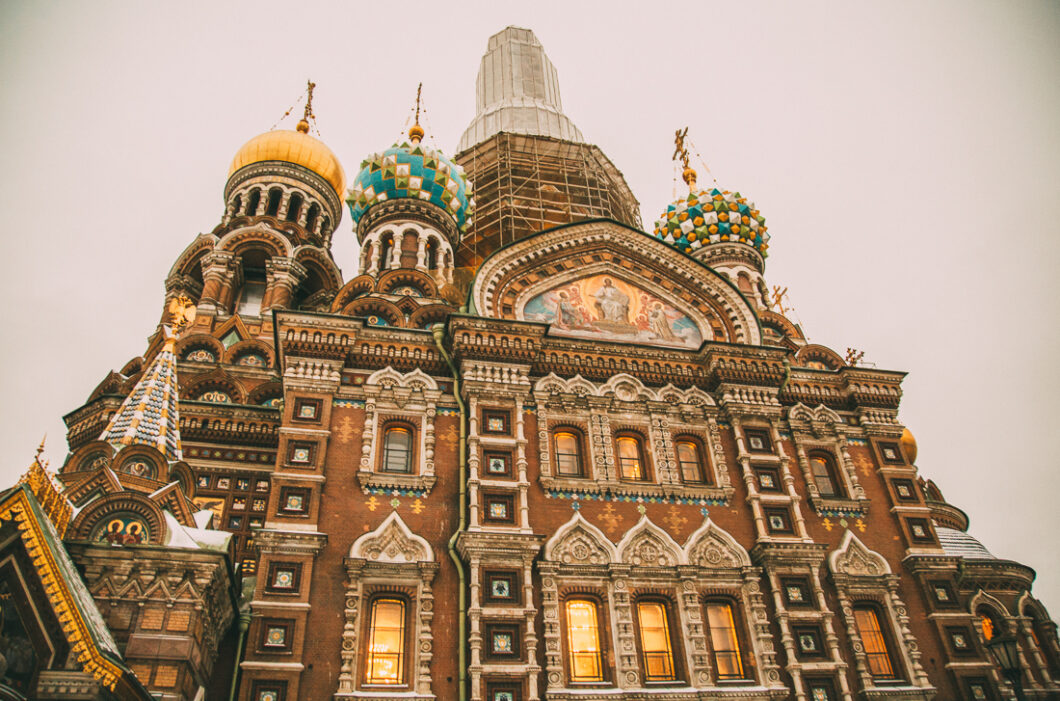 Now, this cathedral is perhaps the most famous landmark in all of St. Petersburg. It's an incredible building to see. Although, as its sinister name suggestions, it was not built for happy reasons. This cathedral was built in memory of Tsar Alexander II who was assassinated in 1881.
Despite this gloomy past, the inside and outside are incredibly beautiful, and a must-visit when in St. Petersburg. (Not to start a competition, but I dare say the inside of The Church of the Savior on Spilled Blood is far more impressive than St. Basil's Cathedral in Moscow.)
Pro tip: Be careful of pickpockets when visiting! There are signs everywhere warning of this, and they're there for good reason. Keep your valuables close to you at all times. Ladies – make sure your purses are zipped and use a crossbody bag. A friend of ours was recently there with his sister, and her shoulder bag was stolen right off her!
Click here for current ticket prices to enter the cathedral.

2.) St. Isaac's Cathedral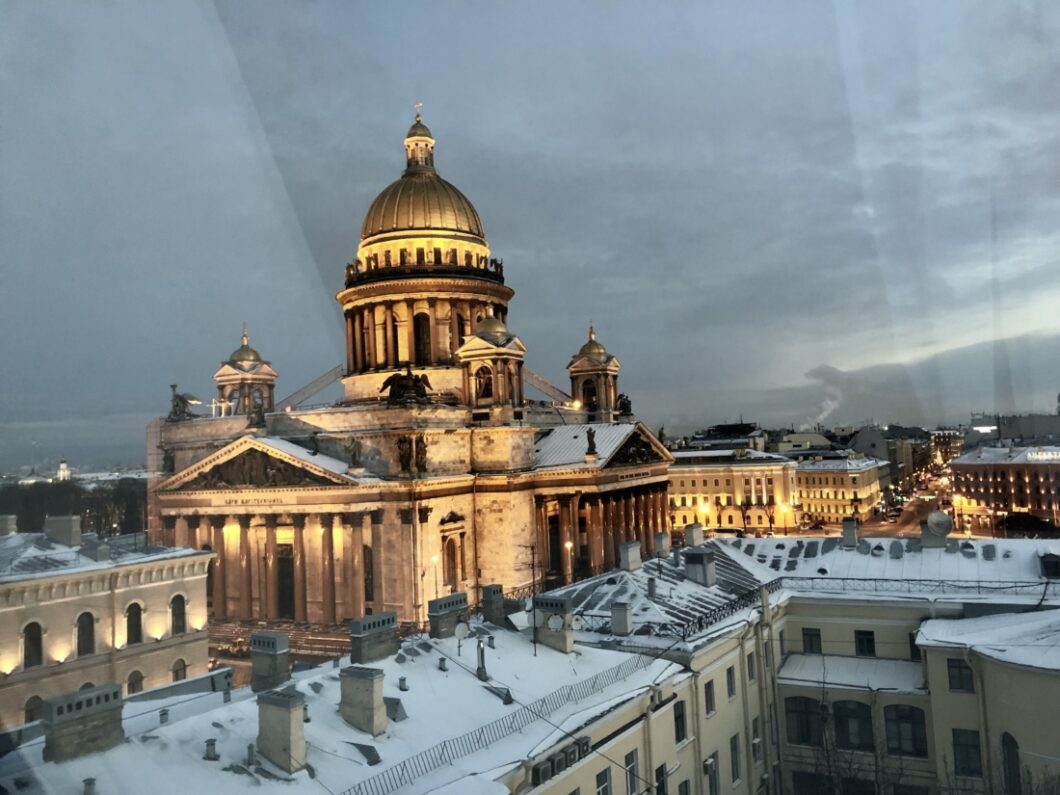 St. Isaac's Cathedral is a cathedral that is also a museum. It's dedicated to Saint Isaac of Dalmatia, a patron saint of Peter the Great. Amazingly, it took about 100 pounds of pure gold for gilding of all the domes of the cathedral. Is truly a spectacular cathedral!
Pro tip: Our hotel, the Renaissance Baltic Hotel, had incredible views of this cathedral. The photo above was actually taken from our room. (Thanks, Marriott Rewards!) So, if you stay at this hotel, you'll get to see St. Isaac's all the time. (However, not every single room will have that same view of the cathedral.)
Click here to see current tickets prices for St. Isaac's Cathedral.
3.) St. Nicholas Naval Cathedral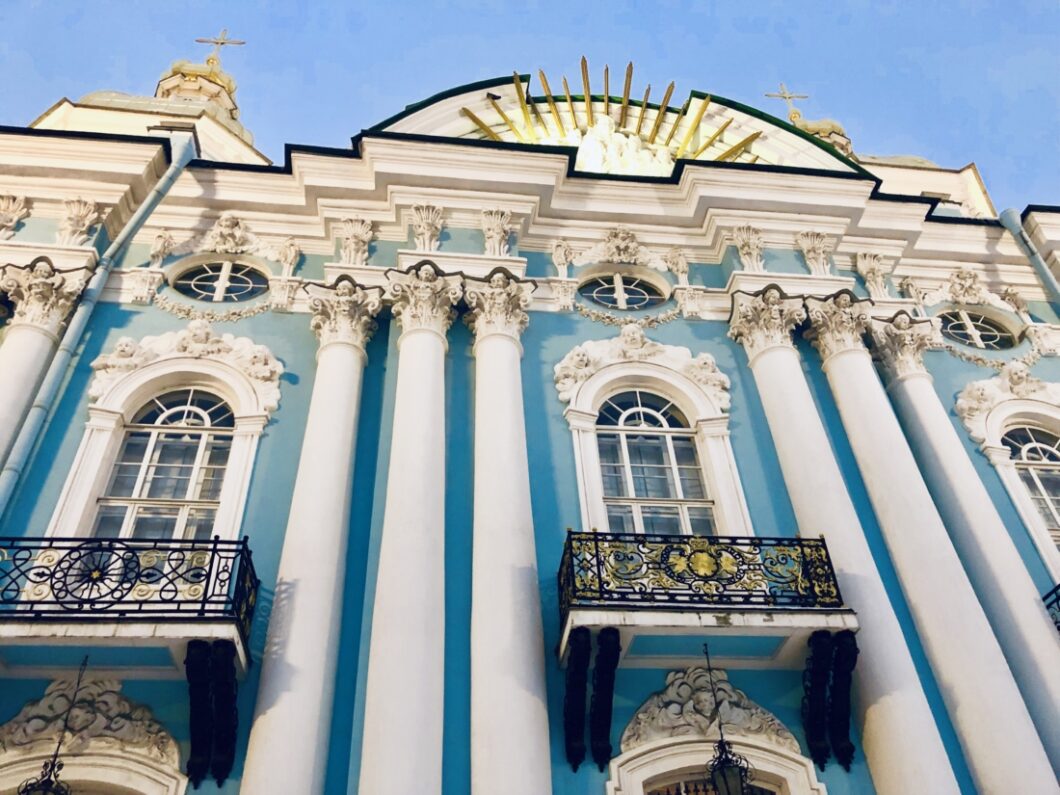 Santa? Yep, this cathedral is dedicated to Saint Nicholas..which is where Santa Clause comes from. Some of his remains are allegedly in this church as holy relics. There are also 10 important images of icons in gold frames inside that were a gift from Catherine the Great. It's very beautiful inside as well as outside.
Pro tip: when visiting this cathedral, women will be asked to cover their heads. So, be sure to bring along a hat or scarf. Men will be asked to remove any hats. You'll also be asked to not talk, and NO photos or video are permitted inside.
Click here to see the official website of this cathedral.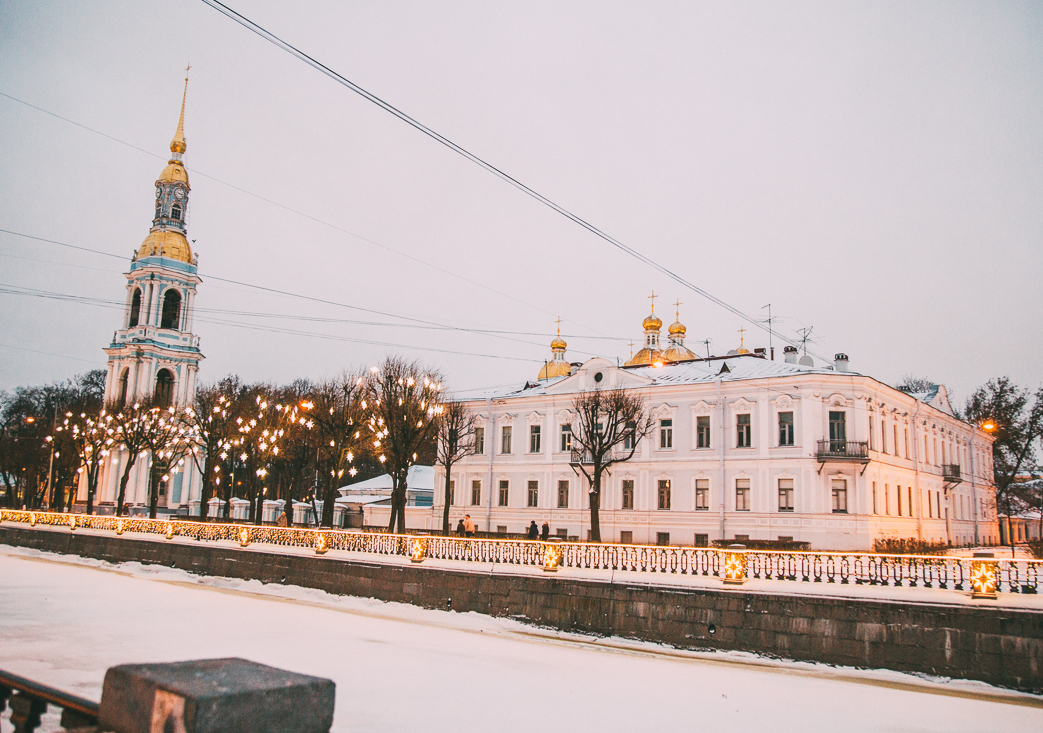 4.) Peter and Paul Cathedral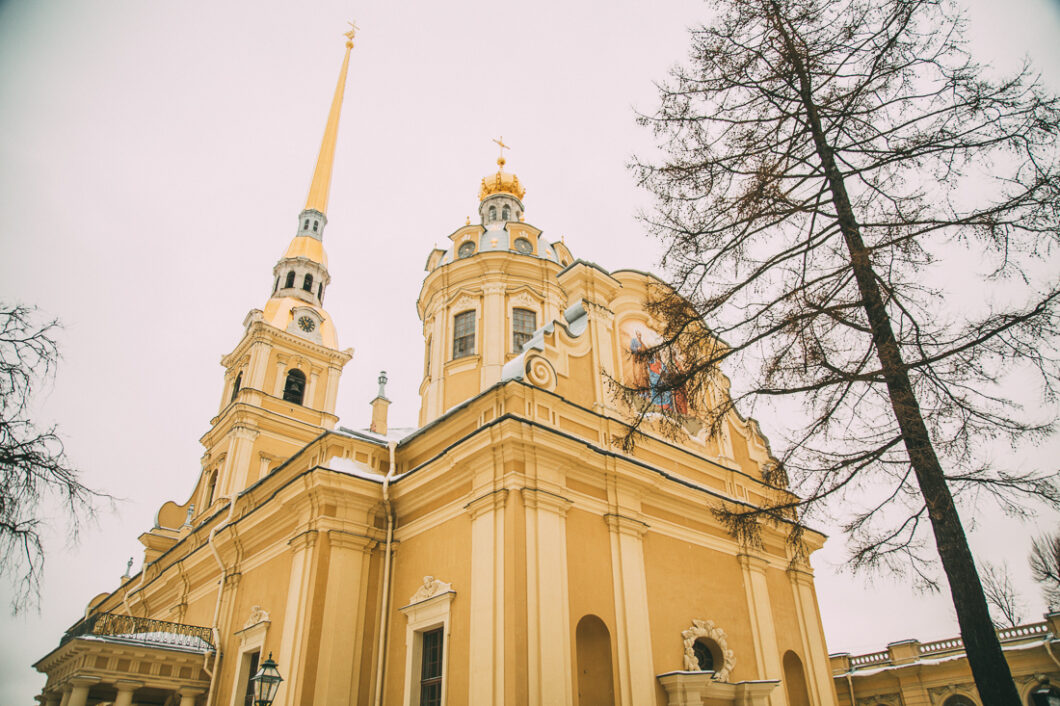 The Peter and Paul Cathedral is the first and oldest landmark in St. Petersburg, built between 1712 and 1733. It was originally built under Peter the Great. The cathedral's bell tower is the world's tallest Orthodox bell tower. But, most importantly, this cathedral houses the remains of almost all the Russian emperors and empresses from Peter the Great to Nicholas II and his family. That means Catherine the Great was also laid to rest here.
Pro tip: Getting to this cathedral requires a fair amount of walking. Be sure to wear comfortable shoes. There are also museums and exhibitions within the Peeter and Paul fortress – you can spend quite a lot of time here if you have it to spare.
Click here for the official Peter and Paul Cathedral website.
5.) Kazan Cathedral
This cathedral is dedicated to Our Lady of Kazan, the most sacred icon in Russia. It is a huge cathedral meant to duplicate the Vatican's Basilica of St. Peter. It also serves as a monument to Russia's victory over Napoleon in the War of 1812.
Click here for the cathedral's official website.
*Honorable mention: Smolny Cathedral
Click here for the cathedral's official website. If tours are more your speed, click here. You can also click here to see the 2-day tour we took in St. Petersburg.
G Adventures is hosting a last-minute sale where group tour packages are up to $1,000 off!
Travel Insurance
It's a good idea, no matter where your adventure takes you, to have travel insurance. You never know what might happen! Whether you get sick before your trip and can't go, or you become sick or injured while on your adventure – being covered with travel insurance is a must. Some credit card companies do provide this service (check with yours), or you can get a quote from companies such as Squaremouth to find the best plan for you and your adventure. (This is the company I, personally, use. They are even recommended by Forbes!) To get a free quote, click here.
Visa Requirements
To check if your country requires a Visa for traveling to Russia, click here.
This article is now available as a mobile app. Go to GPSmyCity to download the app for GPS-assisted travel directions to the attractions featured in this article.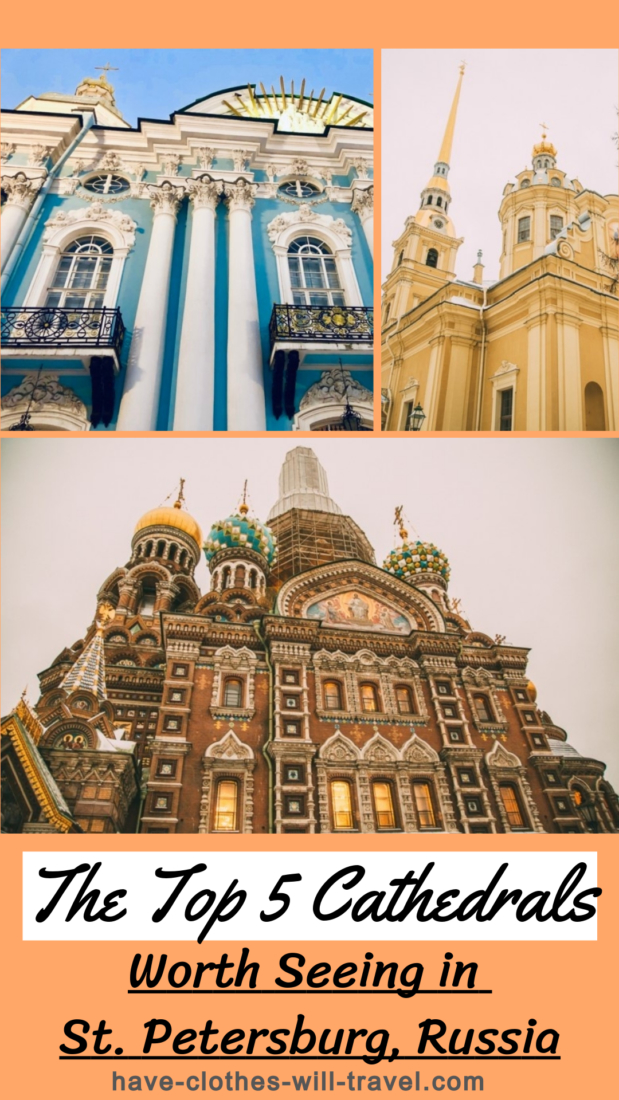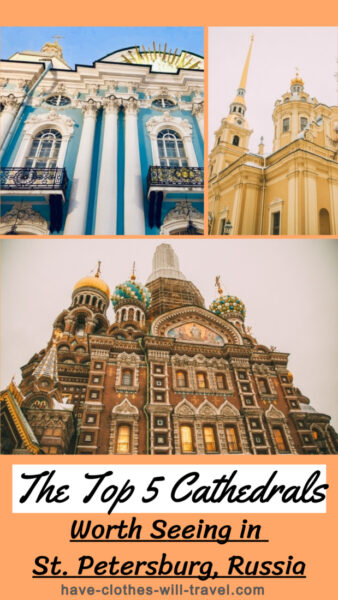 Disclosure: some of the links in this post are affiliate links. Meaning, if you click a link and make a purchase, Have Clothes, Will Travel gets a very small commission. Thank you for supporting the brands that make this blog possible!