What to Know Before Touring the State Hermitage Museum in St. Petersburg, Russia
The State Hermitage Museum in St. Petersburg, Russia is home to more than 1 million works of art and nearly 3 million exhibits in total. It's actually the 2nd largest art museum in the world! (#1 is the Louvre.) The Hermitage is an absolute must-visit on your trip to St. Petersburg. This post will give a little background on it, as well as how to really make the most of your tour there!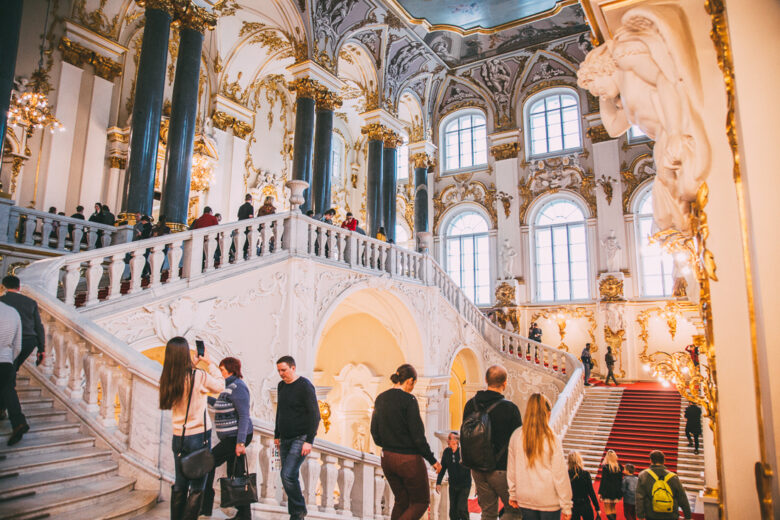 Brief History of the State Hermitage Museum
*It Used to Be the Main Residence of Russian Tsars
From 1760 until 1917 it served as the home to Russian Tsars. (Catherine Palace was the summer home.)
*The Interior of the Palace Had to be Remodeled in 1837 (However, it Was Not Destroyed in WWII)
Unlike Catherine, Peterhof and Pavlovsk Palaces…The Hermitage (Winter Palace) was not destroyed during WWII. This is because the Nazis never entered St. Petersburg during WWII. However, interiors had to undergo remodeling after a fire broke out in 1837.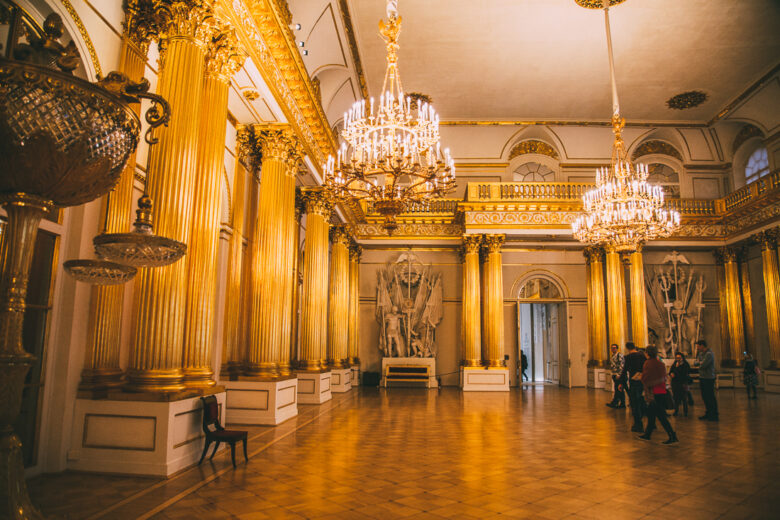 *The Palace was to be Built for Empress Elizabeth but…
Remember Empress Elizabeth? She's responsible for how fancy Catherine Palace is. Well, she was also the driving factor behind the creation of the Hermitage. Unfortunately, though, she died before it was ever completed.
*Catherine the Great is Responsible for Beginning the Art Collection
Catherine the Great was one of the greatest art collectors of all time. She is responsible for the basis of the exhibits in the Hermitage Museum.
Psst – and check out the gold peacock clock, below! It is a clock – I swear! It was made by British jeweller James Cox in the 1770s and bought by Catherine the Great.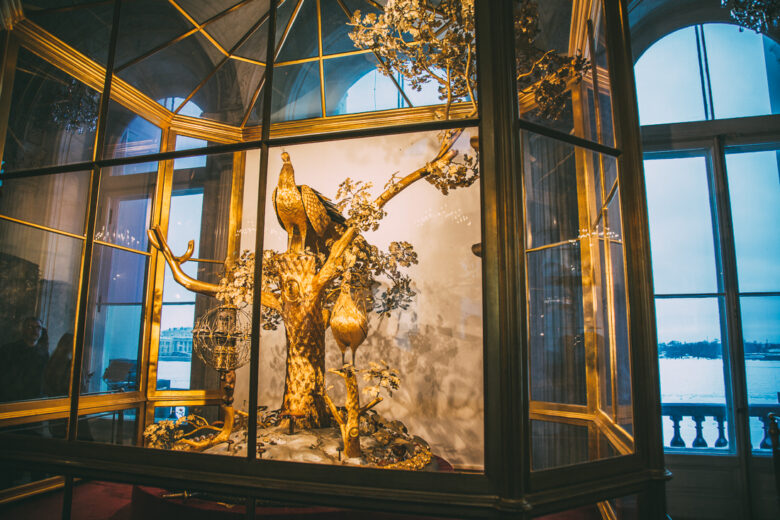 Planning Your Tour of the State Hermitage Museum
*Order Your Tickets Ahead of Time – It's Worth It!
Once again, ordering your tickets online ahead of time will save you a ton of time! I actually took a photo of the lines for the Hermitage ticket office (below). It was over 4 hours long!! Granted, you're going to pay a little more if you order online – it's roughly a $7 USD difference. However, in my opinion, there has never been a better way to spend $7! (Click here to order your tickets online. The website is SUPER English-friendly.)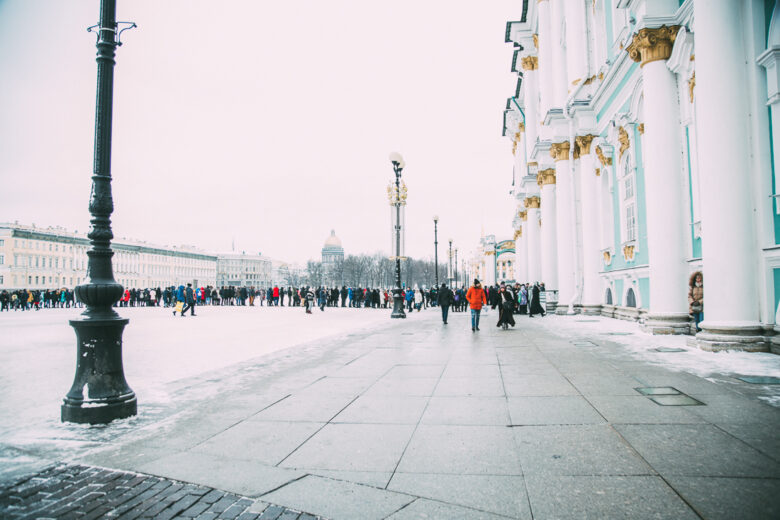 *Try the Hermitage's "Trip Planner"
This is so cool! The Hermitage's website will show you all the works of art on display, and then you can add the ones you're interested in seeing to "your collection." This will help you plan a route through the museum to see these pieces.
*Use an Audio Guide
There are audio guides available in the Main Gallery. They're available in Russian, English, French, German, Spanish, Italian, Japanese, Chinese and Korean. The charges are 350 ₽ (in Russian), 500 ₽ (in foreign languages). You also have to leave a deposit of 2000 RUB or an ID that will be returned to you once you return the audio guide.
*Or Consider a Guided Tour
We had hired a tour service for the Hermitage and did not use the Audio Guide for this time. Having a guide is great if you're on a very limited timeframe. They'll show you the most important highlights (and anything that you specifically want to see), and they'll keep you moving at a good pace. Oh, and there are NO lines. (Click here for the tour we did, and click here for a tour of just the Hermitage.)
Double Check the Hours & Days Before Planning Your Trip!
The Hermitage is not open every day & it's opening and closing times vary. Be sure to check their website by clicking here, to see when they are open – and plan accordingly.
Getting There
The Hermitage is very centrally located. So, it is incredibly easy to get to. We had stayed at the Renaissance Baltic Hotel, and could have honestly walked to The Hermitage if it wasn't so cold! This website is great for planning your journey using public transport, or again, Uber and Gett Taxi will both work in St. Petersburg.
The Hermitage Exhibits
You can see works ranging from Leonardo da Vinci and Michelangelo to Monet as well as Van Gogh and Matisse. There is also a very unique collection of Rembrandts in the Hermitage. But again, there are millions of things to see here! Apparently, it could take you 11 years to see everything!
I'll show the photos I took in the gallery below, but I can't explain the exhibits anywhere near as well as the Hermitage's website can! Click here to explore and learn about their collections.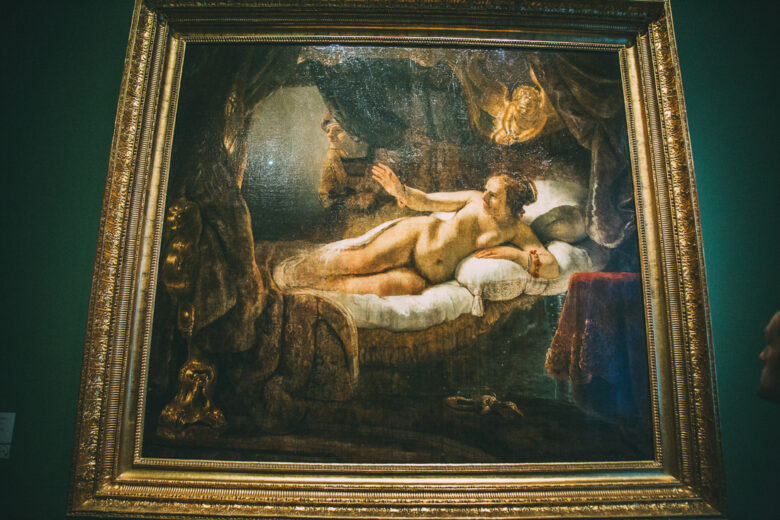 *Side note, speaking of Rembrandts…Rembrandt's painting Danae (pictured above) was actually vandalized in the 1980s. A mentally unstable individual threw acid on it and slashed it twice with his knife. It is now restored…but it's also the reason you can't bring anything liquid into the museum! You'll be asked to either drink your water bottle or pour them out before entering the museum!
Feel free to click on the photos below to read their captions & make the full-sized. There are also more photos of the exhibits at the end of this post.
You could easily spend days visiting The Hermitage, we saw all of this in about 3-4 hours, but I do wish I had taken more time.
Travel Insurance
It's a good idea, no matter where your adventure takes you, to have travel insurance. You never know what might happen! Whether you get sick before your trip and can't go, or you become sick or injured while on your adventure – being covered with travel insurance is a must. Some credit card companies do provide this service (check with yours), or you can get a quote from companies such as Squaremouth to find the best plan for you and your adventure. (This is the company I, personally, use. They are even recommended by Forbes!) To get a free quote, click here.
Visa Requirements
To check if your country requires a Visa for traveling to Russia, click here.
This article is now available as a mobile app. Go to GPSmyCity to download the app for GPS-assisted travel directions to the attractions featured in this article.
If anyone has any questions about visiting the Hermitage, please feel free to ask away in the comments section! And I'm curious, what did you know about the Hermitage before this post? (Full disclosure – until I visited, I only knew it was a really big art museum!)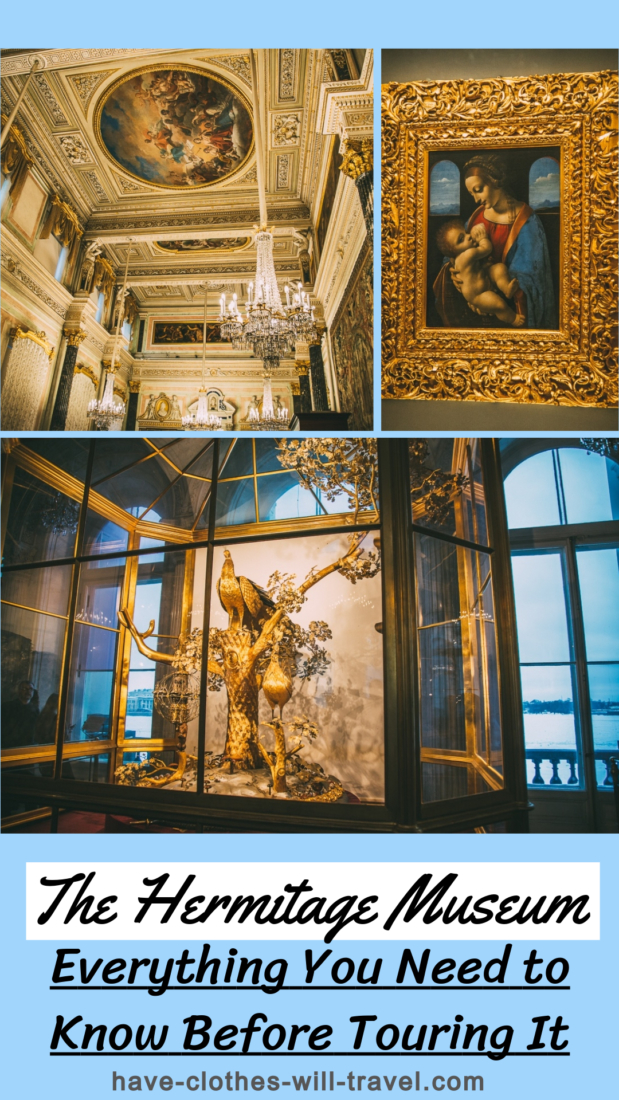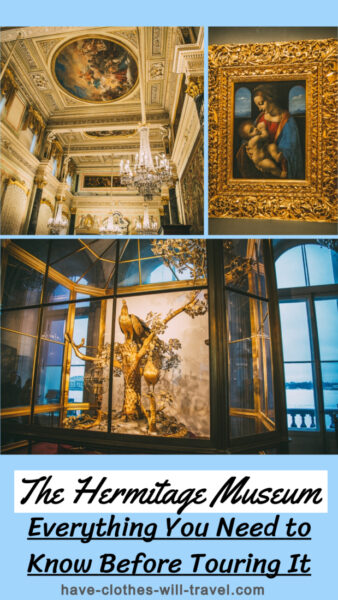 Disclosure: some of the links in this post are affiliate links. Meaning, if you click a link and make a purchase, Have Clothes, Will Travel gets a very small commission. Thank you for supporting the brands that make this blog possible!