Pavlovsk Palace – Is It Worth Adding to Your St. Petersburg Itinerary?
Pavlovsk Palace (or Paul's Palace) isn't as popular of a tourist destination as Catherine Palace or Peterhoff Palace – but does that mean it's not worth adding to your St. Petersburg, Russia itinerary? This post will explain!
What is Pavlovsk Palace?
But first, you're probably wondering what in the world this place actually is. Here's a really quick rundown on the story behind Pavlovsk Palace…
This palace was built in the 18th century on orders from Catherine the Great (Russia's longest-ruling female leader). She had it made for her son, Paul and his second wife, Maria Fyodorovna (who is the brains behind the interior design of the place). This was their summer palace. And this family's history and relationship with one another is very interesting, to say the least. If you want to learn more on Catherine the Great and company you can check out this article.
It was a royal residence until 1917. After that, it became a museum. It then burned down during WWII… but has now been restored to its former glory.
Take a Look Inside Pavlovsk Palace!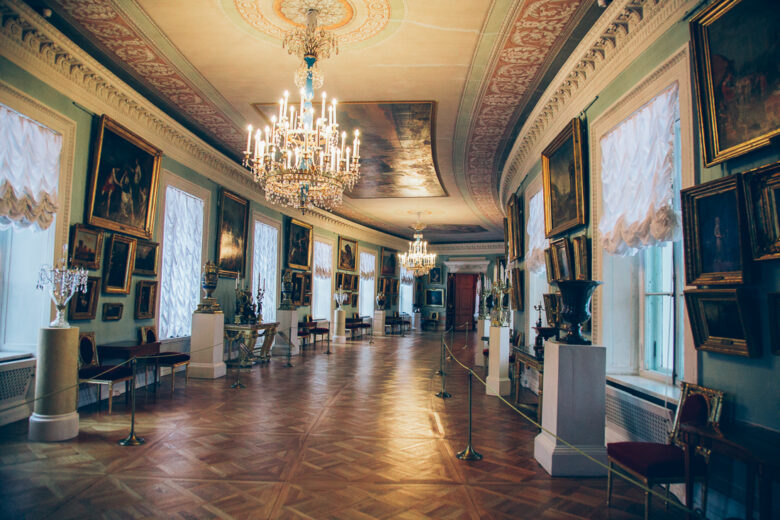 While the original structure had to be restored, the majority of the furnishings inside the palace are original. This is because many of these things were removed and hidden before WWII started. There's a great exhibit in the basement of Catherine's Palace that shows how the museum workers hid these things in walls, in holes they dug in gardens, etc., so the Nazis couldn't destroy them. I'll show that in my next blog post.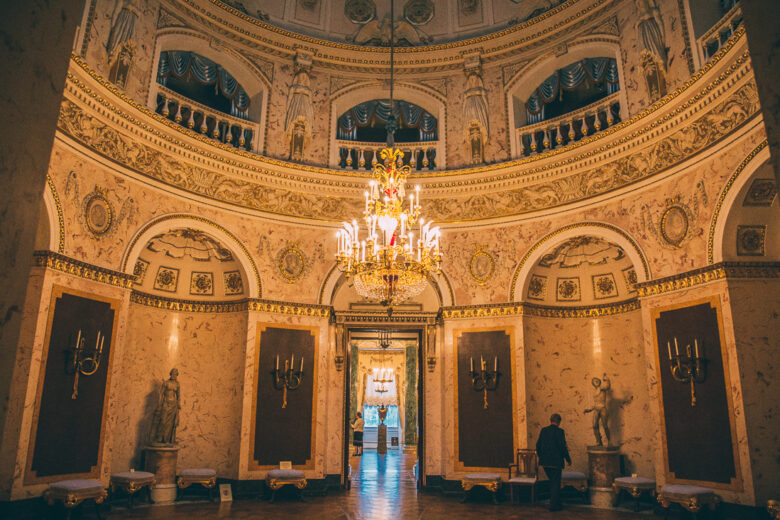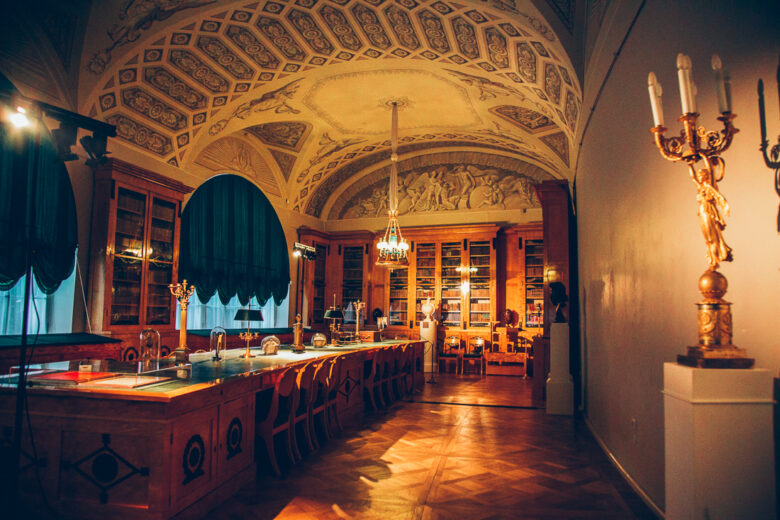 I really enjoyed going through the palace. The interior and furnishings are beautiful (although, not as in-your-face as Catherine Palace). Each piece truly has a story. I did my best to remember them all and put them in the captions of the photo gallery below. (Just click them to make them full-sized and to read the caption.) There are also more photos at the end of this post.
Pavlovsk Palace Grounds & Park
If the interior of the palace didn't dazzle you enough, try walking the 600-hectare park (1,482 acres)! The grounds near the palace are incredible in winter (when we visited), you can walk the snowy paths to other buildings that belonged to Paul & Maria…but most importantly there are the most magical horsedrawn sleigh rides taking place here! I felt like a little kid as I watched these sleighs go past. It felt as though we had stepped back in time. (I later found out you can actually book a sleigh tour!)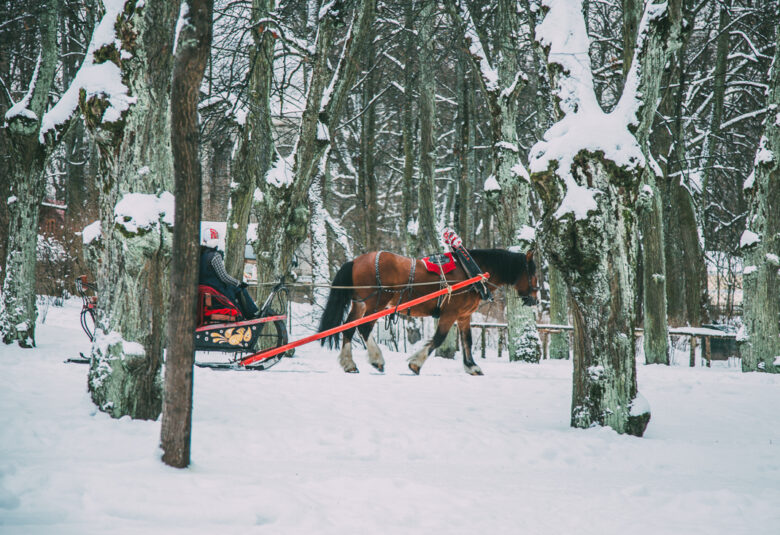 So, Is It Worth Visiting Pavlovsk Palace?
In my opinion, it is definitely worth visiting Pavlovsk Palace if your schedule permits. (It's also quite close to Catherine Palace – about a 15-minute drive.) The reason I enjoyed Pavlovsk Palace as much as I did was because it's a relatively quiet palace. There aren't hordes of tourist buses. It was easy for me to take it all in and take photos…without anyone obstructing my shot. (Ths is NOT the case at Catherine Palace – that place is a zoo.)
The Palace Park is simply magical in winter as well. (I can't personally attest for summer – but I hear the gardens are just as beautiful.)
Another thing to consider, Pavlovsk Palace is a great alternative to Peterhoff Palace in the winter. This is because Peterhoff is most known for its water fountains, which will be drained during the winter months. We actually skipped Peterhoff when we were here in January and went to Pavlovsk and Catherine Palace instead. (I'll go back to Peterhoff this summer, though!)
*If you are short on time while in St. Petersburg. I highly recommend taking this 2-day tour. Talk to your guide ahead of time about visiting Pavlovsk Palace – the itinerary can be flexible.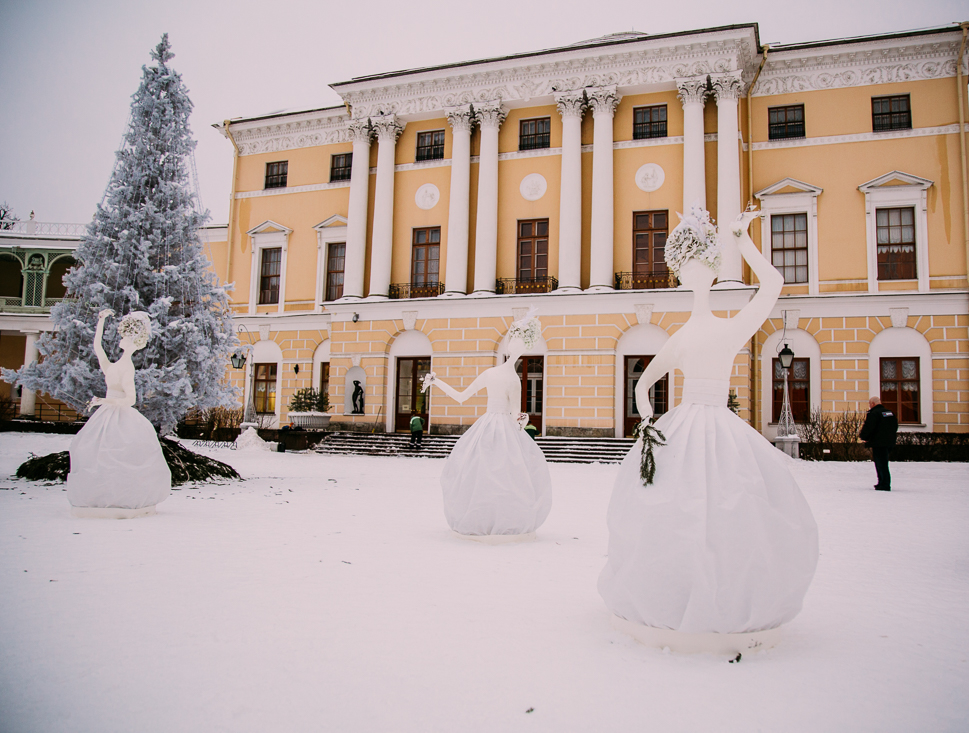 Hours & Days of Operation
Be sure to check the opening and closing hours of the Palace, as well as which days it is open before planning your visit! Click here to see the official schedule. At the time we went (January 2019), it is closed on Fridays and the 1st Monday of every month.
Travel Insurance
It's a good idea, no matter where your adventure takes you, to have travel insurance. You never know what might happen! Whether you get sick before your trip and can't go, or you become sick or injured while on your adventure – being covered with travel insurance is a must. Some credit card companies do provide this service (check with yours), or you can get a quote from companies such as Squaremouth to find the best plan for you and your adventure. (This is the company I, personally, use. They are even recommended by Forbes!) To get a free quote, click here.
Visa Requirements
To check if your country requires a Visa for traveling to Russia, click here.
This article is now available as a mobile app. Go to GPSmyCity to download the app for GPS-assisted travel directions to the attractions featured in this article.
What are your thoughts on Pavlovsk Palace? If you visited, did you enjoy it? And if not, is it a place that interests you? Let me know in the comments!
See more photos of Pavlovsk Palace below. You can click on photos to make them full-sized and to read their captions.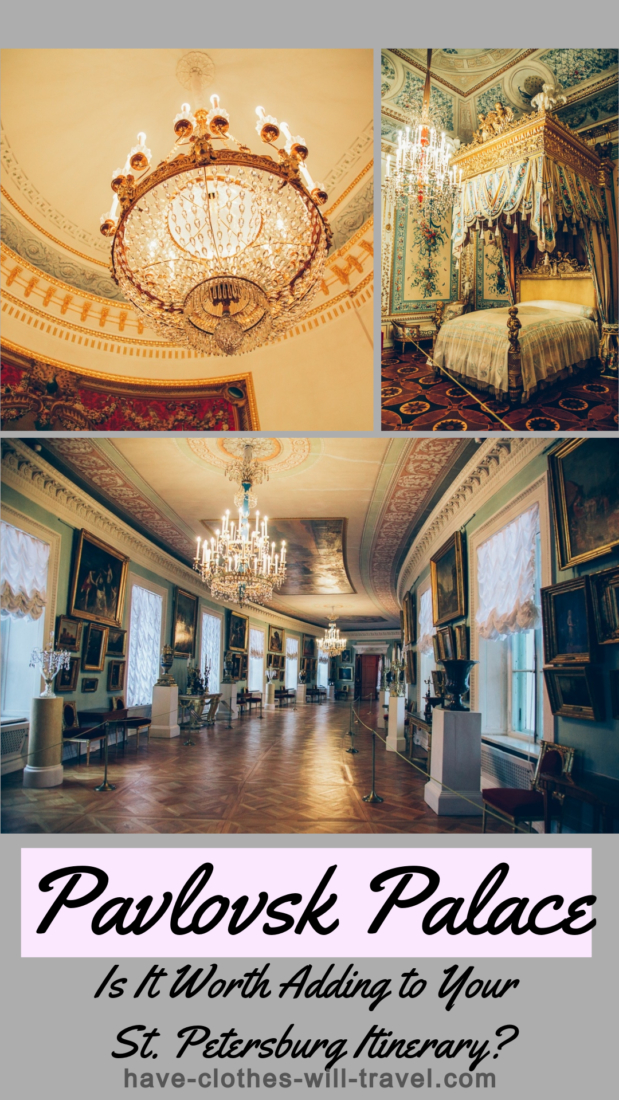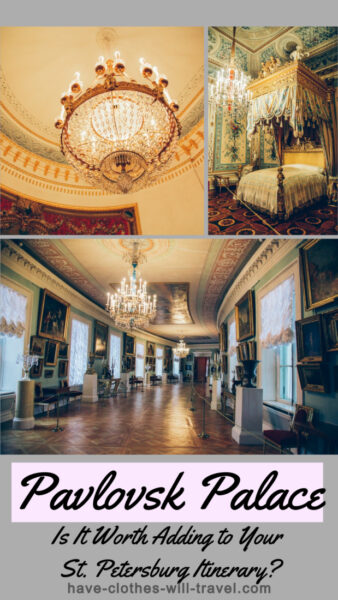 Disclosure: some of the links in this post are affiliate links. Meaning, if you click a link and make a purchase, Have Clothes, Will Travel gets a very small commission. Thank you for supporting the brands that make this blog possible!