Iguazu Falls – How to Visit the Argentine Side Without a Guide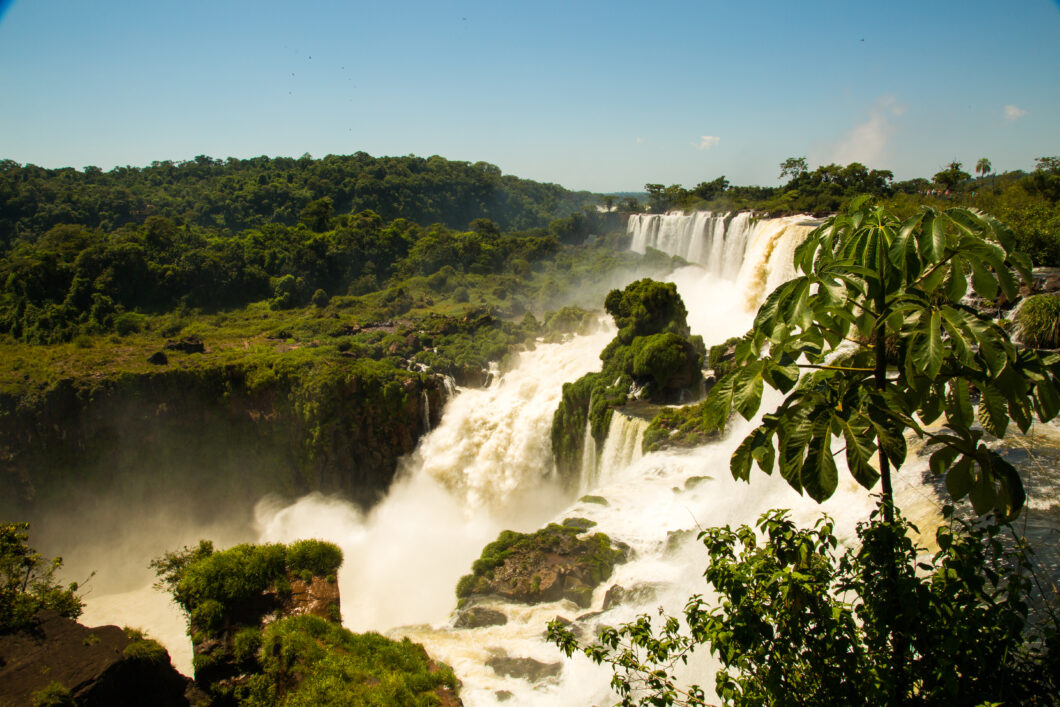 As I mentioned in my previous travel post, Iguazu Falls are located on the border of Argentina and Brazil. Now, I would highly recommend going to both sides of Iguazu Falls, as they are two totally different experiences. However, I must say, we really loved the Argentine side! It was an incredible rush to see the sheer power of these falls at such a close proximity. And if you only have time for one, I would choose the Argentine side. The Argentine side is also less expensive for many travelers, as there aren't VISA requirements for many countries. (But FYI – all your cool panoramic shots are from the Brazilian side.)
For this post, though, I'm going to briefly explain why we loved the Argentine side, and then how to visit it without an expensive tour/bus guide.
Why is the Argentine Side So Cool?
You're Up Close & Personal
The Argentine side gets you up close and personal with the falls, and you can actually feel the power of these magnificent natural wonders. It was one of the most incredible experiences of my life. The video I took above shows just how close you can get. (Sorry, my camera lens was getting soaked at times! Also, please note, the last view in the video is from Brazil not Argentina.)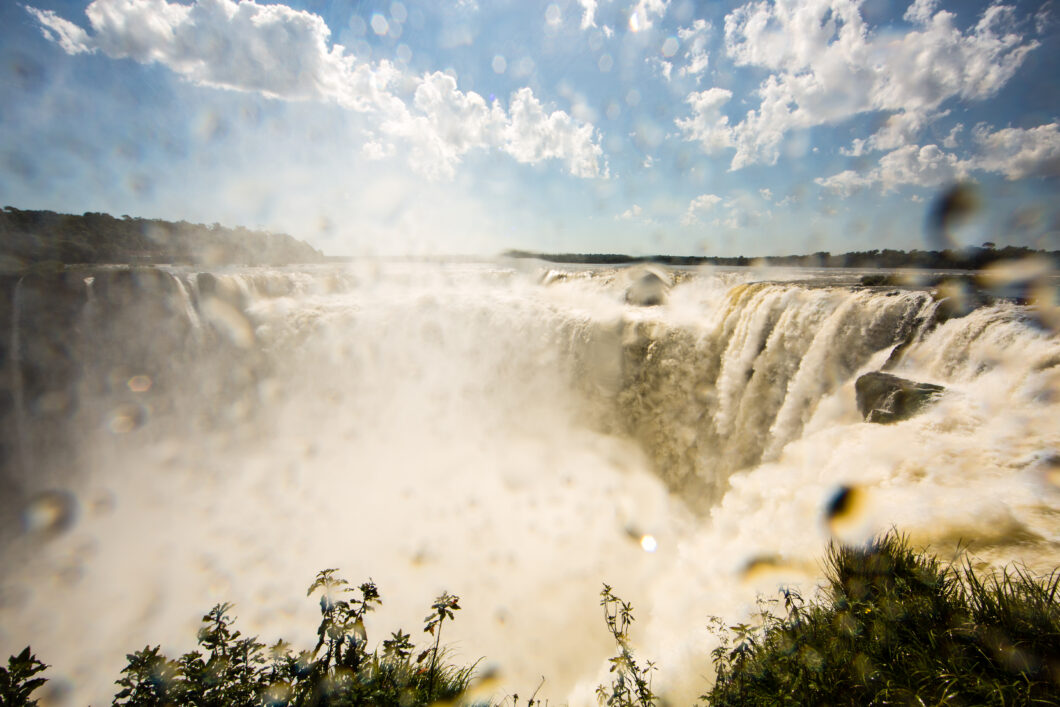 The craziest part for me was actually looking down into the tallest of these waterfalls, called the Devil's Throat, which drops by more than 80 meters!
Boat Ride
Ooh, and you can actually take a boat ride right into a couple of the falls! It's incredible! We did this through Iguazu Jungle boat tour (we did the Great Adventure option). This is the closest you will ever get to the falls and it was our favorite part of the trip.
*If possible try to book your tour ASAP as they do sellout during high season (you'll do that at the ticket kiosk in the park).
The last part of that video of shows what the boat ride is like. As you can see, you get absolutely drenched! (My hair never stood a chance, haha.) But don't worry, you do get a waterproof bag for your belongings.
Walking Trails
There are many walking trails on this side of the falls as well! You can easily spend a day walking through the Argentine side. They also have a scenic train you can take, to get to certain points faster (like the Devil's Throat).
Wildlife!
We also saw quite a lot of wildlife walking the trails of the Argentine side. We even saw a caiman (relative to the crocodile & alligators!) There were also a ton of coati (although, you can see a lot of them on the Brazilian side as well).
How to Visit Without a Guide
So, how do you get to these amazing falls? I'm here to tell you, you most certainly don't need a guide. I would argue you're better off going on your own, so you can save your money for the boat ride and take your time taking in the falls on your own. I would also recommend visiting the Argentine side for at least one full day. Between the extensive walking trail system to the boat and jungle rides – there is so much to see and do here, you could easily spend two days (if you have the time), otherwise, one should be enough.
Transportation:
The main bus terminal in Puerto Iguazu (closest city to the Argentine side of the falls) has buses running every 20-30 minutes and only costs 75 pesos (about $4 USD!) to get to the park and 75 pesos to get back. You can purchase your tickets ahead of time at the stand in the bus terminal, or you could just pay the bus driver. (If your Spanish is less than stellar, buy your tickets inside at a stand with English signs – it'll be a little less hectic for you then.)
Hotel:
We stayed at Hotel Saint George – which was wonderful and only a couple minutes walk from the bus terminal. The rates were reasonable, they also had a nice restaurant and bar and pool area (and plenty of highly rated restaurants within walking distance). The rooms were nothing spectacular, but it was a comfortable place to sleep. And I was very impressed with their breakfast which is included in the rate. I highly recommend this hotel.
Click here for Hotel Saint George's current rates.
In the park:
Once you are in the park, everything is very well-marked and the information stand has folks working who speak Spanish, Portuguese, English, French, etc. You'll be just fine on your own inside the park!
Food & Drink
The food options inside the park are more than adequate too (they even had a Subway, haha), but if you want to save money, you can certainly pack your own lunch with no issues! This will also save you a little time waiting in line for your food, and more time to enjoy the falls.
How to Dress:
Dress in clothing that you don't mind getting soaked in! The Argentine side gets you very close to falls and you will get wet! A lot of people had bathing suits on under their clothes. (I wore a lightweight tank top and my roll-up hiking pants.) Also, leave your hiking boots/bulky shoes at home! Again, the trails are all well-paved, and you're going to want shoes the are not only comfy to walk in but shoes that will also dry quickly. (I like my Salt Water Sandals for situations like this!)
Quick note about the Brazilian side…
Just in case you are considering going to the Brazilian side, I also wanted to quickly mention that, in my opinion, going with a guide service will be a smidge easier. This is because you will likely be going from Argentina to Brazil and will need to go through customs. We had a guide service for this, and it went SO quickly. We didn't even get out of the vehicle and our guide took care of our immigration. For that alone, it was worth it! (But again, don't bother with a guide for the Argentine side!)
Click here to see this tour.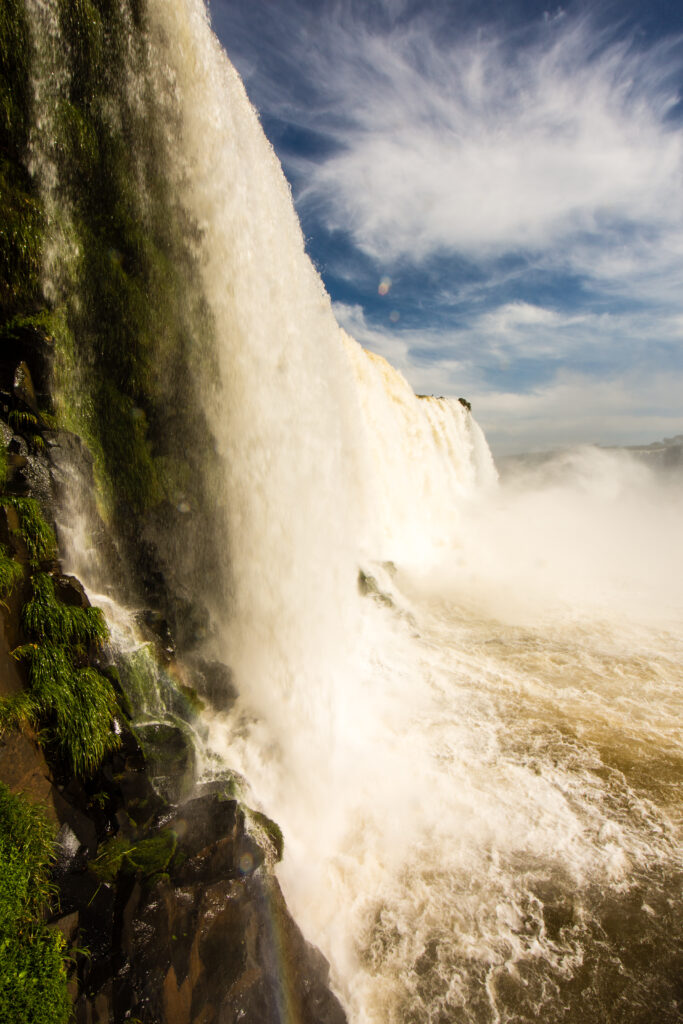 Would you visit Iguazu Falls without a guide? Or do you prefer tour services? Let me know in the comments!
*Click here to read my post, "How to Spend 10 Days in Argentina."
Travel Insurance
It's a good idea, no matter where your adventure takes you, to have travel insurance. You never know what might happen! Whether you get sick before your trip and can't go, or you become sick or injured while on your adventure – being covered with travel insurance is a must. Some credit card companies do provide this service (check with yours), or you can get a quote from companies such as RoamRight. To get a free quote, click here.
Visa Requirements
To check if your country requires a Visa for traveling to Argentina, click here.
Want to Learn Spanish Before Your Trip?
Knowing some basics in Spanish can be helpful for your time in Argentina. Try a free 3 day trial of Rosetta Stone (the best way to learn a foreign language) by clicking here.
*Disclosure: some of these links are affiliate links. Meaning, if you click a link and make a purchase, Have Clothes, Will Travel gets a very small commission at no extra cost to you. Thank you for supporting the brands that make this blog possible! I am also a participant in the Amazon Services LLC Associates Program, an affiliate advertising program designed to provide a means for us to earn fees by linking to Amazon.com and affiliated sites.
If you liked it, Pin it!