5 Things To Know Before Touring the Moscow Metro + 6 Impressive Metro Stations Worth Seeing
As crazy as it may sound, Moscow's Metro is so beautiful it absolutely deserves its own tour. You can visit scores of stations and be blown away by each station's unique architecture.
There are over 200 subway stations in Moscow, so it is certainly worth having a plan before you go. This post will share useful tips before you start your tour, plus 6 stations I thought were amazing! Enjoy!
5 Things To Know Before Touring the Moscow Metro
1.) Your Options for Touring the Moscow Metro
A.) Guided Tours. Given how expansive and confusing the Moscow Metro is, guided tours are a very popular option. You can do group tours or private tours. In my personal opinion, if you go the guided tour route, keep it as inexpensive as possible and save your money for a private tour of the Kremlin instead. Group tours are generally quite inexpensive, and from what I've noticed, quite small. This one is highly rated and less than $20.
*One thing to note, the metro is a loud/busy place to be…therefore, hearing your guide will likely be a bit difficult.
B.) Do the Tour Yourself! The Moscow Metro may seem intimidating, and it can be rather easy to get lost. Personally, though, I don't think getting lost here is a bad thing! You'll just discover a new, beautiful station. And it seems after the World Cup, not all, but many subway signs are also in English.

2.) There are No Elevators
It's only stairs and escalators inside the Moscow Metro. Wear comfy walking shoes!
3.) Where to Stand on an Escalator
On the escalators, be sure to stand on the right side if you will not be walking up. If you're walking up the escalator, use the left-hand side. (I LOVE how organized this is!)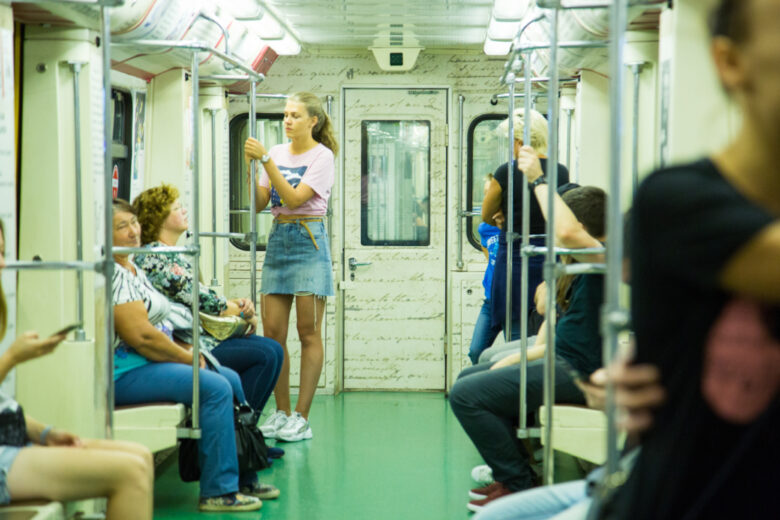 3.) How to Know Which Direction You're Heading…
My landlord explained this to me when I first came to Moscow, and I thought it was so interesting! If you listen to the voices announcing the stations, you'll know which direction you're heading based on whether it is a man or woman's voice. If you're traveling toward the city center, it will be a man's voice. When traveling away from the city center, it's a woman's voice. And if you're on the brown, circle line (which you will be if you're touring the metro!), the man's voice announces the stations traveling clockwise and the woman's voice announces the stations when going counterclockwise.
4.) How to get a Ticket
(If you're doing a guided tour, you will not need to do this.) If you're going to be using the metro during the duration of your stay in Moscow, it's worth it to get a Troika card. These cards are free and you can refill with money at any metro kiosk or automated ticket office. Riding the metro only costs 36 rubles! (About 50 cents in USD.) It doesn't matter how many stops you go, as long as you don't exit the metro, you can actually do your whole metro tour for just 36 rubles. How awesome is that? (You can also buy a single-use ticket, if you only want to ride the metro for a tour.)
5.) Download Yandex Metro and Yandex Maps
If you're like me and rely on Google Maps to get you everywhere…you're going to run into some trouble in Moscow. Google Maps does not work very well here (especially when it comes to the metro). So, downloading Yandex Metro will give you a good map of the metro stations and show you how to get from station to station. (You can also click here to print a map of the Moscow Metro.) And Yandex Maps will be your replacement for Google Maps while you're in Moscow.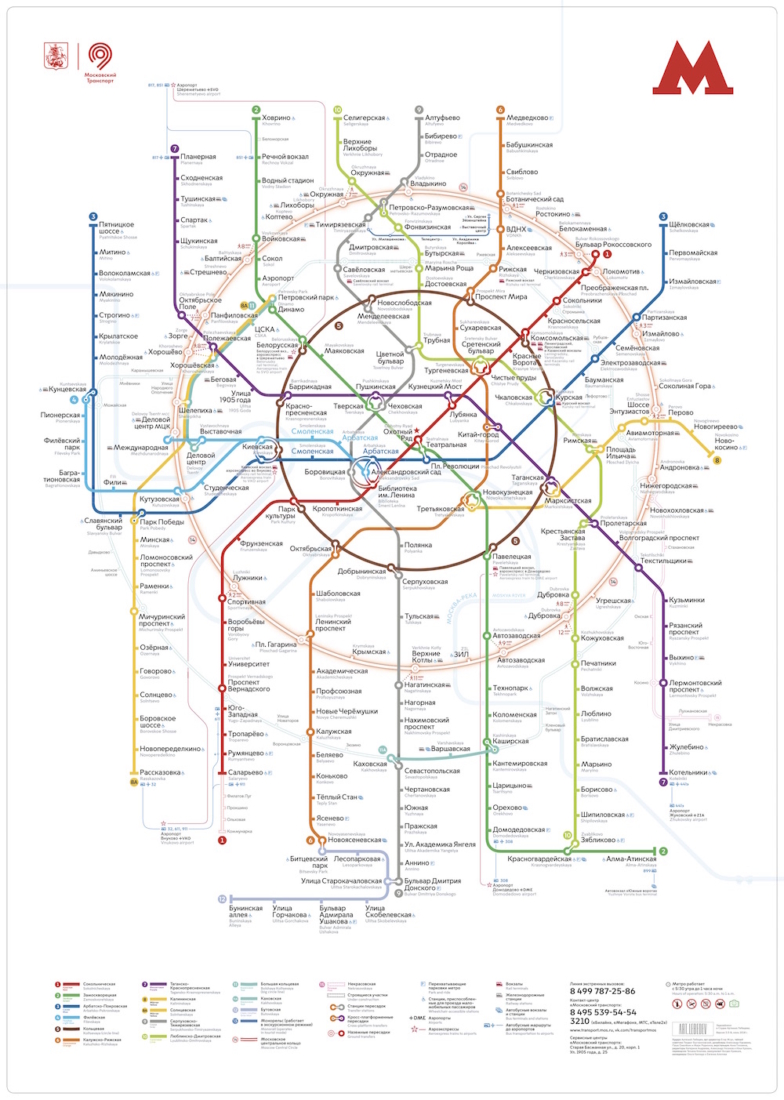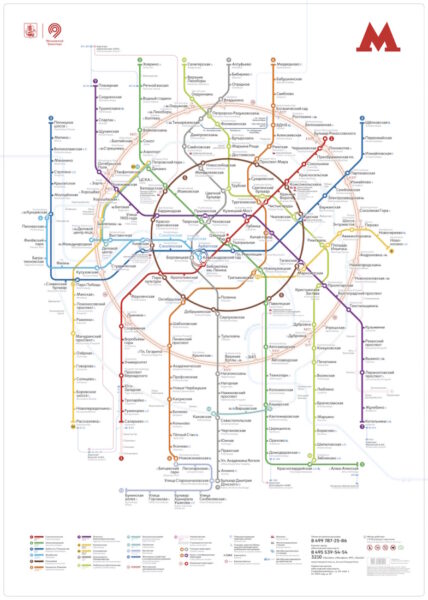 *6 Moscow Metro Stations Worth Touring
1.) Novoslobodskaya Metro Station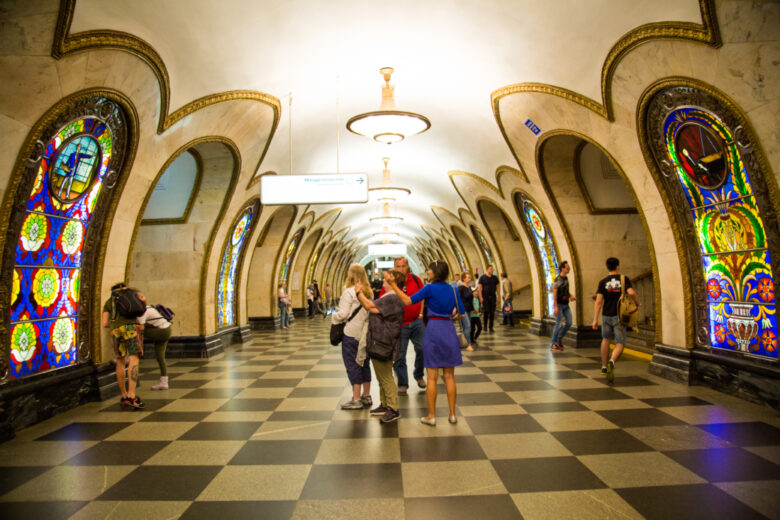 Novoslobodskaya is most famous for its stained glass windows. It was designed by Alexey Nikolayevich Dushkin a famous Soviet architect.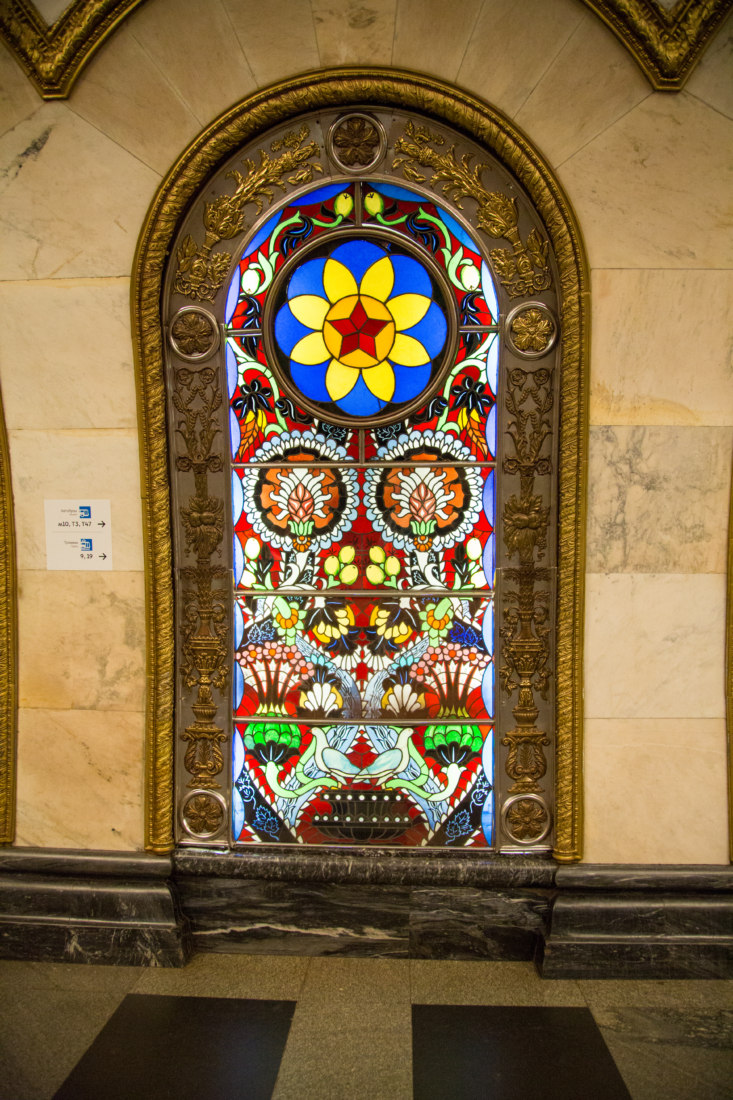 This station is also where you'll find the famous mosaic by Pável Korin entitled "Peace Throughout the World."
2.) Kievskaya Metro Station
Kievskaya features large mosaics by A.V. Myzin celebrating Russian-Ukrainian unity. Both the mosaics and the arches between the pylons are edged with elaborate gold-colored trim.
3.) Ploshchad Revolyutsii
This station is famous for its socialist realism statues. Each arch has a pair of bronze sculptures by Matvey Manizer depicting the people of the Soviet Union, including soldiers, farmers, athletes, writers, aviators, industrial workers, and schoolchildren. There are a total of 76 sculptures in the station.
4.) Komsomolskaya Metro Station
Komsomolskaya is the most impressive station in my opinion! The theme of its design is the Historical Russian fight for freedom and independence. This is expressed in eight large ceiling mosaics by Pavel Korin.
5.) Prospekt Mira Metro Station
The theme of this station reflects the nearby Botanical Gardens of Moscow State University. It also has a memorial for the Belarusian partisans.
6.) Taganskaya Metro Station
This station has 48 maiolica panels that show various World War II Red Army and Navy servicemen. The light blue is very beautiful!
*I know there are MANY more impressive stations to visit in Moscow. However, these are very easy to get to and can be visited in under a couple hours. This article is worth reading if you're interested in seeing even more metro stations in Moscow!
Which station is your favorite in Moscow? Let me know in the comments! *Also, let me know if you have any questions in the comments! I'm happy to help.
*Disclosure: some of these links are affiliate links. Meaning, if you click a link and make a purchase, Have Clothes, Will Travel gets a very small commission at no extra cost to you. Thank you for supporting the brands that make this blog possible! I am also a participant in the Amazon Services LLC Associates Program, an affiliate advertising program designed to provide a means for us to earn fees by linking to Amazon.com and affiliated sites.