How to Spend 1 Relaxing Day in Tel Aviv, Israel
Tel Aviv is one of the most interesting cities I have ever visited. I've been traveling nearly nonstop for the last 5 years, so I'm now getting to be one of those annoying people who is always comparing places to other places I've been. "Oooh, this feels so much like Tokyo! Doesn't this little cafe remind you of that one in Buenos Aires? I'm getting some serious Sydney vibes here!" And then whoever is near me will likely want to kick me in the shin for being so overprivileged and annoying!
That being said, though, Tel Aviv is the first city I've been to that reminds me of every city I've been to, and none of them, all at once. It is truly a unique city that words and photos don't do justice, and I highly recommend adding it to your bucket list!
Now, the most relaxing way to spend a day in Tel Aviv, Israel would be to plop yourself on the nearest beach by your hotel – and hey, I'm not saying you shouldn't do just that! However, this post is just giving some tips on how to see a few of the key sights while walking at a relaxing pace. (Also, we visited in early spring when it was still a bit too chilly for the beach!) And after our disaster of trying to overbook ourselves on our last day in Israel – this leisurely day was just what we needed!
How to Spend 1 Relaxing Day in Tel Aviv, Israel
Early Morning – Walk Along the Sea
I'm not even a little bit of a morning person. And we had a really late flight into Tel Aviv the night before, so we admittedly got a late start (leaving the hotel at about 10 am).
This still left us plenty of time for a leisurely stroll from our hotel (The Sheraton) to Old Jaffa.
Even if you're not staying at a hotel along the beach, it's worth it to enjoy a nice walk from the Tel Aviv Marina to Old Jaffa (or vice versa, depending on where your hotel is located). If you're moving at a brisk pace, you can do this walk in under 1 hour.
However, it took us a lot longer than that because I had to stop every few minutes to take a photo or just sit down and watch the water or stop at a restaurant for a snack. (When in Tel Aviv – eat as much as you can!)
Late Morning – Visit the Flea Market
Going to the Flea Market in Jaffa is just one of those things you have to do when you visit. I'm not much of a flea market person, so I didn't spend too much time here. But it was fun to see. and there are A LOT of different stalls!
*Be sure to check the hours before visiting. It is normally open from 9 am – 5 pm, but it is closed on Saturday and only open until 2 pm on Friday (as of March 22, 2019). We visited on a Friday and were there at about noon.
I, personally, liked this area too because there are a lot of fun, outdoor restaurants and bars as well. (My husband will argue this, though, and say that the outdoor restaurants are WAY better in Jaffa Port. To each their own!)
Afternoon – Head to Kedumim Square
This is the heart of Old Jaffa and an ancient central square. Here you will find Saint Peter Church, many different galleries and jewelry stores. It is a really beautiful area to just meander. (There were also a few vendors selling handmade goods and street performers.) I, personally, preferred the shopping here to that of the flea market!
The Wishing Bridge
Just off of Kedumin Square, you'll see the Wising Bridge. Legend has it, that if you grasp your zodiac sign on the bridge and look at the Mediterranean Sea while making a wish, it'll come true!
Afternoon/Evening – Jaffa Port
Jaffa Port is a port that has been actively used for 7,000 years! How incredible is that? It is also the port Jonah sets off from in the famous Biblical story of Jonah and the Whale.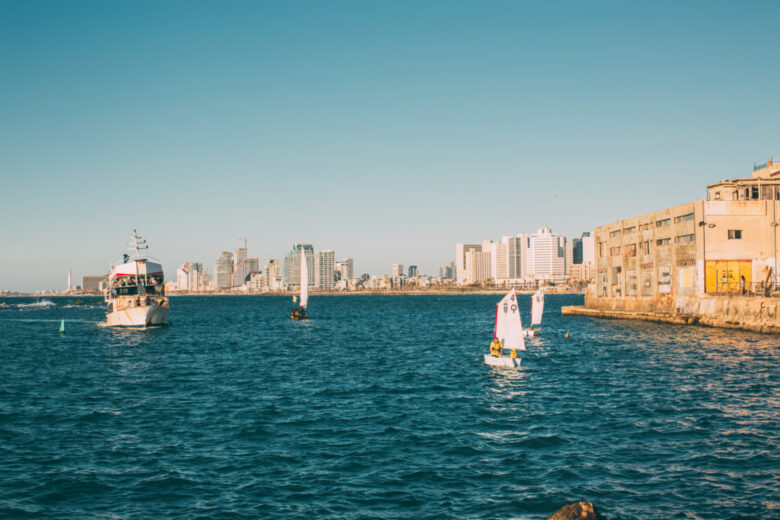 Visit alllll the Restaurants!
Be sure to visit at least one restaurant in Jaffa Port. You can get some really fresh fish! Also, all of the various dishes of goodies you see below are complimentary at many of the restaurants!
There are some lovely outdoor bars in Jaffa Port too! I had no complaints about the beverage sizes here either, haha.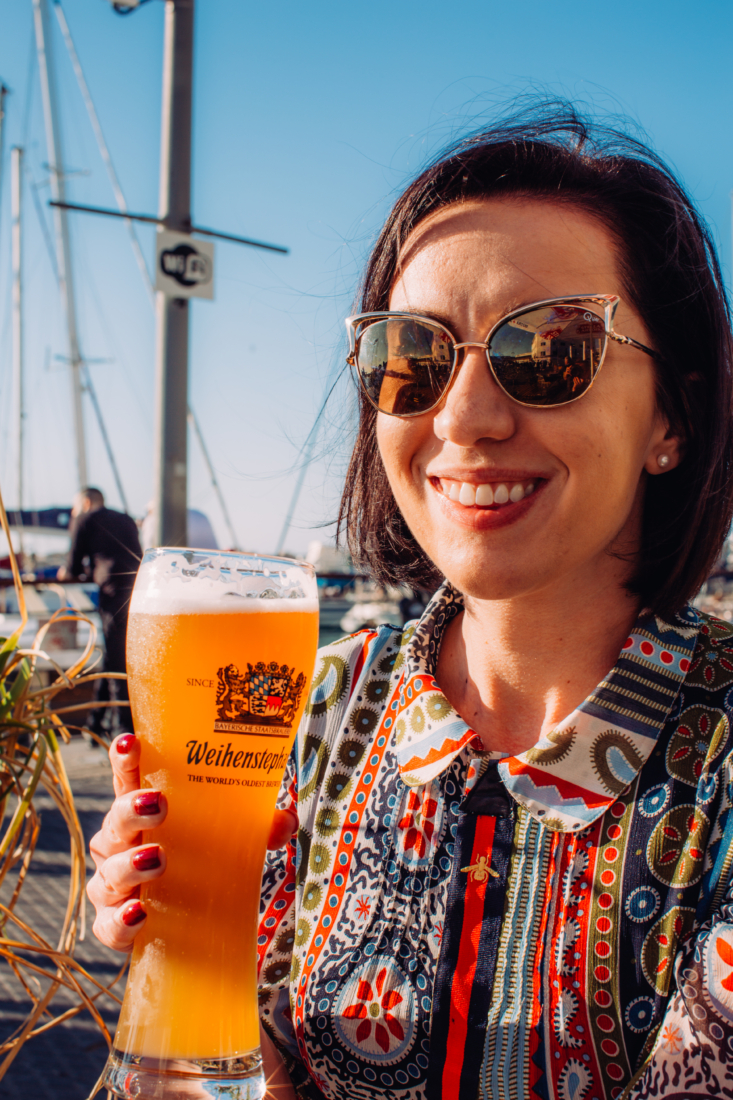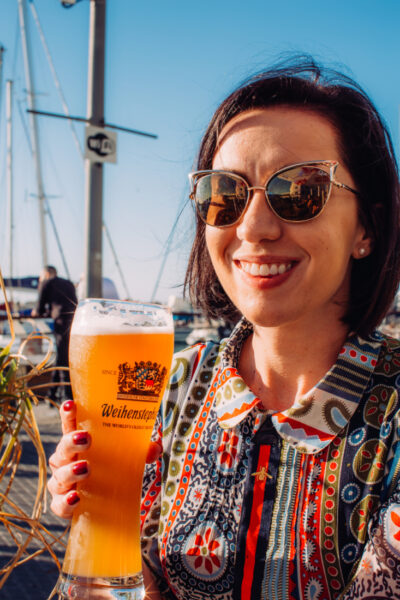 Evening – Enjoy the Sunset
The sunsets in Tel Aviv are spectacular! We started meandering out of Old Jaffa back in the direction of our hotel to watch the sun go down. (And then went back to our hotel to get freshened up for a late dinner.)
Note: The White City
It's also worth seeing "the White City" while in Tel Aviv. It's a collection of over 4,000 buildings built in a unique style from the 1930s by German Jewish architects who immigrated here after the rise of the Nazis. I, stupidly, didn't take any photos of this because we walked by some of the buildings on our way to dinner, but I hadn't brought my camera along. They are unique to see, though! There are even tours dedicated to the architecture in Tel Aviv if you're interested in learning more.
Evening – Party?
Tel Aviv is known for its incredible nightlife. I, however, am old and not much of a partier. Haha. So, after dinner I went back to the hotel and straight to bed. However, if you're not as boring as me…head on out to the bars in Tel Aviv. You won't have to look too hard! There are tons to choose from. You can even do a pub crawl while you're there!
Hotels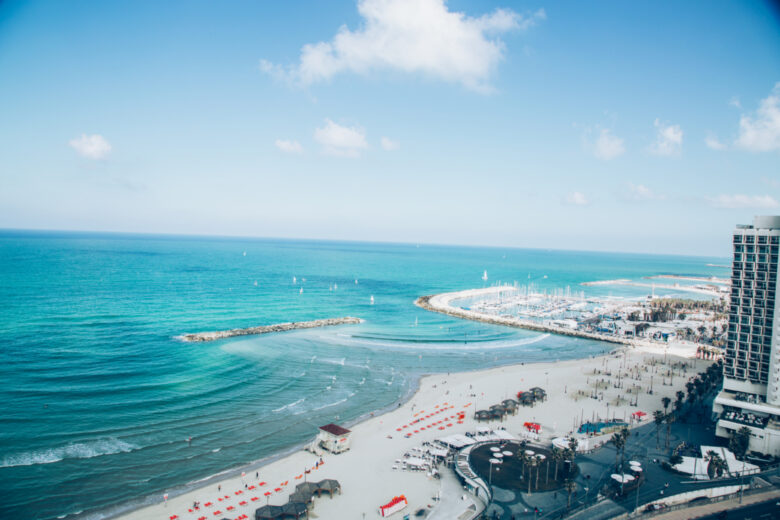 If you've started researching accommodation in Tel Aviv, you've likely already noticed that it can be CRAZY expensive. We stayed at the Sheraton because our Marriott points and status are recognized there. But wowzers! It is pricey (on average $300 a night). Don't get me wrong, the hotel is beautiful…and we were upgraded to a suite…and the beach is just across the road. I had no complaints! But there are definitely more budget-friendly options out there. Abraham Hostel, for example, is less than half that a night – and is rated one of the best hostels in the world! Or you can go the opposite end of the spectrum and stay in uber-luxurious hotels like The Setai or The Jaffa.
*Click here to see all of my posts from Tel Aviv.
This article is now available as a mobile app. Go to GPSmyCity to download the app for GPS-assisted travel directions to the attractions featured in this article.
How would you spend 1 day in Tel Aviv? Let me know in the comments!
Travel Insurance
It's a good idea, no matter where your adventure takes you, to have travel insurance. You never know what might happen! Whether you get sick before your trip and can't go, or you become sick or injured while on your adventure – being covered with travel insurance is a must. Some credit card companies do provide this service (check with yours), or you can get a quote from companies such as Squaremouth to find the best plan for you and your adventure. (This is the company I, personally, use. They are even recommended by Forbes!) To get a free quote, click here.
Visa Requirements
To check if your country requires a Visa for traveling to Israel, click here.
Here are a few more photos of the day – feel free to click on them to make them full-size.
*Disclosure: some of these links are affiliate links. Meaning, if you click a link and make a purchase, Have Clothes, Will Travel gets a very small commission at no extra cost to you. Thank you for supporting the brands that make this blog possible! I am also a participant in the Amazon Services LLC Associates Program, an affiliate advertising program designed to provide a means for us to earn fees by linking to Amazon.com and affiliated sites.