Rome: Off the Beaten Path
The amount of things to see and do (and eat!) in Rome seems to be never-ending. My husband and I spent two weeks wandering the streets of Rome last spring, and I feel as though we only saw a fraction of what Rome had to offer. I've covered the more famous tours and sights in previous posts. In this post I will take a final look at some of the smaller, quirkier tours we took and some of my favorite places and pictures from the trip.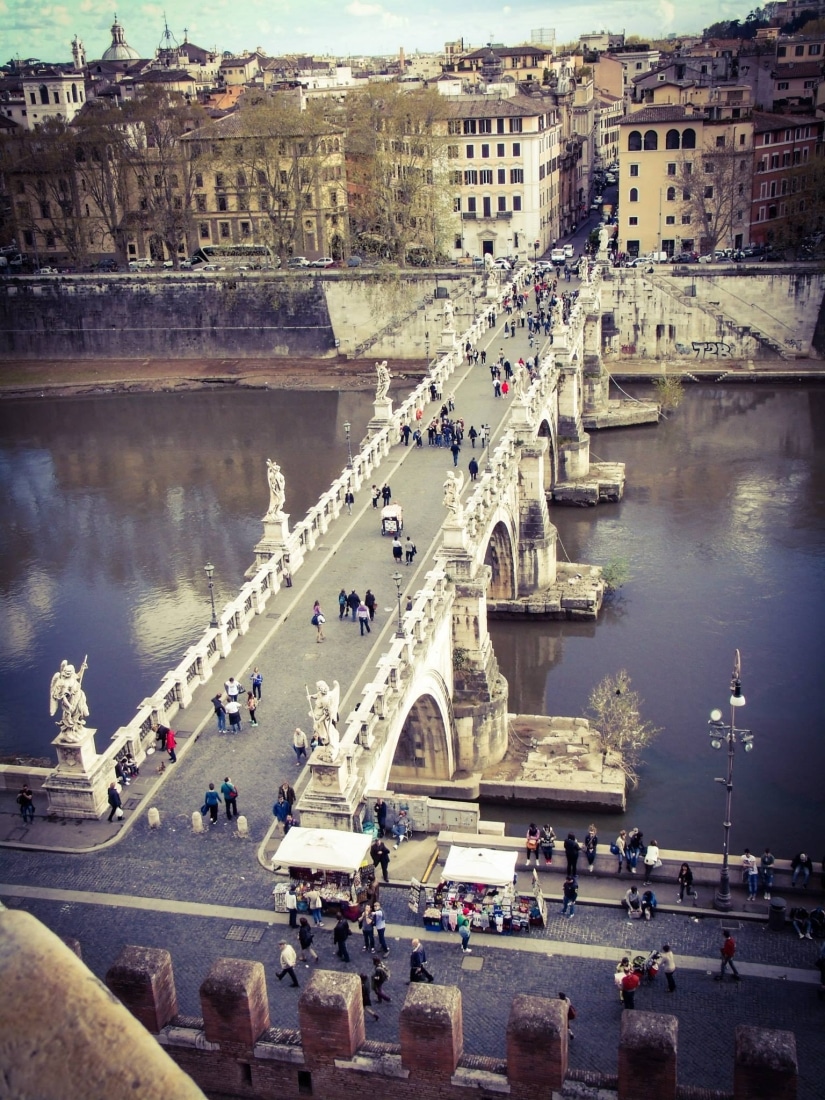 Ghosts & Mystery Walking Tour of Rome
Whether you believe in spirits, or not, the Ghosts & Mystery tour is a must when in Rome. Don't expect any Oujia boards or seances, though. This tour was actually a very informative and fun history lesson of some of the darker and more sinister events and deaths in Rome.
You'll be with a smaller group of people, and the streets of Rome are quiet and still when you begin your journey at 9:15 pm. Your guide will meet you on the stairs of the Sant'Andrea della Valle church (which looks a bit eery at night), and wander through the streets of the Eternal City for about an hour and a half…stopping at various spots to talk about which brutal death happened there. (This tour was by no means a strenuous walking tour, it was very relaxed and leisurely.)
Our tour guide was wonderful, he was a fabulous storyteller and mixed the actual history with the legends and tales very well. Jason Alexander (a.k.a George Constanza) had actually taken this tour with our guide the night before. So, it has to be a good time then, right?
Your night will end at Castel Sant'Angelo, which looks even more incredible at night. We'll talk about that place coming up.
For more information on the Ghost & Mystery Walking tour, click here.
Ghost & Mystery Tour Photo Gallery
(Click on photos for descriptions)
Capuchin Crypts & Roman Catacombs Tour
If the Ghosts & Mystery tour wasn't eery enough for you, come to the Crypts & Catacombs tour! This should keep you up at night.
The Capuchin Crypts are located below the Church of Santa Maria della Concezione. The walls are decorated with the bones of the deceased Capuchin Monks. It is insisted that these displays are not meant to be macabre, but "a silent reminder of the swift passage of life on Earth and our own mortality."
In all my life, I have never seen anything quite like the Capuchin Crypts…where there are chandeliers made out of bones and monks nailed to walls, and none of it has anything to do with a serial killer.
This tour will also take you to the largest of the Roman catacombs. Don't worry, the bodies have since been removed. However, I honestly found the catacombs to be a bit more emotional of an experience than the crypts. Many of the tombs were very small…because there was such a high infant mortality rate. The catacombs aren't all doom and gloom, though. Christianity was once banned in Rome, and the catacombs provided a peaceful place where they could worship. So, that's good.
You'll definitely need a tour guide for the catacombs – they don't let you in there without one because you will indeed get lost (there are over 186 miles of underground tunnels). Click here to learn more about this tour.
Crypts Photo Gallery
Note: You can't take photos in either of these places. These photos are from the tour site.
Le Domus Romane di Palazzo
This tour was the most unique of all that we had taken in Rome. It was a very high-tech and interactive tour of an ancient excavation site of a Roman Senator's home. This truly is a glimpse into ancient Roman life. You are able to see parts of the ancient home and anything missing is filled in with projections. It is truly amazing. This tour would be a blast for children 8 and up, too. Be sure to book the English speaking tour when you go, though. There seemed to be quiet a bit of confusion surrounding, this…because each tour's time slot is in a different language (French at 9, English at 10, etc.) Click here for more information on this tour.
It was too dark to get decent photos inside, so here are two photos of my husband and me in front of the entrance. Haha.
Castel Sant'Angelo
Castel Sant'Angelo was originally a mausoleum for the Roman Emperor Hadrian and his family. It has since been used by popes as a fortress, and if you've read "Angels & Demons," is also the lair of the Illuminati. The inside is now used as a museum and offers spectacular views of Rome.
My husband and I took an audio tour of Castel Sant'Angelo. There are many, many rooms inside Castel Sant'Angelo and it took us several hours to tour all of them. The tour itself was interesting enough, but my favorite part of Castel Sant'Angelo was the incredible views of Rome.
Pictures are not allowed inside the Castel Sant'Angelo museums. The photo gallery below is of the outside of Castel Sant'Angelo and the wonderful views of Rome from the top of Castel Sant'Angelo.
Castel Sant'Angelo Photo Gallery
Baths of Caracalla and Circus Maximus
Honestly, my favorite memory of Rome was sitting in the grass at Circus Maximus overlooking the Carcalla Baths… all while eating a hot dog and drinking a beer. There was just something so surreal about being able to do something so ordinary (like drink a beer & eat a hot dog) while you are surrounded by such incredible history. I also needed to eat a crappy hot dog to bring me back to reality after spending weeks eating delicious Italian food. Haha. And sorry, but Italian beer is pretty yucky too…so, this was more about the experience than the taste!
Piazza del Popolo and The Spanish Steps
Piazza del Popolo is a square in Rome that means "People's Square." Santa Maria del Popolo is the church in the corner of the square that it is named after. You may also recognize the name of that church if you've read "Angels and Demons." (I didn't love the book – but I found that a lot of tour guides and locals liked to reference it!)
Fun fact: Piazza del Popolo was a spot for public executions until 1826. I'm surprised this place wasn't on our ghost tour! (Probably because it's on the other side of the city…that would've been a long walking tour.)
The Spanish Steps are a famously steep set of stairs near Piazza di Spagna with Triniti dei Monti Church at the top of them. We visited the stairs at night, and it was still a zoo of people. However, once we reached the top, it was rather peaceful. (Apparently not many people actually want to climb the stairs. Haha.)
Piazza del Popolo & Spanish Steps Photo Gallery
Reliving these experiences and looking through photos makes we want to return to Rome in the worst way! There really isn't another city like it…that is so relaxing and filled with such a wonderful array of history.
I will end this post with a photo gallery of some pictures that just didn't quite fit any where else. You can click on them to read the description of where they were taken.
Is anyone planning a trip to Rome? Do you have any questions about the Eternal City? Let me know in the comments!

*If you like this post, it is now available on iTunes as a self-guided walking tour! Click here to download it.
Italy is fun to tour by car, but visiting the coastline cities on a Ferretti Yacht may be the most extravagant way to cruise. Italy is the mecca of boat building in the world and offers many opportunities to go inside the shipyard and learn about how the culture has influenced design.

Now, for my regular readers, you may be wondering why you just saw a post about Rome even though this happened over a year ago. Let me explain, my post I had planned for today was put on hold because of some technical gremlins. It will appear next week. And this post on Rome had been hanging out in my drafts folder for about a year… so I figured this would be as good of time as any to break it out! Hope you enjoyed it, and we'll be back to our regularly scheduled programming next week. (After I get a new computer!)
And this is the last week to enter my Blog Anniversary GIVEAWAY! You could win a $50 ModCloth Gift Card + 2 hours of personal styling services! Click here to enter.
If you like this post, pin this here pin. 🙂