Is it Worth Adding the Fabergé Museum to Your St. Petersburg, Russia Itinerary?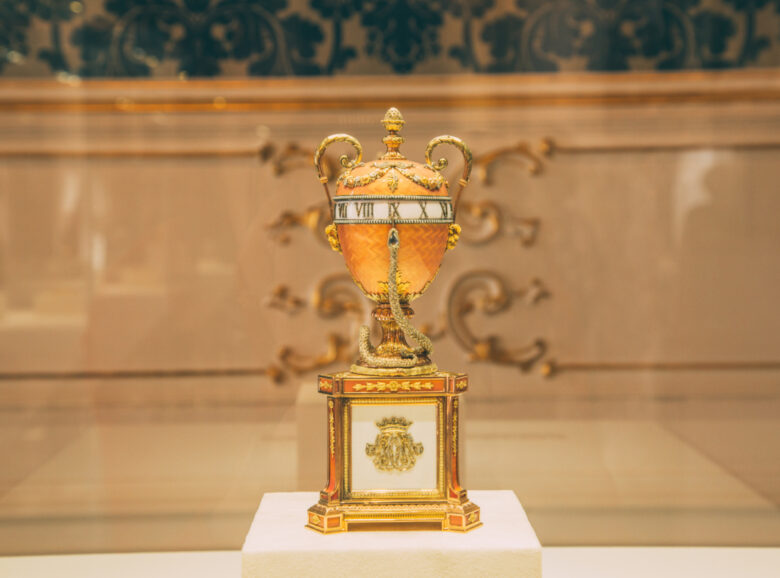 You can't visit Russia without hearing about the famous Fabergé eggs. You'll likely see large crowds gathered around their single display case in Moscow inside the Kremlin Armoury. However, the world's largest collection of these eggs belongs to the Fabergé Museum in St. Petersburg! (And the Fabergé Museum in St. Petersburg allows photos, unlike in Moscow.)
You might be wondering what in the world a Fabergé egg even is? (I didn't have a clue until I came to Russia.) And why would you want to see one anyways? This post will explain + give a brief overview of the museum and whether or not it's worth visiting while you're in St. Petersburg.
What is a Fabergé Egg?
These eggs are Russian works of art that were all made between the years of 1885 – 1917. This post is rather timely too, as these eggs were created as Easter surprises (and the Orthodox Easter is this Sunday here in Russia)! There are 57 of these jeweled eggs, and they were all created by the House of Fabergé, in St. Petersburg, Russia. The most famous of these creations are the "Imperial" eggs, which were made for the Russian Tsars Alexander III and Nicholas II as Easter gifts for their wives and mothers.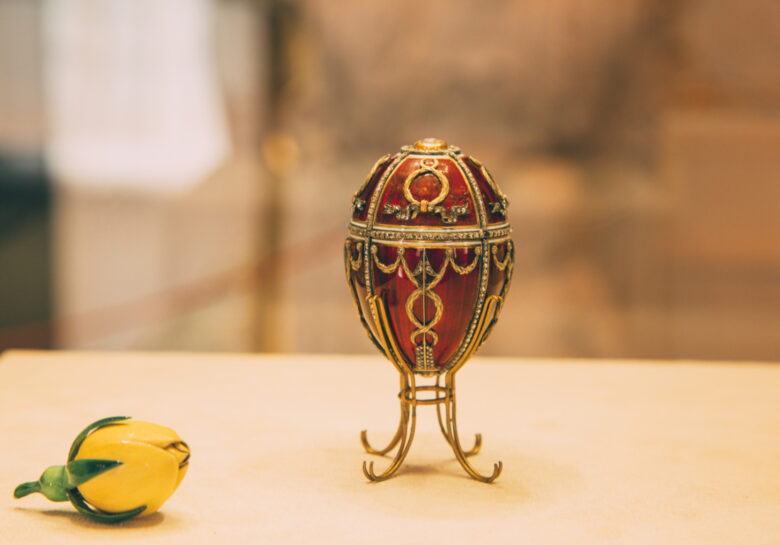 They each contained a little "surprise" on the inside too. Check out the egg below. This is "the Hen Egg" and it was the first one ever made. Inside the egg, there was a "yolk" made of gold. Inside the yolk was a little golden hen. And inside the hen were two tiny gifts: a diamond miniature of the royal crown, and a tiny ruby egg pendant that could be hung on a necklace. (Unfortunately, the crown and pendant are missing.)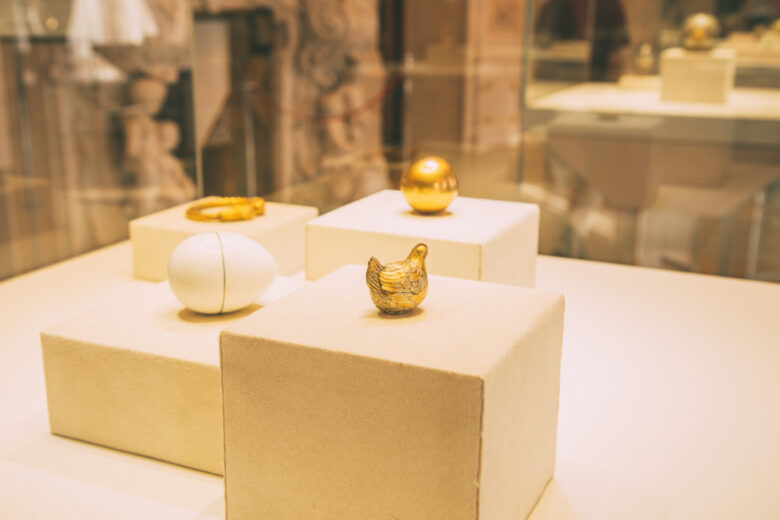 What Can You All See at the Fabergé Museum?
The Fabergé Museum is actually located inside the glamorous Shuvalov Palace. (I never get tired of all the palaces in St. Petersburg!) Of course, you can see the world's largest collection of Fabergé eggs, including 8 of "The Imperial Eggs." They're located in "The Blue Room." Check them out in the gallery, below.
Imperial Eggs
Other Fabergé Eggs
But they do have around 4,000 exhibits inside! These exhibits range from Russian silver works to rare Fabergé jewelry and household items (like dishes and clocks). There is also a room dedicated to military works of art and also stone carvings by Fabergé and other Russian artists. Take a look in the photo gallery, below.
I had to include a few shots of the rooms themselves as well. Check out how beautiful this museum is!
A Few Rooms Inside The Shuvalov Palace
Bottom line – Is it Worth Adding to Your St. Petersburg Itinerary?
I, personally, enjoyed visiting The Fabergé Museum. My roommate also enjoyed it so much, the only souvenir she purchased for herself while in Russia, was a trinket modeled after Fabergé's creations.
However, this, of course, depends on your interests. If you're not a fan of art or shiny, fancy things, the Fabergé Egg Museum is likely not for you. That being said, it's still a museum that only requires 1-2 hours to make your way through. If you're only going to see the eggs themselves you can make your way through the exhibit in less than an hour. (Even doing a private tour of the museum will only take 2 hours.)
The tickets to get inside the museum are also affordable. They are 450 rubles (roughly $7 USD). You can also rent an audio guide for 250 rubles. (We did this as well.) *Note, tickets are only available for purchase the day of.
With only needing to sacrifice a small amount of time and money to see it, I think you should absolutely consider adding this museum to your St. Petersburg itinerary.
My Favorite Egg(s)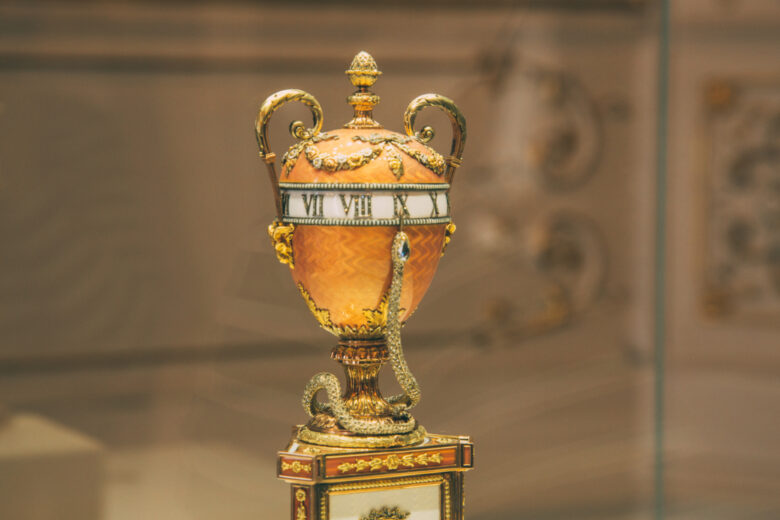 Also, everyone is going to ask you, "What's your favorite egg?!" after you visit. So, I thought I should share mine, haha. I loved "The Duchess of Marlborough egg," a.k.a. the Pink Serpent egg (because it's beautiful but also interesting – I mean, there's a snake on it.) …but I also loved the "Bay Tree Egg" because of how unique this design is in comparison to the other eggs.
Now, I'm curious, which egg is your favorite? And would you be interested in visiting this museum? Let me know in the comments!
*Click here for the official Fabergé Egg Museum Website, or click here to book a private tour of the museum.

Travel Insurance
It's a good idea, no matter where your adventure takes you, to have travel insurance. You never know what might happen! Whether you get sick before your trip and can't go, or you become sick or injured while on your adventure – being covered with travel insurance is a must. Some credit card companies do provide this service (check with yours), or you can get a quote from companies such as Squaremouth to find the best plan for you and your adventure. (This is the company I, personally, use. They are even recommended by Forbes!) To get a free quote, click here.
Visa Requirements
To check if your country requires a Visa for traveling to Russia, click here.
This article is now available as a mobile app. Go to GPSmyCity to download the app for GPS-assisted travel directions to the attractions featured in this article.
*Disclosure: some of these links are affiliate links. Meaning, if you click a link and make a purchase, Have Clothes, Will Travel gets a very small commission at no extra cost to you. Thank you for supporting the brands that make this blog possible! I am also a participant in the Amazon Services LLC Associates Program, an affiliate advertising program designed to provide a means for us to earn fees by linking to Amazon.com and affiliated sites.