How to Spend 2 Days in St. Petersburg During the Winter
Visiting St. Petersburg, Russia in the wintertime is a magical experience. You just have to be sure to bring some VERY warm clothes and adjust your itinerary accordingly. Certain famous attractions, like the Peterhof fountains, will be drained…and taking a canal ride? Yeah, that's not happening. But don't let that deter you – the beautiful, winter wonderland more than makes up for it, and perhaps you could replace that canal ride with a horse-drawn sleigh ride? (Yes, please!)
Now, two days means you are going to have to run to see all the highlights this beautiful city has to offer – but it is doable! As always, if you can afford more time, take it…but if you're like us, two days may be all that you have to spare. This itinerary is meant for people who want to see the main attractions, but have a very limited timeframe.
Click here for my Russia winter packing list for both men and women.
Itinerary – 2 Days in St. Petersburg During the Winter
*Day 1 – Visit the State Hermitage Museum + St. Petersburg's Most Important Cathedrals
The State Hermitage Museum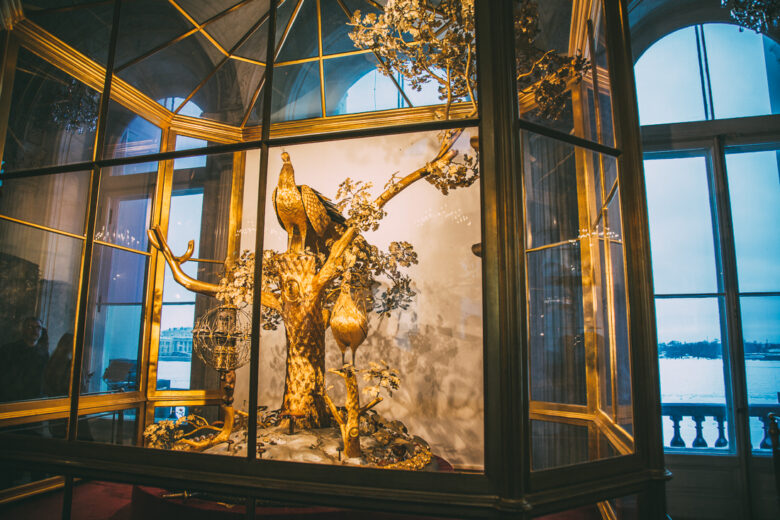 Seeing St. Petersburg's impressive cathedrals, as well as its awe-inspiring Hermitage Museum, are an absolute must! The Hermitage is home to 3 million works of art and is one of the most impressive museums I've ever toured. (Click here for more information on how to visit the State Hermitage Museum.)
St. Petersburg's Main Cathedrals
It is possible to tour 3 – 5 cathedrals in St. Petersburg in one day + the Hermitage – if you move very quickly. You could see The Church of the Savior on Spilled Blood, St. Isaac's Cathedral, St. Nicholas Naval Cathedral, Peter and Paul Cathedral and Kazan Cathedral. We made it to 4, but if I would have had a little more ambition (read: woke up earlier), we could have made it to 5. (Click here to learn more about visiting these cathedrals.)
There are a couple things worth noting when planning your itinerary. In winter, there is not much daylight in St. Petersburg. It didn't begin getting light out until nearly 10 am. Also, the vast majority of the places I'm suggesting are open from 10 am – 6 pm. At the time I'm writing this (February 2019), there are 2 exceptions to this – The Cathedral of Our Lady of Kazan & St. Nicholas Naval Cathedral both open at 7 am. You could begin at St. Nicholas, then go to Our Lady of Kazan then head to St. Isaac's Cathedral and so on. You would have to spend less than 1 hour at each cathedral and a maximum of 3 hours at The Hermitage, though.
*Day 2 – Catherine Palace + Pavlovsk Palace + Feodorovskiy Gosudarev Cathedral
For day 2, you'll be heading outside to the suburbs of Pavlovsk & Pushkin. I suggest beginning with Pavlovsk Palace and then going to Catherine's Palace. (You can click here to read more about these logistics.)
Pavlovsk Palace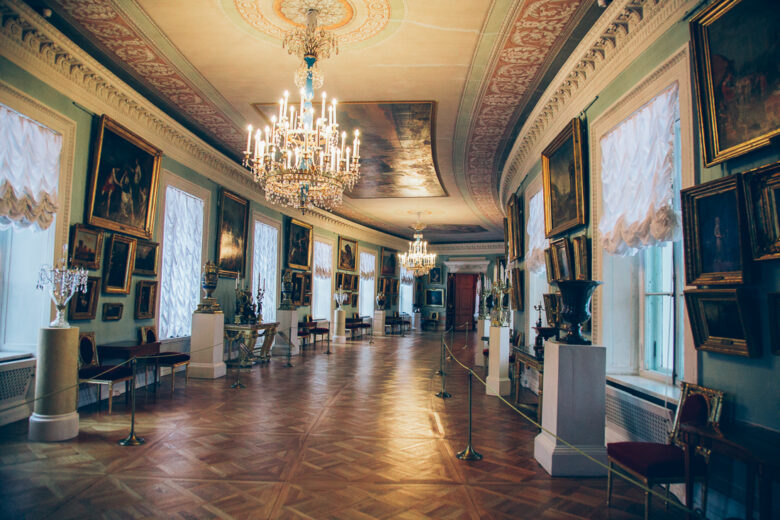 Pavlovsk Palace was honestly my favorite part of this trip. I loved it, not only because of its breathtaking beauty and history, but because it is SO quiet. There weren't hordes of tourists here vying for the perfect photo. I also loved wandering the grounds and seeing the horse-drawn sleighs. It felt as though I were in a fairytale. (Click here for more information about visiting Pavlovsk Palace.)
Catherine Palace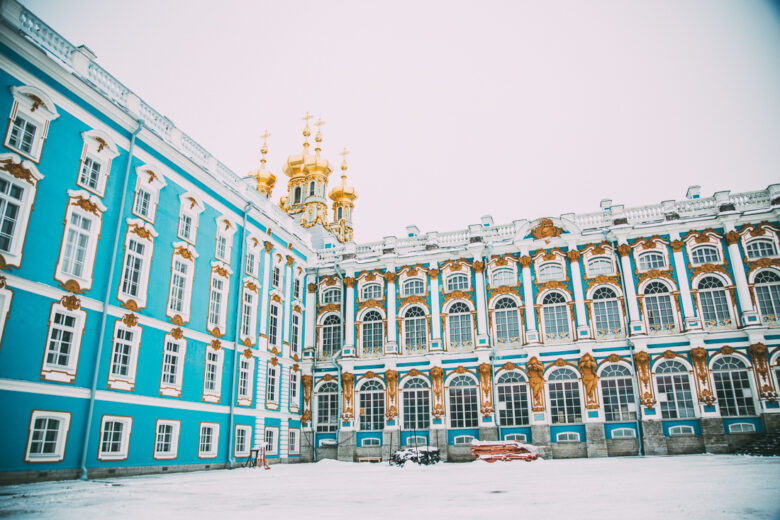 Catherine Palace is likely the most recognizable attraction on this list. Everyone wants to see this golden wonder. There are more than 200 pounds of gold decorating the inside of Catherine Palace + it's home to the famous "Amber Room." (Click here to learn more about visiting Catherine Palace.)
Feodorovskiy Gosudarev Cathedral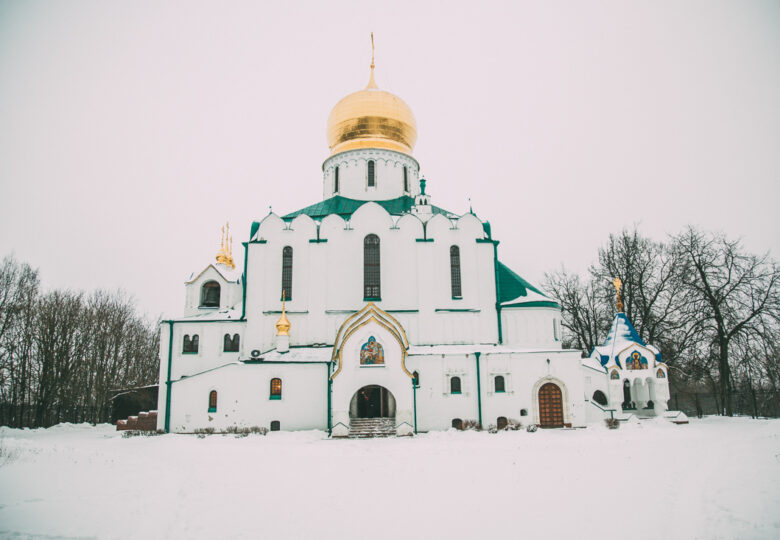 If you have the time, Feodorovskiy Gosudarev Cathedral is within a 10-15 minute drive of Catherine Palace. It is a very beautiful and quiet cathedral. Unlike the rest of the cathedrals, you'll find in St. Petersburg, this one will hardly have any people visiting it – but it is still equally beautiful, inside and out.
More Tips for Visiting St. Petersburg During the Winter
Take This Tour
If you want to see all of these things but don't want to figure out the logistics yourself – I highly recommend taking this two-day tour and asking for Eugenia as your guide. You will have the best tour of your life then! (Every time we have friends visit us – we take them on this tour. Eugenia never fails to be a wonderful guide!)
Transport – Take the Subway as Often as Possible!
The subway in St. Petersburg can be a tour in and of itself! (See the gallery, below.) It's incredibly beautiful and many signs are English friendly. Plus, you won't want to walk everywhere in the snow and cold.
*Note: Yandex & Gett Taxi apps will work in St. Petersburg. Use them if you want to take a cab.
Transport – St. Petersburg to Moscow
These photos I took on the Sapsan Bullet Train
If you're coming from Moscow or heading to Moscow next, taking the train is the best bet. This website will explain all the different trains you can take. However, if you're looking to get there the quickest way possible, take either the Sapsan bullet train or the Nevsky Express Train. Things to note:
Both trains cost almost the same.
The Sapsan is new and comfortable. It's akin to riding business class on an airplane. The Nevsky is pretty old and bumpy.
Both trains include a meal…However, the Nevsky will try to up sell you a cup of tea for a small sum of cash, whereas tea is included on the Sapsan.
So, why would you ride the Nevsky instead of the Sapsan? We did it just because it was the most convenient time available for when we were traveling. But, if you have a choice – the Sapsan is a WAY better experience. (I just thought it was worth noting that the Sapsan is not your only train option for 4 hours or less, if you can't get the time you want for the Sapsan.)
Where to Stay
I can't attest for every hotel in St. Petersburg, but we stayed at the Renaissance Baltic Hotel because we were able to use our Marriott vouchers there. It was a fantastic hotel with a really good breakfast spread. It was centrally located…I mean, we could see St. Isaac's Cathedral from our hotel room window. The staff was very friendly as well.
If you're a Marriott Elite snob like us, though, don't expect your status to mean much to the Renaissance Baltic Hotel. You can book using your points & vouchers here, but there's a good chance you won't get your free upgrades, free breakfast, points for checking in online, etc. unless you throw a little hissy fit. (Or just avoid throwing said hissy fit and reach out directly to Marriott – they'll make sure you get all of these things.)
Travel Insurance
It's a good idea, no matter where your adventure takes you, to have travel insurance. You never know what might happen! Whether you get sick before your trip and can't go, or you become sick or injured while on your adventure – being covered with travel insurance is a must. Some credit card companies do provide this service (check with yours), or you can get a quote from companies such as Squaremouth to find the best plan for you and your adventure. (This is the company I, personally, use. They are even recommended by Forbes!) To get a free quote, click here.
Visa Requirements
To check if your country requires a Visa for traveling to Russia, click here.
Click here for my Russia winter packing list for both men and women.
This article is now available as a mobile app. Go to GPSmyCity to download the app for GPS-assisted travel directions to the attractions featured in this article.
If anyone has any questions about visiting St. Petersburg, please feel free to ask in the comments section at the end of this post!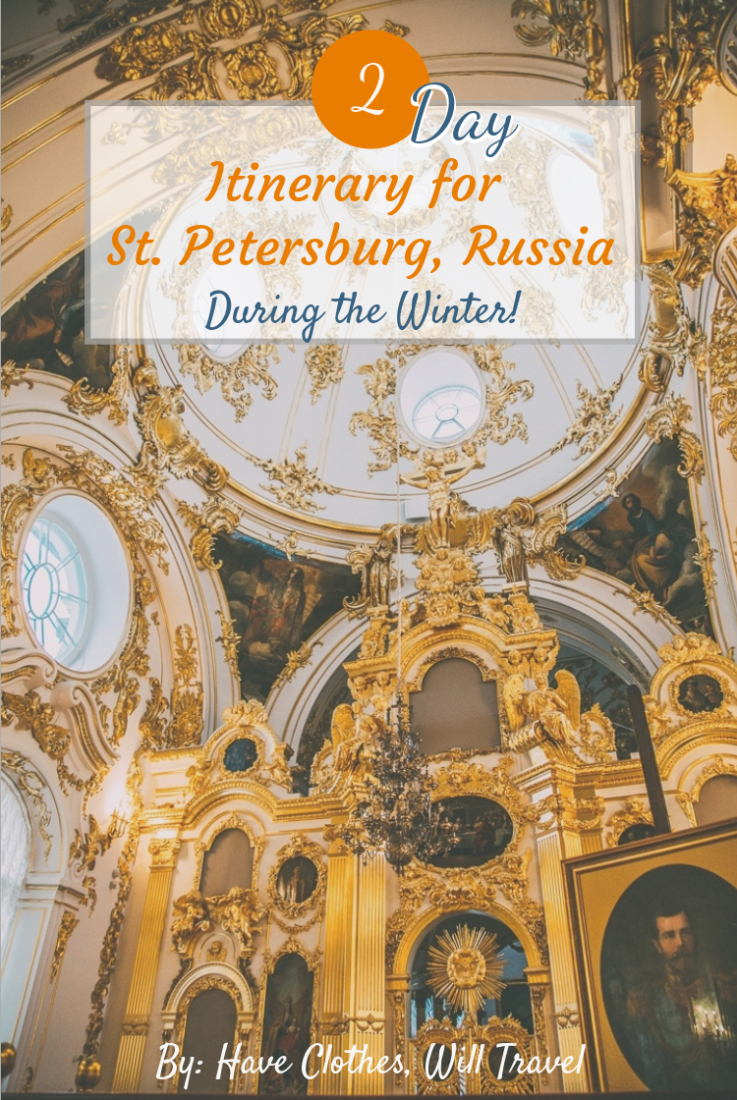 Disclosure: some of the links in this post are affiliate links. Meaning, if you click a link and make a purchase, Have Clothes, Will Travel gets a very small commission. Thank you for supporting the brands that make this blog possible!