The BEST High-Waisted Bikini + a $100 ModCloth Gift Card Giveaway!
*The $100 ModCloth gift card giveaway is at the end of the post.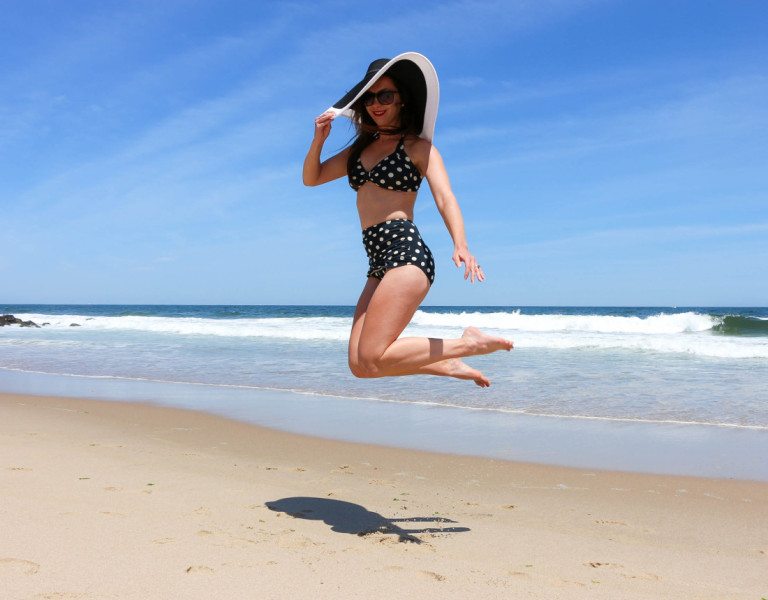 Swimsuit season is not too far away! For the last 5 years, this polka dot, high-waisted bikini has been my favorite swimsuit. It's incredibly comfortable, it's cute and it's held up remarkably well!
It's an Esther Williams bikini I bought from ModCloth more than 5 years ago, along with this giant sun hat. I had initially been deterred by the high price tag, but it more than proved to be worth it! I mean, I've had it for 5 years and have worn it on countless adventures, and it's in great shape still. (And if the high price tag deters you – enter the $100 ModCloth gift card giveaway at the end of this post!)
Comfort
I especially love how well the bottoms fit, and I'm not constantly picking a grundy while wearing it (which is something that happens frequently with women's swimwear). The top is super-comfortable for me as well. However, please note, it's not for everyone. If you're used to a ton of support on top, this one isn't for you. It's enough support for my cup size, but again, it may not be for you.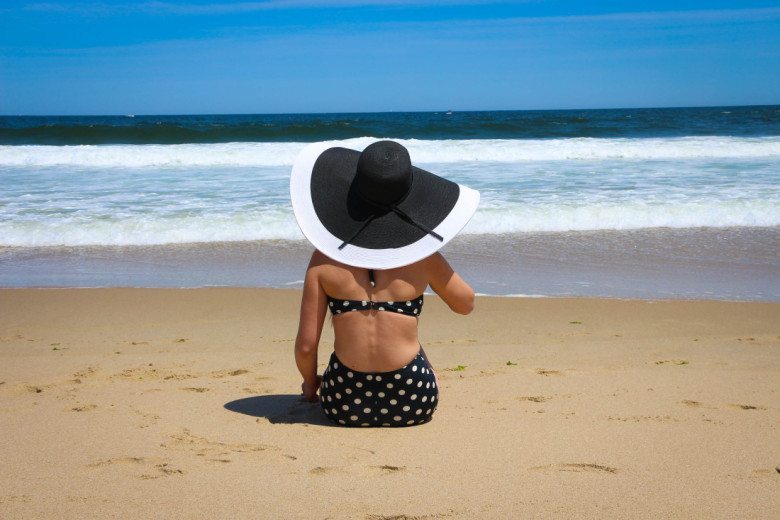 Sizing
You can now order this bikini top and bikini bottoms in two separate sizes. When I bought it years ago, you had to buy them in the same size. I ordered an 8 in both and, luckily, they were both a great fit. I'm typically a size 6, but this suit runs small. Definitely, check the size chart and SIZE UP if you're in between sizes. (It's available in sizes 6 – 24W!)
Colors
If you don't like the black and white color combo of this bikini, it is also available in a gold and black combo and also red and white combo, now! You can check out the different color variations here.
Wearing My High-Waisted Bikini Throughout the Years
I've worn it far more than what is pictured, below! However, these are some photos and adventures I've documented wearing it for the blog! Enjoy – and don't forget to enter the $100 ModCloth gift card at the end of the post, so you can order your own high-waisted bikini (or whatever you want)!
1.) Camping in the Northwoods (Wisconsin)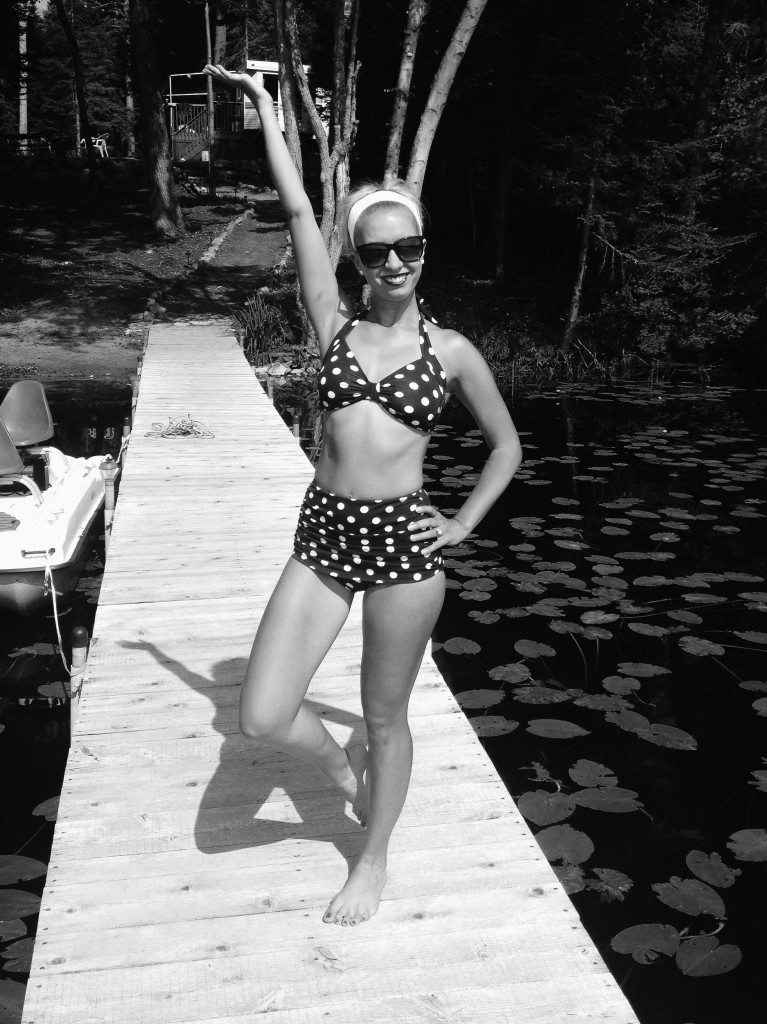 The first time I ever featured this bikini on my blog! This was camping at my parent's cabin in the Northwoods (Wisconsin).
Click here to see the full post.
2.) Manasquan Beach (New Jersey)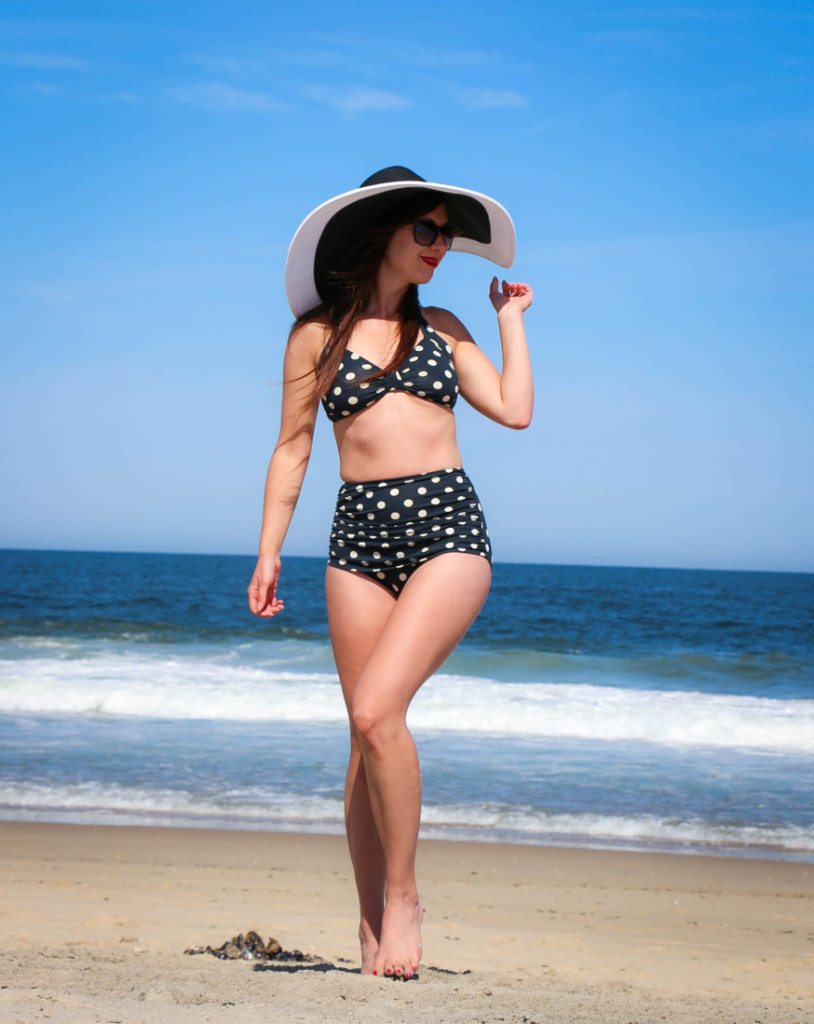 Did you know I used to live in New Jersey? The Jersey Shore sure is lovely! I loved going to Manasquan Beach.
Click here to see the full post.
3.) Shark Cage Diving! (Cape Cod)
Shark cage diving was not nearly as terrifying as I thought it would be. It was actually a really interesting experience! And this bikini was perfect for it as well! (That's quite a selling point "great bikini for shark cage diving." Haha.)
Click here to see this post.
4.) Snorkeling the Great Barrier Reef (Australia)
From shark cage diving to snorkeling the Barrier Reef…this swimsuit has been perfect!
Click here to see this post.
5.) Parasailing (Myrtle Beach)
I know you can't tell in this photo – but I swear I'm wearing this high-waisted swimsuit while I'm parasailing. It was great for this adventure, especially, because at the end of your parasail, they dip your bottom half in the ocean. If you're not wearing bottoms that fit you well – it might not end well!
Click here to see this post.
6.) Banya! (Russia)
This bikini was also great to wear while sweating to death in a Russian banya, getting beat by birch twigs and then jumping into a frozen lake! (Yeah, it's quite the experience. Gotta love Russia!)
Click here to see this post.
7.) Dead Sea (Israel)
This is, perhaps, the biggest testament to how well this swimsuit has held up over the years. I recently wore it into the Dead Sea while in Israel…and it still looks great! Because of the Dead Sea's high salt concentration, there's a very good chance it'll ruin your swimsuit. However, mine is still in great shape! I'll likely put it to the test again when I'm in Jordan next month!
Click here to see this post.
$100 ModCloth Gift Card Giveaway – So, You Can Get Your Own High-Waisted Bikini!
And now, so you can get your very own high-waisted bikini (or whatever you want), enter my $100 ModCloth gift card giveaway! Be sure to enter in the widget below for your entries to count. I'll contact the winner by email and then display their first name and the first initial of their last name in the widget. I'll be picking and announcing the winner after I return from my Egypt/Jordan adventure. Best of luck, everyone! (*Click here to shop on ModCloth!)
Have Clothes, Will Travel $100 ModCloth Gift Card Giveaway!

*If the widget is not loading – this is likely because your browser is blocking cookies. Please make sure your browser is not blocking cookies, or it'll take forever and a day to load. You can also click here to enter.
Where to find it:
Swimsuit: Esther Williams
Hat: Amazon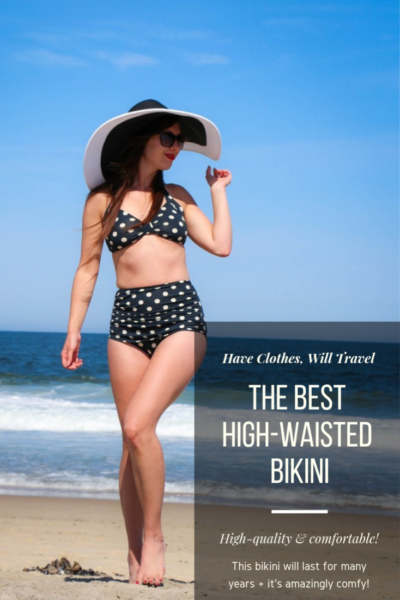 *Disclosure: some of these links are affiliate links. Meaning, if you click a link and make a purchase, Have Clothes, Will Travel gets a very small commission at no extra cost to you. Thank you for supporting the brands that make this blog possible! I am also a participant in the Amazon Services LLC Associates Program, an affiliate advertising program designed to provide a means for us to earn fees by linking to Amazon.com and affiliated sites.
*c/o = courtesy of, meaning the company gave me the product to be used on my blog, and I did not pay for it. All opinions are my own, and I am not being compensated for a positive review.