"Weren't you scared?!" That is always the first question everyone asks when we tell them about our shark cage diving experience in Cape Cod. While being in the same waters as sharks should be terrifying, our shark cage diving adventure wasn't the stuff nightmares are made of…it was actually a lot of fun.
We saw one mako shark while we were still on the boat, and I think being in the water for that would have been rather frightening, as mako sharks are quite aggressive. But the sharks we were seeing throughout the day were blue sharks. They aren't as aggressive as say, a great white, and rarely bite humans. They were actually really pretty, in my opinion.
I should also mention that our captain was baiting the sharks to come up by us stinky humans, that's why you'll see the white line in the video and photos. However, there's no hook or anything on it (they weren't hurting the sharks by any means), the dead fish was just tied together tightly, so the shark had to work for it a bit.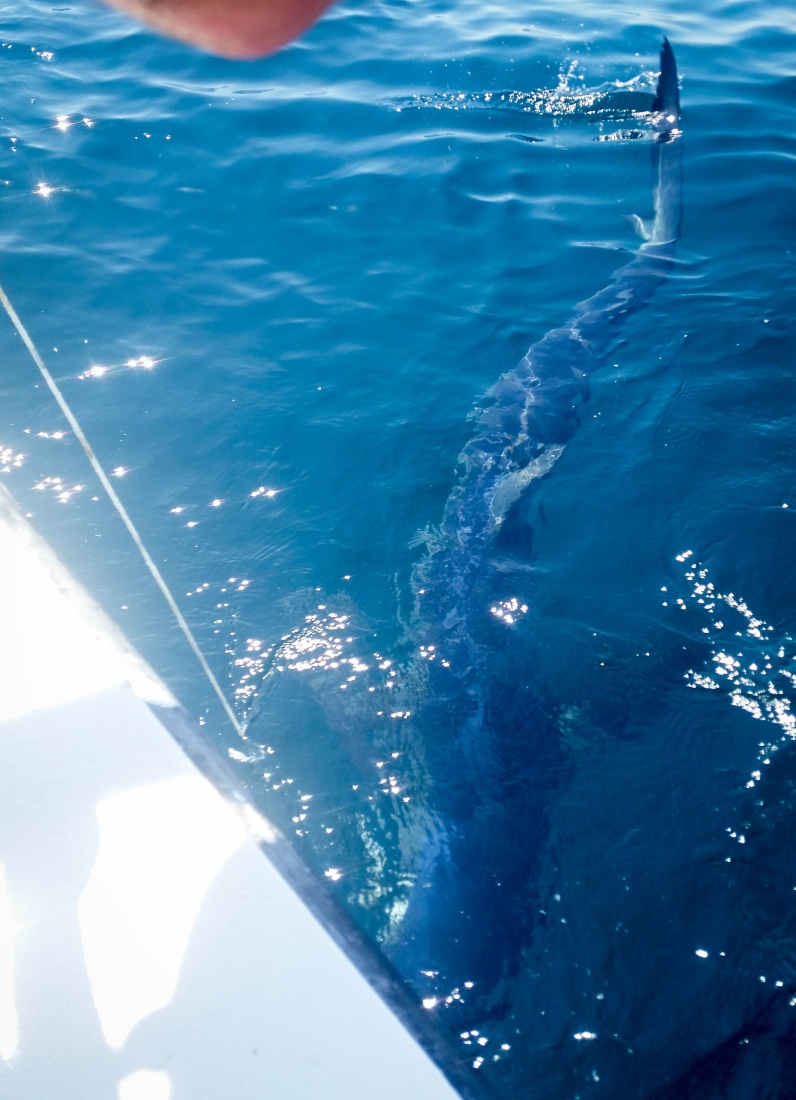 And I should apologize for taking so long to put this post together! It feels like it's been eons since we were on vacation in the Cape Cod area! I had the hardest time getting this video edited properly, though, mainly because I couldn't find a video editing software I liked, but I think I've finally found the one!
And my husband gets all the credit for filming this video. I had my knees and hands in front of the GoPro for all but one shot. I am not good at filming at all, but thankfully, my husband knew what he was doing. (He's also really happy that that's in writing, now. Haha.)
Without further ado, here is our shark cage diving video!
As you can see in the video, there were always two people in the cage at a time. While this offered everyone on the boat more chances to be in the water with the sharks, it also made it a bit difficult to see/film with two people in there. My husband and I were never in the cage at the same time, as we wanted one of use to be wearing the GoPro and the other to be taking photos above water (just in case you wondering what was going on with the video, there was another nice family from Boston who was with us).
We were also wearing snorkeling gear. The problem with the snorkeling gear, though, was that it wasn't very long and the sharks liked to be deeper in the water than that! So, we were basically just holding our breath while we were underwater watching the sharks (that's why we would keep coming up for air in the video, haha).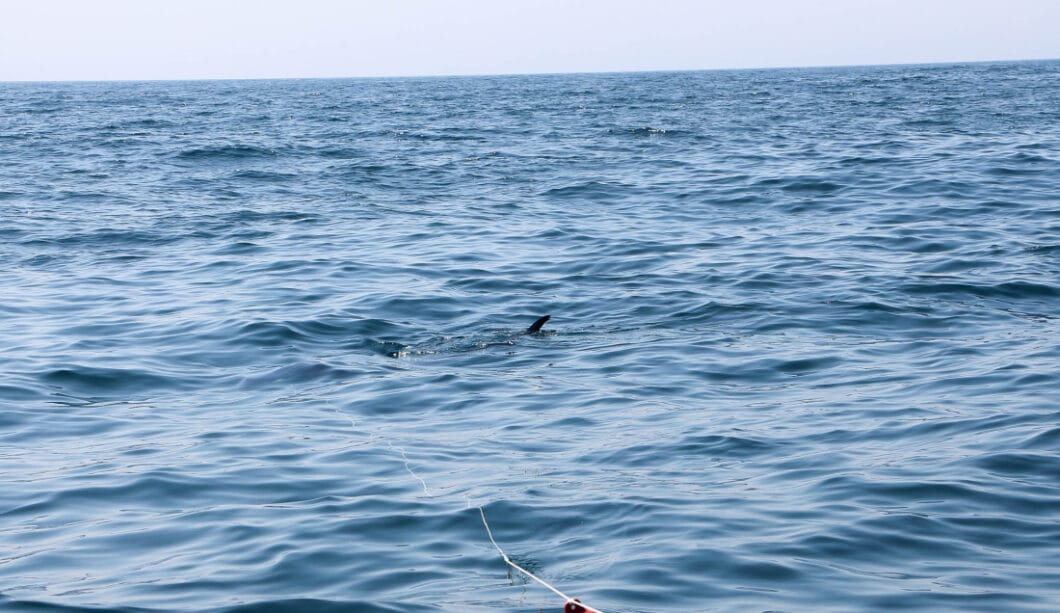 That being said, though, this was a really exciting day! And a good way to get our feet wet, so to speak, and try out shark cage diving in a safe environment. I would highly recommend Captain Vinny of Bounty Hunter Charters if you are interested in shark cage diving while in the Cape Cod area! He and his mate were a great time, and incredibly friendly and professional the entire time we were on the trip. And the trip took over 6 hours. It was 2 hours to get to where the sharks were, 2 hours of diving and 2 hours to get back to land – definitely bring Dramamine if you haven't spent much time on the water. Not everyone on board fared too well that day, and I found myself getting a bit queasy on the ride out there. Oh, and bring lots of water and sunscreen!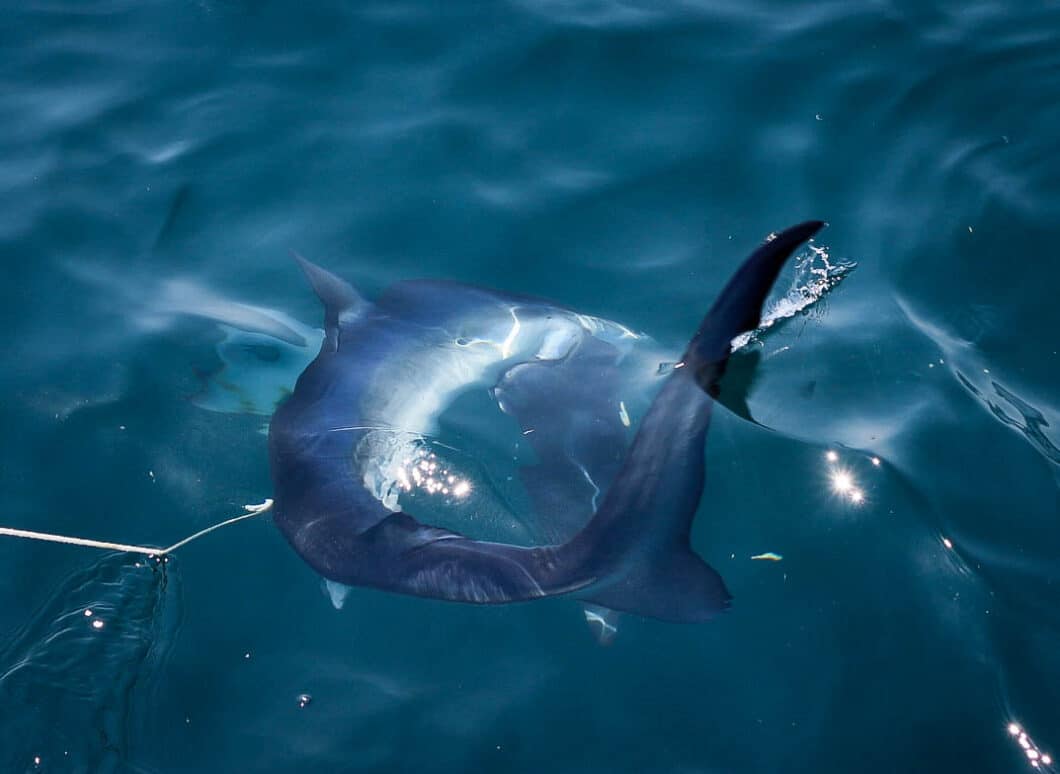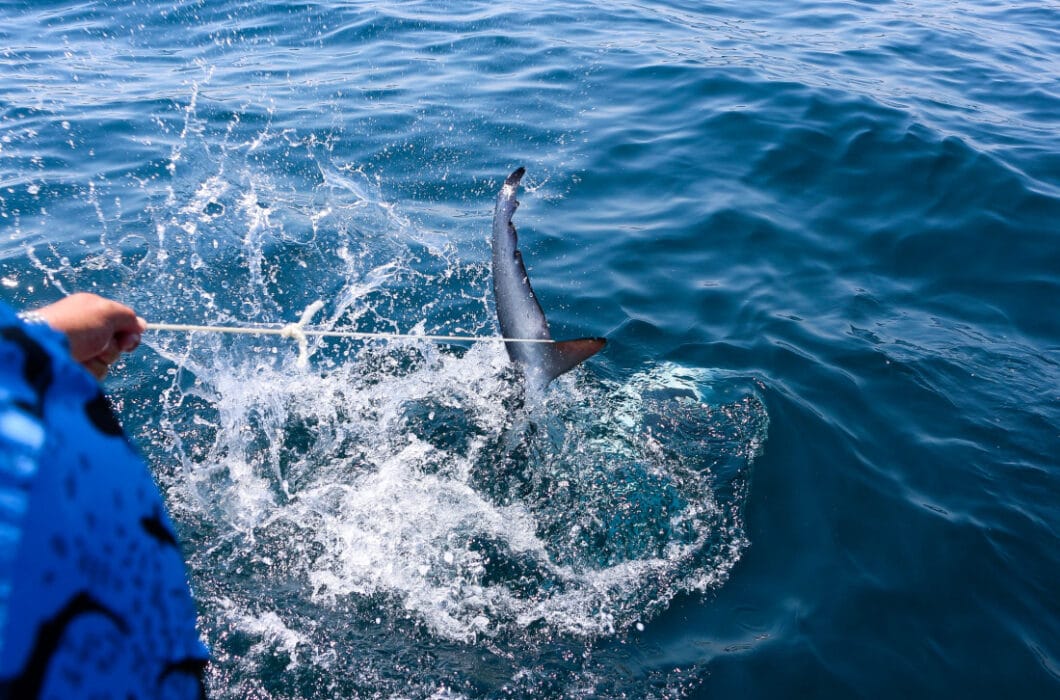 If you don't love the idea of jumping in the water with the sharks, but would still like to be able to see them up close…I honestly felt I had just as good of a view, if not better at times, while I was on the boat. They do let you do "ride alongs" and there's a different price, if you're not getting in the cage.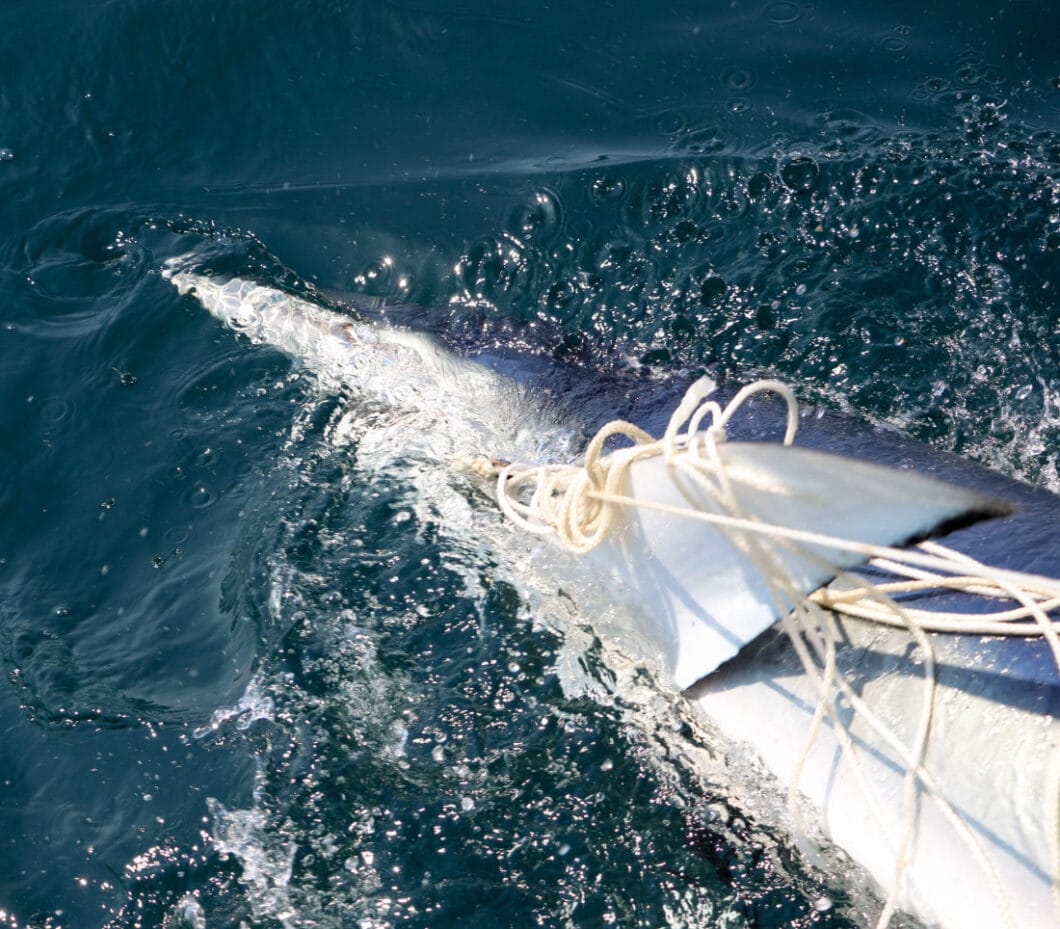 On our way back to shore we were able to stop and admire the scenery, too. So, you don't have to worry about just seeing water on the 2 hour trip! There's also chances to see wildlife (whales, bird, dolphins, etc.). I really wish I could tell you what the name of the beautiful scene behind us is, but I am drawing an absolute blank on it. (Terrible blogger – I know!) Either way, it sure was pretty, and a nice way to break up the trip.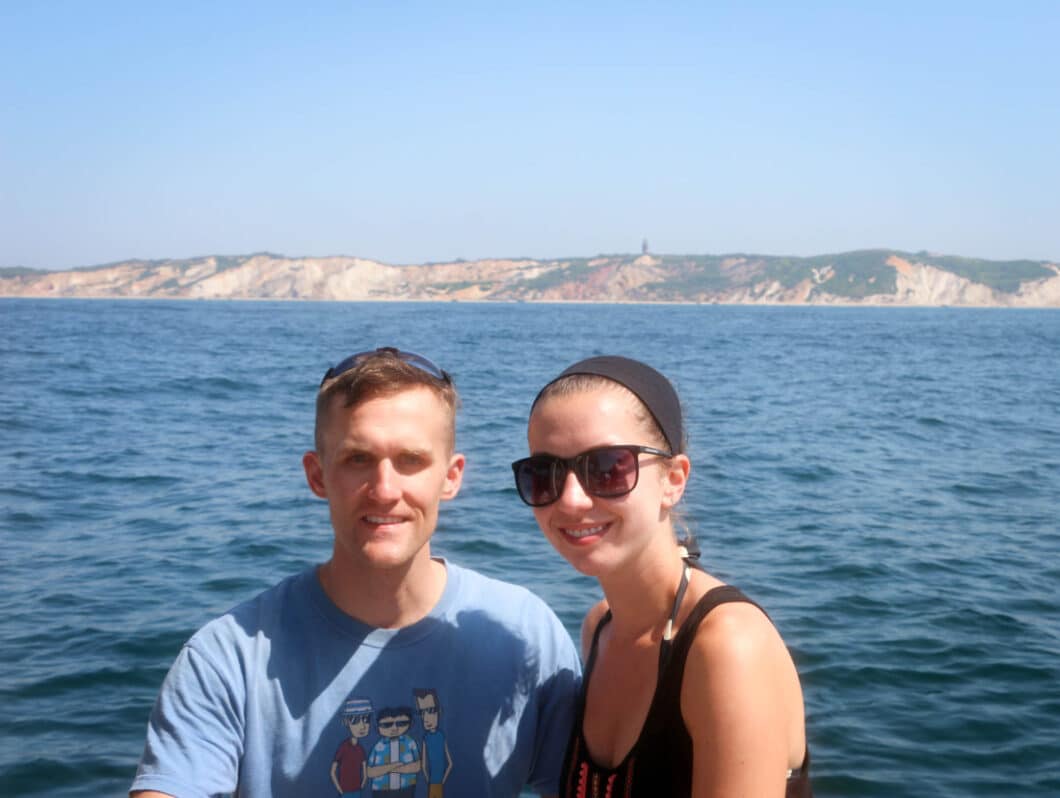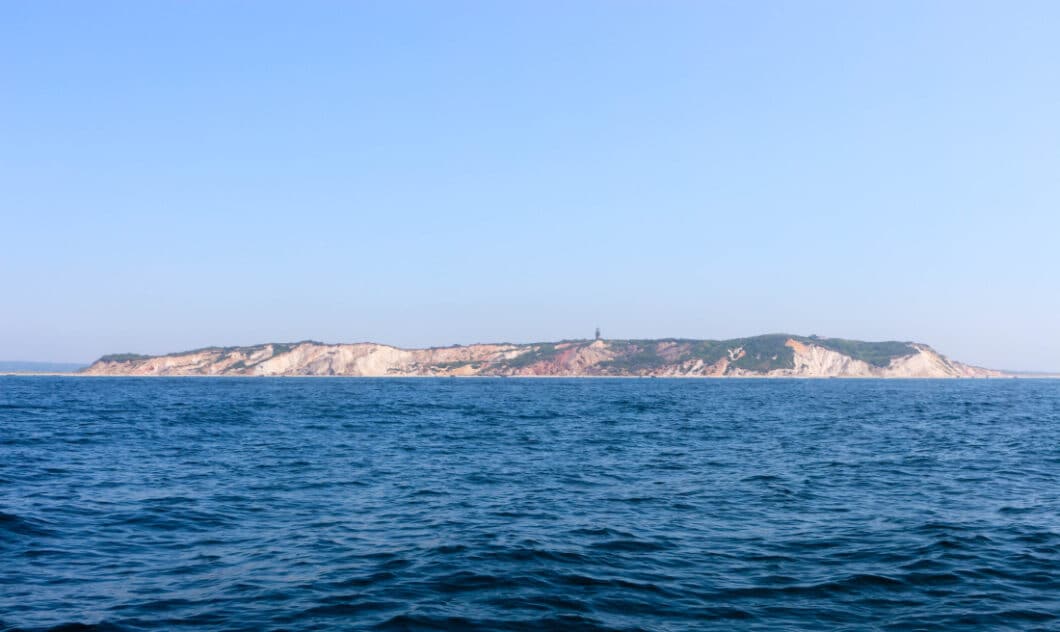 Cape Cod Shark Adventures launches out of several different areas in Massachusetts, however, when we asked..they said their Fairhaven location was the best spot. So, Fairhaven is where we launched, and we stayed in New Bedford (right next to Fairhaven). If you ever find yourself in this area, you have to check out The Black Whale! It was a fantastic restaurant on the water with a great combination of upscale dining, yet a relaxed atmosphere (and the prices weren't bad either). I highly recommend ordering their appetizers and sides and having a tapas style dinner while there (that's actually what Captain Vinny, recommended and it was spot on!). That was seriously one of the best dining experiences I have had in a long time.
I will end this post with a few more photos from the day. And if you interested in coming face-to-face with sharks while in the Cape Cod area, click here to check out the company we booked through and click here to check out Captain Vinny's website!
Has anyone else ever gone shark cage diving? And if not, would you do it, given the chance? Let me know in the comments!
*Polka swimsuit is from ModCloth.