20 of the Coolest Anna Maria Island Vacation Rentals
Anna Maria Island beckons to anyone looking for a laid-back and serene beach vacation. It's one of the most popular barrier islands on the Gulf Coast of Florida, featuring a seven-mile strip of powdery white sand and clear, aquamarine waters. The low-rise island exudes an enchanting old-Florida beach town vibe seen in its quaint cottages, historic piers, and homes dating as far back as 1911.
You can find unique seashells, spot a dolphin or two, or simply walk along the white sand beach full of seabirds. (You can even go horseback riding + swimming on horseback – highly recommend it!) Visitors will also love exploring the three communities that make up this cozy beach town: Bradenton Beach, Holmes Beach, and the Anna Maria municipality. So, if you're ready to experience the wonders of this carefree island, check out these luxury vacation rentals on Anna Maria Island for some vacation inspiration!
Disclosure: some of the links in this post are affiliate links. Meaning, if you click a link and make a purchase, Have Clothes, Will Travel gets a very small commission. Thank you for supporting the brands that make this blog possible!
Best Beachfront Anna Maria Island Vacation Rentals with Pools

Stunning 7-bedroom Beachfront Property with Pool and Bungalow

Tucked alongside the emerald waters of the Gulf of Mexico is the "Tiki", a private paradise rental featuring two structures: a newly-renovated 1930s beach bungalow and a 2-story building. Oolitic limestones and lush tropical foliage set the unique and exclusive vibe of the Tiki, and with added luxury resort-like amenities including the pool with amazing beach views, guests will never want to leave.


Super-styled 5-bedroom Nest on the Beach Home with Pool

Guests can fulfill their elegant dream beach holiday here at Nest on the Beach, a bright and cozy 5-bedroom luxury home furnished with stylish decors and modern amenities. Coconut palm trees and sea oats surround the property; and the sprawling beach landscape sets the whole, tranquil mood. Relax on the sunny deck, balcony, or soak in the spacious pool and tub with sea views.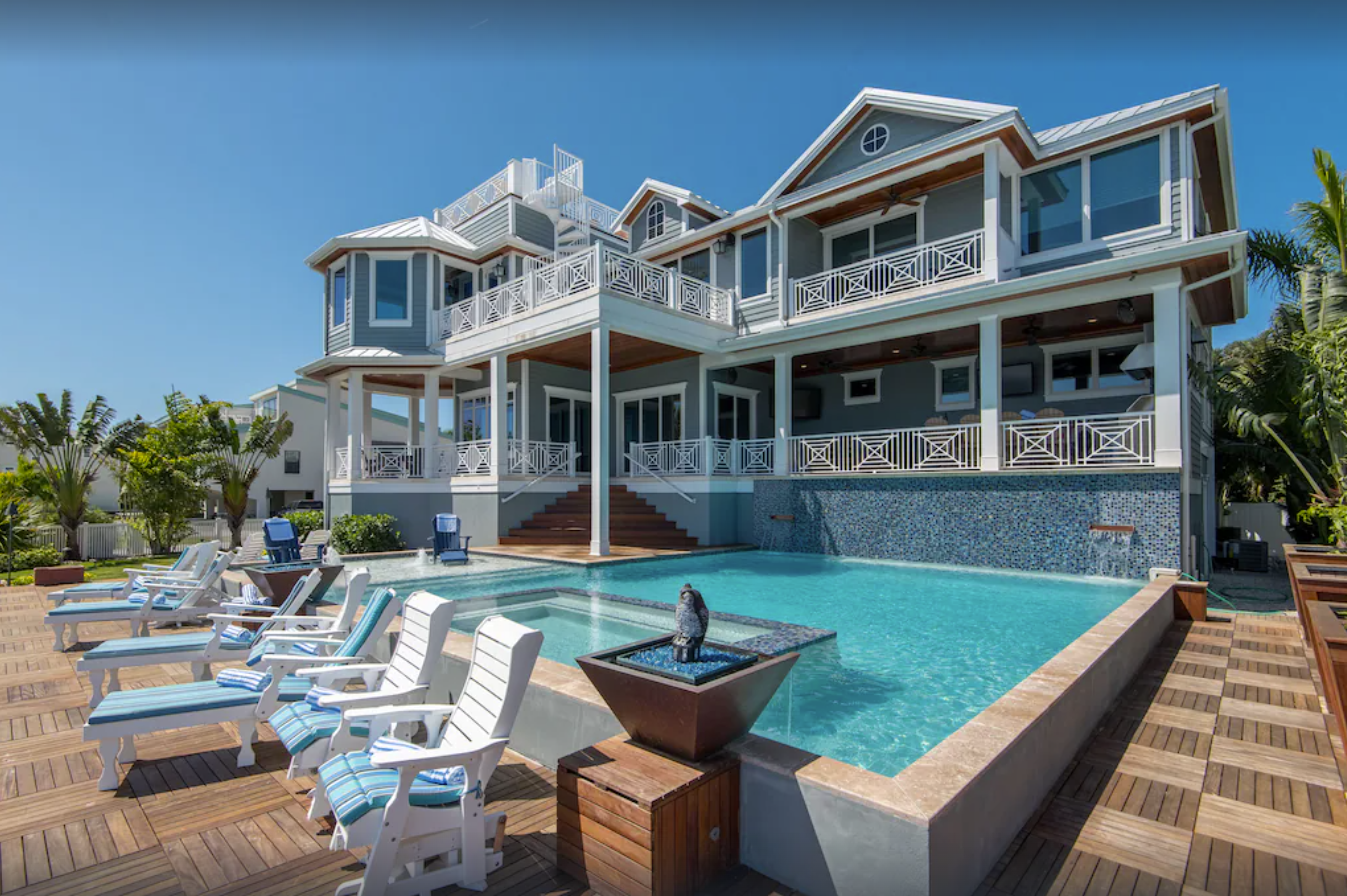 Stunning Bay and Gulf Front Home with Resort-style Pool

This 6500 sq. ft 7-bedroom luxury rental has the best of both worlds as it features stunning gulf and bayfront views best seen on the rooftop deck. The resort-style private heated pool with an oversized hot tub is a must-try, as well as the private dock and multiple balconies with sweeping views of the beach landscape.

Multi-level 4-bedroom Beachside Home with Heated Pool

An experience of a lifetime awaits guests in this multi-level luxury beachfront home just south of Holmes Beach, and the property is surrounded by Australian Pine Trees and sea oats. Tranquil gulf views and pristine white sand are a few steps away, meanwhile, high-end decors and whimsical artworks by local artist Bobbi Pickens furnish the property's interior. Florida sunsets are best enjoyed on the back patio or the heated pool when relaxing outdoors.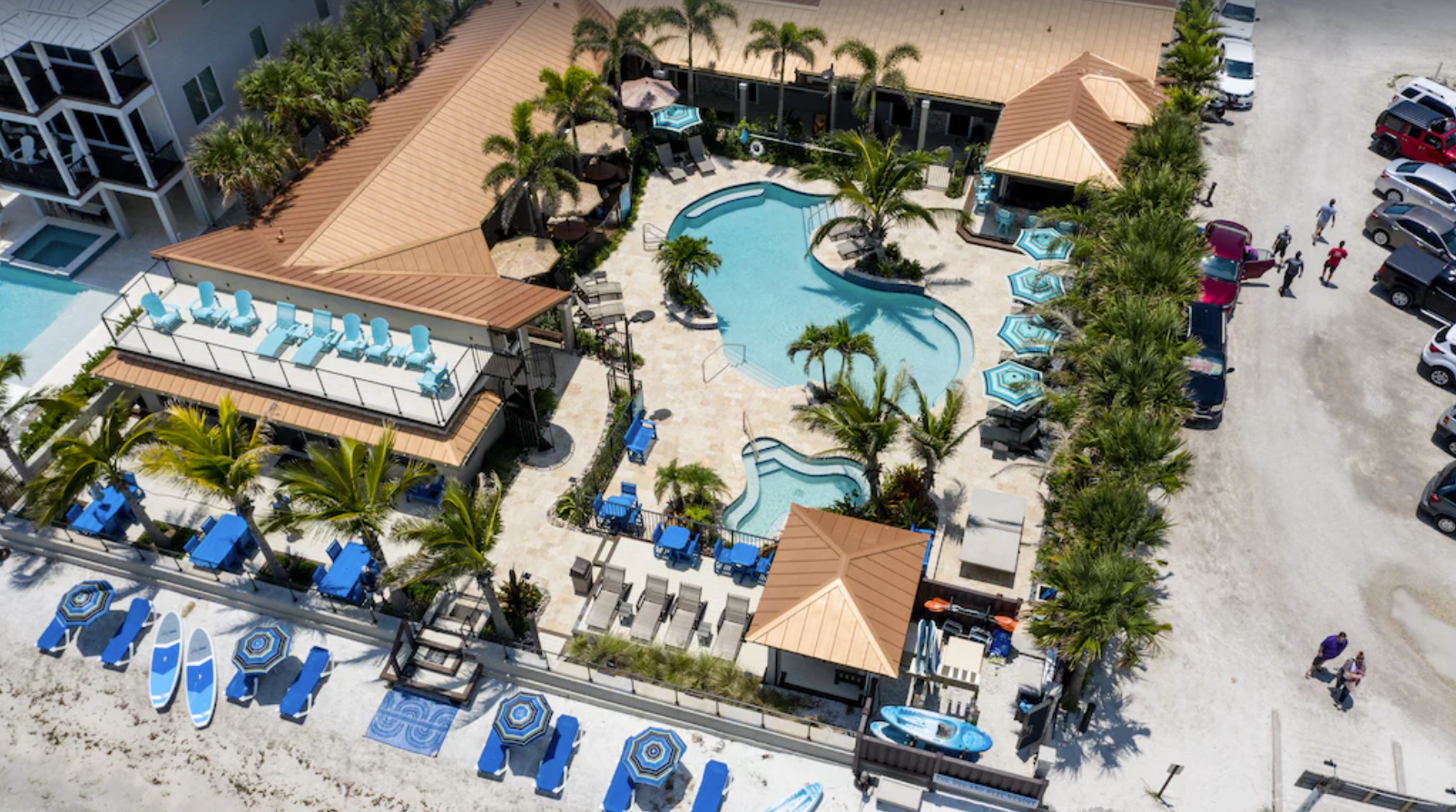 Private Island Resort Near Historic Rod and Reel Pier

A premier waterfront destination that can accommodate up to 30 guests; this private rental is adjacent to the historic Rod and Reel Pier and Beach Point. It features an 11-bedroom, 8-bathroom setup, with a spacious pool, and all-inclusive amenities including kayaks, bikes, paddleboards, a poolside gazebo, and a tiki lounge area for the ultimate tropical island experience.

Direct Gulf Front 9-bedroom Home with Private Heated Pool

The Blue Horizon is a 9-bedroom, 8-bathroom home with direct gulf access. Two buildings make up the luxury property, the main beachfront that has six bedrooms, seven bathrooms, and two kitchens while the other is a separate guest room with a three-bedroom, two-bathroom, and two-kitchen setup. There's also a private heated pool with a hot tub that can accommodate 10 guests.


Elite Bayfront "Island Grand" Home with Pool and Tampa Bay Views

Wonderful hues of the beach and sky blend together to create splendid paradise views in this 5-bedroom elite bayfront home with a heated pool + bathtub. Spacious balconies are built off the second and third floors with sweeping views of Tampa Bay and the Skyway Bridge that can also be seen in every corner of the property. There are beach furnishings and also an open-concept living area and a relaxing deck to complete the guests' marvelous vacation.
Luxury Gulf Front Vacation Home with Resort-style Deluxe Pool and Spa

A welcoming tropical haven for beachgoers, this 6-bedroom luxury vacation home embodies nothing but comfort and convenience. There's an open-air deck for some peace and quiet, as well as a private dune walkover that takes guests directly to the beach. The piece de resistance is the resort-style deluxe pool with spa paired with sweeping views of the gulf.
6-bedroom Angel Sea Home with Private Pool Oasis

This 6-bedroom, 4-bathroom private piece of paradise is only a block away from the beach and is centrally located to all the essential shops. Angel Sea has large windows and spacious balconies to let in the Florida sun and breeze and comes fully furnished with modern amenities including an oasis-like pool surrounded by swaying palms and tropical foliage.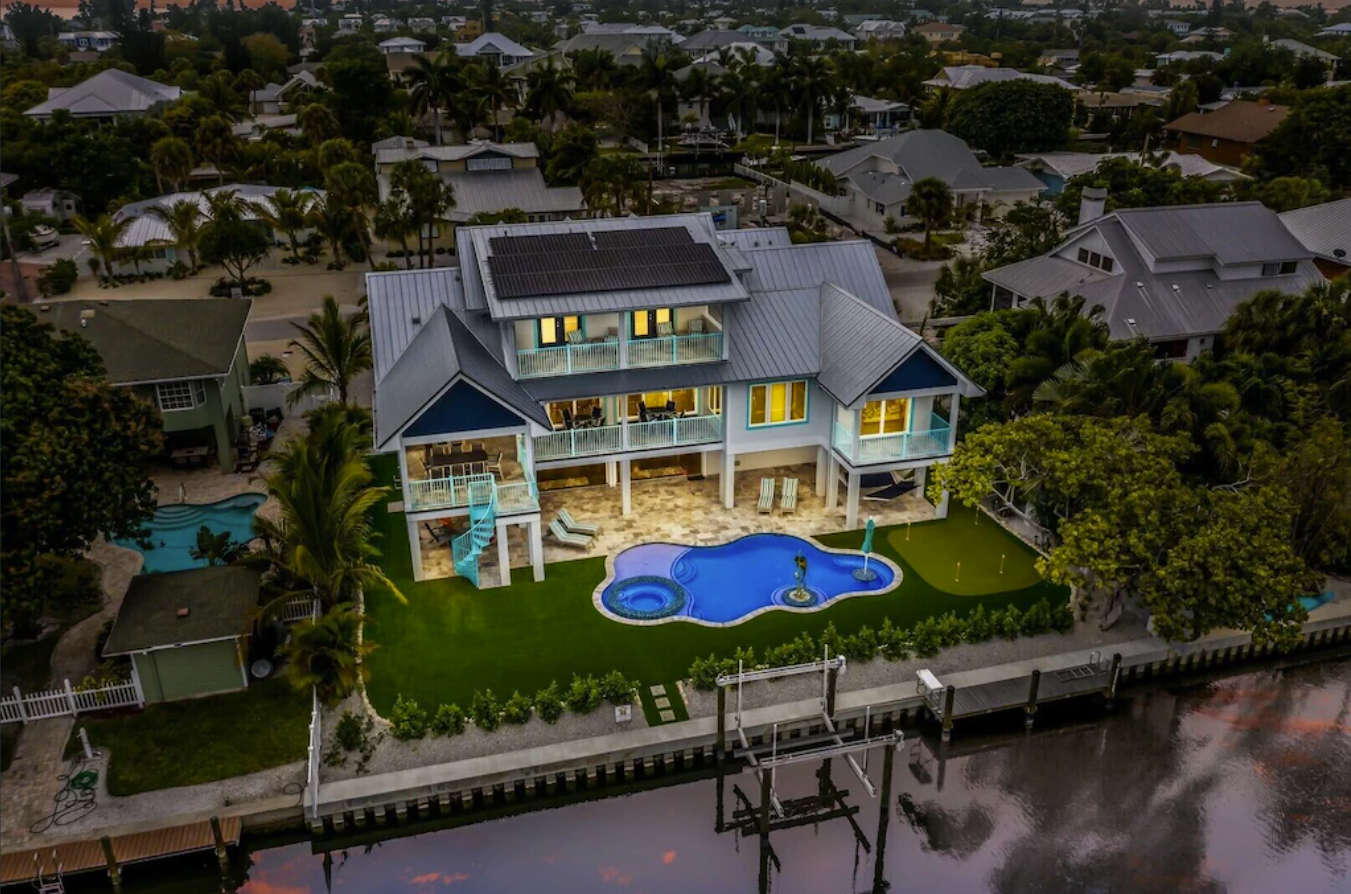 3-story Beachfront Home on Canal with Pool and Game Room

Snook Lookout is a 5-bedroom, 6-bathroom luxury beach vacation rental situated on a canal and is only 1.5 blocks to the beach. Feel and breathe in the island breeze from the lovely verandahs and balconies on every level of the property and take a relaxing dip in the spacious lagoon-shaped pool. Prep a hearty meal in the gourmet and summer kitchen decked with BBQ grill and patio dining.

7-bedroom Ocean Star Home with Pool and Beach Views

If sweeping views are what guests are after, then Ocean Star has plenty. The rooftop deck and balconies of this 7-bedroom, 7.5-bathroom property has a bird's eye view of Anna Maria Island, as well as the gulf and bay waterways. It also features a full open kitchen, a covered patio with outdoor seating, and a gorgeous heated pool.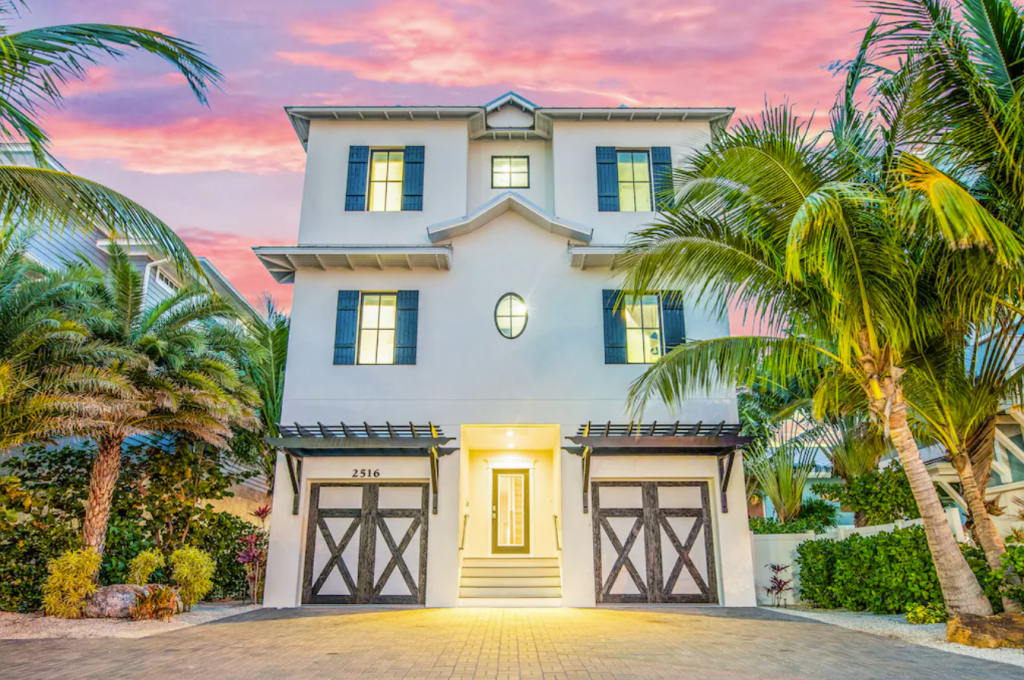 Luxury Sea Swept Home with Pool and Rooftop Deck

Sea Swept is a 10-bedroom, 9-bathroom luxury home that caters to multi-families or large groups on a Florida holiday. Amazing sunsets can be viewed even when inside the home or through the spacious rooftop deck and balconies with stunning beach views. Take a dip in the property's private pool with spa or walk along the shores of the private beach at the back.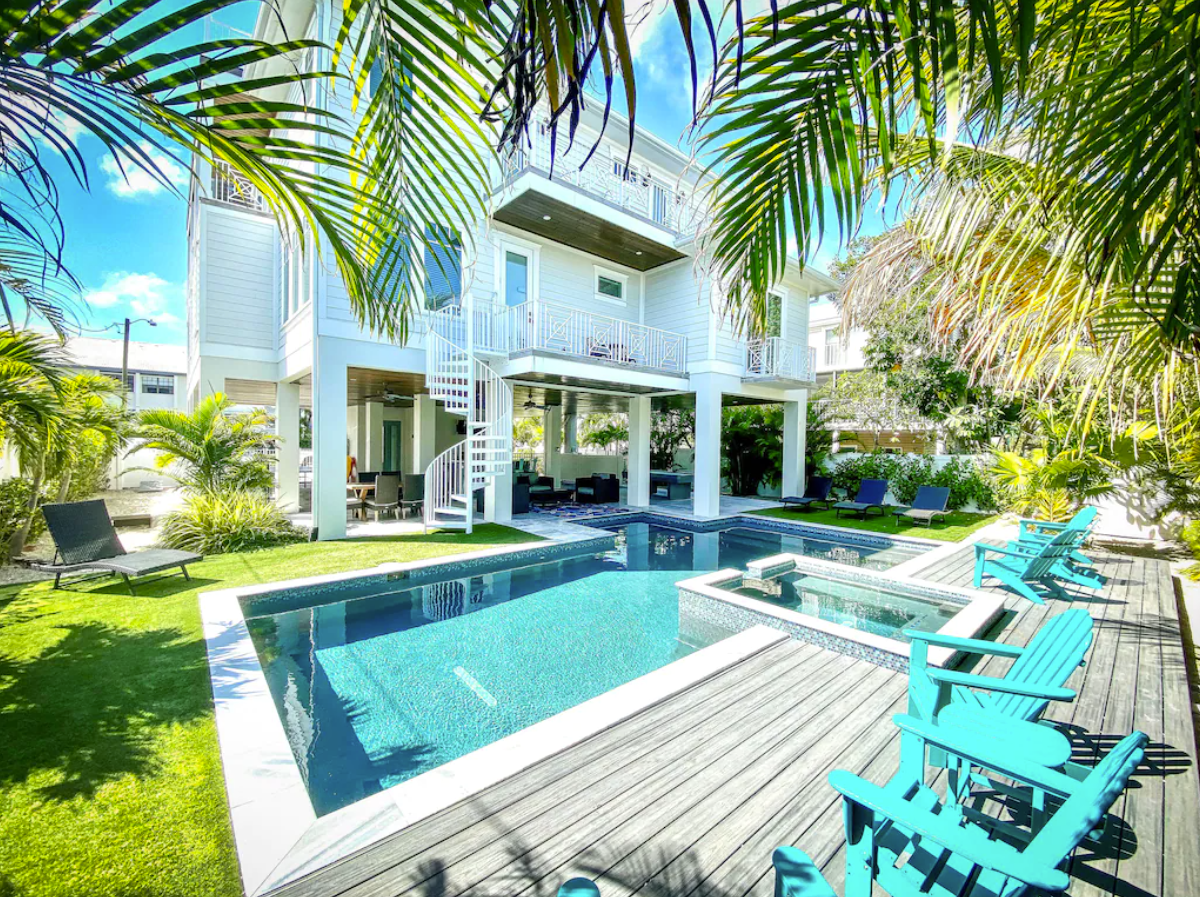 Luxury "The Ritz" Home on Beach Block with Pool and Beach Access

The Ritz is an open, welcoming luxury property designed to feature partial views of the coastline and gulf through its large windows and sliding glass doors. On the rear part of the home is a spacious balcony with access to the pool area, while the main ground level features the covered patio loungers.

8-bedroom Beachfront Paradise with Private Pool and Spa

This 8-bedroom, 7-bathroom luxury beachfront property makes happy hours and sunset viewing at the pool a remarkable experience. It features an open floor plan with a large gourmet kitchen and private access to the striking white sand beach of the island. Guests can make use of the available beach chairs and carts while frolicking on the shores.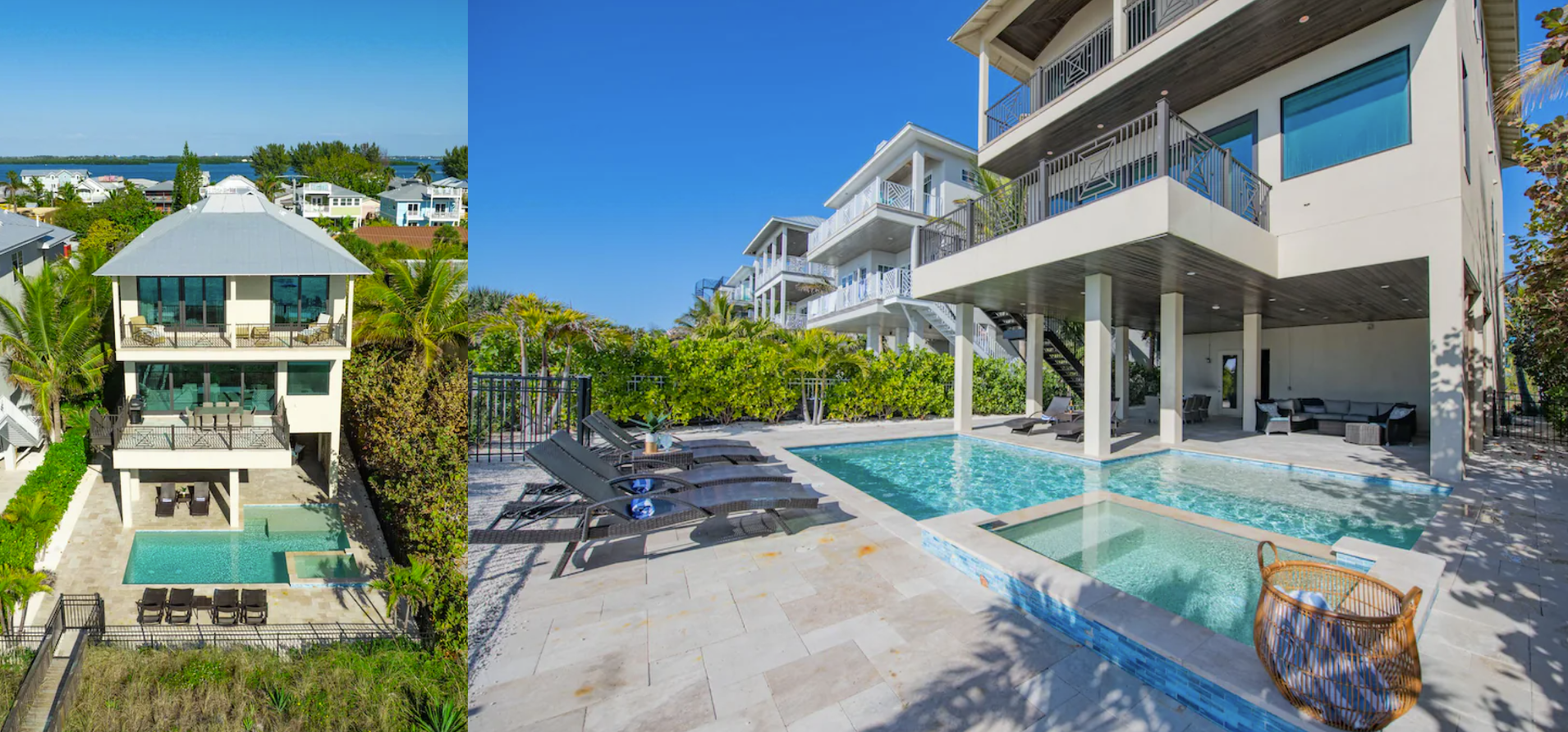 Gulf Front 7-bedroom Paradise with Pool and Direct Beach Access

With Anna Maria Beach as the backyard of this 7-bedroom, 6-bathroom luxury beachside property, guests would never want to leave. Upscale coastal décors furnish the home's interior, and the outdoor amenities are just as extravagant—with an outdoor dining, gas grill, and a heated pool with a spa for barbecue dinner parties.
Beautiful 4-bedroom Beachfront Bungalow with Pool

A homey 4-bedroom, 4-bathroom coastal cottage for discerning guests. Unwind in the main living area decked with gorgeous wood beams and a stone fireplace. Hear the sound of the waves crashing and take in the fresh sea air on the spacious beachfront patio. In the afternoon, gather with family and friends and relax in the spacious heated pool with sun shelf and spa.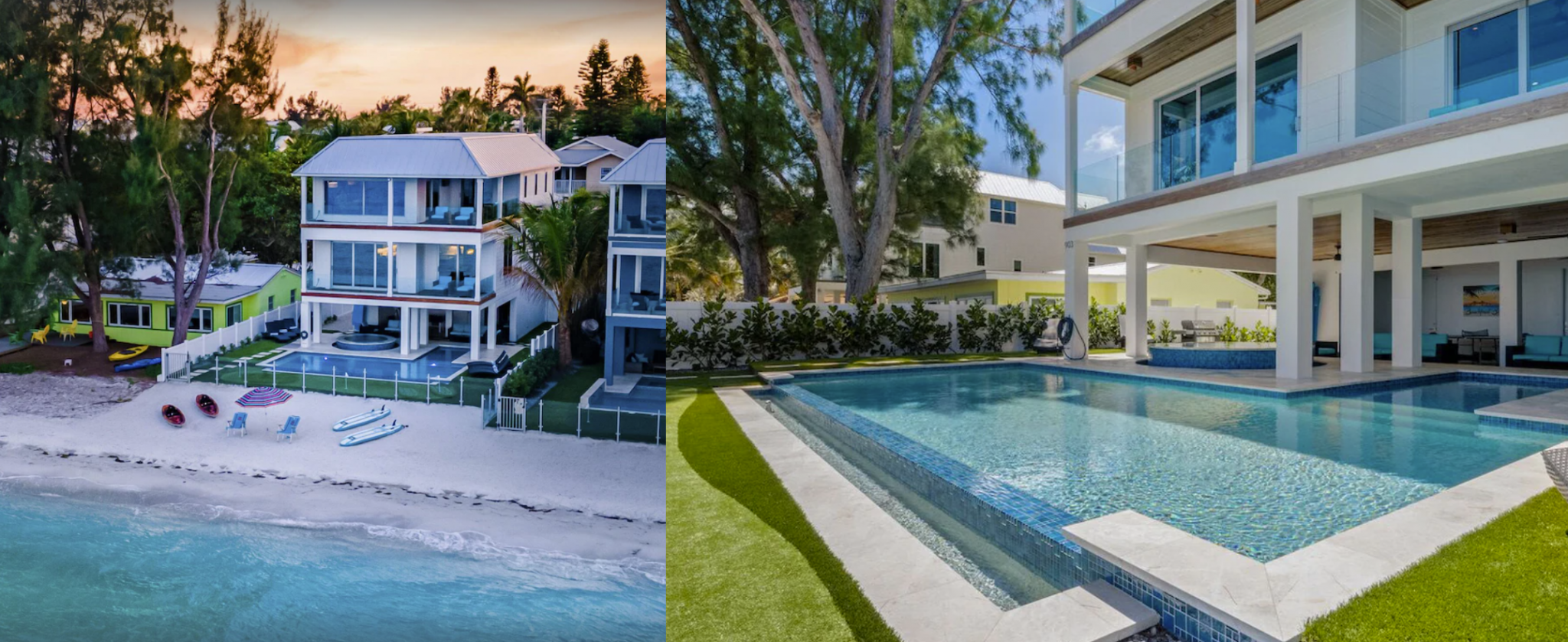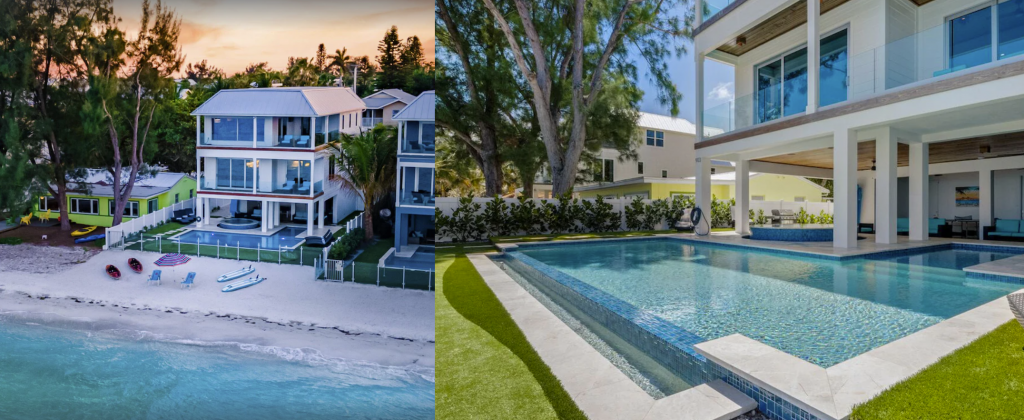 4–bedroom Beachfront Bliss with Pool and Tampa Bay Views
Situated in the most desirable area of Anna Maria Island is Beachfront Bliss, a 4-bedroom, 5-bathroom luxury property with unparalleled views of Skyway Bridge and Tampa Bay. It's been meticulously decorated to include an elevator, a gourmet kitchen, and modern amenities for large families to sprawl out. Outside are two covered decks with panoramic views of the bay—one can even spot a dolphin or manatee swimming about. There's also a large pool area with a sun shelf and oversized hot tub.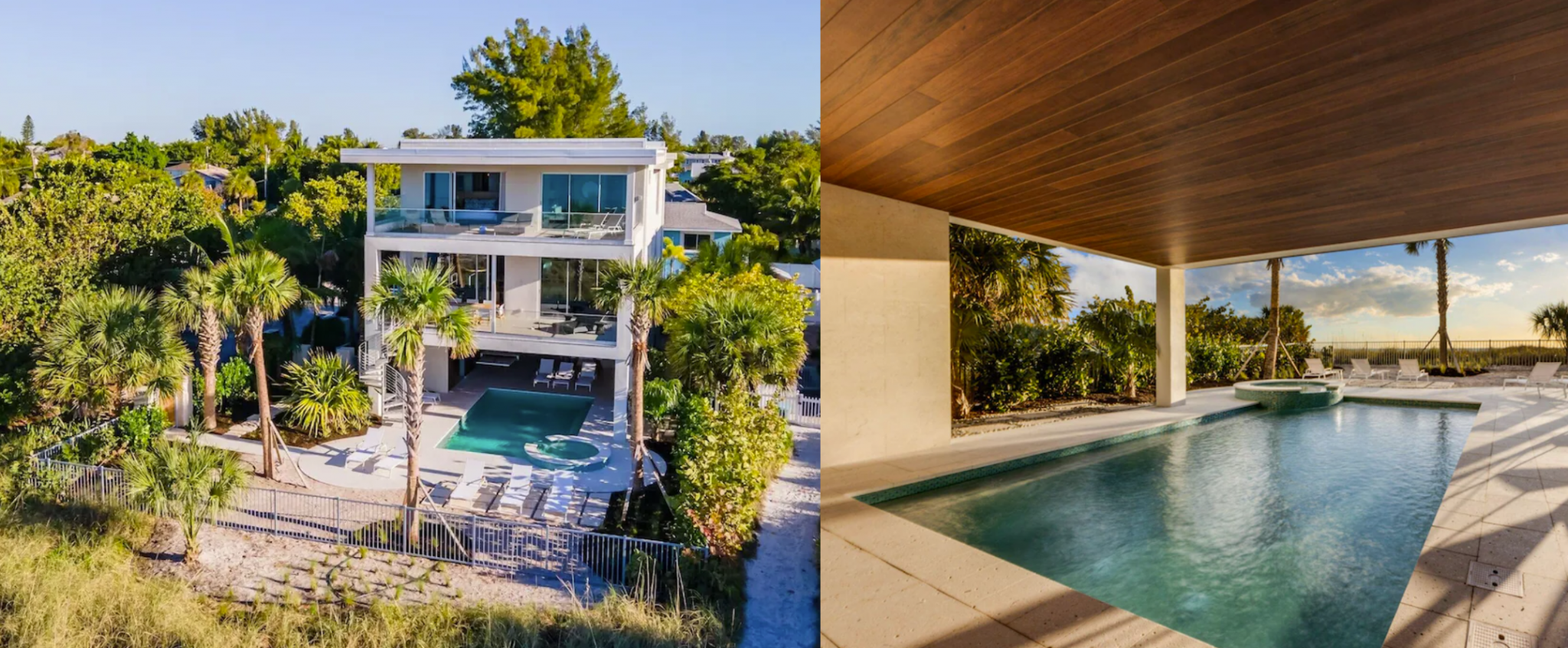 Modern Sundowner Beach Front Property with Pool and Beach Views

A modern 5-bedroom, 5-bathroom luxury property situated in a quiet beachfront neighborhood. It features chic and comfortable furnishings for a relaxing stay; the home is close to Pine Avenue and The Sandbar (beachfront restaurant). It also has a spacious pool that's heated year-round along with sun loungers, swinging chairs, and a shaded seating area.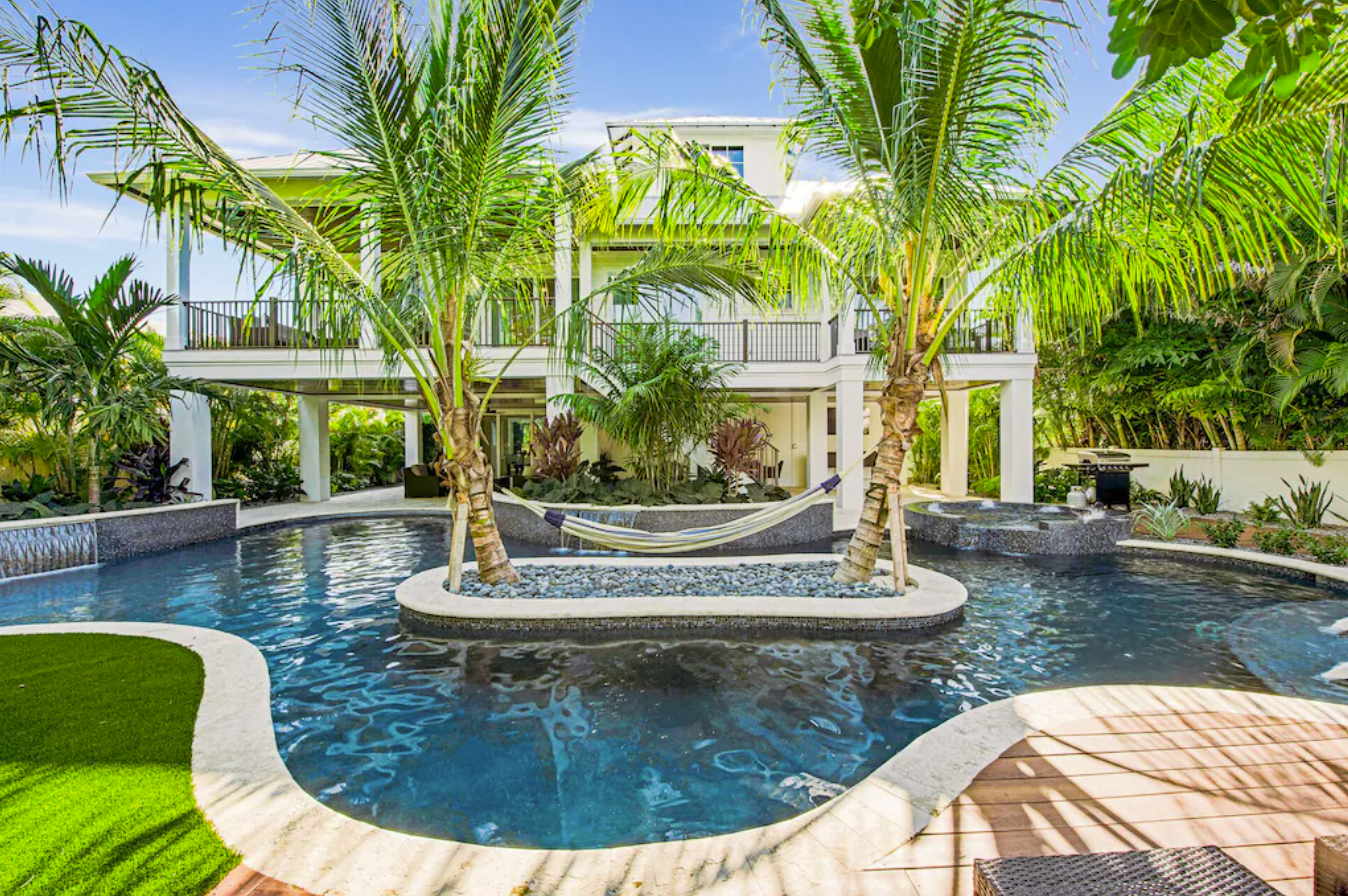 Newly-constructed 9-bedroom Winding Waves Luxury Home with Pool and Spa
A well-deserved luxury home vacation comes in the form of Winding Waves, a 9-bedroom, 9-bathroom rental with a canal front as well as a backyard decked out with a spacious pool, hammock, putting green, and fire pit. The property has an open-style floor plan with a bar area on the front balcony, as well as an additional one in the outdoor pool area for entertaining guests.

6-bedroom Sail Away Home with Tropical Backyard and Pool
Multiple decks, two living rooms, and high-end appliances make up this luxury rental getaway complete with a tropical backyard with heated pool and spa. It features a 6-bedrroom, 7-bathroom setup that can accommodate up to eight guests. Added outdoor amenities include a swim-up bar area, gas fire pit, and covered patio with comfortable seating. All that's left is to enjoy the incredible canal and water views.
Now I'm curious, which of these vacation rentals on Anna Maria Island is your favorite? Let me know in the comments!