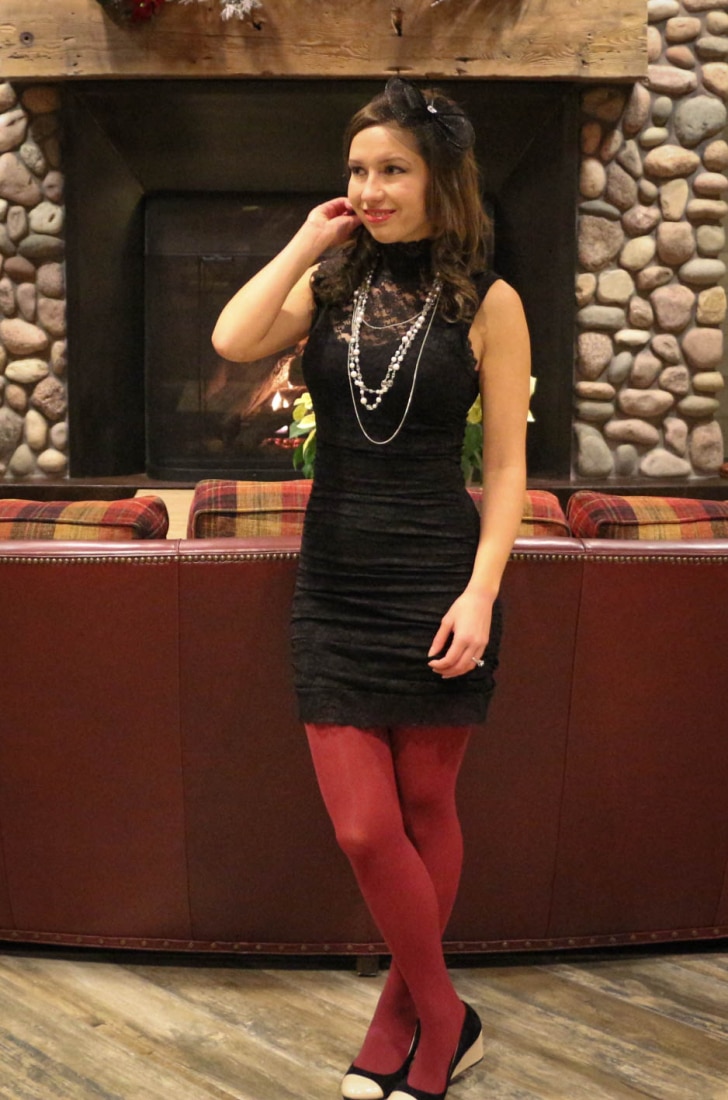 Shop the look:

My husband and I just recently celebrated our 2 year anniversary! I decided to get extra dressed up for the occasion, fascinator and all.
I've always wanted a fascinator, but I never had the courage to buy one until a couple weeks ago. This is an inexpensive one from Icing that is very comfortable. It's a good starter fascinator in, my opinion. It's not too over-the-top, and it's not too heavy. It's stayed in my hair all night, and I hardly noticed it was there.
My coat and dress are at least 5 years old and from Forever 21 and have held up well over the years. I love the lace and the high collar on my dress, it works well with the fascinator. While this exact dress no longer exists, Forever 21 seems to have no shortage of very similar lace dresses, fortunately.
Last but not least are my shoes and tights. I love these wedges so much! They are so wide and comfortable. They are easily the most comfortable shoes that I own. I have incredibly wide feet, and these shoes are so wide they're almost too big on me (almost). My tights are thicker than your average pair of tights and keep me warm in the winter months. I also love this wine color they come in.
My husband and I had a lovely time celebrating our anniversary. We went out for drinks at a PJ's in Stevens Point. This is our new favorite hangout because they have good, inexpensive food..a pretty setting and they have a wide variety of drinks.
We ended the night by having dinner at the Silver Coach in Stevens Point. This restaurant is actually an old railroad car, and we were able to request to sit in a private dining car for our dinner. It's really neat. This meal would have been perfect, except the atmosphere was incredibly odd. Even though we were able to sit in the private dining car, we were able to hear every drunken word spoken in the bar area, and we could also hear the football game on the TV in the bar area. It wasn't exactly the romantic atmosphere we were looking for. However, my husband and I did not let it bother us and we had a wonderful time, and our food was very good. I was especially a fan of the cheesecake at the end. Yum!
Where to find it:
Fascinator: Icing
Coat: Forever 21 (No longer available. This one from ModCloth is similar.)
Dress: Forever 21 (similar)
Wedges: ModCloth
Tights: ModCloth
Necklace: Forever 21 (similar)