"Captain America: Civil War" – What I Wore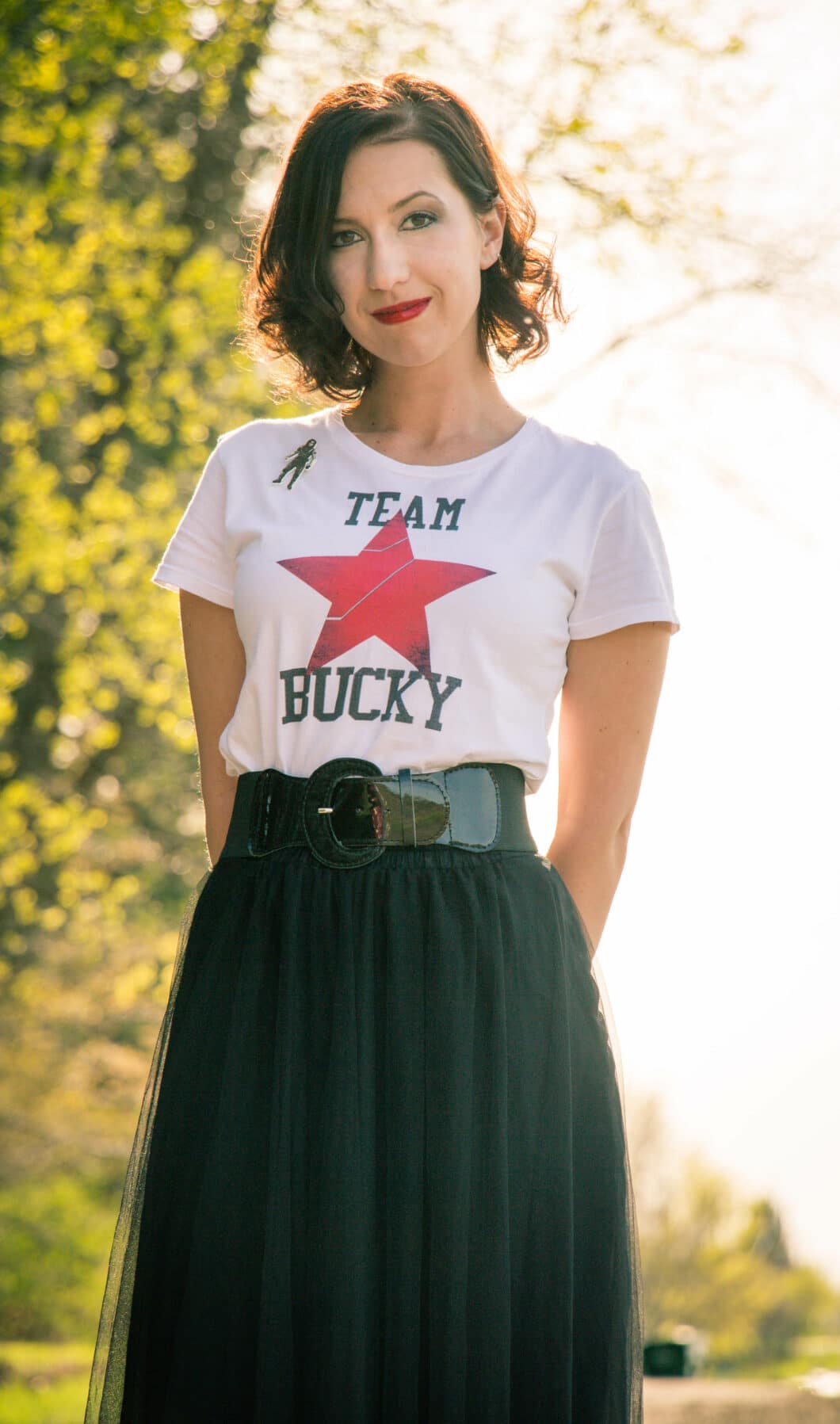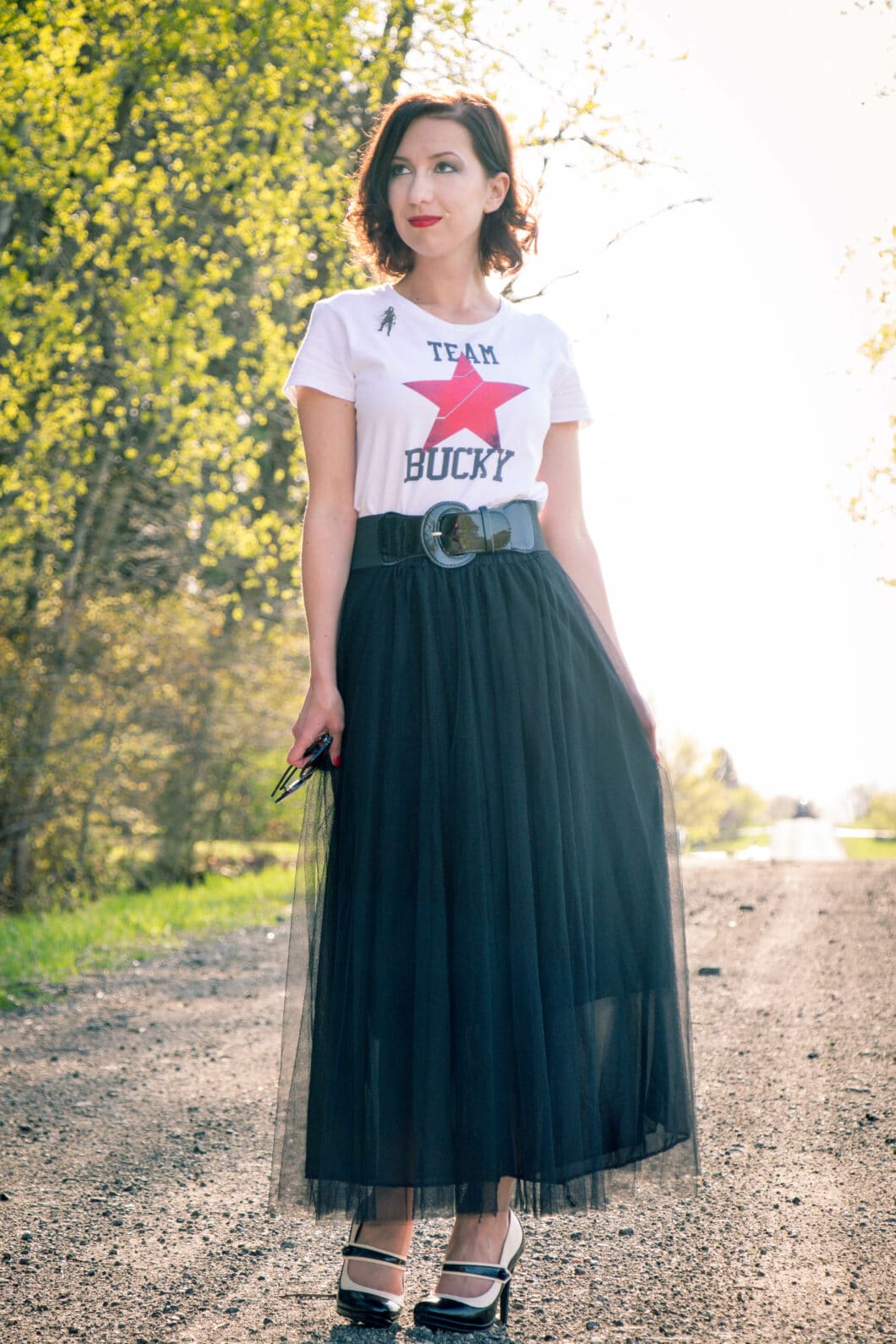 Shirt (Similar here, here & here) | Skirt | Heels | Sunglasses (Similar)
If you're new to my blog you probably haven't had the opportunity to hear about my love of Marvel or The Winter Soldier. I won't get into too much right now (feel free to click here for more on that), but let's just say I'm a fan. So, last night I wasn't going to miss going to "Captain America: Civil War," and of course, dressing in something that portrayed my love of Bucky Barnes. Haha.
I had honestly thought about making The Winter Soldier arm…and I was super impressed with all of the YouTube videos I watched on how to make one. But holy smokes, I am just not the least bit crafty. And me attempting to make my own arm, would've ended in disaster (and wasted money, haha). So, I settled for something a bit more my speed…a T-shirt & tulle. I had a bad ass pair of boots and a jacket I had planned to wear with it too, but Mother Nature decided it wanted to warm things up a bit yesterday..so, I had to rework this outfit a bit. Oh well, I'll take the warm weather!
My pin, that Jen from Dressing With Class made me, has the arm, though! This is most definitely my favorite accessory! I didn't get the best pic of last night, but here is a closeup from a past outfit post featuring it.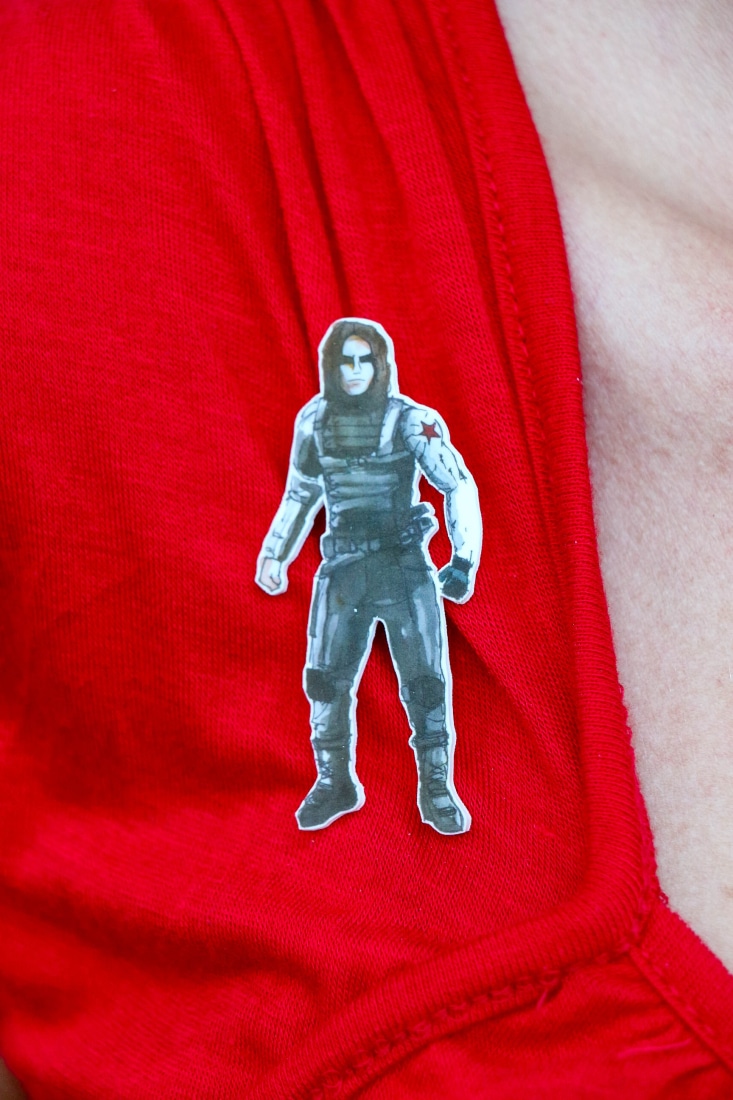 Funny story about my "Team Bucky" t-shirt too…I showed this to my mom and stepdad. And they both were so excited about it. My mom wanted me to order her one! I was kind of shocked, I had no idea they were Bucky Barnes/Winter Soldier fans too! Haha…they're not. They thought it was in reference to their pup Buck (also called Bucky sometimes). I guess it works for him too! 😉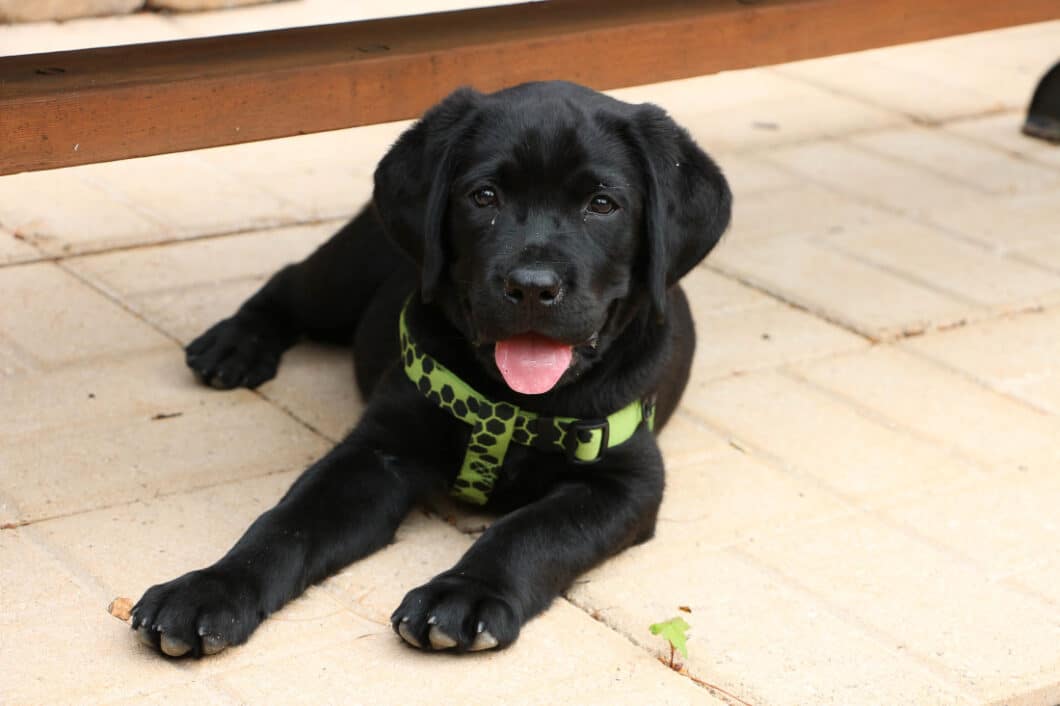 I don't want to give any spoilers about the movie if you didn't have a chance to see it last night. But I will say that I always enjoy Marvel movies, but ugh, this one was a bit of let down for me. I had pretty high hopes, though, in its defense. Something that I was really surprised about, though, was how much I enjoyed Spider-Man's performance! I was really not excited about Spider-Man being in this movie…he is probably my least favorite of the Marvel (and DC for that matter) superheroes. But he was a ton of fun to watch in this movie!
If anyone did see the movie and you want to discuss it in the comments, go right ahead! I'm dying to talk with someone, other than my husband about it! Especially because my husband is Team Iron Man, so we're having some marital disputes at the moment. Haha. But just know that the comments section is not a safe place if you haven't seen "Captain America: Civil War" yet!
So, are you Team Iron Man or Team Cap? And what were your thoughts on the movie! Let's discuss in the comments!

Where to find it:
Team Bucky T-shirt: Sold out (Similar here, here & here)
Winter Soldier Pin: Made by Jen from Dressing With Class!
Skirt: c/o* NewChic
Heels: Amazon (similar)
LipSense lipstick: c/o* The Dusty Vixen in Blue Red
Belt: Tiger Lily Boutique


*c/o = courtesy of, meaning the company gave me the product to be used on my blog, and I did not pay for it. All opinions are my own, and I am not being compensated for a positive review.