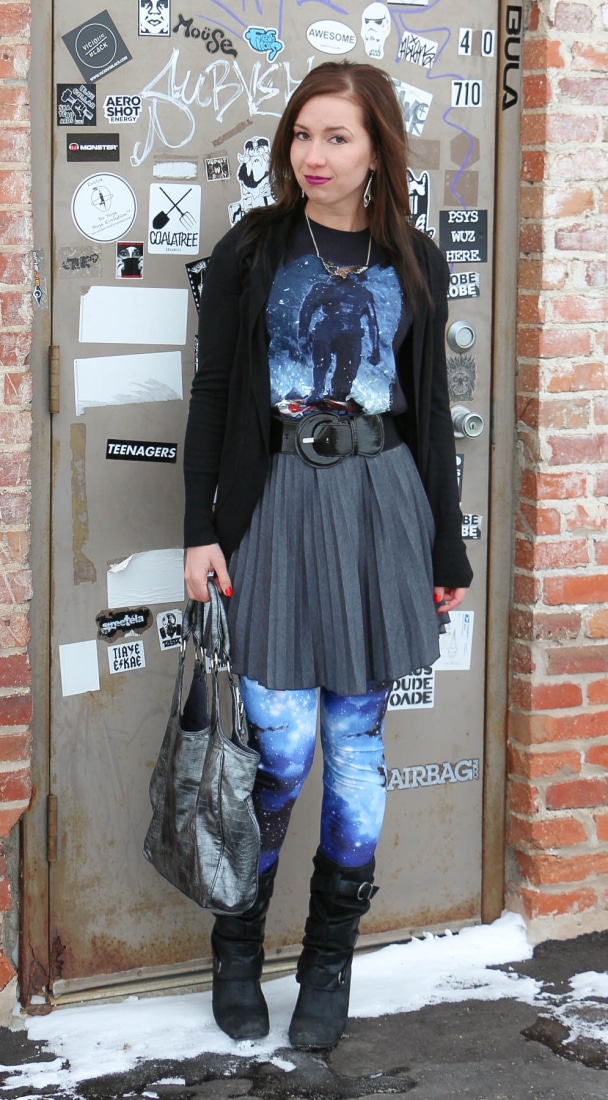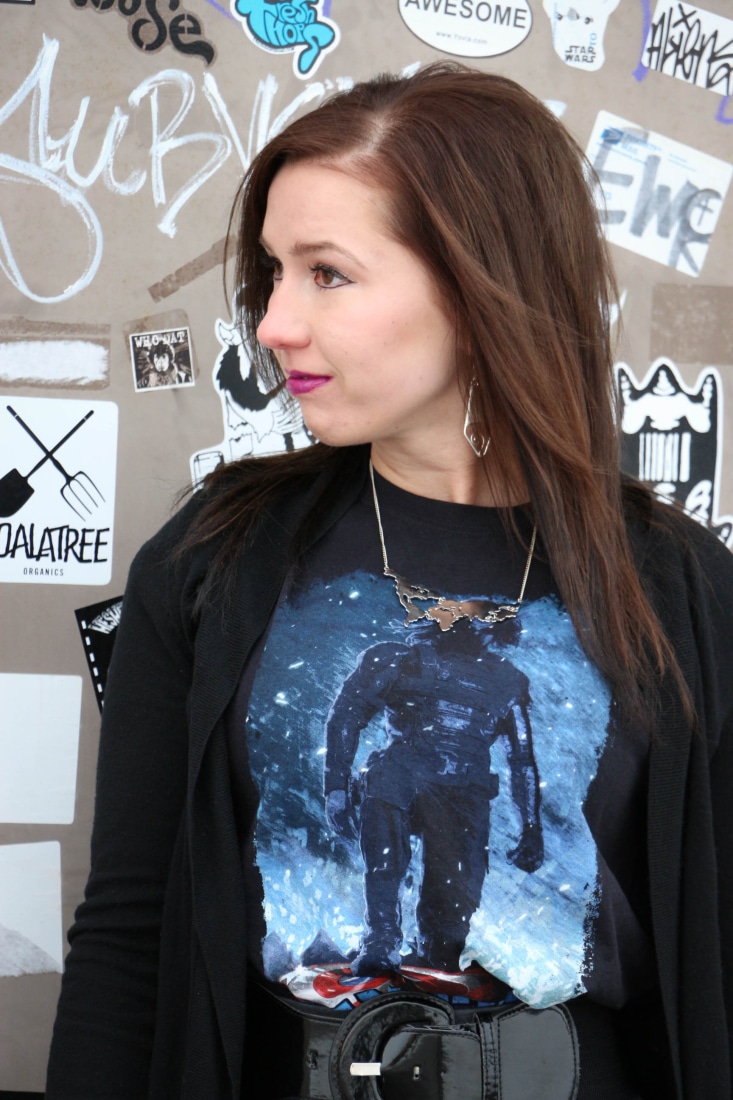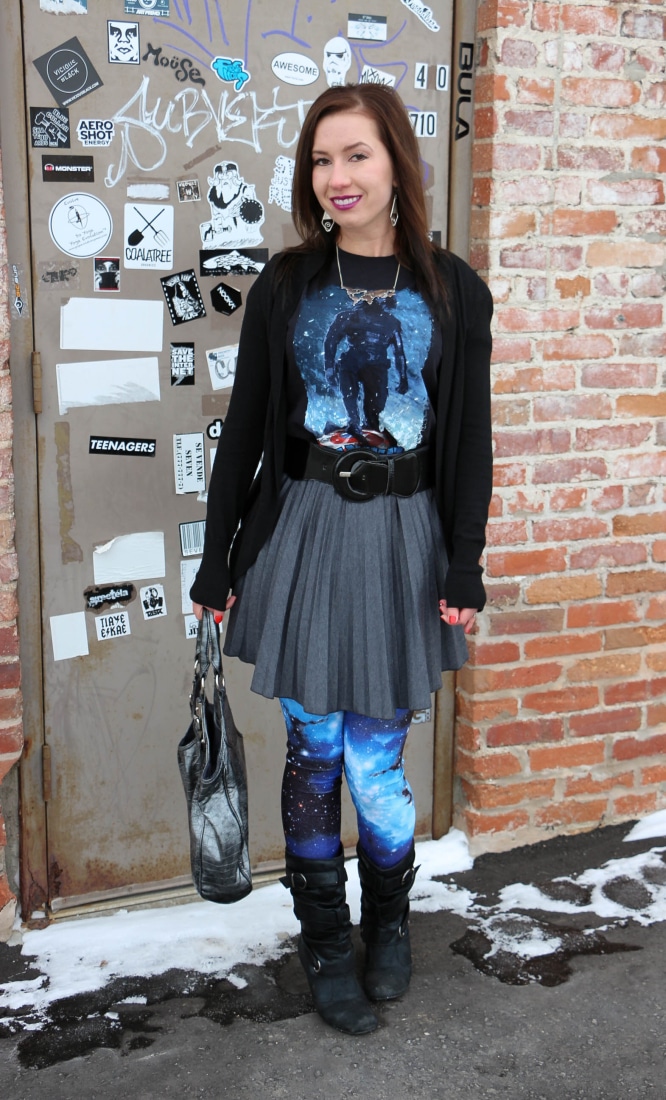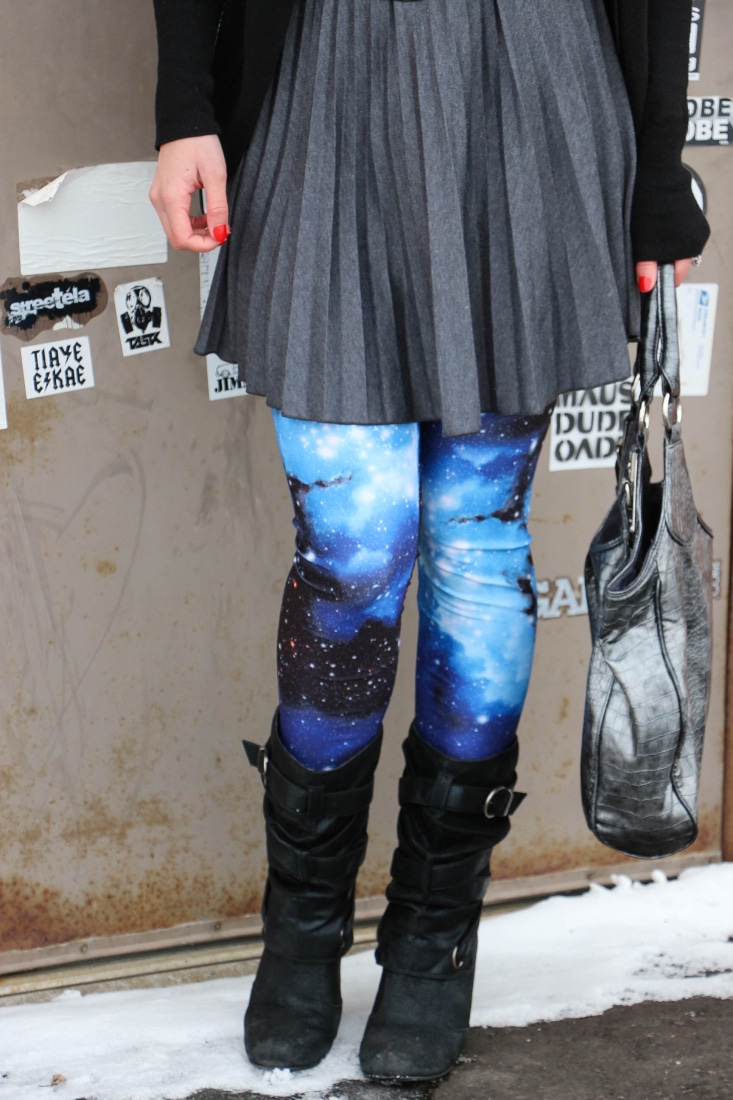 Shop the look:

I know technically you aren't supposed to like villains. However, I think there are a few exceptions to this rule…starting with The Winter Soldier. Loki and Magneto would also fall into this category, but The Winter Soldier really holds a special place in my heart. He is just such a bad ass! (Excuse my potty mouth.) And it's not as though he wants to be the bad guy…but before I get going on a rant I'll switch over to talking about my outfit. (And if you haven't already, be sure to watch Captain America: The Winter Soldier.)
My sister-in-law surprised me with this awesome Winter Soldier t-shirt for Christmas. She really hit the nail on the head for gifts this year! (I also received an awesome Marvel scarf from her, click here to see that outfit.) I paired it with these galaxy tights my husband had given me for Christmas. (My family was seriously on a roll.) He bought them to match a Star Wars dress I have, but I really liked the way they looked with this shirt, too. Although, he did say I looked "dark" when I came out with this outfit on. But if you're dressing like the Winter Soldier, I think "dark" is the only way to go. Haha.
It's kind of hard to see in some pictures, but I am also wearing my "Map of the World" necklace my mom had given me. It's so cool! She also made the earrings that I am wearing in this post. I'm seriously spoiled over here.
*I'm curious, who is your favorite villain? Let me know in the comments!
Where to find it:
Winter Soldier shirt: Gift from my sister-in-law (Amazon has some similar options)
Skirt: ModCloth
Tights: ModCloth
Necklace: ModCloth
Earrings: My mom made them
Boots: DSW (Similar)
Purse: Maurices (No longer available)
Cardigan: Target
Belt: Tiger Lily Boutique
Lip Color: Stila Vinyl Stay All Day in Fuchsia from Ulta