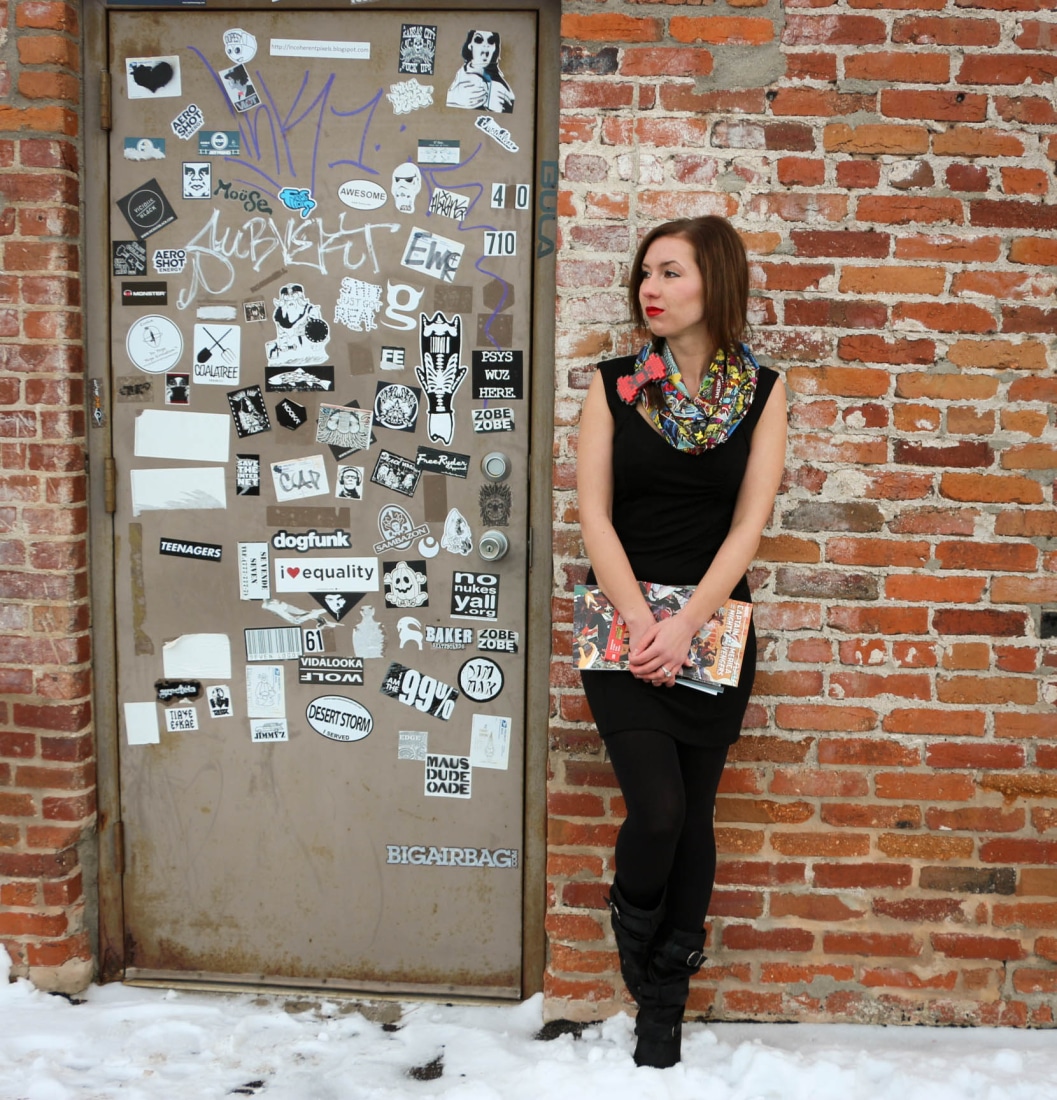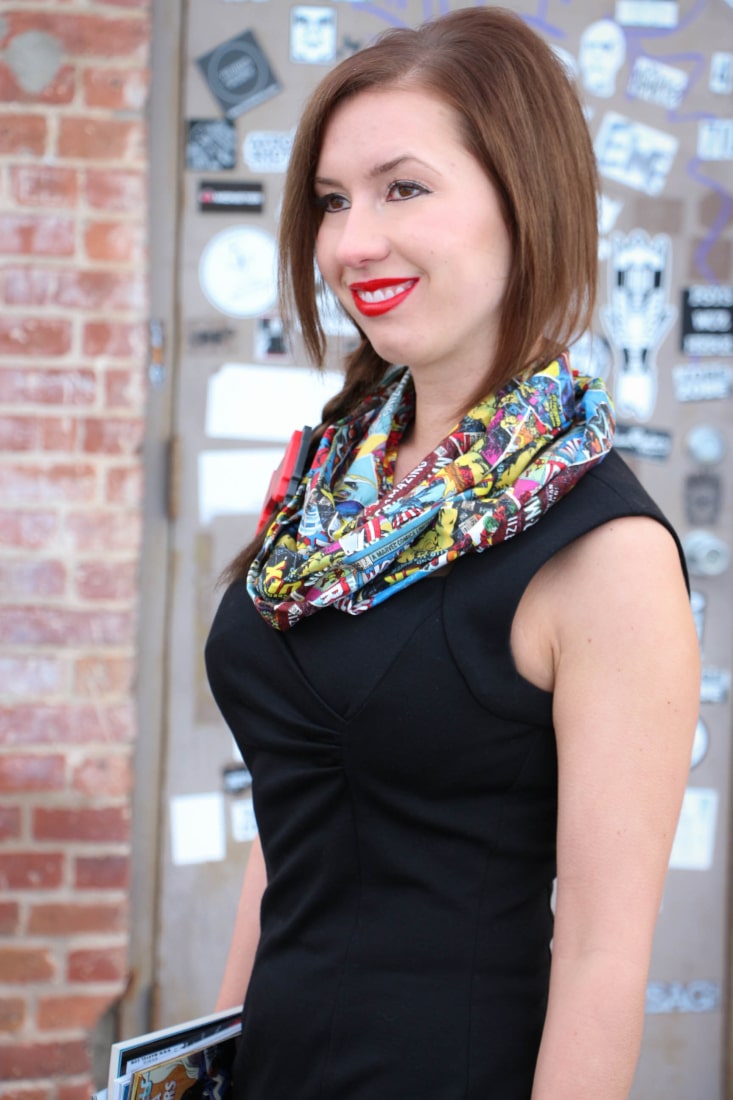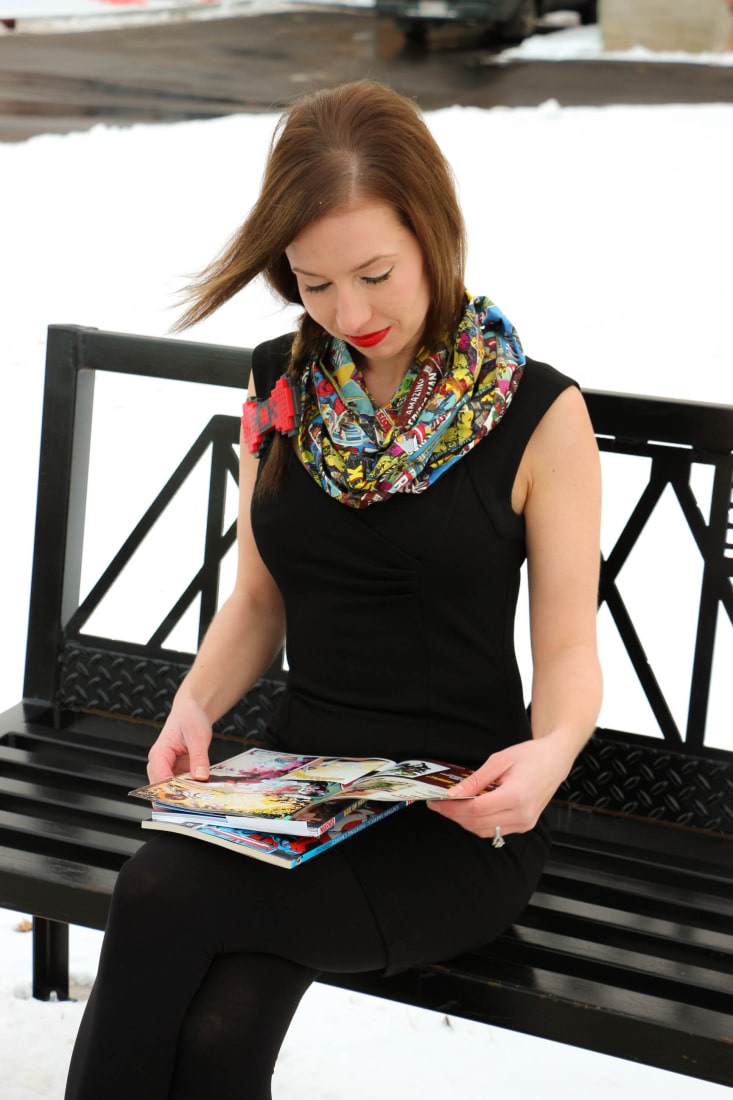 Shop the look:

I am a huge fan of Marvel Comics. So, imagine my excitement when I opened up a present that contained a handmade scarf, with a Marvel Comics print!
My sister-in-law surprised me with it for Christmas (she knows me well). She had it made through a lady on Etsy. It is simply amazing and very well-made. This scarf is going to withstand the test of time. I love the pattern so much that I found a skirt on Etsy to match, but I'll wait until summer to get that one. Haha. For now, I will simply buy comic books.
Oh, and I should mention, I do read my comic books in the comfort of the indoors. However, our hotel room does not offer the best lighting or background. So, for the purpose of these pictures I ventured into the outdoors with my comics. It was awfully warm the day I took these pictures, though. It was at least 40 degrees and wearing a sleeveless dress felt pretty comfortable!
I've always loved the Marvel movies and TV shows, but I just recently started reading the comics. They seriously make me so happy.
I also want to point out my bow is an 8-bit barrette. I played enough video games growing up (Zelda, Donkey Kong, Frogger, etc.) that seeing this bow made me feel rather nostalgic. I was a bit worried this barrette would be too heavy for my hair. I have fine hair that tends to snap off if I wear a barrette, and this is a rather large bow. If it's positioned correctly at the end of my rather poor attempt of a braid, it's OK. The sacrifice is worth it, anyways, because it's a pretty good conversation piece. Who doesn't love reminiscing about video games?
I do have to warn you dear readers, this won't be my last geeky outfit post. I have quite a few geeky dresses and accessories in my arsenal of clothes. Hopefully you won't mind seeing a few more!
Where to find it:
Scarf: Etsy
8-bit bow: ThinkGeek.com
Dress: Forever 21 (similar)
Tights: Express (Sold out)
Boots: DSW (similar)