Casually Caught in the Rain Outfit
A casual outfit for a rainy day featuring these high-waisted shorts + my Team Bucky Marvel T-Shirt.
Most days you'll find me wearing dresses and midi skirts…but I also never turn down the chance to wear a casual, comfy T-shirt. Especially a T-shirt that lets me show off my inner geek, haha. I had bought this shirt for the "Captain America: Civil War" premiere at the beginning of the summer (click here to see my 1st post featuring it). So, it's not entirely relevant anymore…but that's not going to stop me from wearing it!
I also love wearing my Winter Soldier pin that Jen from Dressing With Class made me! And it goes perfectly with this shirt! (I do apologize if you're not up on you're not into Marvel, but "Bucky" and "The Winter Soldier" are both the same person.)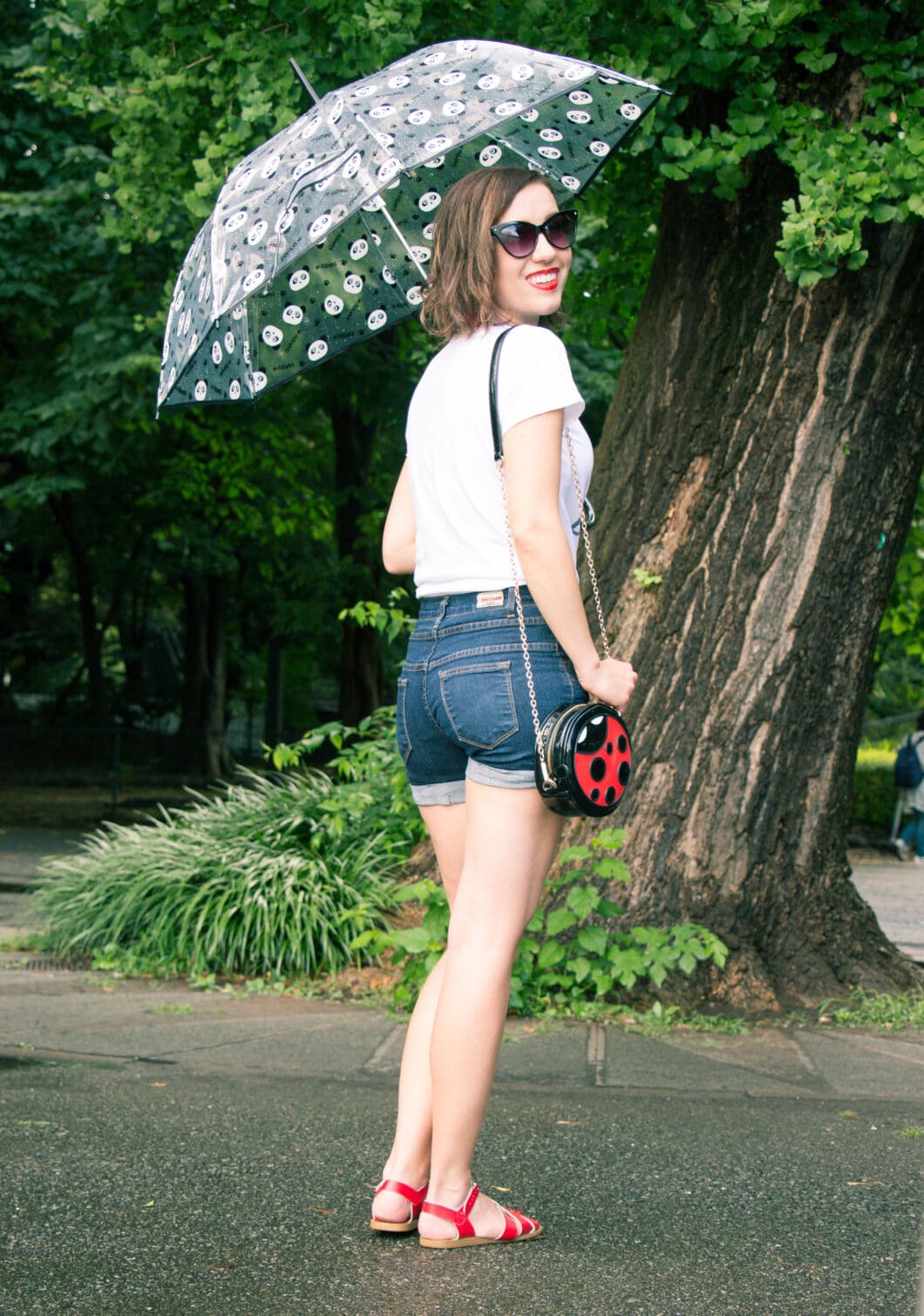 And I had not planned on featuring an umbrella with this post, but shortly after I left the apartment it started raining cats and dogs! So, I dropped in a convenience store and found this cute panda umbrella. It rains pretty frequently in Tokyo in the summer, and most people are always carrying their umbrellas with them. I, however, tend to forget. Fortunately, you can pick up clear umbrellas at local stores for around $5, if you find yourself out and about in a rainstorm with no umbrella. I now own entirely too many clear umbrellas, haha. (I did wait until the rain stopped before breaking out my camera for this post, though! I didn't want to see just how much water it could handle, haha.)
Also, I am back in the U.S. at the moment visiting family and preparing to head to Australia! So, this week's blogging schedule will be the same as last week's…there will be posts on Monday, Wednesday and Friday. Next week is to be determined. 🙂
Does anyone else love wearing T-shirts? What's your favorite comfy one to wear? Let me know in the comments!

Where to find it:
Shirt: Amazon (similar)
Shorts: ModCloth
Sandals: Salt Water Sandals
Umbrella: Local Tokyo convenience store (Similar here)
Sunglasses: c/o* Polette
Lipstick: Lipsense in Blue Red c/o* The Dusty Vixen
Winter Soldier Pin: Made by Jen from Dressing With Class 🙂
Purse: ModCloth (Sold out. Similar here.)
*c/o = courtesy of, meaning the company gave me the product to be used on my blog, and I did not pay for it. All opinions are my own, and I am not being compensated for a positive review.