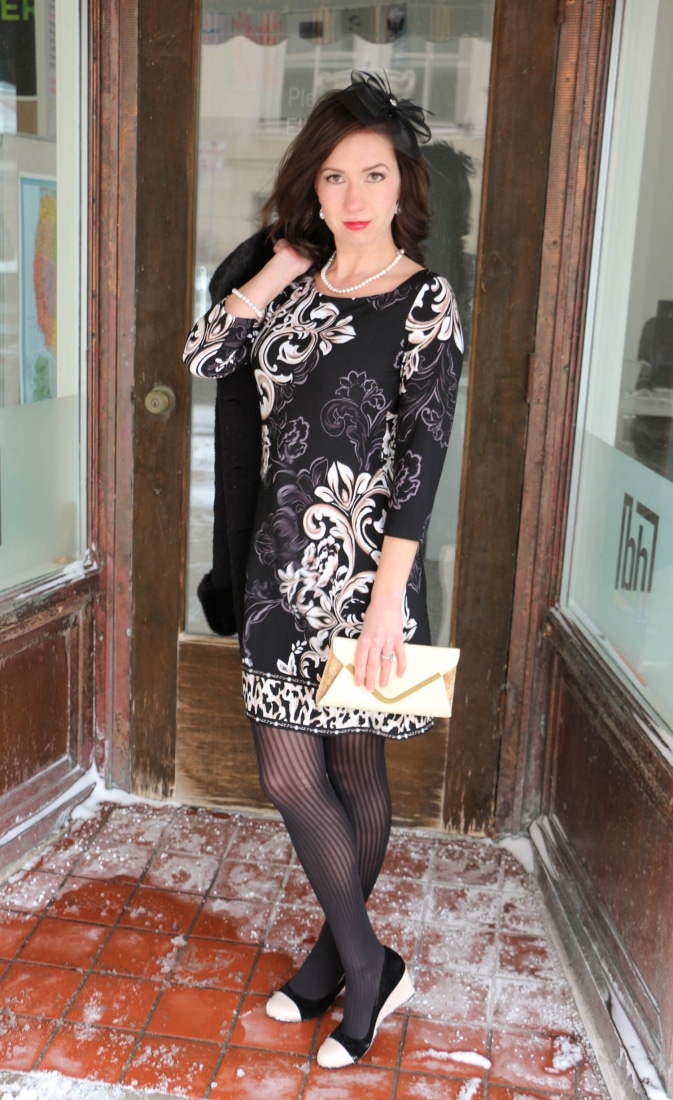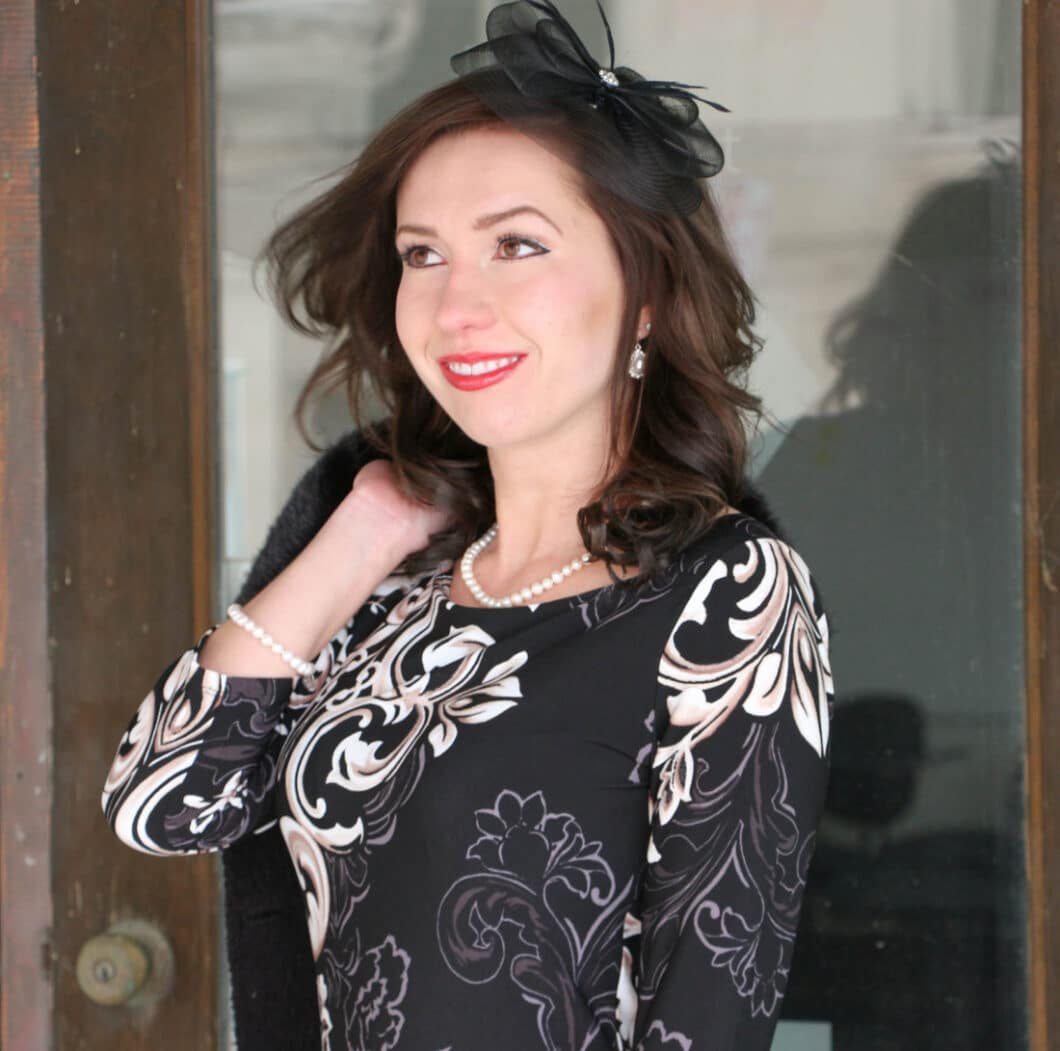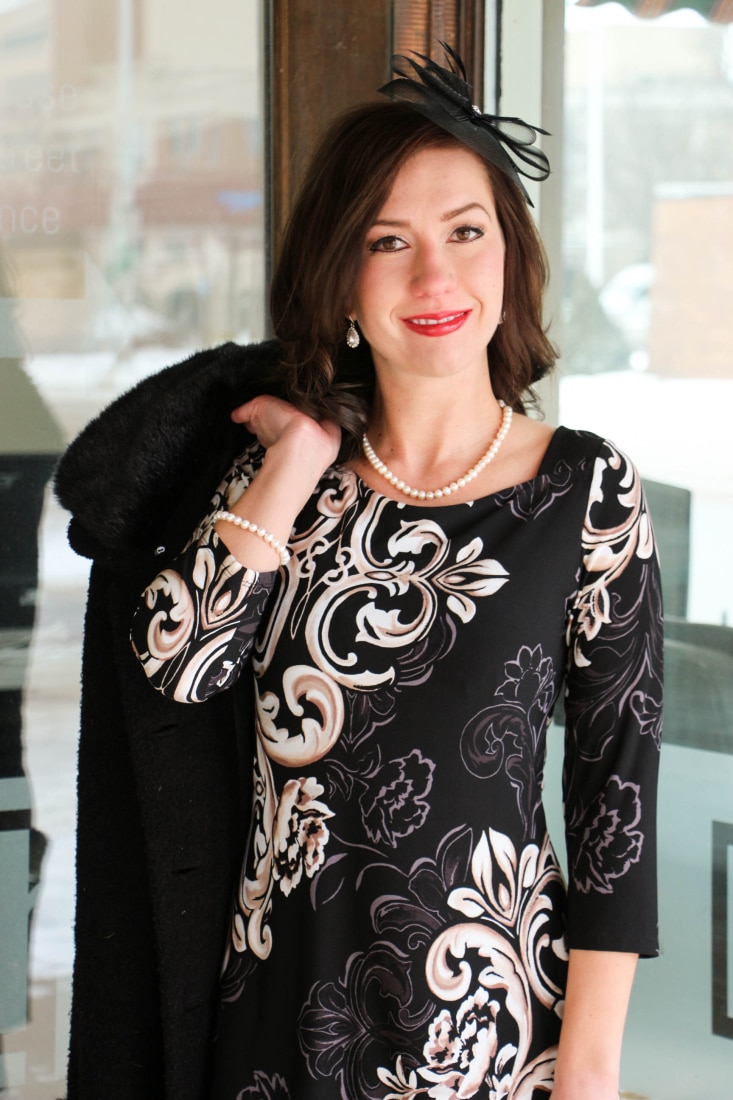 Shop the post:

I am really excited to show this dress off on my blog, finally. It is my absolute favorite dress, and I have been waiting for the perfect time to wear it. I really thought this weekend was it. However, Mother Nature did not agree.
As you can see from the pictures above, I'm hiding in a doorway with the exact same pose in all of my pictures. That's because it was less than 10 degrees Fahrenheit, which when living in Wisconsin does not necessarily mean it's "cold." However, the wind was HORRIBLE. I had the perfect spot picked out to show off this dress, but I feared the wind would blow us away. So, we took 30 seconds in this doorway to snap some photos (my husband deserves an award), but it felt like it took hours. I couldn't feel my fingers by the time it was over!
Alas, you can still see how pretty this dress is…even if it's from roughly the same angle in every picture. I bought it from White House Black Market for my going away party a couple years ago. (Which, if you've read Getting Personal, you know how that went. Haha.) It fits perfectly, looks classy and is so comfortable. I love it for travelling. I can throw it in my suitcase and no matter how horrible I packed it, this dress will not wrinkle. It's fabulous.
This is also the most animal print you will ever see on me. I am just not an animal print person. It's a look I don't feel like I can pull off well. However, I love it on this dress.
The clutch in these pictures is actually the only clutch that I own. I bought it when I was in India, so I had a place to stuff my phone and hotel key while I was wearing my saris. It actually has a very vintage feel to it.
I also found out something new about my favorite pair of wedges, while taking these pictures. They can double as running shoes! I was able to sprint from this doorway to my car in these wedges, and I didn't fall on my face! It was remarkable, and I love these wedges all the more, now.
I'm curious, when's a time Mother Nature and your outfit didn't work well together? Let me know in the comments.
Where to find it:
Dress: White House Black Market (similar)
Tights: Express (No longer available. Similar here.)
Wedges: ModCloth
Clutch: FabIndia
Fascinator: Icing
Pearls: Gift from my husband
Earrings: Icing