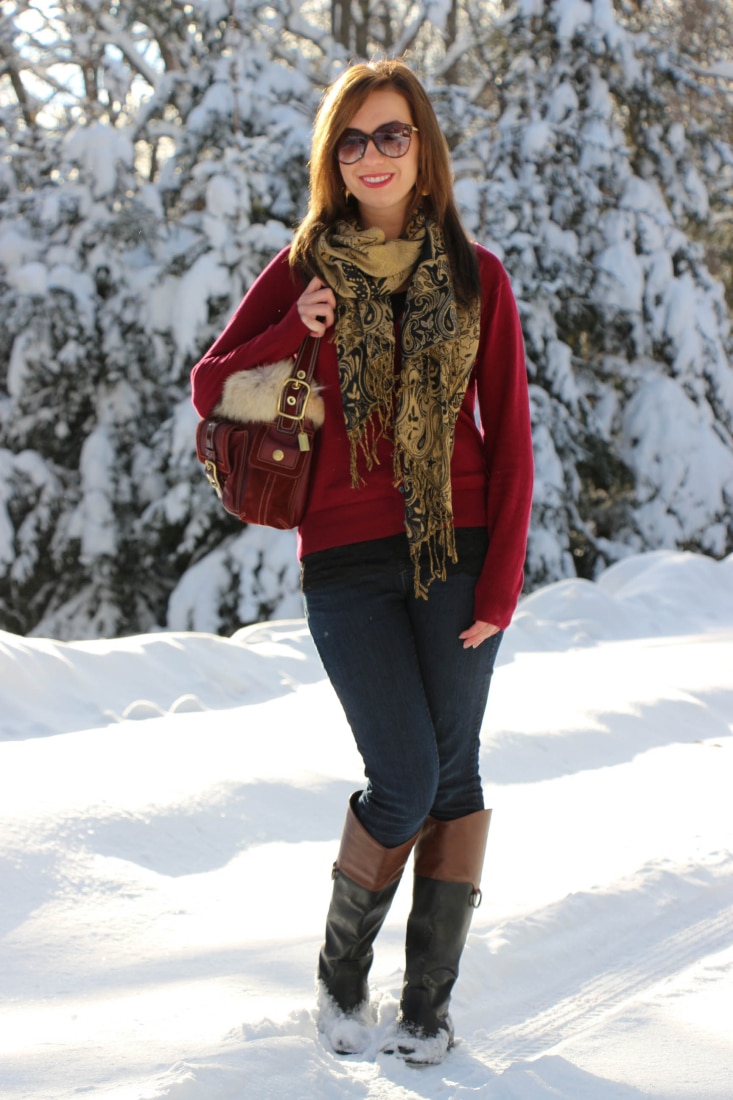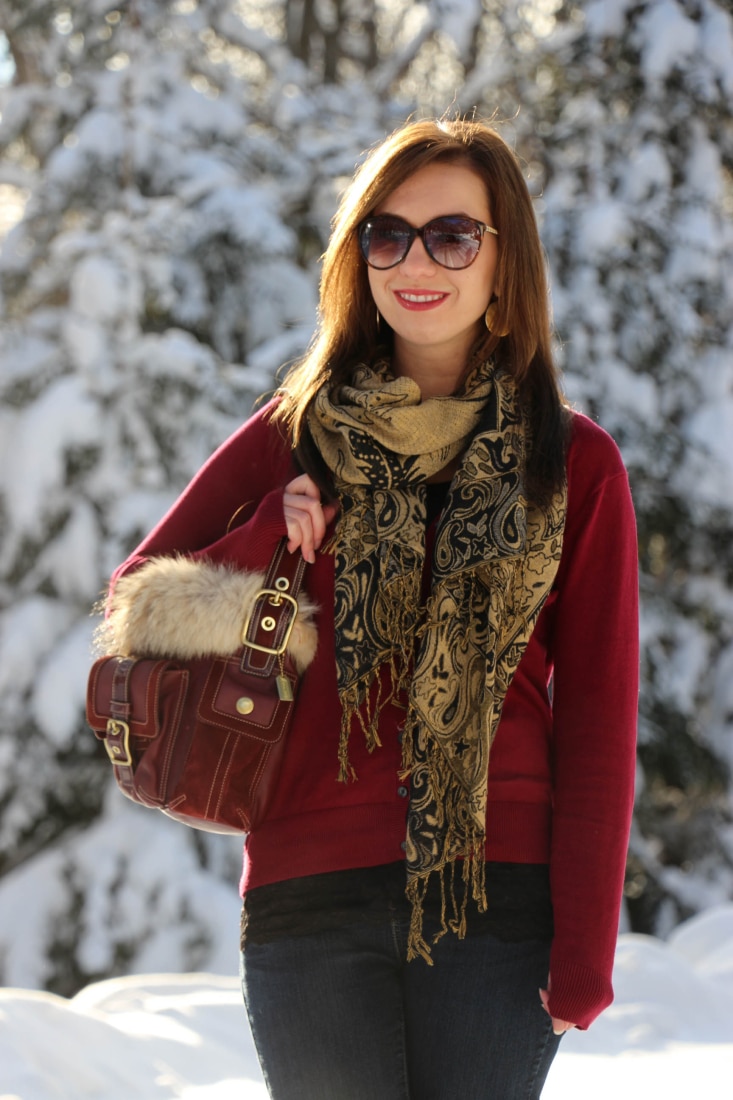 Shop the look:

This is the first outfit I wore in 2015! And what better way to start off the new year than wearing Pantone's 2015 Color of the Year? If you haven't heard yet, Marsala is this year's color. (Don't worry I just recently found out this was a thing, as well. Click here to learn more.)
My Marsala colored cardigan is a Christmas gift from my mom (she has great taste). This is a wonderfully comfortable cardigan… it is so soft! I also love how long the sleeves are. If I can't hide my hands in my pockets, long sleeves are the next best thing.
I also love how big this scarf is! It does a great job of keeping me warm in the winter, and I think it's beautiful. I actually found it when I was in a local Walmart for around $5. I had no idea Walmart had such high-quality scarfs!
This old Coach purse, that I just couldn't live without, is getting quite a bit of use…as you can see by the number of outfit posts I've used it in, haha. I am constantly getting stopped by people asking if they can look at it and where I got it from. I'm still thanking the Ebay gods for this one. I won it for just over $100 this summer. (There is a listing on Ebay right now for just over $200, which is the cheapest I've seen since my purchase.)
If you're wondering what I'm doing next to Paul Bunyan and his Blue Ox in these last couple pictures, let me explain. My husband and I had gone to a ski resort with our friends in Northern Michigan for New Years. On our way back home, we drove through Minocqua. This is home to Paul Bunyan's Cook Shanty. I honestly haven't eaten at the restaurant since I was very young, but I hear they have a wonderful breakfast. If you've ever seen the John Candy movie "The Great Outdoors" you might also recognize this restaurant (I don't believe this restaurant actually has a 96 oz steak, though. Haha.)
I also will be publishing pictures from our adventure in Northern Michigan tomorrow. Stay tuned!
Where to find it:
Cardigan: Old Navy
Scarf: Walmart (similar)
Boots: Target
Jeans: Target
Black Cami: Maurices
Purse: Ebay (There are several listings right now!)
Sunglasses: Target
Earrings: Express (no longer available)