Devinne of "Mox and Socks"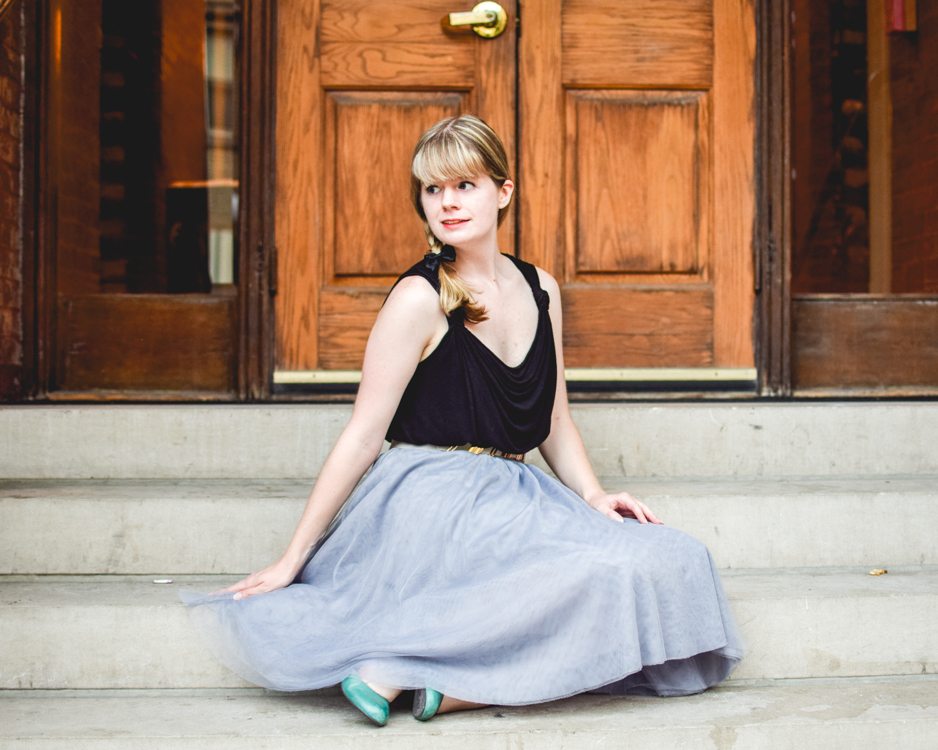 Meet Devinne! She's November's Featured Fashionista and the creative gal behind the blog "Mox and Socks." I love following Mox and Socks, not only for Devinne's darling outfit posts, but also because her cute pup, Moxie, makes quite a few appearances in her posts! (And who doesn't love puppy pictures?)
Devinne's posts also always have beautiful photography and scenery. And I absolutely love her style of writing. Each post is very relatable, and I feel as though I am catching up with an old friend when I read Mox and Socks. And Devinne doesn't just limit herself to outfit posts. She has a wide variety of posts to read, ranging from tutorials to "closet raids." She's even thinking about starting a new section (which I think sounds awesome!), but I will let her tell you more about that!
Q&A With Devinne
Tell me a little about yourself.
Devinne: A good chunk of my life is devoted to raising and taking care of my dog, Moxie. Apart from my time at the office, she's always at my side. (Even when we go to bed. Somehow she always manages to sneak in and curl up next to me.) Speaking of work, I'm a layout artist for a catalog. It's a big challenge for me, since I've got an English degree and a background in writing, but I never thought I'd love graphic design as much as I do.
Apart from work and Moxie, I love to fill up my time with plenty of chances to try or learn about new things. Lately, I've been getting back into running, and I'm also working hard to keep improving my photography. This winter, I want to relaunch a goal I had in college–to try every coffee shop in Chicago. On top of that, I'm starting to go back to my roots in writing and working on some true stories and essays about my life experiences, from my dog's many antics to online dating horror stories.
How would you describe your blog, "Mox and Socks?"
Devinne: For the most part, I would call it a personal style blog. The main focus is and always will be my outfit posts, but lately, I've been cutting back on doing so many. Instead, I've been doing more inspiration posts, and I really want to introduce or bring back other types of posts, like my tutorials and maybe even my coffee adventures!
What do you hope the future holds for Mox and Socks?
Devinne: In my ideal world, my blog would one day become my career. I love every aspect of it, from dreaming up outfits to editing photos to developing friendships with other bloggers. I don't know if that'll ever happen, but a girl can dream!
What inspired you to create Mox and Socks? And what inspired the cute name?
Devinne: I started the blog at a time when my job wasn't challenging me, and I knew I needed some kind of creative outlet. Around my birthday this year, I finally decided to do some outfit posts, and I fell in love immediately! As for the name, it was originally Breve e Dolce ('short and sweet' in Italian), but I quickly realized that it was too hard for most people to understand or pronounce, so I switched it to Mox and Socks in the spring. I named it after my dog, Moxie, to whom I give many nicknames–one of which is Mox in Socks. I thought it would be cute to adapt it to my style blog!
Your pup Moxie is a big part of your life, and your blog – she's so cute! Could you tell us a little more about her, and how she came into your life?
Devinne: Last year, after moving out of my parents' house, I found myself getting pretty lonely without a furry friend. That summer, I started searching for a dog to adopt. I wanted one that was maybe a couple years old, a boy, and no bigger than 30 lbs. What I took home was a wiggly girl puppy who eventually grew to be half my size!
She's a very sassy dog, and I'm afraid I've really spoiled her. Whenever she wants something – a dog cookie, a spot on my bed, a long walk – she sits in front of me and tries to give me her paw until I inevitably give in. She's very loving and is forever giving kisses. And she loves meeting new dogs and people. (And squirrels, but I don't let her get near them!)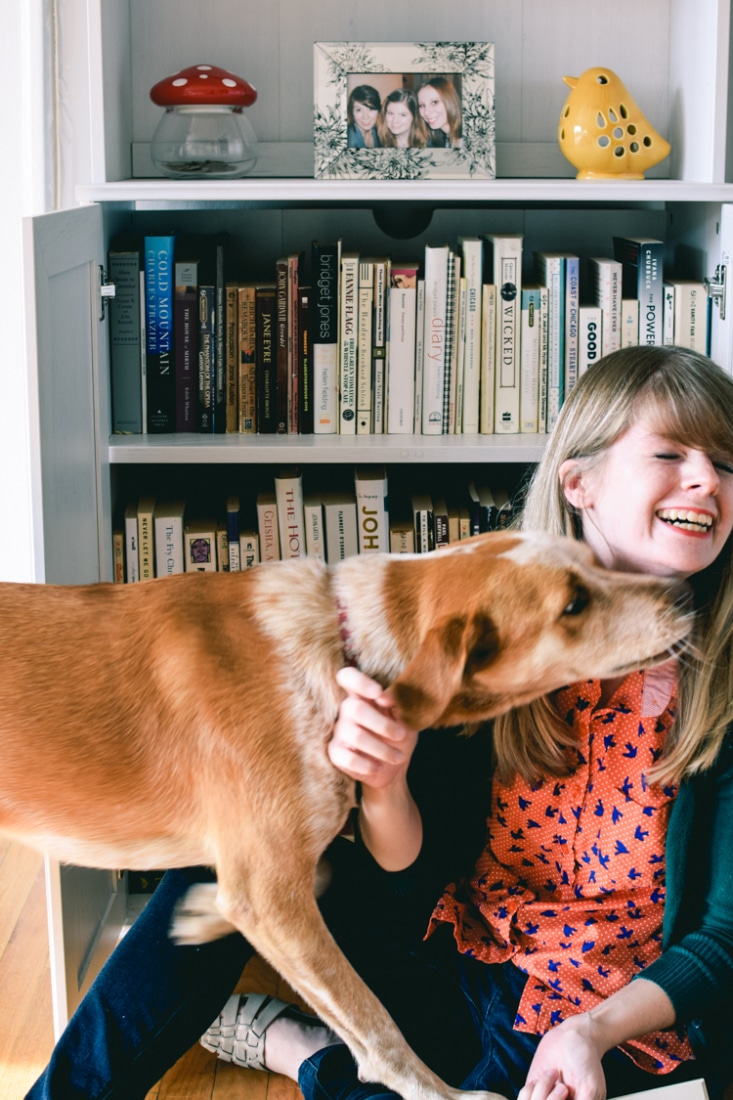 What kind of dog is Moxie? And what is your favorite pastime with her?
Devinne: I'm not sure what she is. When she was small, I did a genetic test on her and it came back inconclusive. My guess is that she's some kind of cattle dog/beagle mix. The thing I look forward to most each day when I come home from work is my daily walk with her. We spend about an hour walking around town and crunching through the leaves.
You and Moxie recently moved to a new area. How are you guys liking your new place?
Devinne: We love it! I've never lived on my own before, but it's been a welcome change to have my own space. And Moxie seems to really like the new apartment, too. We live in a town that has a lot of fun shops as well as gorgeous historic homes all over the place, so there's always something great to see and do.
Changing gears a bit now.. How would you describe your personal style?
Devinne: I've found that my style changes a bit with each passing season, but one thing that ties everything together is my love of the past. I love wearing an item or two that has some kind of vintage element, whether it's actually a vintage piece or something inspired by another era. This fall, I've been really into knee socks, sweaters over blouses with quirky collars, Oxfords – anything that evokes a prep school vibe, really!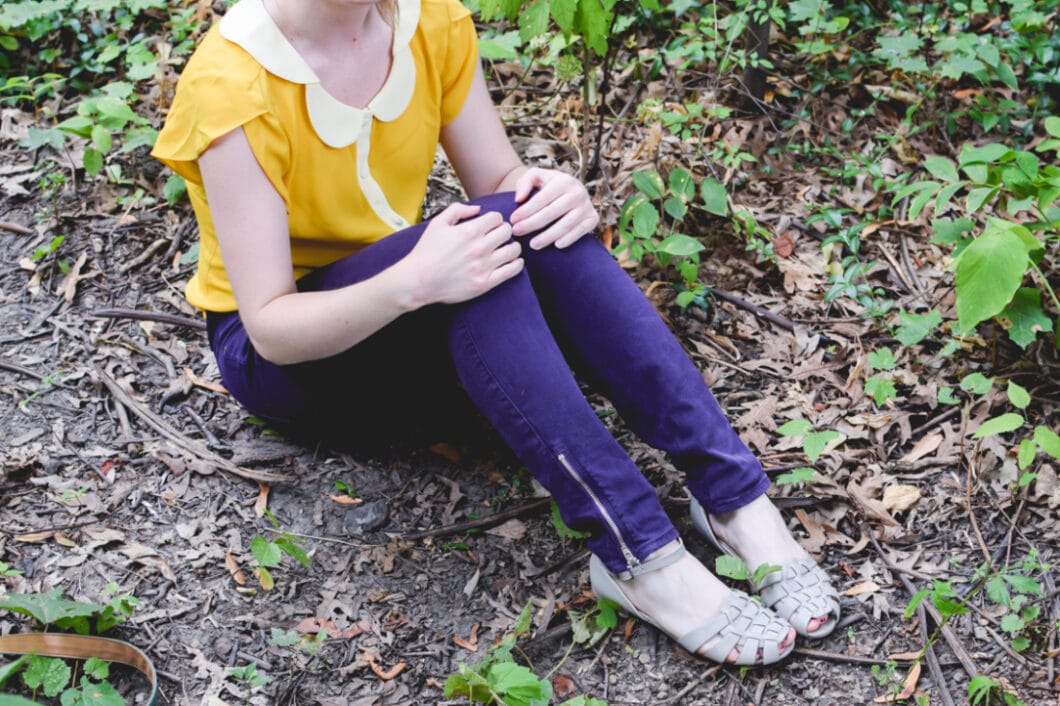 If you had to pick, what would you say your favorite clothing store is?
Devinne: I'm a HUGE ModCloth fan! I spend so much time every week going through the new arrivals and adding to my wish list. Apart from ModCloth, though, I'm big into thrifting. There's nothing more gratifying than spending $20 and coming home with bags of awesome finds.
What would you say your favorite blog post you've done so far is and why?
Devinne: Back in March, I did a post at a beautiful old mill house, and I was wearing one of my favorite dresses – a maxi with a high waist and dramatic black and white stripes. That's the dress I wear when I want to be noticed. I feel invincible – fierce, even – when I have that on. That's a big part of why I love this post so much, but there's also something about the colors and light that I will always adore. This was even before I got my DSLR and was taking pictures with my phone! (Click here to see that post.)
I love how you are always sharing photography tips and tricks as you learn them! As someone who is still learning the ropes on photography, (I think I'll be doing this the rest of my life!) what would you say the most important photography tip(s) is that you've learned since you started blogging?
Devinne: I'm still so new to the world of DSLR that I really feel like a novice, but I will say this: time is everything. You have to allow yourself plenty of time to experiment, to make mistakes, and to learn what works! And I don't know if this is cheating, but one thing I do is study other bloggers' photos and see if I can replicate them. Doing that has taught me a lot!
You are always wearing your hair in the cutest ways! What is your favorite way to style your hair for blog posts?
Devinne: Thank you! For fall, I'm really starting to like top knots. Mine are pretty messy right now, but I'm working on smoothing them out and looking a little more polished. I also love that it's cool enough to get out my flat iron to curl my hair and to give my bangs a little Zooey Deschanel style.
What advice do you have for someone looking to start their own blog?
Devinne: I'd say to dive right in and don't give up! Over time, you'll find your voice and hit your stride. I'd also encourage new bloggers to get to know the community and make friends, because that has definitely helped me stick around! It feels great to have a support network of blogger friends!
Any final thoughts you would like to add?
Devinne: First of all, thank you, Lindsey, for including me as one of your Featured Fashionistas! I'm over the moon that you asked me to do this!
Second, if anyone would like to reach out, you can find me on Bloglovin', Chictopia, Facebook, Pinterest, and IG with @Moxandsocks. Like I said, I always love getting to know other bloggers and readers, so don't be shy!