Editing and Designing My Photos With Fotor
Whether you're taking professional photos or enjoy snapping them with your phone, photographers of every level all love to be able to easily edit their photos.
My blog is filled with photos of my travels and outfits I have styled. All of these photos are taken by my husband and me and also edited by me. Now, the type of editing I do is simply to adjust lighting, color temperature and maybe remove a massive zit or lipstick on my teeth. I don't alter my body in anyway when I edit the photos. But I love trying different photo editing technology, especially ones that also allow me to make graphics and collages with my photos (especially for Pinterest).
So, when the lovely folks over at Fotor asked me to sample their online photo editor and design maker – I jumped at the opportunity! Their website boasts being the world's first online photo editor powered by HTML5 technology that can be saved in the cloud as you work on your edits and designs. And the best part… it's FREE. For this post, I'll show how it works (using my own photos) and what my thoughts are on it.
*Also, I am using the Fotor Pro Account for these demonstrations. What this means is that I have access to extra tools on Fotor that cost extra to use. These are designated by the little "diamond" on them. I will reference when I am using a feature that costs extra.
Photo Editing With Fotor – How It Works
Basic Editing Tools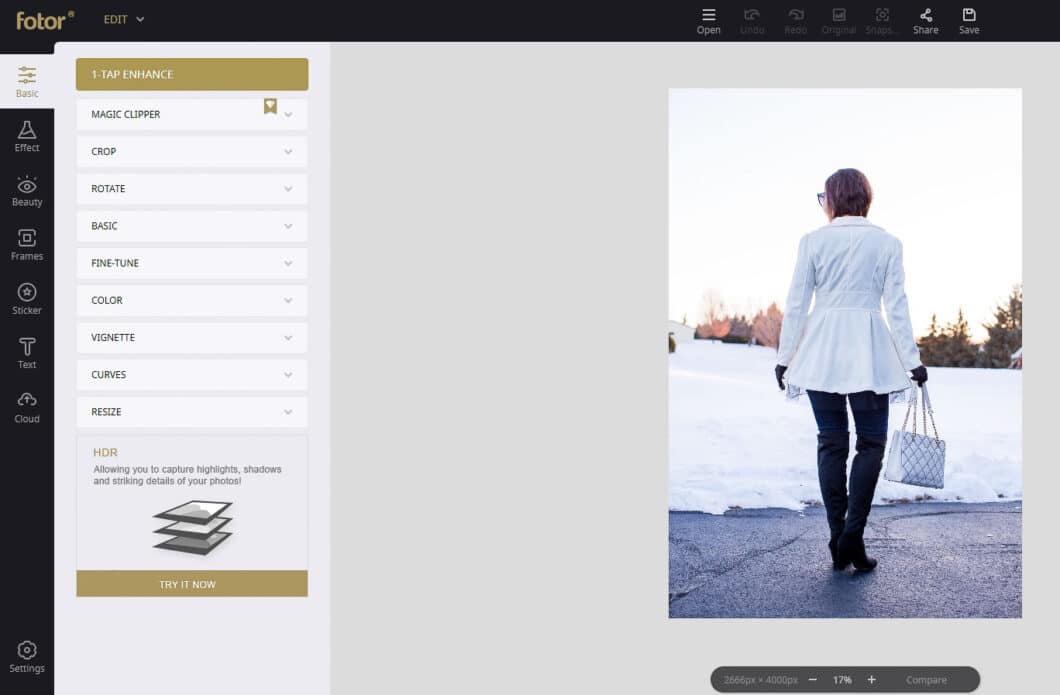 First up, you'll login using either your email address or Facebook account.
Then, after importing your photo, you'll have your basic set of photo editing tools, ranging from crop to brightness to sharpness and everything in between.
You can also choose one of many effects to add to your photos and determine the intensity.
Photo Effects

I also used the blemish remover to get rid of a lipstick smudge on my teeth.
Beauty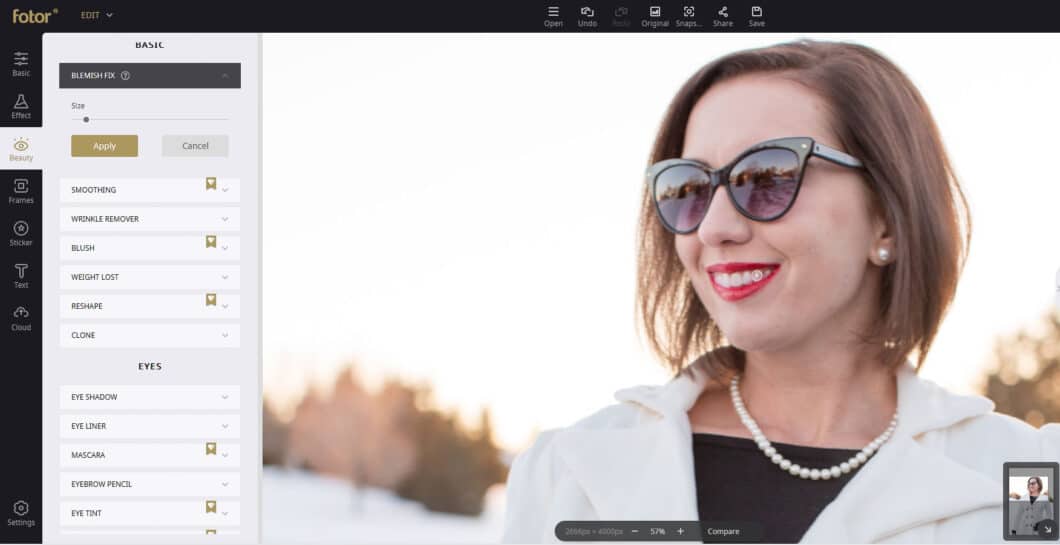 Then, you can also add text and stickers to your photos. I'm particularly excited about how easy it is to customize text and stickers using Fotor!

Adding Text & Stickers to Photos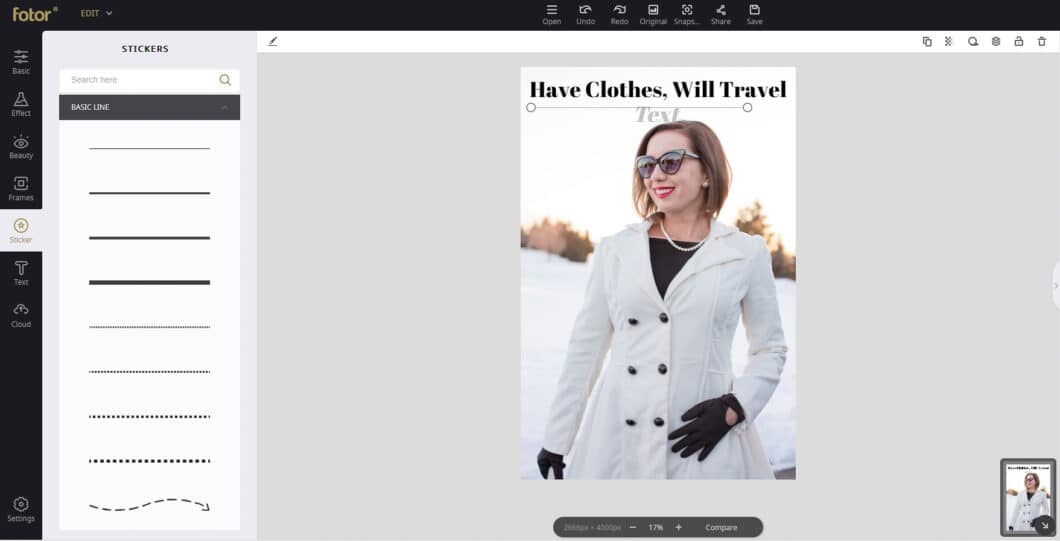 *My Thoughts on Editing With Fotor
The editing options provided are useful for someone who is just beginning photography. If you're using RAW images from a DSLR camera, I found Fotor did not behave well with these until I sized them down to a JPEG.
To be fair, I generally use Lightroom to edit my professional photos. But Lightroom is pricey, whereas everything demonstrated above is completely free! (I didn't use any of the Pro version for this portion.)
So, for someone on a budget who wants to edit their JPEG or PNG images, Fotor does a fabulous job! If you're a professional photographer editing a bazillion RAW images…stick to Adobe.
Fotor for Making Collages
Ok, this is where I get really excited about Fotor. I loved using Fotor to make collages! It is so easy and there are SO many options.
Making a photo collage was as simple as deciding how many photos I wanted, importing the photos, dropping them where I wanted them and then making any border or effect changes. Voila!
Below is a quick collage I made of our Rainbow Mountain photos. It was so fun and easy!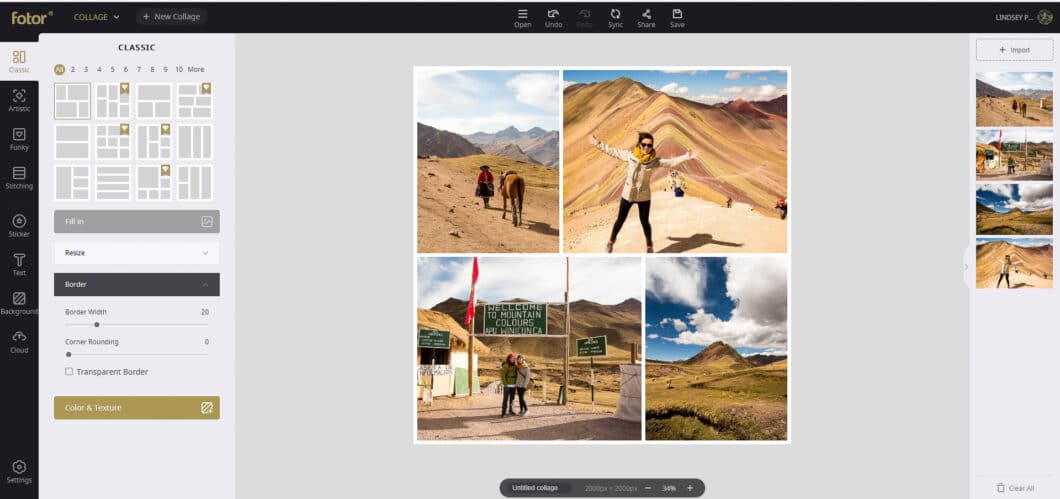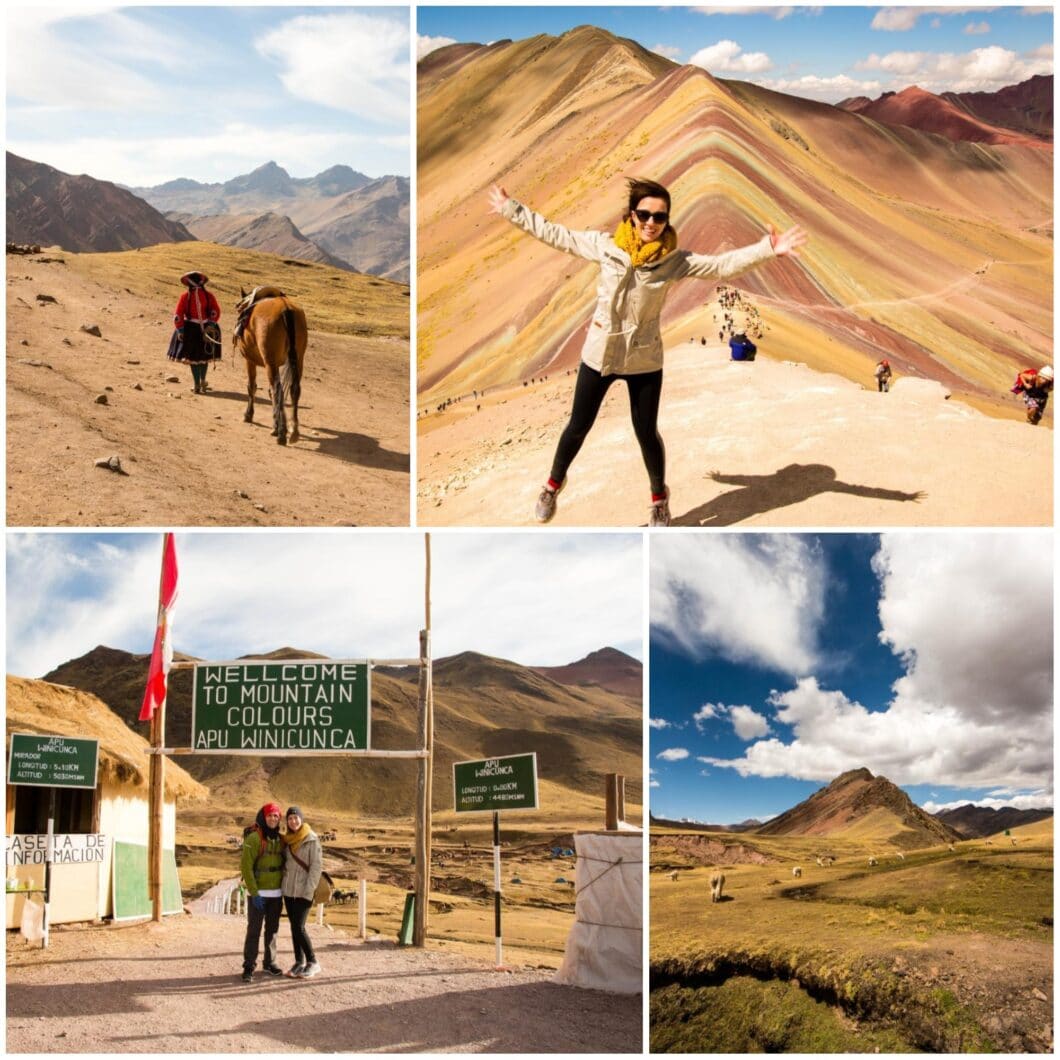 Making Collages For Pinterest
Ok, this is more geared toward my blogging friends. Fotor has a lot free "artistic" collages to choose from that are fabulous for making Pinterest friendly Pins.
This particular part of Fotor is the reason I wanted the Premium version…to unlock more designs that I could use on Pinterest.
Below, is an example of a Pinterest friendly pin. This design is part of the Premium service.
*My Thoughts on Making Collages With Fotor
Yes!! I loved Fotor for making collages. It was very simple, fast and had enough options to make some fun collages. If you want to make some fun cards or collages of say a trip you recently took or even your Christmas cards, Fotor has plenty of options (even in the free version)!
And for bloggers, I highly recommend giving Fotor a shot when making your Pins for Pinterest. This is my favorite part of using Fotor! (And in this case, I would say the Premium service is definitely worth it – I like to have Pinterest design options. Haha.) I had been using Canva to do this in the past – and I honestly prefer using Fotor, now.
Fotor for Banners
If you're a blogger, this one is a big one! And even if you just want to make a cool banner for your Facebook cover photo, Fotor has a lot of good free options.
My YouTube channel banner is in need of a serious update, so I'm going to show a YouTube banner for this part (but they have everything ranging from cards to posters to Facebook covers to wallpaper and everything in between).
Here is what my old banner on YouTube looked like…
And this is what it looks like with the new banner I made using my photo of Sydney with Fotor….
*My Thoughts on Making Banners With Fotor
Fotor is plenty easy enough to use and has many different theme options to choose from. YouTube, in my opinion, is just such a pain to create banners for. I'll need to spend some more time tweaking this banner, I think. (I put this one together in about 10 minutes.)
Final Thoughts
*Fotor for editing is great for editing smaller amounts of photos from a phone or a camera that was shot in JPEG. Using it with RAW files isn't going to work.
*I absolutely LOVE using Fotor to make collages – blogger friends, you need to try this for your Pins!
*Fotor's options for YouTube are lovely…YouTube is just a pain to make cover photos for in general, in my opinion.
Click here to check out Fotor!
Now, I'm curious, what do you use to edit your photos and make collages? Had you ever heard of Fotor? Let me know in the comments!
*Disclosure: some of these links are affiliate links. Meaning, if you click a link and make a purchase, Have Clothes, Will Travel gets a very small commission at no extra cost to you. Thank you for supporting the brands that make this blog possible! I am also a participant in the Amazon Services LLC Associates Program, an affiliate advertising program designed to provide a means for us to earn fees by linking to Amazon.com and affiliated sites.
**Thank you to Fotor for asking me to partner with them for this post.