Rainbow Mountain – Peru's Best Kept Travel Secret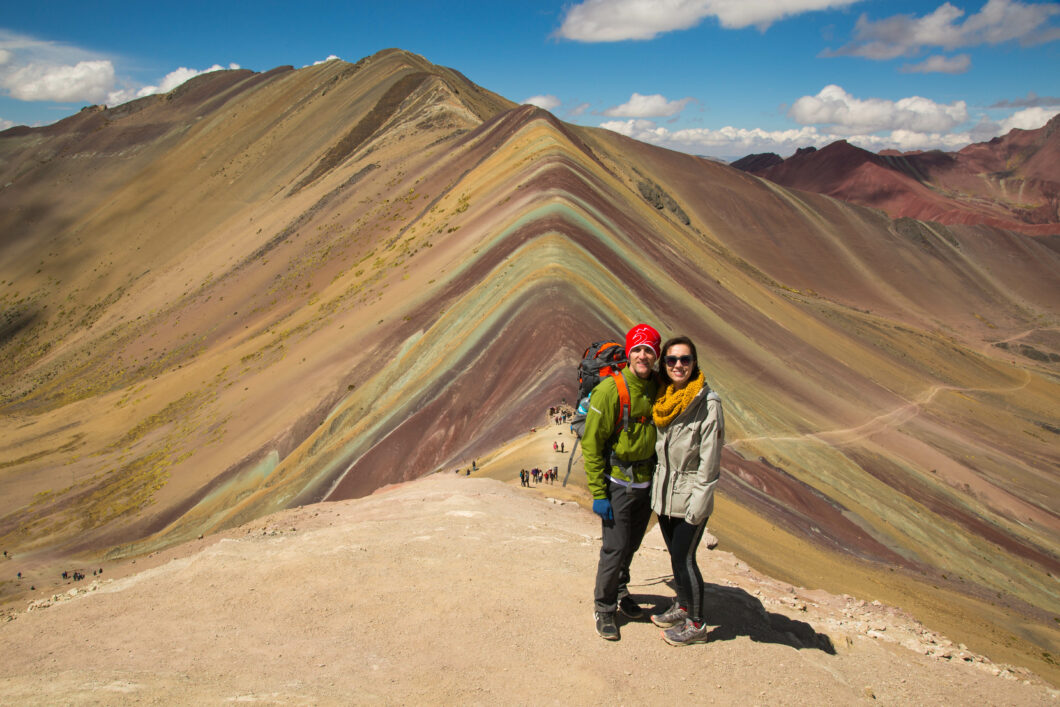 I'm kicking off my Peru travel series with my favorite part of the entire trip – Rainbow Mountain. Why save the best for last anyway? For this post, I'll explain why I enjoyed Rainbow Mountain as much as I did, what to expect when hiking it, and how you can prepare for the journey. Enjoy!
Want to hike Rainbow Mountain with me? I'm hosting a 10-day small-group tour to Peru in November 2022! (This tour includes Rainbow Mountain!) See the details here.
Why is Rainbow Mountain My Favorite Part of My Peru Trip?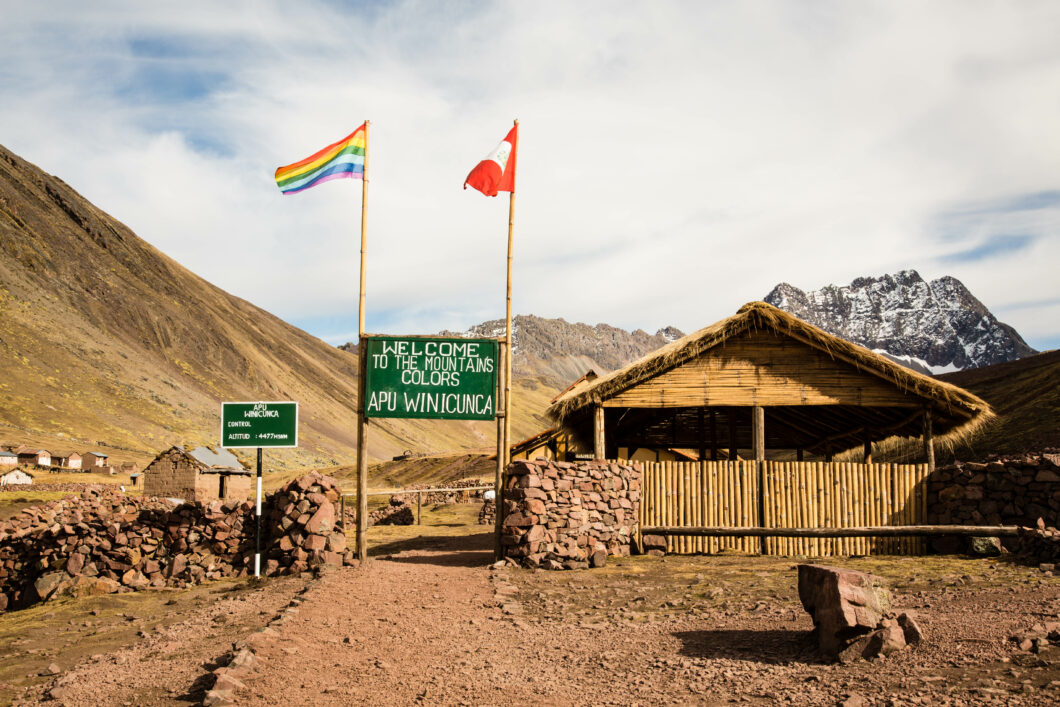 I know that this is a pretty bold statement, especially since we also visited Machu Picchu and loads of other amazing places on our trip. However, my husband and I both agreed, this was our favorite part hands down.
It's Not Too Popular at the Moment
It's certainly starting to gain popularity in this past year, but before that, Rainbow Mountain was not a tourist destination in Peru at all. I personally had not heard of it until my friend, Jen, told me to give it a go. So, just a couple months ago was the first I had even heard of it! (Thank you, friends!)
This is quite evident when you arrive. Short of the ticket office and a couple locals herding llamas and selling snacks and horseback rides (more on that in a moment), you won't be bombarded with people trying to sell you the normal tourist junk. Out of our entire trip, this was one of the only times I felt we really escaped "the tourist scene." All the sights in Peru are incredible, but they all cater heavily to tourists. It was lovely to not be overwhelmed and to just watch the horses and dogs playing as we started our trek. We were also able to chat with the locals who live along the trail. One lady was kind enough to tell us about her baby llamas.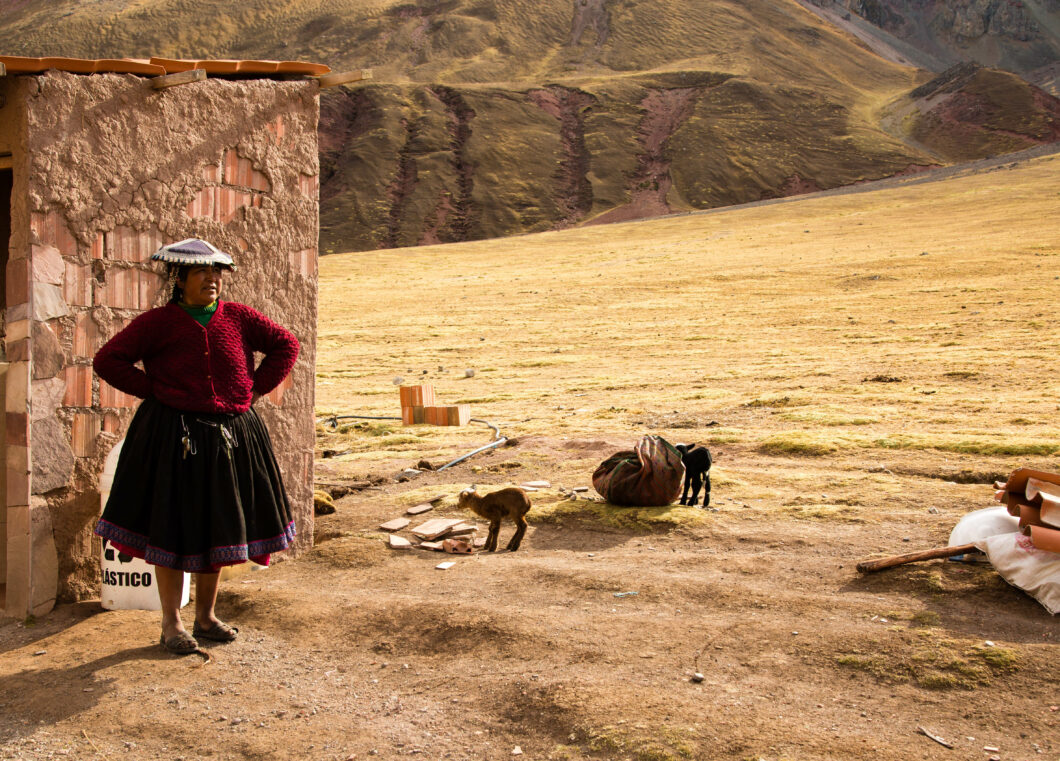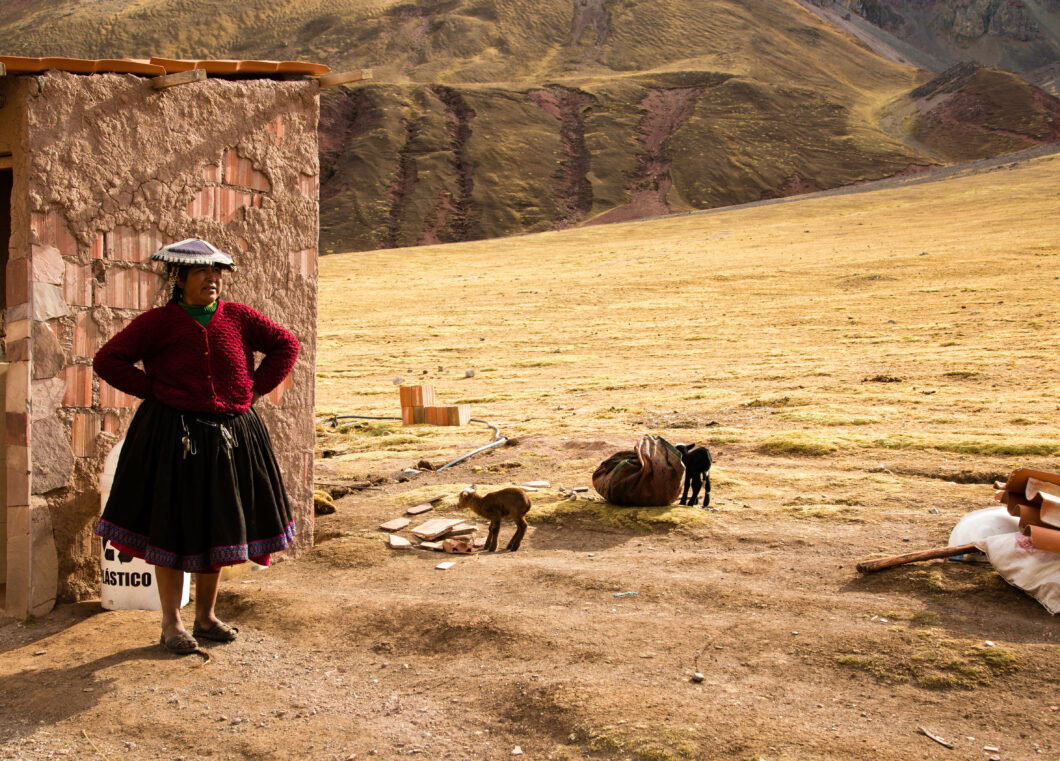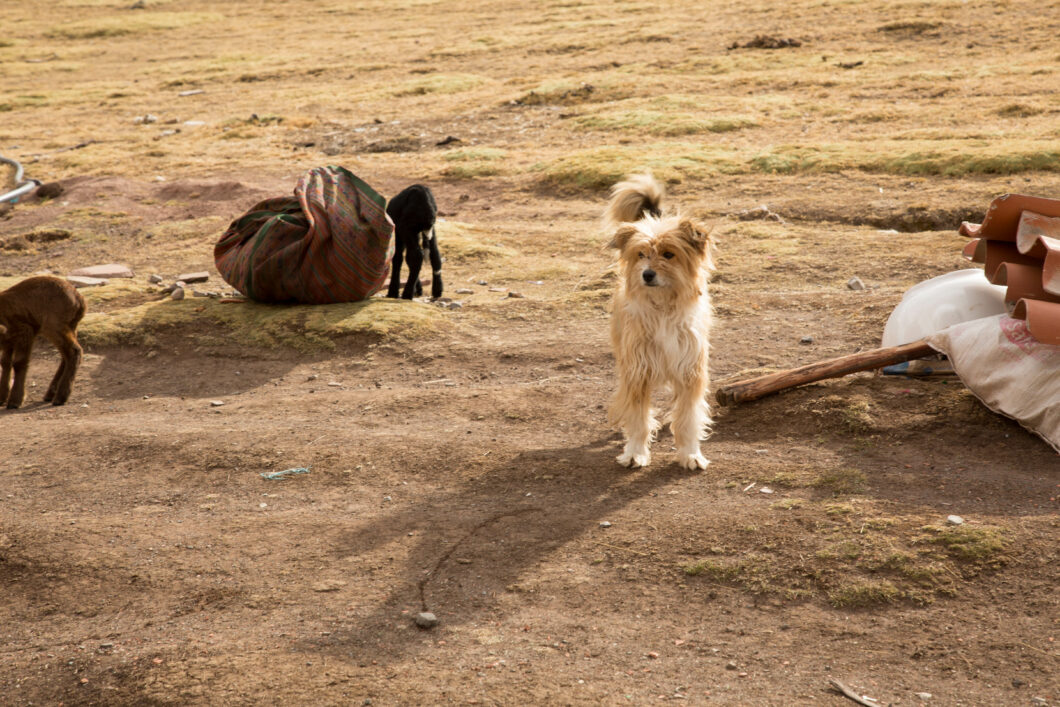 Hiking is fun!
Another reason I enjoyed Rainbow Mountain so much is simply because I enjoy hiking, and I was bummed we didn't have enough time to hike the Inca Trail on this trip. (You need at least 4 days to do so.) So, this was a good way to also accomplish something physically demanding in a fraction of the time. Rainbow Mountain is easily a 1-day event!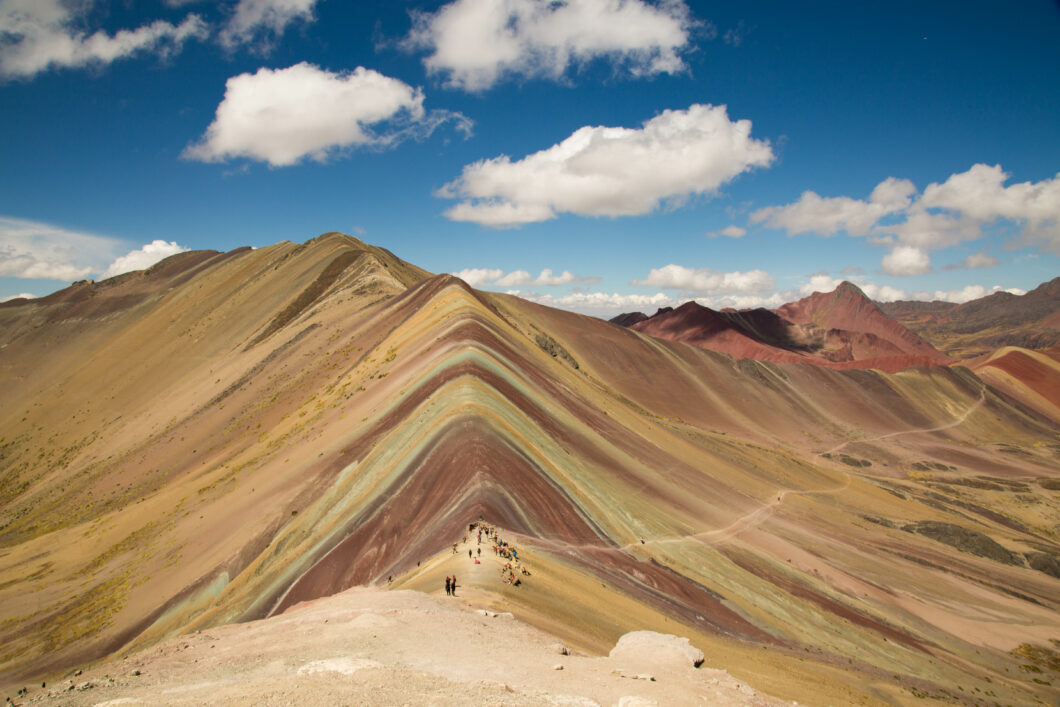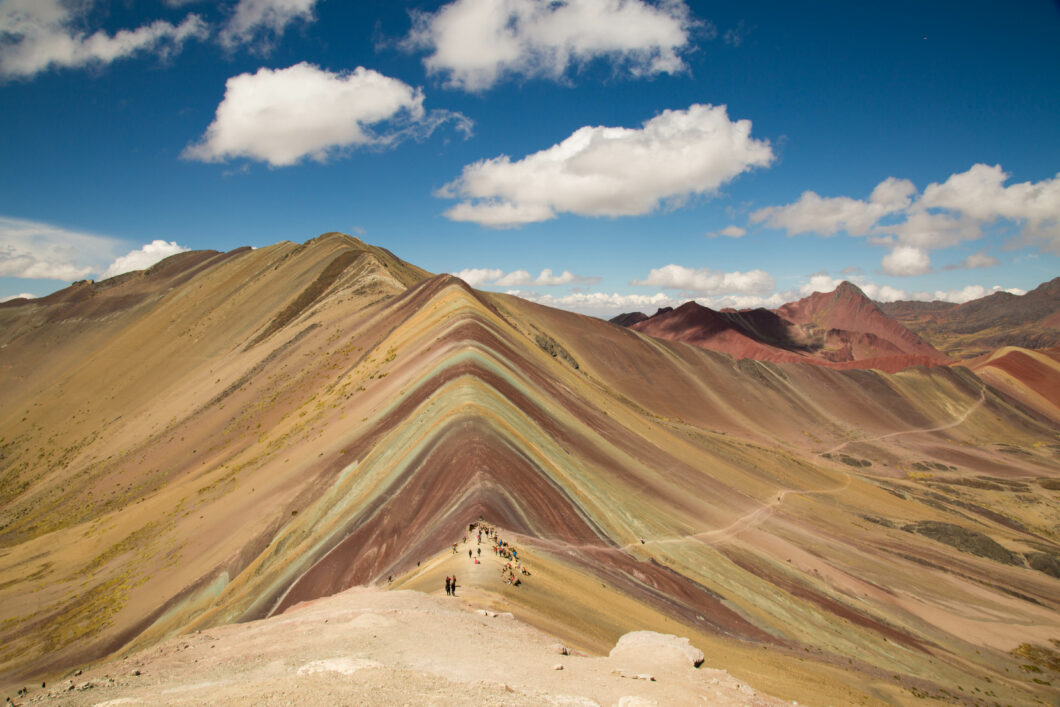 Those views!
And when it's all said and done, reaching the top and seeing that view (pictured above) is absolutely breathtaking! It's honestly one of the most incredible views I have ever seen in my life. It's also very rewarding after hauling my bum up the side of a mountain! Haha. (If you're interested in reading the geological reasons behind the mountain's colors, check out this here article by an expert.)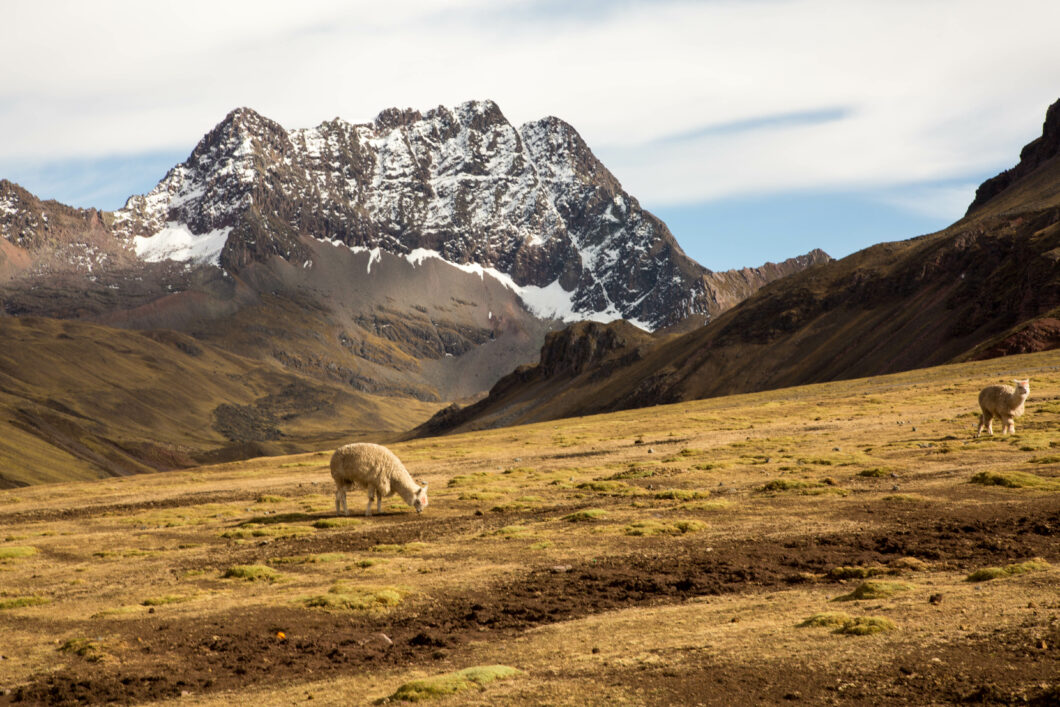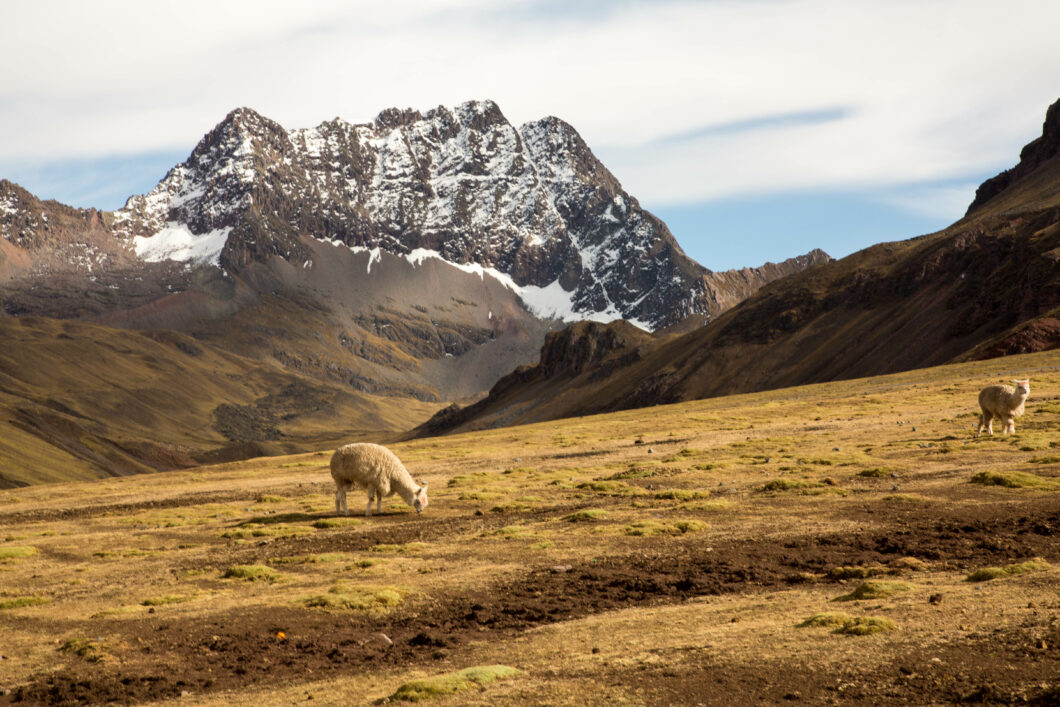 What to Expect When Hiking Rainbow Mountain

The Elevation
The moment of truth now…technically Rainbow Mountain is a very easy hike, it will take roughly 3 hours round trip moving at a very slow pace. However, while the hike itself isn't so bad, the elevation is the tricky part. The trek itself starts at 4,326 meters (14,189 feet)! And you end up hiking to 5,020 meters (16,466 feet). So, elevation is a huge factor. For reference, when I hiked Mount Fuji last summer, the highest point was 3,776 meters!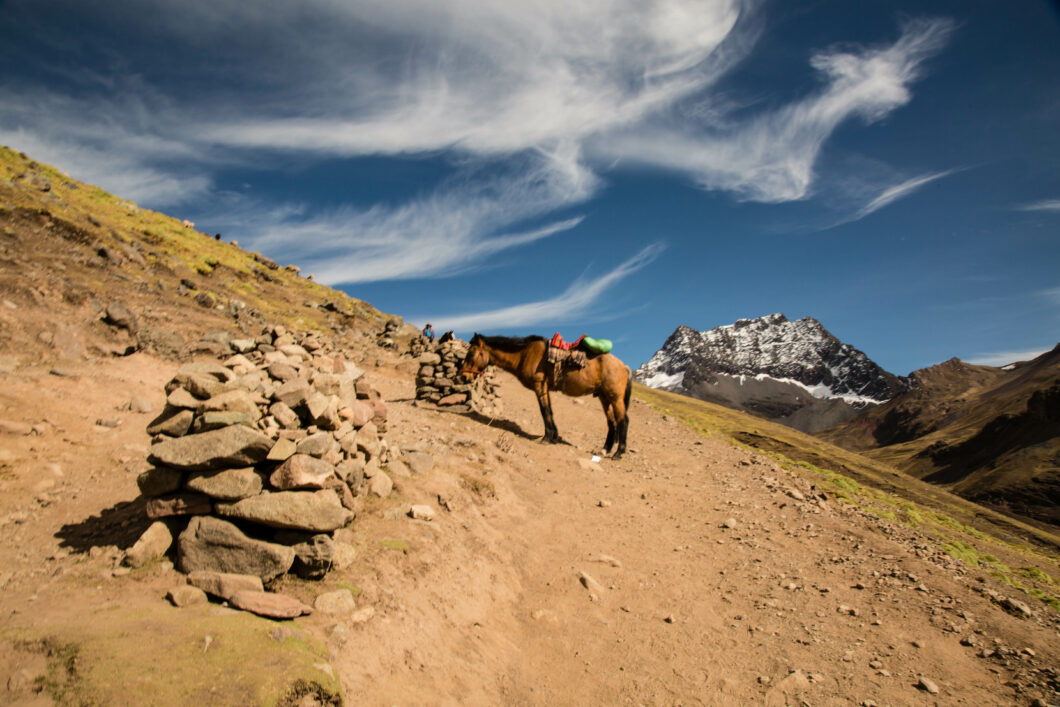 I experienced no issues with elevation on Fuji, but I could certainly feel it hiking Rainbow Mountain. My husband even showed me a Snapchat of myself before I wrote this post so I wouldn't forget that I kept saying, "I think I'm going to have a heart attack!" I didn't, but my heart was racing for the entire hike and breathing was very hard.
Now, if you do get too tired, you can buy a horse ride from a local for a few soles. This won't necessarily help with your elevation sickness, but it does mean you won't have to walk anymore. I was hellbent on doing the hike myself because 1.) I like physical challenges 2.) I wanted to be able to take photos whenever I felt like it, and that becomes difficult if you're on a horse. So, I did not buy a horse ride. But it was comforting to know I had the option!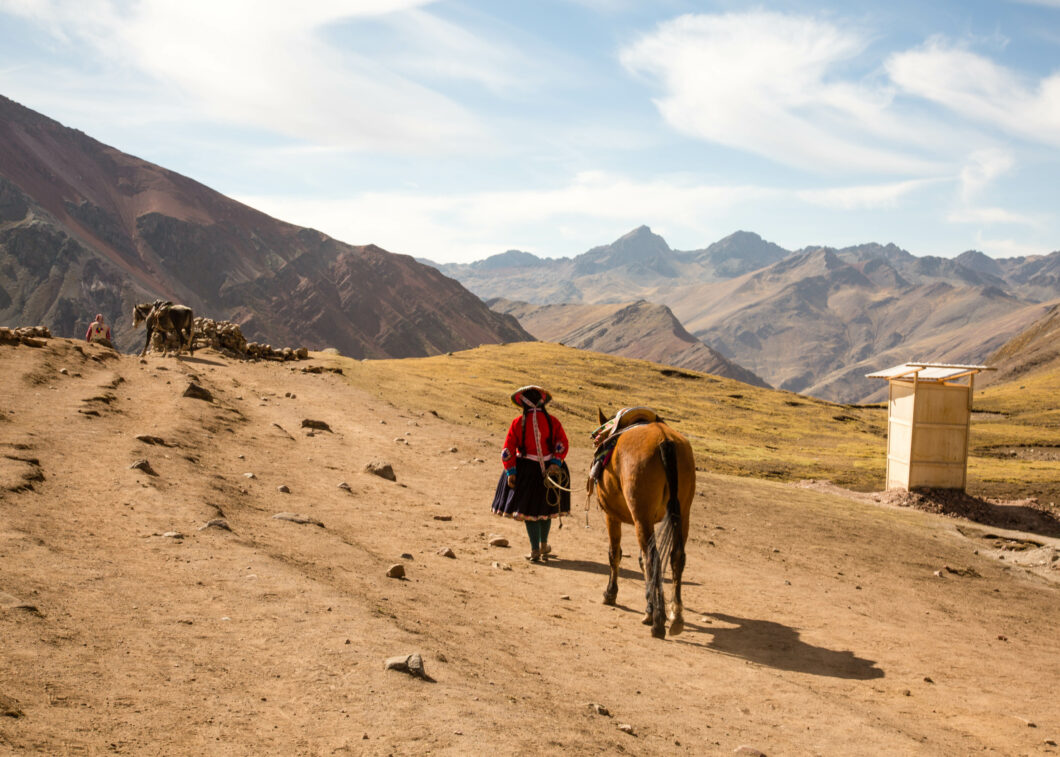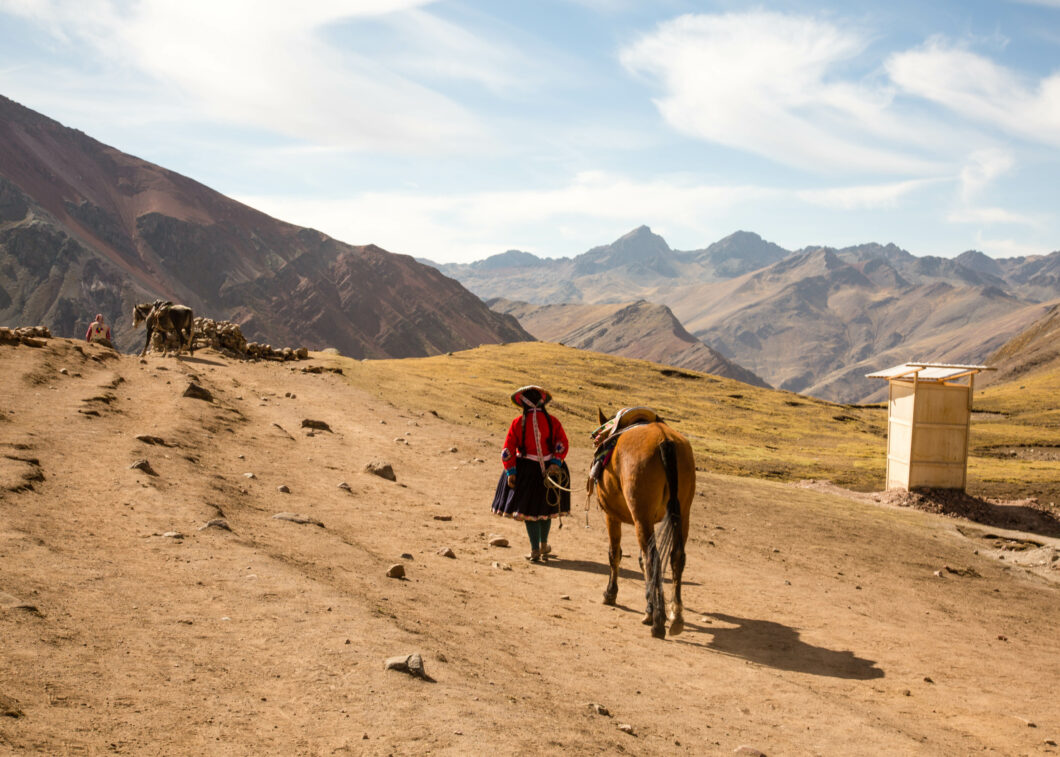 Move Slow & Drink Lots of Water
You'll need to move at a snail's pace to avoid getting sick. You'll also want to continuously sip water. The hike is going to start out cold and the air is really dry, so you won't notice just how much you are sweating. But take it from my husband, who did NOT drink enough water, you will get very sick if you don't. There are also plenty of "bathrooms" (enclosed little holes in the ground – but, hey, they work!) along the way. So, don't worry, you'll be able to go to the bathroom if you do overdo it on water. Just be sure to pack some toilet paper, as that is not provided!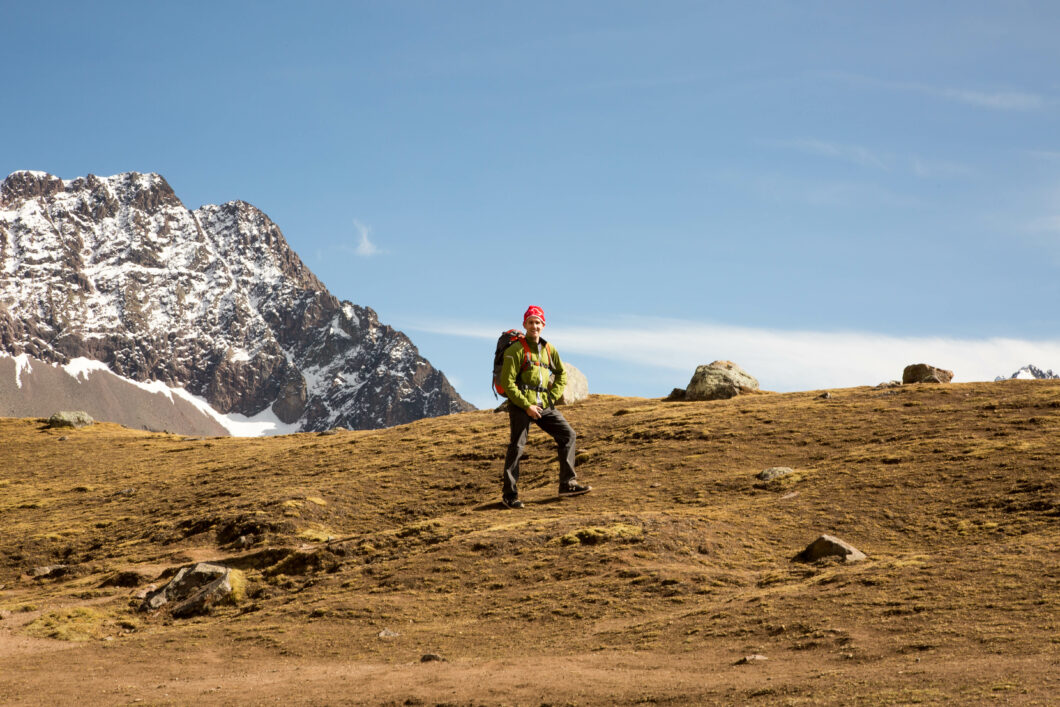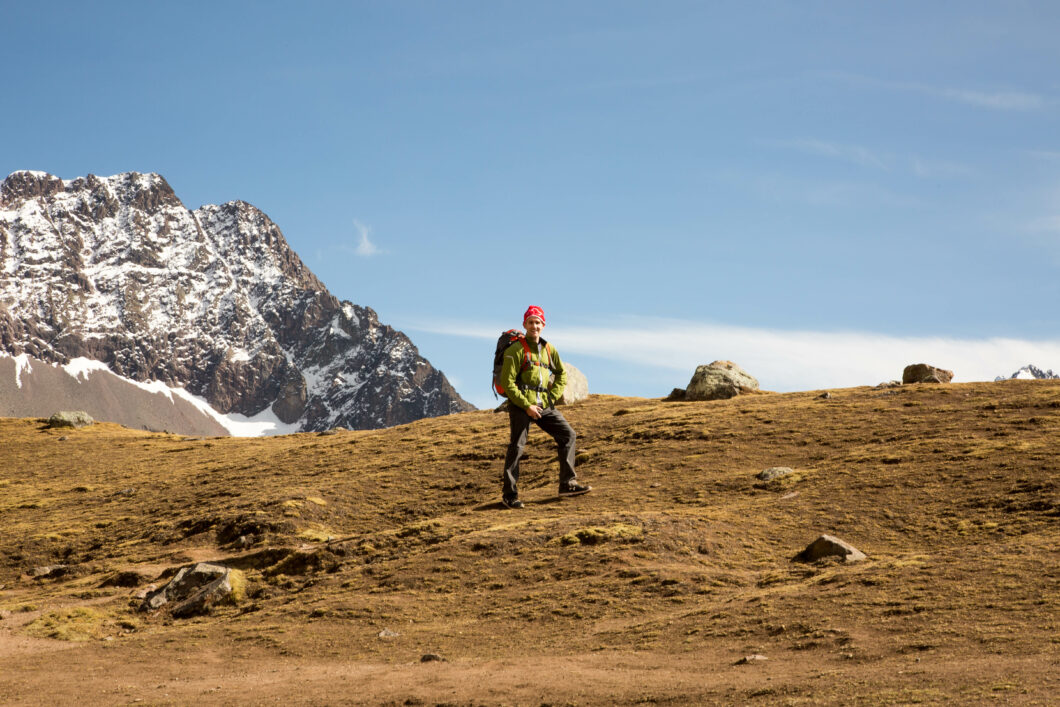 Drink Coca Tea or Chew Coca Leaves
Yes, these are the leaves that people use to make the drug cocaine from, however, drinking the tea is not the same as doing drugs. It's the same idea that eating a grape is not the same as drinking a glass of wine. And everyone swears coca leaves help with elevation sickness. I'm not sure if it's a placebo effect or if it actually helps, either way, I did feel better after having a cup or two of coca tea!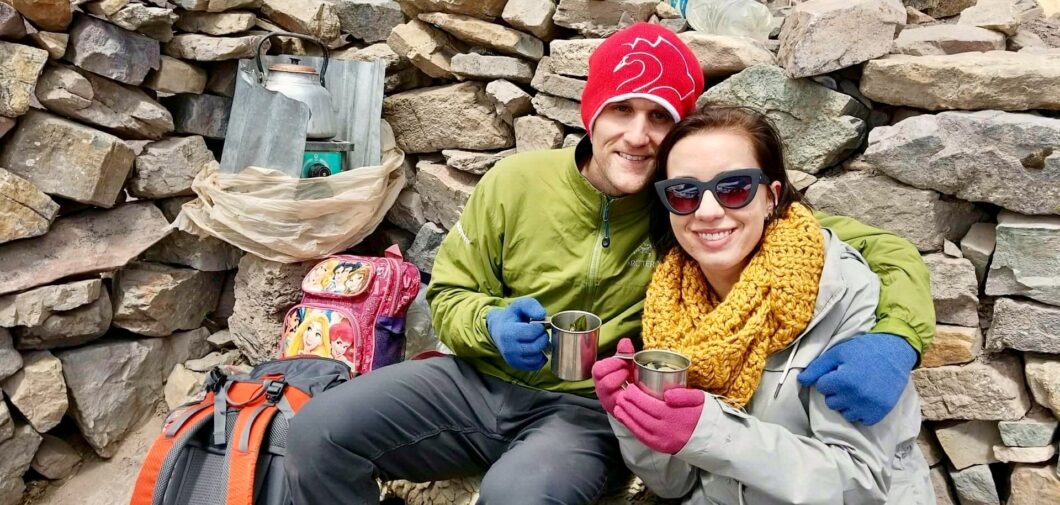 Take Breaks!
Be prepared to take lots of breaks! It won't take much to feel as though you can't breathe. Take a moment for some deep breaths and water/coca tea, and you'll feel much better!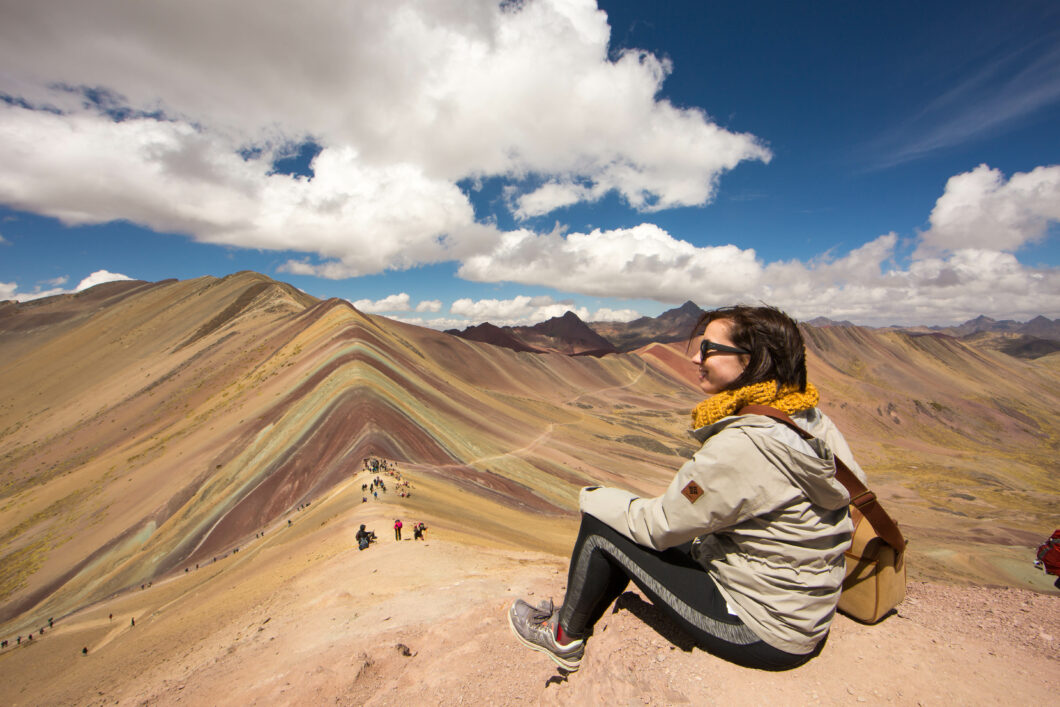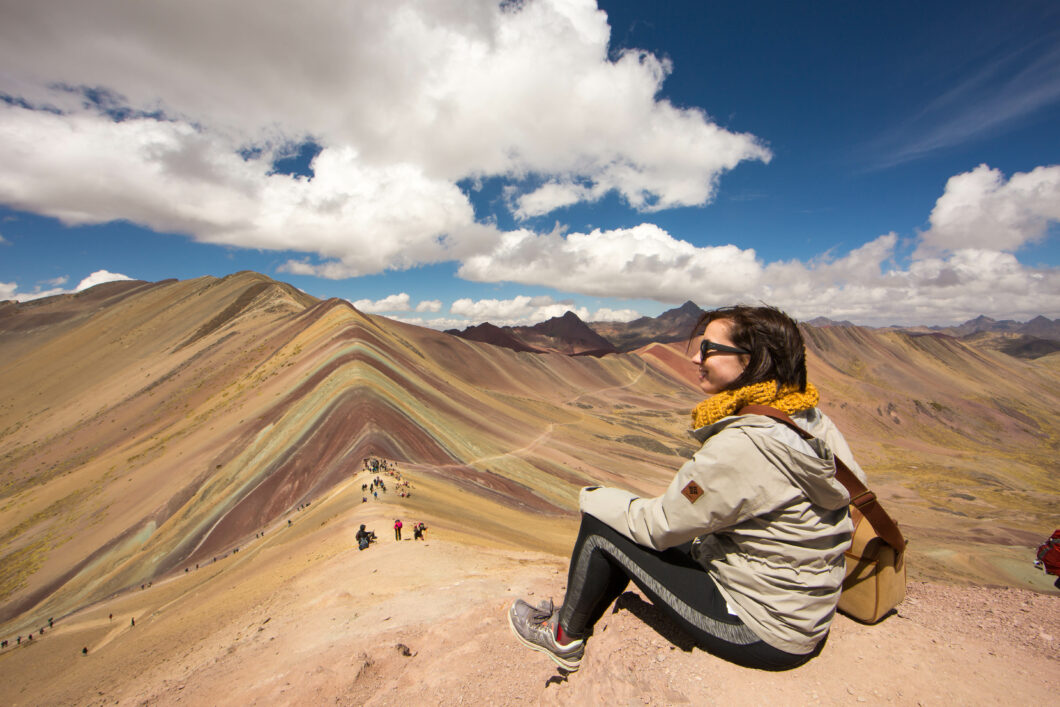 How to Get There & How To Prepare for the Hike
My husband and I didn't do any special kind of training for this hike. We both exercise on a regular basis, but honestly, I'm not convinced that did us any good when it came to the elevation. Everyone will react differently to the elevation, and I believe this is something you will have to mentally be prepared for, as you can't control how you will physically react.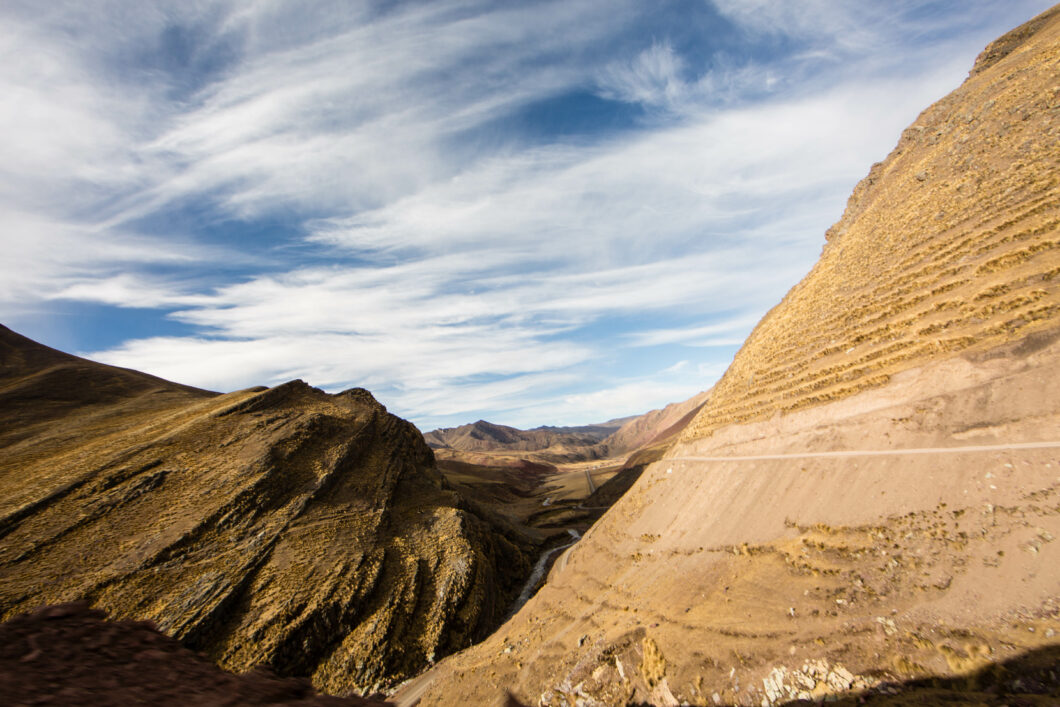 How To Get There
We also had a guide with us who had an oxygen tank in her backpack if anyone got too sick. We never needed it, but it was reassuring to know it was there. I wouldn't say you need a guide for this hike, as the trail is very evident. However, you will need to at least book some form of transportation to Rainbow Mountain, as the drive to get there is crazy and takes nearly 3 hours from Cusco! (And there are tons of steep ledges and no guardrails.) I know many hostels and hotels in Cusco will be able to get you a bus to Rainbow Mountain for around 30 soles. This is depending on your budget and how you like to travel, though. (This group tour is another good option.)
Or you can come to Peru with me! I'm hosting a 10-day small-group tour to Peru in November 2022! (This tour includes Rainbow Mountain!) See the details here.
Also, be sure no matter who you book through you are leaving well before 4 am! We left at 3:45 am and made good timing to get to the mountain. Any time after that you run the risk of running into larger tour groups, which I think would really have ruined this experience.

Food
Our tour included breakfast and lunch at the stop pictured below and our guide also had packed us snacks and sandwiches for our backpacks. Now, from what I've read, no matter what company you book through, your lunch and breakfast will be similar. And I had read numerous complaints from people that the breakfast was not adequate. So, prepare yourselves. Breakfast is just a big piece of bread and instant coffee. If you require more, be sure to eat before you leave your hotel or pack extra. I felt a light breakfast of bread was fine for doing something as physically exerting as this hike. A huge breakfast of eggs and bacon would not have ended well for me! (But each to their own!)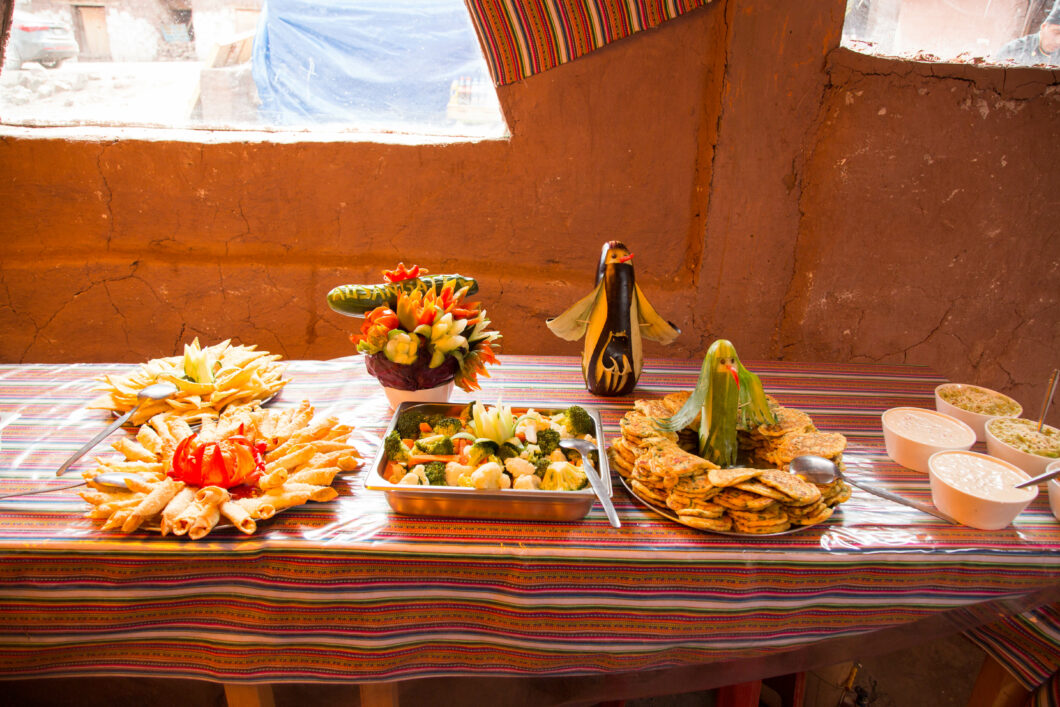 How to Dress
You are going to go through roughly a million temperature changes during this hike and you'll also run the risk of rain and snow (depending on the time of year you go). So, dress in layers and wear waterproof clothing! I also just wore my running shoes and didn't invest in hiking boots. If you have hiking boots – great! If you don't, though, I wouldn't say you need to run out and buy any for this hike.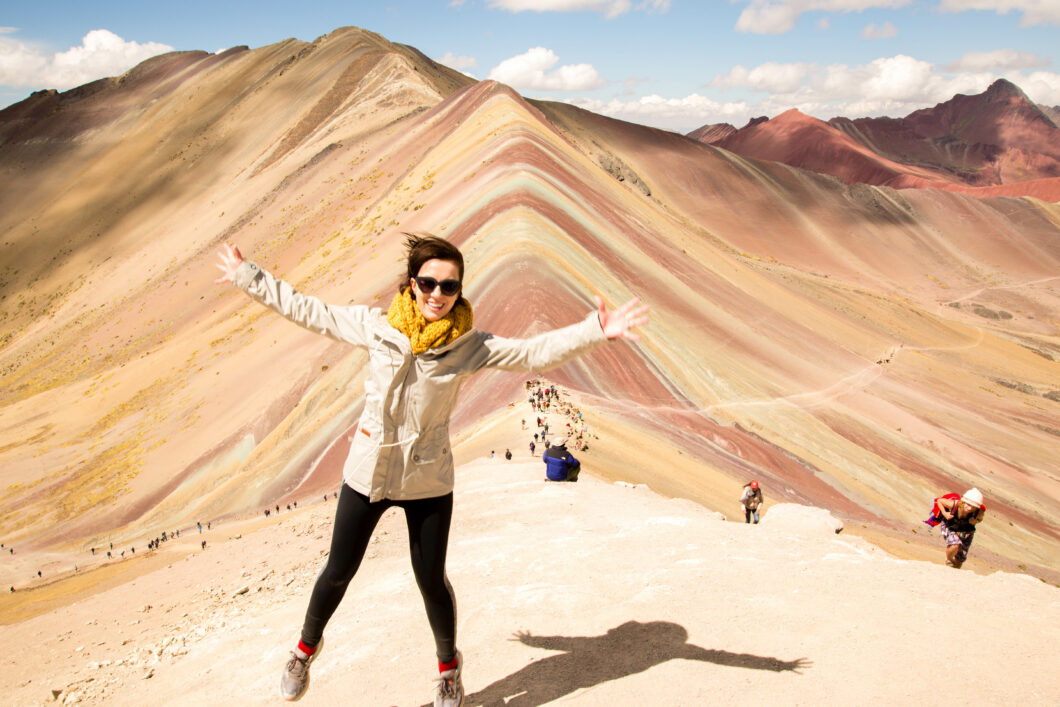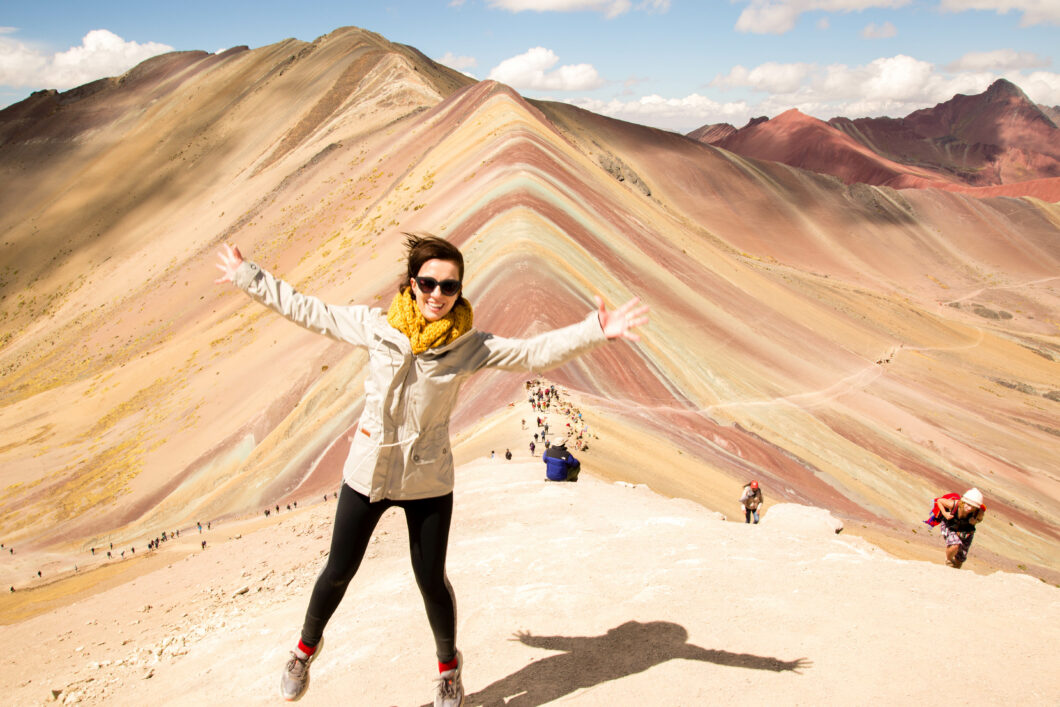 Here is a rundown of how I dressed and I felt it was adequate.
*Waterproof jacket
*Underarmour compression shirt
*Moisture wicking sweatshirt (took this off about halfway through the hike)
*Moisture wicking leggings
*Loose moisture wicking sweatpants over my leggings (took these off very shortly after arriving)
*Wool socks (also packed lighter socks in case I got too warm)
*Hat
*Mittens
*Scarf
*Sunglasses
*Running shoes
*Camera bag (my husband had the hiking backpack)
*VERY IMPORTANT: Wear sunscreen! If you don't you will get burnt to a crisp! (Again, ask my husband! Haha.)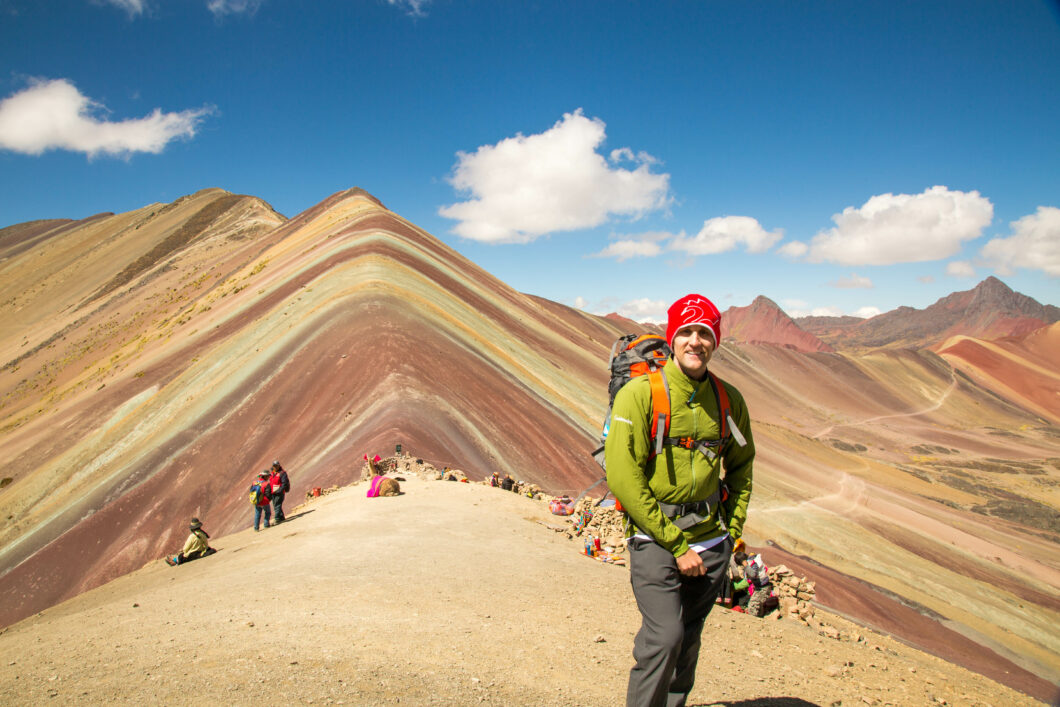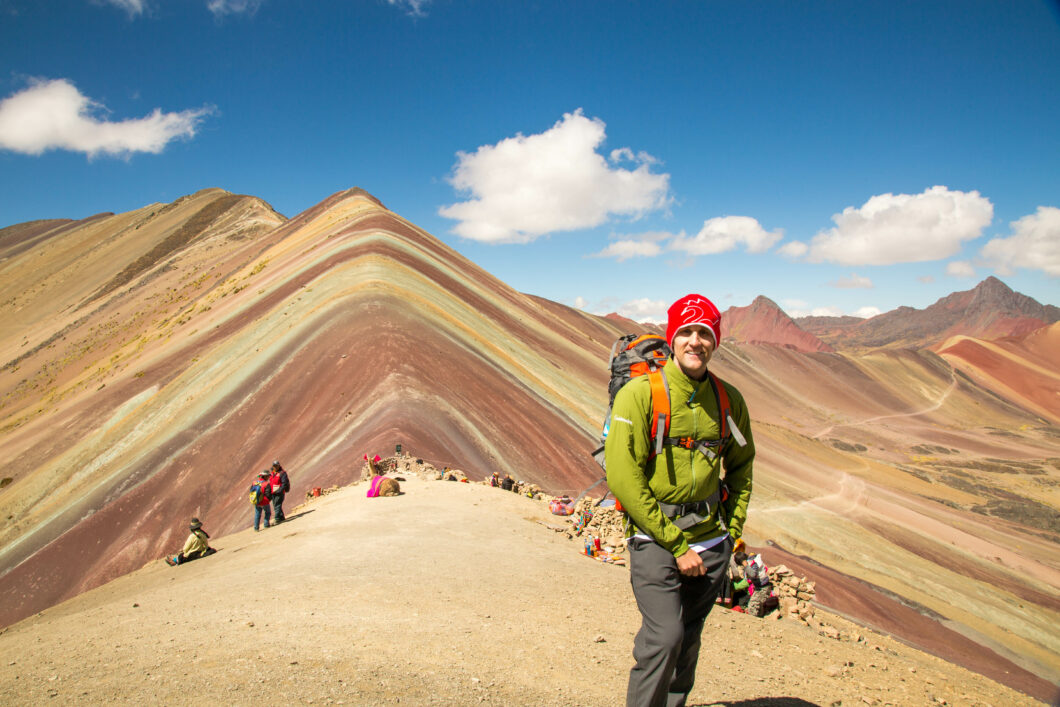 What to Pack
Given that this isn't a very long hike, you won't need to go too crazy with your packing. Having a backpack you are comfortable hiking with is a good idea (and you'll want somewhere to put your layers as you take them off). If you're actually looking for a comfortable travel backpack that you can also hike with, click here to check the review of Osprey Farpoint 40.
My husband carried his backpack while I carried my camera bag, and that was plenty of space for the both of us for this hike.
Here's a brief rundown of the essentials:
*WATER (I drink a lot of water. So, I packed a liter-sized bottle for myself just for the hike + a couple 16-ounce bottles for the car ride.)
*Sunscreen (Again, you will get burnt to a crisp without it!)
*Toilet Paper (No bathrooms will provide this – so, bring your own!)
*Snacks (Fruit, granola bars, sandwiches, etc.)
*Change of clothes for the car ride (nice to have, but not necessary if you dressed in layers.)
*Chapstick (My lips were SO dry for this hike. Make sure it has SPF too.)
*Soles (In case you want to buy coca tea, additional snacks or a horse ride.)
Did I convince you that Rainbow Mountain is worth tackling the elevation? Haha. If not, check out some more of my photos, below! You can click on each photo too to make them larger and read the caption. If anyone has any questions, please feel free to let me know in the comments, and I'll be happy to answer!
Want to hike Rainbow Mountain with me? I'm hosting a 10-day small-group tour to Peru in November 2022! (This tour includes Rainbow Mountain!) See the details here.
I'm curious too, had you heard of Rainbow Mountain before this post? Let me know in the comments!
Click here to read my post, "How to Spend 10 Days in Peru."

Travel Insurance
It's a good idea, no matter where your adventure takes you, to have travel insurance. You never know what might happen! Whether you get sick before your trip and can't go, or you become sick or injured while on your adventure – being covered with travel insurance is a must. Some credit card companies do provide this service (check with yours), or you can get a quote from companies such as Squaremouth to find the best plan for you and your adventure. (This is the company I, personally, use. They are even recommended by Forbes!) To get a free quote, click here.
Visa Requirements
To check if your country requires a Visa for traveling to Peru, click here.
Want to Learn Spanish Before Your Trip?
Knowing some basics in Spanish can be helpful for your time in Peru. Try a free 3 day trial of Rosetta Stone (the best way to learn a foreign language) by clicking here.
*If you like it, Pin it!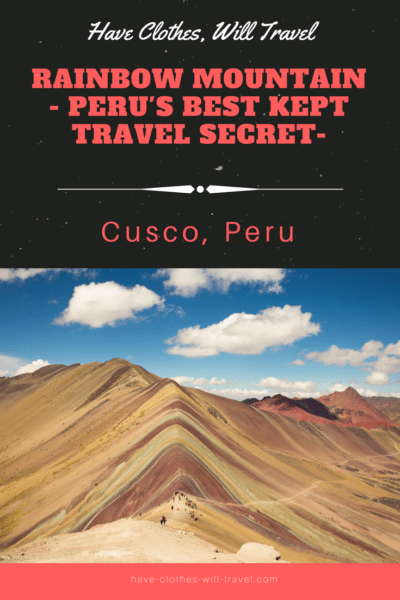 *Disclosure: some of these links are affiliate links. Meaning, if you click a link and make a purchase, Have Clothes, Will Travel gets a very small commission at no extra cost to you. Thank you for supporting the brands that make this blog possible! I am also a participant in the Amazon Services LLC Associates Program, an affiliate advertising program designed to provide a means for us to earn fees by linking to Amazon.com and affiliated sites.