How to Spend 10 Days in Peru – The Ultimate Itinerary
10 days is a great amount of time to see the highlights of Peru. From the bustling city of Lima to the mystical structures of Machu Picchu to the famous Amazon Rainforest, it can all be done in 10 days!
However, if you have more time to spare, I highly recommend spending more time in Peru. This is one country that every time I visit, I find a new part to fall in love with. From gorgeous natural scenery to ancient manmade structures and the most divine food in the world – Peru is a country that has it all.
That being said, though, 10 days in Peru will afford you a fantastic opportunity to see some of the most famous parts of Peru. This Peru itinerary will take you through step-by-step how to make the most of your 10-day trip!
Want to travel to Peru with me? I'm hosting a 10-day small-group tour to Peru in November 2022! See the details here.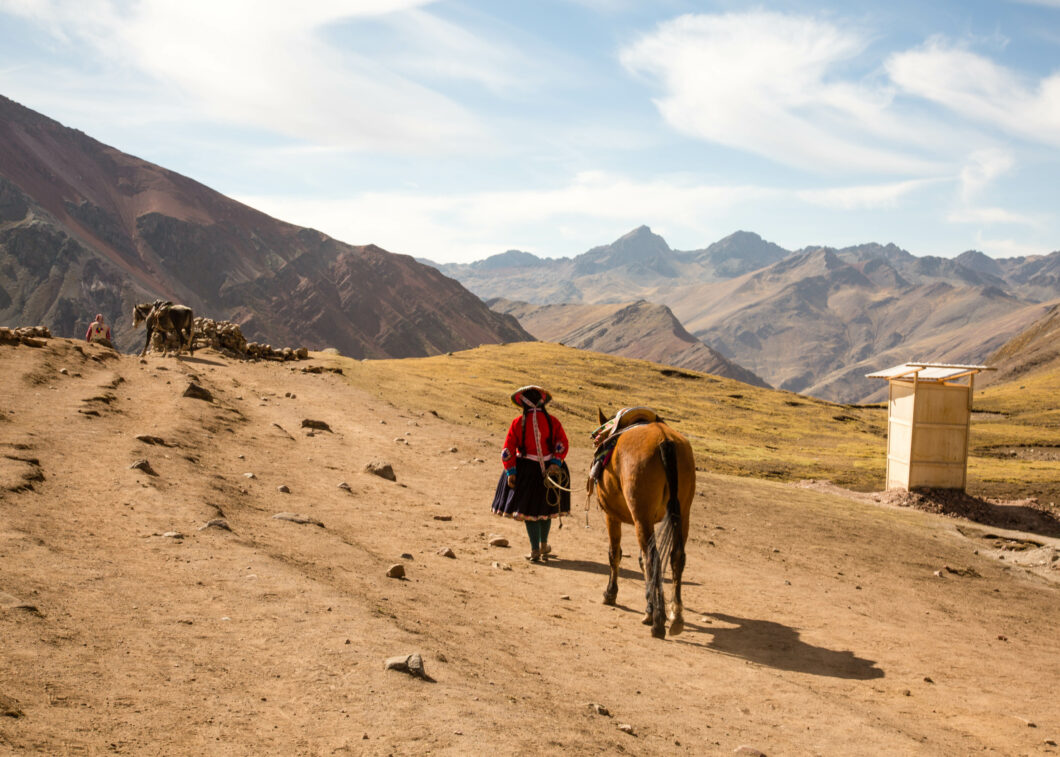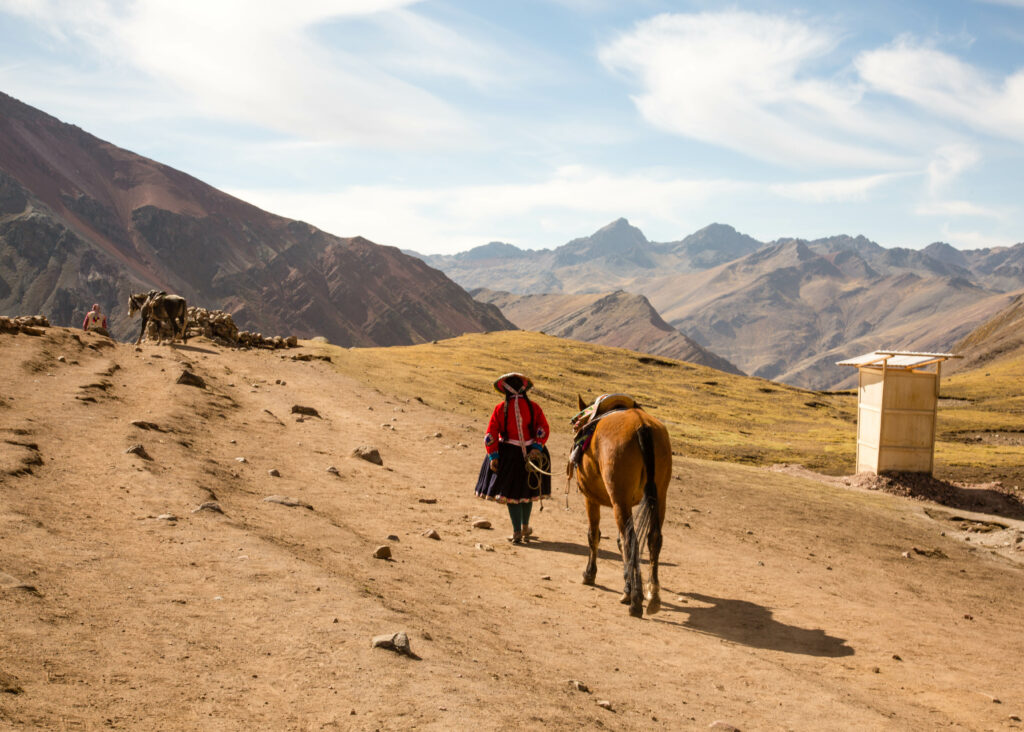 Best Time of Year to Visit Peru
When thinking of Peru seasons, it's best to think of "rainy and dry seasons" instead of summer or winter. May through October is considered the driest time of year in Peru and is also when Peru has the most tourists.
I, personally, like visiting Peru in September. There are not as many crowds as there are in June and July, but the weather is still comfortable and dry (the Amazon will also have less mosquitos!!).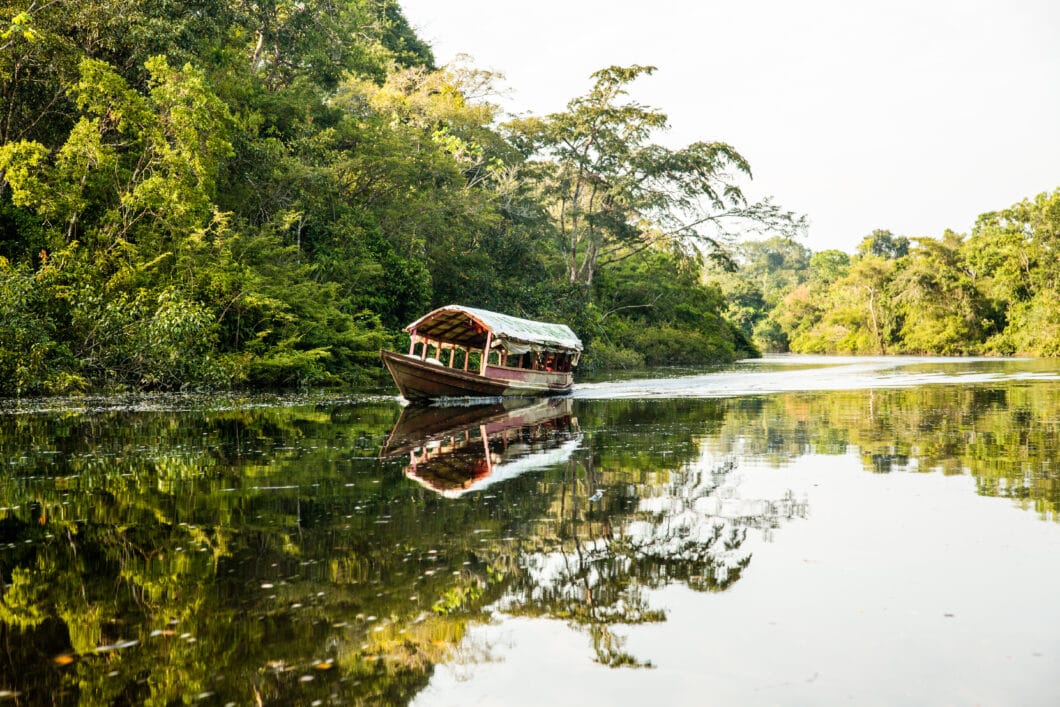 How to Get Around Peru for this Itinerary
This itinerary will require a combination of flying, buses and even boats at some points! I'll explain how to get from each day/destination and the options available,
*Please note – you will be backtracking at points in the itinerary. That is because there are not direct routes to and from all of the places mentioned.
How to Spend 10 Days in Peru – The Ultimate Itinerary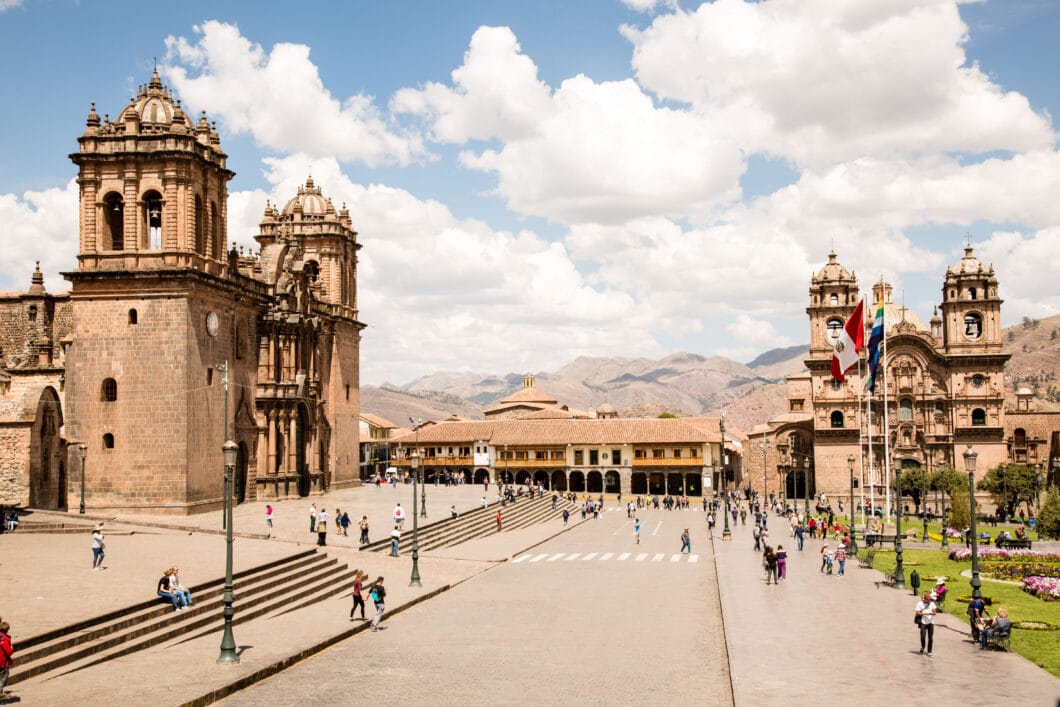 Day 1 – Arrive in Cusco and get acclimated
Flight from Lima // Overnight in Cusco
---
Cusco is 3,399 meters (or 11,152 feet) above sea level. Chances are when you first arrive, you're not going to feel the greatest. Be sure to drink lots of water and coca tea, move slowly and avoid alcohol.
I recommend walking leisurely through Plaza de Armas this first day. This is Cusco's main square, which features gardens, a fountain, cathedrals and many shops and restaurants. Find some yummy local food and then try to go to bed early. It is incredible how much the altitude can affect you!
I had altitude sickness my first day in Cusco, however, my husband was totally fine.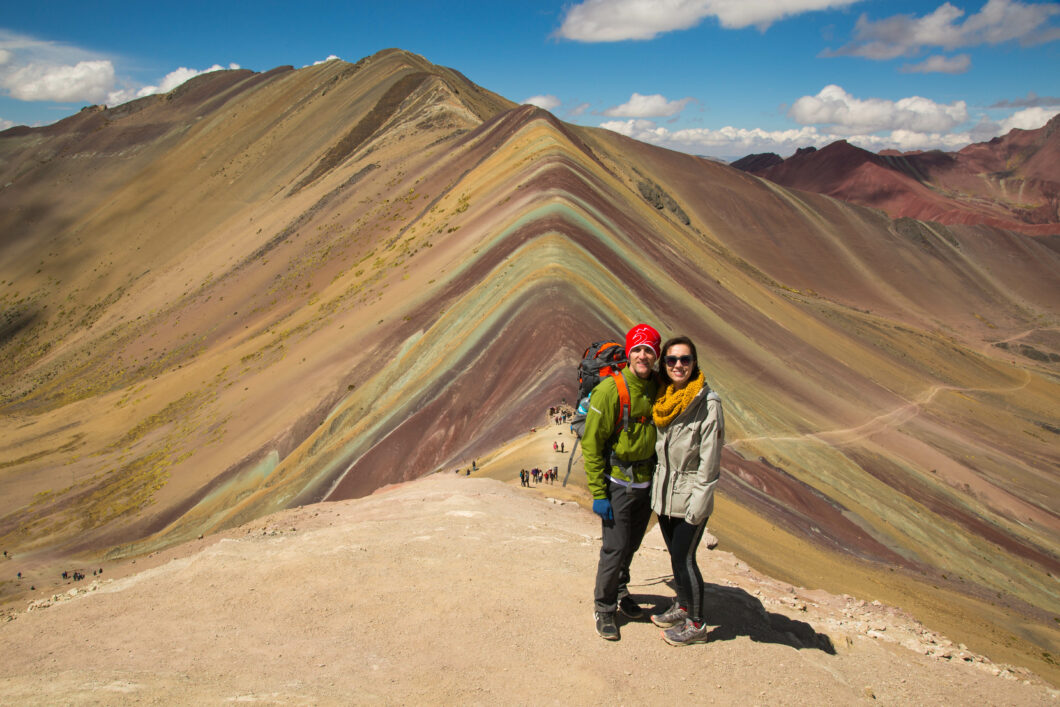 Day 2 – Hike Rainbow Mountain
Roundtrip Tourist Bus from Cusco // Overnight in Cusco
---
Hands down, hiking Rainbow Mountain is one of my favorite memories of Peru – heck, it's one of my favorite travel memories of all time! I can't recommend this hike enough! Rainbow Mountain is the colorful mountain pictured above and it requires around a 3-hour hike. It's not a particularly strenuous hike. However, the altitude will once again be a factor, so you'll be moving slowly.
The easiest way to get to Rainbow Mountain and back to Cusco is to take a tourist bus from Cusco. You can book ahead of time online if you're a planner like me and like to have this all set before you leave for your trip (+ read reviews!). Or you can book a spot on a tour bus once you get to Cusco (this will likely be cheaper than booking online).
Want to travel to Peru with me? I'm hosting a 10-day small-group tour to Peru in November 2022! See the details here.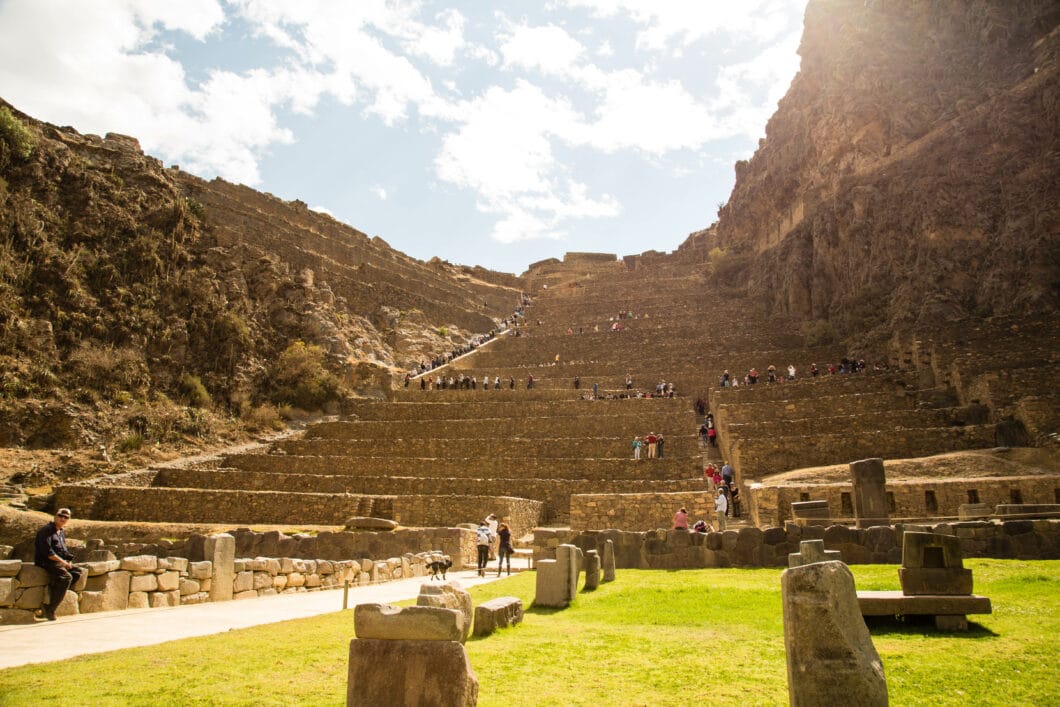 Day 3 – See the Sacred Valley and hop on the train to Aguas Calientes
Tour + Train to Aquas Calientes // Overnight in Aquas Calientes (aka Machu Picchu)
---
Aquas Calientes is the closest city to Machu Picchu. The best way to get there is by train. So, what I recommend doing is take a tour from Cusco through the various ruins in the Sacred Valley, on your way to the train station in Ollantaytambo. You can visit Pisac, Urubamba and Ollantaytambo before boarding your afternoon train. I had taken the Peru Rail Expedition Train to Aquas Calientes,
*If you would rather not take a tour through the Sacred Valley, and instead, go directly to the train station in Ollantaytambo, hiring a taxi from Cusco will be the easiest/fastest option.
*Yet another option is to book a full-day tour of Machu Picchu straight from Cusco. Click here for a luxury train + private tour service.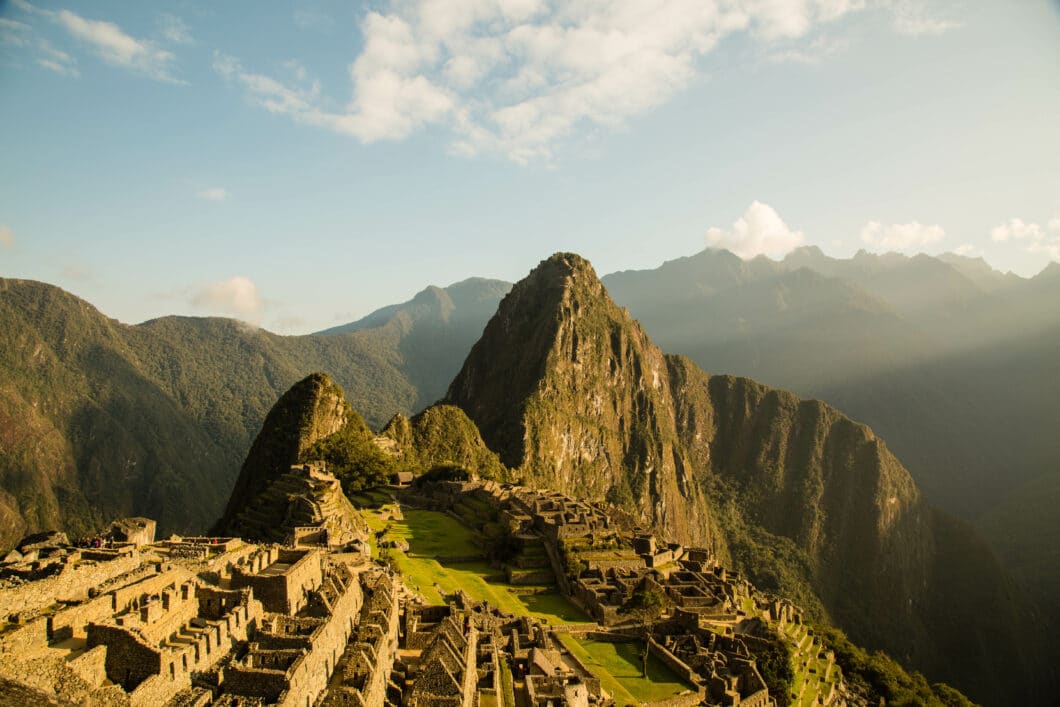 Day 4 – Machu Picchu
Train back to Ollantaytambo + taxi to Cusco // Overnight in Cusco
---
Today, you'll want to wake up bright and early and get in line for the bus to Machu Picchu as early as possible! (You can also order your tickets ahead of time.) Then you'll spend the morning exploring Machu Picchu.
After your visit, you will get back on the train to Ollantaytambo, from here you can take a bus, taxi or hire a service to get back to Cusco.
Want to travel to Peru with me? I'm hosting a 10-day small-group tour to Peru in November 2022! See the details here.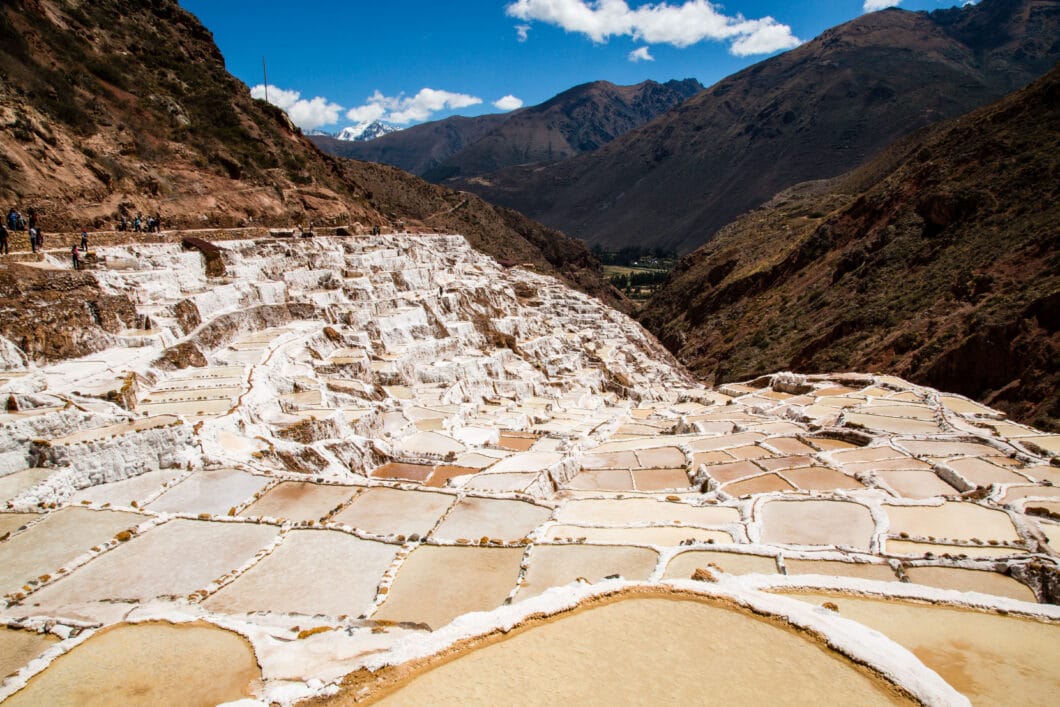 Day 5 – Visit Moray, Salt Mines and Chinchero
Take a tour or taxi // Overnight in Cusco
---
These were perhaps my favorite ruins to visit in the Sacred Valley. Moray is an archaeological site that's a bit off the beaten path. I think Moray is fascinating. Experts aren't entirely sure how Moray was built. The Salt Mines, are thousands of individual salt pools on a hillside, that date back to Incan times. These are quite close to Moray.
Then, Chinchero is actually a small town not terribly far from Cusco (about 40 minutes in a car). It has a lot of interesting things going on. There are beautiful Inca ruins, a colonial church, a traditional weaving/demonstration area and a very nice market.
The easiest way, again, is to take a tour to these ruins from Cusco. You could also hire a taxi for the day.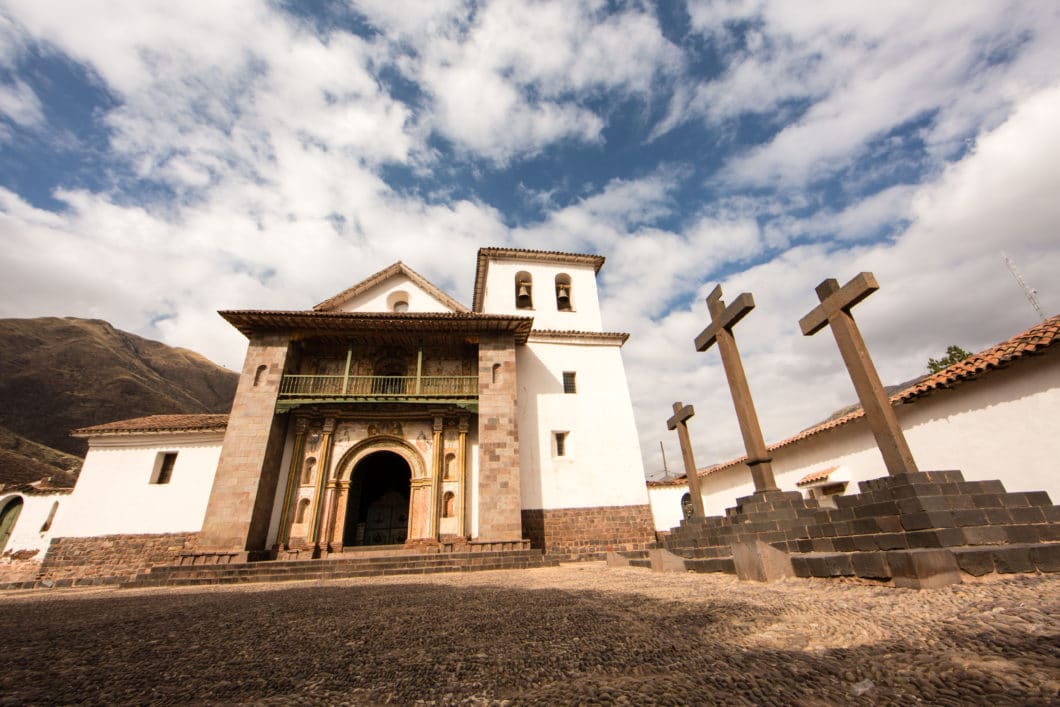 *I am offering two separate options for this next portion of the trip. The first is the most popular option (going to Puno) and the next I will explain at the end of the post. It is visiting the Amazon Rainforest (which I recommend doing).
Day 6* – Scenic bus ride to Puno
Bus to Puno // Overnight in Puno
---
The reason you would want to go to Puno is to see the Islas Flotantes de los Uros (a.k.a. the Floating Islands). Now, I did not particularly care for this portion of the trip. If I were to do this itinerary over, I would skip Puno and the Floating Islands altogether. However, most folks absolutely loved the Floating Islands and have told me it was the highlight of their trip, so, I'll let you decide for yourselves!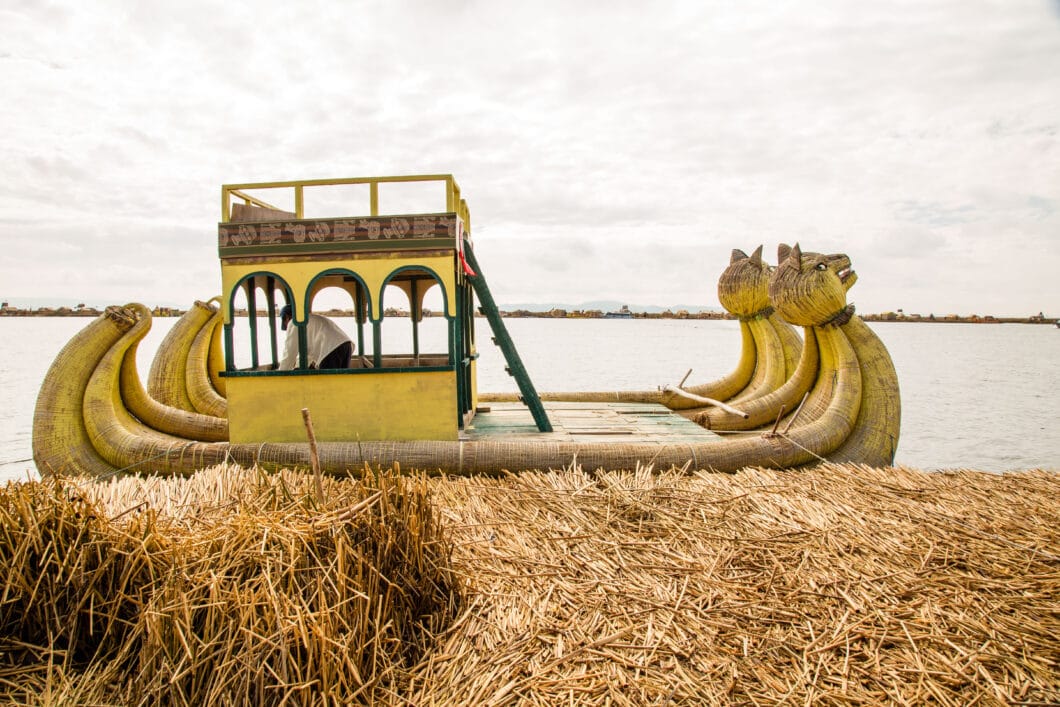 Day 7 – Floating Islands & Taquile Island in Lake Titicaca
Boat ride to the Floating Islands // Overnight in Puno
---
Again, I was not terribly impressed with either of these places. But this is just my opinion! This could be because we were on a large tour for this day as well. In retrospect, perhaps doing a private tour or simply forgoing the tour and just boarding a boat in Puno to the Floating Islands and Taquile Island would have made the day more enjoyable.
Want to travel to Peru with me? I'm hosting a 10-day small-group tour to Peru in November 2022! See the details here.
Day 8 – Express bus back to Cusco & free afternoon in Cusco
Bus ride from Puno to Cusco // Overnight in Cusco
---
Catching an express bus back to Cusco is what I did to catch our flight out of Cusco the next day. However, you could also get a flight from the Juliaca airport (an hour away from Puno) to Lima. Or there is a bus from Puno to Lima, if you don't want to go back to Cusco.
Day 9 – Check out San Pedro Market!
Walking to San Pedro Market then take a flight to Lima // Overnight in Lima
---
At some point during your Peru trip, you have to make a point to experience San Pedro Market in Cusco. It is HUGE, and there are so many crazy things to see and try here. I had to catch a flight, so I didn't spend more than a couple hours here. However, you could seriously make a day of San Pedro Market.
If you're not going back to Cusco, though, I would suggest squeaking San Pedro Market in after you visit Moray, the Salt Mines and Chinchero. None of these places take terribly long to visit, and you could get a few hours in at the market before it closes.
Then, catch a plane to Lima!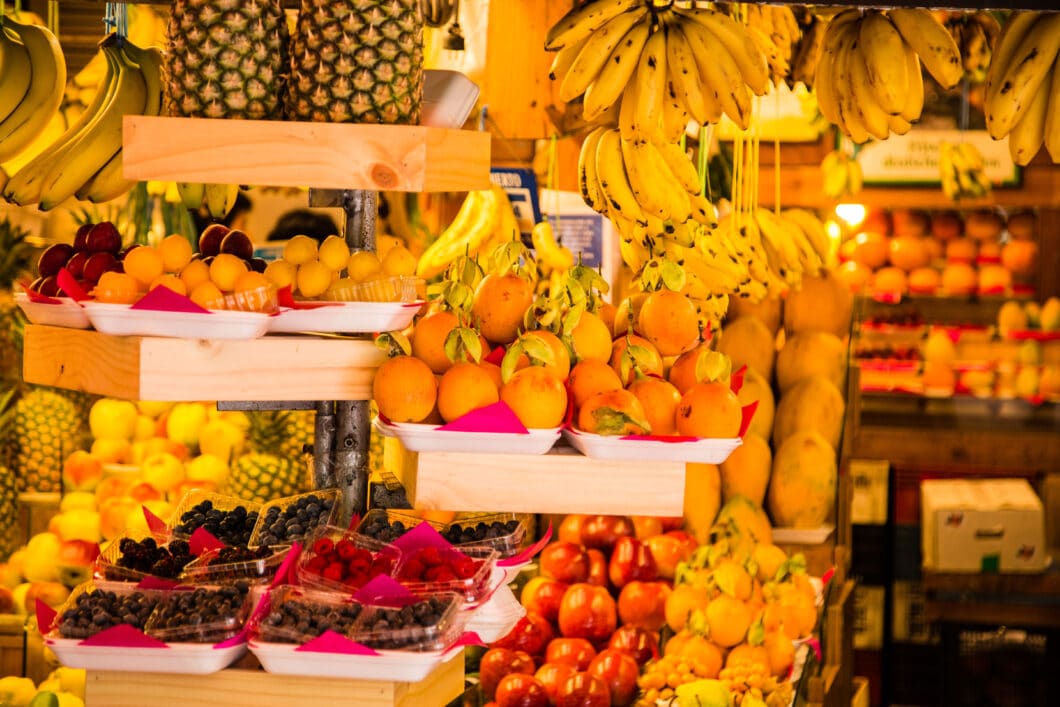 Day 10 – Lima
Overnight in Lima or flight home (we flew out at 10 pm)
---
There was a point in this trip planning where I had considered not visiting Lima at all. Boy, would that have been a mistake! Lima is a beautiful city with absolutely incredible food. Give Lima at least a day out of your trip – you won't regret it.
I spent the day eating as much food and trying as many beverages as I could, haha.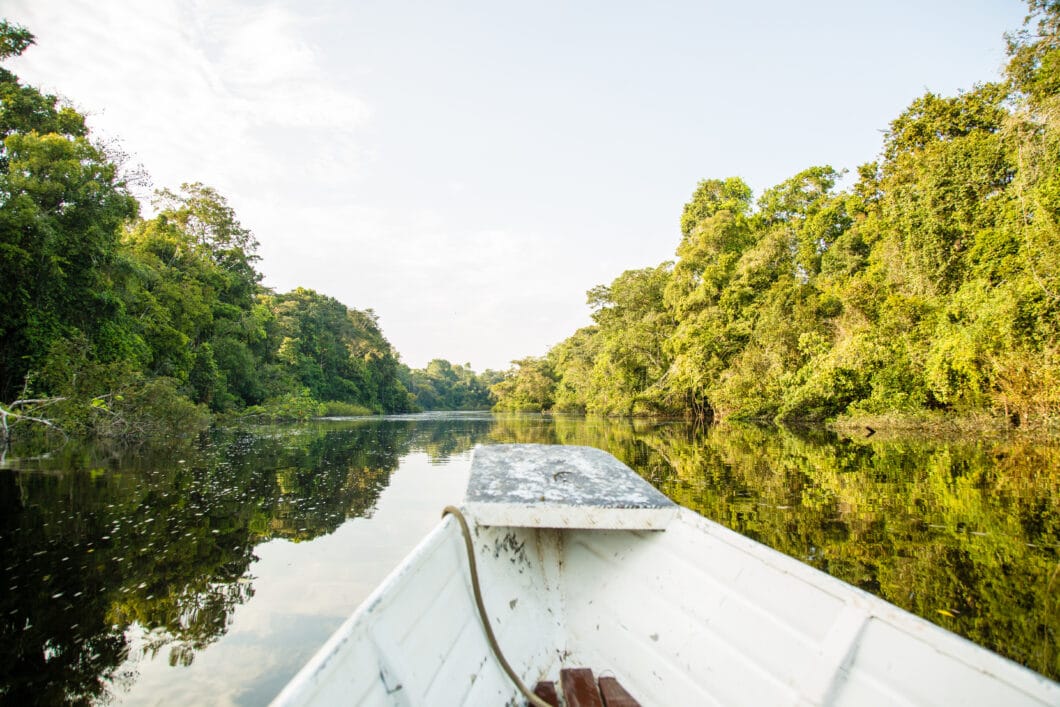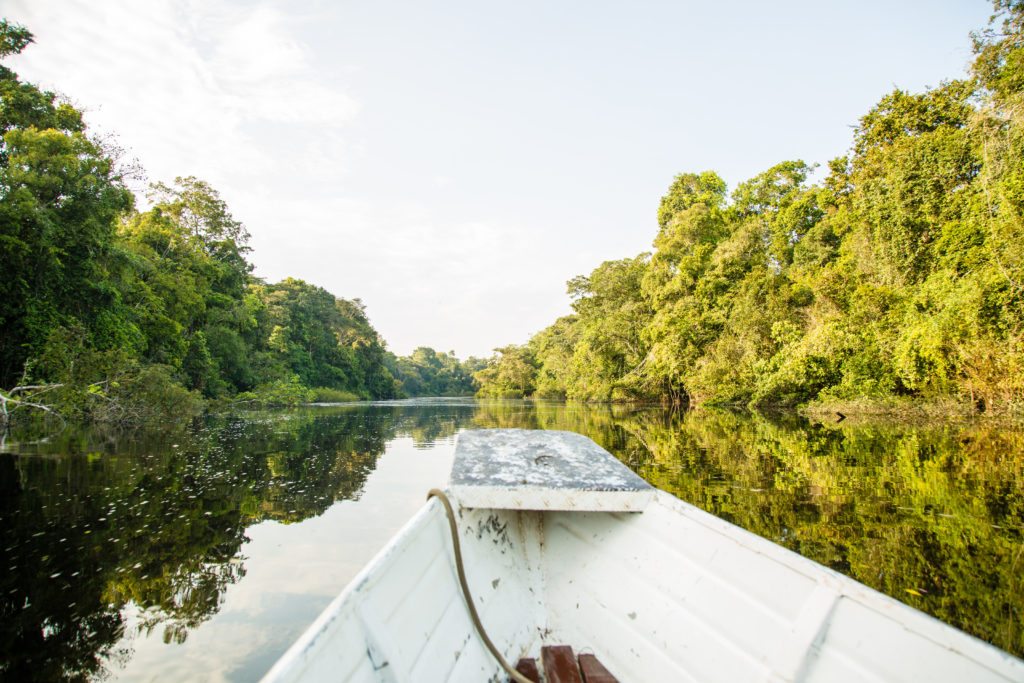 *Alternate Day 6-9 Itinerary Option: Visit The Amazon Rainforest (Iquitos)
Flight from Cusco to Iquitos then transport to your lodge // 2-3 nights in the Amazon Rainforest
---
Instead of going to Puno, I personally recommend going to the Amazon Rainforest instead. While Rainbow Mountain is my favorite Peru memory, the Amazon is a VERY close second.
There are many different lodges you can stay in while in the Amazon. These are all-inclusive adventures and your itinerary will depend on where you stay. (Most will include wildlife spotting, fishing, jungle treks, visiting Amazonian villages and more.) The majority offer 2-3 night stays, which is plenty of time to experience the Amazon.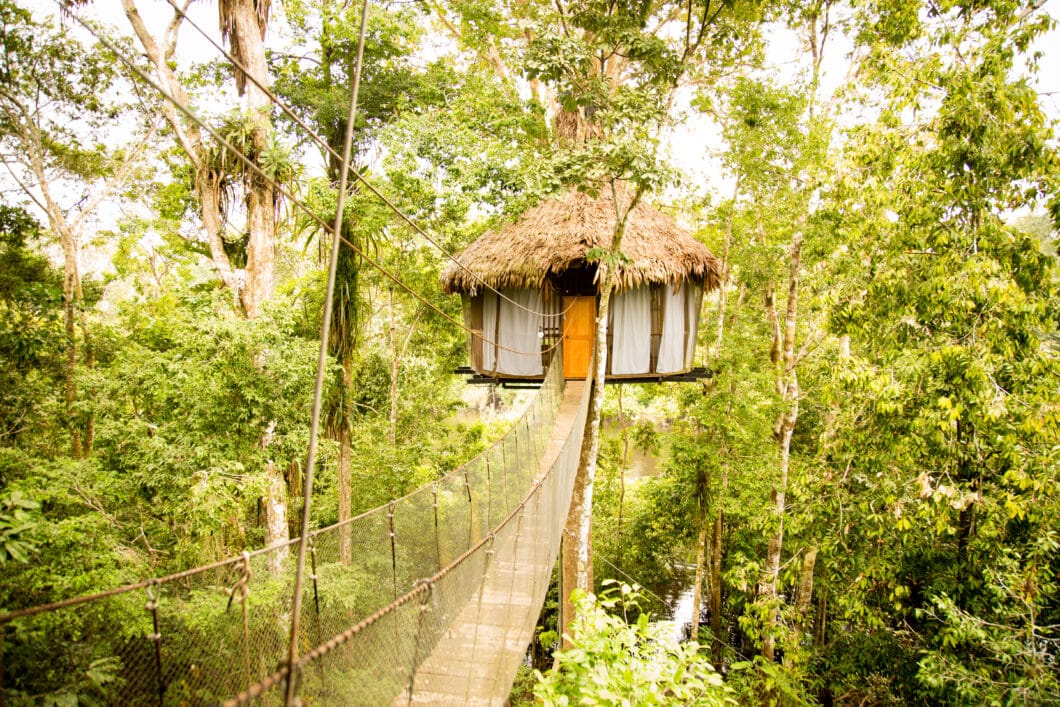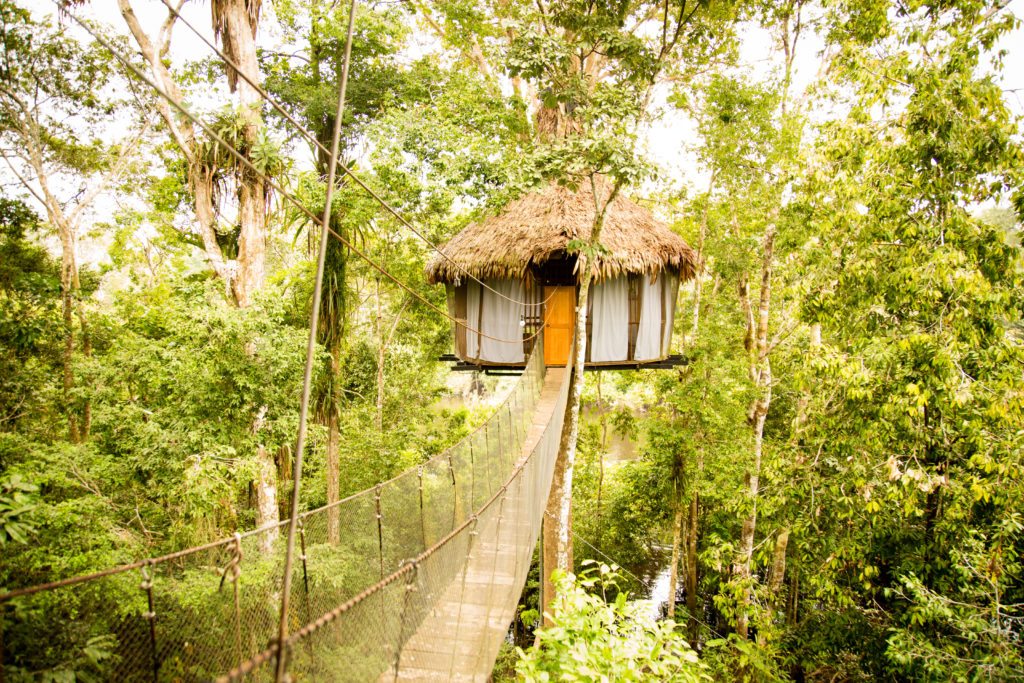 I, personally, spent 3 nights at the Treehouse Lodge and it was AMAZING. If you have the budget, the Treehouse Lodge is the experience of a lifetime. (My treehouse in the Amazon is pictured above!)
*If you end up staying 2 nights in the Amazon vs 3, use your extra day to sightsee in Lima!
From Iquitos, you can take a direct flight to Lima for the last portion of this itinerary.
Travel Insurance
---
As of 2022, many destinations require having travel medical insurance that covers COVID-19. Squaremouth is the only site that currently lets you filter travel insurance policies for COVID-19 coverage. I, personally, use Squaremouth for finding the best insurance policies for my travels, and I have already used them for trips planned in 2022. They're also recommended by Forbes! You can click here to get your free travel insurance quote.
---
To check if your country requires a Visa for traveling to Peru, click here.
Update: Hotels – Where We Stayed
---
I've been getting a lot of questions about where we stayed on this trip! We used Marriott and Sonesta Inn points for this trip. So, in Cusco we stayed at the JW Marriott. (LOVED it! They have an incredible spa and restaurant on-site and the service is phenomenal!) My friends had stayed at the LLipimpac Guesthouse and had nothing but great things to say (especially for the price).
We stayed at the Wiracocha Inn for Machu Picchu. This was a budget-friendly, no frills stay that was conveniently located near the bus stop for Machu Picchu.
In Puno, we stayed at the Sonesta Posadas del Inca Puno (was undergoing renovation at the time, but was still a fantastic hotel! There were also wild guinea pigs running around the grounds!), and in Lima we stayed at the Courtyard Marriott in Miraflores (fabulous location and hotel)!
Want to travel to Peru with me? I'm hosting a 10-day small-group tour to Peru in November 2022! See the details here.
Update: Baboo Travel Addition
---
And if this all sounds like a lot of work and stress – you can also book a private tour with a very similar itinerary via Baboo Travel! Click here to see their Peru trips.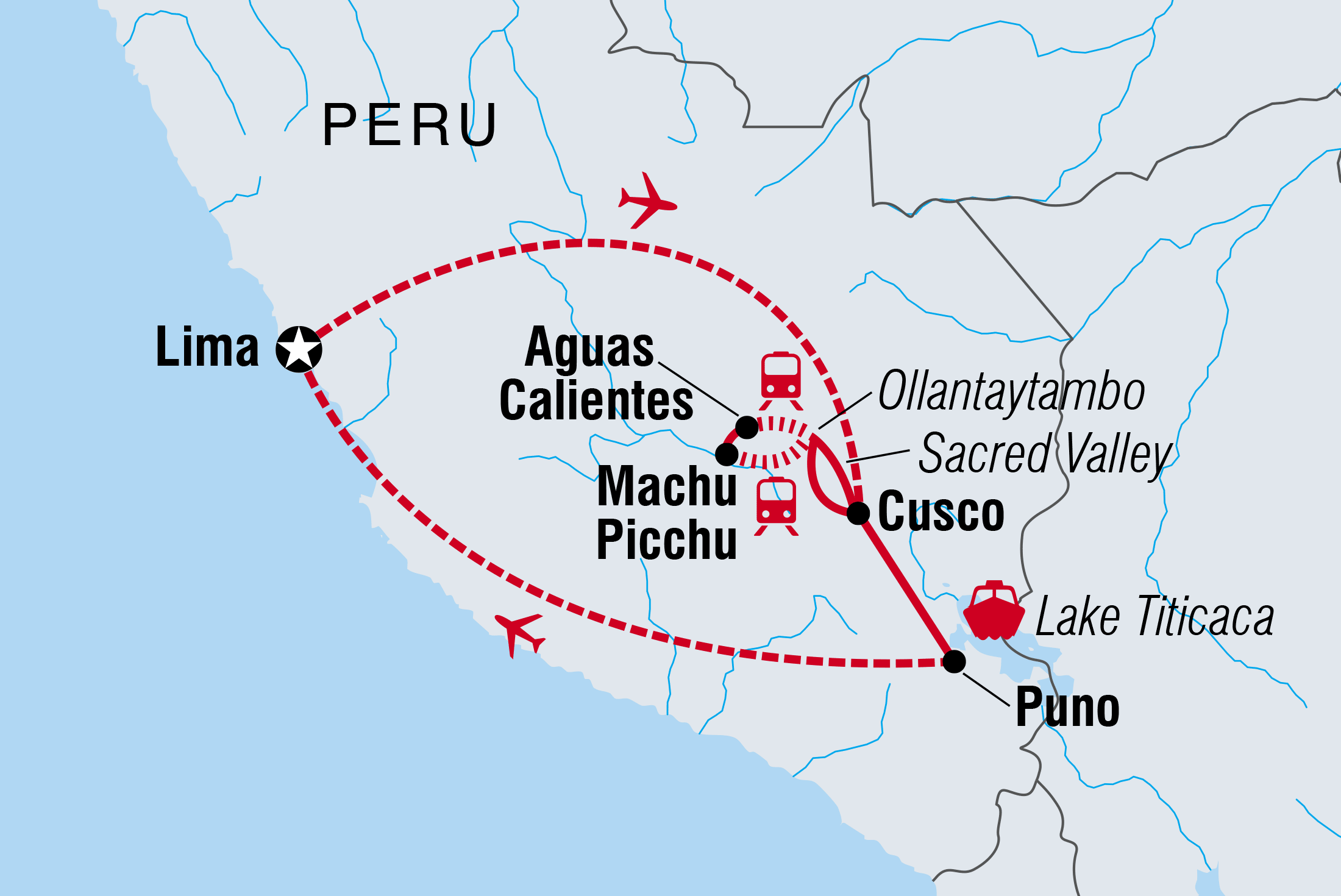 Other Cool Tour/Places to Consider in Peru
---
If you have the time or some of these places just don't sound all that great to you, here are a few more incredible places to explore in Peru!
Hiking the Inca Trail to Machu Picchu:
Cool day trip from Cusco – Humantay Lake:
Cool day trips you can take from Lima:
Want to spend some time in Arequipa? *Click here for hotels and check out tours, below.
Using a VPN When Traveling
---
VPN is short for "virtual private network." A VPN (like IPVanish) sets up a private connection between your device and whatever network you are connected to – so, no one can see your browsing data. It is important to use a VPN anytime you are connected to public Wifi (such as at a restaurant, resort, hotel, cafe, airport, etc.). This is because when you connect to a public network no matter where you are, you run the risk of a hacker grabbing your unencrypted data. Trust me, speaking from experience here…this can put a real damper on your trip if your banking, phone or email get hacked while you're traveling!
VPNs can also help you save on domestic flights in Peru, help you watch Netflix shows not available in certain countries and more! You can read more about using a VPN in my post "Why I Use a VPN When Traveling and at Home (And You Should Too)."
Want to Learn Spanish Before Your Trip?
---
Knowing some basics in Spanish can be helpful for your time in Peru. Try a free 3 day trial of Rosetta Stone (the best way to learn a foreign language) by clicking here.
Thank you for reading! I hope this helps you narrow down your Peru travel plans!
*To see all of my Peru travel posts, click here.
Want to travel to Peru with me? I'm hosting a 10-day small-group tour to Peru in November 2022! See the details here.
If you liked it, Pin it!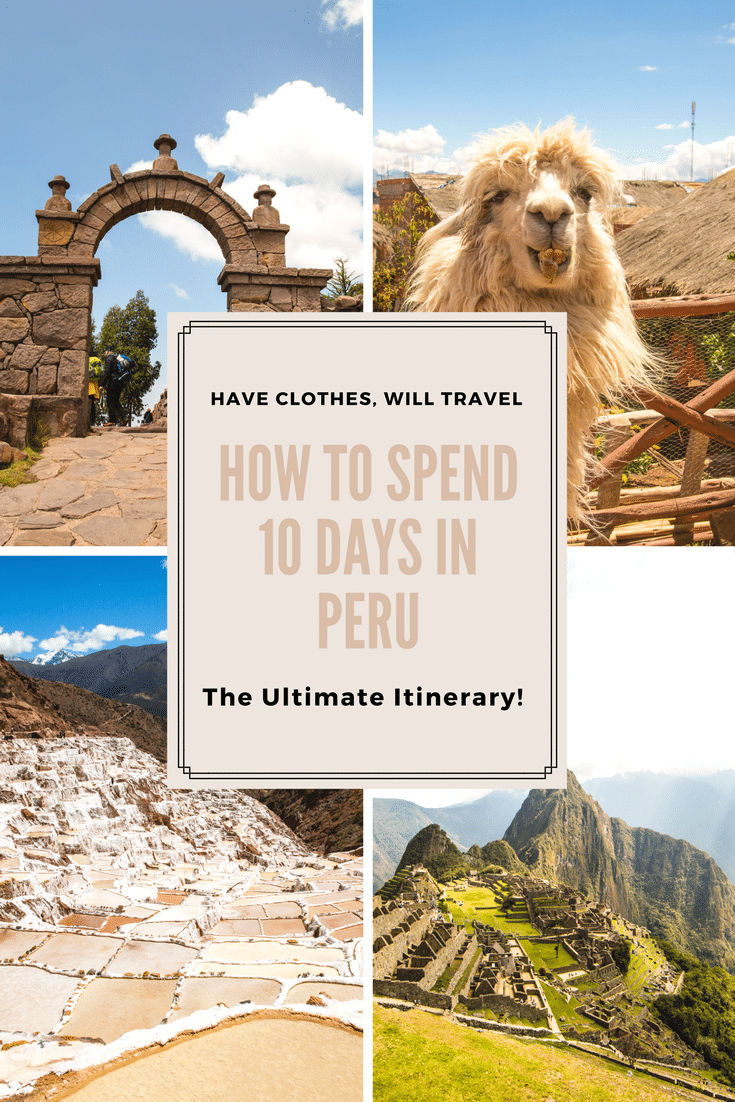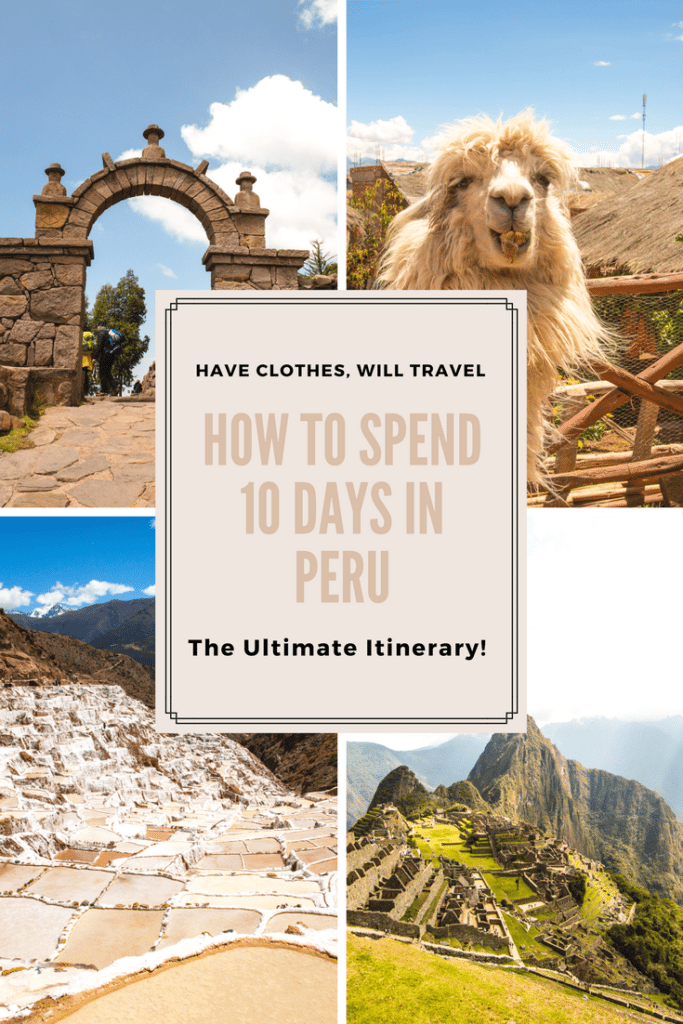 Disclosure: some of the links in this post are affiliate links. Meaning, if you click a link and make a purchase, Have Clothes, Will Travel gets a very small commission. Thank you for supporting the brands that make this blog possible!