Are the Islas Uros (Floating Islands) of Lake Titicaca Worth the Journey?
You may remember me mentioning the Islas Uros in my previous Peru travel post. They are the unique floating islands of Lake Titicaca that are home to the Uros people. If you read that post you may have noticed too that getting to them is quite a long journey! So, is it worth taking 2-3 days out of your Peru adventure to visit them? I'll be sharing my opinion and a bit more detail about the islands below. (And I would love to hear your opinions in the comments section!)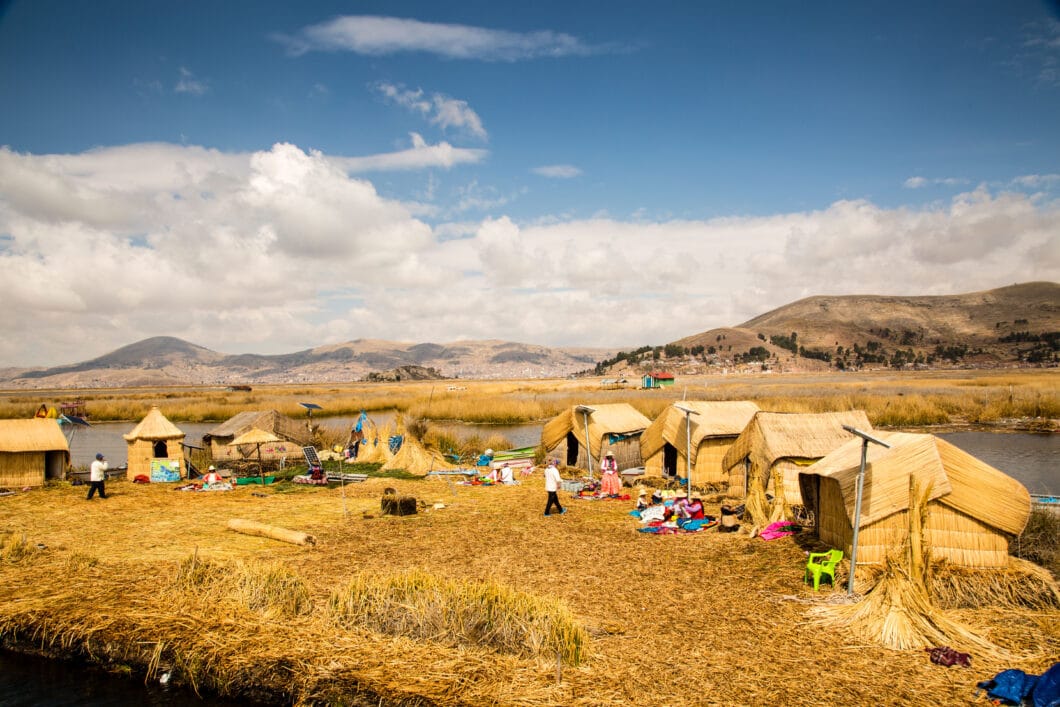 What are the Islas Uros (a.k.a. Floating Islands of Lake Titicaca?
The Islas Uros are located very close to the city of Puno in Peru, which is where Lake Titicaca is located. Lake Titicaca is the highest navigable body of water in the world and also the largest lake in South America. The floating islands are the main reason to visit Lake Titicaca. But what are they exactly?
These islands are made by the Uros people out of totora reeds. The Uros people live on these islands in Lake Titicaca (about a 2-hour boat ride from Puno). Upon arriving at the islands for a tour, you will be given a demonstration of how the islands are constructed. (See photos below.)

The ground is very soft and springy. The island we had visited was approximately 10 years old. We were told about 30 years is how long people can live on an island before needing to build a new one.
The reeds that grow abundantly near the islands are also edible. We were also invited to try one, with the disclaimer it could give you diarrhea…needless to say, not many people tried it. Haha.
The huts people live in are very basic. You have room for a bed, table, your clothes…and of course, a TV and radio. Many of the huts utilized solar panels for electricity.
You can pay a small fee when you visit the islands to take a boat ride in the boat pictured below. These boats are built solely for the purpose of hauling tourists around the lake – FYI.
I was really sick that day due to the altitude. (Puno is about 500 meters higher than Cusco in elevation…and it really got to me!) So, I did not take a boat ride.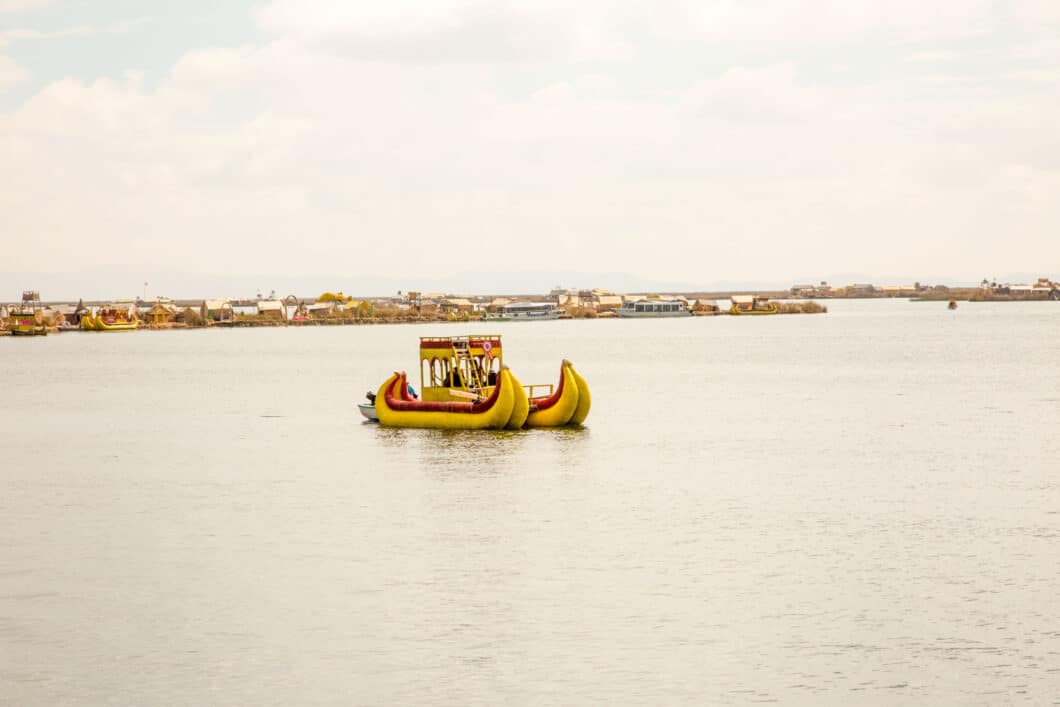 Instead, I stayed on the island and a nice lady gave me a tour of her home and even dressed me in her clothing for a photo.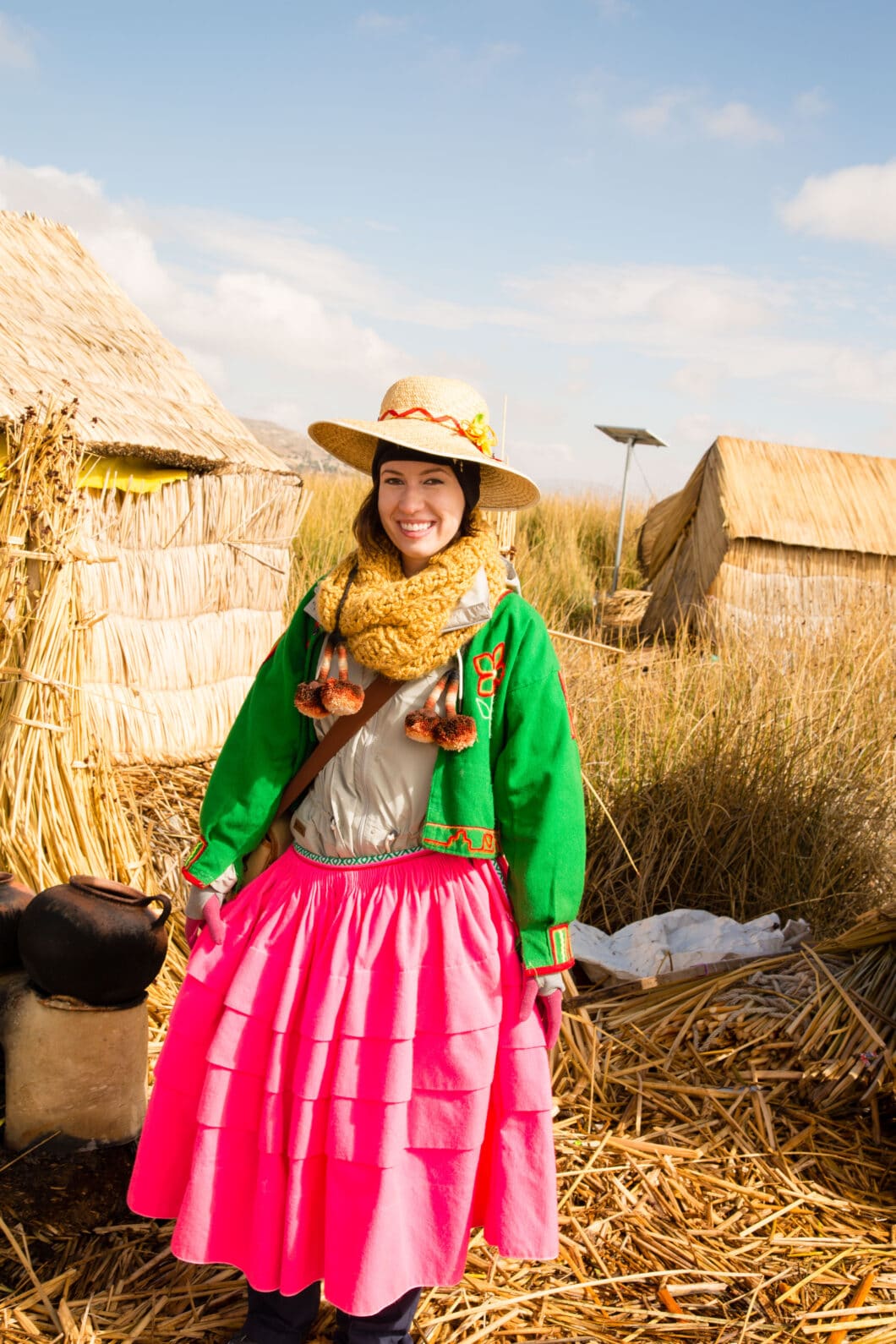 However, once the demonstration and boat rides are over, you are given "free time." This basically means, all the ladies set up shop and encourage you to buy handicrafts "that took months to make." And you are heavily encouraged to buy these quite expensive handicrafts to "help" the Uro people. (And there wasn't a single thing here you couldn't buy for a fraction of the price at any other market in Peru.)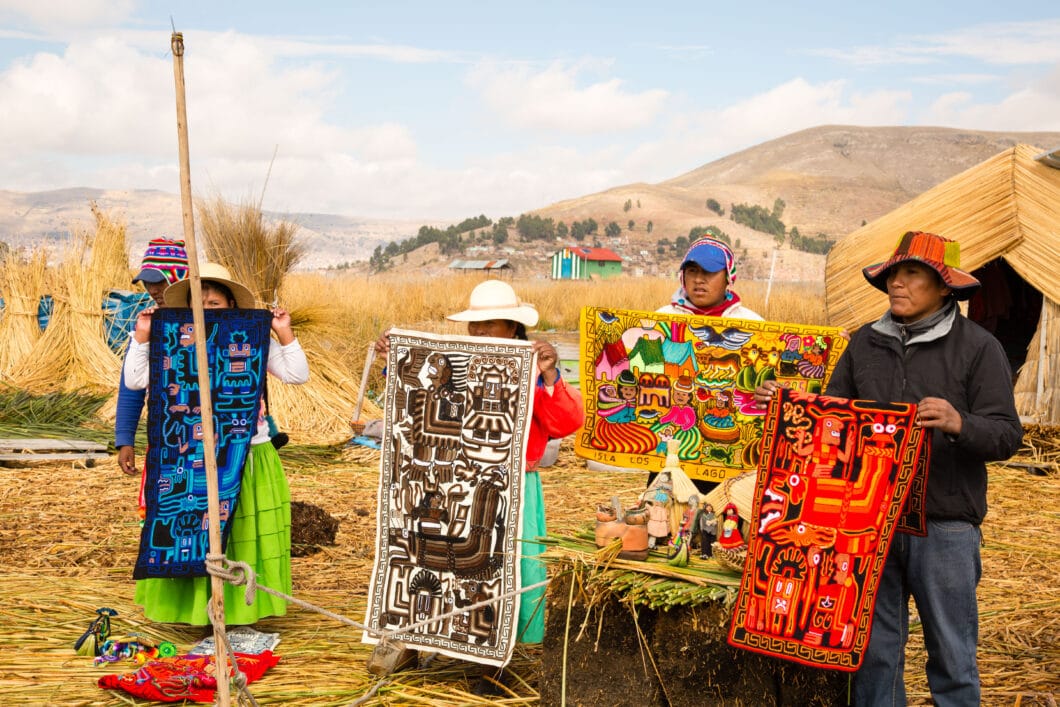 So, are the Islas Uros Worth the Journey?
In short, no. I didn't think they were worth taking such a large chunk of time out of our trip to see. We spent maybe an hour on the islands. And after we were done at this island they dropped us off at another island to buy snacks and drinks for a few moments.(We also visited another World Heritage site after this, but I'll talk more about that in the next post.) Buying a donut filled with dulce de leche (from Argentina), was tasty, but didn't really add to the feel of "an authentic experience."
Some people absolutely loved this experience, though, and said it was the highlight of their trip. I'm not sure if perhaps they had a more private tour? Or maybe visited a less commercialized island?
Either way, for my experience, I felt as though I was being sold a commercialized experience the moment we stepped on the islands. It was such a large tourist trap, in my opinion.
I also was not a fan of hard we were pushed to buy things after the demonstration. It just made me uncomfortable, and they didn't have anything for sale that was unique.
Bottom line: If you have time to visit the islands and are interested, I'm not trying to talk you out of it. Everyone seems to have a vastly different opinion on this experience. However, if you only have a limited amount of time in Peru (like we did), don't feel bad skipping this portion of Peru. Peru has SO many different experiences to offer that won't knock 2-3 days off your trip.
And honestly, this was my least favorite experience of our Peru trip. I am by no means knocking our tour guide or the local company we booked through. I just really was underwhelmed by the Islas Uros experience in general. (My husband had said the exact same thing as well.)
If you are interested in seeing the tour we had done, click here.
If you've visited the Islas Uros, I'd love to hear your thoughts in the comments! And if you haven't visited, what do you think? Would you still be interested in visiting them? Let me know too!
Click here to read my post, "How to Spend 10 Days in Peru."
Travel Insurance
It's a good idea, no matter where your adventure takes you, to have travel insurance. You never know what might happen! Whether you get sick before your trip and can't go, or you become sick or injured while on your adventure – being covered with travel insurance is a must. Some credit card companies do provide this service (check with yours), or you can get a quote from companies such as Squaremouth to find the best plan for you and your adventure. (This is the company I, personally, use. They are even recommended by Forbes!) To get a free quote, click here.
Visa Requirements
To check if your country requires a Visa for traveling to Peru, click here.
Want to Learn Spanish Before Your Trip?
Knowing some basics in Spanish can be helpful for your time in Peru. Try a free 3 day trial of Rosetta Stone (the best way to learn a foreign language) by clicking here.
If you like it, Pin it!
Disclosure: some of the links in this post are affiliate links. Meaning, if you click a link and make a purchase, Have Clothes, Will Travel gets a very small commission. Thank you for supporting the brands that make this blog possible!