Peru: How to Get from Cusco to Puno (and Back)
There are a few different ways to get from Cusco to the city of Puno, which is the home of Lake Titicaca. Lake Titicaca is the largest lake in South America and the highest navigable body of water in the world! It is also where you'll find the "Islas Uros" a.k.a floating islands.
I'll be sharing more details about Lake Titicaca and the Islas Uros next week, though. Today's post is sharing how exactly you can get to Puno in the first place.
How to Get from Cusco to Puno
There are 3 main options to get from Cusco to Puno (and vice versa): train, tourist bus, and local bus. The one you choose will depend highly on your budget and personal preference. I personally tried 2 out of the 3 and will share my experiences below.
1.) Tourist Bus
I know, I know, anytime a traveler hears the words "tourist bus" they generally want to run in the opposite direction. But hear me out on this one. The tourist buses in Peru are really nice, and they are also very affordable. You will leave Cusco at 7 a.m. and arrive in Puno by 5 p.m. And there will be short stops at 4 interesting sites along the way plus a buffet style lunch. Overall, it was a nice way to break up a long bus ride. (We had booked through TURISMO MER.)
Please find the sites visited below with a brief description of each.
1.) Church of Andahuaylilas a.k.a the "Sistine Chapel of the Andes"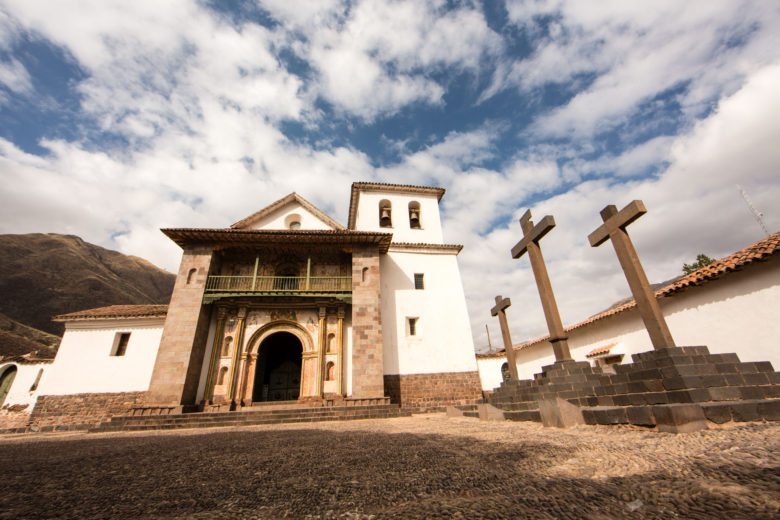 Granted, this isn't the most interesting looking church on the outside. However, once you step inside, you're greeted by incredible frescos. It was also built an ancient Inca site at the end of the 16th century and is an interesting mix of both Inca religious depictions and Christian. Sorry, as with the real Sistine Chapel, photos are not allowed inside. But click here if you're interested in seeing photos of it. (And decide for yourself if it lives up to the name!)
*Pro tip: be sure to bring a small amount soles for the bathroom! You have to pay to use the restroom at the Church of Andahuaylilas.
2.) Raqch'i
Raqch'i is an Inca ruin that consists of some interesting buildings made of stone and sun-dried bricks. A particularly interesting part of Raqch'i is that the storehouses (for grain) are unlike other structures throughout the Incan empire because they are not square cornered, they are actually round. No one is quite sure why this is.
3.) La Raya Pass
This is a brief stop to take a photo of the landscape of the border between Cusco and Puno. It is over 4.335 meters above the sea level. You will be able to see the famous Chimboya Glacier, which is where the Amazon River is born.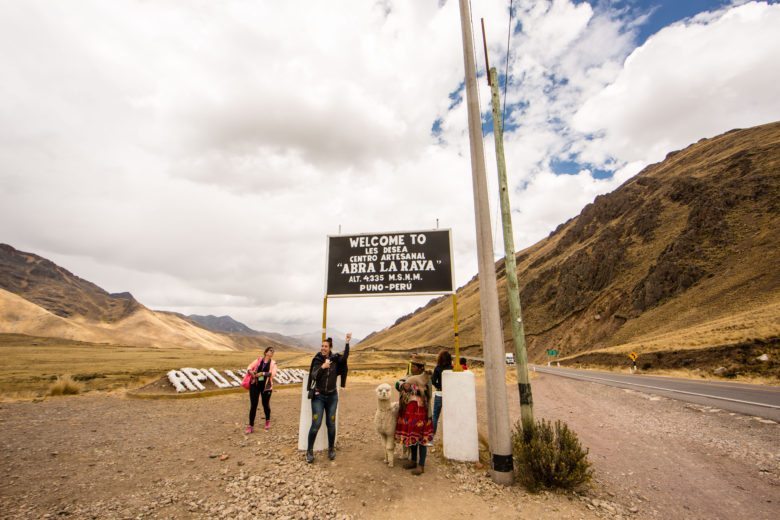 4.) Pukara Archaeological Site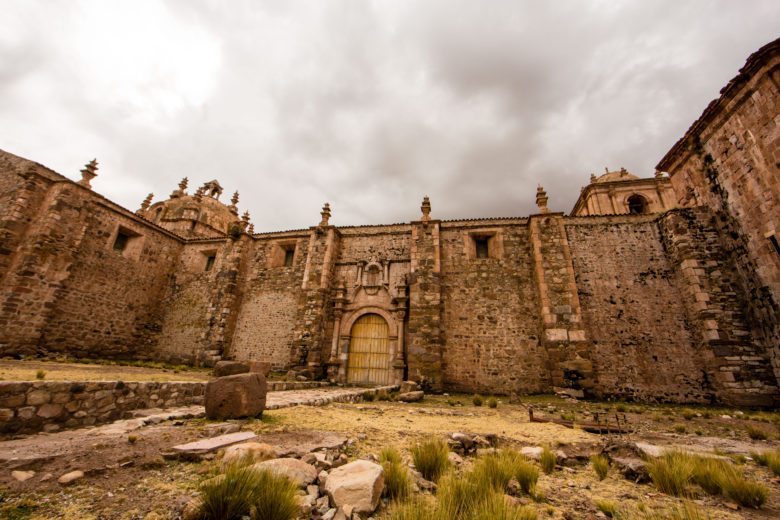 This portion of the tour was a bit botched. Due to other groups, timing, etc…we didn't really get to see the whole portion of what this site has to offer. The highlights for me were snapping a few photos of the cathedral and getting a delicious coffee to-go.
2.) A Direct Bus Ride
If you are just not a fan of tourist buses and want to make it as quickly as possible from point A to point B – taking the express bus is your best bet. This is also by far your cheapest option.
We had taken an express route to get from Puno back to Cusco through Cruz del Sur. Tickets for this start at roughly $20 USD. Really not bad for a nice bus that can get you there in 6 1/2 hours. Our ticket also included a light lunch with some juice and water + the seats were amazing and reclined! Oh, and there was a TV. Really not a bad experience at all!
3.) The Train
Your last option is to take the train via Peru Rail. This is a different experience in and of itself. I, personally, did not do this. The ticket prices are far more expensive for the train versus the bus options and it takes longer. However, it really depends on your personal preference. I have heard people who really enjoyed their experience taking the train (especially the Andean Explorer option). Click here for the Peru Rail website.
Which option sounds the best to you? Or have you tried any of these options on your Peru journeys? Let me know in the comments!
Click here to read my post, "How to Spend 10 Days in Peru."
*If you like this post, it is now available as a self-guided walking tour via GPSmyCITY. Click here to download it.
Travel Insurance
It's a good idea, no matter where your adventure takes you, to have travel insurance. You never know what might happen! Whether you get sick before your trip and can't go, or you become sick or injured while on your adventure – being covered with travel insurance is a must. Some credit card companies do provide this service (check with yours), or you can get a quote from companies such as Squaremouth to find the best plan for you and your adventure. (This is the company I, personally, use. They are even recommended by Forbes!) To get a free quote, click here.
Visa Requirements
To check if your country requires a Visa for traveling to Peru, click here.
Want to Learn Spanish Before Your Trip?
Knowing some basics in Spanish can be helpful for your time in Peru. Try a free 3 day trial of Rosetta Stone (the best way to learn a foreign language) by clicking here.
If you like it, Pin it!