Emily of "Thoroughly Modern Emily"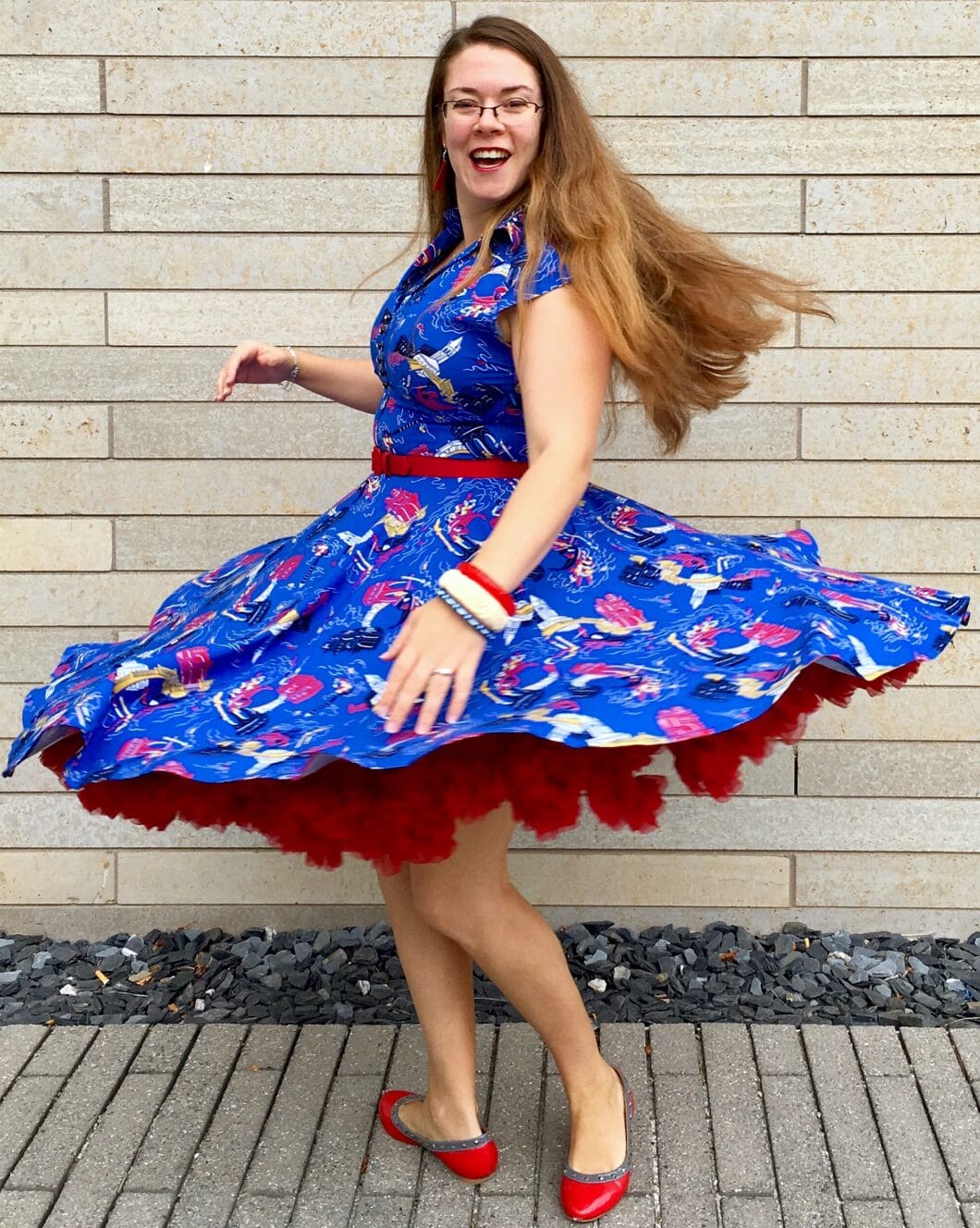 Meet Emily! She's December's Featured Fashionista and the creator of one of my favorite blogs – "Thoroughly Modern Emily." Emily is always featuring outfits on her blog that are swoon-worthy – I can't get over her amazing collection of skirts! I also love following Emily's blog because she shares fun tips about the city she lives in – Chicago. (And I love The Windy City!)
Emily is also a gal after my own heart, she is a huge Star Wars and Game of Thrones fan and a lover of food! (She posts the best restaurant reviews on Thoroughly Modern Emily, too.) I also think it's incredibly interesting that she works at The Field Museum in Chicago.
And her posts are such a blast to read. Saying Emily has a way with words wouldn't be doing her writing justice. But I'll let you see just how fun it is to read Emily's writing in her Q&A below!
Q&A With Emily
Tell me a little about yourself.
Emily: Hi! I'm Emily of Thoroughly Modern Emily, and I'm delighted to be Lindsey's Featured Fashionista this month! I'm a former political theorist/professor turned natural-history museum worker, and a proud New Yorker living in Chicago.
I was born on the anniversary of the first lunar landing, and my little sister likes to say that I'm a textbook Cancer: I really, really love my family, all of my feelings are turned up to 11, and I enjoy taking care of the people I love. Dachshunds are my spirit animal because I'm short and kind of bossy. I have to edit all the emails and blog posts I write to reduce the overwhelming quantity of exclamation points I tend to use. What can I say – feelings are a 'go big or go home' deal!
Some of the things I enjoy most are cooking, dressing up, discussing the minutiae of various films with my partner, exploring new places, rereading old favorite books, and knitting. I'm probably the most outgoing introvert you'd ever meet, and the world's best audience for a corny joke, even (or perhaps especially!) if I've heard it before. One of the things I consider a claim to fame was my Thrilling Victory in a 2010 game of Star Wars Trivial Pursuit against some very impressive adversaries.
How would you describe your blog, "Thoroughly Modern Emily?"
Emily: Thoroughly Modern Emily is my personal valentine to retro and vintage-inspired style and my new home city of Chicago. It's a place where I let myself fangirl over things that I'm really, really excited about: swingy, full skirts, ludicrously unhealthy and delicious Chicago restaurant adventures, and the occasional recipe.
What do you hope the future holds for "Thoroughly Modern Emily?"
Emily: I'd love to be able to devote more time to blogging than I do at present, and it would be wonderful to fold it into my future career plans! More concretely, I'm hoping that the Thoroughly Modern Emily of the future involves a DSLR and (crucially!) some epic DSLR-using skills. I'd also like to get more involved in blogger meetups. I've met tons of awesome people through the blog, and have been lucky enough to meet a few super neat new friends in real life. It's so fun to have friends I can chat with about interests I've had forever!
What inspired you to create Thoroughly Modern Emily?
Emily: Story time! When I moved to Chicago in 2015, I wasn't really sure what I was going to do with my life. I'd been in graduate school for six years and teaching for another two years after that, and once I made the decision to walk away from the academic life, I was completely at a loss. While I was processing this decision, my partner and I picked up our lives and moved 2,000 miles across the country, to a city where neither of us knew anyone. It was actually one of the harder periods I've been through lately, and I coped with it in part by reading lots of blogs. (Ok, by reading lots of blogs and becoming a human slug who didn't get dressed or leave the apartment for days on end.)
After a while of reading all these fabulous blogs, I started to feel a little bad about lurking around and enjoying all of the hard work people put into their blogs without ever saying a word. I felt like I wanted to join the conversation and the community, and starting a blog seemed like the natural way to do that!
You've lived in quite a few different cities! Can you tell us a little more about this, and what brought you to the Windy City?
Emily: Most of my moves have been dictated by the intensely peculiar academic labor market. Before moving to Chicago, I'd lived in LA for eight years. I made a split-second gut decision to go to grad school there, even though leaving my family and moving away from New York was the last thing anyone thought I'd ever do! It was definitely the right choice: I think living in LA changed me for the better in a lot of ways, and I met my partner in grad school. When he got a job offer he couldn't refuse that involved a move to Chicago, I knew I wouldn't be happy in a long-distance relationship. Honestly, I was ready for a change, and excited about in a city I already knew I liked, and which was so much closer to my family.
What does a typical day look like for you at the Field Museum? And what would you say your favorite part of your job is?
Emily: I think one of my favorite things about my job at the Museum is actually the fact that I don't really have a 'typical day' there. My job involves so many different kinds of responsibilities and activities, and I enjoy that variety so much! I work with interns during the summer, build online applications for various Museum scholarships, coordinate visits to the Museum from scholars all over the world, and walk past the world's most complete T-Rex every single day. In addition, the work environment and general culture of the Museum preserves some of the things I loved about the academic world: people doing interesting research, a lot of independence, and a collective commitment to advancing our knowledge of our world.
This was quite the switch from your previous career path in academia. What ultimately made you decide to switch your career path?
Emily: Academia is brutal. I could write a whole treatise on the structural problems in academic labor, but tl;dr: universities admit far too many PhD students for the number of permanent, living-wage positions they offer. This turns something beautiful (the pursuit of knowledge and mastery of a subject you love) into a brutally cutthroat arms race/cage fight for the few permanent jobs available. The majority of professors today are actually adjuncts: low-paid temporary employees who work semester to semester with zero job security, no health insurance, and no prospects for a permanent job.
I didn't want to get sucked into the endless cycle of precarious employment, crappy teaching conditions, and zero time for research. So when a school in LA that I'd worked at for two years created a postdoc to replace the classes I'd been teaching and hired a brand-new PhD instead of me, I was done. I wanted to feel like I was in control of my career trajectory – like my efforts would actually matter – so I decided to walk away and find a profession where that was possible.
What advice would you give to someone who is looking for a change in their career, but may feel they are only qualified for one very specific thing in life?
This was the hardest part about changing careers for me! The best advice I can offer is to sit down and honestly assess your values, likes/dislikes, and talents. Even if you only feel qualified to do one thing, you're probably using plenty of skills that you don't even recognize as being potentially valuable to an employer! For me, I felt like I was only able to teach and write about political science, but when I took a step back to think about the wide variety of tasks that went into managing my courses and research projects, I realized that they were exactly the type of project- and time-management skills that are necessary to succeed in just about any job! Take the time to assess what your fundamental skills are – the ones that you rely on in hobbies and personal relationships as well as work.
Also, take the time to think about the style of work you enjoy: are you a collaborative team player, or do you like to be given lots of latitude to figure out how to accomplish your responsibilities independently? Once you know what sort of environment you're after, and what your strengths and fundamental abilities are, you can look at a variety of jobs and see how you might be able to contribute.
Ok, I'm going to go a bit off track here … You also have a bit of geeky side to you (which is amazing)! I have to know, what is your favorite Star Wars movie? And who is your favorite Game of Thrones character?
Emily: Hands down, my favorite Star Wars movie is the Empire Strikes Back. No contest! (That being said, the original Star Wars and Return of the Jedi are my second and third favorite movies of all time.) The last half hour of Empire is incredible and Mark Hamill is criminally underrated as an actor.
My favorite Game of Thrones character…this is a bit harder, since there are hardly any straightforwardly likable characters in Thrones. For sheer likeability, I'll go with Davos, but my favorite character is probably Obara Sand. Just kidding, Dorne sucks! So I'm going with Cersei because the show did such fascinating things with her. She's someone you love to hate, yet feel some measure of empathy for. Oh! Olenna Tyrell makes everything better whenever she's on screen.
And now back to our regular questions! What would you say your favorite clothing store is and why?
Emily: Asking for my favorite clothing store is like asking a parent to choose a favorite child! I'd have to say either Bernie Dexter because her dresses fit me really well and the prints are so fun, or H&M, since I haven't been able to set foot in an H+M for the past 15 years without buying something!
How would you describe your personal style?
Emily: I would describe my personal style the same way I describe myself: loud, cheerful, and 100% anti-pants! It's all about dresses with big swingy skirts, miles of fluffy chiffon petticoats, fun prints, and a lazy pinup-girl vibe. I'm a huge fan of 1950s silhouettes and minimal-effort hair. Also, I've never passed up an opportunity to dress in a themed outfit, be it for holidays or just a Miss Frizzle-like desire to match the print of my dress to that day's activities!
You recently hosted Wiggle Week on your blog (which I loved)! Could you explain a little more what this was about?
Emily: Thank you <3! Wiggle Week was a weeklong celebration of body positivity revolving around a staple silhouette of the pinup-girl wardrobe: the wiggle dress. I've been thinking a lot about body acceptance this year, and have made major strides as a result of getting into the pinup/retro style community. Something about seeing photos of women who look gorgeous and realizing 'hey, her body is like my body' just flipped a switch in my brain. It's pushed me to a much more positive place. I wanted to foster a week of conscious body-positive conversation, so I challenged everyone to wear a wiggle dress every day for a week, post their photos on Insta/Facebook with the hashtag #WiggleWeek, and show our bodies and each other some love!
Wiggle Week was so amazingly inspiring for me, and I think it was a good experience for the other people who participated as well. It was truly amazing to read everyone's posts, and now I'm feeling much more comfortable in fitted dresses, and much less self-conscious about my breakfast-burrito belly!
Was this your first time hosting a body positivity week on your blog? And will you be doing this again?
Emily: #WiggleWeek was my second time hosting a body-positive week on the blog, but it was the first one that I figured out how to integrate into communal activities. The first body positivity week I had on the blog was back in the summer, and it was just a week of posts about body acceptance, my evolving attitudes toward weight and exercise, and the first crop top I've worn since the mid-90s. I'm already looking forward to #WiggleWeek 2017!
Do you have any advice you would like to share for someone looking to start their own blog?
Emily: The best advice I can give is to let your own unique voice show through. After almost a decade of writing nothing but dry, serious academic papers, it was such a relief to go back to a form of writing that just flowed naturally from my mind to the page. Don't fight against your natural mode of expressing yourself – it's no fun trying to be somebody you're not!
Any final thoughts you would like to add?
Emily: Thank you so very much for inviting me to be your Featured Fashionista, and a great big thank you to everyone reading this! I had such a blast with all of these questions – Lindsey, you're a fabulous interviewer! I hope you'll stop by sometime on my blog, or catch up with me on Instagram, Facebook, Twitter, or Bloglovin', and say hi!