Expect the Unexpected When Visiting a Village in the Amazon Rainforest
*As I mentioned in my previous post, I still have a lot of photos and experiences to share from our treehouse adventure in Peru's Amazon Rainforest! If you missed my previous Treehouse Lodge posts, click here.*
Staying in an honest-to-goodness treehouse in the Amazon Rainforest was quite the adventure in and of itself, however, our days spent exploring were equally as exciting! On our second day, after we returned from a day of spotting wildlife in the rainforest, our guide from the Treehouse Lodge asked if we would like to visit a local village to see how they lived. I was rather hesitant, after our rather crummy "cultural experience" at the Floating Islands in Lake Titicaca, Peru. But holy smokes! I am so glad we decided to take out guide up on this experience! If you're ever in the Amazon Rainforest (especially near Iquitos, Peru) say yes to visiting the local rainforest village!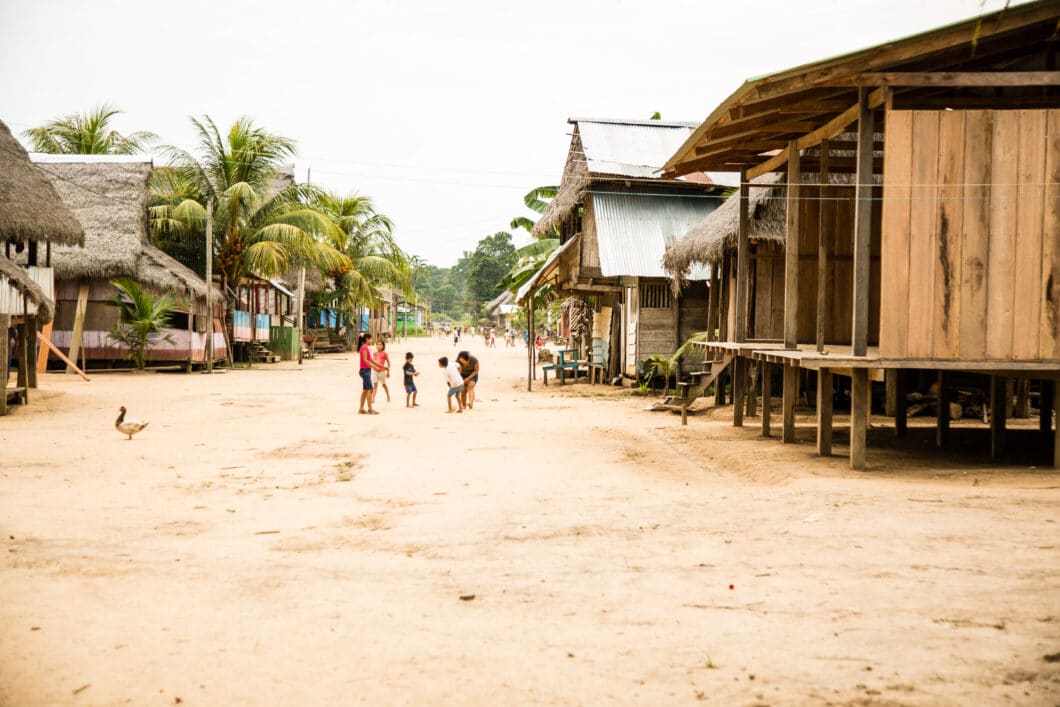 The village is only about a 10-minute boat ride from the Treehouse Lodge. However, other than the few lodges and one other village along the river, this is a very remote area. Iquitos is the nearest city and it's almost a 90-minute boat ride away!
I expected to be bombarded with people trying to sell me crafts (like at the Floating Islands), however, this was a far different experience! We visited several family's homes, and it was an incredibly authentic experience – and never once were we being pressured to buy anything.
The Sloth Family
Our first stop was at a family's home, where they had adopted several sloths! The mom of the family had found two sloths as babies abandoned in the rainforest. She raised them and now has them living in her home with her and her family. They have free-range to roam and come down from the trees or roof when they get hungry! I was so shocked when we walked in to see a sloth hanging from the ceiling, haha.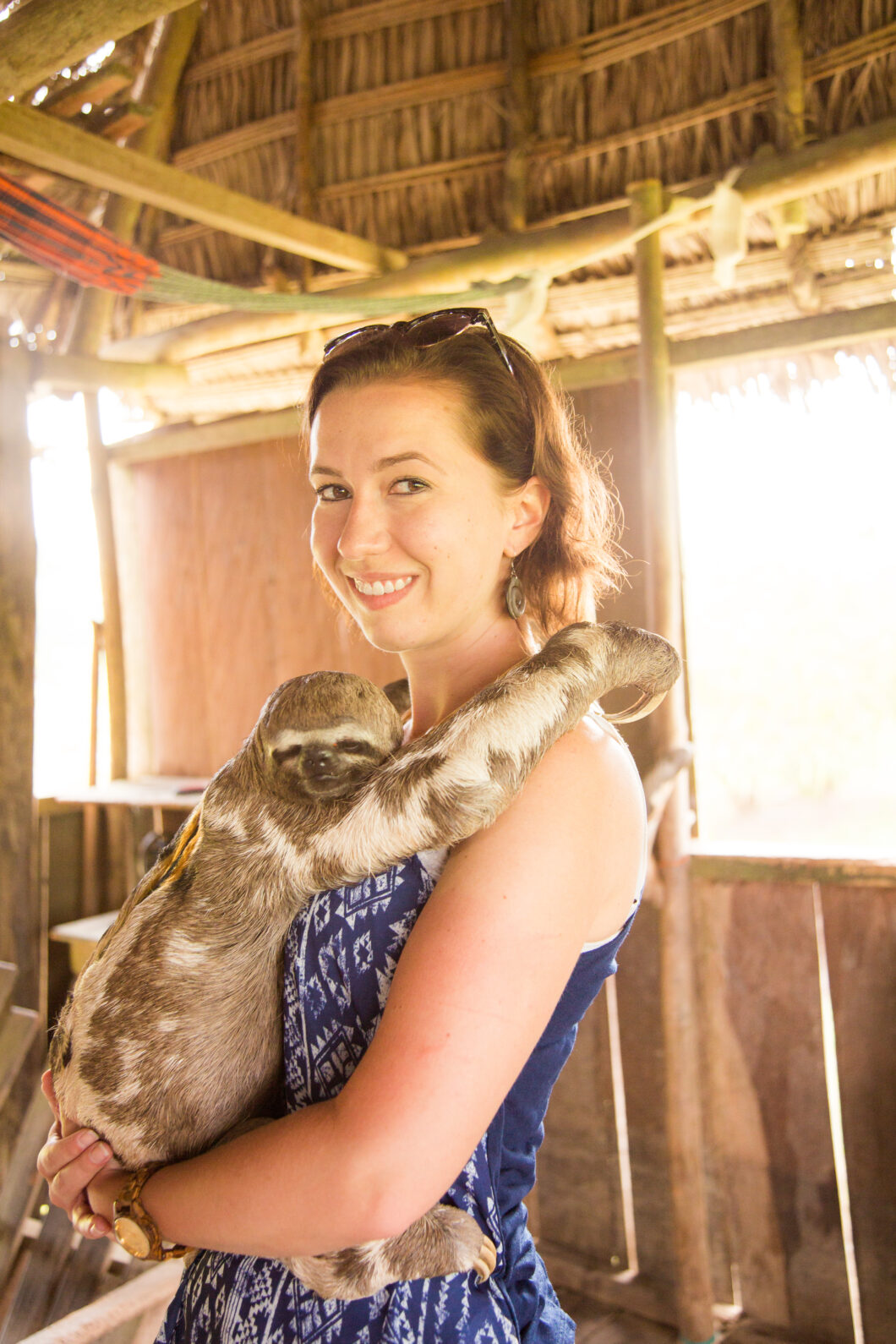 They happily came down for a snack of some leafy plant, and then the family asked if we would like to hold one. They were very calm and relaxed and felt a lot like holding a baby that had massive claws, haha. (Don't worry he wasn't hurting me at all.)
Anaconda!
After our sloth visit, we went across the river into the village. Our boat driver's dad took us into his backyard, where he had recently captured an anaconda! He was trying to figure out what to do with it…as he didn't want to kill it, but also didn't want to let it go near the village because it was big enough to eat one of the children. Yikes!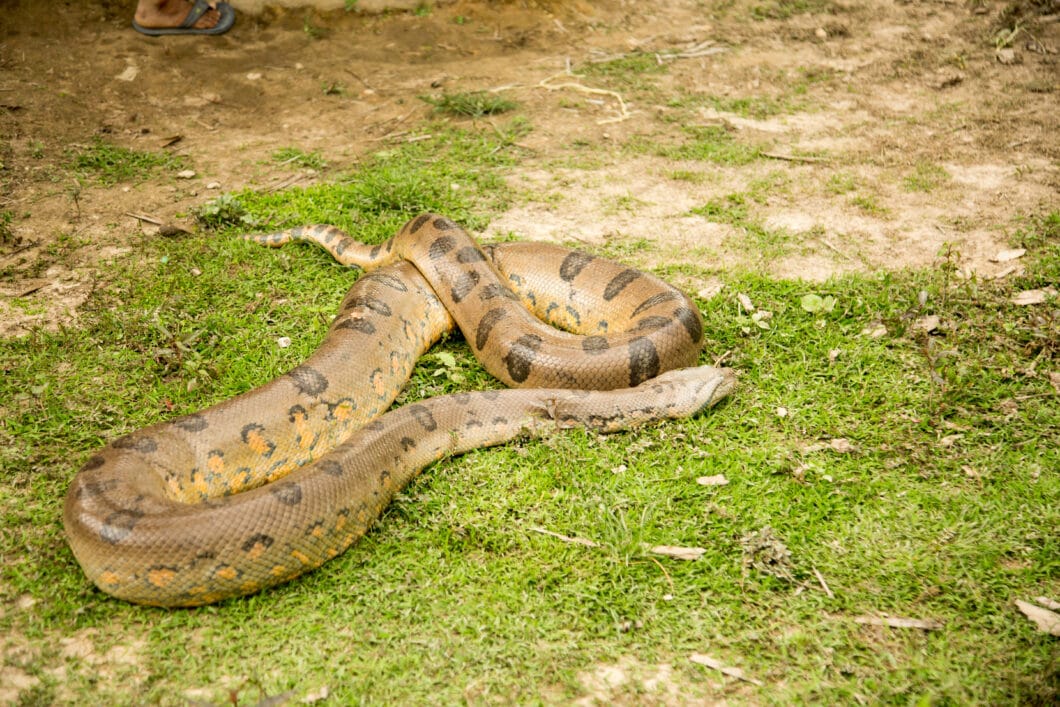 Jewelry Making
The animals were definitely unexpected, but honestly, the loveliest surprise was how kind the ladies of the village were. It started to rain REALLY hard after we saw the snake. So, we stopped by our guide's in-law's home for shelter. They invited me in to show how they cooked in their home.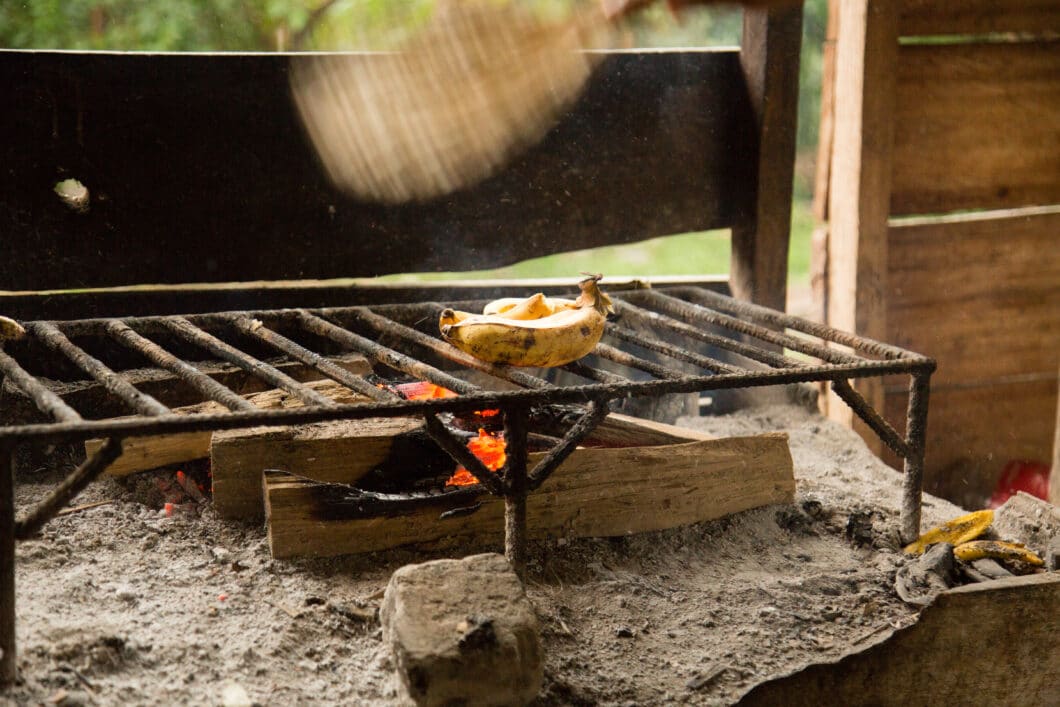 Then they showed me how to make a beaded bracelet like what they were wearing. I thought that was very nice! I was also terrible at making them, but my husband was really good…which we all thought was hilarious.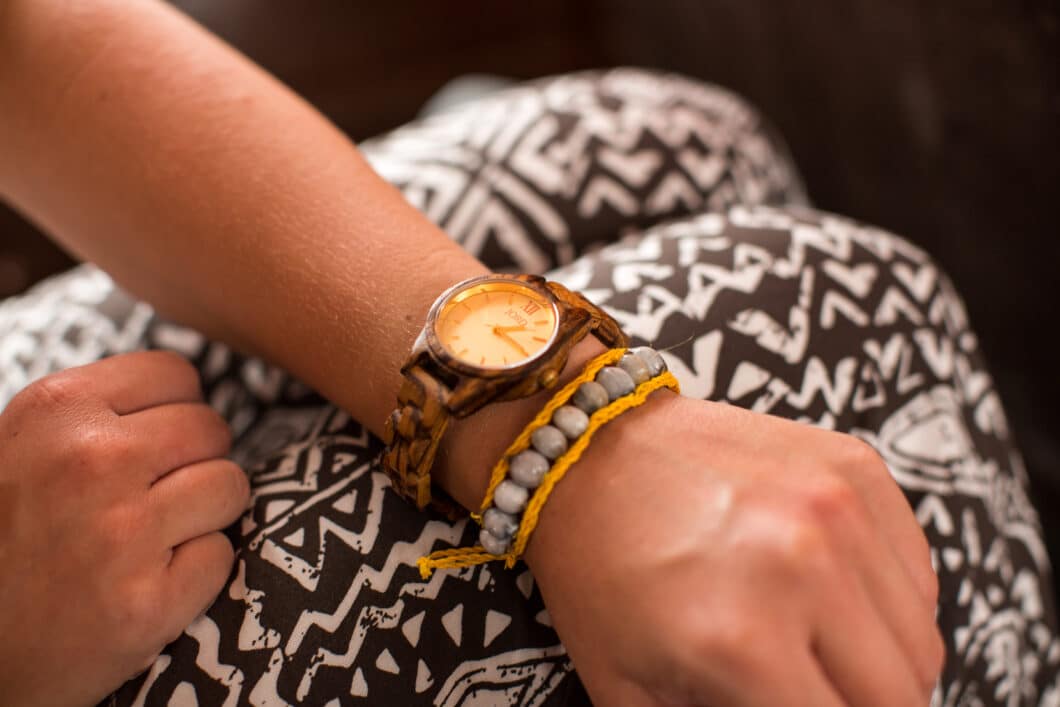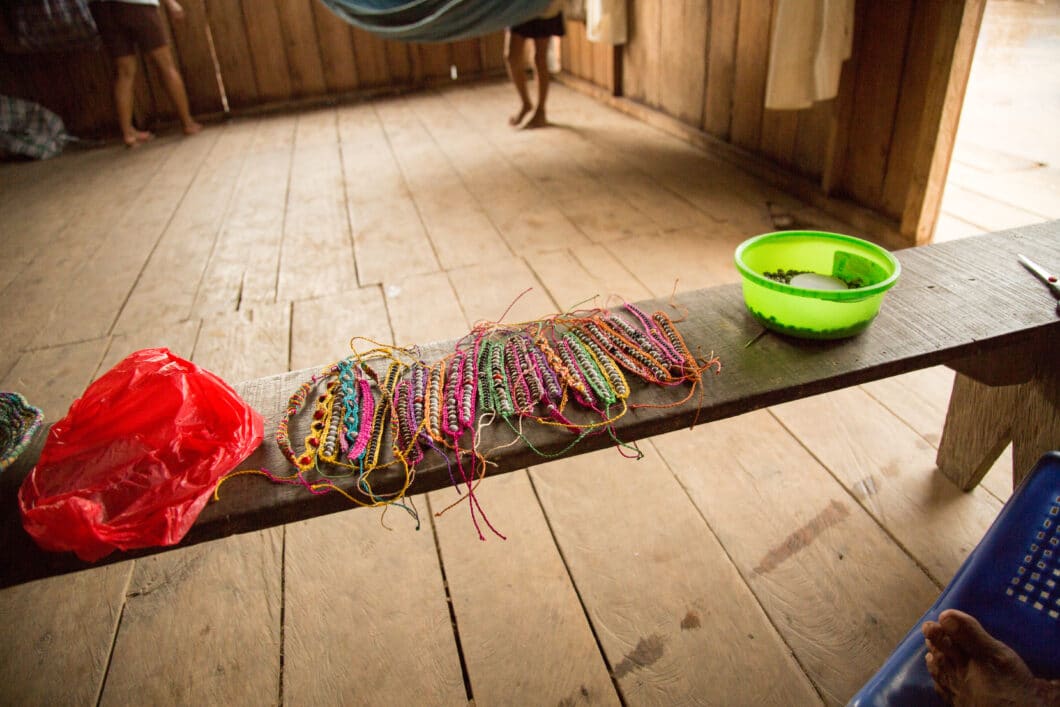 Soccer games & homes
Soccer is life in South America! It was fun to watch a match while we were walking through the village and admired the local jail (that had one cell for unruly intoxicated folks), the school and church.
Sunset
After the storm, we were treated to one of the craziest sunsets I have ever seen on our way back to the lodge. It looked as though the entire world was bathed in orange and pink. I loved it!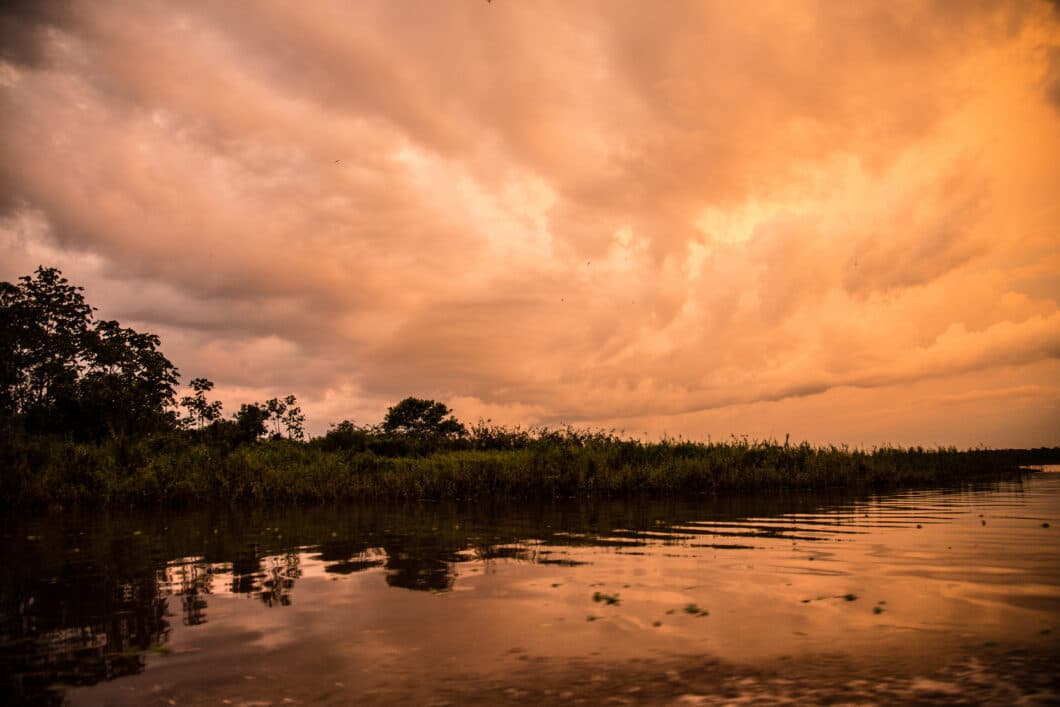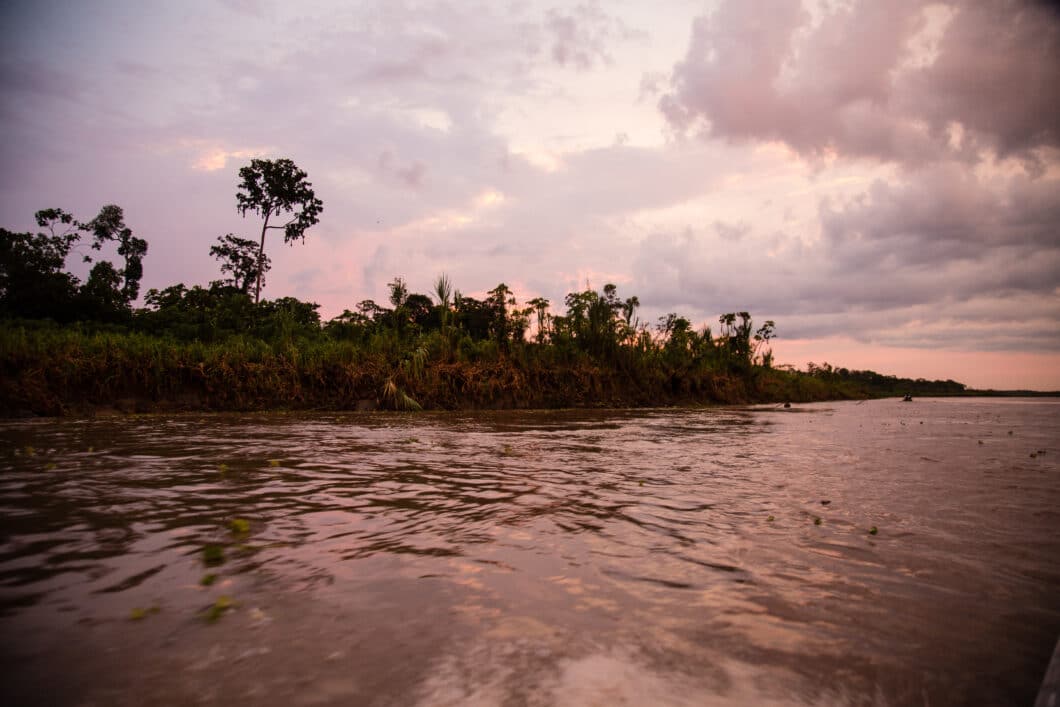 This was such an incredible experience! And a big thank you to all of the folks who kindly invited us into their homes to share their way of life with us. It's an experience I won't forget. And if you find yourself if the Peruvian Amazon one day – definitely visit a local village!
What was the most surprising part of this village visit for you? And what was one of your favorite cultural experiences while traveling? Let me know in the comments!
If you missed my previous Treehouse Lodge posts, click here.*
Travel Insurance
It's a good idea, no matter where your adventure takes you, to have travel insurance. You never know what might happen! Whether you get sick before your trip and can't go, or you become sick or injured while on your adventure – being covered with travel insurance is a must. Some credit card companies do provide this (check with yours), or you can get a free quote from travel insurance companies such as RoamRight to find the best plan for you and your adventure. To get a free quote, click here.
Visa Requirements
To check if your country requires a Visa for traveling to Peru, click here.
Want to Learn Spanish Before Your Trip?
Knowing some basics in Spanish can be helpful for your time in Peru. Try a free 3 day trial of Rosetta Stone (the best way to learn a foreign language) by clicking here.
Thank you to everyone who entered my LIKEtoKNOW.IT giveaway! And congratulations to Kristiane.
Use LIKEtoKNOW.IT & follow me for a chance to win a $50 ModCloth gift card

*Disclosure: some of these links are affiliate links. Meaning, if you click a link and make a purchase, Have Clothes, Will Travel gets a very small commission at no extra cost to you. Thank you for supporting the brands that make this blog possible! I am also a participant in the Amazon Services LLC Associates Program, an affiliate advertising program designed to provide a means for us to earn fees by linking to Amazon.com and affiliated sites.