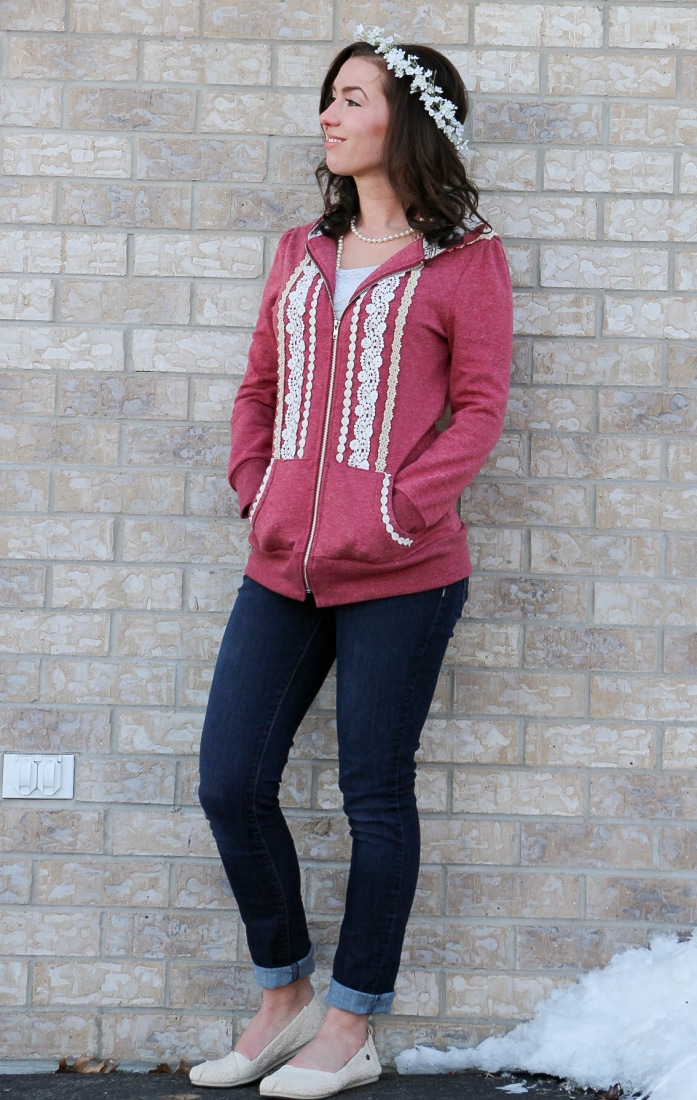 Shop the look:

The sun is actually shining and it feels like spring is almost here. The temperatures are above freezing for the first time in months! And while the flowers aren't blooming yet (here at least), I was hoping to feel a little more spring-like with some flowers in my hair.
I bought this flower crown a few months ago, and I really enjoy wearing it. One day I will get a more detailed one, from one of the many talented Etsy shops that make these beautiful flower crowns. However, for now this inexpensive one works for me and is very comfortable and versatile.
My lacy hoodie is one of my favorite pieces of clothing that I own. It is so soft and cozy. The quality is fantastic, and it fits like a glove. I also love how feminine it looks. There really isn't anything better than a hoodie that can actually be considered "dressy." And I have received an absolute ton of compliments on it.
The only downfall to this hoodie is that it is dry clean only. I wouldn't risk this one in the washing machine, just because I've read enough reviews that say it bleeds and stains the lace detail. I would rather not take that chance.
*I would also like to apologize for the quality of these pictures. My husband is already over on the East Coast, and I am currently on my own for outfit pictures. This is my first attempt at taking pictures with my timer. I tried to make them a little more interesting with some "jumping" shots, haha. But unfortunately, I am still not that great of a photographer. I will only be doing one more outfit post on my own, then I will be headed off to the East Coast by my husband. And then the photo quality will improve greatly (as well as the backgrounds!).
Where to find it:
Hoodie: ModCloth
Flower Crown: Icing
Cami: Maurices
Jeans: Target (similar)
Flats: Target (Old. Similar here.)
Earrings: Icing