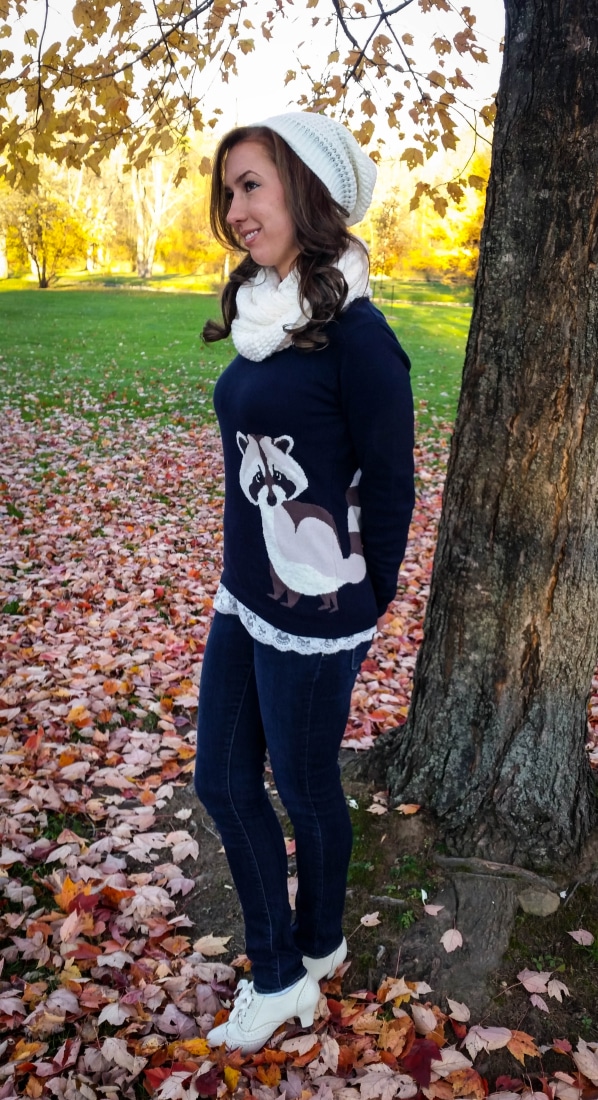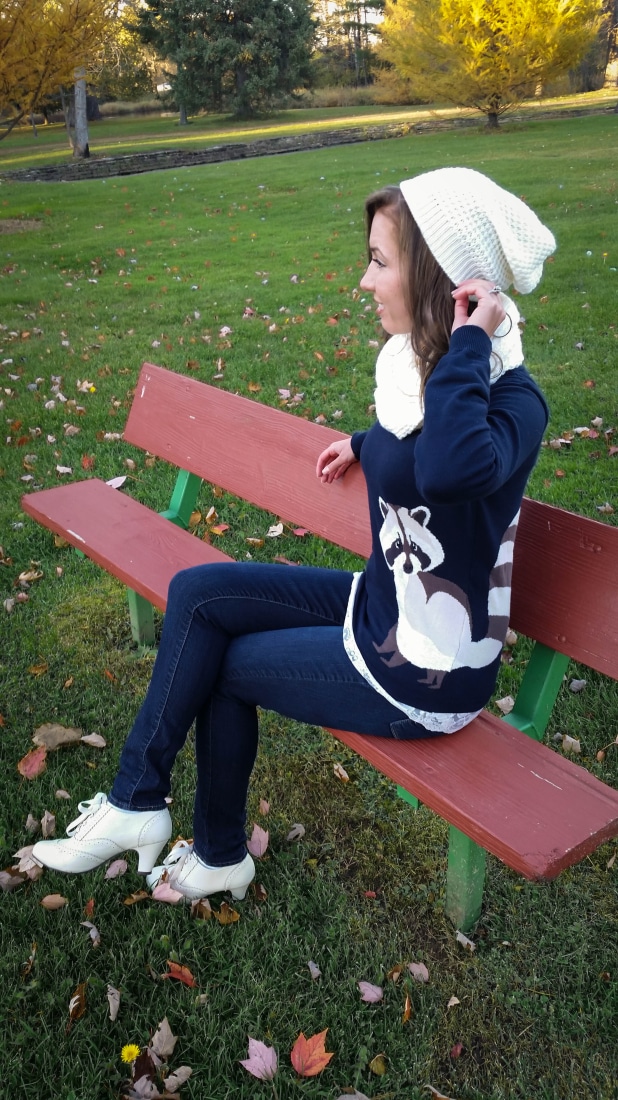 Shop the look:

Say what you will of the garbage-rummaging raccoon, you won't change my mind on how cute this sweater is. I don't know if raccoon will be making their way onto the fashion scene with quite the zealousness of say… all things owl. I do, however, love cute, unique, novelty clothes, and this Sugarhill Boutique sweater embodies all of these things.

I bought this sweater from ModCloth over the summer when it was on clearance, and am excited that it is finally cold enough to wear it. It isn't the thickest sweater in the world, but warm enough for fall and some milder winter days. It is also very well-made and soft! Being soft is probably the most important aspect of any sweater, in my book. I have a couple scratchy sweaters that are collecting some serious dust as a result.
There are two things I want to point out about this sweater, though. First, it's a bit smaller than I would like. I am only able to fit a thin tank top under it. That's my own fault for not returning it. I am always a medium when I order from ModCloth, but that wasn't the case this time and they were sold out of larges. As a result, the arms are also a bit shorter than I like. If you do decide to get yourself a Sugarhill Boutique sweater one day, consider sizing up. They have all kinds of different animal sweaters if raccoon isn't your forte. The difference between ordering directly from Sugarhill and ModCloth is, as far as I can tell, ModCloth has free shipping for orders over $50 and offers free returns to the US, and SugarHill is $90 without free returns.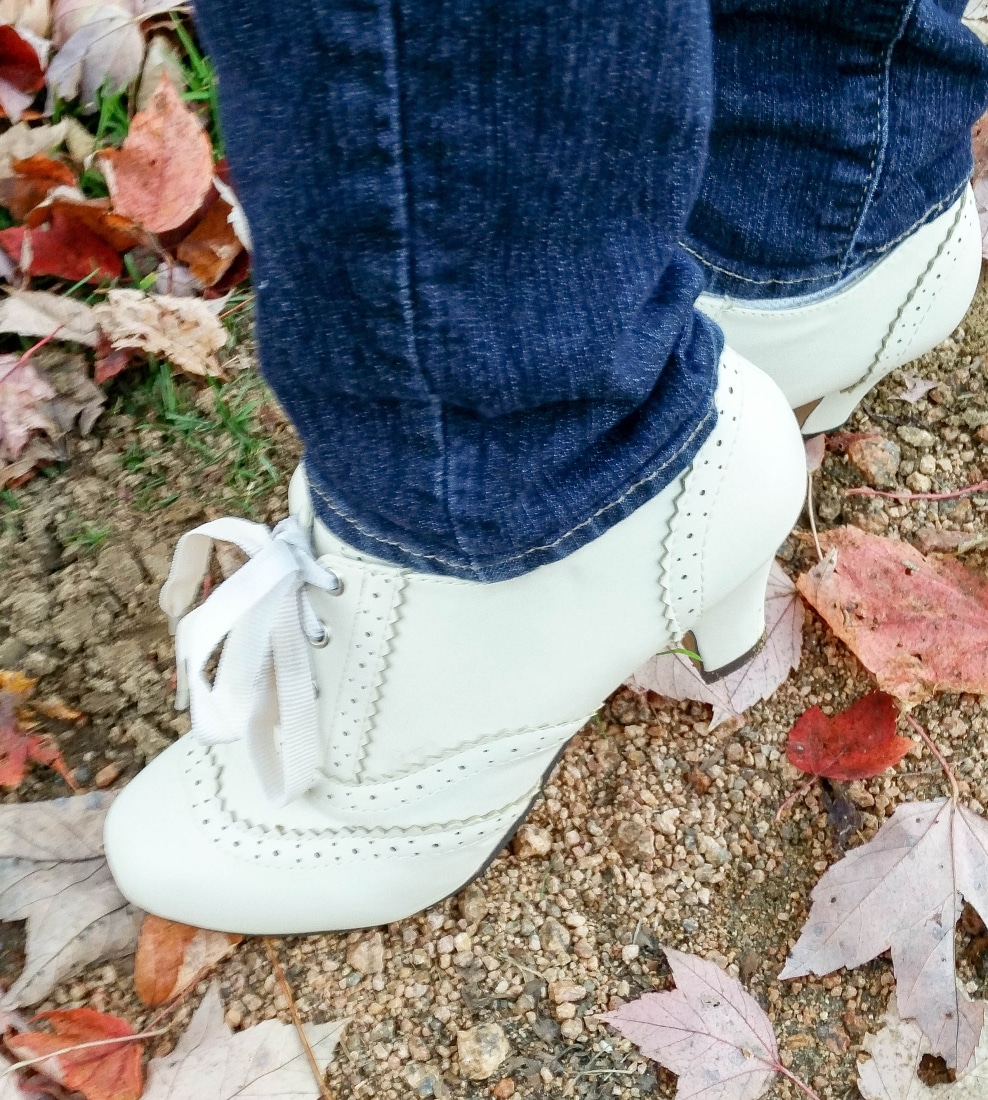 My shoes are my favorite part of this outfit. Hopefully, you don't hate them, because I will be featuring these in a whole bunch of posts until I end up wearing holes in them. They are so comfortable, cute and retro! I like wearing them with jeans and I also have a few skirts and dresses to wear them with. These shoes do have a small heel, but I can walk forever in them without any discomfort. I kind of want a pair in every color (which appears to be a total of 6 different colors, haha).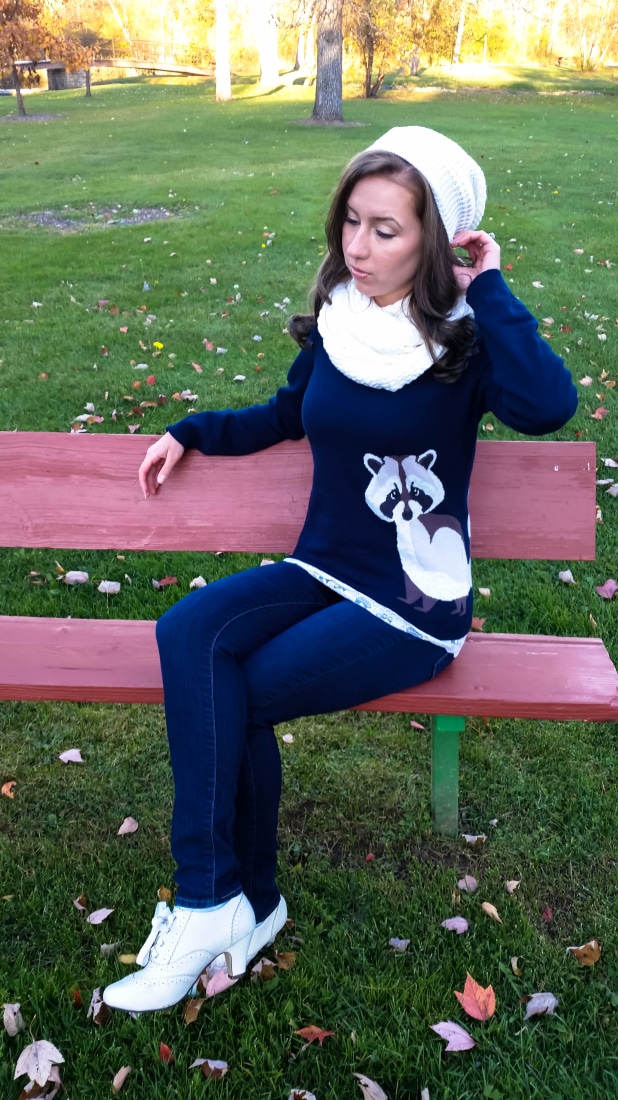 Lastly, my hat and scarf are beyond cozy. I love that I can wear this hat, take it off, and not have hat hair. It's not the tightest fitting. Therefore, I wouldn't recommend wearing it for skiing. But for a casual walk outside, it's perfect. Bring on winter!
Where to find it:
Sweater: ModCloth
Shoes: ModCloth (similar)
Hat: Target
Scarf: Target
Jeans: Target (in store)
Lacy cami: Maurices