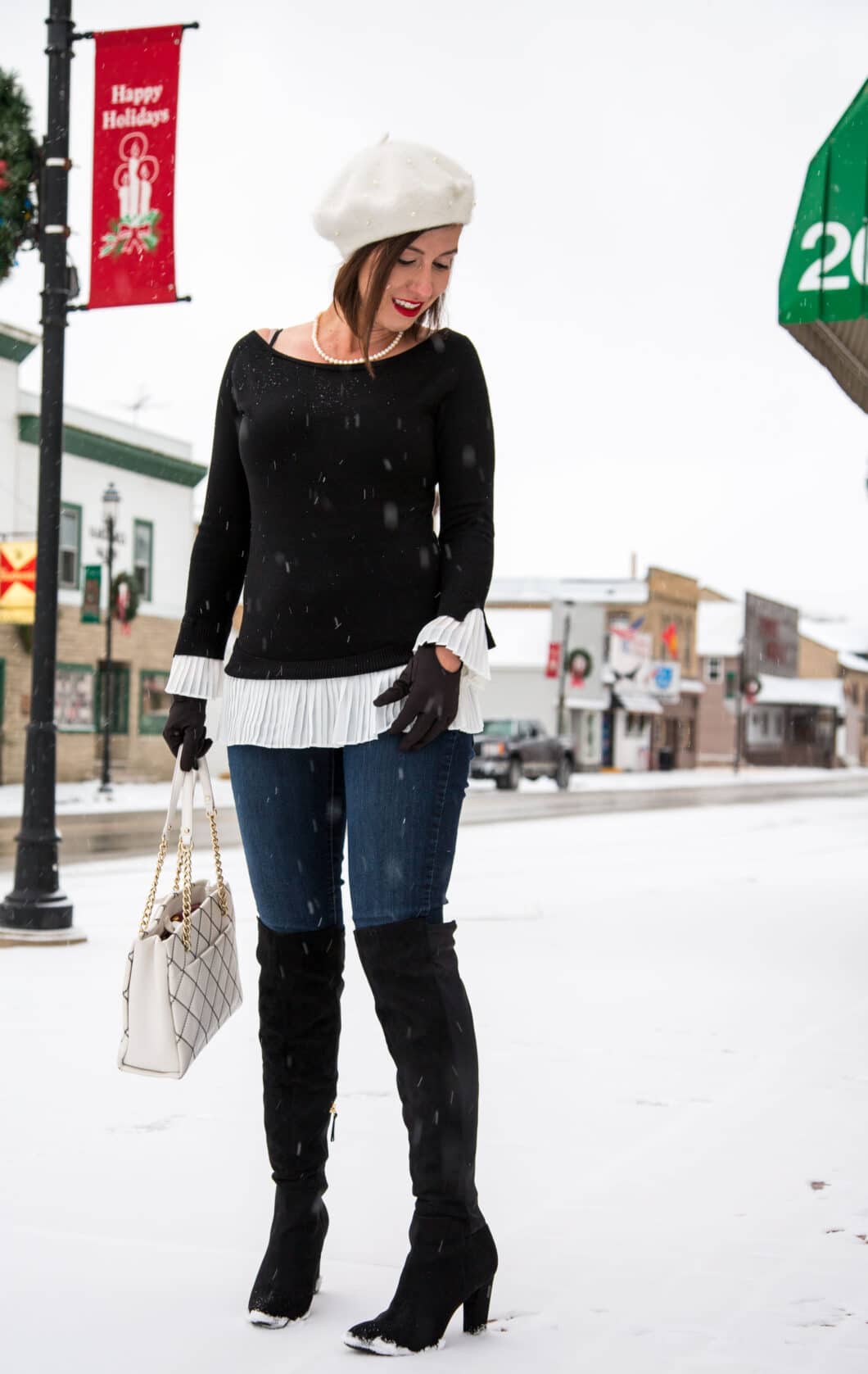 Click to shop:
Beret c/o* | Boots c/o* (similar) | Gloves c/o* | Bag (similar) | Sweater (Similar here & here) | Jeans (similar)
Wow! I can't believe how quickly the holidays went! However, I still sort of feel as though the holidays are happening because I'm in Wisconsin visiting my family until this weekend. And holy smokes, Wisconsin is SO cold. The day we took these photos was actually Christmas Eve, and that was the last "warm" day we've had here. It's been hovering around 0 degrees Fahrenheit or less otherwise!
I was really excited for some snow and cold, though, because it gave me the perfect excuse to wear my fave boots and this lovely beret. It was a cute, little Christmas gift from my friends over at Unique Vintage, along with these gloves and a cute mug with hot cocoa mix (will be photographing that soon). I never really thought I was a beret person until this one arrived, and ever since I unwrapped it – I've hardly taken it off. So, sorry, but it's going to be featured in roughly the next 6 outfit posts. Haha.
This all paired really well with this lovely sweater my mom bought me for my birthday as well! It's so pretty – she really has good taste, eh? Unfortunately, it is no longer available, but I've linked to some similar options, below.
How was everyone else's holiday season? And are you a fan of berets? Let me know in comments!
Where to find it:
Beret: c/o* Unique Vintage
Gloves: c/o* Unique Vintage
Boots: c/o* DSW (Sold out. Similar here.)
Sweater: Gift from my mom (Similar here & here)
Jeans: Old (Similar here)
Bag: Kate Spade (Similar)
*Disclosure: some of these links are affiliate links. Meaning, if you click a link and make a purchase, Have Clothes, Will Travel gets a very small commission at no extra cost to you. Thank you for supporting the brands that make this blog possible! I am also a participant in the Amazon Services LLC Associates Program, an affiliate advertising program designed to provide a means for us to earn fees by linking to Amazon.com and affiliated sites.
*c/o = courtesy of, meaning the company gave me the product to be used on my blog, and I did not pay for it. All opinions are my own, and I am not being compensated for a positive review.