Iceland: What to See, Do & Eat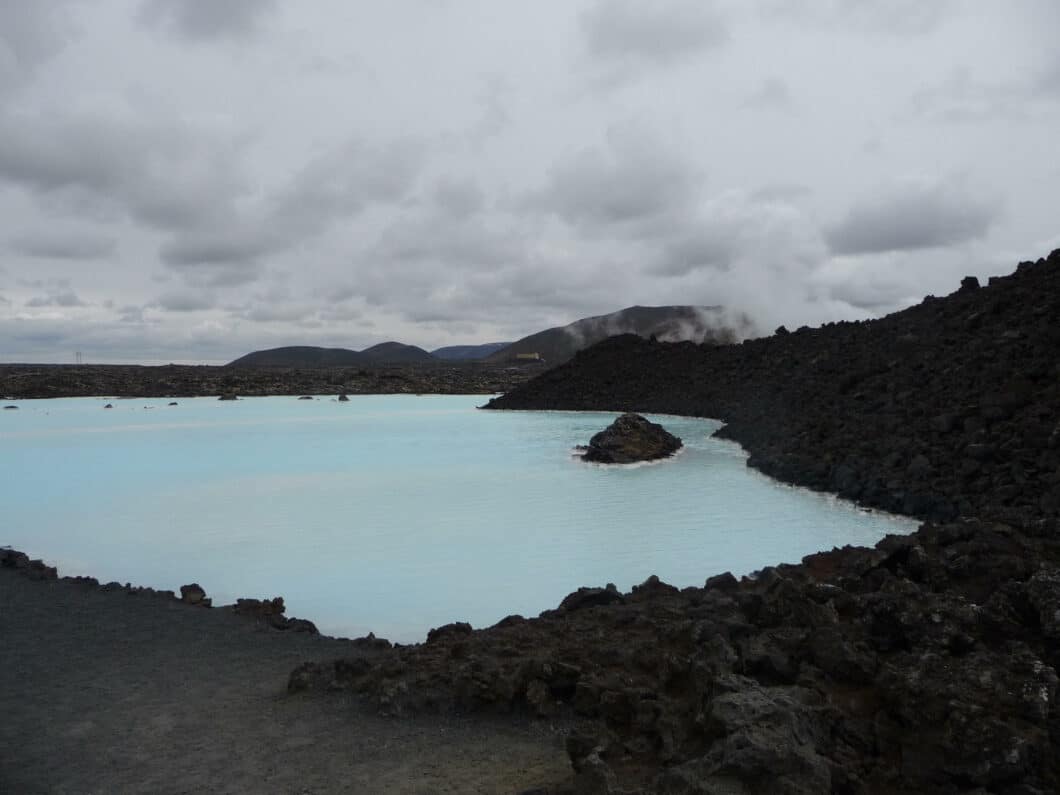 Iceland is a country that has risen very high on my list of countries I would like to see one day…thanks to one of my best friends, Shannon of "A Blonde and a Brew," having visited this astonishing country. Her tales of magical lagoons, gorgeous national parks and sampling puffin have undoubtedly piqued my curiosity for this country.
It also doesn't hurt that this where Jon Snow lives…or at least where his home is filmed. (For all you A Song of Ice & Fire a.k.a. Game of Thrones fans!) However, there's also the threat of White Walkers…but Shannon assures me she didn't see any whilst visiting "North of The Wall."
Alright, I'll stop with all the Game of Thrones jargon and instead quickly tell you how excited I am that Shannon not only wanted to write a guest post about her trip to Iceland…but she also just launched her blog "A Blonde and a Brew" this past weekend! It's all about Shannon's love of traveling and trying different craft breweries. She gives fun and detailed reviews of the beer she samples in the interesting places she samples them.
Craft beer and traveling? What's not to love?! (And can you see why we're such good friends? Haha.) So, definitely be sure to give "A Blonde and a Brew" a look see by clicking here, after you've read about the beautiful country of Iceland, below!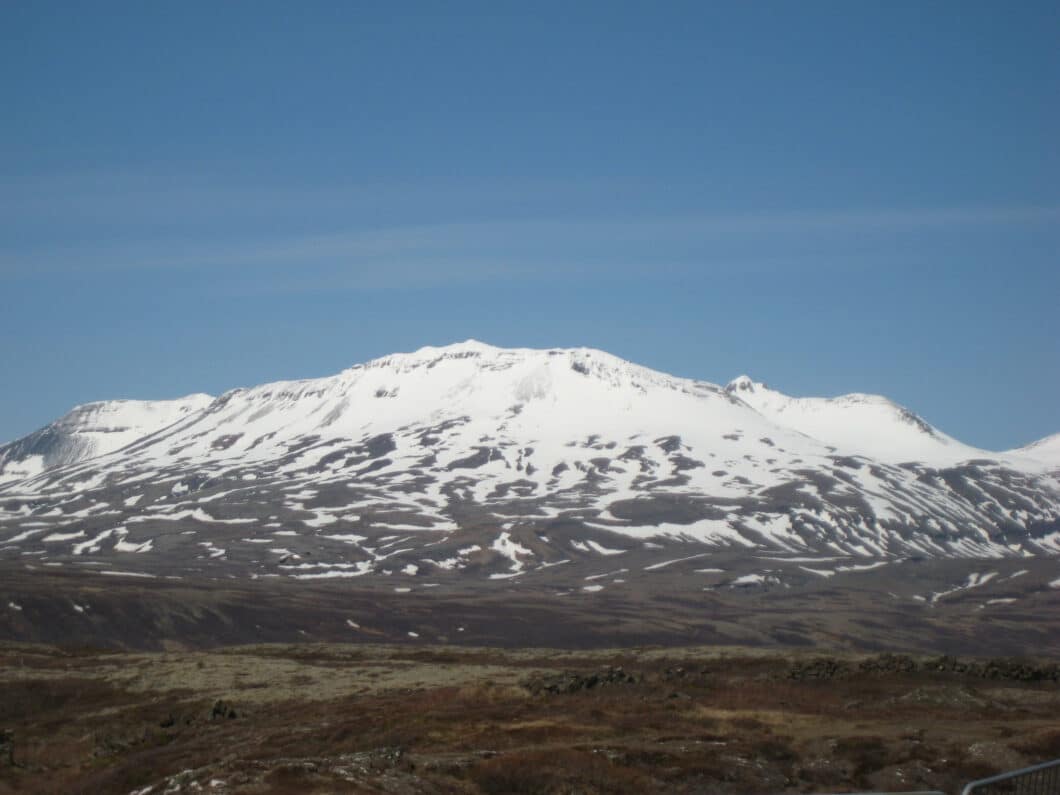 Iceland: The Land of Fire & Ice by Shannon
Four years ago, as I was about to graduate from college, my mother and I decided that we wanted to go on one last vacation before I was flung off into the real world. There was only one requirement, and that was that it had to be to a country that we had never been before. I am not one for beaches and lying around, so the normal impulse to visit the Caribbean was not there. Our first thought was London, but after a look at ticket and hotel prices, we found that London was going to be a little more than we wanted to spend. Then, out of the blue, Iceland appeared on a travel deal website, TravelZoo. I had never even considered going to Iceland. This was perfect. Before we knew it, it was the middle of May, I had graduated, and a few days later we were on the first flight of the season to Keflavik airport from Minneapolis.
Should you ever find yourself with some time to spare in Iceland, here are some thoughts on how to spend it.
What to See in Iceland: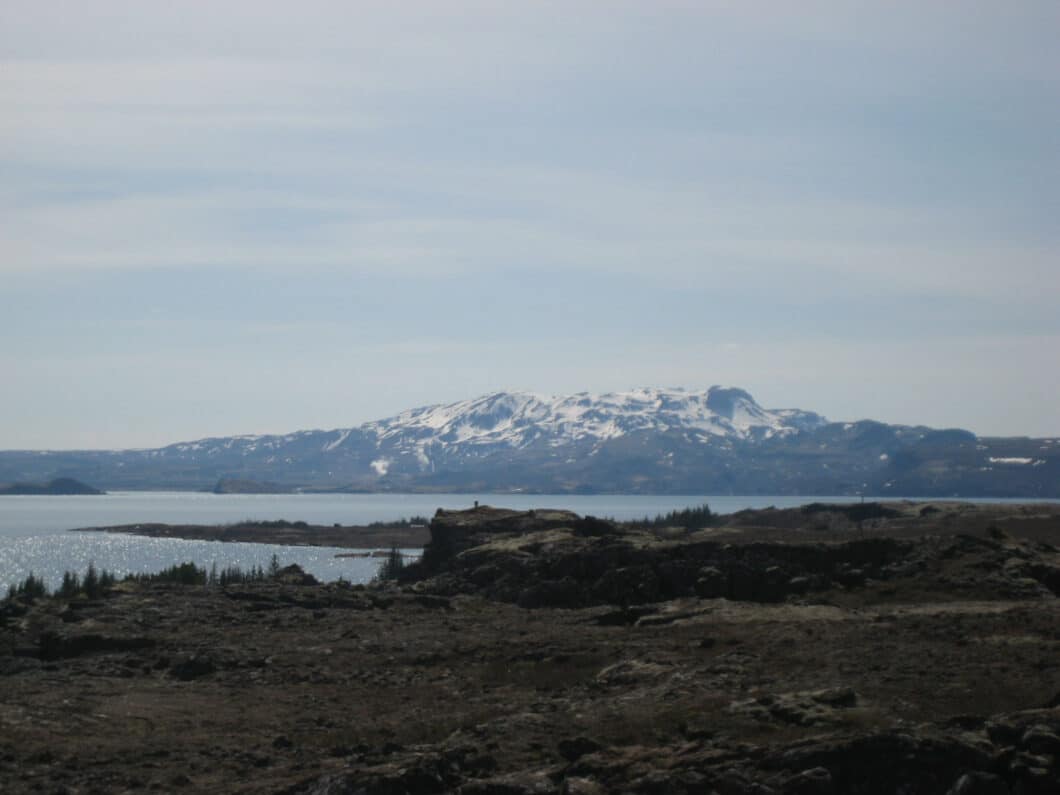 Thingvellir National Park I highly recommend either driving out or taking a bus trip to this gorgeous park. It is the birthplace of Iceland as a nation and is a UNESCO World Heritage Site. Besides the historical aspect, you can cross from the North American to the European tectonic plate, visit the largest lake in the country, and see a few volcanoes.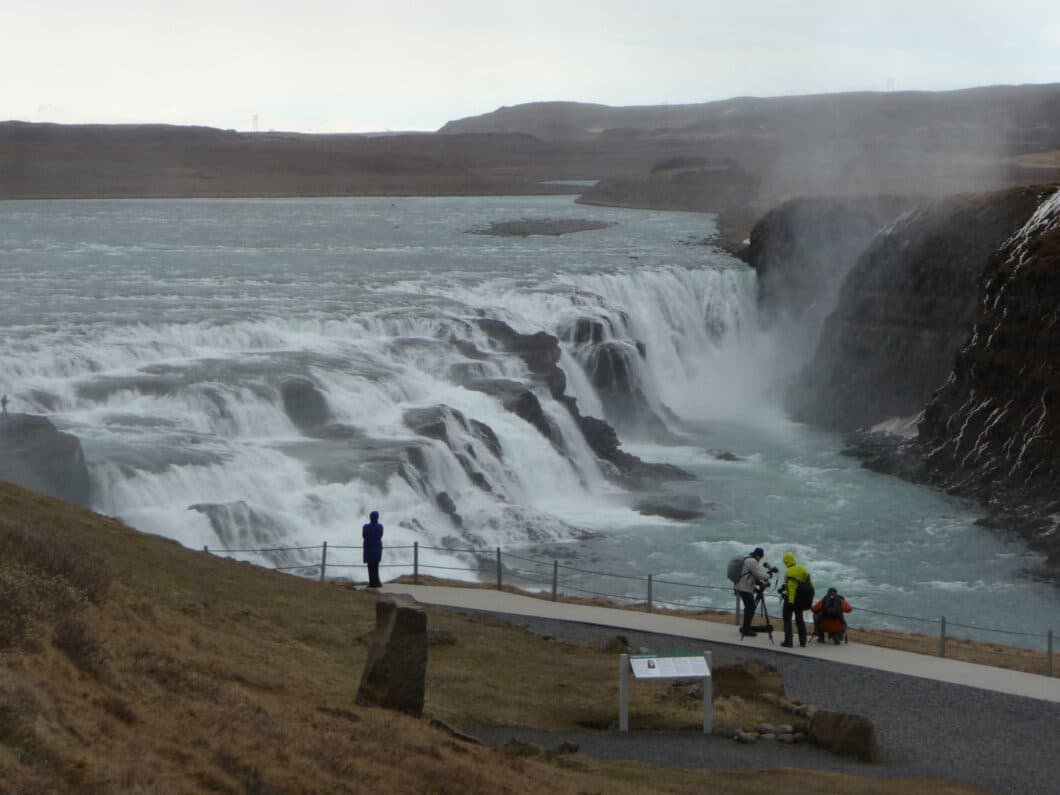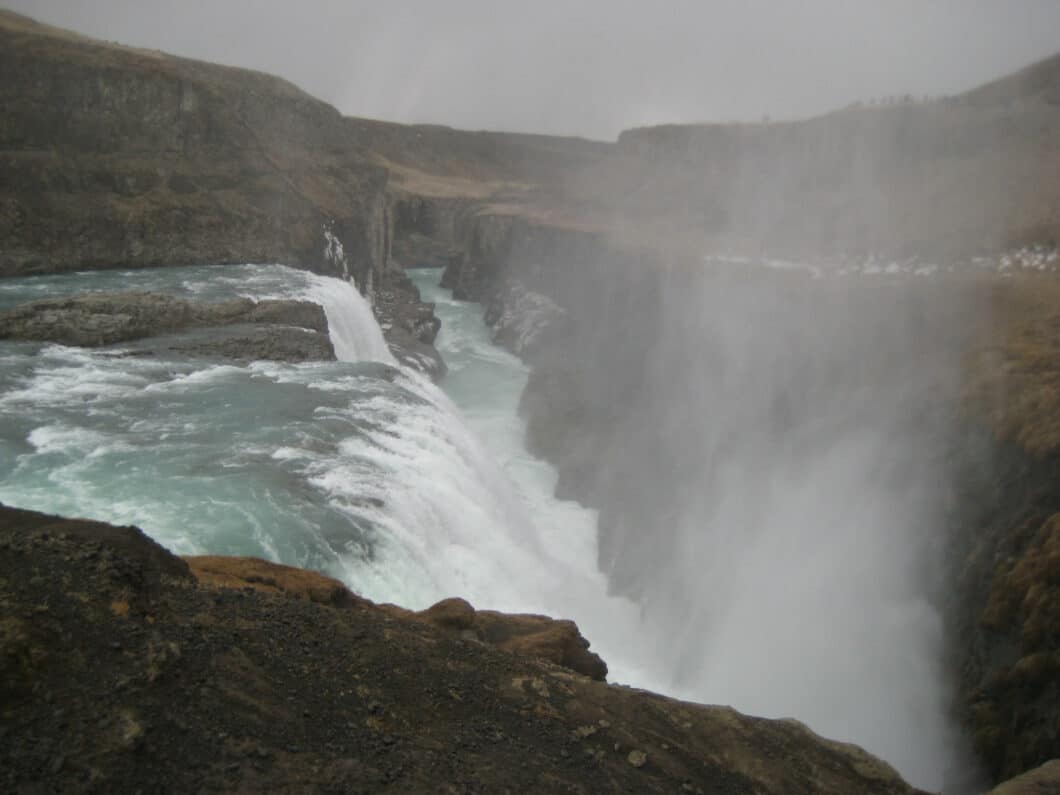 Gullfoss This spectacular waterfall is included on many tours and is probably my favorite place that we visited. It is beautiful no matter the weather, and it is so cool to experience the raw power of nature up close.
Hallgrimskirkja This church is visible from almost anywhere in Reykjavik, and you can take a short elevator ride to the top, for a small fee, and see nearly all of Reykjavik. The inside of the church is very sparse and Nordic in design, which is to be expected. There is a huge organ at the back of the church and the mountains across the bay are visible through the windows at the front of the church. The architecture of the church is what is really outstanding. As you can see from the photos below, it is quite unusual. I think it looks like a mountain rising from the earth. There is also a statue of Leif Ericson in front that was a gift from the people of the United States to the people of Iceland on the 1000th anniversary of their parliament in 1930.
What to Do in Iceland:
Relax at the Blue Lagoon I'm not much of a spa person, but going to the Blue Lagoon was so relaxing, and it is something you absolutely must do. Many people do this on their way to the airport, since it is between the airport and Reykjavik. The geothermal water is heated to about 98-104 degrees Fahrenheit and looks blue because of the way that the sunlight reacts with the silica in the water. It is a little like a giant, natural hot tub, but much more beautiful. You can also take the silica mud from the bottom of the lagoon and use it as a mask.
Go Searching For Puffin There are not a lot of places in the world that you are able to see puffin, and they are a peculiar, cute little bird that is well worth seeing. Many of the puffin watching tours are also whale watching tours. We only saw a few small whales on our tour, but we saw loads of puffin! When we were there, they were all hanging out on small rocky islands to breed in the springtime. It is quite a sight to see when you cruise past a little rock, and it is full of black and white birds hopping around.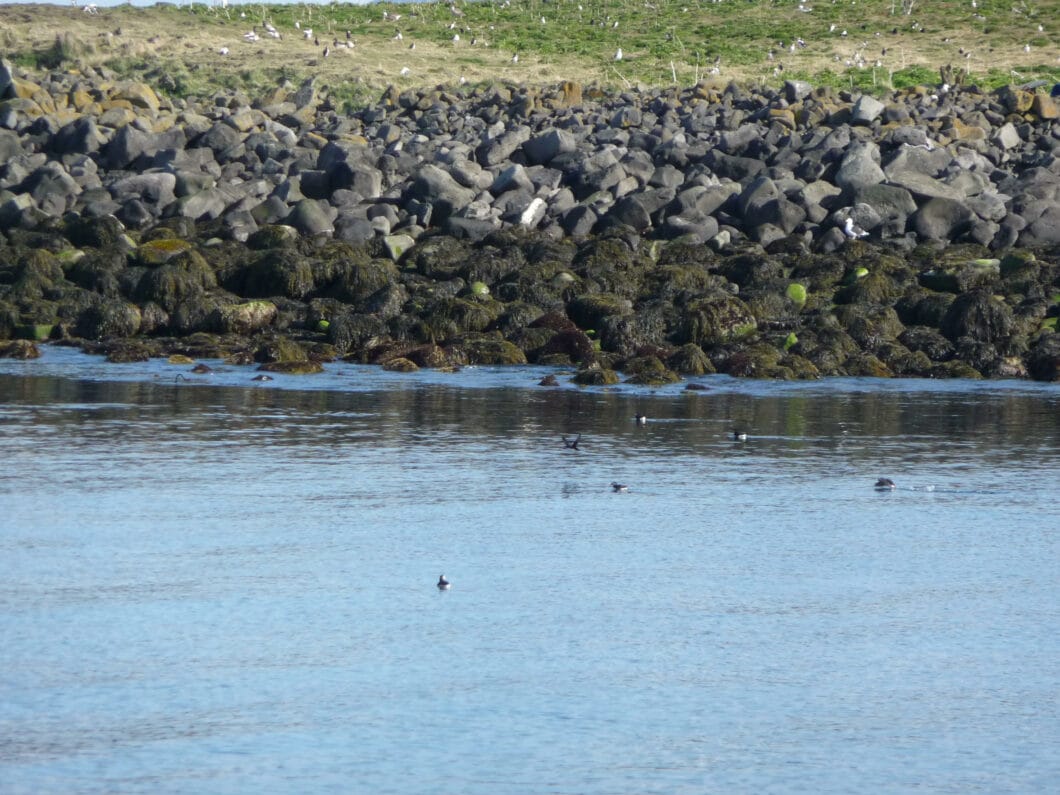 See the Northern Lights Since we visited in May, we did not get the chance to see the Northern Lights as it is too light out to see them, but I highly recommend visiting between the months of September and April so you can see them. There are numerous tours that will take you to Northern Iceland to see them, and I can imagine that they are breathtaking. My only regret from Iceland is that we didn't get to see this phenomenon.
What to Eat in Iceland:
Puffin Iceland is the only place that puffins are not protected, so that means that it is the only place in the world that you can eat it. I won't sugarcoat it. I did not like how puffin tasted. They only eat fish, and they are a dark meat bird, so the meat is very gamey and fishy. Sort of like a fishy liver. I am glad that I ate it, though. When in Iceland?
A Hot Dog at Bjarins Beztu Pylsur In English, the name of this hot dog stand, which is located on the harbor in Reykjavik, translates to "the best hot dog in town", and it really is. President Clinton has even eaten here! Get one with the works, ketchup, sweet mustard, fried onion, raw onion, and a kind of mayonnaise/mustard/relish.
Skyr This is the Icelandic way of making yogurt, and although it is now widely available in the U.S., but it just tastes so much better in Iceland.
Seafood This is a no brainer. Being that Iceland is an island in the middle of the North Atlantic, seafood here is abundant and fresh.
Brennivin Alright, this is actually a drink, but it is worth a try. It is unsweetened schnapps that is considered to be Iceland?s signature distilled beverage. It is made from fermented potato mash and caraway. A lot of people (all of them) that I have given a shot to from the bottle that I brought home do not like it. They call it "Black Death" for a reason. It tastes kind of like rye bread and I happen to think it tastes great in a bloody mary. One thing is for sure: it definitely helps to keep you warm on a cold, Iceland night.
Interesting Tours + Where to Stay in Iceland
Tours:
Where to stay:
Reykjavik – the capital of Iceland. Many attractions are nearby on foot.
Be sure to check out Shannon's blog "A Blonde and a Brew," by clicking here. You can also follow her on Facebook and Instagram!