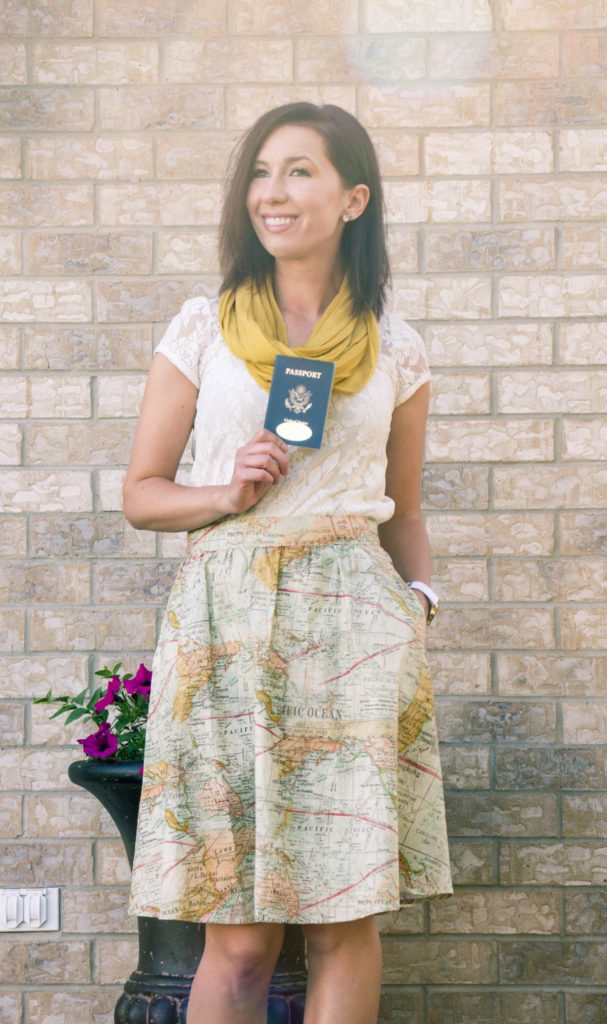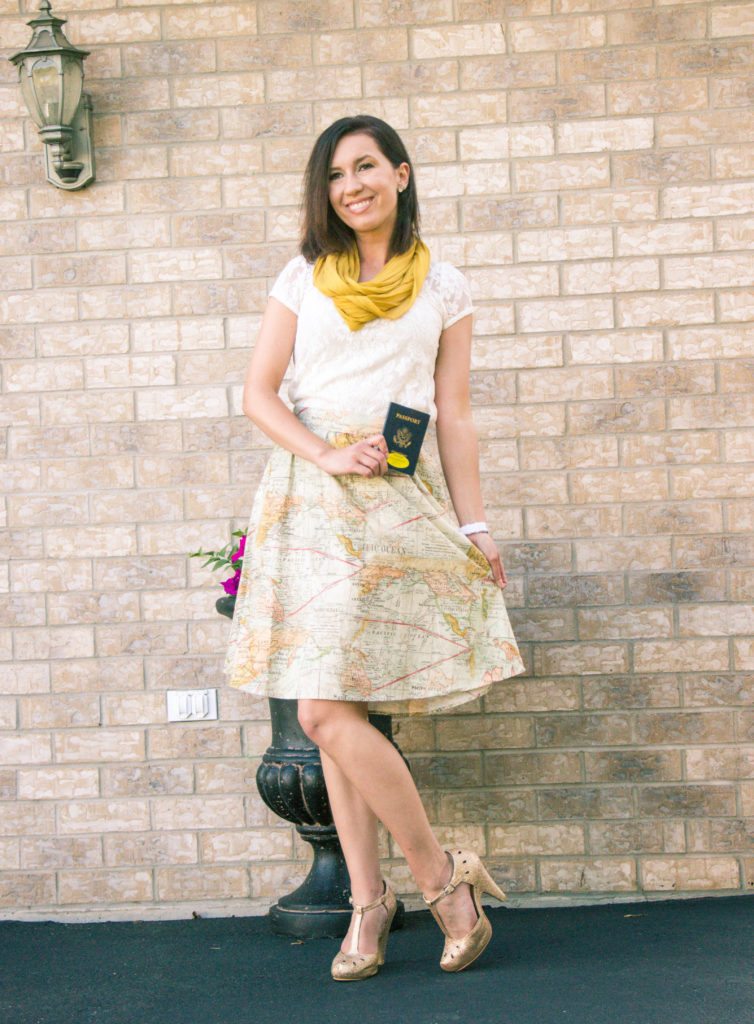 Shop the look:

I have been waiting to wear this outfit for around 4 months. I had bought this map skirt thinking it would be fun to wear once our visas for Australia were approved. I even paid a few dollars extra for shipping on the skirt…just in case our visas were approved quickly. As we now know, that was not the case…but last week, I was finally able to break this outfit out! (You can click here to read the details of our big move that's happening on Wednesday!)
I also wore this outfit yesterday, for a surprise going away party my brother and sister-in-law had for us. It was so awesome to see all our friends and family one more time before we left! (I was able to see friends and family at my cousin's wedding, and we were able to see more friends and my husband's family at the going away party.) My brother and sister-in-law are the best, in case you were wondering. And this is actually the second going away party they've had for us! (Click here for more on that.) Our friends and family are beyond awesome too, as they all came on such short notice. (And some had to drive across the state!)

How do you like my jumping photo? Haha. Jumping with a scarf and heels just never looks right in photos….but I am excited about moving to Tokyo (and then Australia)! And this map skirt is awesome! It is so comfortable and has a waistband that is a bit stretchy…so if you eat too much at a going away party (like I may have yesterday), it is still comfortable.
I had bought my heels to stand up in my cousin's wedding this past weekend (it was so pretty!). These heels are very easy to walk in, however, I had been standing in and walking in them for well over a few hours straight on Saturday…and my feet were not too happy after that. For some reason, my right shoe strap was really digging into my foot too (I ended up wearing a bandaid to keep it from getting too bad). Overall, I really like the heels…but they aren't the best for standing/walking for long periods of time!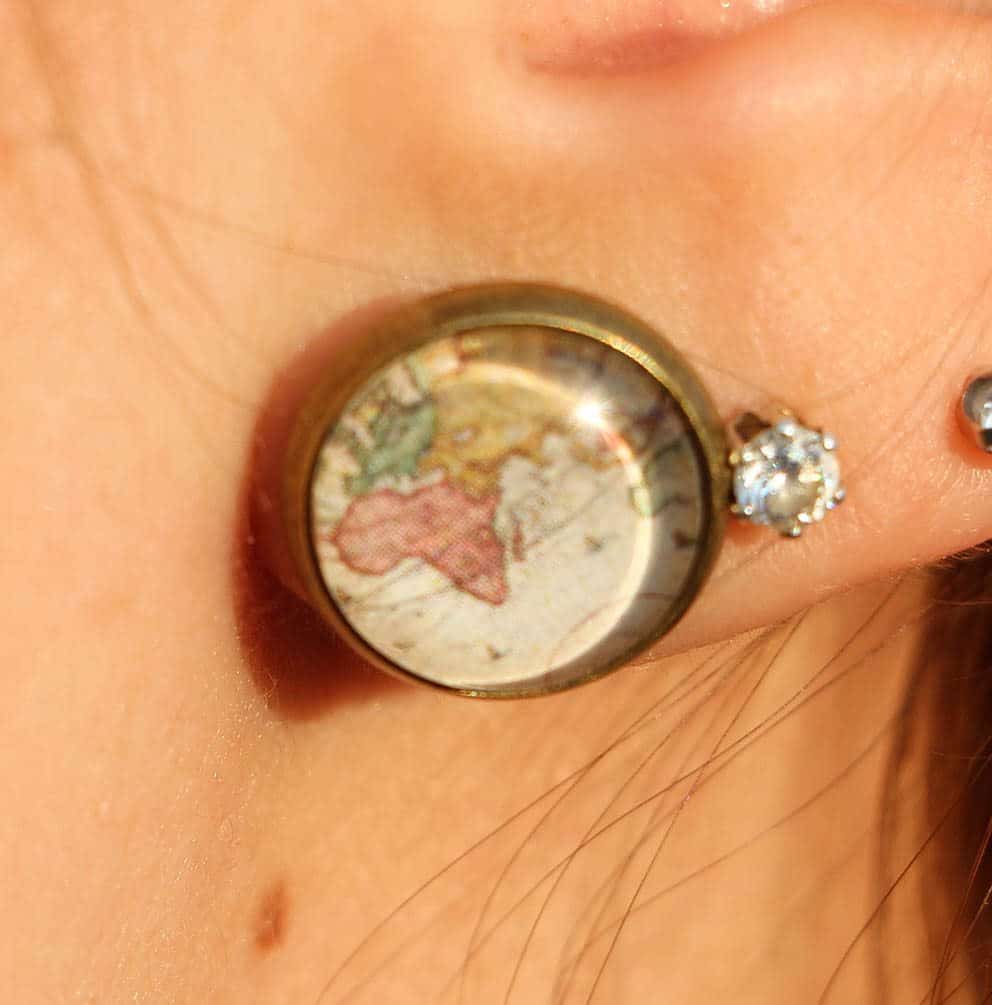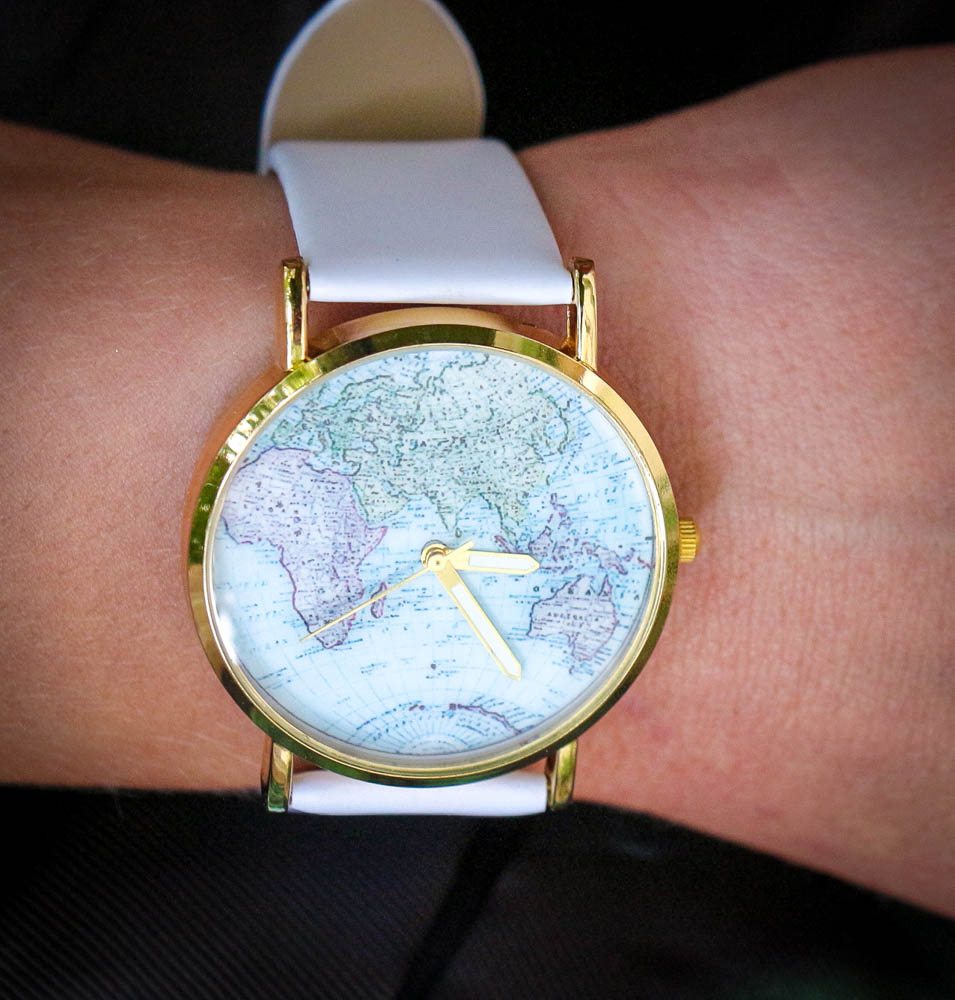 I really went all out on my map accessories too. My earrings matched perfectly with my skirt! And one of my best friends also surprised me with a necklace that matched this outfit incredibly well too! It even has a compass that works on it (which will come in handy). I didn't get a chance to take any more photos yesterday with the necklace because we actually had a pretty bad storm roll in that put a damper on photos. (And some people are still without power in our area!) But I will be doing an outfit post with it once I get to Tokyo. 🙂
I also want to say thank you to everyone who has congratulated us, as well as all the awesome advice that we have been getting! I have read each of your comments on Instagram, Facebook and my last blog post…and I really want to say it means a lot to us! I have not had a chance to respond to each of them yet, but I will once things settle down a bit. 🙂
Where to find it:
Skirt: ModCloth (Sold out. Similar here and here.)
Heels: ModCloth
Watch: c/o* PinkBasis (Sold out. Similar here.)
Earrings: Etsy
Scarf: ModCloth
Top: Old
*c/o = courtesy of, meaning the company gave me the product to be used on my blog, and I did not pay for it. All opinions are my own, and I am not being compensated for a positive review.