Meet Kathy! She's this month's Featured Fashionista and one of my favorite fellow bloggers! Kathy is the stylish gal who created the lifestyle blog, "Lace & Whimsy."
I love following Kathy's blog not only for her wonderful fashion sense, but because she is always sharing such fun, creative aspects of her life. She is not afraid to dab into any subject or try new content on her blog. From YouTube videos, to photo shoots, to very personal matters – the sky is the limit on Lace & Whimsy!
Q&A With Kathy
Tell me a little about yourself.
Kathy: Hello, everyone! I'm Kathy and I'm a twenty-something blogger. I live in southern New Jersey with my husband Chris and our two dogs (Charlie and Daisy!). We're total homebodies and love binge-watching TV shows and movies. Game of Thrones and Marvel superhero movies are some favorites. I work full-time as a bookkeeper so blogging helps to keep me balanced by providing me a creative outlet.
I used to be way into knitting. I can sew a little, I like to play with water colors, I've tried jewelry making, I have dabbled in countless craft mediums, and have mastered none. When life gets too hectic to have time to focus on creative projects, my personal style has always been my way of expressing my creative side.
How would you describe your blog, "Lace & Whimsy?"
Kathy: I definitely started Lace & Whimsy with the intention of it being primarily a fashion blog. I'm definitely moving more in the direction of a lifestyle blog as I branch out in what kind of content I create. In short, Lace & Whimsy chronicles the happy, pretty, stylish parts of my life. In addition to outfit photos, my blog will sometimes serve as a scrapbook of what's currently inspiring me, or just product collages of things I'm trying really hard not to buy. I've also opened up about some mental health struggles on my blog recently and had such a wonderful response, so I may start featuring more posts like it. You'll find a little bit of everything… I don't like to limit myself!
What inspired you to create "Lace & Whimsy?" And how did you come up with the lovely name?
Kathy: I have a bit of a shopping addiction and love styling outfits. Add that to my love of Instagram and social media in general, and starting a lifestyle/fashion blog just seemed to be in the natural progression of things. Thus, laceandwhimsy.com was born.
I actually briefly had an Etsy store called Lace & Whimsy where I sold vintage dresses, jewelry, and fun little vintage girly finds. When I switched my focus to blogging, I stuck with that name because I really liked it and thought it was an apt description of my personal style. I love vintage, delicate details such as beading, ruffles, and/or lace in my outfits. I also like to add whimsical, unexpected touches to both my outfits and my home decor. I don't play by the rules and love mixing too many colors or textures. I won't be boxed in—minimalism is not my thing!!
How do you continue to come up with such fun, creative content for Lace & Whimsy?
Kathy: Honestly, I wish I had more time to actively create content for my blog. I have so many ideas for tutorials and crafty things, but I have trouble making the time. I also am so inconsistent with the types of posts that I do, which I feel is "bad blogging" since consistency is supposed to be key. I've been blogging since September, and I'm constantly experimenting with different types of content.
My brain is also going a mile a minute all day, every day. I catch myself daydreaming about blog ideas during the work day. I've taken to keeping a notebook in my purse for blog ideas so I can jot down a quick note to remind myself of what I want to work on when I have the time. It's an added bonus that when I'm feeling uninspired, I have an arsenal of ideas in that notebook!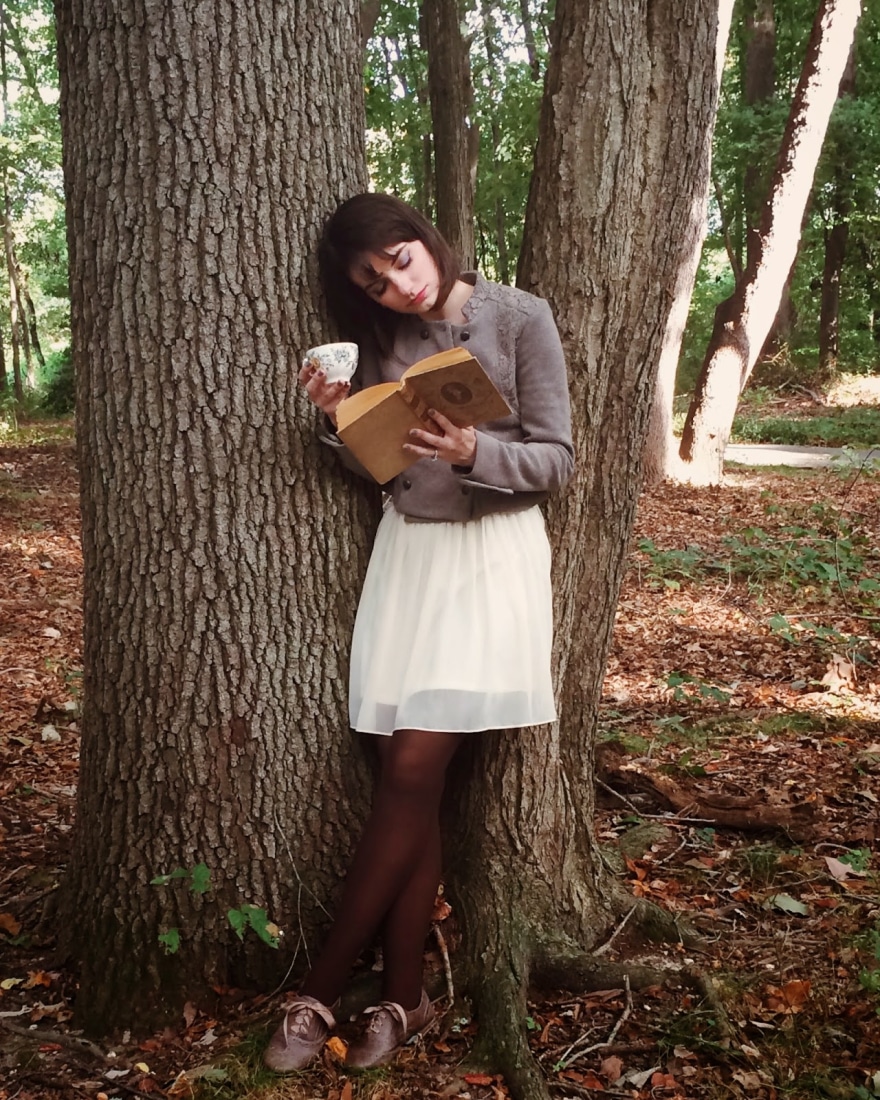 What has been your favorite post you've done so far and why?
Kathy: If I say my first post is my favorite, I hope that doesn't make you lose all faith for the growth and progression of my blog! My first post will always hold a special place in my heart because I got to collaborate on this little photo shoot with my sister Lizzie. She's 12 years younger than me but I look up to her very much and she has been so supportive of my blogging endeavors. She's so intelligent and artistic, and we really feed off of each other's creative energy. To me, this first post marks the beginning of my blogging experience and this creative journey I've so enjoyed. (Click here to see Kathy's first post.)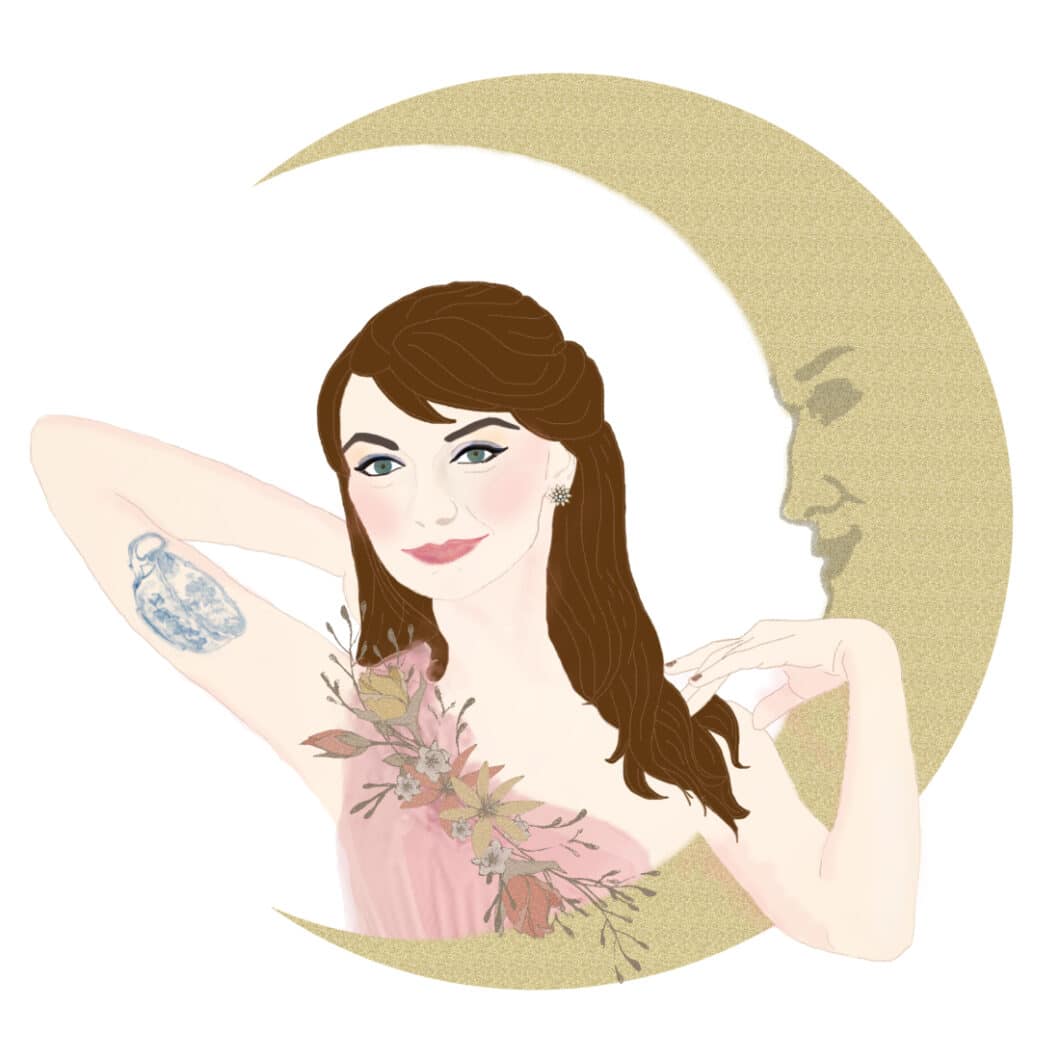 What do you hope the future holds for Lace & Whimsy?
Kathy: I want to take it up a notch and have a more consistent schedule and create more diverse content. I have ideas for some posts on blog design and a tutorial in the works on how I made my blog header. (I'm toying with the idea of offering custom digital blog portraits, like my Lace & Whimsy header.) Working on my blog design and branding has been one of my favorite parts of blogging.
I'm constantly tweaking my layout and am never satisfied! My true goal is for Lace & Whimsy to evolve into some sort of freelance operation for blog design and branding, I just have too many vague ideas and not enough focus at the moment. I'll get there!
What has been your biggest challenge with Lace & Whimsy?
Kathy: Time management! I work full time and am usually tired or uninspired on weeknights to be productive. I also tend to get sucked into Pinterest or reading other people's blogs when I was trying to set aside time to work on my own. Ultimately, I give myself a break because blogging is supposed to be fun! I have so many dreams and goals for the direction Lace & Whimsy heads, but I also try not to take it too seriously. No need for any added stress!
If you had to pick one, what would you say your favorite social media platform is for communicating with your blog followers and why?
Kathy: Instagram, hands down. I think of Instagram as a "micro-blog." I try to put captions with my photos that entertain and add to the story of the photo. It's like doing a mini blog post on the go. It's also a great way to find friends and fellow bloggers with similar interests. In fact, Instagram is how I found Lindsey and her lovely blog!
Instagram will always be my favorite, but I am really into Twitter lately. I've found so many active bloggers on Twitter and love interacting with this wonderful community of ladies.
Ultimately, any platform that allows me to liberally sprinkle emojis is fine by me.
Do you have any advice you would like to share for someone looking to start their own blog?
Kathy: Do it. Start it. Don't over plan. Just set up an account see where it goes.
Be your authentic self. There are so many amazing blogs out there — let them inspire you, but don't compare yourself or try to imitate others. Just do your own thing consistently and passionately and you will find it rewarding, I promise!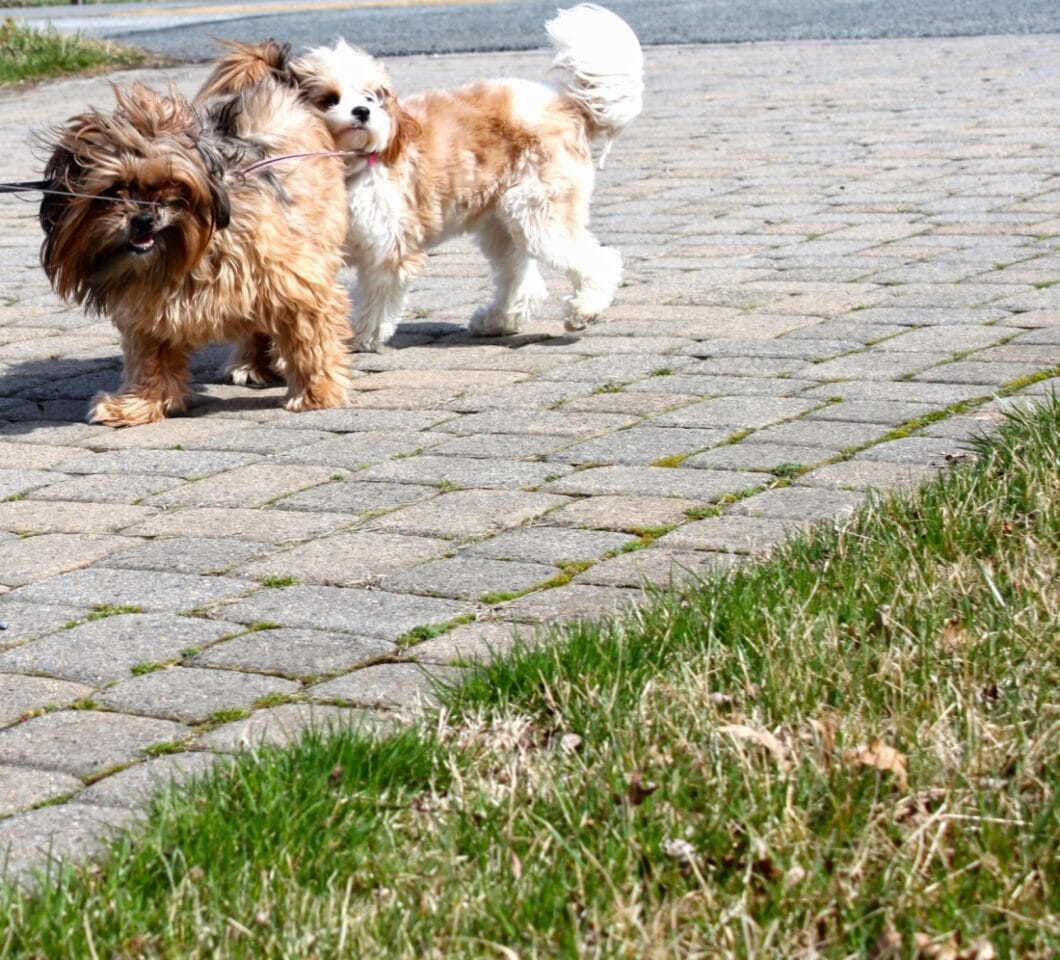 I'm going through serious puppy withdrawal at the moment, and love when your two puppies are featured on your blog. Could you tell us a little more about these cuties?
Kathy: Um, of course! I could talk about my dogs all day.
Charlie is a 5 year old "Shorkie" (a Shih Tzu mixed with a Yorkshire terrier). He's my baby boy. We never had dogs growing up so Charlie is the first dog I've ever really and truly loved. I was still living with my parents so I had to convince my dad to let me have a dog at the house. He took some convincing. A week or so after my Nana passed away, he finally gave in. I didn't wait for him to change his mind — I got Charlie the very next day! Not 24 hours later, my dad was smitten with little baby Charlie.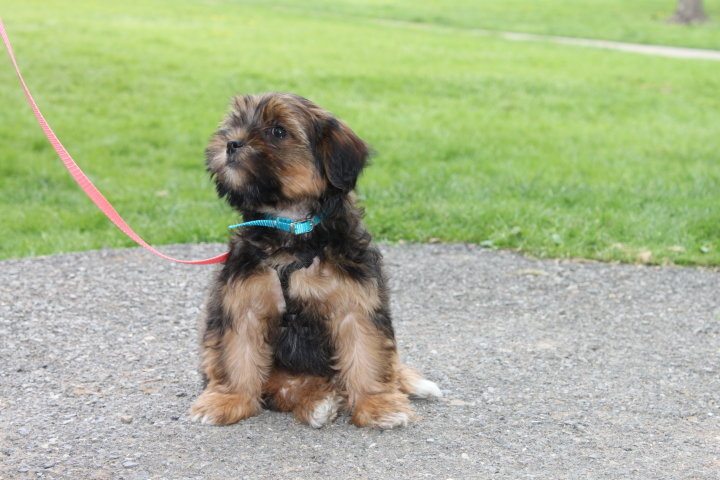 I still tease Chris that he only agreed to let me move in with him because Charlie and I were a package deal. Chris and Charlie are the best of friends. Charlie was so high energy as a puppy – I hardly remember ever seeing him sleep! He took about three years to mellow out. He's five now and is just the sweetest boy! He's honestly one of the best things to ever happen to me.
Chris and I got Daisy a little over a year ago so Charlie would have a buddy. When people ask me what breed Daisy is, and they ask a lot, my reaction is always to pause and laugh a little because it's not a simple answer. You get more than you bargained for with my answer that "she's half Cavalier King Charles Spaniel and her other parent was half Yorkie and half Bichon Frise." Gasp for air. She's a designer mutt, essentially. And I may be biased, but she's the cutest puppy in the world. She's so sassy too. She loves to beat up our cat and won't take any crap from Charlie if he plays too rough with her. When she settles down, she's an affectionate little snuggler. Charlie just wants to lay by our feet. Daisy on the other hand will curl up by my neck and use my face as a pillow, or fall asleep in my arms while I pet her. She's so funny. We adore her.
It's been cute watching the dogs bond with each other over the past year. Charlie wanted nothing to do with her when we first brought her home—seriously wouldn't even look at her. Now they kiss and cuddle and play all the time. I love my dogs!
I could go on and on but I probably shouldn't.
How would you describe your personal style?
Kathy: Constantly evolving. My style changes so rapidly, but you'll typically find me wearing something with lace, ruffles, beading, or quite possibly all three. I love mixing patterns and textures piling on whimsical accessories.
What is your go-to outfit?
Kathy: I have a go-to dress, but not a go-to outfit because I try very hard not repeat the same outfit. I like to challenge myself to remix my wardrobe and come up with new looks based on the clothes I have already. Of course there are days when I'm running late and throw on some basics that are probably a repeat, but if I'm doing anything worth dressing up for I'll create a new outfit.
I have this one Forever 21 dress I bought about 5 years ago, when I was first discovering my personal style. I've worn this dress countless times, I'm frankly amazed it hasn't fallen apart. The print is subtle enough that I can get away with almost any black patterned tights. Nearly every pair of shoes I own looks great with this dress. I can wear it with leggings and a cardigan to work in the winter, or with just a pair of heels in the summer. A dress for all seasons! I have yet to find another dress that is so versatile.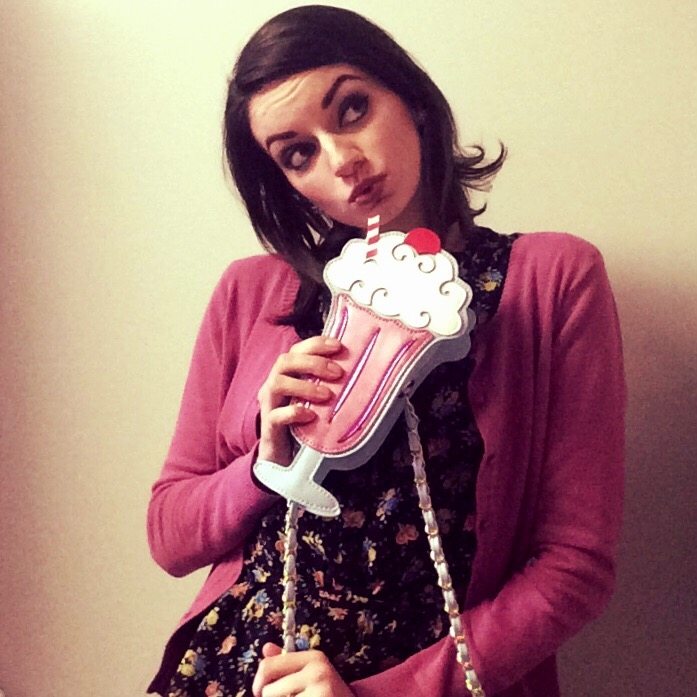 What is your absolute favorite clothing store? (I have a guess for this one! Haha.)
Kathy: Ha, as you've probably guessed my favorite place to shop for clothes is ModCloth, without a doubt. Their selection never gets stale. They still surprise me with their unique new arrivals. Just when you think you've seen it all, there's a milkshake purse to be had.
Be sure to check out Lace & Whimsy by clicking here! You can also follow Kathy on Instagram, Twitter & Facebook.
Featured Fashionistas is a section I've added to Have Clothes, Will Travel that will highlight one lovely, fashionable lady each month. The Featured Fashionista can have a business, blog, etc. they would like to share with my readers, or just a love of fashion, or all of the above! I will spend some time putting together a highlight of the Fashionista, and if they happen to live close to me, I will also do a photo shoot with their favorite outfit. If the Fashionista does not live nearby, they can send me pictures they took of their fab outfit. If you would like to be my next Featured Fashionista click here, and tell me a little about yourself.