Amanda of "Enchanting Elegance"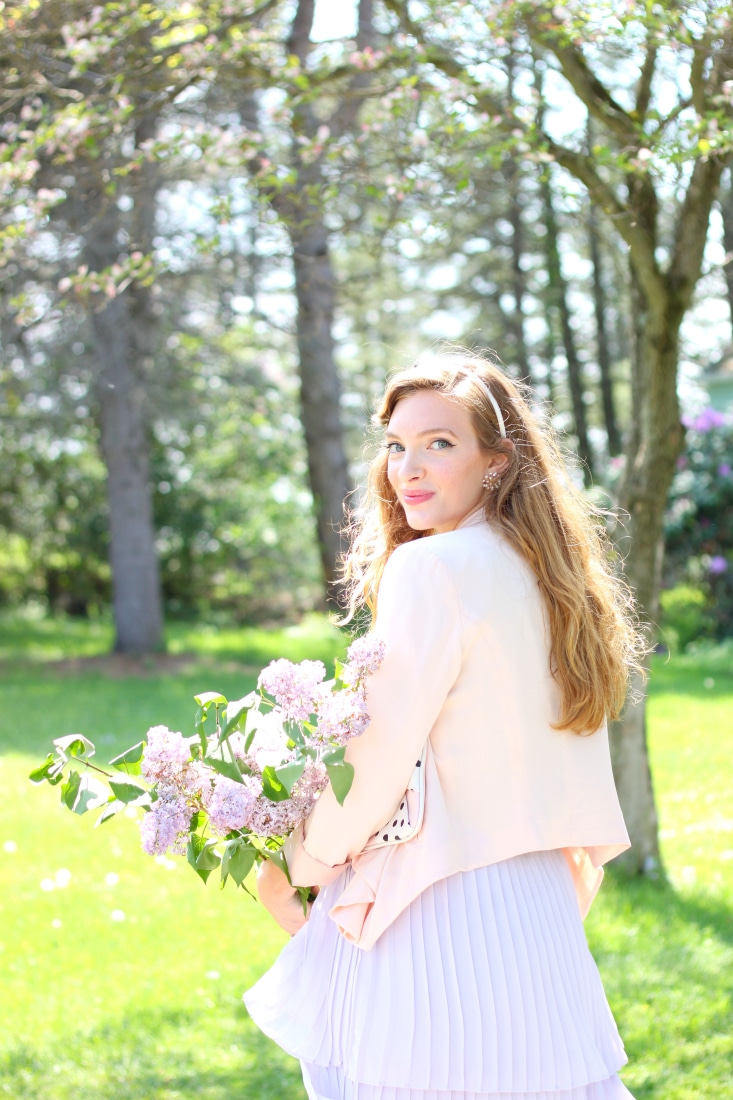 Amanda of "Enchanting Elegance" is this month's Featured Fashionista! Enchanting Elegance is a delightful blog that showcases Amanda's impeccable fashion sense and beautiful photography.
Enchanting Elegance is one of my favorite blog to follow, not only to see Amanda's inspiring styles, but because I always feel as though I am being transported into a real life fairytale when I look at Amanda's photos. (You'll see what I mean as you go through this feature!)
Q&A With Amanda
Tell me a little about yourself.
Amanda: Oh where to even start haha! Well, I'm a 27-year-old living with my husband Justin, our little fur baby Chelsea (a cat), and we're expecting a little girl Ava who should be arriving the first week of August. I grew up and still live in North Eastern Pennsylvania. My family means the absolute world to me and is the most important thing in my life. My dad and my brother Michael are my rocks and support system.
My mom recently passed away in December 2013. She had such a bright soul and always looked to the positive side rather than dwelling on things that were out of her control. I hope I can be half as good of a mother as she was to Michael and me. I remember having the most magical childhood and that is solely because of my parents. Strangely enough, my mom passing away is what gave me the push to start my own business and blog. I was unhappy at my current job and just thought; life is too short for this.
My passions in life lie with classic movies, photography, and fashion. They really all combine together quite nicely. My favorite movie is Casablanca and pretty much any Alfred Hitchcock movie, especially the ones with Grace Kelly in them. I am a huge John F. Kennedy fan, (we share the same birthday!), falling in love, his style and how he provided so much hope and inspiration for America. My little slice of heaven is Cape Cod, Massachusetts. I first visited with my dad in May of 2013 and adored how charming everything was, let alone how relaxed I felt while I was there. Every year now we make a trip and I cherish the time spent there.
I also recently became a fashion stylist over at SIDE by STYLE. It's a startup company providing styling services for those looking for help with some tips, shopping, a new outfit, maybe a day to night look, or even a whole wardrobe makeover. It's a wonderful opportunity to be able to help and inspire someone to feel confident, while having them be able to express who they are as an individual through their personal style.
How would you describe your blog, "Enchanting Elegance?"
Amanda: Enchanting Elegance is a fashion and lifestyle blog that focuses on daily posts to inspire my readers. I wanted to create a beautiful space for everyone to enjoy and maybe find new ideas on how to wear something or bring light to a boutique that may not have been known about. It truly has been a dream come true being able to create EE and see it grow beyond what I had ever expected.
What inspired you to create "Enchanting Elegance," and what inspired the pretty name?
Amanda: I started Enchanting Elegance for my photography business that would also feature a blog on the side ranging from fashion, lifestyle, decorating, food, really anything that I found interesting and thought others might as well. Once I started to focus mainly on fashion, since that is where my passion lies, I saw a big jump in readers and the site took off. Coming up with the name Enchanting Elegance was a fun process. I wanted something that would capture my photography style as well as my fashion style. I've always been inspired by fashion from classic movies, my favorite time period being from the 1940s -1960s. That is where the "elegance" part comes from. Back in those days, women knew how to put themselves together and get all dolled up, so to say. The "enchanting" part comes from the whimsical and romantic style I love with photography and with fashion.
What do you hope the future holds for Enchanting Elegance?
Amanda: The future is such a wonderful thing to think about. Anything is possible and can be accomplished! I hope EE continues to inspire, which has always been my main goal, and that I get to continue working and collaborating with fabulous stores that I can feature and bring to light on the blog. Fashion and lifestyle will still be the main focus, but with my little one arriving the first week of August, maybe I'll also be featuring some cute mommy & me type of things. The possibilities are endless.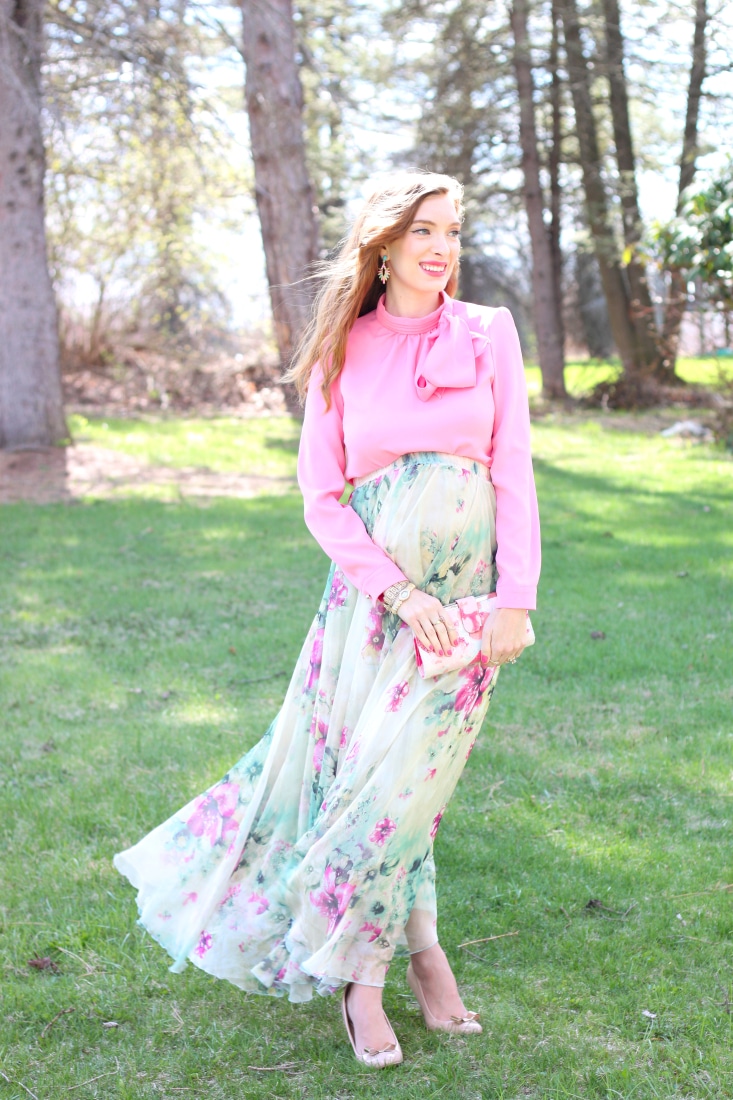 How would you describe your personal style?
Amanda: Three words always come to mind with this question: feminine, classic, and romantic. I love to get dressed up, which probably comes from my style icons Grace Kelly, Jackie Kennedy, Audrey Hepburn, Lauren Conrad, and Kate Middleton. These women are always so well put together and embody, to me, pure elegance.
You post the most beautiful outfits on a very regular basis. What's your secret to always looking so put together and stylish?
Amanda: Well first off thank you for the lovely compliment! I usually start with one item, like a pair of shoes, a bag, or a skirt, and work from there. Having a specific style in mind for the day also helps when you're looking to put an outfit together. Do I want to feel preppy? Go for a striped shirt, blazer, skinny jeans, and either some flats or wedges. How about romantic? Choose a floral dress, sparkly jewels, neutral heels, and either a nude or vibrant bag depending on the dress. Also, I like the add on rule with fashion. Start with your basics, 1. Shirt, 2. Jeans, 3. Shoes, 4. Bag; now add something else on to look stylish. It could be a scarf, hat, sunglasses, or a blazer, a little something extra to make the outfit more interesting.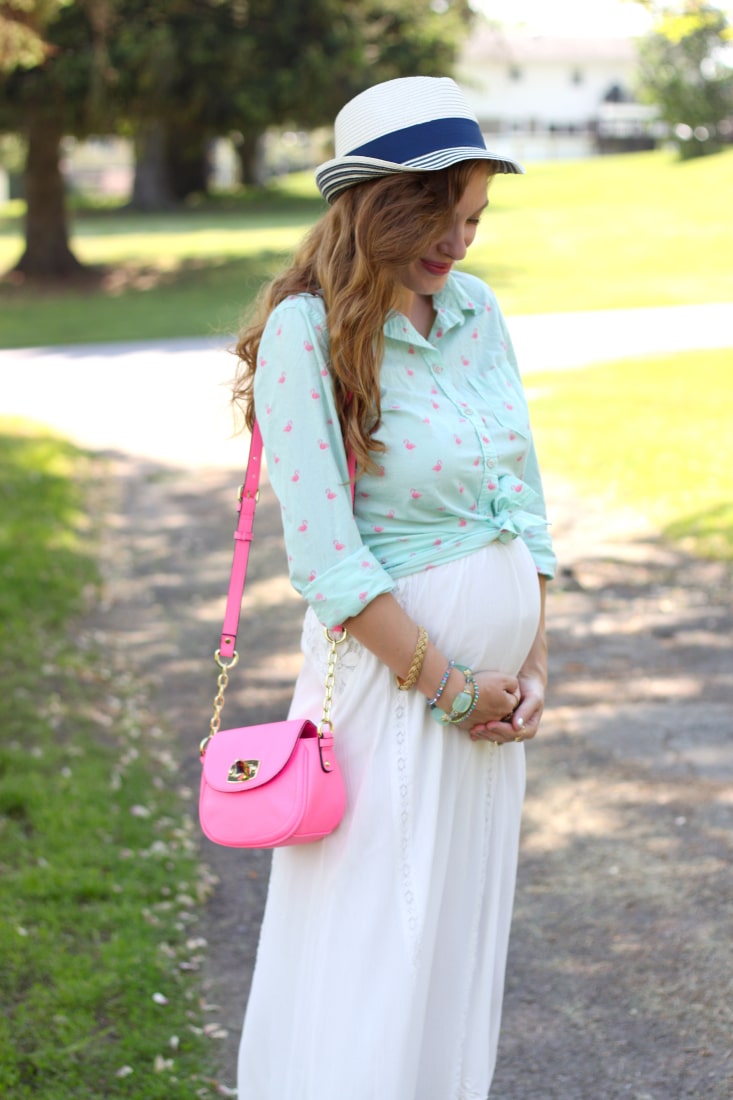 You are also expecting your first child this year! Congratulations! And you have the best maternity style out of anyone I've ever seen. What advice do you have for other women when purchasing maternity clothes and putting together outfits?
Amanda: Thank you so much! First and foremost, just because you are pregnant does not mean you have to wear a potato sack! There are so many great clothing brands out there for pregnant women and it is relatively easy to stay true to your original style while still having a growing baby bump. Two companies I've worked with, Bumpstyle Box and Pink Blush Maternity offer chic clothing at affordable prices. If you want to purchase non-pregnancy items, get stretchy materials or even shift or wrap dresses that will not restrict your waist. Also, empire waists are fantastic. Never lose your own personal style just because you're pregnant, though! That's such an important point that I want to make and why I keep mentioning it.
If you could only shop at one clothing store for the rest of your life, what would it be?
Amanda: This is such a tough decision! I have so many that I love, but two stand out very clearly in my mind; Modcloth and Kohls. Modcloth has the prettiest dresses and skirts ranging from modern chic to vintage flair. Kohls carries one of my most favorite lines LC Lauren Conrad, who as I mentioned is one of my style icons. Her clothes have a feminine touch, while still being modern. As long as they still carry her line, I'll be a loyal customer. Another store I recently found is Chicwish, which is becoming an absolute new favorite for me.
What is your go-to outfit?
Amanda: A dress and heels, always. It's so simple to put together and look chic. Add on a handbag and you're good to go! If I know I'm going to be walking around quite a bit, say on a trip to New York City, then I'll opt for flats instead.
You also own your own photography business. Could you tell me a little more about it?
Amanda: Yes! Well, my hobby has always been photography. I started getting more serious about it in 2010 when I received my first DSLR. I read all of the books and websites that I could and practiced every single day. I apprenticed with another photographer and then finally decided to go out on my own in 2014 creating Enchanting Elegance with the tag line "capturing life's lovely moments." I offer all types of services from maternity, newborn, weddings, seniors, portrait sessions, you name it and I'll photograph it for you! I also can create photo books and unique gifts similar to that. I recently started making cards such as Christmas cards, announcements for weddings, parties, or even baby showers.
What is your favorite shoot you have ever done and why?
Amanda: There are so many wonderful ones and I have truly enjoyed them all. Each photoshoot brings a unique story with it and captures memories in time. Of course when the weather, specifically the sun corporates, that's always a plus!
If someone is interested in your photography skills, how should they get in touch with you?
Amanda: My e-mail address is [email protected]. Also, on my website, www.amandabrezovsky.com, you can reach me under the Contact page.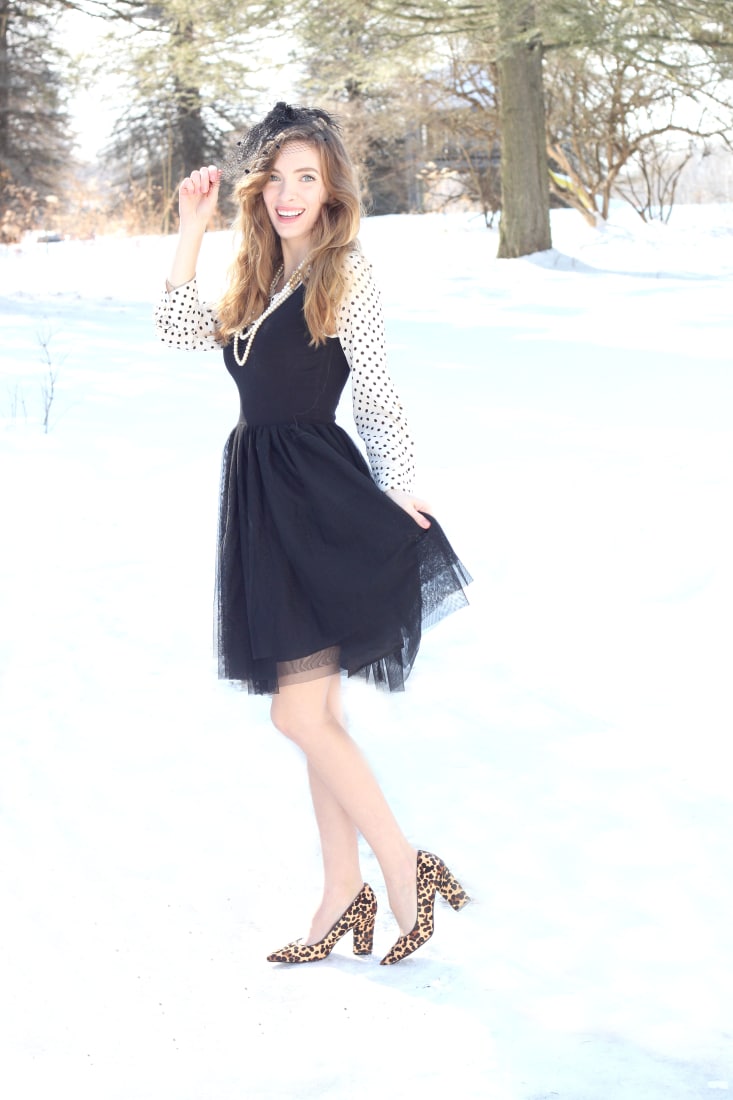 Do you have any advice you would like to share for someone looking to start their own blog or photography business?
Amanda: Never lose sight of your dream. Starting your own business or blog can be frustrating in the beginning, but stay the course and work your absolute hardest. It's your name being put out there now and that means something much more. You're now representing yourself. With photography, start out with friends or family while you're trying to build a portfolio and client base. Clients need to see something (a portfolio) in order for them to choose you over the next photographer. Be realistic with pricing too. When you're starting out, you probably are not going to charge as much as someone who has been in the business for 20 years. At the same time, you need to make money! See what other photographers in your area are charging and go from there. Blogging takes some serious networking when you're first starting out. I would spend hours upon hours networking, and I still do, in order to get my name out there. It takes patience, but as I said with photography, you also need to have some content created for others to view. Creating good content and networking will take you above and beyond where you need to go. Since fashion blogs are a visual medium, it helps to have a nice camera to take photos with as well. You do not need this immediately, but getting one eventually will provide more opportunities than a little point and shoot can. It will also give your blog longevity.
Click here to see Amanda's blog, Enchanting Elegance. You can also follow her on Instagram and Twitter!
Featured Fashionistas is a section I've added to Have Clothes, Will Travel that will highlight one lovely, fashionable lady each month. The Featured Fashionista can have a business, blog, etc. they would like to share with my readers, or just a love of fashion, or all of the above! If you would like to be my next Featured Fashionista click here, and tell me a little about yourself.